Classic Recipes That You Absolutely Must Know
Julia Child once said, "No one is born a great cook, one learns by doing." Many people are intimidated by the kitchen, but what they don't realize is that while everyone won't be a great restaurant chef, everyone can be a great cook. Cooking is a science, and when it comes down to it, all you really need to do is be able to read and follow a recipe. There are a few dinner recipes that everyone should — and anyone can — master, and it's those dishes we're highlighting today. Perfect these five recipes and then you're home free.
1. Spaghetti and Meatballs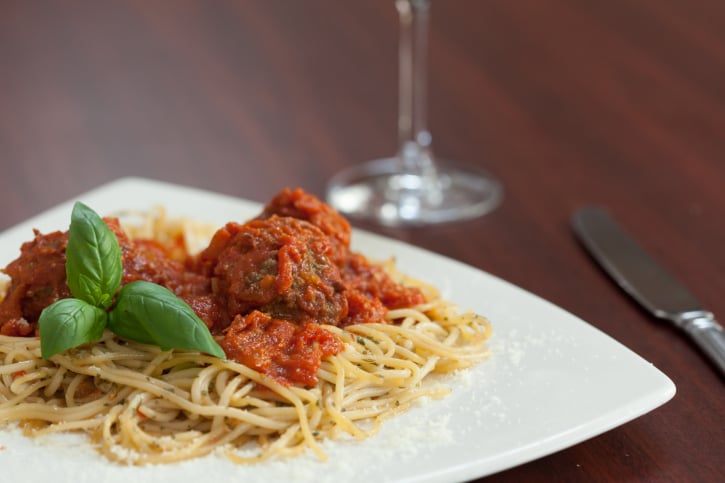 Spaghetti and meatballs is a quintessential comfort food dish, and it can serve the masses. You don't need to be an Italian chef to make great spaghetti and meatballs — you just need to follow this recipe from Martha Stewart. As long as you have 30 minutes on your hands, you can get this dinner on the table tonight.
Ingredients:
Coarse salt and ground pepper
¼ cup finely grated Parmesan, plus more for serving
¼ cup chopped fresh parsley
2 garlic cloves, minced
1 large egg
1 pound ground beef chuck
¼ cup plain dried breadcrumbs
1 tablespoon olive oil
1 can (28 ounces) crushed tomatoes in purée
¾ pound spaghetti
Head to Martha Stewart for the full recipe.
2. All-American Beef Chili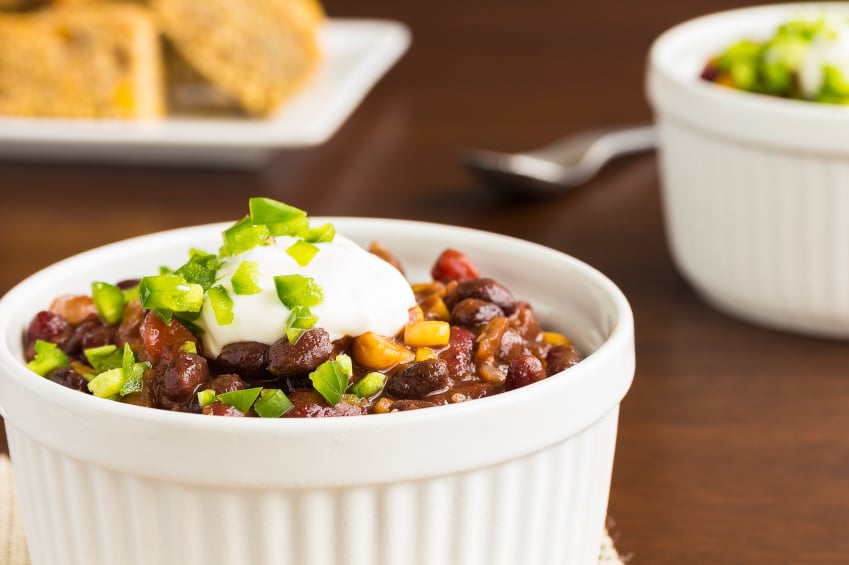 The next recipe you need to have in your arsenal is this formula for all-American beef chili from Brown Eyed Baker. No guests will be displeased if they arrive at your house and see that chili is on the menu.
Ingredients:
2 tablespoons vegetable oil
2 yellow onions, finely chopped
1 red bell pepper, stemmed, seeded, and finely chopped
¼ cup chili powder
1 tablespoon ground cumin
½ teaspoon cayenne pepper
1 teaspoon salt, divided
6 garlic cloves, minced
2 pounds ground beef (85 to 90% lean)
2 (15-ounce) cans dark red kidney beans, drained and rinsed
1 (28-ounce) can diced tomatoes
1 (28-ounce) can tomato purée
Head to Brown Eyed Baker for the full recipe. 
3. Chicken Parmesan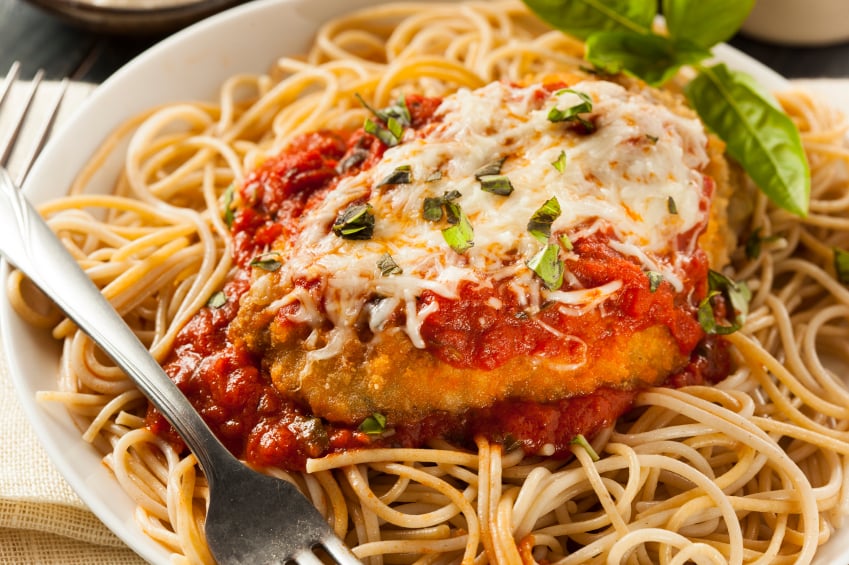 Moving on to poultry, we come to this classic chicken Parmesan from the Food Network. Coming together in 40 minutes, anyone can make this Italian dinner. You don't have to be an ambitious chef to master this dish — you just have to trust your recipe.
Ingredients:
2 skinless, boneless chicken breasts (about 10 ounces each)
¼ cup plus 1 tablespoon extra-virgin olive oil
2 cloves garlic, finely chopped
¼ teaspoon red pepper flakes
1 (15-ounce) can tomato purée
½ cup plus 2 tablespoons grated Parmesan cheese
¼ cup finely chopped fresh basil
½ cup all-purpose flour
Kosher salt and freshly ground pepper
3 large eggs
1¼ cups grated mozzarella cheese (about 6 ounces)
Head to the Food Network for the full recipe. 
4. Vegetable Lasagna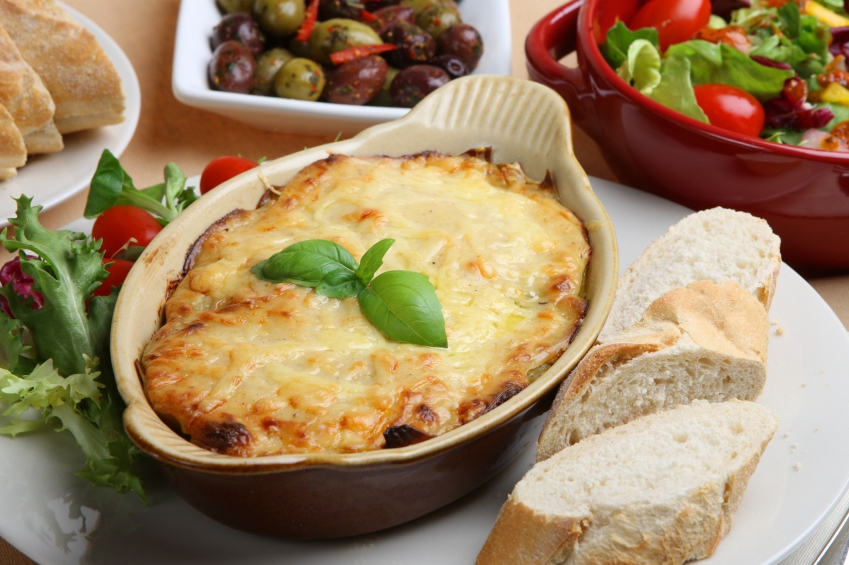 Because you should definitely have a vegetarian meal in the weekday dinner rotation, here's a recipe for vegetable lasagna from The Pioneer Woman. Lasagna doesn't have to be saved for special occasions — next time the craving calls, make sure you pull out this recipe.
Ingredients:
10 ounces lasagna noodles
2 tablespoons olive oil
1 whole medium onion
4 cloves garlic
1 whole red bell pepper, diced
24 ounces white mushrooms, chopped
4 whole squash (yellow or zucchini), diced
1 can (28 ounces) whole tomatoes
½ cup white wine
¼ cup fresh parsley, chopped (more to taste)
½ teaspoon kosher salt (more to taste)
½ teaspoon red pepper flakes
30 ounces ricotta cheese
2 whole eggs
½ cup grated Parmesan
¼ teaspoon kosher salt
Freshly ground black pepper
1 pound thinly sliced mozzarella cheese
Head to The Pioneer Woman for the full recipe. 
5. Easy Seared Steak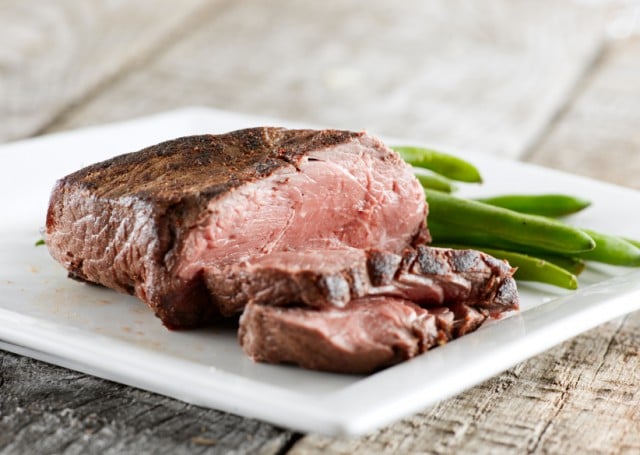 Last but not least, don't forget about the beef. Prove you're an expert in the kitchen by cooking your steaks to perfection via the Chowhound way. Don't be intimidated by the hearty beef: If you're going to go big, you might as well make steak, and this is the way to do it.
Ingredients:
1 (1¼ to 1½-inch thick) New York strip steak (about 8 ounces)
1½ teaspoons kosher salt
¼ teaspoon freshly ground black pepper
1 teaspoon olive oil
Head to Chowhound for the full recipe.