6 Cocktail Recipes You Have to Try This Fall
Now that cooler weather has arrived, so has fall's bounty of apples, squash, and root vegetables. While most people have adopted a seasonal approach to cooking with these ingredients when they're available, the cocktails they sip don't see the same sort of variety. Often, people resort to the same beverages regardless of the season. But the food shouldn't get to have all the fun.
With so much autumn produce at your fingertips, it only makes sense to introduce those ingredients to some of your favorite spirits. Whether you like your drinks sweet, savory, hot, or cold, there's a way to shake up a taste of fall. Try these six recipes to happily sip your way through the whole season.
1. Pumpkin Toddy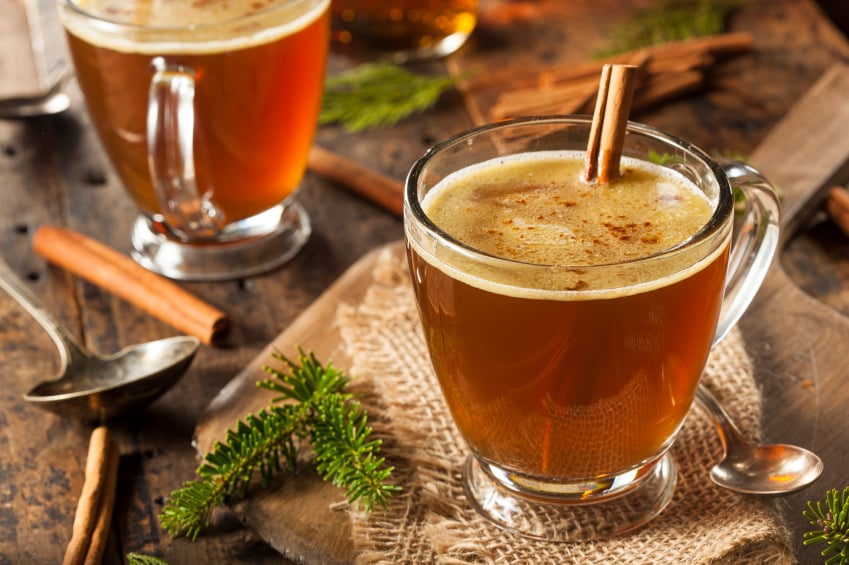 Though you'll see hot toddy recipes calling for any number of different spirits, whiskey was the original. In its purest form, the cocktail is nothing more than whiskey, lemon, honey, and hot water. It's easy to jazz up, but also easy to screw up. Many variations add way too much sweetener, yielding a drink that tastes more sugary than a dessert.
For a tasty twist that manages to keep the sugar in check, try Liquor.com's pumpkin version. It gets just enough sweetness from some maple syrup while bitters help keep the flavors balanced. Let the masses have their pumpkin spice lattes while you cozy up to this much better beverage.
Ingredients:
1 ounce apple brandy
½ ounce rye whiskey
½ ounce lemon juice
½ ounce grade B maple syrup
1 teaspoon pumpkin purée
2 dashes Angustora bitters
5 ounces boiling water
Ground cinnamon
Directions: Add all ingredients except for water and cinnamon to a warmed mug. Top with boiling water and stir to combine. Top with cinnamon, and serve.
2. Carrot Bloody Marys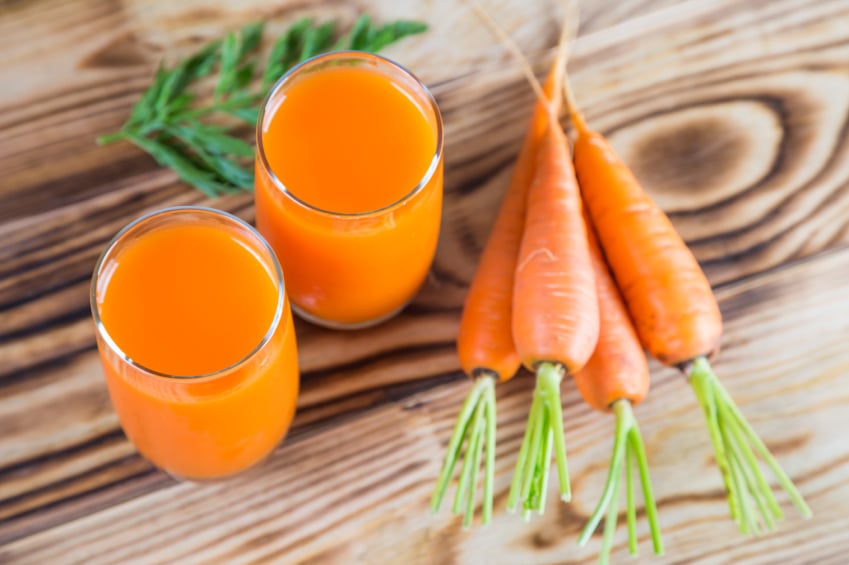 Vegetables don't make their way into cocktails nearly as frequently as fruit, but they're every bit as capable of creating a delicious drink. See for yourself with The Candid Appetite's Carrot Bloody Marys. It skips the tomato, opting for carrot juice instead. It's savory, a bit sweet, and a great way to make your next brunch a lot more exciting.
Yield: 4 to 6 Bloody Marys
Ingredients:
Cocktails
48 ounces carrot juice
3 tablespoons prepared horseradish
2 tablespoons lemon juice
2 tablespoons lime juice
1 tablespoon pickle juice
10 to 15 dashes hot sauce
2 tablespoons Worcestershire sauce
½ teaspoon celery salt, plus more
¼ teaspoon salt
¼ teaspoon black pepper
2 teaspoons seafood seasoning, plus more
Vodka
Ice
Optional garnishes
Celery sticks
Baby carrots
Pickled green beans
Pickled onions
Olives
Lime wedges
Lemon wedges
Celery salt
Seafood seasoning
Directions: In a large pitcher, combine carrot juice, horseradish, lime juice, lemon juice, pickle juice, hot sauce, Worcestershire sauce, celery salt, salt, pepper, and seafood seasoning. Mix to fully combine. Cover pitcher with plastic wrap and refrigerate at least 1 hour and up 24 hours. Before serving, stir well.
On a small plate, combine a small amount of celery salt and seafood seasoning. Rub glass rims with lemon juice, and dip into the celery salt and seafood seasoning mixture. Fill glasses with ice, then fill halfway with vodka. Top each drink with the carrot mixture, and stir to combine. Top with your choice of garnishes, and serve.
3. Pear-Rosemary Cocktails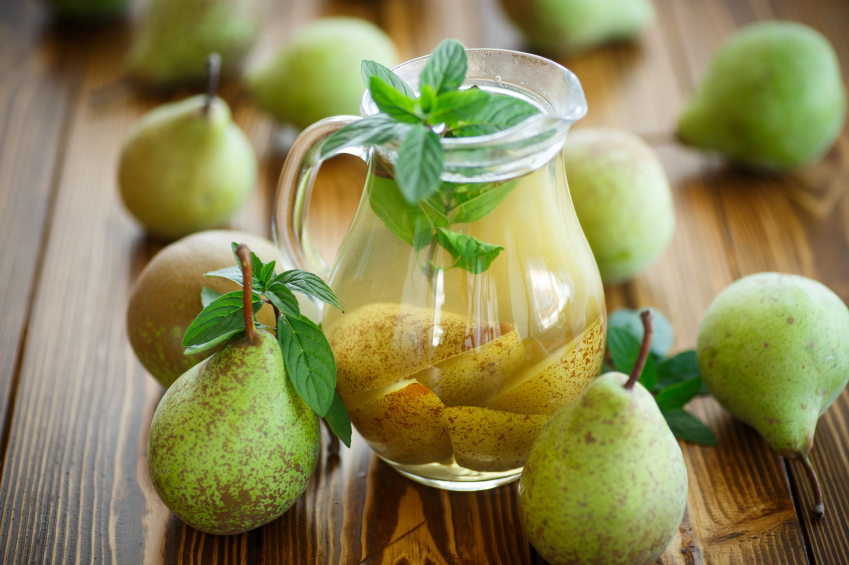 Recipes that call for infusing spirits tend to scare people off because they think it'll be too much work. Often, a quick glance at the instructions shows the process involves nothing more than pouring some alcohol on top of one or two ingredients, covering the container, and letting it sit. Anyone with a little bit of patience can manage the technique, which is great news for guys who like to impress their friends.
With Martha Stewart Living's fall fruit cocktail, a combination of pears and vodka serves as the base. You'll want to make it at least two weeks before you plan on mixing the drinks, but you'll have plenty on hand once it's ready to go. The method also works for other fruits, so you can go with different flavors depending on what's in season.
Yield: 8 cocktails
Ingredients:
6 to 10 Seckel pears
4 cups vodka
1 cup sugar
12 rosemary sprigs, plus more
1½ cups pear nectar
4 cups sparkling water
Directions: Fit as many pears as you can into a 48-ounce glass jar. Add vodka, seal jar, and let stand at room temperature for 2 weeks or up to 2 months.
Heat sugar and 1 cup water in a medium saucepan over medium-high heat, stirring to dissolve sugar. Add rosemary, remove from heat, and let stand for 30 minutes. Discard rosemary and let cool completely. Cover and refrigerate until ready to use. Syrup can keep for up to 1 month.
Fill 12-ounce glasses halfway with ice. Add 4 tablespoons vodka, 2 tablespoons syrup, and 3 tablespoons pear nectar to each glass. Top with ½ cup sparkling water. Serve garnished with additional rosemary.
4. Autumn Sangria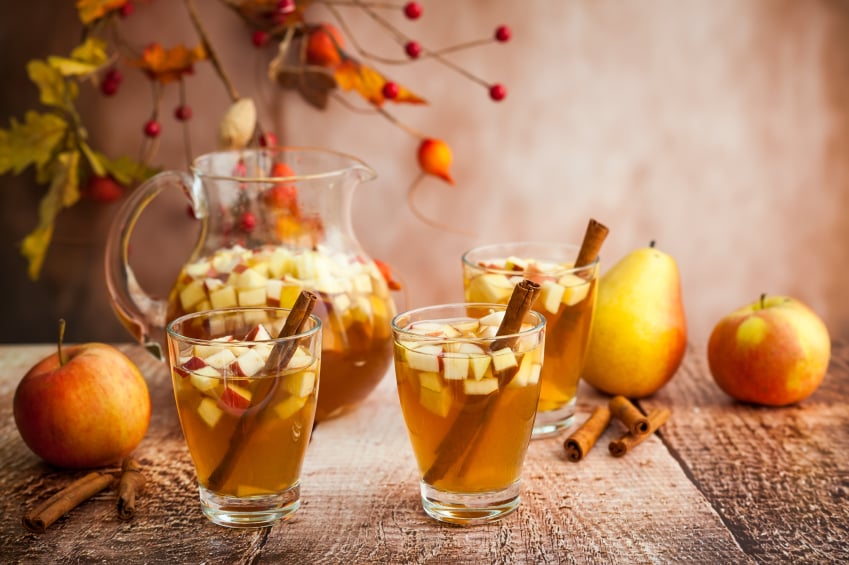 Give sangria the fall treatment with NeighborFood's version, which was adapted from a recipe on How Sweet It Is. It swaps the usual red wine for white, and uses apples, pears, and plums for a burst of fruit flavor. Though the recipe calls for maple syrup, you can skip it for a less sweet beverage.
Yield: 6 drinks
Ingredients:
1 bottle Pinot Grigio
3 cups apple cider mixed with an optional ¼ cup maple syrup
1 cup club soda
½ cup bourbon
4 cinnamon sticks
2 apples, chopped
2 pears, chopped
2 plums, chopped
Directions: Mix wine, cider and syrup mixture, club soda, and bourbon in a large pitcher. Add the cinnamon sticks and the fruit. Stir to combine, cover, and refrigerate at least 2 hours or up to 24 hours. Stir once more before serving.
5. Sage Martini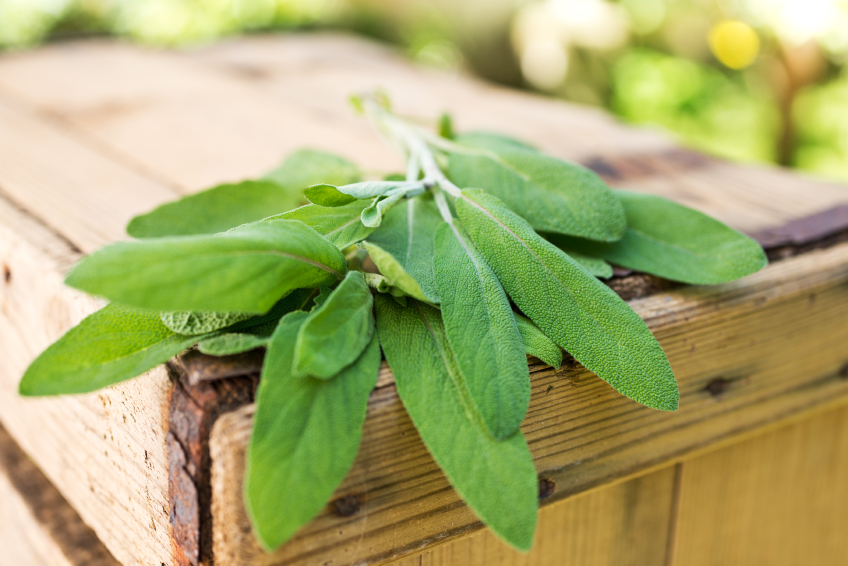 While you can find sage any time of year, its flavor and scent remind many of fall. This can probably be explained by its status as one of the star ingredients in poultry seasoning, the all-in-one herb mix designed for jazzing up a Thanksgiving turkey. But it's good for much more than seasoning a bird and some stuffing.
We like BevMo! Thirsty Time's sage martini for a simple, but surprising, twist on the classic. This is technically a dirty martini, meaning there's a splash of olive juice mixed right into the cocktail. This little bit of added salt does wonders for highlighting the woodsy taste of sage.
Ingredients:
3 ounces London dry gin
¼ ounce dry vermouth
½ ounce olive juice
Fresh sage
Directions: In a cocktail shaker or pint glass, muddle a few sage leaves into the gin. Once the herbs are bruised, strain the mixture into a shaker filled with ice. Add the vermouth and olive juice, cover, and shake until well combined. Strain into a chilled martini glass and garnish with fresh sage.
6. Calvados Hot Toddy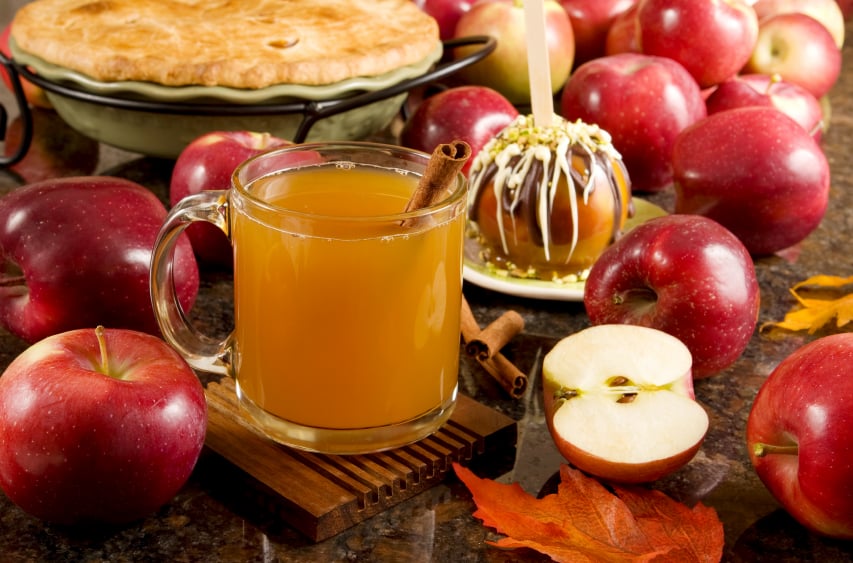 Apple pie might be the ultimate fall dessert. Unfortunately, it's quite a project that most of us don't have the time or patience to pull off. Get all the flavors in a warm, boozy drink with this recipe from Bartender Jose Torrella, featured on Saveur. Crown the finished drink with a hefty dollop of calvados-spiked whipped cream and a sprinkle of cinnamon for an extra dose of indulgence.
Ingredients:
¼ cup sugar
1 teaspoon cinnamon, plus more
6 ounces apple cider, plus more for rimming glass
1½ ounces calvados
4 ounces heavy cream
1 cinnamon stick
Directions: Mix sugar and cinnamon together in a bowl wide enough to fit the rim of a double-walled glass. Pour apple cider into a bowl of a similar size to a depth of ¼ inch. Dip the rim of glasses in cider, then cinnamon-sugar.
Whip cream and ½ ounce calvados until stiff peaks form. Refrigerate until ready to use. Heat 6 ounces apple cider in a two-quart saucepan. Add remaining calvados. Pour hot cider into glass and top with whipped cream. Garnish with cinnamon and cinnamon stick.