Cook to Get Cut: 5 Easy and Healthy Arugula Recipes
When you're looking to get lean, exercise is only half the equation. You can do all the crunches in the world, but the foods you eat are every bit as important. As part of our Cook to Get Cut series, we'll show you how to use some of the healthiest eats to sculpt your physique without sacrificing flavor. 
With a peppery taste and minimal prep work, arugula is a salad standout. The green is a particularly great choice for those looking to get lean as a 1-cup portion contains just 5 calories plus a decent dose of vitamins. Take arugula beyond the salad bowl with these five delicious dishes that anyone can make.
1. Open-Faced Omelet with Arugula Salad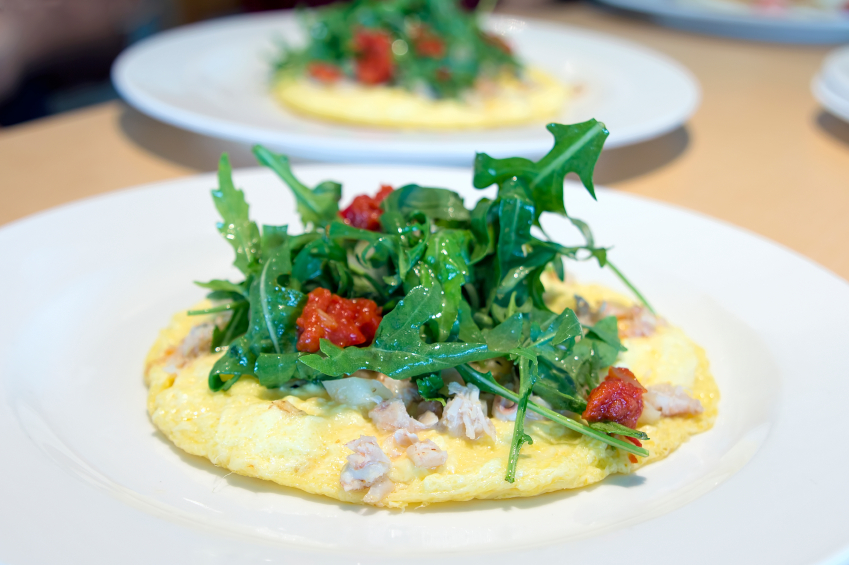 No matter how easy an omelet recipe looks, there's no denying the difficulty of rolling or folding the finished product. Food Network gets around the problem by leaving the cooked eggs flat, then adding the arugula, prosciutto, cheese, and peppers as toppings. With plenty of protein and a good dose of veggies, this breakfast is as healthy as it is delicious.
Though we typically lump arugula into the same category as iceberg, it's actually a member of the cruciferous vegetable family. Starting your day with any type of produce in this category is great news for your heart. One 2011 analysis of more than 130,000 adults found those who ate the most cruciferous vegetables had the lowest risk of cardiovascular disease and mortality.
Ingredients:
3 to 4 tablespoons extra-virgin olive oil, divided
2 teaspoons red wine vinegar
Kosher salt and freshly ground pepper
5 cups baby arugula
¼ cup pitted Kalamata olives, halved
½ cup torn roasted red peppers
8 large eggs
2 tablespoons milk
4 ounces feta cheese, crumbled
2 ounces thinly sliced prosciutto, torn into thin strips
Directions: Whisk 2 tablespoons oil, the vinegar, ¼ teaspoon salt, and pepper to taste in a medium bowl. Add arugula, olives, and peppers to bowl. Without tossing, set aside.
Whisk eggs, milk, and a pinch of salt in a bowl. Heat a medium nonstick skillet over medium heat and add about 1 teaspoon oil. Add ½ cup egg mixture and stir gently with a rubber spatula to distribute. Cook until eggs are just set without letting the underside brown, about 4 minutes. Slide onto a plate and repeat to make three more omelets.
Toss salad, then pile on top of omelets. Scatter feta and prosciutto over each omelet and serve.
2. Warm Potato Salad with Arugula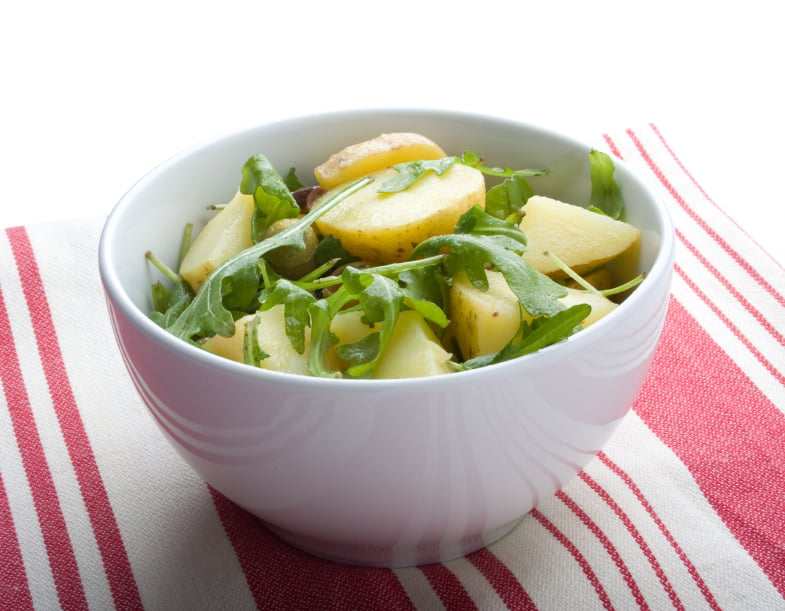 The potato salad of your youth probably featured equal parts mayo and spuds. While these creamy versions can be a tasty treat every so often, they're not exactly the type of fare you want to eat on a regular basis. To keep things lighter without losing any flavor, try this version with arugula and a mustard dressing from chef Paul Virant, featured on Food & Wine.
You can try this method using any other type of veggie, but Arugula might be one of the best for keeping your bones strong thanks to potent amounts of vitamin K. One study published in The American Journal of Clinical Nutrition found women who ate at least one serving of leafy greens per day were less likely to suffer hip fractures.
Ingredients:
1½ pounds white potatoes, scrubbed
3½ tablespoons extra-virgin olive oil, divided
Salt and freshly ground pepper
1 tablespoon grainy mustard
2¼ teaspoons sherry vinegar
½ small sweet onion, thinly sliced
2½ ounces baby arugula
Directions: Preheat oven to 425 degrees Fahrenheit. Cut potatoes into ½-inch wedges and scatter on a large rimmed baking sheet. Drizzle with 1½ tablespoons oil, season with salt and pepper, and toss to coat. Bake until browned and crisp, about 25 minutes.
In a small bowl, whisk remaining oil with mustard and vinegar. Season with salt and pepper. In a large bowl, toss potatoes with onion and arugula. Top with dressing and serve immediately.

3. Whole-Wheat Spaghetti with Arugula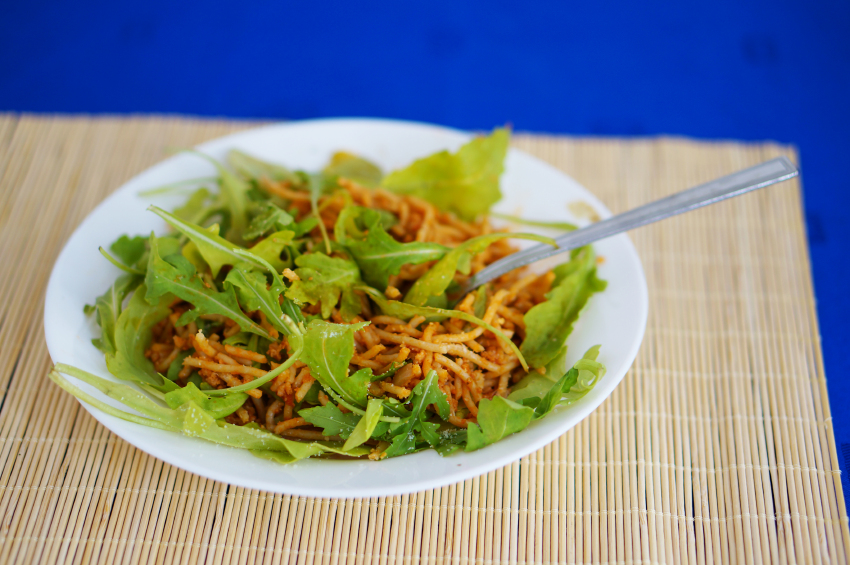 Usually reserved for a cheat meal, pasta can be a part of your regular eating routine if you go for the right recipes. Add this version from Cooking Light to your repertoire because it's packed with arugula and whole grains. This dish is also full of flavor thanks to some chile flakes, red wine vinegar, and Parmesan cheese.
Both the pasta and greens are filled with fiber, giving this dish more than 8 grams per serving. This makes it a great choice for those interested in slimming down. According to a study from 2015, simply increasing fiber consumption may be an effective strategy for losing weight.
Ingredients:
2 tablespoons olive oil, divided
¼ teaspoon crushed red pepper
2 garlic cloves, minced
1 cup chopped tomato
1 pound arugula, trimmed and torn
4 cups hot cooked whole-wheat spaghetti from about 8 ounces of dried pasta
1½ tablespoons red wine vinegar
¾ teaspoon salt
½ teaspoon freshly ground pepper
½ cup grated Parmesan cheese
Directions: Heat 1 tablespoon oil over medium-high heat in a Dutch oven or other heavy pot. Add pepper flakes and garlic. Cook, stirring, for 20 seconds. Add tomato and arugula and cook until arugula wilts, about 2 minutes. Transfer to a large bowl and add remaining oil, pasta, vinegar, salt, and pepper. Toss to combine. Sprinkle with cheese and serve.
4. Cannellini Bean, Sausage, and Arugula Minestrone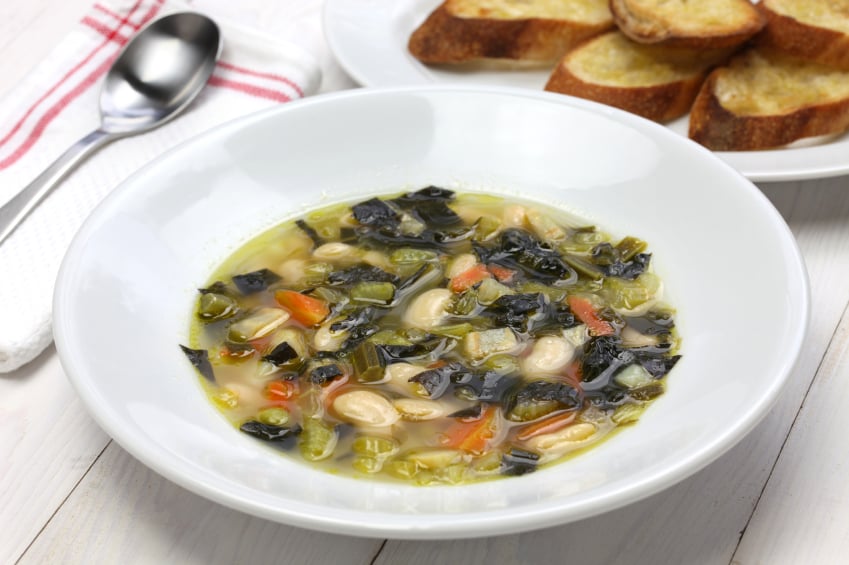 If you're looking to cut back on meat in the name of health, soup is one of the smartest ways to do it. Rather than starring as the main ingredient, it serves more as a flavoring. This allows you to add lots of good-for-you ingredients like vegetables and beans. Try the method with this twist on minestrone from Eat Simple Food. All you need to complete the meal is a loaf of your favorite crusty bread.
Ingredients:
1½ tablespoons olive oil
¾ pound ground chorizo or Italian sausage
1½ cups diced onion
1 tablespoon minced garlic
2 cups diced carrots
2 cups diced turnips
8 ounces cooked cannellini beans, rinsed and drained
22 ounces canned diced tomatoes in juice
6 cups chicken or vegetable broth
½ teaspoon sea salt
½ teaspoon pepper
½ teaspoon dried oregano
½ teaspoon dried basil
5 cups arugula
Shaved Parmesan cheese
Baguette
Directions: Heat oil in a large pot over medium-high heat. Add sausage and onions and cook, stirring occasionally, until sausage is just about cooked through. Add garlic and cook, stirring, until fragrant, about 1 to 2 minutes. Stir in carrots, turnips, beans, tomatoes, broth, salt, pepper, oregano, and basil. Bring to a boil, reduce heat to a simmer, cover, and cook until vegetables are tender, about 15 minutes.
Stir in arugula, ladle into bowls and serve with Parmesan and a slice of bread.
5. Steak with Arugula and Balsamic Mushrooms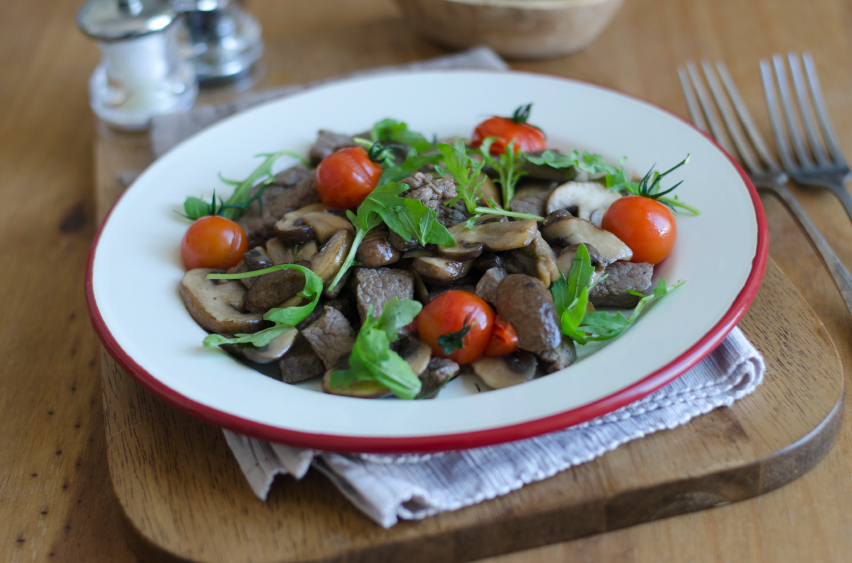 A meal at the steakhouse is usually bad news for your waist and your wallet, so cook this meat and mushroom meal from Real Simple instead. It goes heavy on the greens, so you can afford a little bit of cream in the mushrooms. If you have any fresh herbs in your fridge, they'll make a great finishing touch.
Ready for some surprising news about arugula? According to research published in the World Journal of Gastroenterology, the green may be able to protect against ulcers. The study involved rats, but there may be potential for human research down the road.
Ingredients:
2 tablespoons olive oil
1 (1-pound) flank steak
Kosher salt and pepper
1 pound cremini or button mushrooms, quartered
1 tablespoon balsamic vinegar
¼ cup heavy cream
2 bunches arugula, stemmed
4 scallions, thinly sliced
Directions: Heat 1 tablespoon oil in a large skillet over medium-high heat. Season steak with ½ teaspoon each of salt and pepper. Cook steak to your desired doneness, about 3 to 5 minutes per side for medium rare. Let rest for 5 minutes.
Wipe out skillet and heat remaining oil over medium high. Add mushrooms, ½ teaspoon salt, and ¼ teaspoon pepper. Cook, stirring occasionally, until browned and tender, about 5 to 6 minutes. Stir in vinegar, remove from heat, then add cream.
Divide arugula among plates, then top with steak and mushrooms. Sprinkle with scallions and serve.
Follow Christine on Twitter @christineskopec
More from Culture Cheat Sheet: