Cook to Get Cut: 5 Brussels Sprouts Recipes You'll Actually Like
When you're looking to get lean, exercise is only half the equation. You can do all the crunches in the world, but the foods you eat are every bit as important. As part of our Cook to Get Cut series, we'll show you how to use some of the healthiest eats to sculpt your physique without sacrificing flavor. Getting fit never tasted so good.
Of all the vegetables nearly everyone hated growing up, Brussels sprouts might be the winner of the unpopularity contest. Often steamed or boiled to the point where they started to brown and the texture turned to mush, it's no wonder kids could only manage to choke down about two of the tiny veggies in a sitting. More recently, there's been a bit of a Brussels sprout revolution with restaurants embracing creative techniques and home cooks looking to roasted preparations that are more bacon than vegetable. Loads of animal fat and kitchen alchemy aren't the only ways to make these tiny veggies taste good, and these five recipes prove it.
Before we dive into cooking, it's worth taking a look at what makes Brussels sprouts so good. By eating just 1 cup of this vegetable, you'll get tons of vitamins, minerals, fiber, and even a fair bit of protein for only 56 calories. They're also abundant this time of year, so you may as well load up and get cooking. Mom will be so proud.
1. Mushroom and Brussels Sprout Hash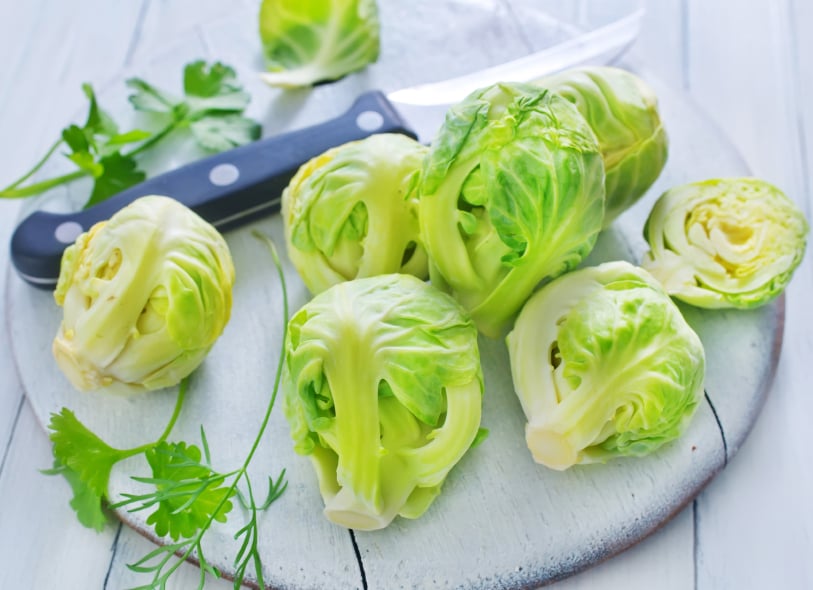 Starting the day with vegetables is one of the easiest ways to ensure you get the recommended amount of produce in your diet. For a completely delicious way to eat your veggies in the a.m., try Joy the Baker's breakfast hash starring Brussels sprouts. Since the veggies are thinly sliced, they cook up in a flash. Slide a few eggs on top, and breakfast is served.
If you're skeptical of starting your day with vegetables instead of bacon, consider what it can do for your ticker. A 2011 study published in the American Journal of Clinical Nutrition found a diet high in cruciferous vegetables, like Brussels sprouts, was linked to a reduced risk of death by cardiovascular disease. Since heart disease remains one of the leading causes of death in the U.S., you'd be wise to eat your veggies.
Ingredients:
3 tablespoons olive oil, divided
1 small shallot, minced
2 handfuls cremini mushrooms, wiped clean and quartered
1 garlic clove, minced
3 handfuls of Brussels sprouts, trimmed and horizontally sliced into thin strips
Salt and pepper
Juice of ½ lemon
2 large eggs
Directions: Heat 2 tablespoons olive oil in a medium skillet set over medium heat. Add the shallots, and cook until lightly browned and soft, about 4 minutes. Add mushrooms, and season with salt. Cook until mushrooms are softened and starting to brown. Stir in the garlic, and cook 1 minute longer.
Stir in the shredded Brussels sprouts, then increase heat to medium high. Cook, tossing, until sprouts and mushrooms are softened and brown. Remove from heat, squeeze in lemon juice, and toss to incorporate.
Heat remaining olive oil in a small skillet set over medium-low heat. Cook eggs about 30 seconds, cover the pan with a lid, and continue cooking until eggs are fried to your liking, about 4 minutes for over-medium. Divide hash between two bowls, top each with an egg, and serve.
2. Roasted Brussels Sprouts with Mint, Cilantro, and Vietnamese-Style Dressing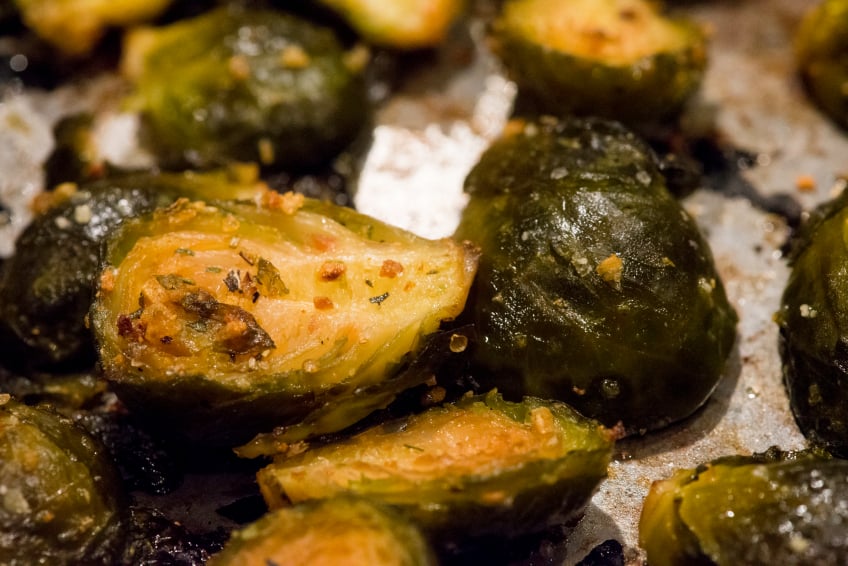 The only downside to roasted veggies is waiting for them to finish cooking. This vibrant dish from Jeanette's Healthy Living, adapted from a Momofuku recipe, shortens the process by starting the sprouts on the stove, then letting them finish in the oven. You can also feel good about digging into a second helping of this side because it's a lot healthier than many preparations featuring tons of sausage or bacon.
Though most fruits and vegetables contain a good amount of fiber, Brussels sprouts are among the best. This vital nutrient is important for keeping your digestive system on track, but it does so much more. According to Harvard School of Public Health, eating a diet high in fiber can reduce your risk of heart disease, diabetes, diverticular disease, and colon cancer.
Ingredients:
1 pound Brussels sprouts, trimmed and halved
2 tablespoons olive oil
2 tablespoons fish sauce
2 tablespoons honey
1 tablespoon lime juice
1 garlic clove, minced
½ teaspoon Thai chili paste or 1 Thai chile, thinly sliced
1 tablespoon chopped fresh cilantro
1 tablespoon chopped fresh mint
1 scallion, chopped
Directions: Preheat oven to 450 degrees Fahrenheit. In a cast iron pan, combine Brussels sprouts with oil. Cook, cut-side down, over medium heat until browned, about 5 minutes. Toss, transfer to the oven, and cook until just tender, about 10 minutes. Turn on broiler, and cook 2 additional minutes to achieve a deep brown color.
Meanwhile, whisk fish sauce, honey, lime juice, garlic, and chili paste in a small bowl to combine. Once sprouts come out of the oven, toss with the dressing, sprinkle with herbs and scallions, and serve.
3. Pork Chops with Shaved Brussels Sprout and Apple Salad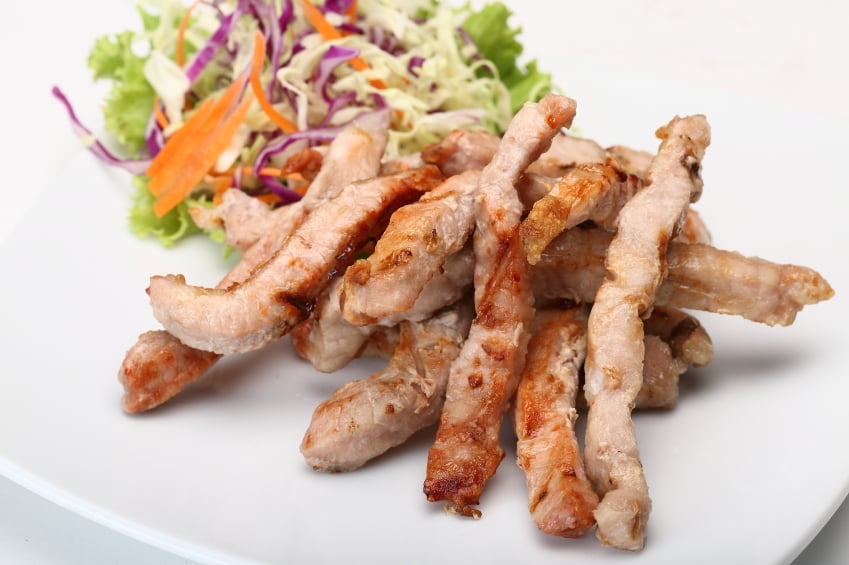 For the ultimate strength-boosting dinner, try this pork chop and Brussels sprout dish from Serious Eats. The protein in the pork will help with muscle recovery and growth while the veggies will contribute to good bone health thanks to a massive dose of vitamin K. This nutrient may have some more unexpected benefits as well. A 2014 study featured in the Journal of Nutrition linked vitamin K consumption to a reduced risk of mortality. Health benefits aside, this meal is a delicious and easy addition to your weeknight rotation.
Ingredients:
2 tablespoons apple cider vinegar
2 tablespoons fresh lemon juice
¼ cup honey
½ cup extra-virgin olive oil
Kosher salt and freshly ground black pepper
¼ cup slivered almonds
1 pound Brussels sprouts, trimmed and thinly sliced
1 large tart apple, cored and sliced ¼-inch thick
4 (1½-inch-thick) pork chops
2 tablespoons canola oil
Directions: Adjust oven rack to middle position, and preheat oven to 350 degrees Fahreneheit. In a medium bowl, whisk vinegar, lemon juice, and honey to combine. Drizzle in the olive oil while whisking, then season with salt and pepper.
Heat a 12-inch cast-iron skillet over medium heat. Add almonds to the pan, and cook, tossing, until lightly toasted. Turn off heat, remove almonds to a large bowl, and wipe skillet clean.
Add sprouts and apples to bowl with almonds. Drizzle in ¼ cup of the dressing, and toss to coat. Add additional dressing and seasoning, if needed.
Heat same skillet over medium-high heat, and add canola oil. Season pork chops on both sides with salt and pepper. Once oil is hot, add pork and cook until bottom is nice and brown, about 3 to 4 minutes. Flip and brown on other side, another 3 to 4 minutes. Transfer chops to oven, and continue cooking until an instant-read thermometer inserted into the deepest portion of the chop registers 140 degrees Fahrenheit, an additional 2 to 4 minutes. Transfer chops to a plate, and set aside.
Pour off fat from the skillet, let cool briefly, then set over medium heat. Pour in ¼ cup of remaining dressing, and stir, scraping the bottom of the pan to remove brown bits. Cook until slightly thickened, about 1 minute, then remove from heat. Serve chops with salad on the side and warm dressing spooned over the top.
4. Asian Brussels Sprout Slaw with Carrots and Almonds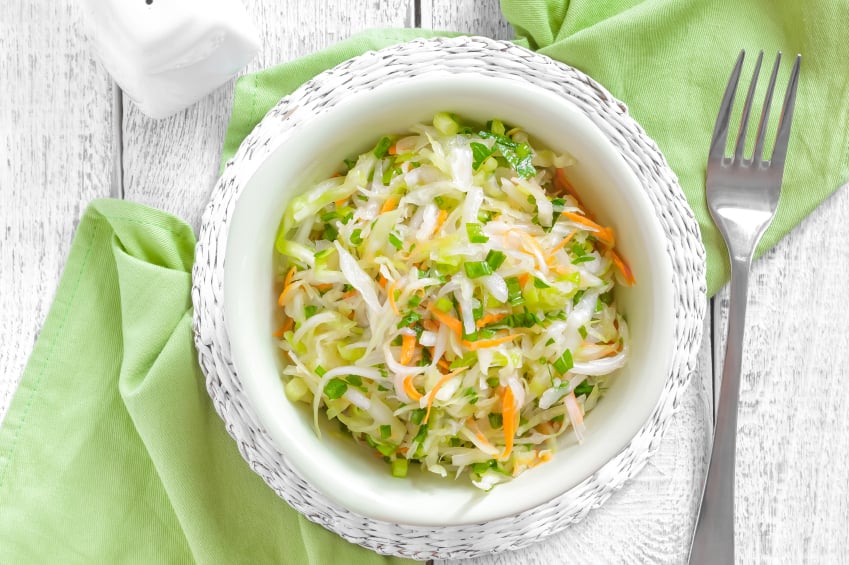 Since they're essentially a shrunken version of cabbage, Brussels sprouts are perfect for making slaw. Inject a little more flavor into the standard by making Cookie and Kate's Asian-inspired version with carrots, almonds, and a soy-honey dressing. You can also add other shredded veggies like celery root or beets. Since this dish tastes better after it has a chance to sit, it's a great choice to pack with lunch.
You may want to clear your schedule to spend some time with your sweetheart at night if you include this slaw in your daytime meal. Brussels sprouts contain high levels of indole-3-carbinol, a compound that can reduce estrogen levels and help spike your libido. It's also been linked to a reduced risk of several types of cancer, including prostate.
Ingredients:
 Slaw
1 pound Brussels sprouts, trimmed, and shredded using a food processor, or thinly sliced with a knife
3 to 4 medium carrots, peeled and shredded
⅔ cup chopped green onions
⅔ cup lightly packed fresh cilantro leaves, chopped
⅔ cup slivered almonds
¼ cup sesame seeds
Dressing
¼ cup olive oil
3 tablespoons apple cider vinegar
3 tablespoons honey
3 tablespoons reduced-sodium tamari or another soy sauce
¼ teaspoon sea salt (optional)
Directions: Combine Brussels sprouts and carrots in a large bowl. In a medium skillet set over medium heat, toast almonds, tossing frequently, until lightly browned and fragrant, 4 to 5 minutes. Add to the veggies along with the green onions, cilantro, and sesame seeds.
In a small bowl, whisk olive oil, vinegar, honey, tamari, and salt to combine. Skip the salt if your soy sauce isn't a low-sodium variety. Pour dressing over vegetables, and toss until well coated. Let stand at least 10 minutes before serving.
5. Pasta Shells with Chicken and Brussels Sprouts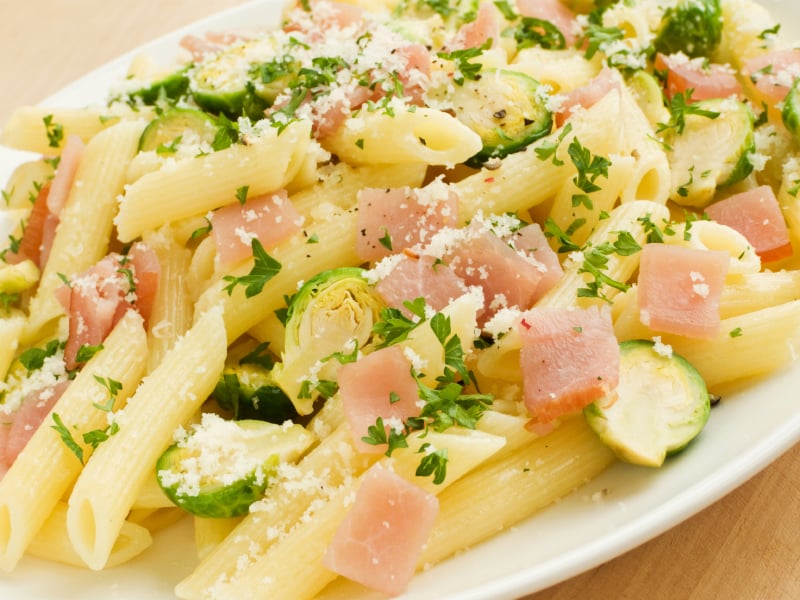 Not many people think to make pasta when they're trying to eat well since many preparations are smothered in fatty sauces and served in huge portions. This delicious recipe from Food & Wine shows how to turn it into a diet-friendly meal by using plenty of chicken and vegetables. With these healthy, not to mention delicious, additions, you only need 8 ounces of pasta to yield 4 servings.
Ingredients:
2 tablespoons cooking oil, divided
3 tablespoons unsalted butter, divided
4 (⅓-pound) boneless, skinless chicken breasts
1 teaspoon salt, divided
½ teaspoon freshly ground black pepper, divided
½ red onion, chopped
2 garlic cloves, chopped
¾ pound fresh Brussels sprouts or 1 (10-ounce) package of frozen, thawed Brussels sprouts, quartered
1 cup low-sodium chicken broth or stock
⅛ teaspoon dried red pepper flakes
1½ teaspoons lemon juice
¼ cup chopped fresh parsley
⅓ cup grated Parmesan cheese
½ pound medium pasta shells or other short-cut pasta
Directions: In a large nonstick skillet, heat 1 tablespoon of oil and 1 tablespoon of butter over medium heat. Season chicken with ¼ teaspoon salt and ¼ teaspoon pepper. Cook until chicken is browned and just cooked through, 4 to 5 minutes per side. Remove chicken from pan, and let rest 5 minutes. Cut into small pieces.
In same pan, heat remaining oil over medium-low heat. Add onion, and cook, stirring occasionally, until beginning to soften, about 3 minutes. Stir in garlic, sprouts, broth, and red pepper flakes. Bring to a simmer, cover, and cook until sprouts are just tender, about 5 minutes. Add chicken, lemon juice, parsley, Parmesan, reaming butter, remaining salt, and remaining pepper. Remove from heat.
In a large pot of boiling, salted water, cook pasta until just tender, about 10 minutes. Drain, and toss with sauce. Serve.
More from Culture Cheat Sheet:
Want more great content like this? Sign up here to receive the best of Cheat Sheet delivered daily. No spam; just tailored content straight to your inbox.