Cook to Get Cut: 5 Great Grain Recipes
When you're looking to get lean, exercise is only half of the equation. You can do all the crunches and sprints in the world, but the foods you put into your body are every bit as important. You don't have to surrender to a diet of bland chicken breasts and raw spinach, though. As part of our Cook to Get Cut series, we'll show you how to use some of the healthiest eats to sculpt your physique without sacrificing any flavor. We'll pick a different food category each week, and show you how to turn it into some spectacular meals. Getting fit never tasted so good. 
Carbs have gotten a bad reputation over the years, often seen as empty calories. Many folks are tempted to eliminate the food group from their diets, but that's not the wisest choice for guys who are trying to get lean. According to Men's Fitness, whole grains provide you with the fuel needed to get through a tough workout. You'll also get a hefty dose of fiber to keep you full and help stabilize your blood sugar, and you can easily incorporate grains into tons of different dishes. These five recipes give you the nutrition your body needs while delivering some serious flavor. Carbs are back on the menu.
1. Toasted Barley Salad with Broccoli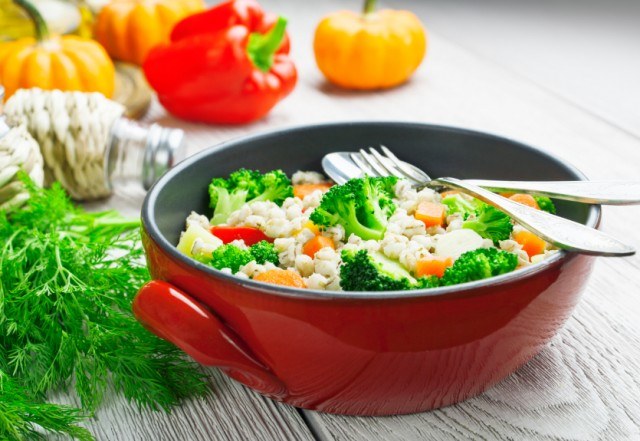 Most people only get a taste of barley in a meat-heavy soup, but that's not exactly appropriate for summer. Give the grain a lighter look with this veggie-packed salad from Bon Appétit. While plenty of dishes simply boil barley, this recipe takes the time to toast the grain first. Don't skip this step, because it really boosts the flavor of the final salad. A final sprinkle of almonds highlights the nutty taste even more.
This grain does the body good, too. Men's Fitness said barley can lower cholesterol, reduce blood pressure, and help you get slimmer. Combing it with broccoli is also a smart choice, because it boosts the fiber even more. If you'd like, top this salad with a few eggs, some pork chops, or grilled chicken to give it some more staying power.
Ingredients:
4 tablespoons olive oil, divided
½ cup pearl barley, rinsed
Kosher salt
1 garlic clove, thinly sliced
1 anchovy fillet
½ head broccoli, chopped
Freshly ground black pepper
3 tablespoons white wine vinegar, plus more
½ cup flat-leaf parsley leaves
¼ cup chopped, roasted almonds
Directions: Heat 1 tablespoon oil in a small pot set over medium heat. Add barley, and toast, stirring occasionally, until golden, about 5 minutes. Add 3 cups water, and bring to a boil. Season with salt. Cook barley until tender, 25 to 30 minutes.
Heat remaining 3 tablespoons oil in a large skillet. Add garlic and anchovy. Cook, stirring occasionally, until garlic is just golden, about 2 minutes. Add broccoli, and season with salt and pepper. Cook until crisp-tender and bright green, 8 to 10 minutes. Add barley, and cook, tossing until warmed. Add vinegar, and season with salt and pepper. Taste, and add more vinegar, if desired. Stir in parsley and almonds, and serve.
2. Grilled Rosemary Chicken with Farro Risotto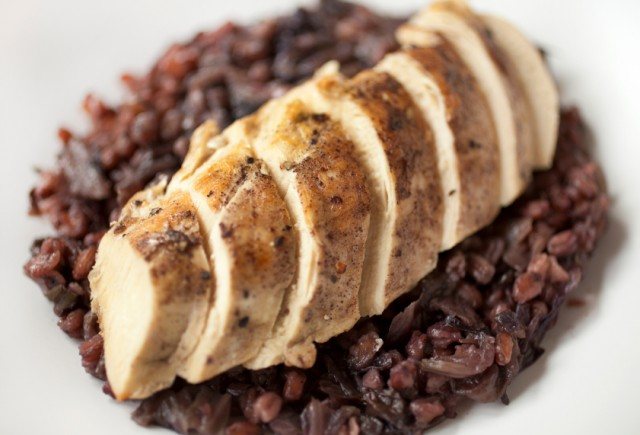 Typically made with arborio rice, risotto might be even tastier when you use nutty-tasting whole grains. They also significantly improve the nutritional value of this classic Italian dish. While the white stuff has moderate amounts of fiber and protein, it's no match for the whole grain. According to Livestrong, one cup of cooked farro contains 10 grams of fiber and 14 grams of protein. This farro risotto from Cooking Light takes a bit longer than a traditional version, but it's just as easy.
Start by marinating the chicken, then move on to cooking the risotto. Sweat some onions, then add mushrooms, and wine. Stir in the farro, then add the stock a bit at a time, stirring as it cooks. This recipe finishes the creamy dish with kale, but feel free to sub any of your favorite summer veggies. Once the grains are done, just grill the chicken, pile it on top, and dig in.
Ingredients:
3 tablespoons olive oil, divided
1 tablespoon chopped fresh rosemary
5 garlic cloves, minced
3 (6-ounce) boneless, skinless chicken breast halves
1½ cups boiling water
1 ounce dried porcini mushrooms
2¾ cups unsalted chicken stock
1½ cups finely chopped onion
1 tablespoon chopped fresh thyme
1 cup uncooked, pearled farro
½ cup dry white wine
½ teaspoon kosher salt, divided
3 cups lacinato kale, stemmed, and sliced
1 ounce Parmesan cheese, grated
½ teaspoon freshly ground black pepper, divided
Cooking Spray
2 tablespoons chopped flat-leaf parsley
Directions: Combine 2 tablespoon oil, rosemary, and garlic in a medium bow. Add chicken, and toss to coat. Cover, and let stand at least 30 minutes.
Combine 1½ cups boiling water and mushrooms in a small bowl, and let stand 15 minutes. Strain through a fine mesh sieve over a medium saucepan. Chop mushrooms, and set aside. Add chicken stock to mushroom broth, and bring to a simmer over medium heat.
Heat a large saucepan over medium-high heat. Add remaining 1 tablespoon oil. Cook onion and thyme until tender, about 4 minutes. Add reserved mushrooms and farro, and cook 1 minute, stirring to coat. Add wine, and cook 1 minute, scraping pan to loosen brown bits. Add 1 cup stock mixture, and ¼ teaspoon salt. Cook 5 minutes, or until liquid is almost absorbed, stirring constantly. Add remaining stock, ½ cup at a time, stirring constantly until quid is absorbed before each addition. The process will take about 35 minutes. Add kale, and cook 2 minutes. Remove from heat, and stir in cheese and ¼ teaspoon pepper.
Remove chicken from marinade, and discard marinade. Sprinkle chicken with remaining salt and pepper. Heat a grill pan or grill to medium-high heat. Coat grates with cooking spray. Cook chicken about 6 minutes on each side, or until cooked through. Remove chicken to a cutting board, and let rest 5 minutes. Cut chicken into slices. Divide farro among bowls, and top with chicken. Sprinkle with parsley, and serve.
3. Morning Oatmeal with Cherries and Pistachios
Good news for oatmeal lovers, this grain is one of the best breakfast choices you can make. It's especially good if you like to hit the gym early in the morning. Bodybuilding.com suggested eating slow-digesting carbs, like oats, before exercising to give you lasting energy. We particularly love the combination of cherries and pistachios in this recipe from The New York Times. The nuts offer a nice crunch and the fruit lends just enough sweetness.
While this recipe is perfectly healthy, make sure not to go overboard before hitting the weights. The same article from Bodybuilding.com said too many carbs too close to your workout could lead to stomach troubles. Either halve the recipe, or save some for the next day.
Ingredients:
½ cup steel-cut oatmeal
Pinch of salt
1½ cups water
1 to 2 teaspoons honey or brown sugar
1 to 2 tablespoons toasted pistachios
3 ounces cherries, halved, and pitted
Milk or almond milk
Directions: The day before you plan to eat, place oats in a large, microwave-safe bowl with salt. Boil water, and pour over oatmeal. Cover, and let sit overnight.
In the morning, stir honey, pistachios, and cherries into oatmeal. Cover, and microwave 3 to 5 minutes, or simmer 10 minutes on the stove, until remaining liquid is absorbed. Stir in milk, and serve.
4. Stuffed Bell Peppers
When you're in the mood for a nostalgic supper, try these hearty stuffed peppers from Mom's Dish. Instead of filling the veggies with rice, this recipe opts for buckwheat. The whole grains actually hold their texture better, and buckwheat is a great choice if you're working on your core. Men's Health picked this grain as one of the best foods for sculpting enviable abs.
This simple method cooks the peppers in the oven, but you can easily make this a grilling recipe. Once the veggies are filled, pop them into a foil tray, and cook over indirect heat for about 30 minutes. If you'd like to up the protein, try adding a little bit of ground beef or some cooked beans to the filling.
Ingredients:
3 large bell peppers
1 large onion, diced
2 cups diced carrots
3 tablespoons dried parsley
2 cups cooked buckwheat
6 slices cheddar-jack cheese
2 tablespoons beef bullion
2 tablespoons olive oil
Directions: Preheat oven to 370 degrees Fahrenheit. Slice peppers in half, and remove seeds and stems. Sauté onions and carrot in oiled skillet until softened. Add bullion, and buckwheat, and stir to combine. Add parsley, and stir.
Fill each pepper half with buckwheat mixture. Place peppers into a baking dish, and bake 35 minutes. Add a slice of cheese on top of each pepper half, and cook another 5 minutes, or until cheese is melted. Serve.
5. Quick and Easy Brown Fried Rice
Fried rice is a takeout favorite, but it's usually loaded with grease. You can make a much healthier version at home, especially if you replace the white rice with brown. I Wash You Dry's fast version, adapted from a recipe on Center Cut Cook, manages to get tons of flavor with just 10 ingredients. Although this dish calls for frozen veggies, you can easily use fresh ones.
Men's Fitness said brown rice is a particularly good choice for guys, because it's loaded with filling fiber and bone-building magnesium. You may find you like it even better than its paler sibling, because the brown stuff has more flavor.
Ingredients:
2 eggs, lightly beaten
1 small onion, diced
2 garlic cloves, minced
1 teaspoon minced ginger
1 cup frozen peas and carrots
3 cups cooked, cold brown rice
3 tablespoons soy sauce
3 tablespoons oyster sauce
1 teaspoon sesame oil
3 tablespoons sliced green onions
Directions: In a large wok, or skillet, coated with nonstick cooking spray, scramble eggs over medium heat, until just cooked. Remove to a plate.
Add onion to pan, and cook, stirring, until onions soften, about 3 to 5 minutes. Remove onions from wok, and set aside.
Add 1 teaspoon sesame oil to wok, and then add garlic and ginger. Cook 30 seconds, then add carrots and peas, and cook 2 minutes. Add rice, and stir to combine. Add oyster sauce, and soy sauce. Cook, stirring, until heated through.
Add onions, eggs, and green onions to pan. Mix to combine, and serve.
More from Culture Cheat Sheet:
Want more great content like this? Sign up here to receive the best of Cheat Sheet delivered daily. No spam; just tailored content straight to your inbox.