Cook to Get Cut: 5 Healthy and Flavorful Beef Recipes
When you're looking to get lean, exercise is only half the equation. You can do all the crunches in the world, but the foods you eat are every bit as important. As part of our Cook to Get Cut series, we'll show you how to use some of the healthiest eats to sculpt your physique without sacrificing flavor. Getting fit never tasted so good. 
When people want to slim down, beef is typically one of the first foods to go. The red meat has developed a pretty nasty reputation among health-conscious folks, and it probably has something to do with the calorie-laden meals at steakhouses. A meal at one of these eateries can definitely do some damage. A 10-ounce rib eye with a wedge salad and a loaded baked potato from Outback Steakhouse will set you back 1015 calories and load on 53 grams of fat, and that doesn't even include appetizers, bread, or dessert. But the steak shouldn't get all the blame. The real culprits for those jaw-dropping numbers are the sides and the absurd portion sizes.
Of course, the exact nutritional value of beef varies quite a bit depending on the cut. Strip and rib eye steaks are super delicious thanks to lots of fat marbled throughout the meat. While tasty, they should be occasional treats for guys hoping to shave off a bit of weight. Cuts like top sirloin and eye of round, though, are much leaner and make a great addition to a healthy diet. Along with plenty of satisfying protein, the red meat will offer iron, zinc, and B vitamins. You just have to be a little bit more careful with your cooking, since lean cuts can get really dry if you take them too far. These five dishes make it easy to turn out delicious steaks and stews that don't even resemble diet food. Beef is definitely back on the menu.
1. Top Sirloin Steak with Bell Pepper and Onion Sauté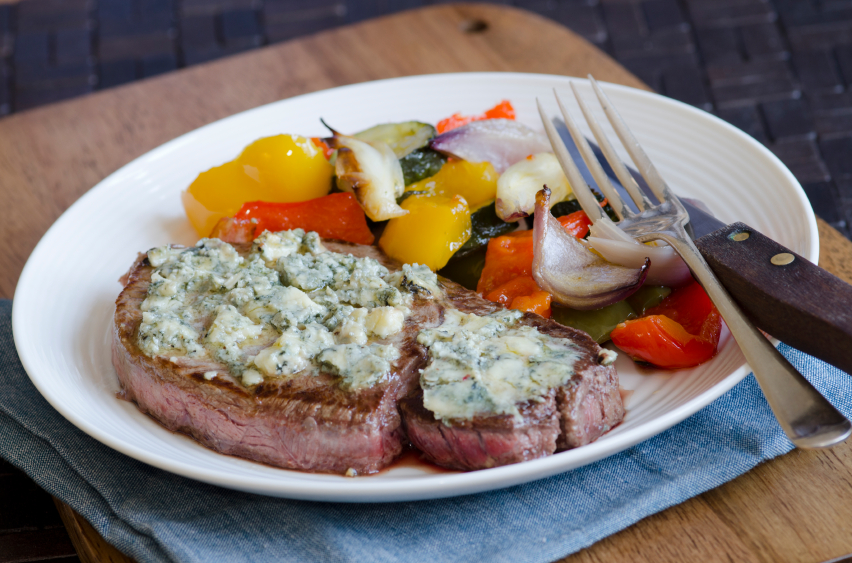 Eating healthy can sometimes lead to bland food, but it doesn't have to. The secret to cooking better-for-you eats without creating a calorie bomb is using big, intense flavors. This bold steak and pepper recipe from Epicurious starts with a sweet and tangy meat marinade made from balsamic vinegar and garlic. Once the steaks hit the grill, that coating helps create a flavorful sear. Topped with some quickly cooked peppers and onions and a sprinkle of blue cheese, this meal might become a new favorite.
Top sirloin is one of the best red meat choices with just 211 calories and about 7 grams of fat for a 4-ounce portion. And combining the red meat with peppers is both smart and delicious. The vitamin C in the veggies will actually enhance your body's ability to absorb the meat's iron. Just remember to keep your portion size in check. While this recipe is designed to yield four servings, it can easily feed twice as many.
Ingredients:
2 (1½-pound, 1-inch-thick) top sirloin steaks
6 tablespoons olive oil, divided
2 tablespoons balsamic vinegar
6 garlic cloves, minced, divided
1 large onion, sliced
1 large red bell pepper, sliced
1 large green bell pepper, sliced
1 cup unsalted beef broth or low-sodium chicken broth
Salt and pepper
Crumbled Gorgonzola or other blue cheese
Minced fresh Italian parsley
Directions: Place steaks in a glass baking dish. Mix 4 tablespoons oil, vinegar, and half of garlic in a small bowl. Pour over steaks, and turn to coat. Marinate 30 minutes at room temperature or 3 hours in the fridge.
Heat 2 tablespoons oil in a heavy, large skillet over medium heat. Add onion, peppers, and remaining garlic. Cook 8 minutes. Add broth, and increase heat to boiling. Cook until vegetables are tender and liquid thickens, about 5 minutes. Season with salt and pepper.
Prepare grill to high heat or preheat broiler. Remove steaks from marinade, and season with salt and pepper. Grill until cooked to desired doneness, about 5 minutes per side for rare. Transfer to a platter, and let rest 5 minutes. Bring vegetables to a simmer. Slice steaks, top with vegetables, and sprinkle with cheese and parsley. Serve.
2. Chipotle Beef Tacos with Caramelized Onions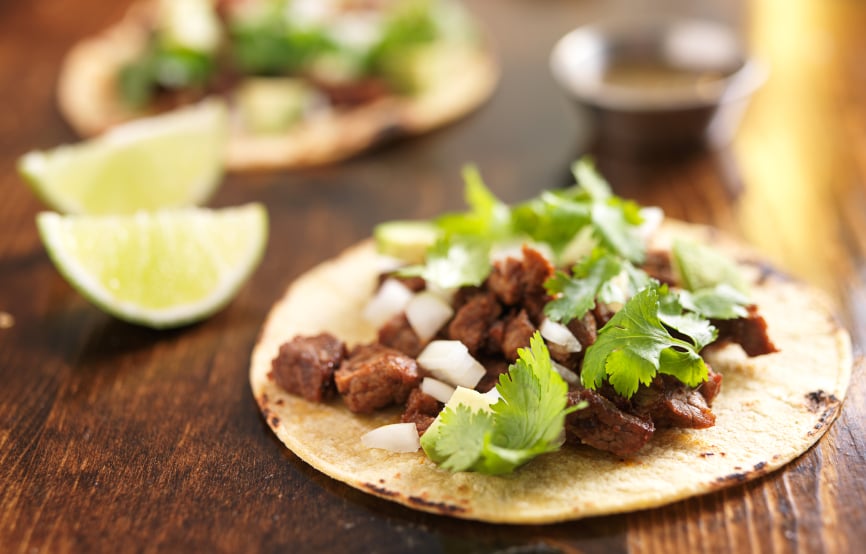 Most people think flank and skirt steak are the same cut, since they look pretty similar. A closer look reveals some pretty important differences in their nutritional makeup, though. MyRecipes.com pointed out 3 ounces of flank steak contains 158 calories and 6 grams of fat while the same amount of skirt steak is 198 calories with 12 grams of fat. With a similar taste and texture, picking the leaner option is a complete no-brainer.
Once you pick up your beef, put it to good use in these chipotle tacos from Elly Says Opa, adapted from a recipe in Mexican Everyday. The spicy steak and sweet onions make a perfect pairing tucked inside a warm tortilla. A bit of goat cheese makes a great finishing touch.
Ingredients:
4 to 5 chipotles in adobo
1 (1-pound) flank steak
3 tablespoons canola oil, divided
2 medium onions, sliced ¼-inch thick
12 warm corn tortillas
Salt
Goat cheese
Smoky Chipotle Salsa or bottled salsa
Directions: Puree chiles in a small food processor until smooth. Brush a coating of mixture over each side of steak. You may have extra. Marinate in fridge for 1 to 2 hours or at room temperature for 20 to 30 minutes.
Turn oven to lowest setting. Heat 2 tablespoons oil in a large, heavy skillet over medium-high heat. Add onions and cook until golden, but still a bit firm, about 5 minutes. Remove to a heat-proof bowl, and transfer to oven.
Return skillet to medium-high heat. Add remaining oil. Add steak and cook until it reaches your desired level of doneness, about 5 minutes per side for medium rare. Let meat rest 5 to 10 minutes. Slice against the grain into strips. Toss with onions, and season with salt. Serve with tortillas, cheese, and salsa.
3. Coriander-Dusted Roast Beef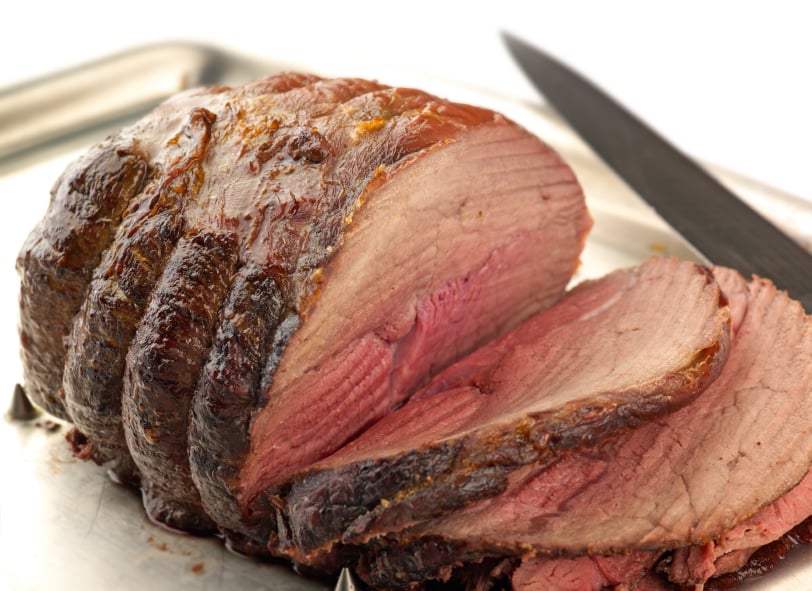 While most people think of roast beef as a wintertime dish, it's actually a meal that can be served year-round. A spiced-up version from Food & Wine brightens the flavors while still giving you a satisfying main dish. Instead of going with a creamy horseradish sauce, this recipe opts for a fast gravy that's lighter on calories without lacking any taste.
In addition, The New York Times' Melissa Clark said lean beef is great for cold sandwiches. Anything with too much marbling will develop a gross, waxy texture once refrigerated. You can also use leftovers in cold noodle dishes, salads, and spring rolls.
Ingredients:
1 (3¾-pound) beef eye of round roast
2 tablespoons extra-virgin olive oil
1 tablespoon whole coriander seeds, coarsely ground
1 teaspoon sweet paprika
Kosher salt and freshly ground pepper
1½ tablespoons all-purpose flour
2 cups beef stock
Directions: Preheat oven to 350 degrees Fahrenheit. Rub roast with 1 tablespoon of olive oil. In a small bowl, combine coriander seeds, paprika, 2 teaspoons salt, and 1 teaspoon pepper. Rub all over roast.
In a medium roasting pan, heat remaining 1 tablespoon olive oil Add roast, and brown well on all sides over moderate heat, turning with tongs, about 5 minutes. Turn roast so fat is facing up. Transfer to oven. Roast 35 minutes, or until an instant-read thermometer inserted into the thinner end reads 120 degrees Fahrenheit for medium-rare. Transfer to a cutting board, and let rest for 20 minutes.
Set roasting pan over stove and turn burner to high heat. Add flour and cook 2 minutes, whisking constantly. Gradually whisk in stock. Boil, whisking, until thickened, about 2 minutes. Season with salt and pepper. Slice roast into ¼-inch-thick slices. Serve with gravy.
4. Grilled Peppery Top Round Steak with Parmesan Asparagus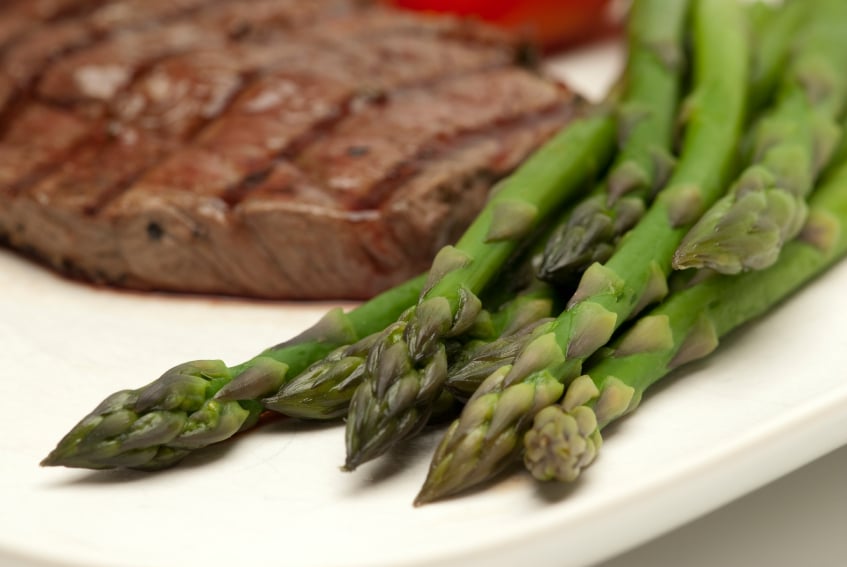 This robust steak and asparagus dish from Beef. It's What's For Dinner. is perfect for busy nights, because it's a complete meal that comes together in no time. Mix up a marinade with red wine vinegar, red pepper flakes, and some thyme. Add the meat, then toss it in the fridge while you head off to work. When you get home, just boil some orzo, grill the steak and asparagus, sprinkle with Parmesan, and dig in.
Asparagus is another nutritional superstar. It's packed with vitamins and antioxidants, plus some research indicates the green veggie could help alleviate a hangover. All the more reason to enjoy a glass of wine with dinner.
Ingredients:
Marinade
¼ cup red wine vinegar
2 tablespoons olive oil
1 tablespoon chopped fresh thyme
2 large garlic cloves, minced
2 teaspoons steak seasoning blend
1 teaspoon crushed red pepper
Assembly
1 (1-pound, ¾-inch-thick) top round steak
1 pound asparagus, trimmed
1 teaspoon olive oil
3 tablespoons grated Parmesan cheese
Salt
Cooked orzo
Directions: Combine all marinade ingredients in a medium bowl. Place steak in a large, zip-top bag, add marinade, and seal. Marinate in refrigerator 6 hours to 1 day, turning occasionally.
Preheat grill to medium. Remove steak from marinade, and discard marinade. Toss asparagus with oil. Grill steak about 10 to 11 minutes, turning once, until medium rare. At same time, grill asparagus 6 to 10 minutes, or until crisp-tender, turning occasionally.
Sprinkle asparagus with cheese. Carve steak into thin slices, season with salt, and serve with asparagus and orzo.
5. Beef and Bean Chile Verde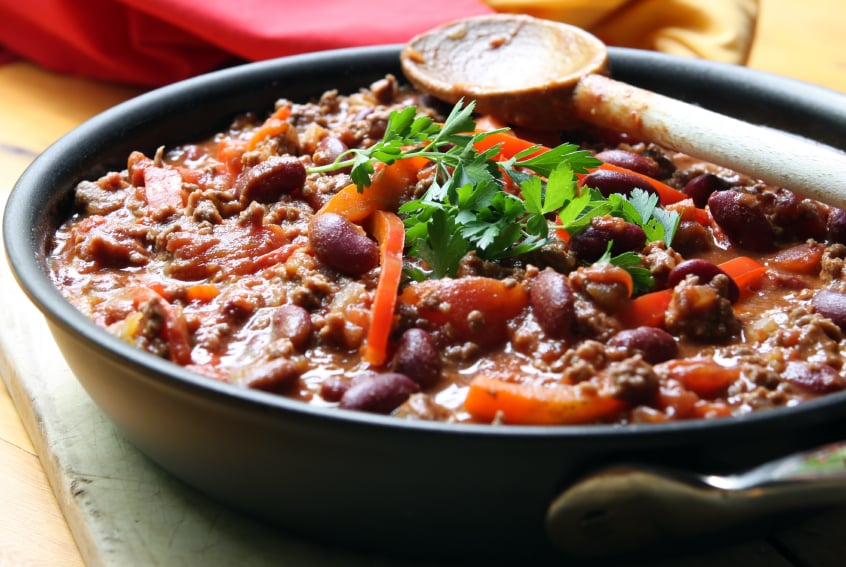 Create a delicious spicy stew with Eating Well's recipe. Loaded with a double dose of protein from the beef and beans, it'll keep you filled up long after you've done the dishes. If you're looking for some good topping options that won't blow the calorie count, try a dollop of Greek Yogurt, a sprinkle of cilantro, and some diced avocado.
Make sure to search for lean ground beef at the store. The most common blends have around 20% fat, so look closely before buying.
Ingredients:
1 pound 93%-lean ground beef
1 large red bell pepper, chopped
1 large onion, chopped
6 garlic cloves, chopped
1 tablespoon chili powder
2 teaspoons ground cumin
¼ teaspoon cayenne pepper
1 (16-ounce) jar salsa verde or green enchilada sauce
¼ cup water
1 (15-ounce) can pinto or kidney beans, rinsed
Directions: Cook beef, pepper, and onion in a large saucepan over medium heat, crumbling meat with a wooden spoon, until meat is browned, 8 to 10 minutes. Add garlic, chili powder, cumin, and cayenne. Cook until fragrant, about 15 seconds. Stir in salsa and water. Bring mixture to a simmer, then reduce heat to medium-low. Cover and cook, stirring occasionally, until vegetables are tender, 10 to 15 minutes. Stir in beans, and cook just to heat through, about 1 minute. Serve.
More from Culture Cheat Sheet:
Want more great content like this? Sign up here to receive the best of Cheat Sheet delivered daily. No spam; just tailored content straight to your inbox.