Cook to Get Cut: 5 Incredible Lentil Recipes
When you're looking to get lean, exercise is only half the equation. You can do all the crunches in the world, but the foods you eat are every bit as important. As part of our Cook to Get cut series, we'll show you how to use some of the healthiest eats to sculpt your physique without sacrificing flavor. Getting fit never tasted so good. 
Trying to eat more plant-based foods can leave you feeling famished if you aren't careful. Instead of trying to fill your belly with just fruits, veggies, and carbs, try adding some lentils to the mix. These all-star legumes contain 230 calories, 16 grams of fiber, and 18 grams of protein per cooked cup, so you'll stay satisfied for hours. Compared to beans, lentils also cook much faster, making them practical for weekdays. See how wonderful lentils can taste with these five great recipes.
1. Lentils with Fried Eggs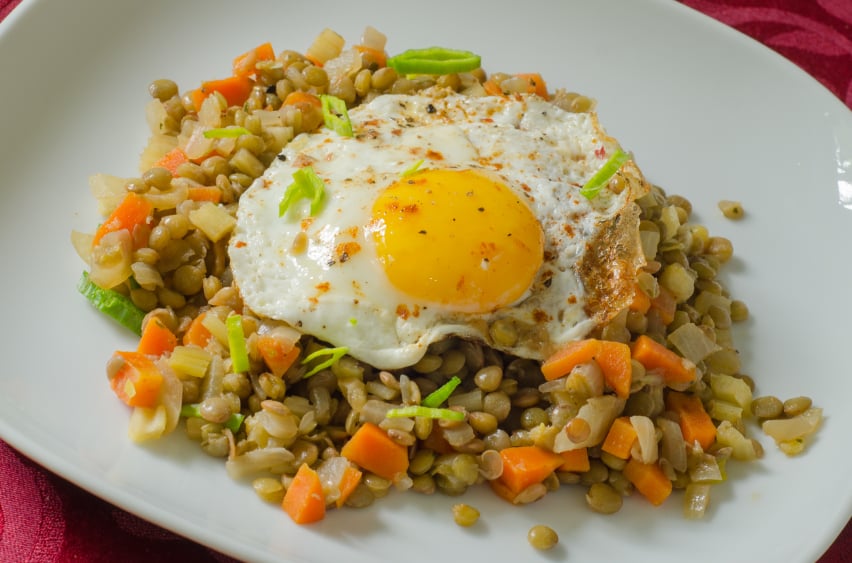 Start your day off right with this satisfying lentil stew topped with eggs from Food Network. To keep things speedy, this recipe uses canned lentils. You can usually find them over by the canned beans in the grocery store. If you tend to be short on time in the mornings, cook the stew over the weekend, then just reheat a serving and fry an egg after you roll out of bed.
In addition to protein and fiber, lentils offer an impressive dose of iron, about 37% of your daily needs per cooked cup. Our bodies don't typically absorb iron from plant-based foods as well as from animal sources, but a little bit of vitamin C can help. A glass of orange juice will do nicely with this breakfast.
Ingredients:
3 tablespoon unsalted butter, divided
4 large shallots, finely chopped
3 celery stalks, finely chopped
3 thyme sprigs
Kosher salt
¼ cup red wine vinegar
1½ teaspoons sugar
1 (14-ounce) can diced, fire-roasted tomatoes
1 (15-ounce) can brown lentils
2 teaspoons Dijon mustard
Freshly ground pepper
2 tablespoons chopped fresh parsley, divided
4 large eggs
Pita
Directions: Heat 1 tablespoon butter in a Dutch oven or deep skillet over medium-high heat. Add shallots, celery, thyme, and ½ teaspoon salt. Cook, stirring occasionally, until starting to brown, about 5 minutes. Stir in the vinegar, ¼ cup water, and sugar. Cook until mostly evaporated, about 5 minutes.
Add tomatoes, and increase heat to high. Cook, stirring, for 3 minutes. Add lentils and 1 cup water. Bring to a simmer, reduce heat to medium, and cook until lentils are soft, about 10 minutes. Stir in mustard, and cook 5 minutes longer. Season with salt and pepper. Discard thyme, then stir in half the parsley. Cover to keep warm.
Melt remaining butter in a large nonstick skillet over medium heat. One at a time, break eggs into a small bowl, then slide into hot skillet. Cook until whites are set, but yolks are still runny, about 3 to 5 minutes. Top lentils with eggs, sprinkle with parsley, and serve with pita.
2. Lentils with Apples and Ham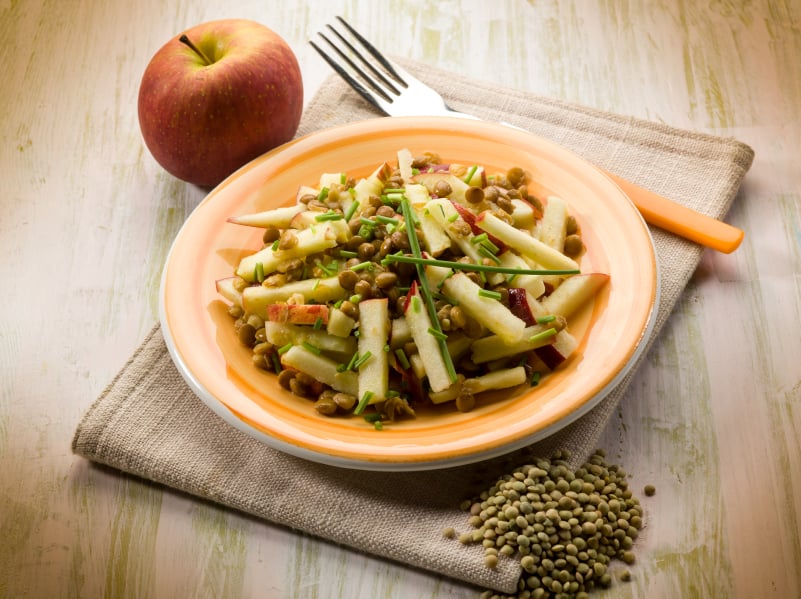 Anyone who likes to pack lunch for work knows it can be a bit of a challenge. Sandwiches can wind up squished or soggy, and salads wilt into a pile of slimy greens. Lentils just happen to be the perfect food for brown bagging. They're packed with the nutrition you need to power through the rest of the day, and they hold up wonderfully in the fridge or at room temperature. Try lentils for your next lunch with this sturdy salad from The Washington Post.
Though there's a bit of ham in this recipe, it's all about the lentils. Replacing some of the meat in your usual meals with legumes is a great way to save a few bucks and also help out your health. Researchers published a piece in a 2014 edition of Obesity Reviews that examined the relationship between legume consumption and a number of diseases. According to the review, swapping some meat for legumes, such as lentils, can reduce the risk of obesity, cardiovascular disease, diabetes, and metabolic syndrome.
Ingredients:
1 cup dried green lentils
¼ cup olive oil, divided
½ cup finely diced onion
Kosher salt
1 large or 2 small, sweet, crisp apples, peeled, cored, and cut into ¼-inch dice
4 ounces low-sodium smoked ham, trimmed, and cut into ¼-inch dice
3 tablespoons apple cider vinegar
2 teaspoons Dijon mustard
1 tablespoon honey
Freshly ground black pepper
3 tablespoons finely chopped fresh parsley
Directions: Place lentils in a medium saucepan. Add enough water to cover by 2 inches, partially cover with a lid, and bring to a boil over medium-high heat. Reduce heat to medium low so water is just bubbling at the edges. Cook 20 to 25 minutes, or until lentils are just tender. Drain, and transfer to a large bowl.
Meanwhile, heat 2 tablespoons oil in a medium nonstick skillet over medium-high heat. Add onion, and season with salt. Stir to coat, then reduce heat to medium and cook for 4 minutes, or until onion is softened. Stir in apple, and cook 3 to 4 minutes, or until apple is just softened.
Add ham, and stir to incorporate. Cook 3 to 4 minutes, or until ham is heated through. Add to the lentils.
Whisk remaining oil with vinegar, mustard, and honey in a small bowl. Season with salt and pepper, then pour over lentils. Add parsley, and toss to incorporate. Adjust seasoning, if needed. Serve.
3. Spiced Lentil, Pumpkin, and Goat Cheese Salad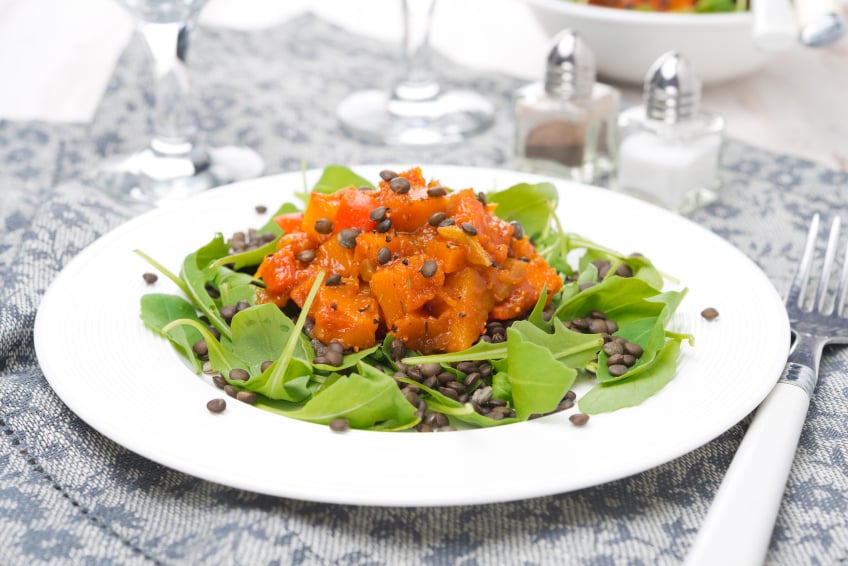 This hearty pumpkin, lentil, and arugula recipe from Epicurious makes salad into something a lot more substantial than the standard pile of greens. Just add some bread for a light dinner or serve it with some chicken or salmon. Can't find pumpkin? Any type of winter squash will work equally well.
With both veggies and lentils, this salad gives you a whopping dose of fiber. This nutrient helps keep you regular, and it can also help you shed extra pounds. A recent study published in the Annals of Internal Medicine found focusing only on increasing fiber intake rather than trying to assess your entire diet can be a useful strategy for weight loss.
Ingredients:
¾ cup French green lentils
1 (2-pound) sugar pumpkin or butternut squash, peeled, seeded, and cut into 1-inch cubes
3 tablespoons olive oil, divided
1 teaspoon ground cumin
1 teaspoon hot smoked Spanish paprika
½ teaspoon sea salt
4 cups baby arugula
1 cup soft goat cheese, crumbled, divided
¼ cup thinly sliced mint leaves
1 tablespoon red wine vinegar
Directions: Place lentils in a small bowl, cover with cold water, and let soak for 10 minutes. Drain, then cook in boiling, salted water until tender, but firm, about 30 minutes. Drain, rinse under cold water, and drain again.
Preheat oven to 375 degrees Fahrenheit. Toss pumpkin with 2 tablespoons oil, cumin, paprika, and salt. Arrange in a single layer on a baking sheet, and roast for 20 minutes. Flip over, and roast until tender, about 10 to 15 minutes longer. Cool.
Combine lentils, pumpkin, and oil from baking sheet with arugula, half of goat cheese, mint, vinegar, and remaining oil. Season with salt and pepper. Divide among plates, and serve sprinkled with remaining goat cheese.
4. Spiced Red Lentil Dal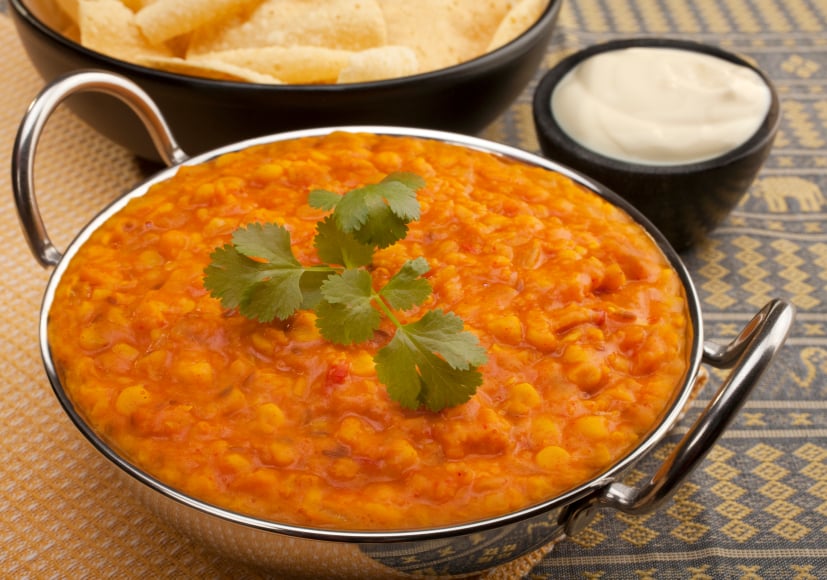 If you've steered clear of Indian recipes in the past for fear of complex cooking or lengthy ingredient lists, The New York Times's easy dal is the perfect introduction. With just 11 ingredients and a 30-minute preparation, it's one of the easiest ways to add some excitement to your cooking. Serve it with some pita, yogurt, and wilted spinach for a complete meal.
If you're still skeptical of going meatless for dinner, consider what it does for reducing your cancer risk. According to 2011 study published in Nutrition and Cancer, it's possible to reduce the risk of colorectal cancer by 33% if you eat legumes at least three times per week. Since colorectal cancer is the second deadliest type of the disease, killing more than 50,000 Americans in 2014, digging into some lentils starts to look like a pretty great idea.
Ingredients:
2 tablespoons peanut oil
1 large onion, chopped
1 cup dried red lentils, washed and picked over
2 tablespoons minced fresh ginger
1 tablespoon minced garlic
1 tablespoon mustard seeds
2 cloves
1 teaspoon cracked black pepper
Salt
2 tablespoons cold butter
Chopped fresh cilantro
Directions: Heat oil in a skillet over medium-high heat, then add onion, and cook until soft, about 10 minutes. Remove from heat, and set aside.
Meanwhile, combine lentils, ginger, garlic, mustard seeds, cloves, and pepper in a saucepan. Add enough water to cover by 1 inch, and bring to a boil. Reduce heat to a simmer. Cook, stirring occasionally, adding water occasionally, until lentils are tender, 15 to 20 minutes. Season with salt and pepper. Cook until lentils are saucy, but not soupy.
Remove cloves from pan, and add reserved onions. Stir in butter, garnish with cilantro, and serve.
5. Lentil Soup with Kale and Sausage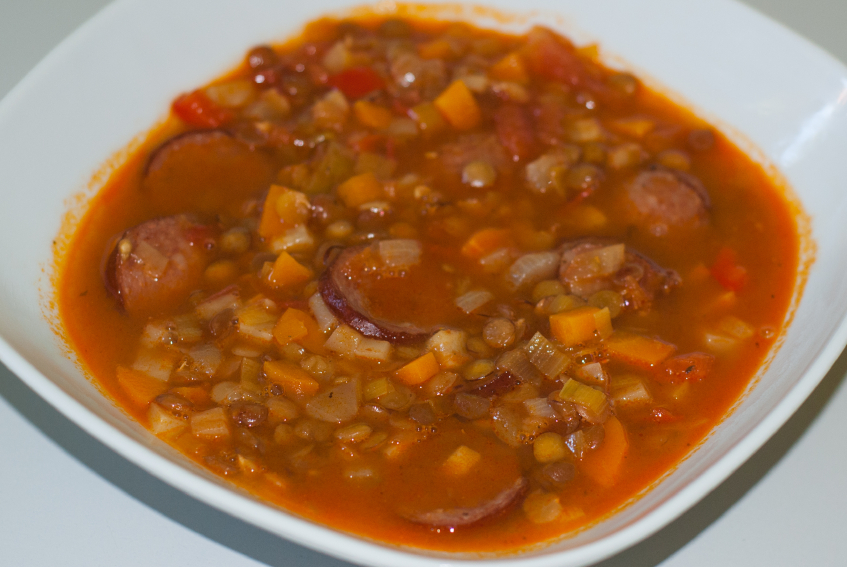 Making a big batch of soup over the weekend is one of our favorite ways to guarantee easy meals during the week. This savory sausage and lentil rendition from Rachael Ray, featured on Cooking Channel, is a delicious way to try the strategy. It's brimming with sausage, herbs, garlic, and a bit of wine for serious flavor.
Once again, this recipe has a pretty good nutritional profile. The lentils and kale give you a double dose of fiber as well as folate. Also known as folic acid and vitamin B9, folate may play a key role in keeping you sharp later in life. Research published in the Proceedings of the National Academy of Sciences revealed elderly individuals who received vitamin B supplements, including folate, experienced a reduction in the type of brain atrophy associated with Alzheimer's disease.
Ingredients:
2 tablespoons extra-virgin olive oil, plus more
1 pound hot or sweet Italian sausage, casings removed
4 garlic cloves, finely chopped
2 bay leaves
2 rosemary sprigs
1 carrot, finely chopped
1 large or 2 medium onions, chopped
1 potato, peeled, and diced
2 tablespoons tomato paste
1 bunch black kale, stemmed and chopped
A few gratings of fresh nutmeg
½ cup dry white or red wine
6 cups chicken stock
1¼ cups brown lentils
Shaved pecorino cheese
Directions: Heat 2 tablespoons oil in a soup pot over medium-high heat. Add sausage, and cook, breaking up with a wooden spoon, until browned. Add garlic, bay leaves, rosemary, carrots, and potatoes. Season with salt and pepper. Cook until vegetables have softened, 7 to 8 minutes. Add tomato paste, and cook for 1 minute, stirring. Stir in kale and nutmeg. Add wine, stirring and scraping any brown bits form the bottom of the pan. Stir in chicken stock and 2 cups of water. Bring to a boil.
Stir lentils into soup, and reduce heat to a simmer. Cook until lentils are tender, 30 to 35 minutes. Remove rosemary stems and bay leaves. Serve topped with a drizzle of oil and a sprinkle of pecorino cheese.
More from Culture Cheat Sheet:
Want more great content like this? Sign up here to receive the best of Cheat Sheet delivered daily. No spam; just tailored content straight to your inbox.