Cook to Get Cut: 5 Lean Venison Recipes That Taste Great
When you're looking to get lean, exercise is only half the equation. You can do all the crunches in the world, but the foods you eat are every bit as important. As part of our Cook to Get Cut series, we'll show you how to use some of the healthiest eats to sculpt your physique without sacrificing flavor. Getting fit never tasted so good. 
Turkey and chicken are the typical protein choices for guys interested in loading up on protein without too much fat, which means poultry gets old pretty fast. Red meat is undeniably more flavorful, but it usually means your meal's nutritional value will suffer. It doesn't have to if you opt for venison, otherwise known as deer. This protein contains fewer calories and fat than beef and it has every bit as much flavor. Some actually prefer the taste because it's a little woodsier and more pronounced.
Though you won't see venison at your local grocery store, you can easily find venison online. This is probably a better option than picking up meat at the store anyways because you'll know exactly where your meat is coming from and you can select exactly which cut you want. Now get cooking with these five recipes.
1. Smokey Venison Chili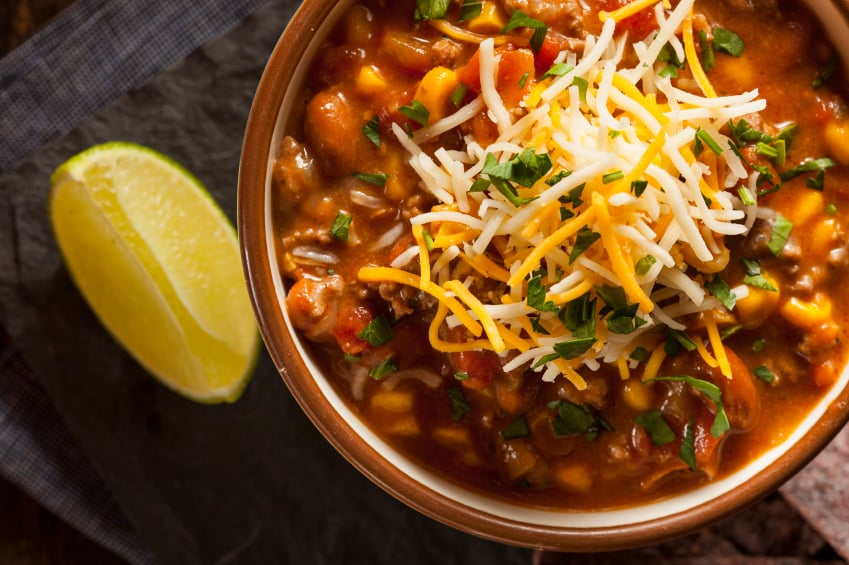 It's hard to beat chili for a hearty, great-tasting meal. For a new twist on the classic, try this chipotle and venison version from Flying on Jess Fuel. The rich taste of venison goes so well with the spices, you might never go back to beef.
With both meat and beans, this chili is a protein all-star. You might be surprised to hear venison contains 26.8 grams of the muscle-building per 3-ounce serving compared to beef's 25.6 grams. This means you can eat less of it and still feel satisfied.
Ingredients:
2 tablespoons olive oil
1 onion, diced
4 garlic cloves, minced
1 pound ground venison
1 tablespoon chili powder
1 teaspoon chipotle powder
2 teaspoons ground cumin
1 teaspoon smoked paprika
1 teaspoon salt
1 (14.5-ounce) can diced tomatoes
1 (8-ounce) can tomato sauce
1 cup beer
1 (15-ounce) can black beans, rinsed and drained
1 (15-ounce) can dark red kidney beans, rinsed and drained
Optional toppings
Grated cheese
Sliced green onions
Picked cilantro
Directions: Heat oil in a large Dutch oven or other heavy pot set over medium heat. Add onion and garlic. Cook, stirring, until beginning to soften, about 5 to 6 minutes. Push onions and garlic to one side of pot, then add venison to other side. Cook breaking up with a spoon, until browned, about 5 minutes. Stir in chili powder, chipotle powder, cumin, paprika, and salt. Cook, stirring, for 1 to 2 minutes longer, or until spices are fragrant.
Stir in tomatoes, tomato sauce, and beer. Use a wooden spoon to scrape up brown bits from the bottom of the pot. Add beans and stir to incorporate. Bring chili to a boil, reduce heat, and simmer, stirring occasionally, for 20 minutes. Serve with desired toppings.
2. Sweet Pepper Venison Stir-Fry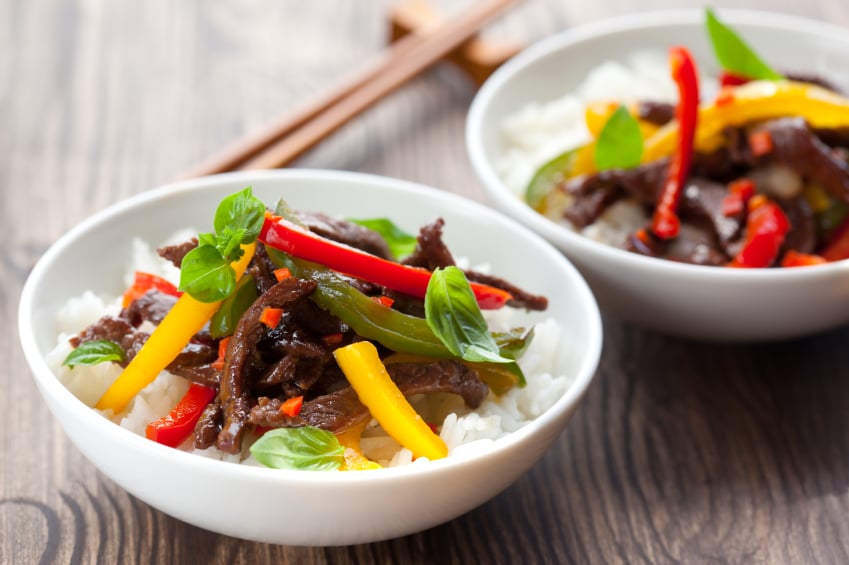 Like most lean meats, venison works wonderfully in stir-fries. We especially like this sweet bell pepper and venison recipe from Taste of Home. The method is super simple, making it a perfect choice for busy weeknights. Just marinate the beef before you head out the door in the morning, then you'll be ready to cook when you get home.
You can add any other produce you like, but don't leave out the peppers. The vitamin C in these vegetables enables your body to better absorb the venison's iron. Iron is crucial for maintaining hemoglobin, a type of molecule in red blood cells that transports oxygen throughout your body. Without enough of this mineral, you're left feeling exhausted.
Ingredients:
¼ cup cornstarch
2 teaspoon sugar
6 tablespoons soy sauce
¼ cup white wine vinegar
½ teaspoon pepper
1 (1-pound) venison tenderloin, cut into 2-inch strips
1 medium green bell pepper, julienned
1 medium red bell pepper, julienned
3 tablespoons canola oil
Cooked rice
Directions: In a small bowl, combine cornstarch, sugar, soy sauce, vinegar, and pepper. Stir until smooth, then pour half of sauce into a large zip-top bag. Add venison strips, seal bag, and turn to coat. Refrigerate venison for 1 to 2 hours. Cover and refrigerate reserved marinade.
Drain meat and discard marinade in bag. Heat oil in a large skillet or wok set over high heat. Cook meat and peppers for 4 to 6 minutes, or until no longer pink and peppers are cooked. Stir in reserved marinade, bring to a boil. Cook, stirring, until thickened, about 1 to 2 minutes longer. Serve with rice.
3. Venison and Mushroom Burgers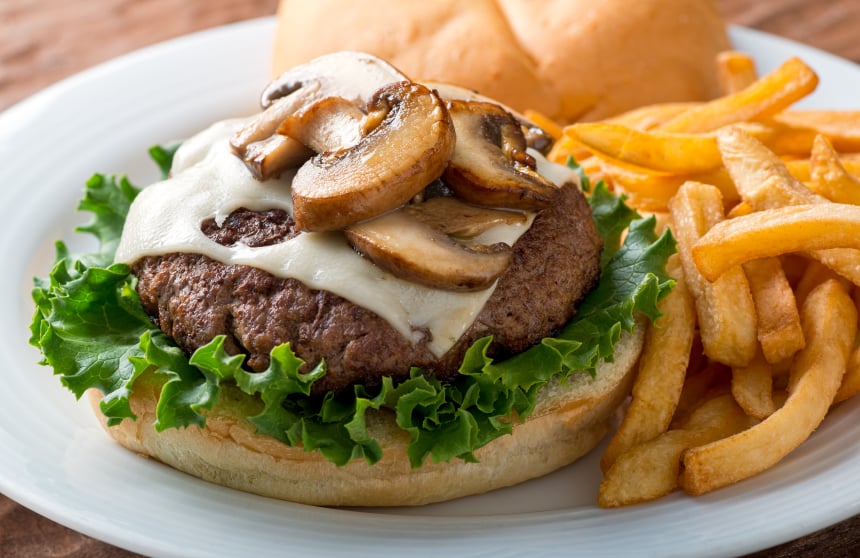 Most recipes for venison burgers call for a whopping dose of bacon or pork fat to lend more moisture to the meat. While great for the flavor, it sort of undermines venison's reputation as a healthy meat. For a more diet-friendly way to keep the venison moist, make sure you don't overcook the patties. Try the method with Hunter Angler Gardener Cook's mushroom-seasoned patties.
Venison is an even smarter choice if you're looking to drop a few pounds. The game meat contains a decent amount of conjugated linoleic acid, a type of fat. A meta-analysis from 2007 found consuming this fatty acid can contribute to weight loss.
Ingredients:
2 pounds ground venison
20 grams dried morel or other mushrooms
1 tablespoon dried thyme
½ teaspoon celery seed
12 ounces fresh morels or other mushrooms, chopped
Salt and pepper
1 medium onion, halved and thinly sliced
2 tablespoons olive oil
Hamburger buns
6 slices Swiss or provolone cheese
Mustard
Directions: Using a clean coffee grinder, grind mushrooms into a powder. Mix powder into meat along with celery seed and thyme. Mix gently to combine, then shape into six patties. Use your thumb to press an indentation into the center of each patty.
Heat oil in a large skillet over high head and add the mushrooms. Cook until water releases, about 2 to 4 minutes. Season with salt, then add onion. Continue to cook, stirring occasionally, until browned, about 6 to 8 minutes. Remove from heat and set aside.
Season burgers with salt and pepper. Cook over a hot grill or in an oiled skillet set over medium-high heat. Cook until charred on outside, but no more than medium within, about 4 to 6 minutes per side. Add cheese in last few minutes of cooking. If grilling, close lid to let cheese melt.
Build burgers with a smear of mustard on the bottom bun, a patty, and mushroom mixture. Close burgers with bun tops and serve.
4. Blackberry-Braised Red Cabbage with Venison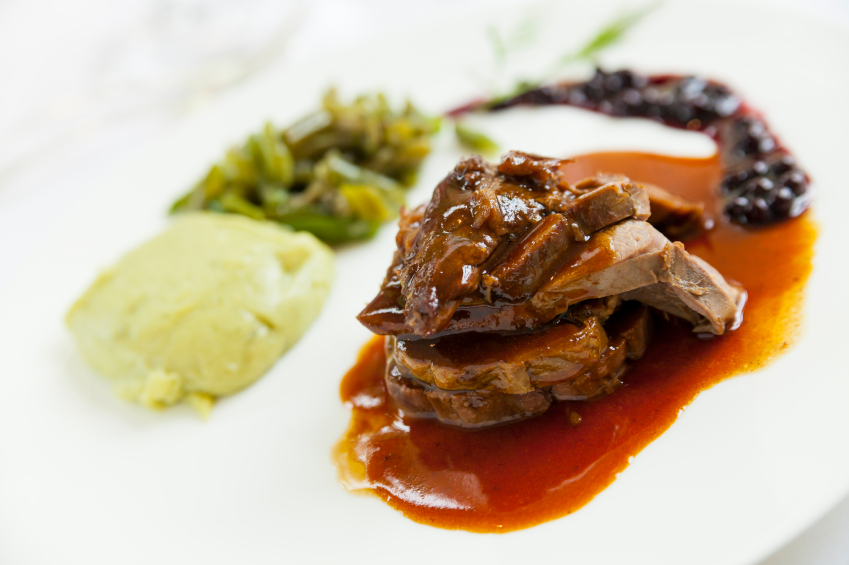 Because it has such a rich flavor, venison can really stand up to some bold flavors. See for yourself with BBC Good Food's venison steaks with blackberry-infused cabbage. Though it sounds fancy, this recipe is incredibly simple. This means it's a great choice for date night.
In addition to providing plenty of lean protein, venison is rich in in vitamin B12. Some studies indicate a deficiency in this nutrient may contribute to cognitive decline, so making sure to get plenty in your diet could help maintain brain function later in life.
Ingredients:
1 tablespoon unsalted butter
1 red onion, thinly sliced
1 small red cabbage, cored and thinly sliced
5 tablespoons balsamic vinegar
3 tablespoons soft brown sugar
1 teaspoon pumpkin pie spice
2 tablespoons red currant jelly
Salt and pepper
4 (6-ounce) venison steaks
6 ounces blackberries
2 tablespoons crème de mûre or crème de cassis
1 tablespoon vegetable oil
Mashed potatoes
Directions: Melt butter in a large saucepan set over medium heat. Add onion and cook, stirring occasionally, until very soft, about 10 minutes. Add cabbage, vinegar, sugar, spices, half the jelly, and 3½ ounces water. Season with salt, bring to a boil, stir, and cover with a lid. Reduce heat to medium-low and cook for 40 minutes. Meanwhile, remove venison from the fridge.
Add blackberries and liqueur to cabbage mixture. Continue to cook, uncovered, for 5 to 10 minutes, or until liquid has evaporated and berries have begun to break down.
Heat a skillet over medium-high heat. Rub venison steaks with oil, then season with salt and pepper. Cook for 4 to 5 minutes per side, depending on thickness, for medium rare. In the last minute of cooking, add remaining jelly to pan and spoon over steaks as it melts. Removes steaks from pan and let rest. Serve steaks with cabbage and mashed potatoes.
5. Slow-Cooked Venison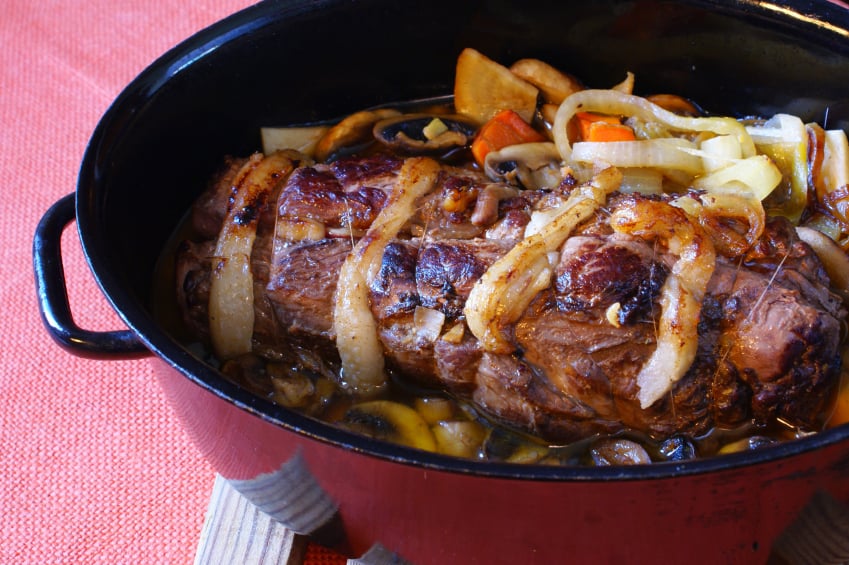 Lean cuts of meat with plenty of connective tissue are made for braising, so venison shoulder is a great choice when you're bored with the usual beef stew. Try chef John Besh's braised venison, featured on Epicurious. The recipe includes red wine, garlic, and plenty of herbs, guaranteeing delicious results. Serve this dish with some roasted Brussels sprouts and cooked farro to round out your meal.
Ingredients:
1 (4-pound) venison shoulder
Salt
Freshly ground black pepper
¼ cup bacon drippings
2 onions, diced
1 carrot, peeled and diced
1 celery stalk, diced
¼ cup all-purpose flour
1 (12-ounce) can diced tomatoes
½ cup dried porcini or chanterelle msurhooms
2 garlic cloves, crushed
3 cups beef broth
1 cup red wine
1 fresh thyme sprig
1 fresh rosemary sprig
2 bay leaves
Dash of sugar
Directions: Season venison generously with salt and pepper on all sides. In a cast-iron pot, heatbacon drippings over high heat. Add venison and sear on all sides until browned, about 2 to 3 minutes per side. Remove from pot and set aside.
Reduce heat to medium and add onions, carrots, and celery. Cook until richly browned, stirring frequently. Add flour and cook, stirring, until well combined. Add tomatoes, dried mushrooms, and garlic, bring to a boil. Stir in broth and wine.
Raise heat to high and bring to a boil. Add herbs, sugar, and meat. Reduce to a simmer, cover, and cook for 1½ hours, or until meat easily pulls away from bone. Taste and season.
Transfer venison to a cutting board and remove bone. Slice meat into rough pieces, then return to pot. Discard herb sprigs and bay leaves. Serve.
More from Culture Cheat Sheet: