Cook to Get Cut: 5 Phenomenal Recipes Using Kumquats
When you're looking to get lean, exercise is only half the equation. You can do all the crunches in the world, but the foods you eat are every bit as important. As part of our Cook to Get Cut series, we'll show you how to use some of the healthiest eats to sculpt your physique without sacrificing flavor. Getting fit never tasted so good. 
When you've tired of eating pears and apples after so many months, reach for the sweet and tangy flavor of kumquats. These tiny fruits are bursting with vitamin C and fiber for just 108 calories per 8-fruit serving. They're also winners in the prep department because everything from the skin to the flesh is edible.
Just don't call them citrus. According to Kumquat Growers, the fruit actually earned its own genus, fortunella, back in 1915. Official title aside, these fruits are a delicious way to brighten up your cooking. Give them a try with these five easy recipes.
1. Toast with Kumquat Marmalade and Goat Cheese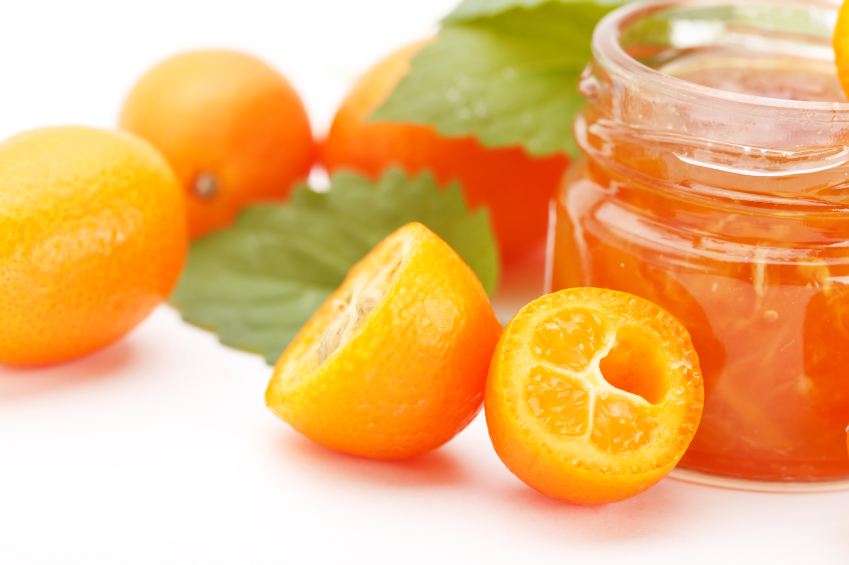 Skirting the line between a sweet and savory breakfast, this tasty toast from Serious Eats will please just about anyone. We especially like the marmalade because it's not too sweet and also boasts extra flavor from some rosemary and peppercorns. If you make a big batch of the topping over the weekend, you can easily assemble this toast and other quick meals during the week.
Hearty whole-grain bread offers a nutty taste that matches perfectly with the tangy cheese and sweet flavors in this toast while offering up a good dose of fiber, which has been shown to keep your ticker healthy. Pairing the grains with kumquats may boost the effect even more. One study published in Biolife found rats fed kumquats experienced reduced levels of cholesterol.
Ingredients:
¼ cup water
¼ cup sugar
12 ounces kumquats, rinsed, cut into ¼-inch rounds, and seeds removed
½ teaspoon black peppercorns, coarsely crushed
¼ teaspoon finely chopped fresh rosemary plus 1 small sprig
4 slices multigrain bread
6 tablespoons soft goat cheese
Directions: Combine water and sugar in a saucepan set over medium-low heat. Cook, stirring, until sugar dissolves. Add kumquats, peppercorns, and rosemary sprig. Bring to a simmer and cook for 10 to 15 minutes, stirring occasionally, until kumquats are translucent and liquid has become syrupy.
Remove marmalade from heat and remove rosemary sprig. Stir in chopped rosemary and set aside.
Lightly toast each bread slice. Spread goat cheese over toast and top with a generous scoop of marmalade.
2. Zesty Kumquat Salad
Roll your eyes all you want, but quinoa salads are among the best foods to pack for lunch. The texture holds up for hours and they taste just as good at room temperature as they do cold. For a different twist, try fANNEtastic food's quinoa tossed with greens and kumquats. With peppery arugula, sweet-tart kumquats, and the nutty quinoa, you might not even realize this recipe is vegan. That being said, you can make it more substantial by adding some crumbled cheese or shredded chicken.
Paired with the satiating power of protein in the quinoa, kumquats are a fantastic fruit for those looking to slim down. One study with mice found kumquats may be effective for preventing and alleviating obesity and related metabolic disorders.
Ingredients:
1 cup quinoa
1 cup low-sodium vegetable broth
¼ cup water
1 cup packed arugula
1 cup chopped seeded kumquats
¼ cup fresh lemon juice
2 teaspoons olive oil
¼ teaspoon pepper
Directions: Bring water and broth to a boil in a small saucepan. Add quinoa, reduce to a simmer, cover, and cook until liquid is absorbed, about 15 minutes. Let quinoa cool briefly, then transfer to a large bowl with remaining ingredients. Toss to combine and season, if needed. Serve warm, room temperature, or cold.
3. Roasted Pork Tenderloin with Kumquat-Jalapeño Marmalade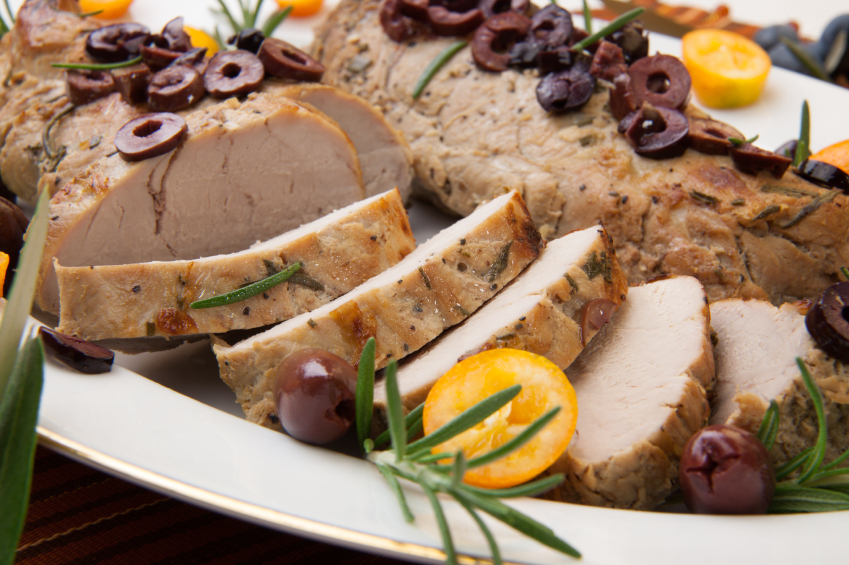 Pork pairs wonderfully with most types of fruit and kumquats are no exception. Epicurious's pork tenderloin paired with a spicy marmalade is especially good because it has just enough tartness. If you made an extra-large batch of marmalade for the toast, you can easily turn it into this spicy version by cooking the shallots, chiles, and apple, then stirring the mixture into the premade marmalade.
Many people attribute a clear complexion to healthy eating. It turns out kumquats are particularly good for skin. One study found the fruit can help fight pathogens that lead to infections as well as reduce inflammation in the skin.
Ingredients:
2 cups stemmed, quartered, and seeded kumquats
3 tablespoons vegetable oil, divided
4 small shallots, chopped
1 medium Granny Smith apple, peeled, seeded, and chopped
3 tablespoon minced, seeded jalapeño, divided
½ cup dried apricots, chopped
¾ cup water
¾ cup sugar
¾ teaspoon kosher salt, plus more
2 (1-pound) pork tenderloins
Ground pepper
Directions: Pulse kumquats in a food processor until finely chopped. Heat 1 tablespoon oil in a medium saucepan over medium-high heat. Add shallots, apple, and 1 tablespoon jalapeño. Cook until shallots have softened, stirring often, about 4 minutes. Add kumquats, apricots, water, sugar, and salt. Bring to a boil, stirring until sugar dissolves. Boil until thickened, about 6 minutes. Transfer to a small bowl and stir in remaining jalapeño.
Preheat oven to 350 degrees Fahrenheit. Heat 2 tablespoons in a large ovenproof skillet over medium-high heat. Season pork all over with salt and pepper. Add pork to skillet and brown on all sides, about 10 minutes total. Transfer to oven and roast until an instant-read thermometer inserted into the thickest part of the meat registers 145 degrees Fahrenheit, about 15 minutes. Remove pork from oven and let rest for 10 minutes.
Slice pork and serve with warm marmalade.
4. Browned Cauliflower and Kumquats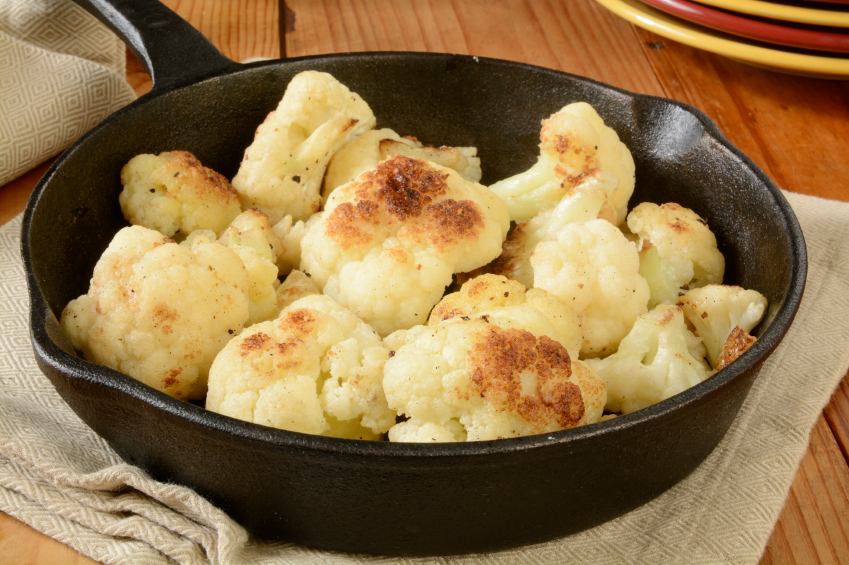 If your vegetable preparations are limited to steaming and roasting, it's time to inject some more flavor into your sides. This vibrant sautéed cauliflower with kumquats from A House in the Hills is just the recipe to do it. The dish comes together super fast and goes great with just about any protein you can think of.
Any guy with a family history of prostate cancer should consider adding more dishes like this to his diet. One 2012 study found kumquat compounds may halt the growth of prostate cancer cells. That this side tastes wonderful is just an added bonus.
Ingredients:
1 large cauliflower head, cut into florets
½ cup sliced kumquats
¼ cup fresh orange juice
1 tablespoon plus 1 teaspoon champagne vinegar
2 teaspoons extra-virgin olive oil
¼ teaspoon salt, plus more
3 tablespoons coconut oil, ghee, or vegetable oil, divided
Poppy seeds
Directions: Heat half of oil in a large skillet over medium high. Add half of florets and cook. Once browned on first side, toss and continue to cook until cauliflower is spotty brown and just a bit crispy. Remove to a bowl and repeat with remaining oil and cauliflower.
Combine juice, olive oil, vinegar, and salt in a small bowl and mix to combine.
Toss cauliflower with seeds, kumquats, and dressing. Season with additional salt, if desired. Garnish with poppy seeds and serve.
5. Kumquat-Spiked Custard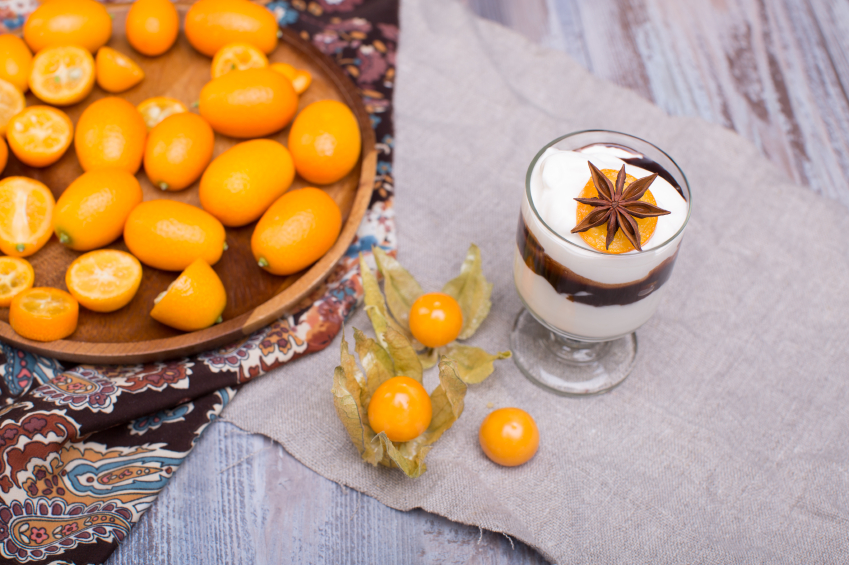 Sticking to a healthy diet doesn't have to mean dessert is off the menu. A lot of nutrition experts actually recommend treating yourself regularly so you don't end up feeling deprived. With just 179 calories per serving, these kumquat-flecked custards from the Columbus Dispatch are a fantastic choice. The individual portions also mean they're great for entertaining, so consider whipping up this recipe the next time you have company.
Ingredients:
6 kumquats, quartered lengthwise and seeded
2½ cups milk
3 large eggs
½ cup sugar
¼ teaspoon salt
1½ teaspoons vanilla extract
Optional topping
3 kumquats, seeded and sliced
1 tablespoon sugar
1½ tablespoons water
Directions: To make topping, combine water and sugar in a small skillet and set over medium-high heat. Simmer until sugar dissolves. Add kumquats and continue to cook until liquid has evaporated. Remove from heat and let cool.
Preheat oven to 350 degrees Fahrenheit and set rack in middle position. Heat milk over medium-high heat in a large saucepan until nearly boiling. Remove from heat.
In a large bowl, whisk eggs, sugar, salt, and vanilla. Whisking constantly, slowly stream in hot milk. Add kumquats and stir to combine.
Ladle mixture into six custard cups or ramekins. Place cups in a 9-by-13-inch baking pan. Add enough hot water to come 1 inch up the sides. Bake until set and a knife inserted into the center of a custard comes out clean. Let cool. Serve warm or chilled.
More from Culture Cheat Sheet: