Cook to Get Cut: 5 Tasty Plum Recipes That Are Also Healthy
When you're looking to get lean, exercise is only half the equation. You can do all the crunches in the world, but the foods you eat are every bit as important. As part of our Cook to Get Cut series, we'll show you how to use some of the healthiest eats to sculpt your physique without sacrificing flavor. Getting fit never tasted so good. 
Peaches aren't the only superstar stone fruit out there. With a taste that's both sweet and tart, plums might actually be the better choice for cooking. They work wonderfully in savory preparations featuring meats as well as some pretty stunning desserts. Better yet, these fruits are loaded with vitamins and antioxidants. And at only 30 calories a pop, they won't do any damage to your weight. That's plenty of reason to try out these five recipes. No matter what time of day it is, plums should always be on the menu.
1. Cinnamon Plum Porridge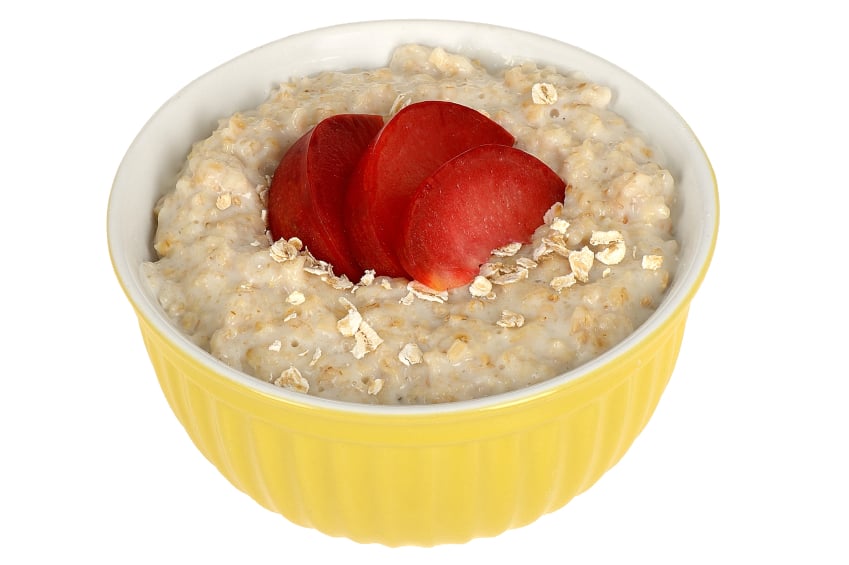 Oatmeal is one of the best breakfast choices thanks to plenty of fiber, which will keep you satisfied and could even lower your cholesterol. Since oats are pretty mild, they're a great canvas for nearly any flavor you can imagine. Instead of resorting to packaged varieties, which are loaded with sugar, go for regular oats and jazz them up yourself. We like this warming recipe with orange juice, cinnamon, and plums from Amuse Your Bouche. Just cook the oats with a bit of milk while you simmer the fruit for about five minutes, then combine the two for a fantastic start to your day.
Ingredients:
1 cup rolled oats
3½ ounces milk
1 to 2 tablespoons brown sugar
3 plums, cut into wedges
2 tablespoons orange juice
¼ teaspoon cinnamon
Directions: Combine oats and milk in a saucepan, and mix to combine. Set saucepan over medium-low heat, and cook at a simmer for about 5 minutes, stirring often, until oats are thickened. Stir in the sugar.
Meanwhile, cook plums, orange juice, and cinnamon in another saucepan over medium heat. Cook mixture for about 2 minutes, stirring occasionally, just until plums have softened.
Serve oats topped with plums. Sprinkle with additional brown sugar, if desired.
2. Prune, Orange, Fennel, and Red Onion Salad with Mixed Greens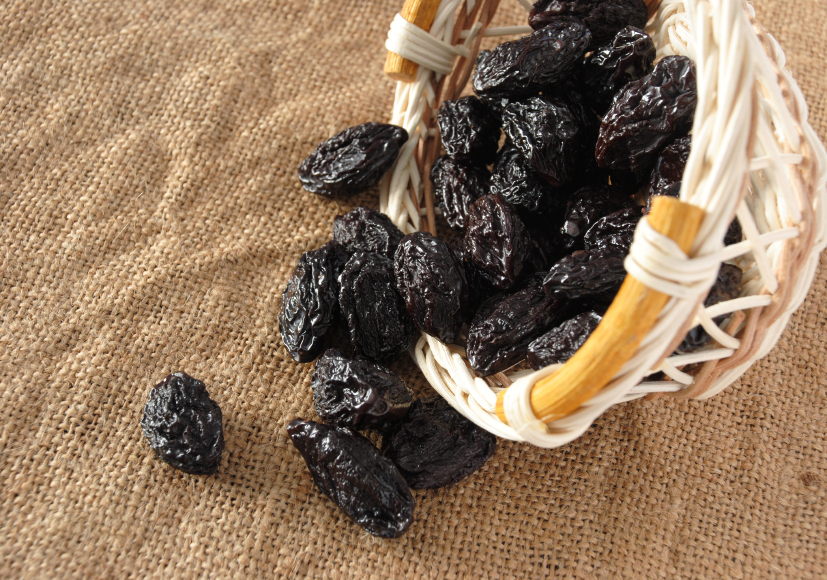 The dreaded prune is nothing more than a dried plum. In fact, the folks who produce the shriveled fruit won a bid to officially change the name over a decade ago as a way to boost sales. It turns out, they just needed to wait for some research to come out. Studies, such as this 2009 review, have demonstrated the fruit's ability to prevent and even reverse bone loss.
Even if you're not eating them for the bone-building properties, dried plums are a completely delicious addition to plenty of dishes. This salad from Epicurious uses the dried fruit to make it a little bit more substantial. Top it with some simply cooked chicken or pork to turn the dish into an easy entrée.
Ingredients:
1 cup pitted dried plums
½ cup orange juice
¼ teaspoon fennel seeds
2 oranges
2 tablespoons olive oil
2 tablespoons sherry wine vinegar
½ teaspoon orange zest
Salt and pepper
2 tablespoons minced red onion, plus 2 thin red onion rings
2 medium fennel bulbs, thinly sliced, plus 1 tablespoon chopped fronds
6 cups mixed baby greens
Directions: Combine first three ingredients in a small saucepan and bring to a boil. Reduce heat, cover, and simmer until dried plums have softened and juice is reduced to a few tablespoons, about 6 minutes. Transfer fruit to a bowl, reserve juice, and chill plums until cold, about 2 hours. Cut into quarters.
Cut peel and pith from oranges. Using a sharp knife and working over a bowl, cut between membranes to create segments. Combine 2 tablespoons of accumulated juice with oil, vinegar, zest, and reserved prune juice, and whisk to combine. Season with salt and pepper.
Gently toss oranges, minced onion, fennel fronds, and 1 tablespoon dressing in a medium bowl. Combine greens, onion rings, and fennel in a large bowl. Toss with remaining dressing, and divide among four plates. Top with prunes and oranges, and serve.
3. Pan-Grilled Chicken with Fresh Plum Salsa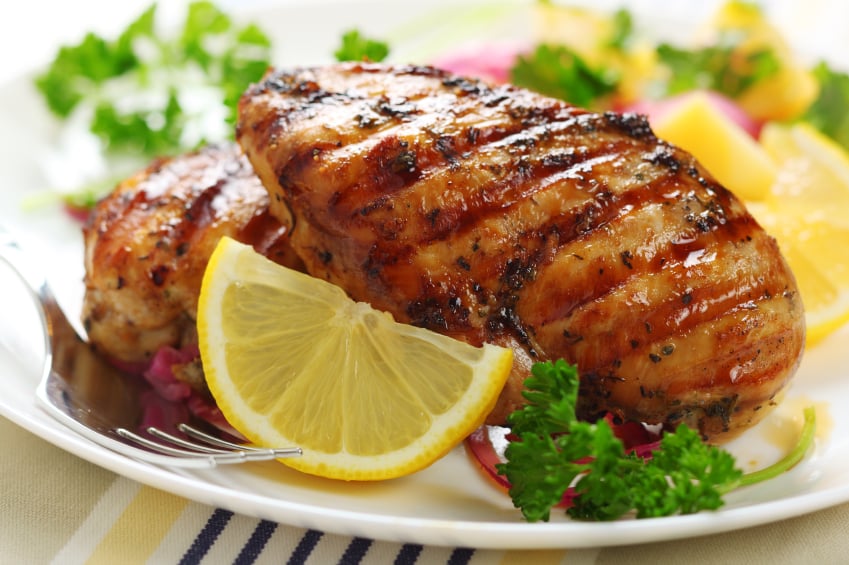 No offense to pineapple salsa, but we have a new favorite fruit relish. Southern Living's simple chicken dish gets a huge dose of flavor from a topping made with plums, jalapeño, and a bit of basil. The heat from the chiles goes great with the sweetness of the fruit, and it could also give your metabolism a boost. A number of studies, including this one from 2013, have indicated the spicy compound found in chiles can help contribute to weight loss.
Though this recipe is designed for indoor cooking, feel free to fire up the outdoor grill to cook the chicken. You can even grill the fruit before tossing the salsa.
Ingredients:
1 cup chopped ripe plums
1 small jalapeño, seeded, and diced
2 tablespoons chopped fresh basil
2 tablespoons chopped red onion
2 teaspoons fresh lime juice
¾ teaspoon salt, divided
2 tablespoons brown sugar
½ teaspoon ground cumin
4 (4-ounce) chicken breast cutlets
2 teaspoons olive oil
Directions: Combine plums, next four ingredients, and ¼ teaspoon salt in a medium bowl. Set aside.
In a small bowl, mix together brown sugar, cumin, and remaining salt. Rub mixture over chicken.
Heat oil in a nonstick skillet or grill pan over medium heat. Cook chicken until just done, about 3 minutes per side. Serve with plum salsa.
4. Shrimp and Plum Kebabs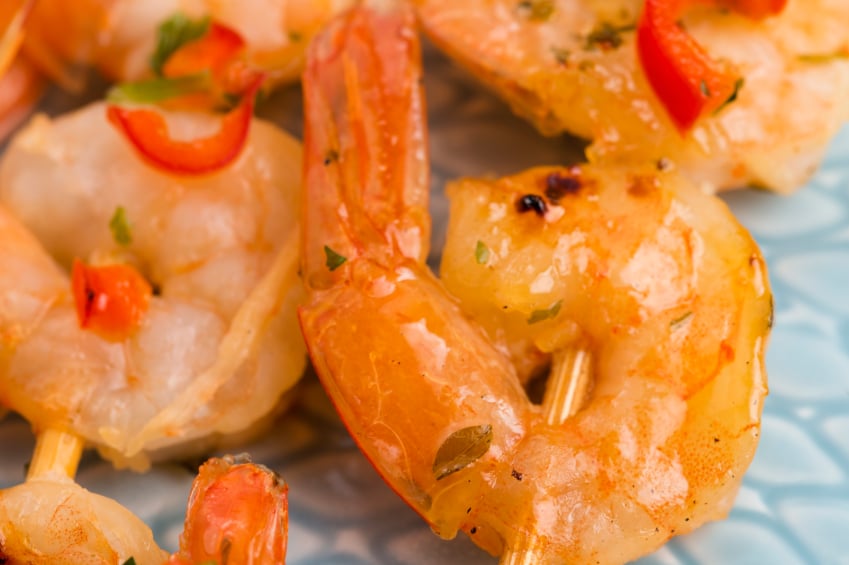 Kebabs can be a disaster when you get too caught up in aesthetics, because many vegetables and proteins have completely different cooking times. No one wants to bite into raw meat and incinerated onion. If you choose your ingredients carefully, though, mixed kebabs can be a complete success. We like these shrimp skewers from Eating Well, which use only quick-cooking ingredients to ensure a great result. And shrimp are another great choice for staying slim.
Ingredients:
3 tablespoons canola oil, or toasted sesame oil
2 tablespoons chopped fresh cilantro
1 teaspoon lime zest
3 tablespoons lime juice
½ teaspoon salt
12 (8- to 12-per pound) shrimp, peeled, and deveined
3 jalapeños, stemmed, seeded, and quartered lengthwise
2 plums, pitted, and cut into sixths
Directions: Whisk oil, cilantro, zest, lime juice, and salt in a large bowl. Set aside 3 tablespoons of mixture. Add shrimp, chiles, and plums to remaining marinade and toss to coat.
Preheat a grill to medium-high.
Make four kebabs by alternating shrimp, chiles, and plums on 10-inch skewers. Discard marinade. Grill kebabs, turning once, until shrimp are cooked, about 8 minutes. Drizzle with reserved dressing, and serve.
5. Honey-Glazed Plums with Almonds and Crème Fraîche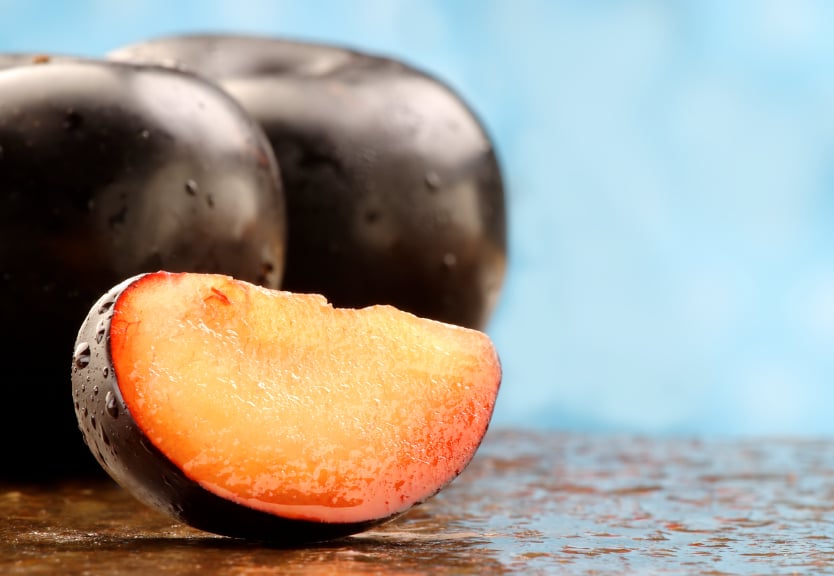 Dessert doesn't have to totally blow your plans to eat well. Treats focused around fruit are completely delicious and require very little additional sweetener. They can also be lightning fast if you look to your grill instead of your oven. Cooking Light's plum recipe just takes a few minutes, but tastes as good as any cobbler or crisp. A little bit of crème fraîche makes a decadent topping, and the added fat actually helps your body absorb the vitamins in the plums.
Ingredients:
3 tablespoons honey
½ teaspoon chopped fresh thyme
½ teaspoon fresh lemon juice
4 large plums, pitted, and halved
4 tablespoons crème fraîche
2 tablespoons chopped, toasted almonds
Directions: Preheat grill to medium-high heat. Combine honey, thyme, and lemon juice in a large bowl. Add plum halves, and toss to coat. Arrange plums, cut-side down, on a grill rack coated with cooking spray. Cook 3 minutes, or until marks form. Turn and grill 3 minutes longer, or until tender. Arrange 2 plum halves on each of four plates. Top each serving with 1 tablespoon crème fraîche and 1½ teaspoons almonds. Serve.
More from Culture Cheat Sheet:
Want more great content like this? Sign up here to receive the best of Cheat Sheet delivered daily. No spam; just tailored content straight to your inbox.