Cook to Get Cut: 5 Tempting Turkey Recipes
When you're looking to get lean, exercise is only half the equation. You can do all the crunches in the world, but the foods you eat are every bit as important. As part of our Cook to Get Cut series, we'll show you how to use some of the healthiest eats to sculpt your physique without sacrificing flavor. Getting fit never tasted so good. 
Turkey gets the spotlight for one day every year in the U.S., maybe up to three due to Thanksgiving leftovers. Ignoring this poultry for the rest of the year is just silly because it's packed with protein, low in fat, and brimming with vitamins and minerals. This nutritional makeup is pretty similar to chicken, so choosing turkey every so often is an easy way to add some variety to your diet. And don't worry too much about choosing white over dark meat, because both have their advantages.
Getting a whole bird might not be very practical when you aren't cooking for a crowd, so buy an individual breast, thighs, or ground meat the rest of the time. These five recipes show you how to use each type to make healthy meals that are packed with flavor.
1. Healthy Breakfast Sandwich with Homemade Turkey Chorizo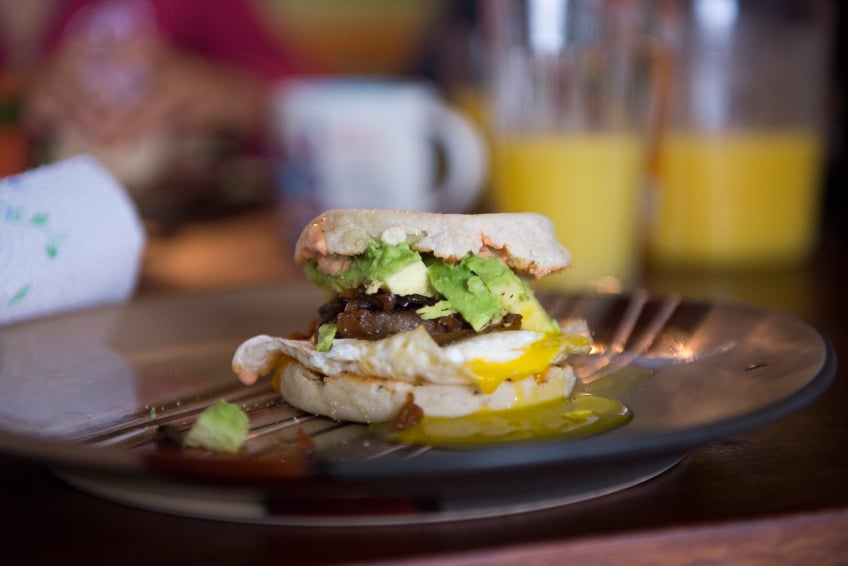 Instead of replacing your favorite ingredients with bland foods to make them leaner, use a little bit of kitchen creativity. Take spicy Mexican chorizo. It's one of our favorite ingredients, but too much of the fatty pork product doesn't do too many favors to your waistline. The next time you're craving the taste at breakfast, try this healthy egg and turkey sausage sandwich from Erica's Recipes. It replaces the usual sausage with a spiced-up turkey mixture. You can even make the sausage ahead of time for quick cooking during the week.
Don't worry about the turkey making you fall asleep at the start of your day because the tryptophan effect is overhyped. In fact, a lot of foods we eat on a regular basis contain substantially more of the amino acid. A bowl of oatmeal is more likely to make you feel drowsy, and that hasn't stopped anyone from eating the grain for breakfast.
Ingredients:
Chorizo
1 pound lean ground turkey breast
1 tablespoon ground cumin
1 teaspoon ground coriander
1 teaspoon fennel seeds
¼ teaspoon cinnamon
¼ teaspoon onion powder
1 teaspoon garlic powder
¼ teaspoon dried thyme
½ teaspoon dried oregano
⅛ teaspoon ground cloves
1 tablespoon smoked paprika
¼ teaspoon cayenne
1 teaspoon kosher salt
¼ teaspoon freshly cracked pepper
Cooking spray
Sandwich
1 cooked sausage patty
1 large egg
¼ avocado
1 whole-wheat English muffin, toasted
Directions: In a medium bowl, combine the turkey with all herbs and spices. Use your fingers to gently mix the meat until the seasonings are evenly distributed. Divide mixture into 16 even portions and form into 3-inch, ¼-inch-thick patties.
Heat a large nonstick skillet over medium-high heat, and coat with cooking spray. Cook sausage patties in batches until well browned on one side. Flip, and continue to cook until second side is browned and meat is fully cooked. Transfer to a plate, and repeat with remaining sausage.
Heat a small nonstick skillet over medium-high heat, and grease with cooking spray. Add one egg, and cook to your desired doneness. Build sandwich with one sausage patty, cooked egg, and the avocado. Serve.
2. Herbed Turkey Breast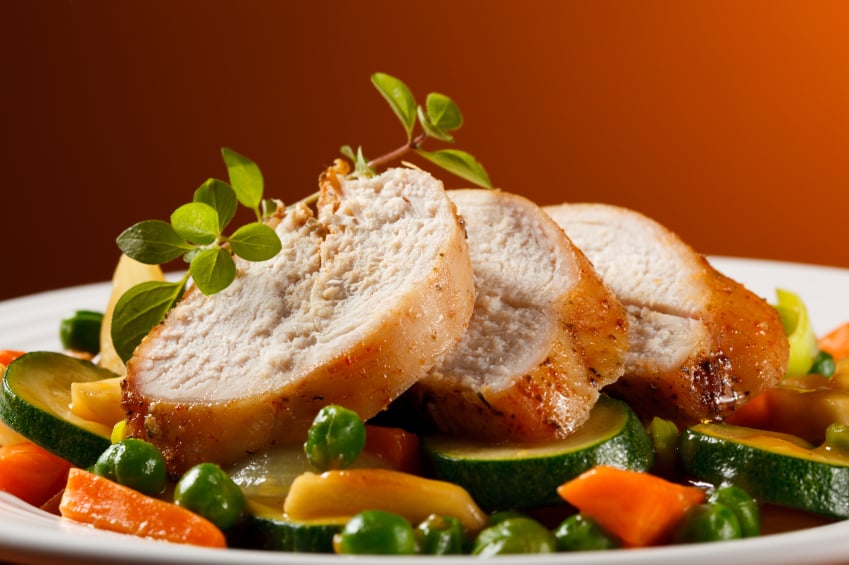 You may be surprised to hear turkey breast is readily available in the frozen foods section all year. This means you can make a mini Thanksgiving meal any time you want, so long as you allow enough time for the meat to thaw and brine. Try it out with Martha Stewart Living's simple roasted turkey breast with veggies. It's a complete meal, so once the pan comes out of the oven, your work is done.
Most people think about protein when choosing turkey, but the poultry provides plenty of other nutrients as well. It's one of the best sources of selenium, a mineral that supports the immune system. A 2014 review published in Frontiers in Ageing Neuroscience reported insufficient levels of selenium could lead to cognitive decline, so eat up.
Ingredients:
Turkey
4 quarts cold water
Salt and pepper
½ cup sugar
1 (6- to 7-pound) bone in, skin on, turkey breast, trimmed of excess fat
3 garlic cloves, minced
5 tablespoons unsalted butter, 4 softened and 1 melted
3 tablespoons chopped fresh flat-leaf parsley
1 tablespoon minced fresh sage
1 tablespoon minced fresh oregano
1 tablespoon minced fresh rosemary
Vegetables
4 medium shallots, halved
4 medium carrots, tops trimmed and carrots halved lengthwise
4 small turnips, peeled and halved
1½ pounds assorted small potatoes, scrubbed and halved or quartered
2 tablespoons extra-virgin olive oil
Salt and pepper
Directions: In a large stockpot, combine water, ¾ cup salt, and sugar. Stir until sugar dissolves, then add turkey, weighting with a plate to submerge. Cover and refrigerate for 6 hours.
Remove turkey from brine, and pat dry with paper towels. Let sit at room temperature for 1 hour before cooking.
Mash garlic and ½ teaspoon salt with the side of a large knife until garlic becomes a paste. Transfer to a small bowl, and mix in softened butter and herbs. Season with salt and pepper.
Using a wooden skewer, gently separate turkey skin from breast, making sure not to tear. Spread herbed butter under skin, then smooth skin back over top. Brush turkey with melted butter, and season with salt and pepper.
Preheat oven to 425 degrees Fahrenheit, and position rack to lowest position. In a large bowl, toss vegetables with oil. Season with salt and pepper, and toss to combine.
Arrange vegetables in a single layer on a large rimmed baking sheet, and set a roasting rack on top. Set turkey on rack, skin-side up. Transfer to oven, and roast for 30 minutes. Reduce temperature to 325 degrees Fahrenheit and continue to cook, rotating tray halfway through and basting occasioanlly, until breast is golden and the thickest part of the meat registers 150 degrees Fahrenheit on an instant-read thermometer, about 1 hour. Transfer vegetables to a platter, and place turkey on a cutting board. Let rest for 30 minutes.
Cut turkey from bone, then cut into ¼-inch-thick slices. Serve with vegetables.
3. Turkey Milanese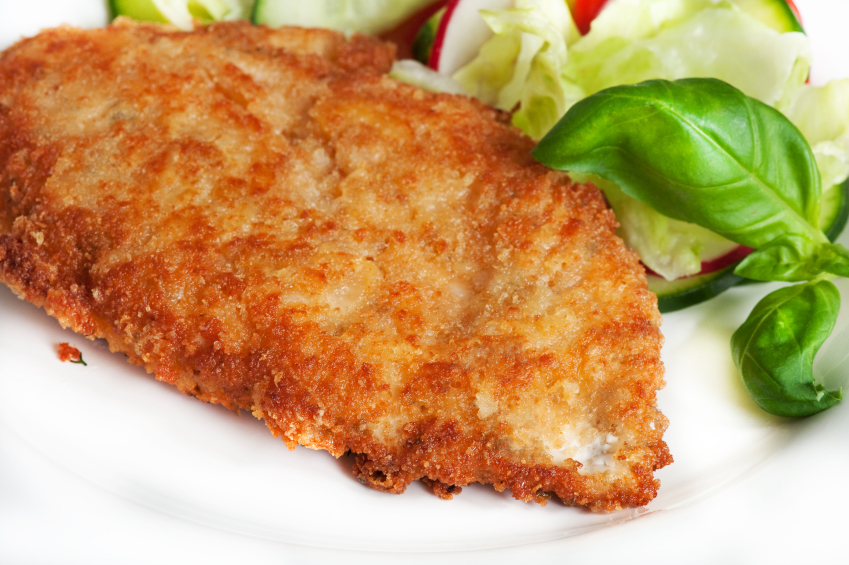 Breaded turkey cutlets are just as delicious as chicken ones, and they're also equally easy to prepare. This recipe from Giada De Laurentiis, featured on Food Network, shows you how to do it. Just pound the meat into a thin layer, cover with a simple breading, then cook in a hot skillet. Once the turkey is ready, set it on top of a simple arugula and tomato salad with some shaved Parmesan.
Eating more turkey could also be a good strategy to cut back on your red meat intake without going overboard on chicken. This is good news for your colon, because a 2004 study found eating poultry didn't increase the risk of colorectal cancer the way consuming red and processed meats did.
Ingredients:
1½ pounds turkey breast cutlets, pounded ⅛-inch thick
½ cup all-purpose flour
½ teaspoon kosher salt, plus more
½ teaspoon freshly ground black pepper, plus more
3 eggs, beaten
2 cups Italian-seasoned breadcrumbs
⅓ cup olive oil, plus more
5 cups baby arugula
2 cups cherry tomatoes, halved
1 (2-ounce) block Parmesan cheese
Lemon wedges
Directions: Combine flour, ½ teaspoon salt, and ½ teaspoon pepper in a medium bowl. Place eggs in another medium bowl and breadcrumbs in a third medium bowl. Season turkey on both sides with salt and pepper. Dredge in flour, shaking to remove excess. Dip turkey into eggs, then in breadcrumbs, making sure to coat.
Heat olive oil in a large skillet over medium heat. Cook turkey in batches until golden and cooked through, about 2 to 3 minutes per side, adding oil, as needed. Remove from skillet, and transfer to a paper towel-lined plate.
Arrange arugula on a large platter, and top with tomatoes. Drizzle with oil, and season with salt and pepper. Arrange turkey on top. Use a vegetable peeler to shave Parmesan over top. Serve with lemon wedges.
4. Beer-Braised Turkey Tacos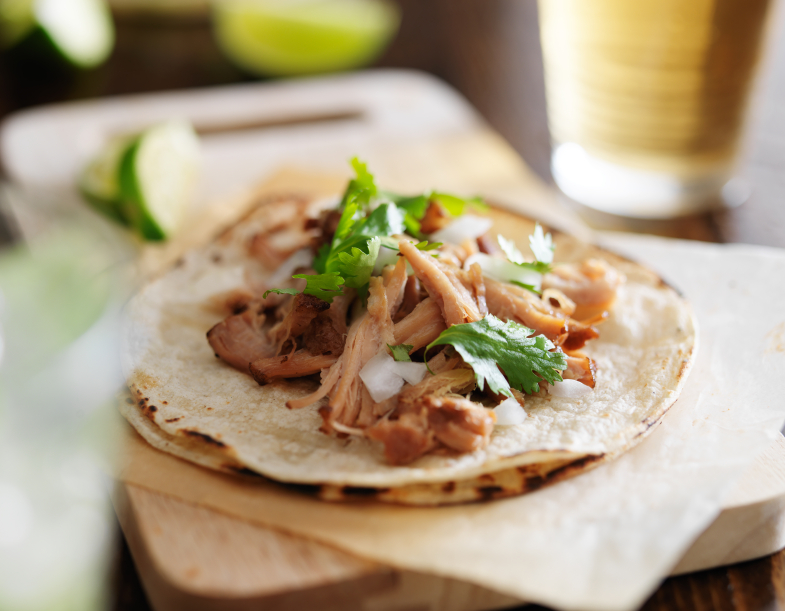 Give turkey a totally new taste with chef Deborah Schneider's tacos, which she shared with Food & Wine. Don't let the rich flavors of beer, dark meat, and chiles fool you, this dish is pretty healthy. You can dig into two tacos for only 456 calories. Top them with some shredded cabbage for even more texture and an added boost of fiber.
Though turkey thighs are a bit higher in fat and calories than the white meat, they also contain more B vitamins. According to Harvard School of Public Health, eating enough of these nutrients may play a role in reducing the risk of cardiovascular disease.
Ingredients:
2 tablespoons extra-virgin olive oil, divided
2 (1-pound) bone-in turkey thighs or drumsticks, skin and fat removed
Salt and freshly ground pepper
4 large garlic cloves, thinly sliced
1 medium white onion, cut into 1-inch dice, plus additional minced white onion
1 large oregano sprig
1 large jalapeño, stemmed, seeded, and sliced ¼-inch thick
1 medium tomato, coarsely chopped
1 ancho chile, stemmed, seeded, and chopped or torn
1 (2-inch) cinnamon stick
1 (12-ounce) bottle dark Mexican beer
1 cup water
12 corn tortillas
2 tablespoons toasted sesame seeds
Cilantro sprigs
Directions: In a large cast-iron skillet or other heavy pot, heat 1 tablespoon olive oil. Season turkey with salt and pepper, and cook over medium-high heat until browned all over, about 8 minutes. Transfer to a plate. Add remaining oil to pan along with garlic, diced onion, oregano, and jalapeño. Cook over medium heat, stirring, until onion is softened, about 8 minutes. Add tomato, ancho, and cinnamon stick. Cook, stirring, until tomato releases juices.
Return turkey to the pan, add the beer and water, then bring to a boil. Cover, reduce heat to low, and simmer, turning once, until turkey is tender, about 1 hour. Transfer to a plate, and let cool. Discard oregano and cinnamon stick. Reduce sauce over high heat until you have ¼ cup, about 12 minutes.
Preheat oven to 350 degrees Fahrenheit. Wrap tortillas in foil, and bake for 8 minutes, or until softened and warm. Remove turkey meat from bone, and shred. Transfer sauce to a food processor, and blend until smooth. Return to pot, and stir in turkey. Season with salt and pepper. Serve turkey on tortillas, and garnish with minced onion, sesame seeds, and cilantro sprigs.
5. Thai Coconut Soup with Turkey Meatballs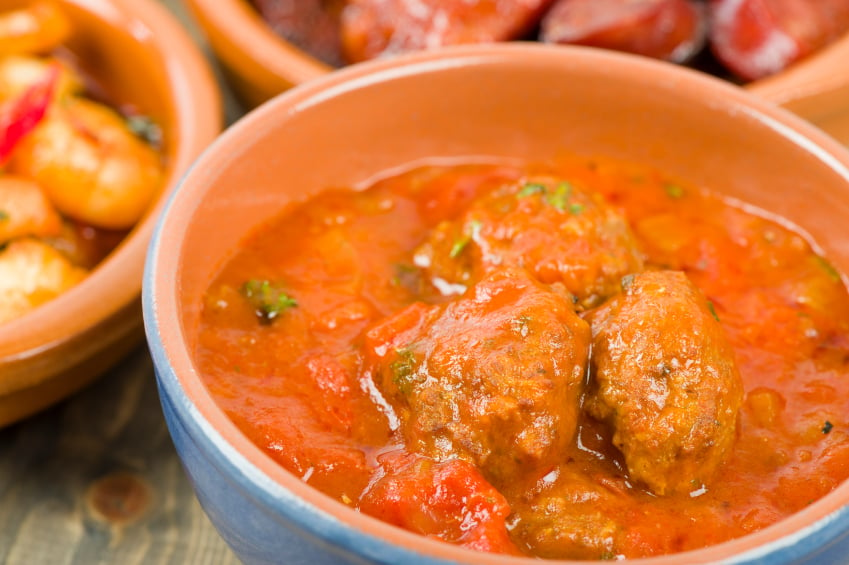 Meatballs are a great way to use any of your favorite proteins, so give turkey a try with this bold curry soup from BBC Good Food. Using coconut milk, curry paste, cilantro, and fish sauce helps you achieve monster flavor in under 30 minutes. It's the perfect meal to wake up your midweek, and so much healthier than anything you'll get from your local Thai takeout spot.
Ingredients:
½ small bunch of cilantro, stems chopped and leaves reserved
1 garlic clove
9 ounces ground turkey
1 tablespoon fish sauce, divided
2 tablespoon Thai tom yum or Thai red curry paste
1 (14-ounce) can low-fat coconut milk
17 ounces chicken or vegetable stock
Zest and juice of 2 limes
1 (10-ounce) package stir-fry vegetables
7 ounces cooked egg or rice noodles
Directions: Pulse cilantro stems in a food processor until finely chopped. Add turkey and 1 teaspoon of fish sauce. Pulse just to combine. Roll into meatballs.
In a saucepan, heat the tom yum or curry paste with a splash of water for 2 to 3 minutes. Add the coconut milk, stock, lime zest, lime juice, and remaining fish sauce. Bring to a simmer, and add the meatballs. Cook for 3 minutes. Add vegetables, and cook 5 minutes longer, or until meatballs are fully cooked. Add noodles, and cook just to warm through. Serve with cilantro leaves.
More from Culture Cheat Sheet:
Want more great content like this? Sign up here to receive the best of Cheat Sheet delivered daily. No spam; just tailored content straight to your inbox.