Cook to Get Cut: 5 Wholesome Tuna Recipes You'll Love
When you're looking to get lean, exercise is only half the equation. You can do all the crunches in the world, but the foods you eat are every bit as important. As part of our Cook to Get Cut series, we'll show you how to use some of the healthiest eats to sculpt your physique without sacrificing flavor. Getting fit never tasted so good. 
If you've tired of loading your plate with salmon, change things up with tuna. According to Men's Fitness, a 3.5-ounce serving is loaded with 30 grams of protein, plus plenty of potassium, vitamin B12, and selenium. Because of its high levels of omega-3s, which are linked to a reduced risk of cardiovascular disease, the American Heart Association recommends digging into tuna and other fatty fish at least two times per week.
Available fresh or canned, tuna is a remarkably versatile protein. Though some are wary of the the strong smell, the flavor melds really well with other bold ingredients. Forget the sandwich you grew up with, and try these five recipes instead. No matter what time of day it is or how limited your schedule, tuna is always a good choice.
1. Baked Tunisian Carrot, Potato, and Tuna Frittata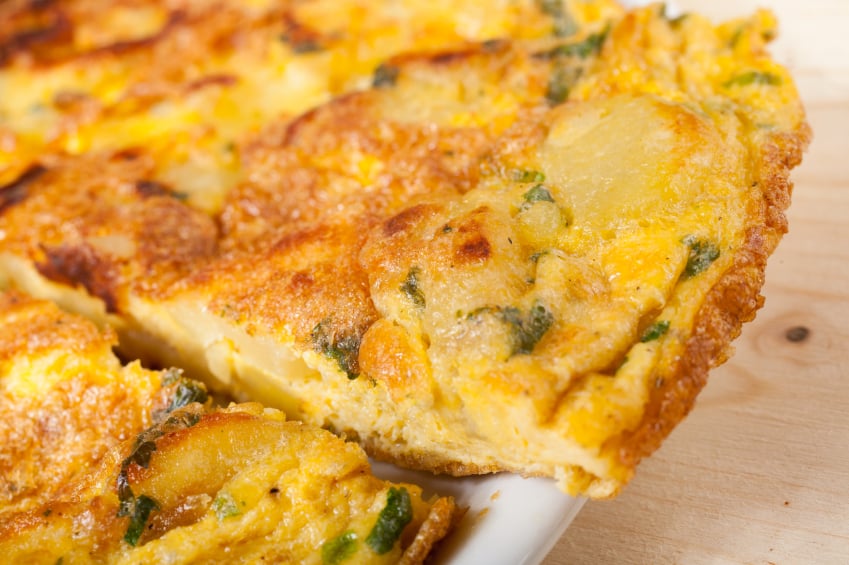 Though fish is sort of unexpected at breakfast, it's a great way to add a nutrition boost to the first meal of the day. Give it a go with The New York Times' spiced frittata filled with root veggies and tuna. This dish gets a double dose of muscle-building protein from the fish and eggs, plus fiber from the potatoes and carrots. Harissa adds a spicy kick that really wakes up this breakfast staple.
Don't fret over the additional calories from using oil-packed tuna, because only a negligible amount will remain on the fish once it's drained. You really need the added bit of fat to keep the fish moist as the frittata bakes. This dish is also great at room temperature, so it's a great choice to pack for lunch.
Ingredients:
½ pound boiling potatoes, peeled and cut into ½-inch dice
¾ pound carrots, peeled and cut into ½-inch dice
2 tablespoons extra-virgin olive oil
2 large garlic cloves, mashed with a pinch of salt in a mortar and pestle or finely chopped
2 teaspoons caraway seeds, ground
Salt
Freshly ground pepper
1 tablespoon harissa dissolved in 2 tablespoons water or ¼ to ½ teaspoon cayenne
1 (6-ounce) can oil-packed light tuna, drained and flaked with a fork
¼ cup finely chopped flat-leaf parsley
8 large eggs
Directions: Preheat oven to 350 degrees Fahrenheit. Steam potatoes and carrots over 1 inch of boiling water until tender, about 10 minutes.
Place oil in a 2-quart baking dish or a 9-inch cast-iron skillet. Rub oil over the pan, and set in the oven. Meanwhile, whisk eggs in a large bowl. Whisk in garlic, caraway, salt, pepper, and harissa. Stir in potatoes, carrots, tuna, and parsley. Remove baking dish from oven, and pour egg mixture into hot dish.
Bake 30 to 35 minutes until lightly browned and set. Allow to cool at least 10 minutes. Serve warm or at room temperature.
2. Tuna Melts with Avocado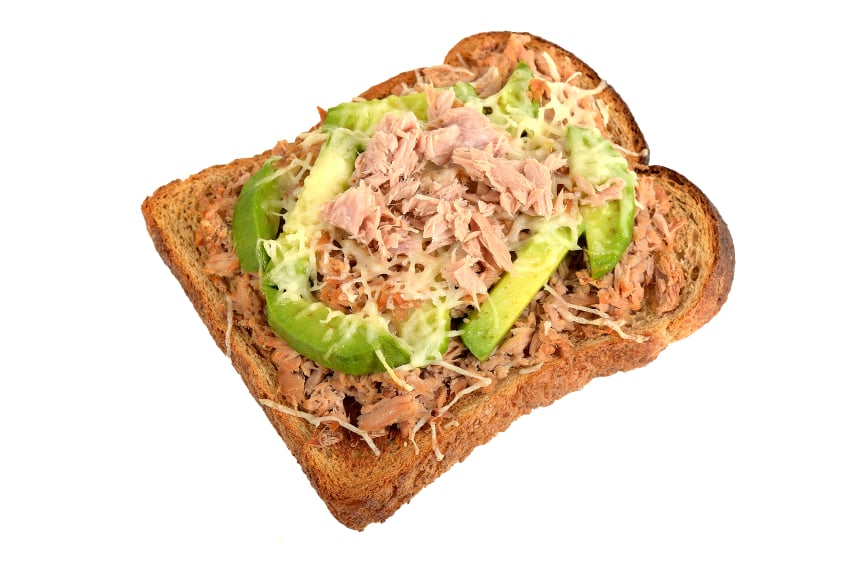 A classic tuna melt will always be one of the most delicious uses for canned fish, but all that mayo and cheese aren't particularly friendly to your figure. With a few simple swaps, you can morph the sandwich into something healthy enough to eat on a regular basis. See for yourself with Cooking Light's spin on a tuna melt. Instead of relying on the usual sandwich spread for a luxurious texture, this recipe looks to avocado. Tomatoes add a burst of sweetness, and a little Swiss cheese gives this melt just enough richness to keep you satisfied.
With both cheese and tuna, this sandwich provides a pretty good amount of vitamin D. In addition to helping your body absorb calcium, this nutrient could offer some less expected benefits as well. A 2014 study found adequate levels of vitamin D could help ward off Alzheimer's disease.
Ingredients:
2½ tablespoons olive oil
2 tablespoons thinly sliced shallots
1 tablespoon Dijon mustard
¼ teaspoon black pepper
⅛ teaspoon salt
1 (6-ounce) can solid white tuna in water, drained and flaked
1½ tablespoons fresh lemon juice
1 avocado
1 cup cherry tomatoes, quartered
⅓ cup shredded Swiss cheese
2 (6-ounce) pieces of fresh bread, halved lengthwise and toasted
Directions: Preheat broiler to high. Combine first six ingredients in a medium bowl, and stir to evenly coat. Place juice in a small bowl. Peel, seed, and chop avocado. Add avocado to juice and toss. Add avocado mixture and tomatoes to tuna, and toss to combine. Sprinkle cheese over cut sides of bread, and broil 3 minutes, or until cheese is bubbly. Place 1 bread slice, cheese-side up, on each of four plates. Divide tuna mixture evenly among bread slices. Serve.
3. Tuna Pomodoro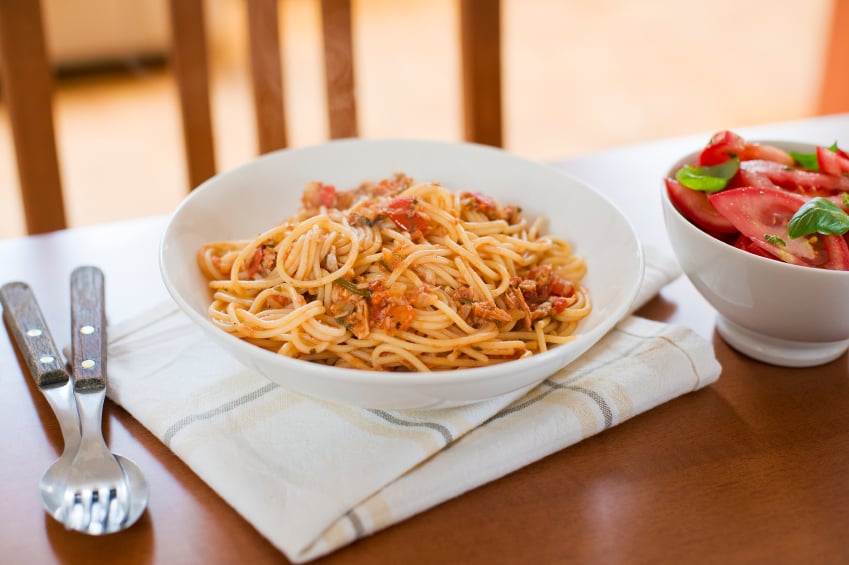 Tuna and tomato are a standard pairing in Mediterranean cultures, and it turns out taste isn't the only reason to follow their lead. A 2014 study found high consumption of plant-based foods, particularly tomatoes, can help reduce the risk of prostate cancer. Tuna plays its part, too. A 2013 study found men who consumed a diet featuring plenty of fatty fish, such as tuna, decreased their risk of colorectal cancer.
Since both tuna and tomatoes come in canned form, this hearty pasta from Eating Well is also a great way to get dinner on the table in less than 30 minutes. Anchovies, garlic, and crushed red pepper ensure a flavorful meal while whole-wheat pasta boosts the nutritional profile even more.
Ingredients:
8 ounces whole-wheat spaghetti
2 tablespoons extra-virgin olive oil
1 tablespoon minced garlic
2 anchovies, minced
¼ teaspoon crushed red pepper
1 (28-ounce) can diced tomatoes
1 (6-ounce) can chunk light tuna, drained, and flaked
2 tablespoons thinly sliced fresh basil
Directions: Bring a large pot of water to a boil. Cook spaghetti, stirring occasionally, until just tender, 9 to 11 minutes or according to package directions. Drain.
Meanwhile, heat oil in a large nonstick skillet over medium-high heat. Add garlic and cook, stirring, until fragrant, about 1 minute. Add anchovies and red pepper flakes, and cook 30 seconds longer. Add tomatoes, reduce heat to medium, and cook, stirring occasionally, for 8 minutes. Stir in tuna, and cook until well incorporated and heated through, 2 minutes more. Divide spaghetti evenly among four plates, top with sauce, and garnish with basil. Serve.
4. Soy-Glazed Tuna Steaks with Baby Bok Choy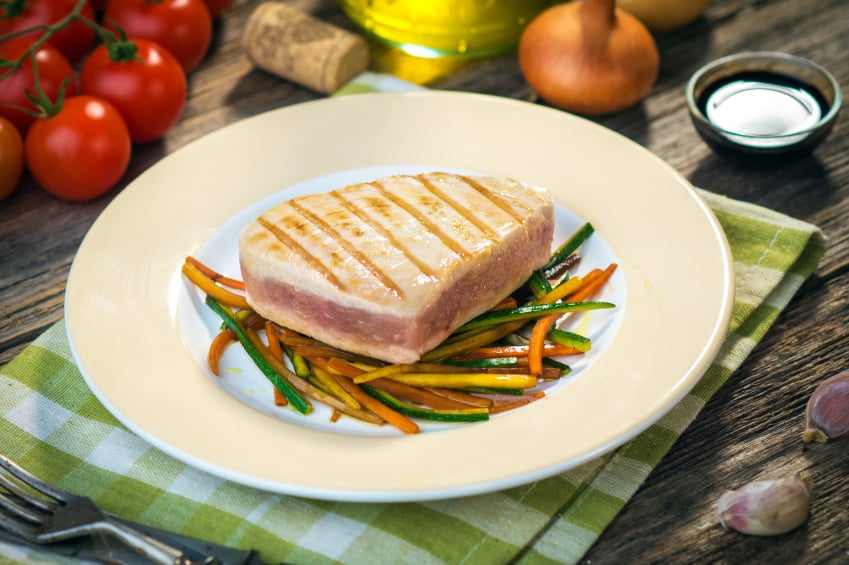 Fresh tuna can seem intimidating if you're new to it, but the steaks are no more difficult to cook than any other piece of meat. And unlike a delicate white fish, tuna is a lot less likely to fall apart on the grill or in a skillet. Family Circle's fast recipe gives the fish some Asian flavors with soy sauce, ginger, and mirin. Serve it with some brown rice to make the meal even more substantial.
If all this talk of tuna has you worried about going overboard on mercury, it's less of an issue than you may think. Men's Health explained the initial warning was geared toward pregnant women, not the general population. While it is possible to contract mercury poisoning from fish, you would have to be eating some extreme amounts to make it happen.
Ingredients:
3 tablespoons low-sodium soy sauce, divided
5 teaspoons mirin
2 tablespoons grated fresh ginger
2 tablespoons sugar
2 garlic cloves, minced
1 teaspoon cornstarch
4 (4-ounce, ¾- to 1-inch-thick) tuna steaks
6 baby bok choy, halved lengthwise, washed, and large leaves removed
Directions: Combine ¼ cup water, 2 tablespoons soy sauce, mirin, ginger, sugar, and garlic in a small saucepan. Bring to a boil over medium-high heat. Stir together remaining soy sauce and cornstarch, then stir into saucepan. Cook 3 minutes over medium heat or until thickened. Divide sauce into two separate bowls: one with 5 tablespoons and one with 3 tablespoons.
Prepare grill with medium-hot coals, or heat a gas grill to medium-high. Brush cut sides of bok choy with half of the sauce from the bowl with 5 tablespoons. Grill, cut-side down first, 4 to 5 minutes per side, brushing often with remaining sauce in bowl.
Meanwhile, place tuna on grill, and brush with half of sauce from bowl with 3 tablespoons. Cook about 4 minutes per side, constantly brushing with sauce. Remove bok choy and tuna from grill, and serve immediately.
5. Tuna Tacos with Onions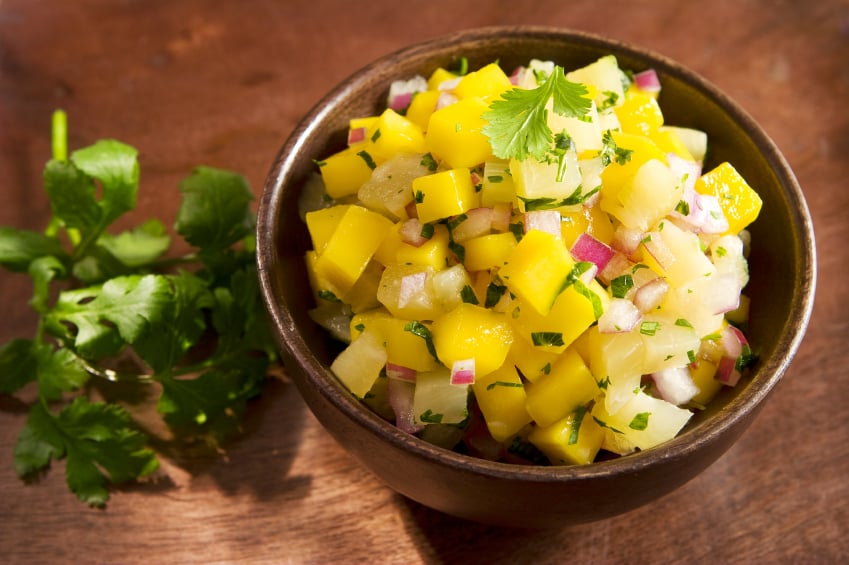 Fish tacos don't need to be deep fried to taste great, and Aaron Sanchez's grilled tuna version, featured on Food & Wine, proves it. A simple salsa made with mango, cucumber, and some serrano chile is spicy, sweet, and completely refreshing. Pile it in some tortillas with the grilled tuna and some tangy onions for a fish taco that will fill you up without weighing you down.
Ingredients:
3 tablespoons olive oil, divided
2 medium red onions, thinly sliced
Salt
1 teaspoon chipotle powder or hot paprika
1 teaspoon dried oregano
1 tablespoon red wine vinegar
1 ripe mango, peeled, pitted, and cut into ¼-inch cubes
1 medium cucumber, peeled, seeded, and cut into ¼-inch cubes
1 serrano or jalapeño chile, seeded and finely chopped
2 tablespoons fresh lime juice
1 tablespoon chopped cilantro
1 (1-pound, 1-inch-thick) tuna steak
8 (6-inch) corn tortillas
Directions: Light a grill, or preheat a grill pan. In a large skillet, heat 2 tablespoons oil. Add onions, season with salt, and cook over medium-high heat until softened and browned, about 8 minutes. Add chipotle powder, and cook 30 seconds. Add oregano and vinegar, and cook 1 minute. Transfer to a plate.
Meanwhile, combine mango, cucumber, serrano, lime juice, and cilantro in a medium bowl. Season with salt, and toss to combine.
Oil grill. Rub tuna with remaining 1 tablespoon olive oil, and season with salt. Grill over high heat until lightly charred and pink inside, about 3 minutes per side. Transfer to a plate. Grill tortillas until hot and soft, about 10 seconds. Stack tortillas, and wrap in foil.
Thinly slice tuna, and transfer to a platter. Serve with onions, salsa, and tortillas.
More from Culture Cheat Sheet:
Want more great content like this? Sign up here to receive the best of Cheat Sheet delivered daily. No spam; just tailored content straight to your inbox.