Amazingly Good Avocado Recipes That Won't Wreck Your Diet
For every person who loves a certain ingredient, there's usually an equal number of folks who hate the same food. Avocados may be the exception. With a creamy texture and a mild flavor that can be adapted to any cuisine, the fatty fruit is getting a lot of love. And much of this popularity has to do with the fruit's healthy status. According to the USDA's nutrient database, half an avocado contains 114 calories, nearly 8 grams of unsaturated fats, and 4.6 grams of fiber.
Instead of making another batch of guacamole, try working some new preparations into the mix. Avocado desserts can be controversial, so we stuck with savory offerings this time around. We doubt you'll mind after tasting these five fantastic recipes.
1. Avocado, Egg, and English Muffin Sandwich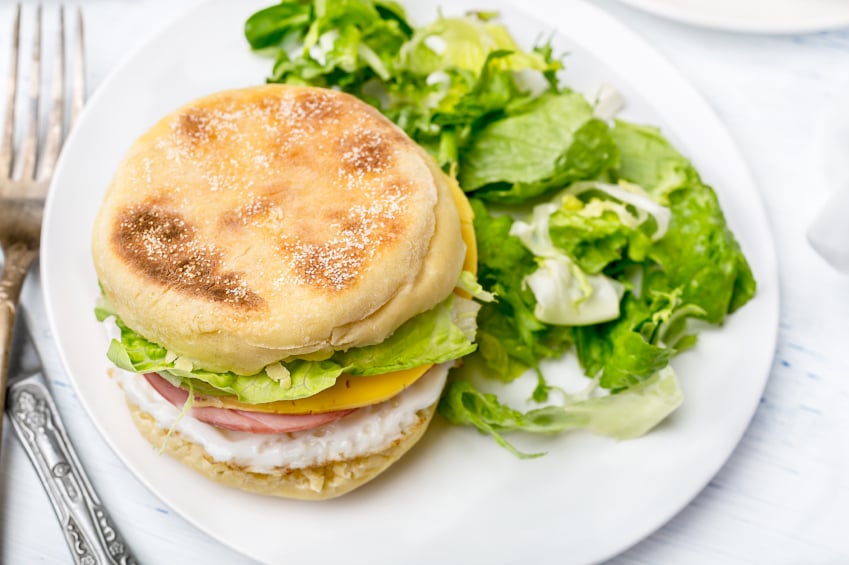 Ditch the drive-through and make your own breakfast sandwich. Cookie and Kate's egg and avocado version, which was adapted from a recipe that originally appeared on Smitten Kitchen, is both healthier and more delicious than anything fast food can provide. The combination of protein and healthy fat will keep you full until lunch while the melted cheese and hot sauce make it taste just a bit indulgent.
Adding veggies to this sandwich helps boost the nutrition, and it's more substantial than you might expect. A 2005 study published in the Journal of Nutrition found eating avocado or avocado oil with vegetables helps boost the body's ability to absorb carotenoids, like beta-carotene and lycopene.
Ingredients:
1 whole-wheat English muffin, split
1 egg
½ teaspoon milk or water
Salt
Cooking spray or 1 to 2 teaspoons cooking oil
Several small slices of Monterey Jack cheese
Hot sauce
½ avocado, mahsed
Sliced red onion
Handful of arugula or sprouts
Sliced tomato or roasted red pepper
Thinly sliced cucumber
Directions: Toast English muffin. Meanwhile, heat a 9- to 10-inch nonstick skillet over medium heat. Grease skillet with cooking spray or drizzle with oil. Mix egg with milk or water and a pinch of salt, then pour into the pan.
Swirl pan to evenly coat with egg, then place cheese in the center of egg mixture. Add a few dashes of hot sauce and let cook until just set, about 30 seconds to 1 minute. Fold edges of egg over the center to create a packet enclosing the cheese. Cook 30 seconds longer, then remove from skillet.
Top bottom of English muffin with egg, cucumber, tomato, arugula, and red onion. Smear avocado on English muffin top, close sandwich, and serve.
2. Avocado and Roasted Tomatillo Salsa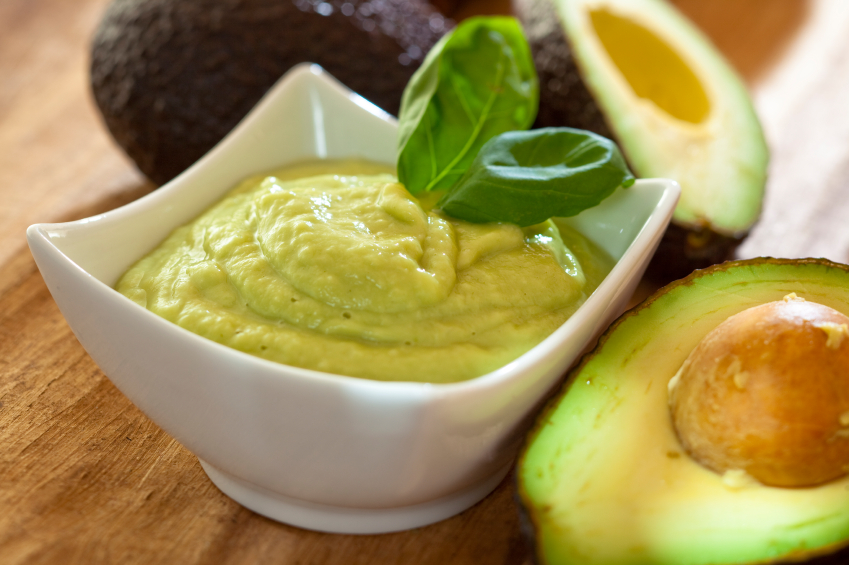 If there's a downside to a creamy bowl of guacamole, it's the calorie count. Few people manage to keep their portion size under control, and it's possible to go overboard on even the healthiest foods, so making a slightly lighter version of the condiment can be a huge help. Go for The New York Times' creamy salsa with roasted tomatillos. It's brimming with flavor, but clocks in at just 81 calories per serving compared to 171 calories for a portion of guacamole.
Chips are a no-brainer when it comes to dippers, but raw veggies are an even smarter choice. Peppery radishes would be especially nice with this salsa.
Ingredients:
1 pound tomatillos, husked
1 to 2 serrano chiles, stemmed
1 medium garlic clove, unpeeled
1 slice white or red onion
½ cup chopped cilantro, with tender stems
1 medium avocado
Salt
Directions: Heat a cast-iron skillet or other large, heavy skillet over medium-high heat. Add tomatillos and toast until charred on one side, about 10 minutes for medium or large tomatillos. Color should turn olive green. Turn over and cook until charred on second side, about 10 minutes longer. Do not let tomatillos burst. Transfer to a bowl and let cool.
Place chiles, garlic, and onion in same skillet. Toast, turning often, until lightly charred and garlic is softened. Onion should be lightly colored, but not black. Remove from heat. Peel garlic and transfer to a blender. Add onion, chiles, tomatillos, and any accumulated liquid. Add remaining ingredients to blender, cover, and blend until smooth. Taste, adjust seasoning, and serve.
3. Brown Rice Salad with Avocado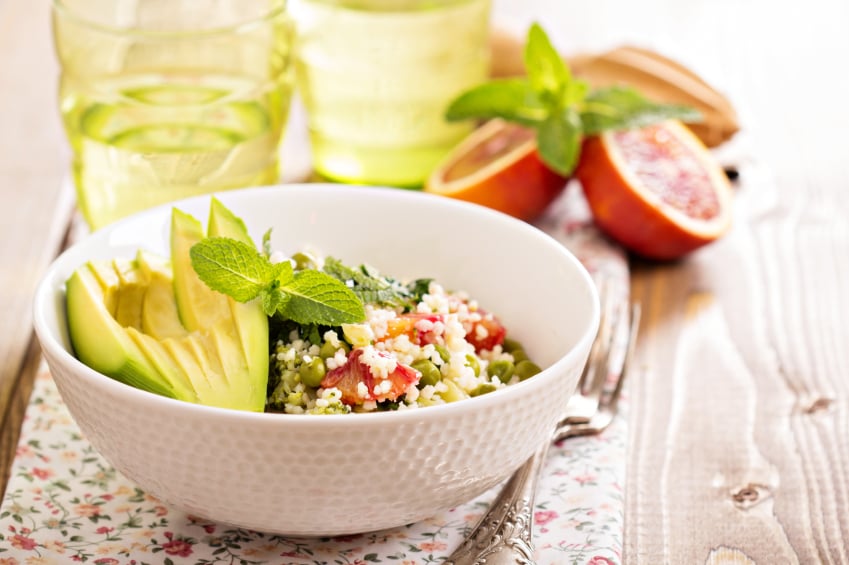 As gorgeous as all those perfectly plated grain bowls are, no one needs to spend that much time making lunch look like a piece of artwork. Get the same nutritional benefits without the fuss by cooking Saveur's brown rice and avocado salad. With crunchy peanuts, slightly chewy grains, and creamy avocado, it covers just about ever texture you could want in lunch. If you're craving something more substantial, mix in some tuna or chicken.
Ingredients:
1 cup short-grain brown rice
Kosher salt
3½ tablespoons dark soy sauce
3½ tablespoons mirin
3½ tablespoons sake
1 tablespoon sugar
1 cup cilantro leaves and tender stems, plus more
½ cup peanuts, toasted and roughly chopped
¼ cup pickled ginger, thinly sliced
4 scallions, thinly sliced
2 avocados, peeled, pitted, and thinly sliced
1 English cucumber, peeled, seeded, halved lengthwise, and sliced into ¼-inch pieces
Zest and juice of 1 lime
Directions: Rinse rice in a strainer under cold water for 30 seconds. Bring 12 cups of water to a boil in a large pot with a tight-fitting lid over high heat. Add rice, stir once, and boil, uncovered, for 30 minutes. Drain rice and cool to room temperature.
Combine soy sauce, mirin, sake, and sugar in a 2-quart saucepan over medium-high heat. Cook until sugar dissolves, 3 to 5 minutes. Let cool.
Combine rice, sauce, cilantro, peanuts, ginger, scallions, avocado, cucumber, lime zest, and lime juice in a large bowl. Toss to combine. Transfer to a serving platter, garnish with additional cilantro, and serve.
4. Chicken Avocado Lime Soup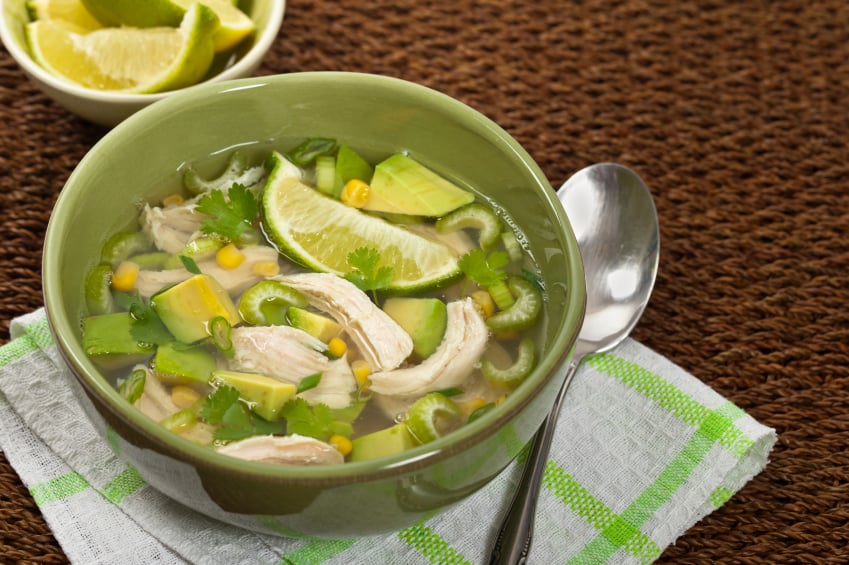 Most of us go for dishes heavy on meat and cheese when eating Mexican food, but the cuisine does healthy just as well. See for yourself with Cooking Classy's vibrant chicken soup, adapted from Mama Miss. It's sort of like a south-of-the-border twist on the canned soup you grew up eating, which means it's better tasting and better for you.
Soup is often considered a good weight-loss food, particularly broth-based ones. This one might be even better for slimming down thanks to the addition of avocado. One study published in Nutrition Journal found including half of an avocado in your lunch can improve overall satiety and reduce the desire to eat later in the day.
Ingredients:
1½ pounds boneless, skinless chicken breasts
1 tablespoon olive oil
1 cup chopped green onions, including whites
2 jalapeños, seeded and minced
2 garlic cloves, minced
4 (14.5-ounce) cans low-sodium chicken broth
2 Roma tomatoes, seeded and diced
½ teaspoon ground cumin
Salt and freshly ground black pepper
⅓ cup chopped cilantro
3 tablespoons fresh lime juice
3 medium avocados, peeled, pitted, and diced
Optional toppings
Tortilla chips
Monterey Jack cheese
Sour cream
Directions: Heat oil in a large pot set over medium heat. Add green onions and chiles. Cook until tender, stirring, about 2 minutes. Add garlic and cook, stirring, just until fragrant, about 30 seconds. Stir in chicken broth, tomatoes, and cumin. Season with salt and pepper, then add chicken breasts. Bring soup to a boil, reduce heat to a simmer, and cook, stirring occasionally, just until chicken has cooked through, about 10 to 15 minutes.
Remove chicken to a plate and let cool for about 5 minutes. Keep soup hot over low heat. Shred chicken using your fingers or two forks and return to soup. Stir in cilantro and lime juice. Just before serving, add diced avocado. Serve with your choice of toppings.
5. Pan-Seared Pork Chops with Roasted Avocado, Broccoli, and Sherry Vinegar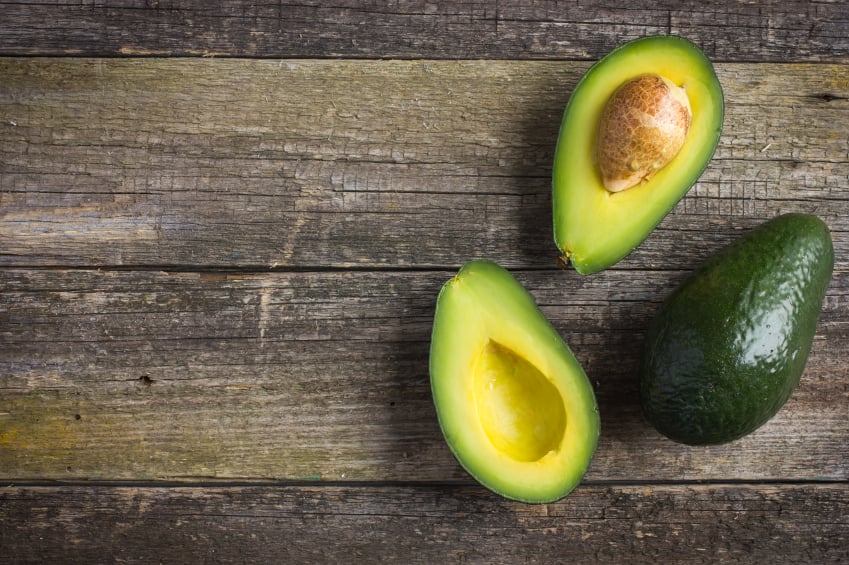 The only problem with the popularity of avocados is finding ripe ones can be pretty difficult. You don't have to wait a week for the fruit to ripen when you opt for chef Nick Palermo's pork chop and roasted avocado dish, which was featured by The Washington Post. Underripe avocados actually work best for this dish because ripe ones will become too mushy once cooked.
Ingredients:
Kosher salt
2 cups broccoli florets
4 or 5 (6- to 8-ounce) thick-cut, boneless or bone-in pork chops
Freshly ground black pepper
1 tablespoon vegetable oil
2 or 2½ firm Hass avocados, cut lengthwise into quarters
3 tablespoons extra-virgin olive oil, plus more
2 teaspoon minced garlic
2 teaspoon sherry vinegar
2 teaspoons minced shallot
Directions: Fill a large bowl with ice water. Preheat oven to 400 degrees Fahrenheit. Line a baking sheet with aluminum foil and set aside.
Bring a large pot of water to a boil. Season generously with salt then cook broccoli for no more than 3 minutes. Drain and transfer to ice water to stop cooking. Once cool, drain and dry thoroughly.
Toss avocado quarters with a small drizzle of olive oil and season with salt and pepper. Arrange cut-side up on baking sheet and roast for 15 to 20 minutes, until edges are lightly browned.
Meanwhile, season pork with salt and pepper. Heat vegetable oil in a large, ovenproof skillet over medium-high heat. Add pork and sear until browned, about 4 to 6 minutes per side for medium rare. If desired, transfer to oven and cook to your desired doneness. Don't let internal temperature rise any higher than 145 degrees Fahrenheit or pork will be dry. Let chops rest for at least 5 minutes.
Heat 1 tablespoon of olive oil in a medium skillet over medium heat. Add garlic and cook for 30 seconds. Add broccoli and stir to coat. Season with salt and pepper and cook just until heated through. Remove from heat.
Combine remaining 2 tablespoons olive oil, vinegar, and shallot in a small bowl. Season with salt and pepper. Whisk to combine.
Serve chops with broccoli, roasted avocado, and a drizzle of vinaigrette.