Protein-Packed Bean Recipes That Taste Great
Whether it's because of their association with bland health foods or the somewhat unsavory name, beans don't get much playtime in the usual meal lineup. It's a shame, because there's a lot to love about this vegetarian staple. According to Men's Fitness, just a half cup of the legumes will give you the same amount of protein as 2 ounces of meat. They also provide hefty doses of fiber and antioxidants.
Now it's time to talk taste. Forget about the overly sweet barbecue side dishes and mushy vegetarian burgers you know. If you treat them right, beans can be just as tasty as any of your other staple ingredients. Try these five recipes to start deliciously eating your way to a better body.
1. Eggs with Chickpeas, Spinach, and Tomatoes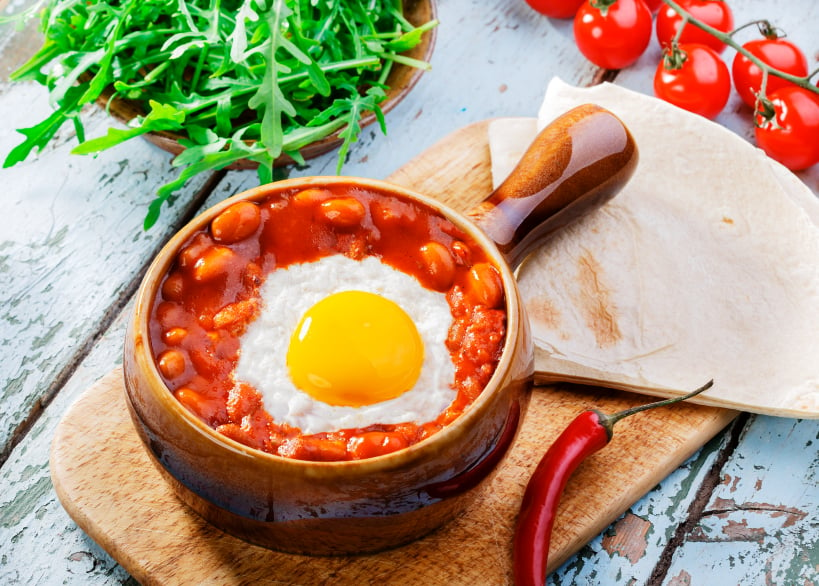 Beans for breakfast? Absolutely. Most people struggle to get enough fiber in their diets, so loading up on veggies and legumes in the morning is a great way to set yourself on the right path. In addition to keeping you full until lunch, loading up on fiber could help ward off prostate cancer down the road. And let's not forget the important role the nutrient plays in keeping you regular.
Start your day off right with Cooking Light's egg and chickpea meal. Because it's packed with tasty ingredients like marinara sauce, rosemary, garlic, and a bit of cheese, you won't even feel like eating healthy is a chore. If you can't find fresh rosemary, you can substitute a smaller amount of the dried herb.
Ingredients:
1 tablespoon extra-virgin olive oil
1 thinly sliced shallot
1 teaspoon crushed red pepper
1 garlic clove, thinly sliced
½ cup low-sodium marinara sauce
1 (14-ounce) can chickpeas, undrained
2 cups baby spinach
¼ teaspoon kosher salt
⅛ teaspoon freshly ground black pepper
4 large eggs
2 ounces pecorino Romano cheese, shredded
Directions: Heat a large skillet over medium heat. Add oil, and swirl to coat. Cook shallots, rosemary, red pepper, and garlic for 2 minutes, or until tender, stirring constantly. Add marinara and chickpeas, and bring to a simmer. Stir in spinach, salt, and pepper. Break eggs over top, spacing evenly. Simmer gently for 15 minutes or until egg whites are just about set. Cover, and cook 1 minute longer, or until whites are set and yolks are runny. Sprinkle with cheese, and serve.
2. White Beans and Charred Broccoli with Parmesan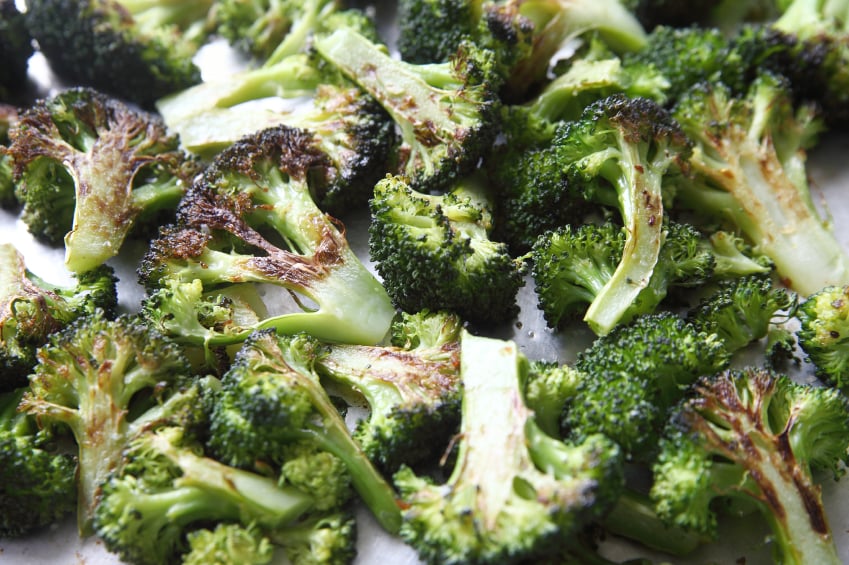 Sometimes side dishes are the star of the meal, and that's definitely the case with this simple white bean and broccoli recipe from Epicurious. With anchovies, lemon, and Parmesan cheese, it's like a more interesting version of a Caesar salad. It's also a complete winner in the nutrition department. You'll get plenty of protein from the beans, plus a hefty amount of vitamins from the green veggie. Though cooking dried beans is pretty simple, it does take a bit of advanced planning. If you're in a hurry, you can substitute twice the amount of canned, cooked beans.
Ingredients:
2 cups dried large white beans, such as gigante or corona, soaked overnight
3 ounces Parmesan cheese with rind
1 onion, quartered
1 garlic head, halved crosswise
Kosher salt
1½ pounds broccoli, coarsely chopped
½ cup olive oil, divided
Freshly ground black pepper
4 anchovy fillets packed in oil, drained, and finely chopped
2 wide strips lemon zest, thinly sliced
¼ cup fresh lemon juice
Directions: Drain beans, and place in a large heavy pot. Remove rind from cheese, and add it to pot along with onion and garlic. Add water to cover beans by 2 inches, and season with salt. Bring to a boil, reduce heat, and simmer until beans are tender, about 2 hours, adding additional water to keep beans submerged. Let cool, and discard rind, onion, and garlic. Drain.
Preheat oven to 450 degrees Fahrenheit. Toss broccoli with ¼ cup oil on a rimmed baking sheet, and season with salt and pepper. Roast, turning occasionally, until tender and lightly charred, 15 to 20 minutes. Let cool.
Finely chop half of broccoli, and toss in a large bowl with anchovies, lemon zest, lemon juice, and beans. Shave half of Parmesan on top, then add remaining broccoli and oil. Toss, and season with salt, pepper, and more lemon juice, as needed. Shave remaining Parmesan over top.
3. Homemade Bean and Bacon Soup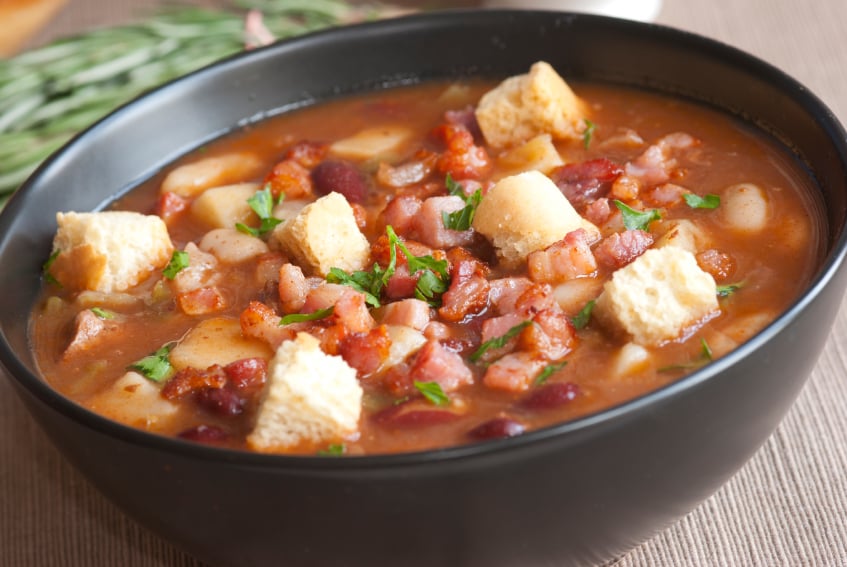 Plenty of brands offer their own renditions of bean and bacon soup, yet they usually don't contain much of either. Making a pot from scratch is better tasting and better for your body. This one from Taste and Tell is filled with onions, celery, and carrots. Though these basic vegetables don't get as much attention as greens, they have plenty of health benefits as well. Onions are low in calories, and actually contain a fair amount of vitamins C and B-6.
Though this recipe calls for smoothing out some of the soup in the blender, you can skip the step to simplify the process. If you happen to own an immersion blender, it will do the trick as well. Just plunge it into the pot, and give the soup a few buzzes.
Ingredients:
8 ounces bacon, diced
1 cup diced yellow onions
1 cup diced carrots
1 cup diced celery
2 garlic cloves, minced
4 cups chicken broth
3 (15-ounce) cans great northern beans, drained and rinsed
Salt and pepper
1 (8-ounce) can tomato sauce
Directions: Cook bacon in a large pot or Dutch oven until fat has rendered and bacon is crisp. Remove to a paper towel-lined plate, and set aside. Drain off all but 2 tablespoons of fat from the pot.
In same pot, cook onions, carrots, and celery over medium heat until beginning to soften, about 5 minutes. Add garlic, stir, and cook 1 minute longer. Add chicken broth and beans. Stir to combine, and season with salt and pepper. Bring mixture to a boil, reduce heat to low, and let simmer 1 hour.
Remove half of soup to a blender and purée until smooth. Add blended mixture back to the pot, and stir to combine. Add tomato sauce and three-quarters of cooked bacon. Season with salt and pepper, to taste. Simmer just until soup is hot, then serve with reserved bacon sprinkled on top.
4. Black Bean Burgers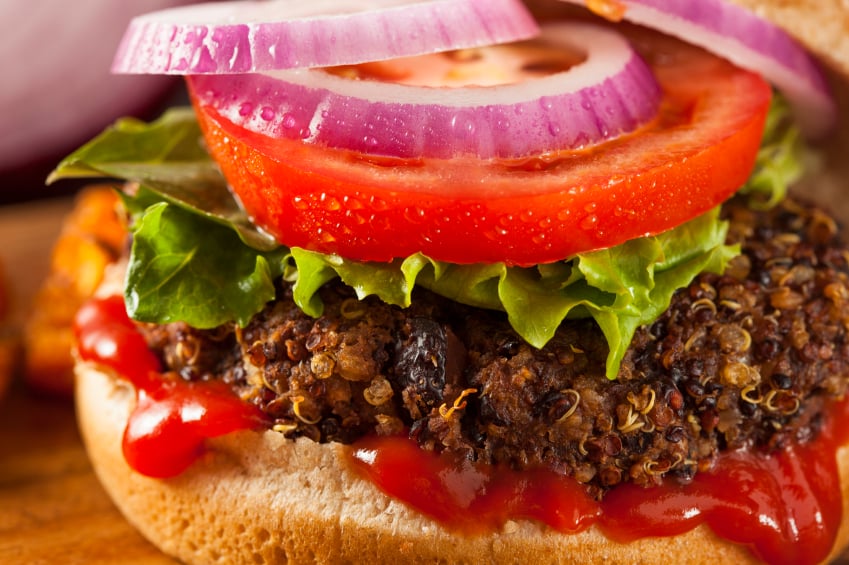 A beef patty with all the fixings makes a great treat on occasion, but these vegetarian burgers from Food & Wine are both delicious and healthy enough to eat any day of the week. This recipe does take some time to make, but you can prepare the patties well in advance. Make the mixture over the weekend, then cook up the burgers as you please when you're short on time after work. You can always speed the process along by using canned black beans.
Ingredients:
1¼ cups dried black beans, rinsed, picked over, soaked for 4 hours, and drained
Kosher salt
3½ tablespoons extra-virgin olive oil
⅓ cup farro
1 small onion, finely diced
¼ teaspoon crushed red pepper
1 garlic clove, minced
2 large eggs, lightly beaten
1 cup coarse fresh breadcrumbs
¼ cup chopped basil
¼ cup chopped cilantro
¼ teaspoon freshly ground pepper
Vegetable oil
8 toasted buns
Sliced red onions
Directions: In a large saucepan, cover beans with 2 inches of water. Simmer over medium-low heat, stirring occasionally, until tender, about 1 hour. Add water during cooking to keep beans covered by 2 inches. Once tender, season with salt, let stand for 5 minutes, then drain.
Meanwhile, heat ½ tablespoon olive oil in a saucepan. Add farro, and cook over medium-high heat, stirring, 2 minutes. Add 1½ cups water and a pinch of salt. Bring to a boil, cover, and simmer until grains are al dente, about 30 minutes.
In a small skillet, heat remaining olive oil. Add diced onion, and cook over medium heat until soft. Add red pepper flakes and garlic. Cook until fragrant, about 2 minutes.
In a food processor, pulse all but ½ cup of beans into a chunky purée, then transfer to a bowl. Fold in remaining beans, the farro, onion mixture, eggs, breadcrumbs, basil, cilantro, pepper, and 1 teaspoon salt. Form into 8 patties. Cover and refrigerate for 30 minutes.
In a large nonstick skillet, heat ⅛ inch vegetable oil. Add burgers and cook over medium heat, turning once, until browned and heated through, about 6 minutes. Serve burgers on buns with red pepper spread and onion slices.
5. Vegetarian Chili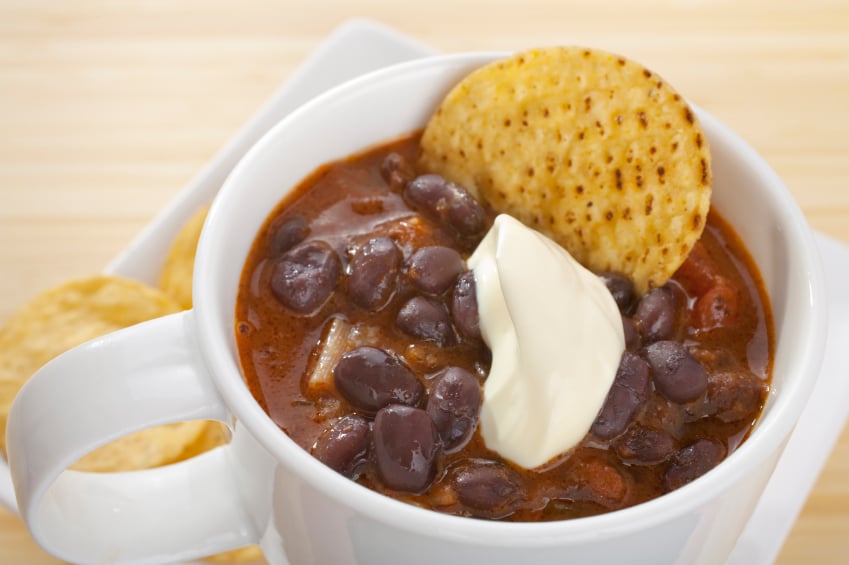 The world of vegetarian chili can be tough to navigate. Recipes are either completely bland or contain more ingredients than you have in your entire kitchen. Gimme Some Oven's version manages to taste great without making you spend an entire day chopping by using potent flavors like chipotle, beer, chili powder, and oregano. Even better, this hearty stew will be ready in just 30 minutes.
With plenty of black beans, this chili could be a recipe for a healthier heart. Studies, such as this one from 2014, have continued to suggest consuming beans and other legumes can lower cholesterol. Eating for your health just got a lot tastier.
Ingredients:
1 tablespoon olive oil
1 medium white onion, diced
3 garlic cloves, chopped
1 (12-ounce) bottle beer
3 (15-ounce) cans black beans, drained, and rinsed
2 (15-ounce) cans diced tomatoes and green chiles
2 chipotle chiles in adobo, chopped
2 teaspoons ground cumin
2 teaspoons chili powder
1 teaspoon dried oregano
½ teaspoon salt
Optional toppings
Chopped cilantro
Diced avocado
Shredded cheese
Sour cream
Salsa
Directions: Heat oil in a large pot over medium-high heat. Add onion and cook, stirring, until softened, about 5 minutes. Add garlic and cook, stirring, until fragrant, about 2 minutes longer. Add beer, beans, tomatoes, chipotle chiles, cumin, chili powder, oregano, and salt. Stir to incorporate.
Bring mixture to a boil, reduce heat to medium-low, and simmer a minimum of 10 minutes. Season with salt and pepper, to taste. Serve chili with toppings.