Healthy Spinach Recipes That Taste Great
Greens are the darlings of the vegetable world. Kale is an obvious example, though the boom might finally be over. In its stead, we're starting to see a wider variety of leafy eats like beet tops and collards. Even before the green mania we see everywhere from drive-throughs to gourmet establishments, salads were the go-to meals for folks trying to eat healthy. Spinach has been there through it all, even if it never induced the same sort of hysteria as those other greens. We think it's time to give this veggie the recognition it deserves.
In terms of health benefits, spinach is unbeatable. Men's Journal likes the green for its high levels of energy-boosting iron, loads of vitamins, and shockingly low calorie count, only 2 calories per leaf. Spinach is also a lot more versatile than other leafy vegetables, because it's tender enough to eat raw and also holds up well to cooking. With a delicate, mineral-like flavor, it's also a lot more palatable than heartier greens.
Though throwing together a simple salad with some sort of lean protein on top is an easy route, spinach is capable of so much more. It adapts to nearly every type of cuisine and works as both a star ingredient and a supporting player. Try these five recipes to see just how delicious spinach can be. No salads required.
1. Skillet-Baked Eggs with Spinach, Yogurt, and Chili Butter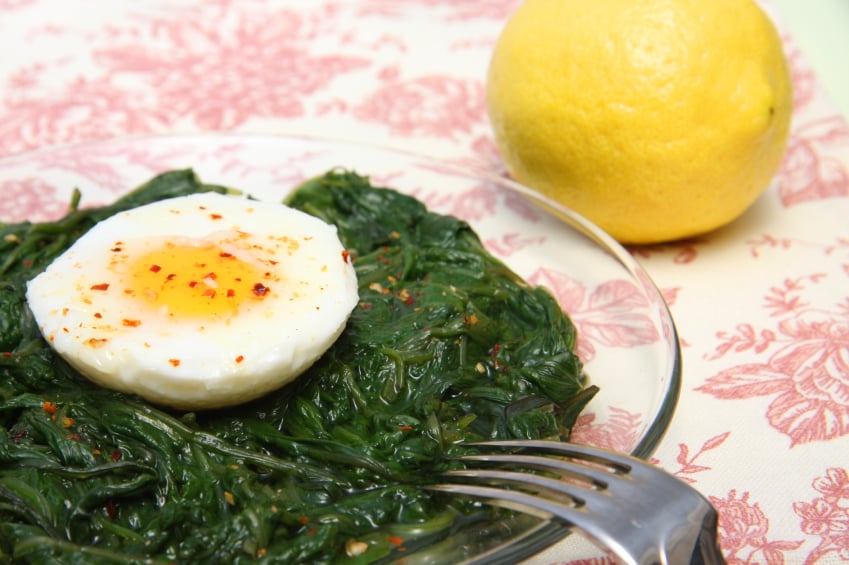 You don't have to rely on tons of cheese or fatty meat to make a phenomenal breakfast. This easy spinach and egg dish from Yotam Ottolenghi, featured on Bon Appétit, gets plenty of flavor from some tangy yogurt, sweet leeks, and a spicy herb butter. It also makes a great dinner.
If you usually go for sweetened yogurt in the morning, you're in for a great surprise. The creamy dairy might be even better when combined with savory ingredients, and it's a lot healthier. Pairing it with spinach is a great way to boost your bone health, as both ingredients will give you a dose of calcium.
Ingredients:
⅔ cup plain, Greek-style yogurt
1 garlic clove, halved
Kosher salt
2 tablespoons unsalted butter, divided
2 tablespoons olive oil
3 tablespoons chopped leek, white and pale parts only
2 tablespoon chopped scallion, white and pale parts only
10 ounces fresh spinach
1 teaspoon fresh lemon juice
4 large eggs
¼ teaspoon Turkish chili powder or ¼ teaspoon crushed red pepper flakes plus a pinch of paprika
1 teaspoon chopped fresh oregano
Directions: Mix yogurt, garlic, and a pinch of salt in a small bowl. Set aside.
Preheat oven to 300 degrees Fahrenheit. Melt 1 tablespoon butter with the 2 tablespoons oil in a large, heavy skillet over medium heat. Add leek and scallion, and reduce heat to low. Cook until softened, about 10 minutes. Add spinach and lemon juice, and season with salt. Increase heat to medium-high. Cooking, stirring often, until wilted, 4 to 5 minutes.
Transfer spinach to a 10-inch skillet, leaving accumulated liquid behind. Make four indentations in the spinach, and carefully crack an egg into each. Bake until egg whites are set, but yolks are still runny, 10 to 15 minutes.
Melt remaining 1 tablespoon butter in a small saucepan over medium-low heat. Add spices and a pinch of salt, and cook until butter begins to brown on bottom, 1 to 2 minutes. Add oregano, cook for 30 seconds, then remove from heat. Remove garlic halves from yogurt, and discard. Spoon yogurt over eggs. Drizzle with spiced butter, and serve.
2. Spinach with Corn and Tomatoes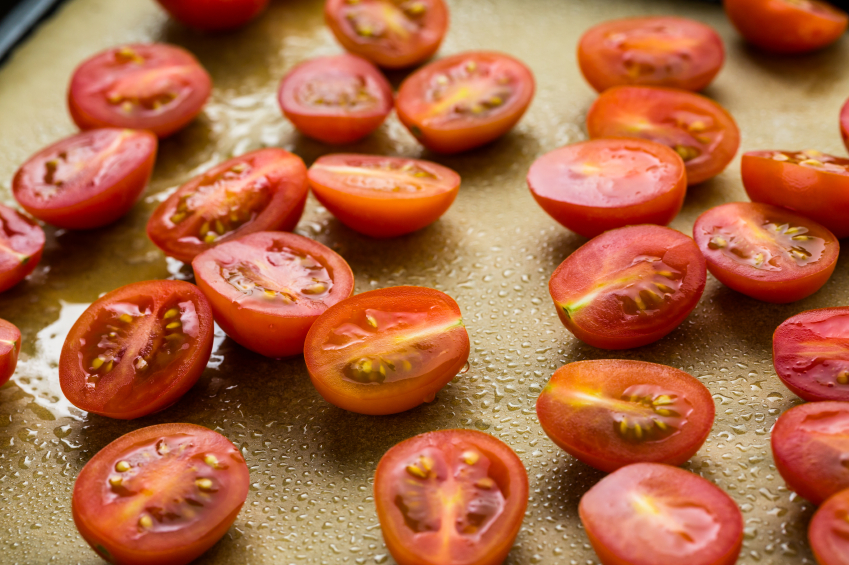 If you usually pair creamed spinach with your steak at restaurants, you might want to rethink your choice. The dish is usually more cream than vegetable, which isn't particularly good for guys looking to get a bit slimmer. One order of creamed spinach from Ruth's Chris Steak House contains 22 grams of fat and nearly 300 calories. For a healthier dish that's just as tasty, try making this spinach, corn, and tomato sauté from Martha Stewart's Everyday Food.
In addition to adding a bit of sweetness and acidity, tomatoes boost the nutrition profile of this side pretty significantly. A 2005 study found cooking tomatoes with olive oil, as in this recipe, significantly boosts your body's ability to absorb the lycopene. Feel free to substitute larger tomatoes for the grape variety. Dice it into big pieces, and follow the recipe as written. And if you have fresh corn, this is a great way to use it up.
Ingredients:
2 teaspoons olive oil
1 (10-ounce) package frozen corn kernels, thawed
5 ounces baby spinach, thinly sliced
1 cup grape tomatoes, halved
1 teaspoon coarse salt
¼ teaspoon freshly ground pepper
Directions: In a large saucepan, heat olive oil over medium-high heat. Add corn and cook until warmed through, 1 to 2 minutes. Add spinach. Cook until wilted, 1 to 2 minutes. Stir in tomatoes. Cook until softened 1 to 2 minutes.
Season mixture with salt and pepper. Serve warm, cold, or at room temperature.
3. Spinach Pesto Pasta with Chicken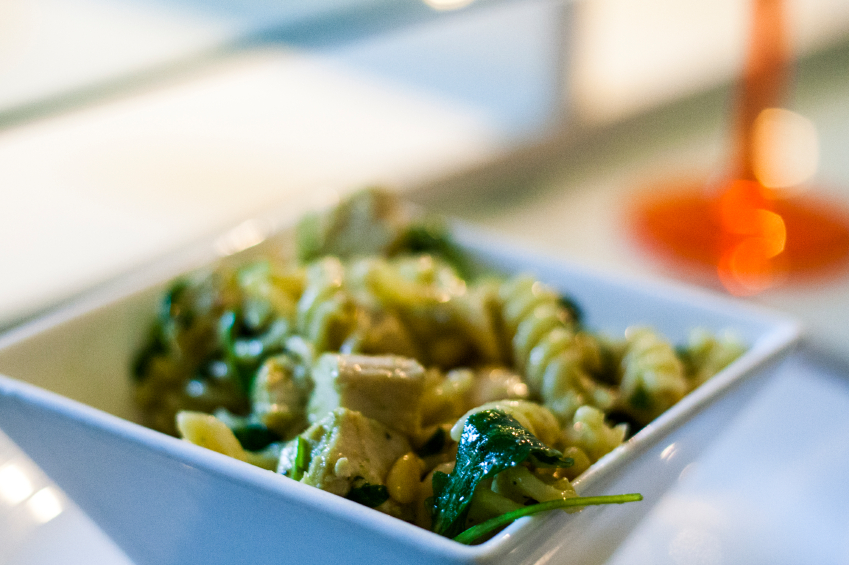 If your weeknight dinners usually involve delivery, it's time for an upgrade. This pasta dish from Food Republic tastes completely luxurious, but only takes 20 minutes to make thanks to a no-cook sauce and some precooked chicken. It's also a great way to use up any vegetables you have sitting around. We especially like to add cooked green beans and snap peas.
Though pesto usually relies on loads of oil to get the right consistency, this recipe adds some of the pasta liquid to the finished dish to get the perfect texture. Use the pesto recipe as a guideline, then adapt as you like. You can use any type of nut or herb for tons of variations.
Ingredients:
Coarse salt
1 bunch spinach, stems removed
1 cup packed fresh basil leaves
3 tablespoons pine nuts
1 garlic clove, peeled
6 tablespoons extra-virgin olive oil, plus more
1 pound short-cut pasta
2½ cups shredded, rotisserie chicken, skin and bones removed
2 ounces ricotta salata cheese, thinly sliced
Directions: Bring a large pot of salted water to a boil. In a food processor, combine spinach, basil, nuts, garlic, and ½ teaspoon salt. With machine running, stream in oil until smooth.
Cook pasta according to package directions. Drain, reserving some of the pasta water. Return pasta to the same pot. Immediately add pesto and chicken. Stir to combine. Moisten with 2 tablespoons reserved pasta liquid, and stir. Add additional water, if needed.
Serve with cheese and a drizzle of oil.
4. Saag Paneer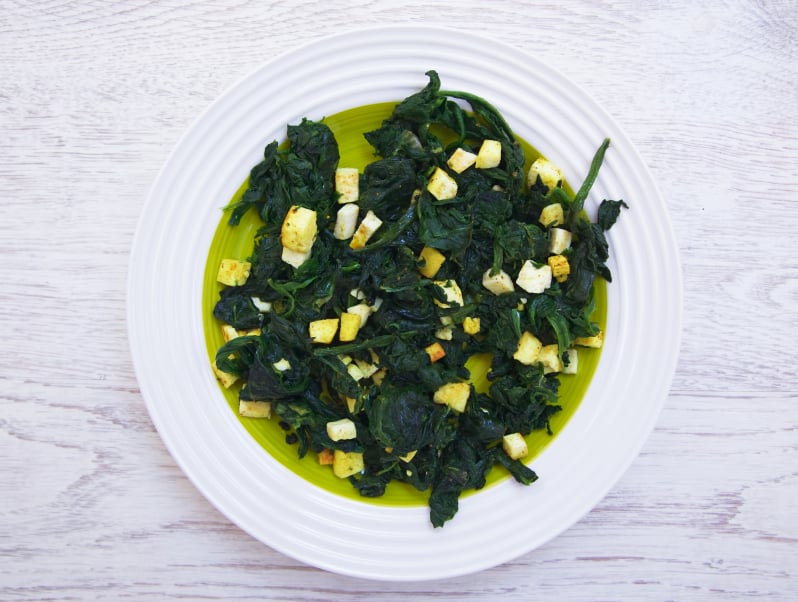 Many vegetarian dishes look to tofu to get a satisfying boost of protein. While the soy product is certainly a nutritious addition, the flavor isn't for everyone. Chef Kay Chun's version of this traditional Indian dish, featured on Food & Wine, uses a firm, salty cheese in the same way for a taste that you're sure to love. Though 20 ounces of raw spinach will look like an insane amount, you'll be surprised at how much it cooks down.
This recipe recommends serving with basmati rice, but you can get even more fiber and nutrients by opting for brown. A whole-wheat pita is another great choice to soak up all the flavorful juice.
Ingredients:
3 tablespoons canola oil
8 ounces halloumi or paneer cheese, cut into ¾-inch cubes
¾ cup finely chopped white onion
3 garlic cloves, minced
2 teaspoon finely grated ginger
1 tablespoon unsalted butter
1½ teaspoons garam masala
¼ teaspoon freshly grated nutmeg
2 (10-ounce) bags spinach, stemmed
Kosher salt
Freshly ground pepper
2 tablespoons heavy cream
2 teaspoons fresh lemon juice
Steamed basmati rice
Directions: In a large nonstick skillet, heat 2 tablespoons of the oil. Add cheese. Cook over medium heat, turning often, until all sides are golden, about 3 minutes. Using a slotted spoon, transfer cheese to a plate.
Add remaining oil to skillet along with onion, garlic, and ginger. Cook over medium-low heat until onion is softened, about 5 minutes. Add butter, garam masala, and nutmeg. Cook, stirring, for 1 minute. Add spinach in batches, stirring, until wilted. Season with salt and pepper. Add ½ cup water, cover, and simmer until spinach is tender, about 5 minutes. Uncover and cook until most of liquid has evaporated, about 5 minutes. Stir in cream, lemon juice, and cheese. Serve with rice.
5. Spinach and Ham Stuffed Baked Potatoes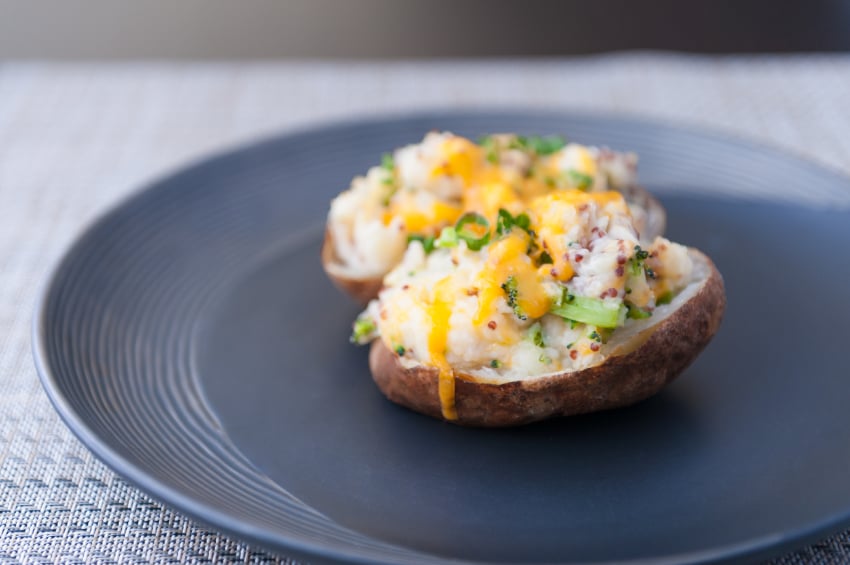 Stuffed potatoes usually come with tons of butter, cheese, sour cream, and bacon. Cooking Light's spinach-stuffed spuds deliver just as much flavor without destroying your diet. It relies on potent ingredients like green onion, cheddar cheese, and a bit of ham, so you won't feel like you're missing out on anything. Another reason to make this dish? No oven required.
Ingredients:
4 (8-ounce) baking potatoes
2 tablespoons water
1 (5-ounce) bag baby spinach
2 tablespoons plain, fat-free Greek Yogurt
¼ teaspoon kosher salt
¼ teaspoon freshly ground black pepper
2 ounces lower-sodium ham, diced
2 ounces cheddar cheese, shredded
¼ cup chopped green onions
Directions: Pierce potatoes all over with a fork. Microwave on high for 14 minutes, or until tender. Remove from microwave. Let cool 10 minutes.
While potatoes cook, bring 2 tablespoons water to a simmer in a large skillet over medium-high heat. Add spinach, and cook 2 minutes, stirring, until spinach wilts. Cool 5 minutes. Place spinach in a paper towel, and squeeze out liquid. Coarsely chop spinach.
Cut one-third off of each potato lengthwise. Remove pulp, leaving ⅛-inch shell. Combine pulp, yogurt, salt, pepper, ham, cheese, and spinach in a large bowl. Stir to combine. Evenly fill shells with mixture. Sprinkle green onions on top, and serve.