Cooking With Root Beer: 6 Delicious Recipes For BBQ and More
Root beer just might be the quintessential non-alcoholic beverage during the summer. Much of it has to do with a certain treat involving ice cream, but the beverage alone has a unique taste that's refreshing on a hot day. The flavor is pretty hard to pinpoint, but the name offers a bit of a clue. According to About Money, the fizzy drink originated in colonial times when beverages called small beers were brewed from herbs, barks, and, you guessed it, roots.
Delicious as it is straight from a frosty glass, this soft drink makes for some stellar culinary creations as well. And since the beverage brings so much flavor to the table, you don't need too many other ingredients to make a dish that tastes phenomenal. These seven recipes show you just how versatile the soda can be. If you're feeling particularly adventurous, you can make your own brew at home. For those who don't want to wait a week, these six recipes are every bit as delicious with a freshly cracked can. You might never want to go back to a plain old root beer float.
1. Slow Cooker Root Beer Baked Beans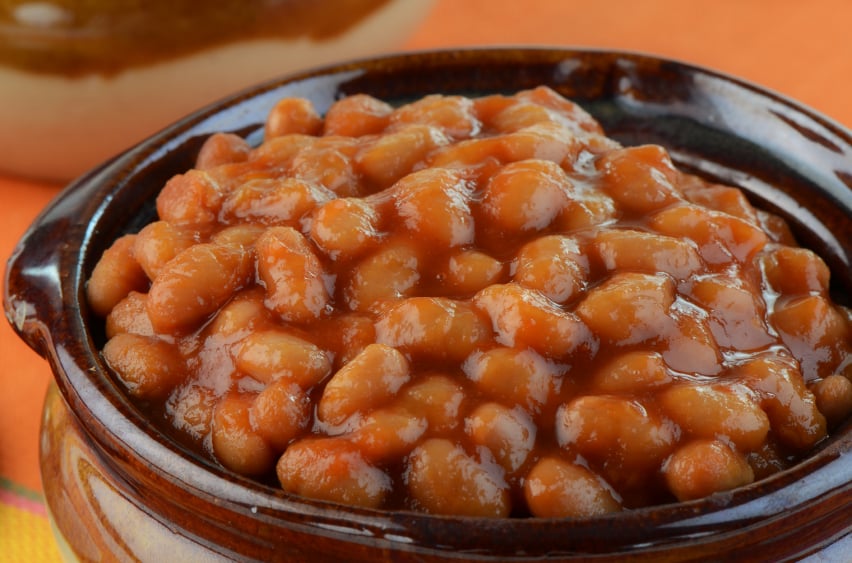 Every great barbecue feast has loads of meats, a selection of sauces, cornbread, and some slaw. But there's one dish that can really send the spread over the top: baked beans. This root beer version from Brown Eyed Baker is a stunner that will wow your friends. Even if you're cooking for one, you'll still love this dish. It makes a simple supper with a fried egg on top and some cornbread on the side.
Ingredients:
1 (15-ounce) can baked beans
1 (15-ounce) can chili beans
1 (15-ounce) can cannellini beans
16 ounces bacon, cooked, and diced
½ cup barbecue sauce
⅓ cup molasses
⅓ cup packed light brown sugar
⅓ cup maple syrup
¼ cup white vinegar
2 tablespoons Dijon mustard
2 tablespoons Worcestershire sauce
1 (12-ounce) bottle of root beer
Directions: In a 4- to 6-quart slow cooker, stir together all of the ingredients. Cook on low 12 hours.
Remove lid, and continue to cook an additional 4 hours, or until mixture reaches your desired consistency. Leftovers keep in the refrigerator, covered, up to 4 days.
2. Barbecue Ribs with Root Beer Barbecue Sauce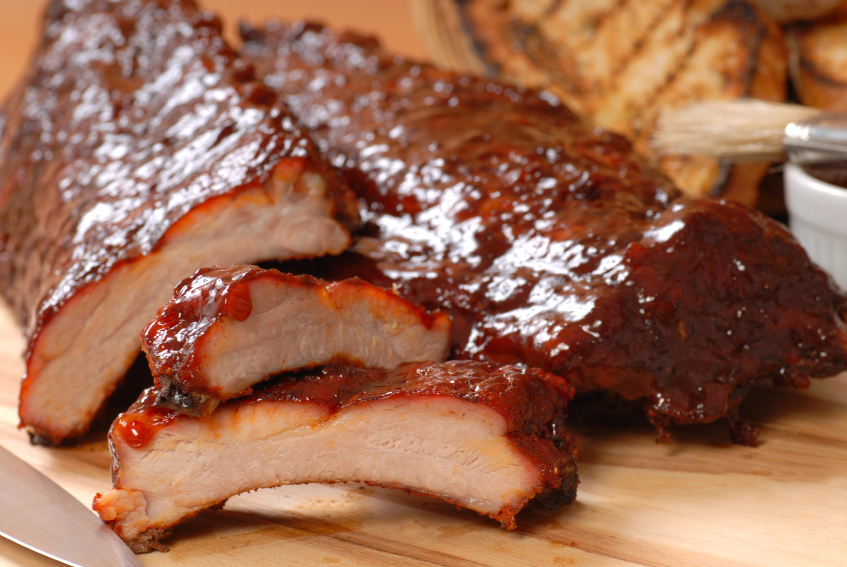 Tired with the same basic rib recipe? Try infusing a little bit of root beer into a homemade sauce with Bobby Flay's delicious recipe, featured on Food Network. Start out by sweating some onions, ginger, and garlic. Once you stir in the soda, ketchup, and other seasonings, let it bubble away for 30 minutes. It's a perfect foil to the richness of the ribs, but it's also stellar on some chicken or a burger.
This recipe is definitely a project, so be sure to save it for a weekend. You need to set aside enough time for the ribs to brine as well as smoke. Turn it into an all-day affair, and invite some friends over while you cook. You can enjoy some adult beer and enjoy the weather, then you'll be rewarded with some fantastic food.
Ingredients:
Ribs
½ cup kosher salt
¼ cup molasses
10 whole cloves
4 cinnamon sticks
3 star anise pods
2 racks St. Louis-style pork ribs, trimmed
Sauce
2 tablespoons canola oil, plus more
1 sweet onion, finely chopped
2 tablespoons finely grated fresh ginger
2 garlic cloves, finely chopped
2 teaspoons smoked paprika
2 cups root beer
2 cups ketchup
Scant ¼ cup packed light brown sugar
2 tablespoons molasses
Juice and zest of 1 lemon
Kosher salt and freshly ground black pepper
Directions: Combine 12 cups water with salt, molasses, cloves, cinnamon sticks, and star anise in a large saucepan. Bring to a boil, cook until salt dissolves. Remove, and let cool completely.
Place ribs in a plastic container and cover with brine. Cover, and refrigerate at least 4 hours, or up to 24 hours, turning occasionally.
Remove ribs from brine, rinse, and pat dray. Set onto baking racks over baking sheets. Refrigerate several hours until surface dries.
Heat oil in a medium saucepan set over medium heat. Add onions, and cook until softened. Add ginger and garlic, and cook 1 minute. Add paprika, and cook 1 minute more. Stir in root beer, then simmer until reduced by half. Add ketchup, brown sugar, and molasses. Cook over low heat, just until flavors meld and sauce has reduced, stirring occasionally, about 30 minutes. Add lemon juice, and season with salt and pepper, to taste.
Prepare smoker with soaked chips and set temperature to 225 to 250 degrees Fahrenheit. If using a charcoal grill, set up for direct and indirect heat. Brush ribs lightly with canola oil, and smoke until tender and juicy, about 2 hours. Brush with sauce, and turn occasionally during last 15 minutes of cooking. If using a charcoal grill, finish ribs over hot part of grill. Serve.
3. Root Beer Chili
Chili fanatics know this hearty dish has an insanely long list of ingredients, which can include everything from chocolate to cinnamon. In order to marry all of the disparate flavors into a delicious stew, you usually have to simmer the whole pot for most of the day. The Marvelous Misadventures of a Foodie condenses the cooking down to 35 minutes thanks to some root beer and fire-roasted tomatoes.
Though this dish uses turkey, any ground meat will work well. Try beef for the most classic flavor, but chicken or pork are also tasty. You can also boost the heat by adding more cayenne or a diced jalapeño to the mix.
Ingredients:
1 tablespoon olive oil
1 pound ground turkey
1 small onion, diced
2 garlic cloves, minced
2 tablespoons chili powder
½ teaspoon cayenne pepper, plus more
½ teaspoon cumin
1 (8-ounce) can tomato sauce
2 (14.5-ounce) cans fire-roasted tomatoes
2 (15-ounce) cans pinto beans, drained, and rinsed
1 (15.5-ounce) can root beer
Salt and pepper
Tortilla chips
Shredded cheese
Sour cream
Cilantro
Directions: Heat oil in a large Dutch oven, or other heavy pot, over medium-high heat. Cook turkey until mostly cooked. Add onion, and cook until softened, 3 to 5 minutes. Add garlic, and cook until fragrant, about 30 seconds. Stir in chili powder, cayenne, and cumin. Stir in tomato sauce, diced tomatoes, beans, and root beer. Stir to combine, and bring mixture to a boil. Reduce heat to low, and simmer 20 to 30 minutes, until chili has thickened. Season with salt and pepper, to taste. Serve with toppings.
4. Root Beer Chicken Wings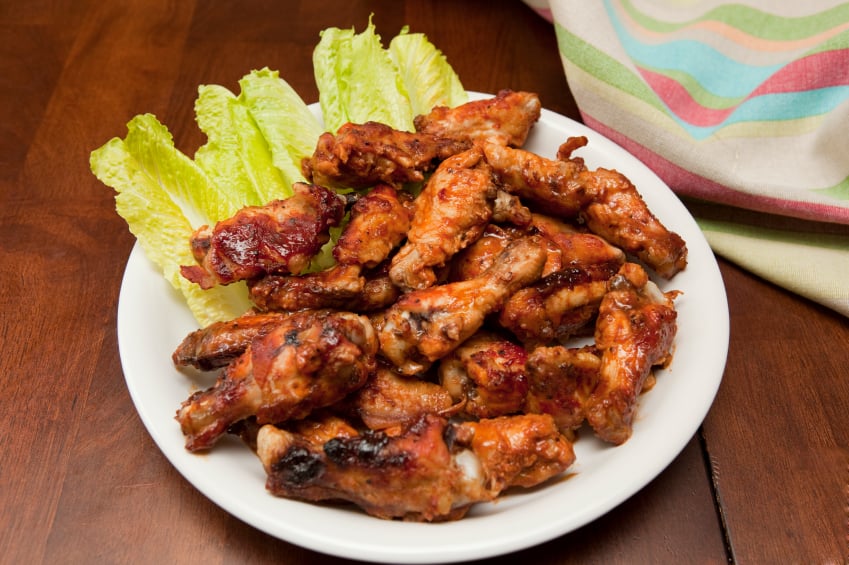 Change up your regular chicken wings with a sweet and sticky root beer sauce. This unique take on the bar food from Cravings of a Lunatic, featured on Real Housemoms, starts by baking the wings in a 450 degree Fahrenheit oven. While the chicken cooks, make a simple sauce by reducing the soda with a handful of other seasonings. Toss the wings in the sauce, then return them to the oven to get extra crispy. Heat seekers will want to spike the sauce with some spicy sriracha.
Ingredients:
2 pounds chicken wings
Salt
White pepper
1 cup root beer
¼ cup packed brown sugar
½ teaspoon smoked paprika
¼ teaspoon chipotle chile powder
1 teaspoon cornstarch
Directions: Preheat oven to 450 degrees Fahrenheit. Spray a rimmed baking sheet with nonstick cooking spray.
In a large bowl, toss wings with salt and white pepper, coating evenly. Place wings in rows on sheet, leaving a bit of space between each. Bake wings for 20 minutes. Flip over, and bake another 10 minutes.
Meanwhile, combine root beer, brown sugar, smoked paprika, and chipotle powder in a small saucepan. In a small bowl, stir cornstarch with about ¼ cup water, until smooth. Set aside for a moment. Bring root beer mixture to a boil over medium-high heat. While whisking, gradually mix in cornstarch mixture. Cook until sauce thickens, then remove from heat.
In a large bowl, toss wings with half of sauce. Return wings to baking sheet, spreading evenly. Bake for 8 to 12 minutes, until wings are as crispy as you'd like, flipping halfway through. Serve with remaining sauce on side.
5. Veggie Stir-Fry with Root Beer Sauce
Mom probably wouldn't have had to force you to eat your broccoli if she'd stir-fried it with a sweet and salty root beer sauce. These addictive veggies from Edible Omaha taste like a jazzed up version of teriyaki. Since this dish has so much flavor, it's a great way to add excitement to any simple cooked protein. No offense to the steak, but these vegetables are definitely the star of the plate.
Ingredients:
2 tablespoons olive oil
½ medium red onion, thinly sliced
½ spicy red chile, halved, seeded, and thinly sliced
1 carrot, peeled, and cut into matchsticks
1 bunch broccoli, cut into florets
1 cup snap peas
2 celery ribs, finely chopped
¼ cup soy sauce
¾ cup root beer
½ cup honey
2 garlic cloves, minced
Brown rice
Directions: Heat olive oil in a large skillet over medium-high heat. Add onion, chile, carrot, broccoli, snap peas, and celery, stirring to coat. Sauté veggies until crisp-tender, and bright in color, about 5 minutes. Remove from heat.
In a small saucepan, combine soy sauce, root beer, honey, and garlic. Set over medium-high heat. Stirring constantly, reduce sauce until thickened. Mixture should coat a spoon. Pour over vegetables. Serve with rice.
6. Root Beer Float Ice Cream Cake
Root beer floats make a refreshing summer treat, but sometimes you want something a little more substantial. Sink your teeth into this decadent cake from Taste and Tell, which was adapted from a recipe in Baked: New Frontiers in Baking. It's everything you love about the nostalgic treat, but special enough for a party. It might be the ultimate summer birthday cake.
Ingredients:
2 cups root beer
1 cup cocoa powder
½ cup unsalted butter
1¼ cups sugar
½ cup packed brown sugar
2 teaspoons root beer extract
2 cups all-purpose flour
1¼ teaspoons baking soda
1 teaspoon salt
2 eggs
1½ quarts vanilla ice cream
2 cups heavy whipping cream
½ cup powdered sugar
Grated chocolate
Directions: Line a 9-inch cake pan with plastic wrap, allowing several inches of overhang on sides. Remove ice cream from the freezer, and allow to soften slightly. Spread ice cream evenly into lined pan. Cover with plastic wrap over top, and return to freezer until solid, at least 4 hours.
In a saucepan set over medium heat, combine soda, cocoa powder, and butter. Cook until sugar dissolves, and butter is melted. Remove from heat, and let cool. Stir in root beer extract
Preheat oven to 325 degrees Fahrenheit. Grease two 9-inch cake pans, and line bottoms with parchment paper. Grease parchment.
In a large bowl, whisk flour, baking soda, and salt to combine. In a separate large bowl, beat eggs, then whisk in root beer mixture. Gently fold in the flour, just to combine. Pour into prepared pans, and bake until a tester inserted into center comes out with a few moist crumbs attached, 30 to 32 minutes. Cool 10 minutes in pans, then remove cakes, peel off parchment, and let cool completely.
Place cream in a large bowl, and whip until beginning to thicken. Gradually add powdered sugar, and whip until stiff peaks form.
Place one cake layer on a serving dish. Remove ice cream layer from freezer and use overhang to remove from pan. Set ice cream on top of cake layer. Set second cake layer on top. Frost entire cake with whipped cream. Garnish with grated chocolate, and return to freezer. Serve in wedges.
More from Culture Cheat Sheet: