Washington DC Craigslist: 8 Strange Finds From the Capital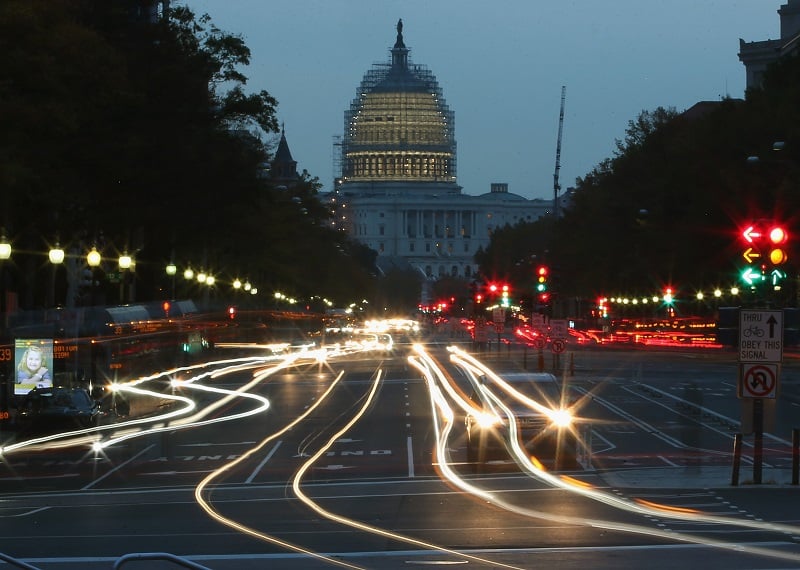 Craigslist is notorious for being the go-to online forum and message board where you can find just about anything. Need a partner, for life or just for the night? Craigslist has them. How about something as simple as a couch? Check. Roommates, or an apartment? You know where to go. And though there are weird and funny posts to be had in cities all across the country, the nation's capital is home to some of the freakiest finds of all.
Sexy? Weird? Haunted? You'll find it all on Craigslist Washington D.C. And you can even find a lot of it for free!
Craigslist Washington D.C.
Craigslist Washington D.C. brings together the whole D.C. region — from the suburbs in Virginia, nearing the outer reaches of Baltimore in Maryland. That's a lot of space and a whole lot of people. Among those people are some of the world's most powerful politicians. Due to the fact that D.C. is the capital city, there's likely always something unique to be found on Craigslist.
We've scoured the "free stuff" section of Craigslist Washington D.C. for some of the oddest, scariest, and sexiest stuff we could find. Going back several years, there were a few choice items to behold. You never know what you're going to find on Craigslist in Washington D.C., but if you're in the game for free stuff, check out these (awesome?) freebies that you could've gotten your hands on.
1. Giant undies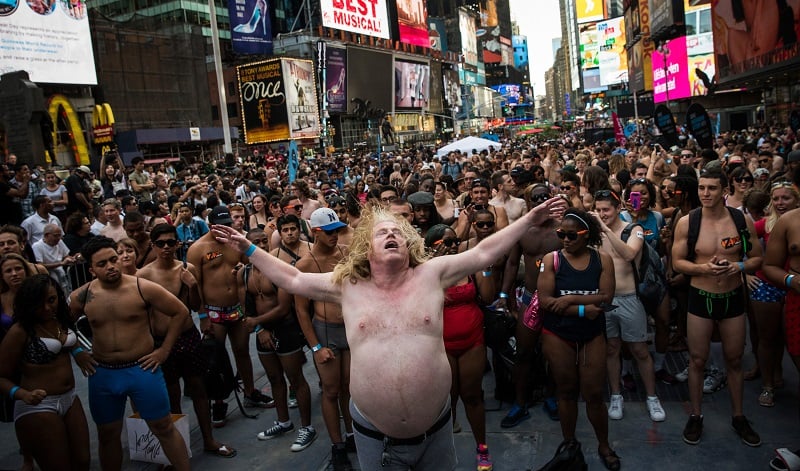 What do you do when you lose a ton of weight? Get rid of your underwear, of course. And what better place to do that than on Craigslist, where surely there are dozens of people standing by waiting for the availability of "giant undies." But that's exactly what one poster did in 2005.
"Just lost 120 LBs on Atkins and had to buy all new underwear. I hate to throw it all away so if anyone who is about 5'4" and weighs 290 wants em let me know. I have about 100 pairs in rainbow colors. They are clean. Please serious inquiries only…no perverts."
Sorry, pervs. This is for serious undie swappers only.
2. Cicadas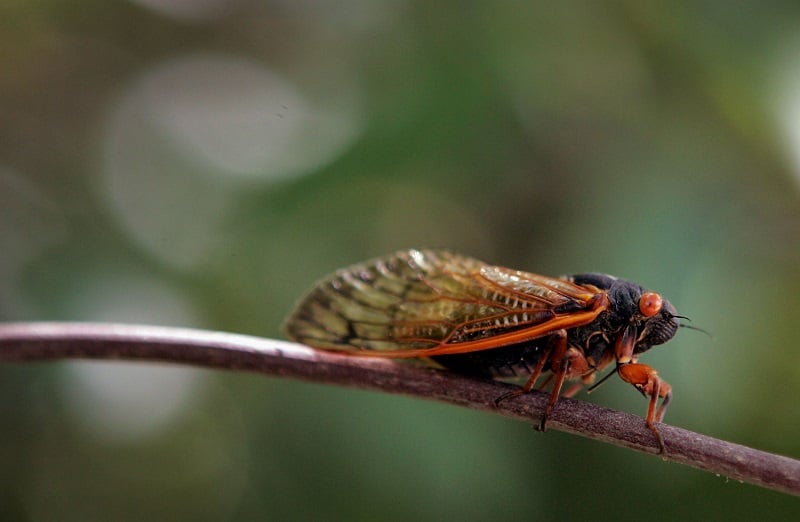 Cicadas are hideous, awful insects that emerge once every 17 years to wreak havoc. They're like big, flying roaches — sort of. And if you were looking for cicadas on Craigslist in 2004, you would've hit the jackpot. Especially if you were hungry.
"Grubs leftover from weekend hunting / cooking extravaganza. Covered in batter made from matzoh ball mix and Mrs. Spice seasoning mix, fried in extra virgin olive oil. The matzoh does not, however, make them kosher. Two sauces: garlic-based and mayo-ketchup mix. They taste like fried zucchini. We ate our fill but do not want to let good food go to waste."
Fried zucchini — how terribly specific.
3. Evil fish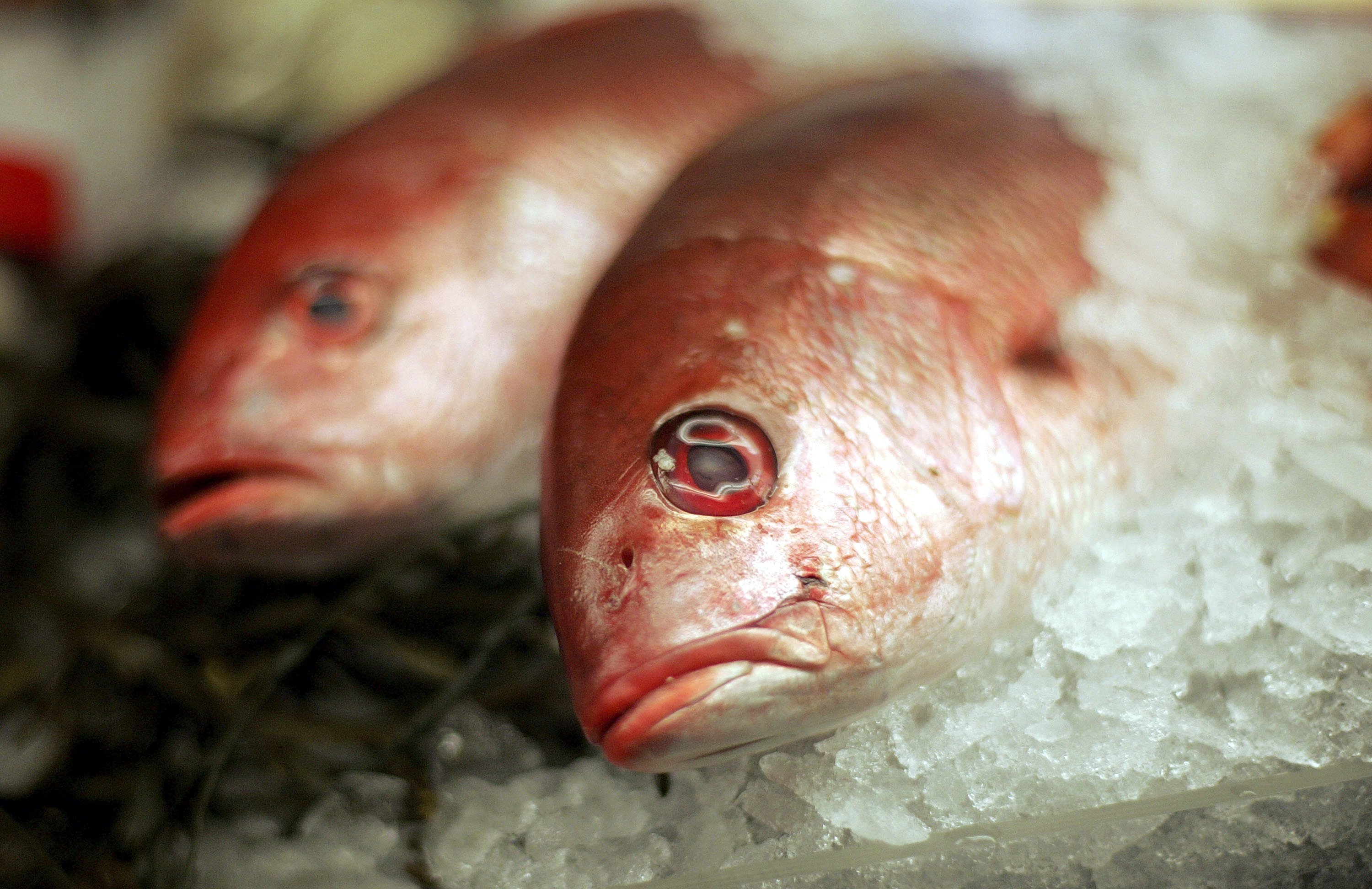 Evil fish: for when normal fish aren't enough. One poster, in 2005, was looking to offload his evil Silver Dollar fish onto an unsuspecting recipient, all for the cost of picking them up. The poster attached this "emotional description" of the fish:
"Flighty. They prefer to hang out together as each one suffers from a deep separation anxiety and has identity issues. They won't like you. Not at first anyway. Then one day it will dawn on them that the blurry thing by the tank brings them food, and they will like you. But they will only like you in a platonic way."
Why are they evil, though? "They are eating my tank plants and harassing the frogs. They stare at me when I'm trying to watch TV."
Evil comes in a lot worse forms than that.
4. Prosthetic limbs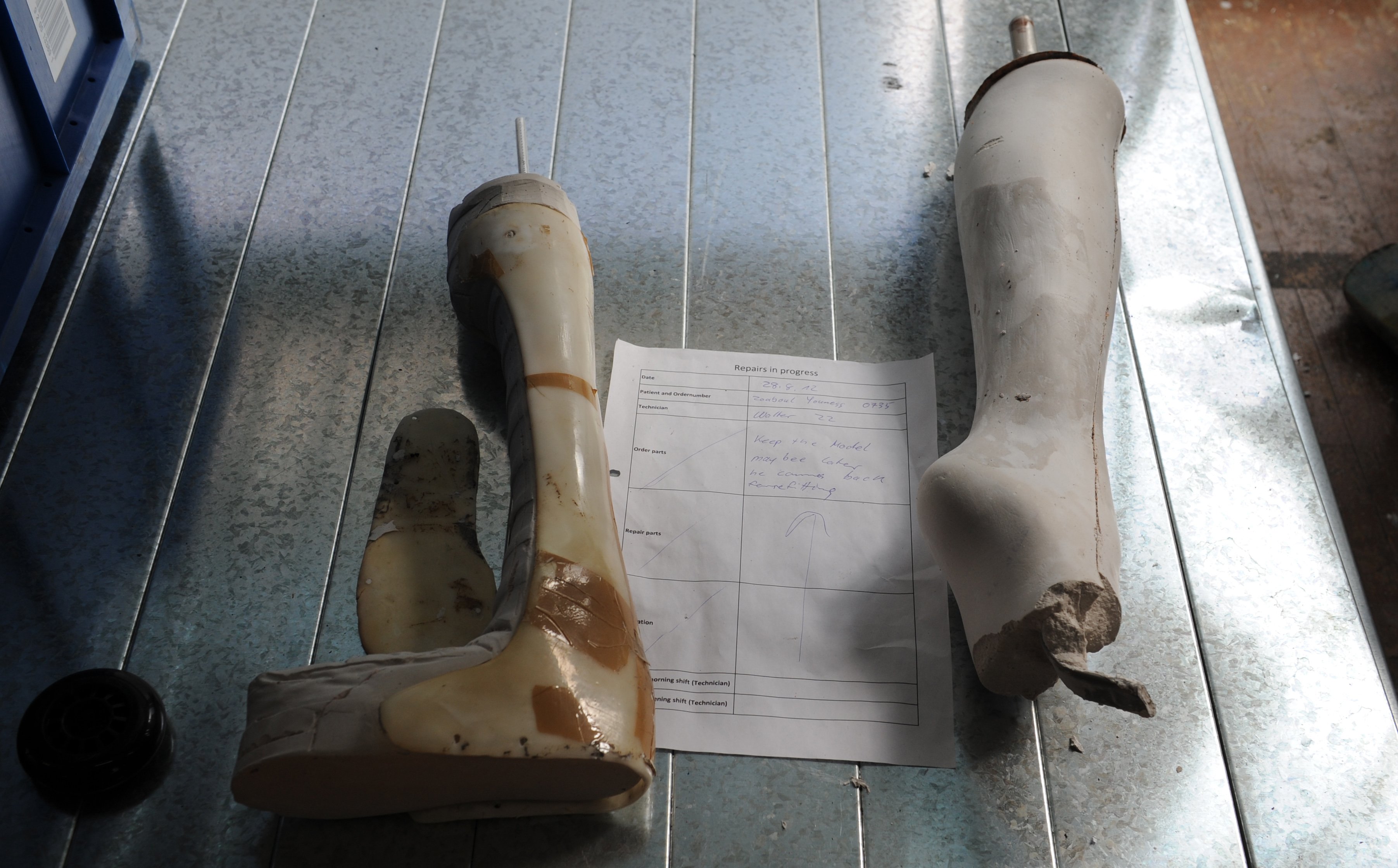 Prosthetic limbs, on their own, aren't all that weird or freaky. But when you think about it — why would some of them end up in the free stuff section of Craigslist? That's where the mystery comes in.
"I have some spare prosthetic arms lying around collecting dust. One is a grasping arm, the other is a hook. If you want em just come pick em up."
That's all an ad from 2003 says, which leaves a lot of unanswered questions. Can one really have too many prosthetic limbs? And who would see the ad, and decide they want them? Surely they could have been donated to a charity or something? We'll never know.
5. Haunted puppet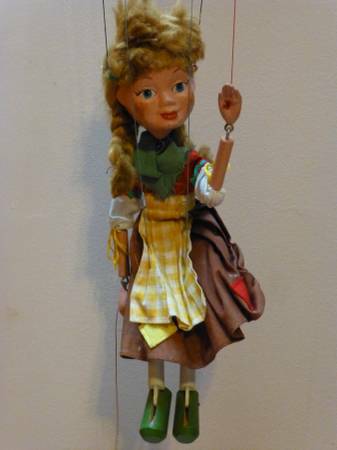 Always thought that your home needed a haunted puppet? Well, this guy has exactly what you need.
"Condition: Fair(ly) odd and unsettling.
You'll love it:
Runs around the house while you sleep and ends up in impossible places.
Winks. But no one will believe you.
Makes laughing noises coming from your attic.
Indestructible.
Causes mysterious and unexplainable "accidents". (ladders tipping over, garbage disposals turning on, brake lines cut)
Could make a great mobile for a baby's crib. Disclaimer: May cause irrational fear of dolls late into adulthood.
Comes with the original padlock chest it was found in after being recovered from the bottom of the ocean."
If that doesn't send you running to pick this thing up, what would?
6. Bondage bench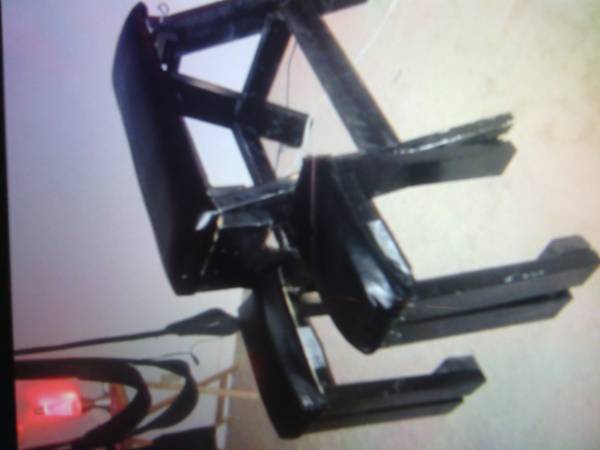 Need a bondage bench? Where better to look than on Craigslist? Just be sure to have some bleach handy.
Why would someone get rid of it? "Room mate mother was werded out by it."
Werd.
7. Headless dolls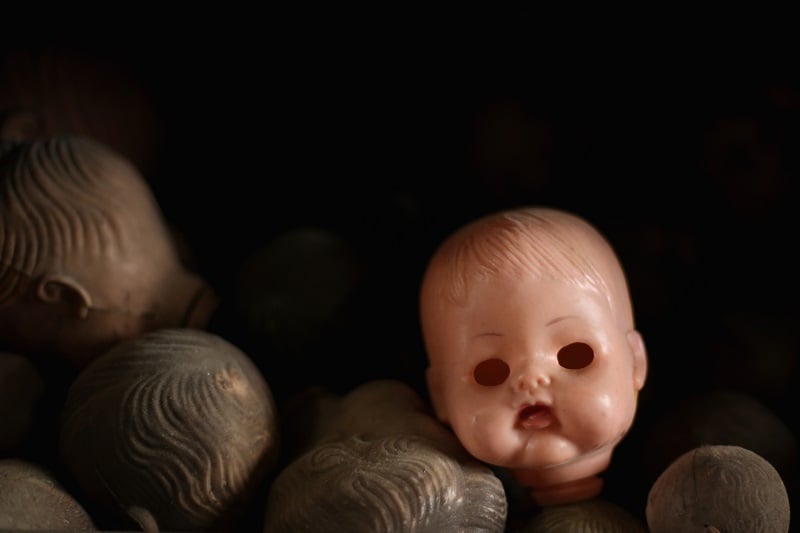 Was the satanic marionette puppet not enough? Why not stock the house with the headless bodies of numerous dolls, each decapitated by a disturbed young child?
"My daughter likes to pull the heads off of dolls. The therapist says we should let her, so we do. We have lots of headless dolls. Some of their heads my be retreivable [sic]; most probably not."
If horror movies have taught us anything, it's that this definitely can't end poorly.
8. Female mannequin torsos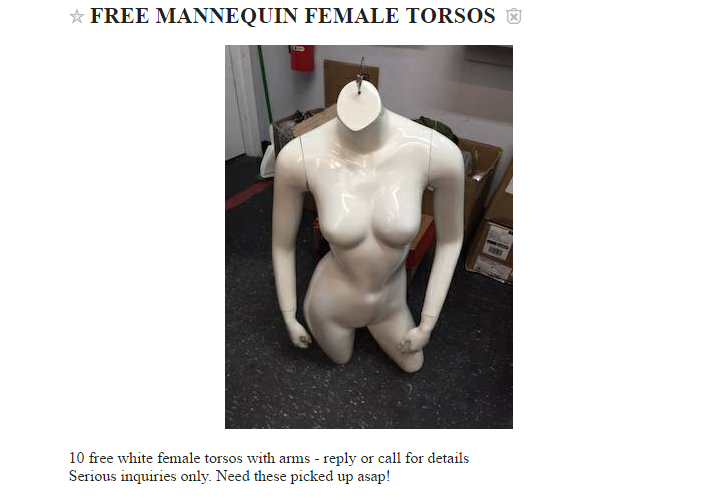 Why would someone want female torsos with arms? Let the imagination take you for a ride, pondering that question. Just know that these pale beauties are now probably in someone's basement, doubling as their girlfriend. Or maybe they're being used in a store somewhere?
Nah, they're probably someone's girlfriend.
Follow Sam on Facebook and Twitter @SliceOfGinger
More from Money & Career Cheat Sheet: