Crispy, Savory Bacon Snacks You Have to Try
Doctors may disapprove, but America's bacon craze shows no sign of abating. Our love of crispy fried pork may even be affecting our love lives. One survey found that if given the choice between bacon and sex, over 40% of people would choose the bacon.
There's a reason for our collective obsession with bacon, of course: It's delicious. If you want to add more of this savory meat to your diet, try one of these seven recipes for bacon snacks.
1. Bacon-Wrapped Tater-Tot Bombs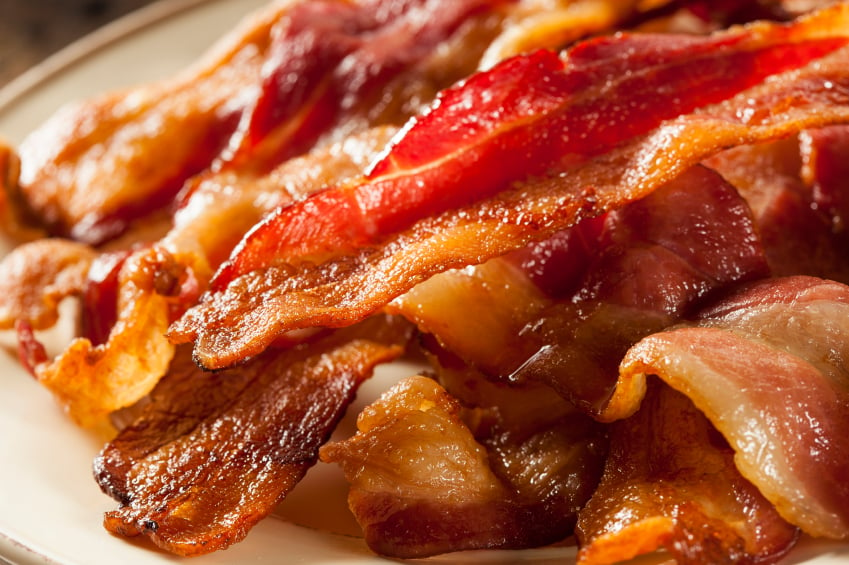 These tasty little bites are the perfect party appetizer. Just wrap tater tots in bacon and cheese, then sprinkle with brown sugar, and you have the makings of a delicious snack. Recipe from Damn Delicious.
Ingredients:
2 cups frozen tater tots, at room temperature
1 ounce sharp cheddar cheese, cut into ¼-inch squares
4 slices bacon, quartered
¼ cup brown sugar
1 tablespoon chopped fresh parsley leaves
Directions: Preheat oven to 400 degrees Fahrenheit. Line a baking sheet with a Silpat or parchment paper.
Place a tater tot on top of each cheese square, then wrap in bacon. Pour the brown sugar into a shallow bowl. Dredge each wrapped tater tot in the sugar, pressing to coat.
Place the tots seam side down on the baking sheet. Bake for 20 to 25 minutes, turning with tongs after about 10 to 15 minutes of cooking. (The exact cooking time will depend on the thickness of your bacon.)
Remove from oven and let cool slightly. Sprinkle with parsley to garnish, then serve.
2. Bacon Guacamole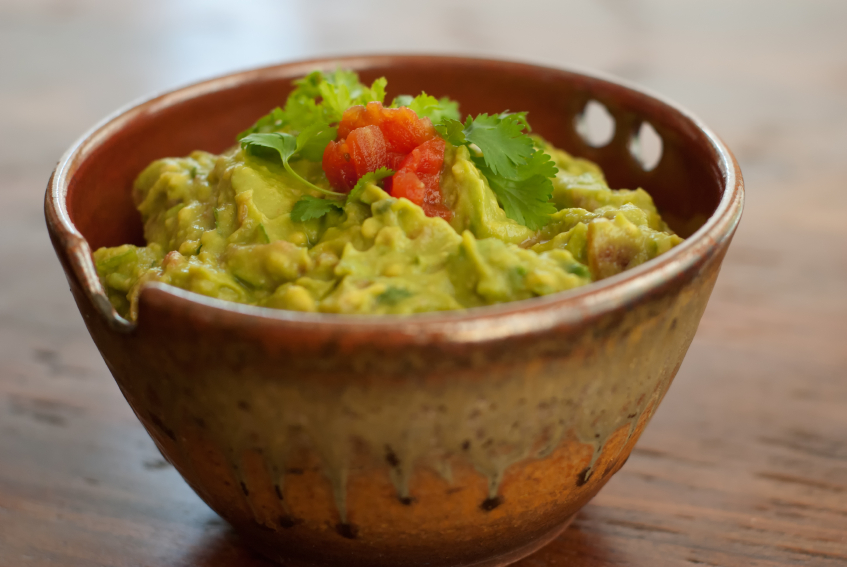 Creamy guacamole gets a savory upgrade with the addition of some crumbled bacon. Best of all, you need just four ingredients to prepare this easy-to-make dip. Recipe from Avocado Central.
Ingredients:
2 large ripe, fresh Hass avocados, seeded and peeled (about 16 ounces total)
½ cup chunky red salsa
1 ounce bacon
½ lime, juiced
Directions: Fry the bacon until crisp, then transfer to paper towels to drain. Once the bacon has cooled slightly, crumble it.
Place the avocado in a small bowl and mash with a fork, being careful not to over-mash (you want it to still be slightly chunky). Add the salsa, bacon, and lime juice. Mix to combine. Serve with tortilla chips.
3. Maple Bacon Party Mix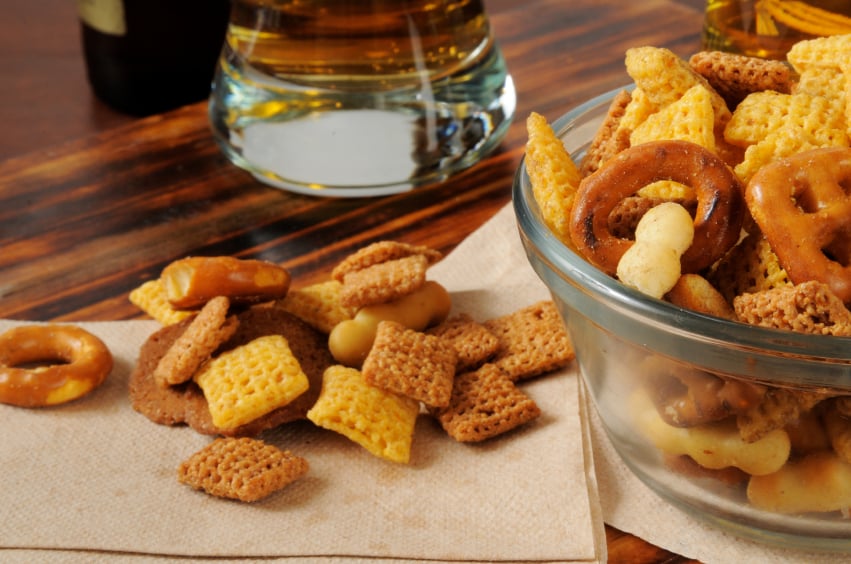 Hungry guests are sure to love this upgraded version of a traditional snack mix, but you don't have to save this treat for parties. Make a batch to have on hand for mid-week snacking; the prepared mix will keep in the fridge for about a week. Recipe from Not Without Salt.
Ingredients:
2 cups Corn Chex
2 cups Rice Chex
2 cups Wheat Chex
1 cup peanuts, salted and roasted
6 strips bacon, cooked extra crispy and chopped
4 tablespoons butter, melted
4 tablespoons maple syrup
¼ to ½ teaspoon cayenne, depending on taste
½ teaspoon Maldon or other sea salt (if using table salt, reduce the quantity slightly)
Directions: Add the Corn Chex, Rice Chex, Wheat Chex, peanuts, and cayenne pepper to a large, microwave-safe bowl. Combine the melted butter and maple syrup in a small bowl, then pour the mixture over the cereal and stir to coat. Microwave the cereal mix on high for 3 minutes, pausing every minute to stir.
Remove bowl from microwave and add the bacon. Season with salt and stir to combine. Let cool, then serve.
4. Bacon and Brown Sugar Crackers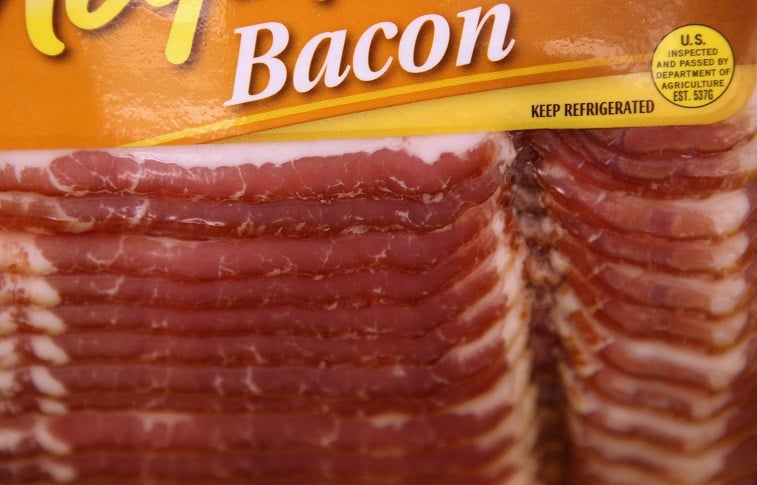 Simple isn't always a bad thing when it comes to snacks. That's certainly the case with these bacon and brown sugar crackers. Prepping these three-ingredient bite-size treats is a breeze, though you will want to plan ahead, since they take two hours to cook. Recipe from Plain Chicken.
Ingredients:
24 buttery crackers, such as Town House
8 slices thin bacon, cut in thirds
3 to 4 tablespoons brown sugar
Directions: Preheat oven to 250 degrees Fahrenheit. Place a sheet of foil or parchment paper on a rimmed baking sheet and place a wire cooling rack on top.
Wrap a piece of bacon around each cracker and place seam side down on the rack. Sprinkle with brown sugar. Bake in the oven for 2 hours, or until bacon is crispy.
5. Paleo Bacon Egg Cups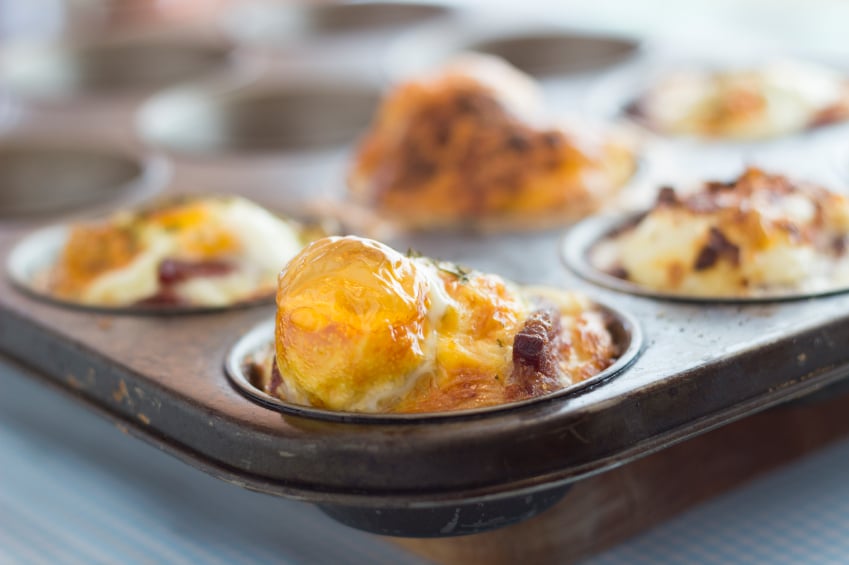 If you're looking for an easy way to get your post-workout protein, reach for one of these bacon egg cups. They're simple to prepare and can be stored in the freezer for future eating. When you're ready for a snack, just pop one in the microwave for about 45 seconds. Recipe from Once a Month Meals.
Ingredients:
2 tablespoons coconut oil
12 slices of bacon
10 eggs
½ teaspoon salt
1 teaspoon black pepper
2 tablespoons chopped fresh chives
Cheese, finely chopped veggies, or additional fillings (optional)
Directions: Preheat oven to 350 degrees Fahrenheit. Grease a 12-cup muffin tin with coconut oil. Line each muffin cup with a slice of bacon (wrapped around the sides of the cup).
Whisk together the eggs, salt and pepper. Pour into muffin cups (each cup should be about half full). Sprinkle with chives and additional fillings if using.
Bake in oven for 30 to 35 minutes, or until eggs are set. Remove from oven and let eggs and bacon cool in pan. Remove cups from tin and transfer to freezer storage bags. When ready to eat, remove frozen cups from the freezer and microwave for about 45 seconds.
6. Sweet and Spicy Bacon Wrapped Meatballs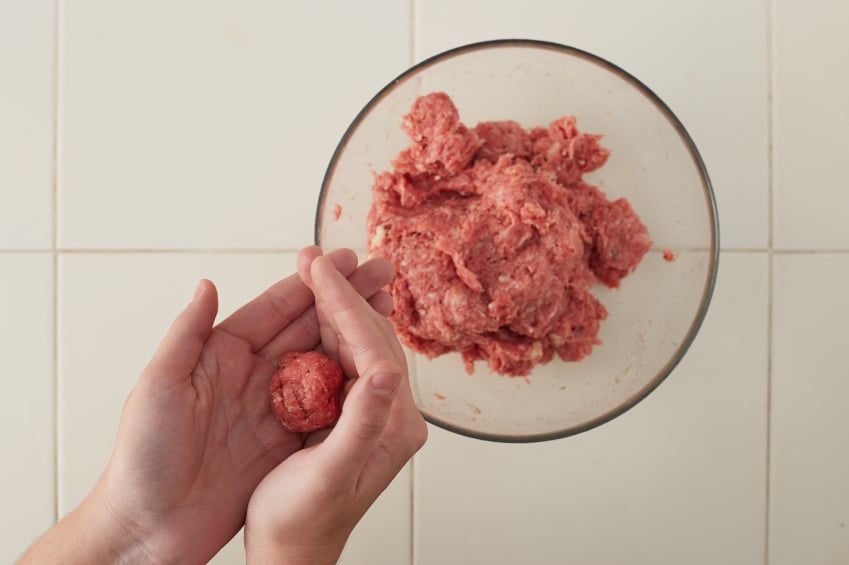 Do you think the perfect accompaniment to a meaty snack is, well, more meat? Then this bacon-wrapped appetizer from The Gunny Sack is for you. Buying premade meatballs will save you time in the kitchen, but feel free to use your nonna's recipe if you're feeling ambitious.
Ingredients:
1 pound bacon, slices cut in half
Cooked meatballs (as many as you have halved slices of bacon)
1 cup brown sugar
3 tablespoons chili powder
Directions: Preheat oven to 350 degrees Fahrenheit. Combine the brown sugar and chili powder in a small bowl.
Spray a broiler pan with non-stick cooking spray. Wrap the cut bacon strips around the meatballs, securing with a toothpick. (If using store-bought frozen meatballs, microwave to thaw beforehand.) Dredge each bacon-wrapped meatball in the sugar and chili powder mix, pressing to coat.
Place meatballs on the prepared pan and bake for 30 to 45 minutes. (Cook longer for crispier bacon.) Serve immediately.
7. Honey Sriracha Bacon Jerky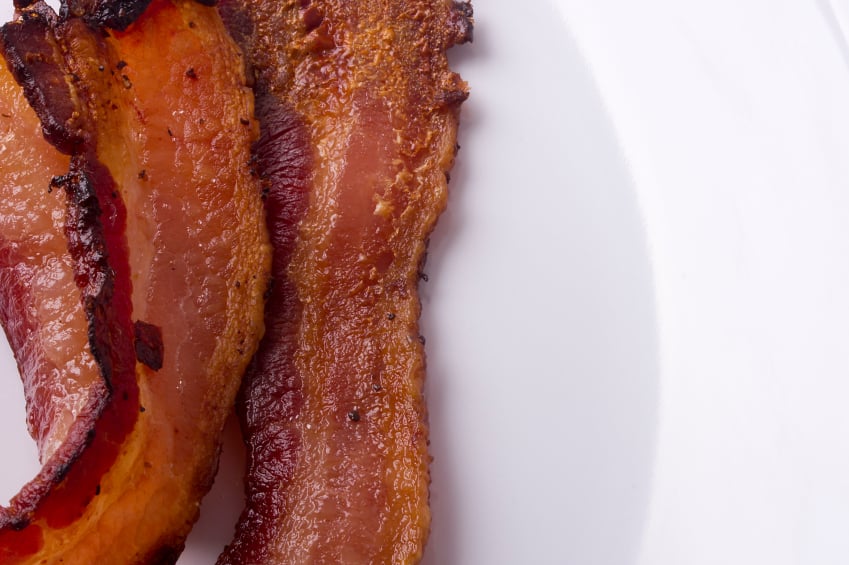 No time to fry up some bacon? You can still enjoy a slice if you have some of this honey sriracha bacon jerky on hand. It's the perfect snack for long hikes and camping trips, as well as all-around noshing. Recipe from Cascade Designs.
Ingredients:
6 ounces bacon (about ½ a package)
½ cup brown sugar
Sriracha sauce
Honey
Directions: Preheat oven to 170 degrees Fahrenheit (use lowest temperature possible if your oven doesn't go down that far). Place brown sugar in a bowl and mix with half the package of bacon.
Lay the strips of sugared bacon directly on the rack in the oven. Line the bottom of the oven with heavy-duty aluminum foil to catch the drips. Let bacon cook in the oven for about 1 hour.
As the bacon cooks, combine 1 part honey with 1 part sriracha. After the bacon has cooked for about 1 hour, brush the mixture onto the bacon slices. Cook for another hour and then test to see if the bacon has reached the desired texture. Remove from oven, let cool, and store in an airtight container for about 1 week.
Follow Megan on Twitter @MeganE_CS
More from Culture Cheat Sheet: