5 Crockpot Recipes That Can Feed at Least 10 People
Whether you're throwing a party or you've been invited to a holiday potluck, there are moments when you'll need to throw a dish together that can feed a whole crowd of people. If you're used to cooking for only a few (or maybe just yourself) for dinner each night, then this task may seem daunting, but have no fear — a crockpot is all you need to get the job done. Here are a few recipes you can easily make in your crockpot that will feed at least 10 people.
1. Crockpot French Dip Roast Beef Sandwiches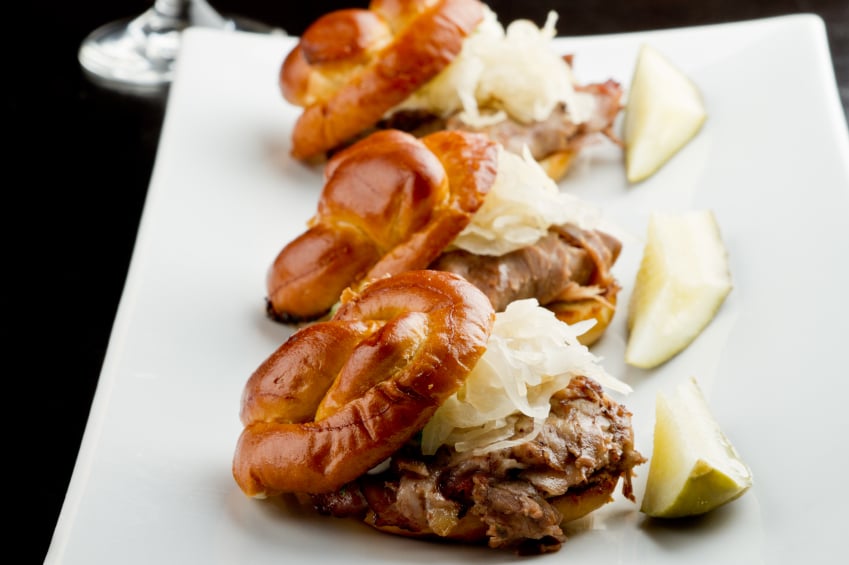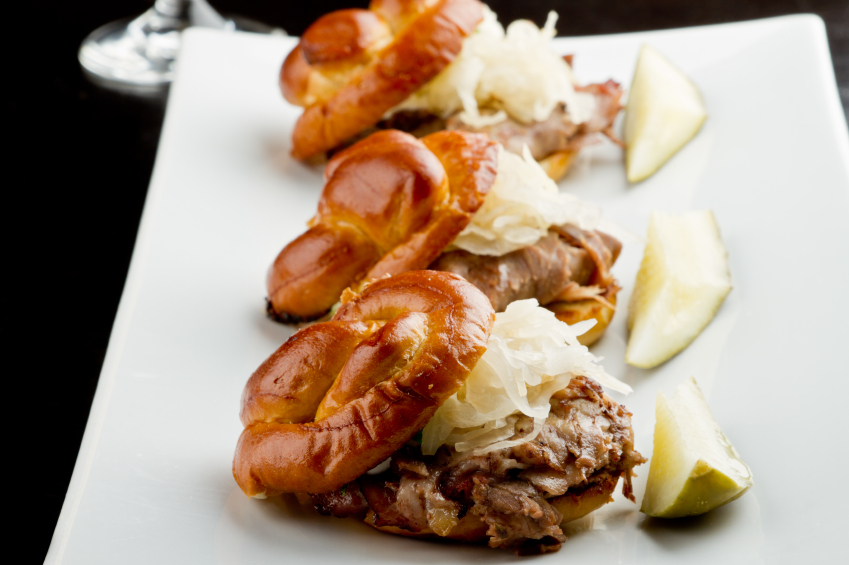 Instead of paying all of the extra money on a tray of premade sandwiches, try making these delicious French dip roast beef sandwiches from Food.com. You can get wonderful flavor out of your cut of meat using a crockpot, and the use of French onion soup and beer keep the beef moist and flavorful. Bring this slow cooker meal to any party and everyone will be ecstatic.
Ingredients:
4 pounds bottom round beef roast
1 (1.75-ounce) envelope onion soup mix
1 (19-ounce) can of French onion soup,not condensed soup
1 (12-ounce) can beer
3 beef bouillon cubes
¼ to ½ teaspoon coarsley ground black pepper
Salt
10 Kaiser rolls
Provolone cheese, optional
Directions: Place the roast in a 4½- to -6 quart slow cooker. Add soup mix, beer, and bouillon cubes. Season with salt and pepper. Cover and cook on high for 4 or 5 hours or on low for 8 hours.
Remove meat and let cool briefly. Shred or slice meat, then return to slow cooker. Turn to low and let the meat absorb some of the juices before serving.
If desired, add a slice of cheese to each roll, then broil briefly to melt cheese. Add beef to sandwich rolls and serve with au jus for dunking.
2. Crockpot BBQ Beer Chicken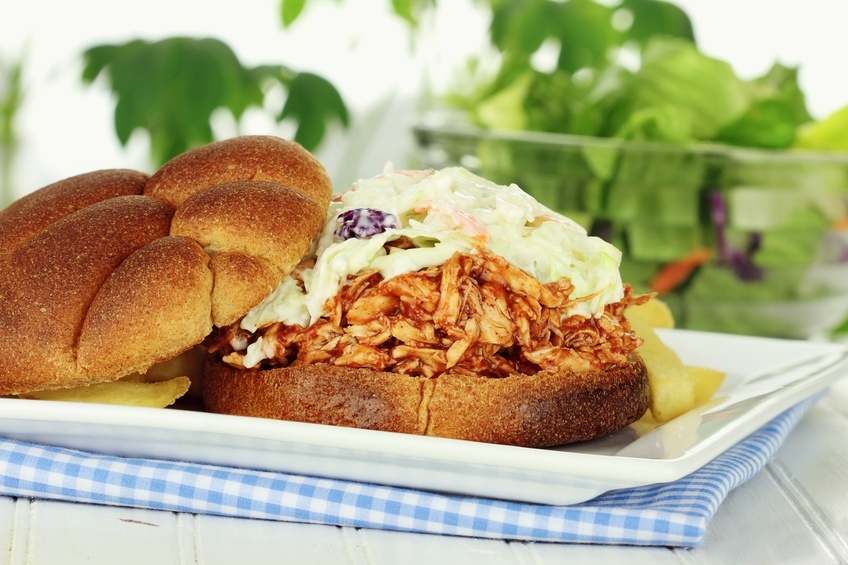 If you're looking for a crowd-pleasing recipe that's tasty and perfect to serve a crowd, then look no further than this crock-pot BBQ beer chicken from How Sweet It Is. This dish utilizes spices and herbs that you probably already have in your pantry, making it super easy. Your friends and family will be begging you to make this crockpot dish again and again.
Ingredients:
3 pounds boneless, skinless chicken breasts
1 tablespoon onion powder
1 tablespoon smoked paprika
1 teaspoon garlic powder
½ teaspoon salt
½ teaspoon pepper
8 ounces beer
32 ounces barbecue sauce, divided
Directions: Season chicken breasts all over with the onion powder, garlic powder, paprika, salt, and pepper. Add to a crockpot along with beer and 24 ounces barbecue sauce. Cover and cook on low for 8 hours, stirring once or twice. When chicken is tender, remove from crockpot, shred, then add back to the crockpot along with remaining barbecue sauce. Let sit for 10 to 15 minutes. Serve.
3. Beef Nachos with Slow Cooker Chili Con Carne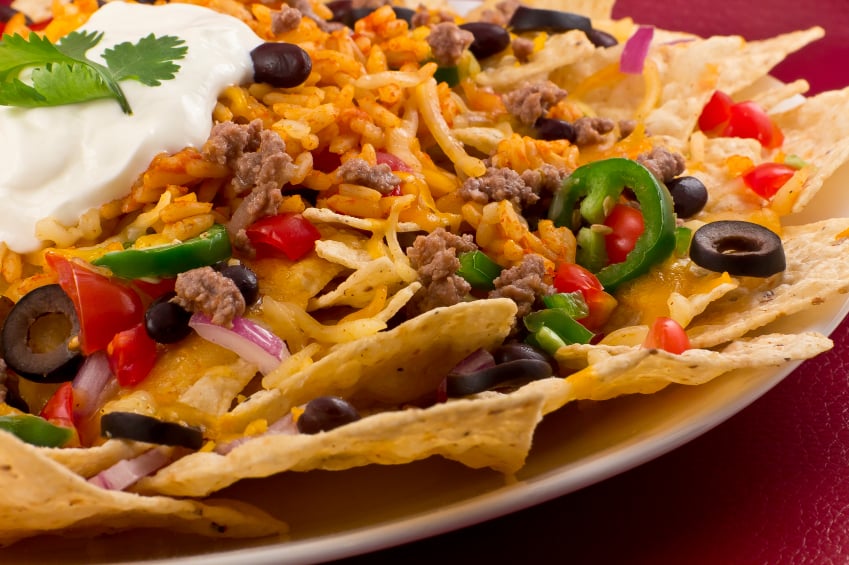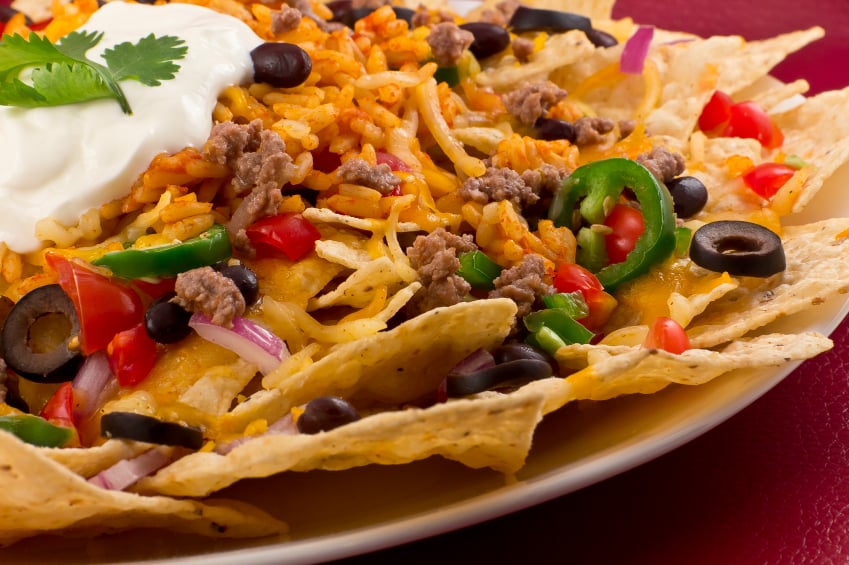 If there's anything that pleases everyone at a party, it's a big plate of nachos with tons of toppings. If you don't feel like dirtying up a thousand pans to cook and assemble your nachos, then you'll have to try this recipe for ones topped with crockpot chili from A Spicy Perspective. The apple butter adds an unexpected, but totally delicious, hint of sweetness. Your friends will love this one.
Ingredients:
Chili
1 (2- to 2½-pound) beef chuck roast
1 (15-ounce) jar of red enchilada sauce
¾ cup apple butter
1 onion, sliced
3 garlic cloves, minced
1 teaspoon salt
½ teaspoon crushed red pepper
For nachos
Slow cooker chili con carne
1 (1-pound) bag tortilla chips
3 cups shredded Mexican cheese blend
Optional toppings
1 cup salsa
1 ripe avocado, chopped
1 tomato, chopped
¼ cup sliced black olives
¼ cup chopped cilantro
¼ cup chopped green onions
½ cup sour cream
Directions: Add enchilada sauce, apple butter, roast, onions, garlic, salt, and red pepper to your slow cooker. Cover and cook on high heat for 4 to 5 hours, or until the beef is completely tender.
Remove beef from crockpot and shred into bite-size pieces using two forks. Return to slow cooker and mix with juices. Keep warm until ready to serve.
Preheat oven to 350 degrees Fahrenheit. Arrange the tortilla chips on a rimmed baking sheet and top with half of cheese. Transfer to oven and bake for 3 to 5 minutes, or until the cheese is melted. Top with chili, remaining cheese. Add your choices of toppings and serve.

4. Slow Cooker Chocolate Lava Cake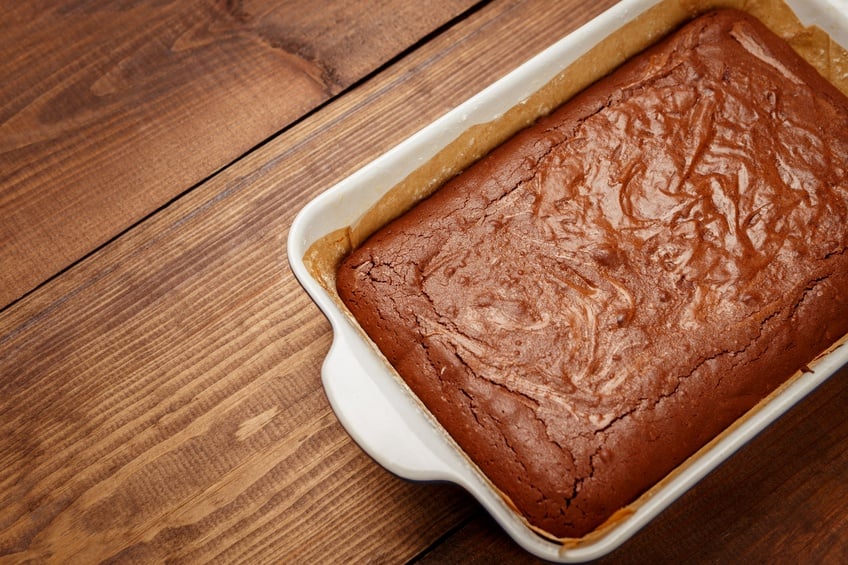 Not every dish made in your crockpot has to be savory, and your guests will love this surprising sweet. This slow cooker chocolate lava cake from Taste of Home is simple, decadent, and perfect for any chocolate lover at the party. Chocolate cake mix, chocolate pudding, and chocolate chips combine to make a dessert better than anything you could buy at the store. Even though this recipe feeds 12, it'll be gone as soon as you set it on the table.
Ingredients:
1 package devil's food cake mix
1⅔ cups water
3 large eggs
⅓ cup canola oil
2 cups cold 2% milk
1 (3.9-ounce) package instant chocolate pudding mix
12 ounces semisweet chocolate chips
Directions: Grease a slow cooker with nonstick cooking spray In a large bowl, combine the cake mix, water, eggs, and oil. Beat on low speed for 30 seconds. Increase speed to medium and blend for 2 minutes. Transfer to prepared slow cooker.
In a separate bowl, whisk together the milk with pudding mix for 2 minutes. Let stand for 2 minutes, until the pudding has begun to set. Then, spoon the pudding over the cake batter, and sprinkle chocolate chips over top. Cover and cook on high for 3 to 4 hours, or until a toothpick inserted into the center comes out with moist crumbs. Serve warm.
5. Curried Vegetable and Chickpea Stew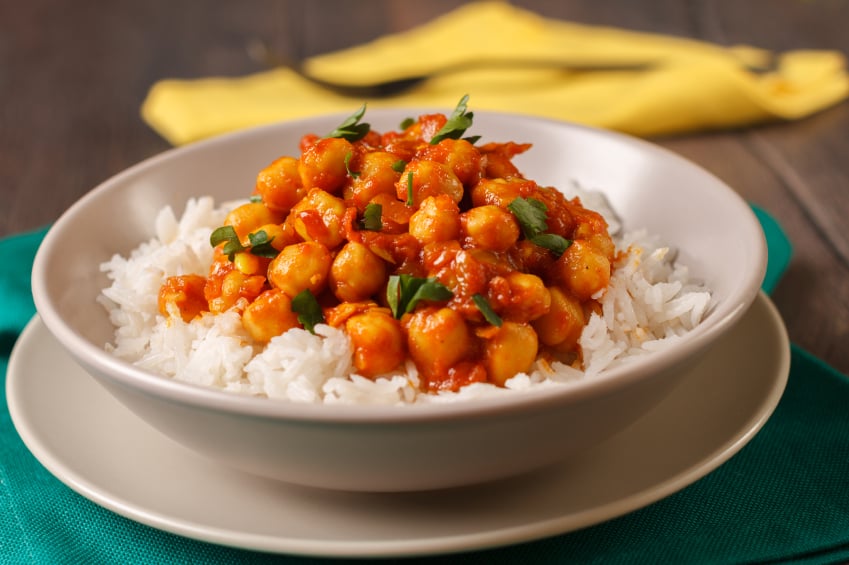 Your crockpot isn't just for the meat-eaters in the family — this slow cooker curried vegetable and chickpea stew from The Kitchn is full of fresh ginger, curry powder, brown sugar, and cayenne to add a punch of flavor to each bite. For veggie lovers, or those who are trying to add a few more colors into their diet, this dish is perfect. Bring it to any family gathering for a hearty vegetarian meal everyone will enjoy.
Ingredients:
1 teaspoon olive oil
1 large onion, diced
2 medium red or yellow potatoes, diced
1 tablespoon kosher salt
1 tablespoon curry powder
1 tablespoon brown sugar
1-inch piece ginger, peeled and grated
3 garlic cloves, minced
⅛ teaspoon cayenne pepper, optional
2 cups vegetable broth
2 (15.5-ounce) cans chickpeas, drained and rinsed
1 green bell pepper, diced
1 red bell pepper, diced
1 medium head of cauliflower, cut into bite-sized florets
1 (28-ounce) can diced tomatoes with their juices
¼ teaspoon black pepper
1 (10-ounce) bag baby spinach
1 cup coconut milk
Directions: Heat the olive oil in a skillet set over medium heat. Add onion, season with salt, and cook until translucent, about 5 minutes. Add the potatoes, season with salt, and continue to cook until beginning to soften. Add the curry, brown sugar, ginger, garlic, and cayenne. Cook, stirring, until fragrant, about 30 seconds to 1 minute. Pour in ¼ cup of broth, then use a wooden spoon to scrape the bottom of the pot. Transfer the mixture to a 6-quart crockpot.
Next, add remaining broth, chickpeas, bell pepper, cauliflower, tomatoes, pepper, and 1 teaspoon of salt. Stir to combine. If needed, add enough liquid to reach halfway up the sides.Cover and cook on high for 4 hours.
Stir in the spinach and coconut milk, then cover until spinach wilts. Adjust seasoning, then serve.