Crockpot Recipes for Tender Pork Dinners
A slow cooker is the perfect device for cooking tender, melt-in-your-mouth pulled pork, but that's hardly the only pork dish you can make in your crockpot. Here are five more recipes for pork dinners you can prepare in your slow cooker.
1. Slow Cooker Thai Pork with Peanut Sauce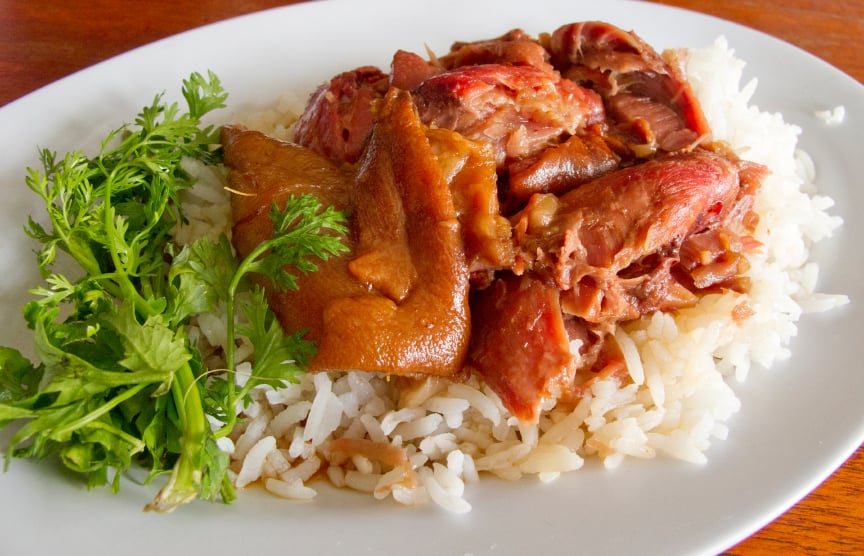 Tender, slow-cooked pork is accompanied by a slightly spicy peanut sauce in this simple-to-prepare dish. Once cooked, the meat can be served over a bed of rice, rice noodles, or on its own. Recipe from Who Needs a Cape?
Ingredients:
2 pounds pork tenderloin, cubed
½ cup salsa
¼ cup peanut butter
3 tablespoons lime juice
3 tablespoons soy sauce
3 tablespoons water
2 tablespoons ginger
¼ cup sugar
2 cloves garlic, minced
Chopped green onions for garnish
Directions: Combine all ingredients in the slow cooker. Cover and cook on low for 6 hours. Serve over cooked rice or rice noodles and garnish with chopped green onions.
2. Slow-Cooked Pork Cacciatore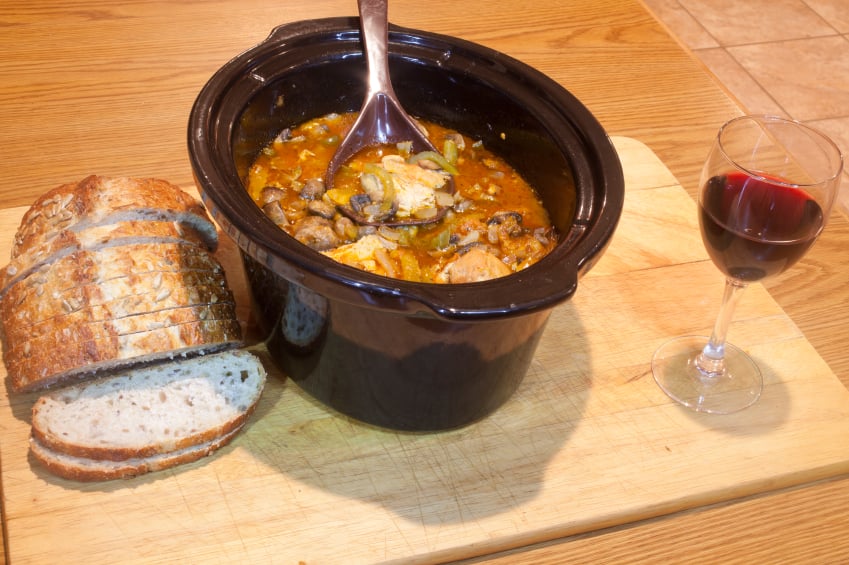 Cacciatore, the classic Italian "hunter-style" stew, is usually made with chicken, but here the poultry is replaced with pork. This version from Just a Pinch adds green peppers and mushrooms for a filling dish that can be served over rice or pasta.
Ingredients:
2 tablespoons olive oil
1 onion, sliced
4 boneless pork chops
1 (28-ounce) jar tomato sauce
1 (28-ounce) can diced tomatoes, with juice
1 large green bell pepper, cut into strips
8 ounces mushrooms, sliced
2 teaspoons minced garlic
1 teaspoon dried Italian seasoning
½ teaspoon dried basil
½ cup chicken broth
4 slices mozzarella cheese
Directions: Add 1 tablespoon olive oil to a large skillet and turn heat to medium-high. Once oil is hot, add the pork chops and brown on both sides. Transfer meat to slow cooker.
Add another tablespoon olive oil to the skillet and cook the onions until tender. Add the green pepper and mushrooms and cook until soft. Stir in the diced tomatoes, pasta sauce, and broth, then add the Italian seasoning, basil, and garlic.
Pour the sauce into the slow cooker. Cover and cook on low heat for 7 hours. Serve pork chops over cooked rice or pasta and top with a slice of mozzarella and the sauce.
3. Slow-Cooker Beer-Infused Pork Belly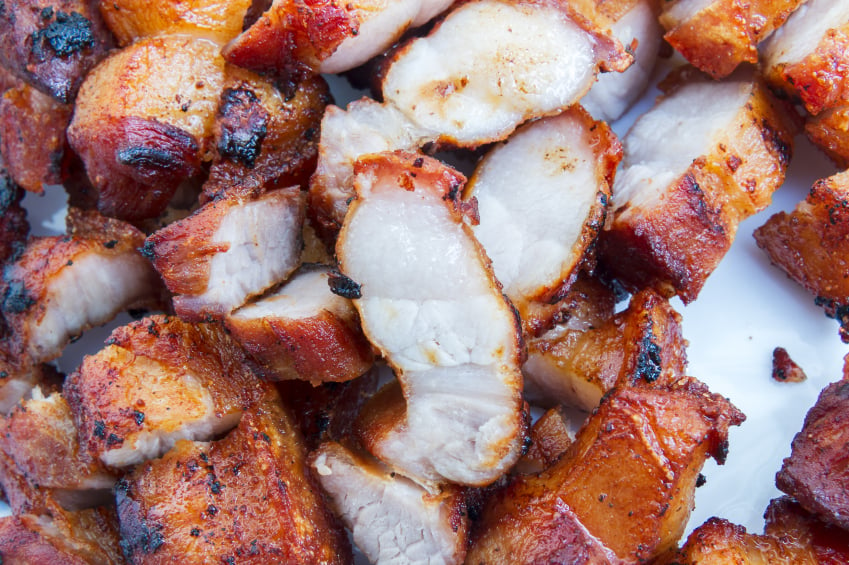 If you like bacon, you're going to love pork belly, a boneless, fatty of cut of meat that, when cured, turns into everyone's favorite breakfast meat. But it's also delicious in its uncured form, as in this recipe from 12 Tomatoes, where the meat is slow-cooked with stout. The dish takes a bit of work to prepare, but the results are worth it.
Ingredients:
2 to 2½ pounds pork belly
22 ounces stout
1 to 2 cups pork or chicken stock
⅓ cup brown sugar
¼ cup apple cider vinegar
¼ cup kosher salt
2 tablespoons extra-virgin olive oil
2 tablespoons sugar
1 tablespoon whole cloves
1 tablespoon whole mustard seeds, ground
Fresh herbs, for garnish
Directions: Using a sharp knife, score a diamond pattern into the skin of the pork belly.
In a medium saucepan, combine the stout, 2 tablespoons sugar, salt, cloves, and mustard seed. Turn heat to medium and simmer until the salt and sugar are completely dissolved. Remove from heat and let cool.
Transfer the pork to a large dish with a cover or a resealable bag. Pour the beer mixture (make sure it's completely cooled) over the meat. Cover or seal and let sit for at least 8 hours and up to 1 day, flipping the meat occasionally.
Remove the meat (reserving the brine), rinse thoroughly, and pat dry.
Warm the olive oil in a large skillet over high heat. Add the meat to the pan and sear on all sides. (You may need to cut the pork into smaller pieces so that it will fit in the pan.) Don't move the meat while it's cooking except to turn. Remove from heat and let cool.
Add 1 cup of the reserved brine, plus the apple cider vinegar and brown sugar, to the slow cooker and stir to dissolve. Transfer pork to slow cooker. Pour in the stock until one quarter to half of the meat is submerged. Cover, turn heat to low, and cook for 6 to 8 hours, until the meat reaches an internal temperature of 160 degrees Fahrenheit.
Transfer cooked pork to plates and garnish with fresh herbs, and serve with roasted vegetables and potatoes. Or, if you want the meat to be even crispier, you can sear the pork again in about 2 tablespoons of olive oil before serving.
4. Slow-Cooker Honey-Glazed Ham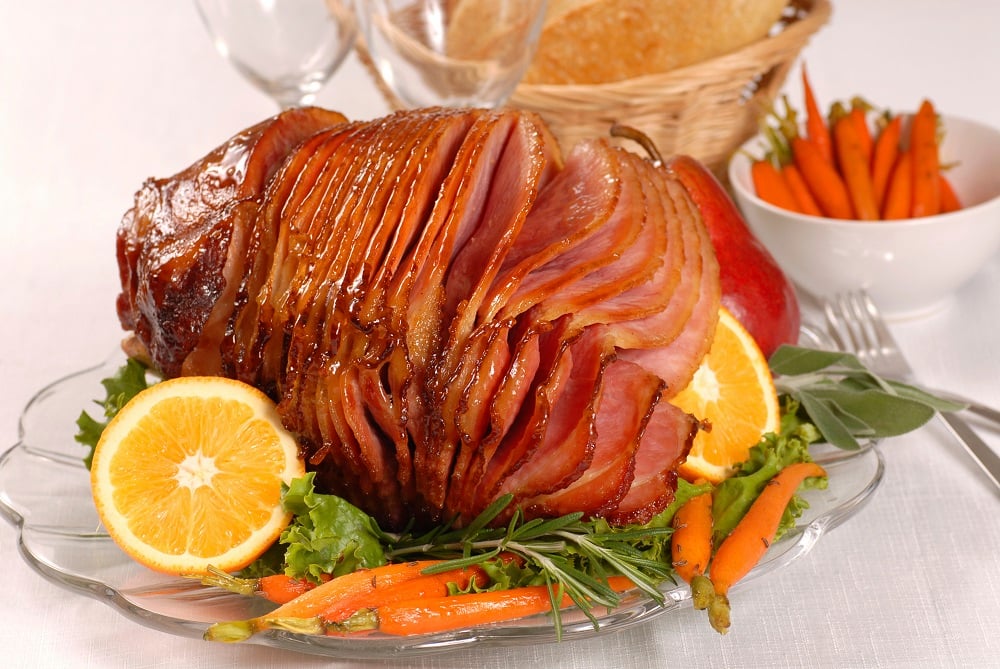 Taking the extra step of finishing the slow-cooked ham under the broiler results in a perfectly glazed cut of meat that's fancy enough for a holiday table but easy enough to prepare for weeknight dinners too. You'll need a crockpot that holds at least 6 quarts if you want to make this recipe, which comes from Back to Her Roots.
Ingredients:
1 quarter ham, spiral sliced and fully cooked
½ cup brown sugar
½ cup honey
2 tablespoons Dijon mustard
¼ teaspoon ground cloves
¼ cup water
Directions: Place ham in slow cooker. Combine the brown sugar, honey, mustard, cloves, and water in a small saucepan and turn heat to high. Cook just until the sugar dissolves. Pour over ham, separating slices so that the glaze coats the inside of the ham.
Cover and cook on high for 4 to 6 hours or on high for 6 to 8 hours. Baste with the cooking juices every few hours.
Preheat the broiler and transfer cooked ham to an oven-safe dish. Pour cooking liquid into a small saucepan and warm over medium-high heat until thick and bubbly, about 5 to 7 minutes. Brush glaze onto ham and broil for 4 to 5 minutes, basting with more glaze every minute or so. Serve.
5. Crockpot Pork Posole Stew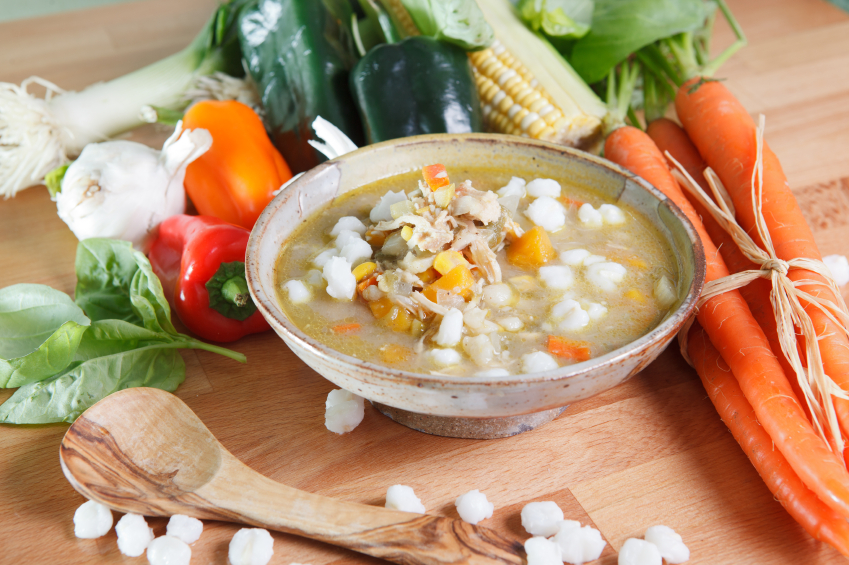 If you're cooking for a crowd, this simple crockpot pork posole stew won't fail to disappoint. A 5-pound Boston butt pork roast is more than enough to feed a dozen hungry people. If you're feeding a smaller group, set aside some of the meat before the final 30 minutes of cooking for use in burritos, tacos, and sandwiches. Recipe from Foodie Crush.
Ingredients:
5 pound Boston Butt Pork Roast
1 onion, sliced
½ whole head of garlic
16 ounces chicken stock
1 lime, juiced (don't discard lime halves after juicing)
1½ large jalapeños, cut in half and seeded
3 bay leaves
1 tablespoon oregano
1 (10-ounce) can tomatoes with green chiles
⅓ cup cilantro leaves
2 carrots, chopped
1 (30-ounce) can hominy
1 tablespoon pepper
1 tablespoon kosher salt
Directions: Place half the sliced onion in a layer at the bottom of the slow cooker. Cut roast into 3 or 4 large pieces and add to the slow cooker. Sprinkle with salt and pepper. Add half of an unpeeled head of garlic, the remainder of the onion, chicken stock, bay leaves, jalapeños, lime juice, lime halves, oregano, and tomatoes. Cover and cook on high for 4 to 4½ hours, or until the meat is very tender.
Remove pork from the slow cooker and set aside. Once meat has cooled slightly, shred it using two forks. Remove lime rinds and bay leaves from slow cooker and discard. Remove jalapeno and finely chop. Remove garlic, discard the paper-like outer layer, and chop. Return both the jalapeno and the garlic to the slow cooker along with the pork (reserving half for other uses if you like), carrots, and hominy. Cover and cook for another 30 minutes until the carrots are tender and the meat and hominy are warm.
Follow Megan on Twitter @MeganE_CS