6 Crockpot Desserts to Make for the Holidays
If large cuts of roasted meat and slowly simmered veggies come to mind when you think about your crockpot, then you may have never considered that your crockpot is capable of making desserts. Since it's the holidays — every party you go to is going to need some sweet treats. If you're not exactly the baking type, have no fear. You can make decadent, warm desserts with ease and minimal mess when you use your crockpot. These six desserts are so delicious that you might even keep the recipes around long after the holidays are over.
1. Slow Cooker Baked Apples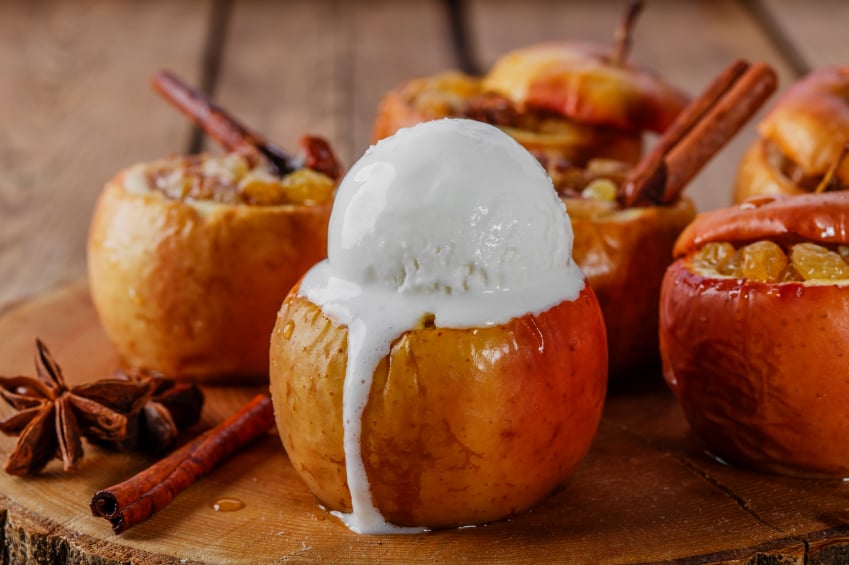 It doesn't get much easier — or more delicious — than this. These baked apples from The Magical Slow Cooker are covered in butter and maple syrup, and feature a clever filling of granola. Add some whipped cream or ice cream, and this dessert looks as festive and fancy as the rest of the food on your holiday table. You might even find yourself making these on weeknights just for yourself. This recipe serves 5.
Ingredients:
5 medium-size Gala apples
⅝ cup granola, divided
2 tablespoons melted butter
5 teaspoons maple syrup
Ice cream or whipped cream for serving
Directions: Slice the top layer off of the apple and then remove the core and seeds with a teaspoon or a melon baller or other spoon. Evenly pack granola into each cored apple, then transfer to the crockpot.
Add the melted butter and a teaspoon of maple syrup over each apple. Cover and cook on high for 2 to 2½ hours, or until the apples are tender but not losing their shape completely. Serve immediately with whipped cream or ice cream.
2. Peppermint Pretzel Candies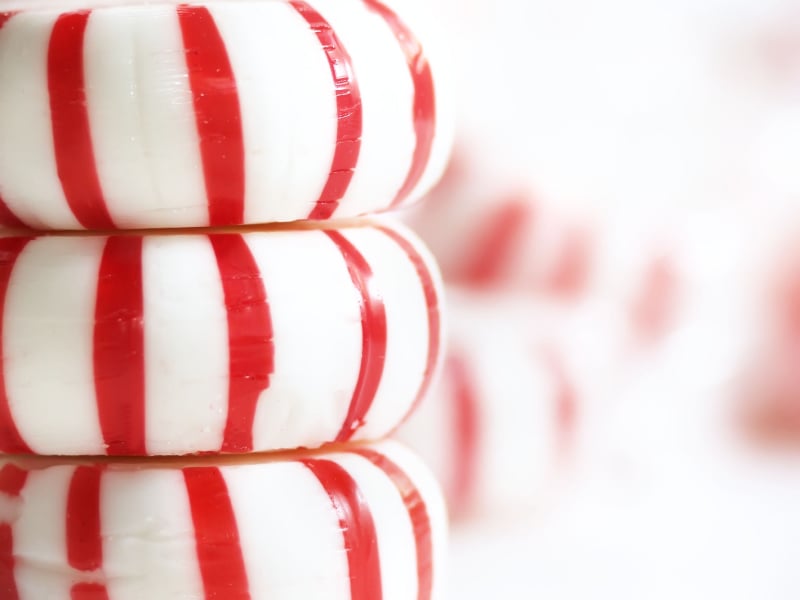 If your go-to holiday dessert is cookie or pie related, try something a little different with these peppermint pretzel candies from Better Homes and Gardens. Though the dessert looks impressive, it's surprisingly easy to make thanks to your crockpot. You'll use vanilla-flavored candy coating, white chocolate, dark chocolate, peppermint extract, and salty pretzels. This recipe is sure to be a hit.
Ingredients:
1 (20-ounce) package vanilla-flavored candy coating, coarsely chopped
6 ounces white baking chocolate, coarsely chopped
3 tablespoons butter-flavored shortening
½ teaspoon peppermint extract
1 (16-ounce) package pretzel twists, coarsely chopped
¾ cup crushed striped round peppermint candies, coarsely crushed
3 ounces dark chocolate, coarsely chopped
Directions: Begin by lining your 3½ or 4-quart crockpot with a bag liner. Add the candy coating, white chocolate, and shortening, and combine.
Cover the mixture and cook over low heat for 1 to 1½ hours, or until everything is smooth and melted together. Stir the mixture every 30 minutes while it melts. Then, stir in peppermint extract, pretzels, and peppermint candies.
Line 2 large baking sheets with parchment paper. Scoop heaping tablespoons of the melted candy mixture onto prepared baking sheets. Allow to cool until firm.
Add dark chocolate to a small saucepan over low heat and stir until melted. Cool the dark chocolate slightly and then spoon it into a decorating bag that has a ¼-inch plain tip attached. Alternatively use  zip-top bag, then snip off the corner. Drizzle the chocolate over the candies, then sprinkle with additional crushed peppermint candies if desired.
Let the candies stand at room temperature to firm up. Enjoy.

3. Slow Cooker Chocolate-Covered Peanut Clusters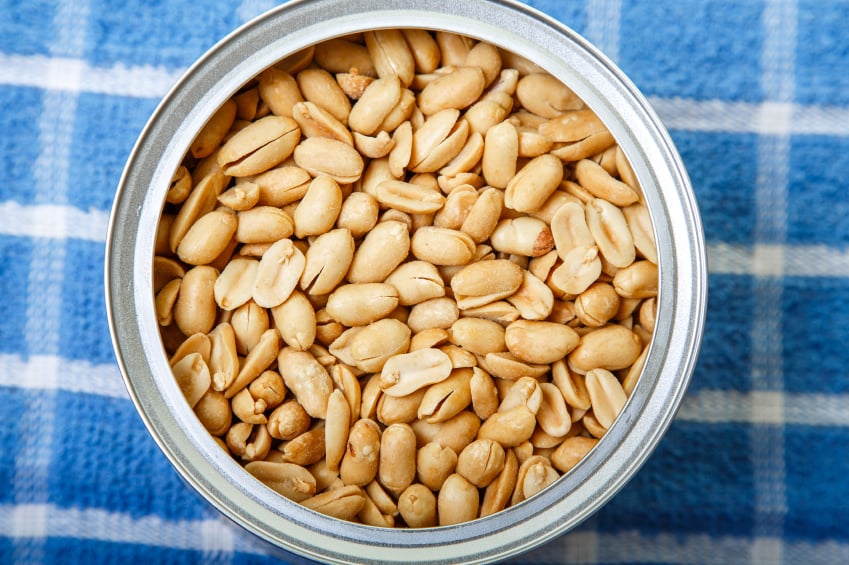 These chocolate-covered peanut clusters from Brown Eyed Baker couldn't be easier to make — and all of your holiday guests will love them, too. You'll be getting flavors of white, semisweet, and milk chocolate in these clusters, and the salty peanuts add a nice crunch. Leave the cookies to the other guests — these are what everyone will be raving about.
Ingredients:
16 ounces unsalted peanuts or dry roasted peanuts
16 ounces salted cocktail peanuts
1 (12-ounce bag) semisweet chocolate chips
1 (12-ounce) bag milk chocolate chips
2 (10-ounce) bags peanut butter chips
2 (16-ounce) packages white almond bark or vanilla candy melts
Directions: In a 6-quart crockpot, layer all of the ingredients in order. Cook over low heat for 2 hours. After 2 hours, stir to combine all ingredients. If the chocolate has not all melted yet, continue to cook for another 30 minutes or so, or until the chocolate is all melted and evenly combined.
Using a spoon or a cookie dough scoop, scoop cookie-size mounds of the chocolate-peanut mixture and place them on a baking sheet lined with parchment paper. Let the candy sit at room temperature for 1 to 2 hours until cooled. Store in an airtight container in the refrigerator — the candies will keep for up to a month. Or, freeze them for longer storage.

4. Crockpot Pecan Pie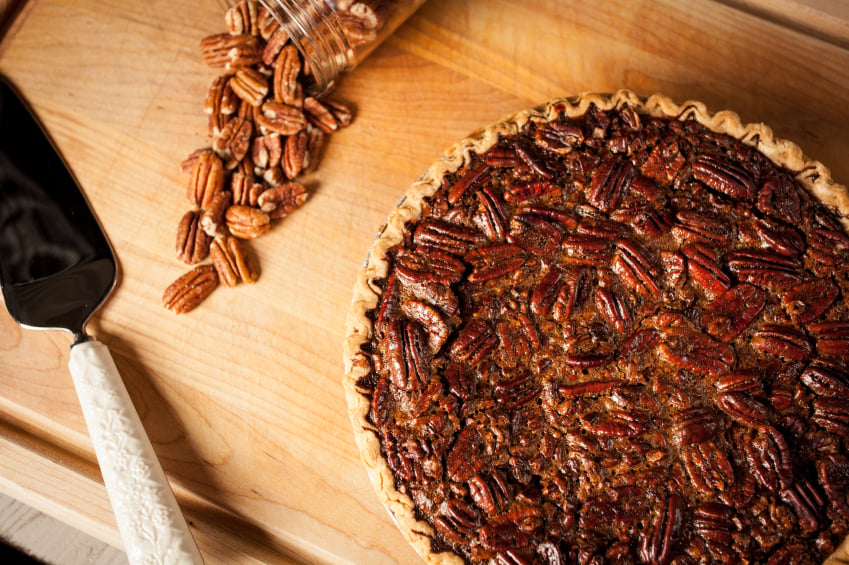 If you don't feel like slaving in your kitchen for the perfect pie this holiday season, then we've got you covered with this crockpot pecan pie from Spicy Southern Kitchen. You'll get all the classic flavors that you expect out of a sweet and gooey pecan pie. Get ready for the syrupy, nutty bite of heaven you always look forward to this time of year. You won't be disappointed.
Ingredients:
Nonstick cooking spray
1 refrigerated pie crust
3 eggs
1 cup sugar
⅔ cup dark corn syrup
⅓ cup melted butter
⅛ teaspoon salt
1 teaspoon vanilla extract
1½ cups chopped pecans
Vanilla ice cream
Directions: Spray the inside of the crockpot with nonstick cooking spray to ensure no sticking occurs. Take the pie crust and mold it to fit the inside of the crockpot. Press it against the sides so that it covers.
In a bowl, stir all ingredients together except pecans until it's all mixed well. Then, stir in about half the pecans. Leave the other half to arrange on top of the filling for a nice presentation. Pour filling into the crust and arrange reserved pecans on top of the filling.
Cover the crockpot and cook on high for 2½ to 3 hours. Serve with vanilla ice cream on top.

5. Slow Cooker Chai-Spiced Poached Pears
These chai spiced poached pears from Teaspoon Living are what holiday dreams are made of. Warm, sweet, and show-stoppingly beautiful, these pears go perfectly with a bit of vanilla ice cream for a simple yet elegant dessert. The additions of ginger, cardamom, and cinnamon give these pears warm flavors that are just what you're looking for on a cold winter night. This recipe serves 4 to 6, though you can feel free to scale up or down.
Ingredients:
4 to 6 medium-ripe pears
2 cups fresh orange juice
¼ cup maple syrup
5 cardamom pods
1 cinnamon stick, split in 2
1-inch piece of peeled ginger, cut in small slices
Whipped cream or ice cream for serving
Directions: Start by skinning the pears and slicing the bottoms off so they can stand upright. Take out the core of the pear using a paring knife. Place the pears in the crockpot so they are standing up. Add the other ingredients to the crockpot and a bit of the liquid over each pear. Cover the crockpot and cook the pears over low or medium heat for 3 to 4 hours. You'll know the pears are finished when they feel soft when you poke them with a fork. Check on the pears every hour or two and baste them with the liquid so all flavors are absorbed.
Serve the warm pears with whipped cream or ice cream if desired. Top with cinnamon.

6. Slow Cooker Peppermint Hot Chocolate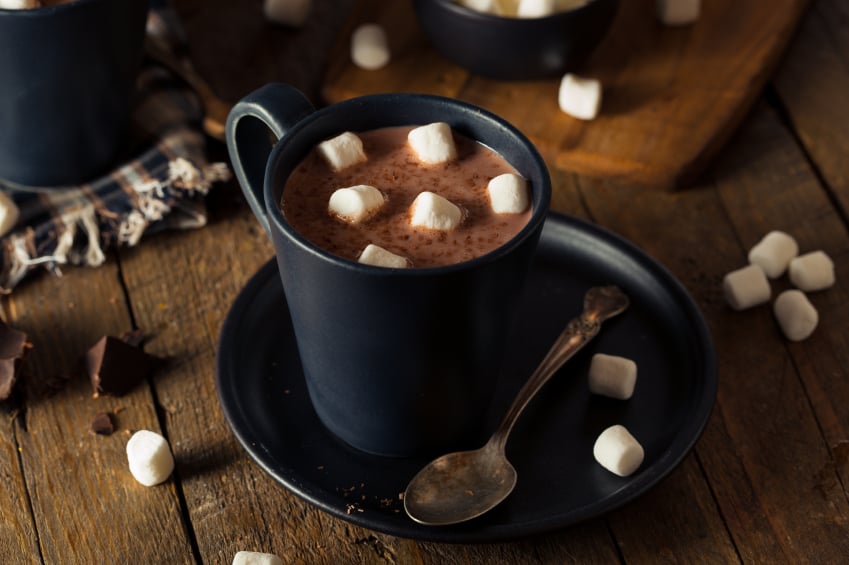 Hot chocolate is a staple in most homes during the winter, but you don't need to limit yourself to the powdered formulas found in the back of your pantry. You can make delicious peppermint hot chocolate right in your crockpot. Follow this recipe from Food Network for a fun and festive treat that both kids and adults will enjoy at your holiday party. To liven up this dessert even more, set up an add-ins bar complete with marshmallows, cinnamon sticks, and crushed candies to take your hot chocolate to the next level. For the adults, set out the peppermint schnapps.
Ingredients:
3 cups confectioners' sugar, sifted
2 cups unsweetened cocoa powder
12 cups whole milk
2 teaspoons vanilla extract
1 teaspoon kosher salt
8 ounces dark chocolate, finely chopped
24 peppermint candies, crushed, for serving
3 cups mini marshmallows, for serving
2 cups peppermint schnapps, optional, for serving
Directions: In a 6-quart crockpot, add the sugar and cocoa powder and whisk together. Turn the heat to high. Whisk in the milk slowly to prevent lumps. Then, add the vanilla and salt, and cover the crockpot. Cook for 1½ hours, or until the sugar and cocoa are completely dissolved.
Add the chopped chocolate a little bit at a time and whisk to incorporate. Place your lid back on and cook for another 30 minutes or more, until the mixture has thickened.
When it's ready, turn the crockpot down to warm. Serve the hot chocolate with peppermint candies and mini marshmallows as desired. To make the cocoa minty, melt a few teaspoons of the peppermints into an 8-ounce cup of hot chocolate, or add 2 tablespoons of schnapps.