10 Crockpot Recipes for Lazy People
Humans can't live on takeout alone. But who has the time or energy to cook? Whether you're a chronically lazy chef or just need to get through a hectic work week, it's helpful to have a few staple recipes for fuss-free dinners. And when you can make those meals in a slow cooker, it's even better. You can have food on the table faster than delivery. These 10 crockpot recipes are tasty but so easy to prepare that even the laziest of cooks will be up to the task.
1. Slow Cooker Broccoli Beef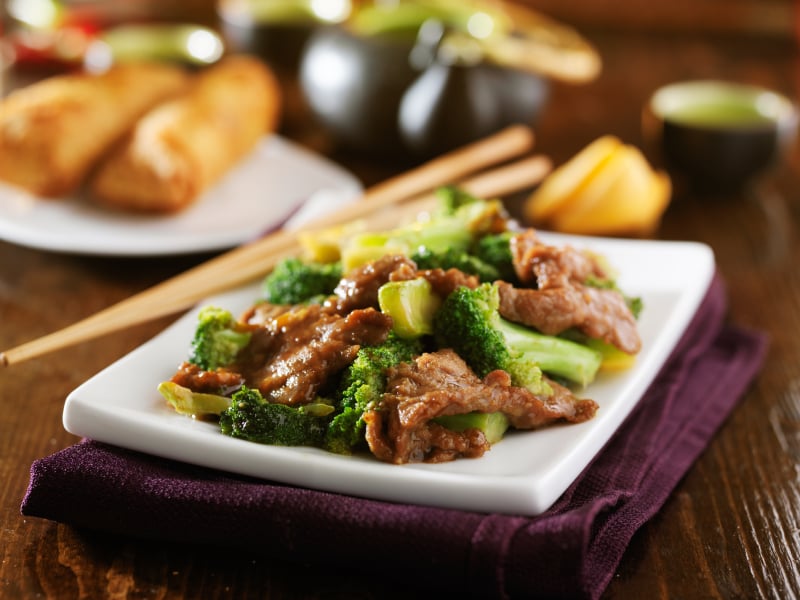 Ditch the greasy takeout in favor of this easy-to-make beef and broccoli dish from Creme de la Crumb. The broccoli is a great source of healthy fiber, while the beef provides protein. Serve this delicious slow-cooked meal over rice for dinner, then pack the leftovers in a Tupperware, and bring them to work for a lighter but still filling lunch.
Serves: 4
Ingredients:
1½ pounds flank steak, thinly sliced and chopped into 2-inch pieces
1 cup beef broth
⅔ cup low-sodium soy sauce
⅓ cup brown sugar
1 tablespoon sesame oil
1 tablespoon minced garlic
¼ teaspoon red chili flakes (optional)
4 cups broccoli florets
2 tablespoons corn starch, plus 4 tablespoons cold water
Directions: Coat the inside of your slow cooker with nonstick cooking spray. Add the steak, beef broth, soy sauce, brown sugar, sesame oil, garlic, and chili flakes to the crock. Cover and cook on low for 4 to 5 hours or on high for 2 to 3 hours.
Whisk together the corn starch and water. Remove cover, add water and corn starch to the crock pot, and stir. Cover and let cook for another 20 to 25 minutes.
Just before you're ready to serve, place the broccoli in a large, microwave-safe container with lid and fill with ½ an inch of water. Cover the container with the lid so that some steam can still escape. Microwave on high for 3 minutes. Drain, stir broccoli into beef and sauce, then serve.
2. Slow Cooker Chicken and Biscuits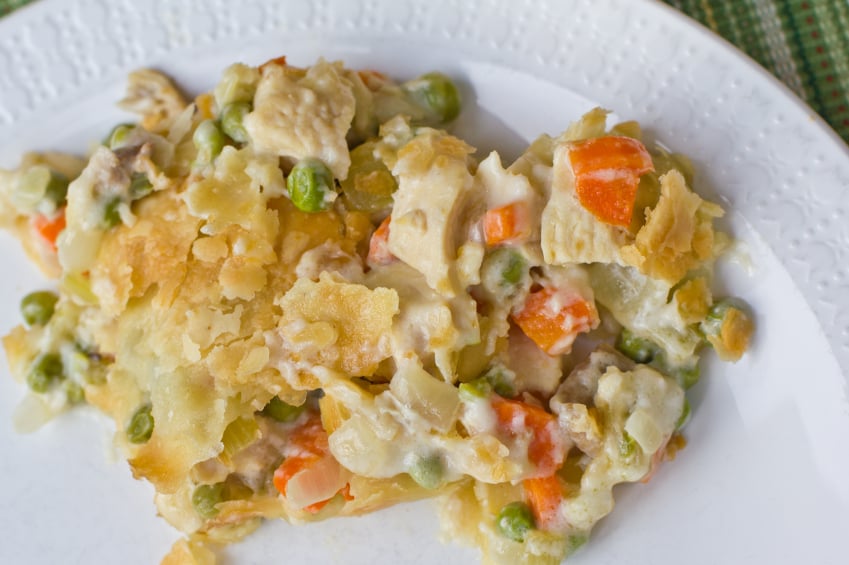 You don't have to spend hours in the kitchen to enjoy a warm chicken pot pie. This take on the classic comfort food from RecipeTips.com relies on convenient ingredients, such as canned soup, frozen vegetables, and refrigerated biscuit dough, to create a meal that's satisfying and simple enough for even the laziest of cooks to make.
Serves: 8
Ingredients:
2½ pounds boneless, skinless chicken breast
2 (10.75-ounce) cans cream of chicken soup
2 tablespoons butter or margarine
1 cup diced carrots
1 cup frozen peas
1 small onion, minced or 2 teaspoons onion powder
¾ cup chicken broth or water
2 (10-ounce) packages refrigerated biscuit dough
Directions: Place the chicken breasts in the slow cooker and cover with soup, butter, carrots, peas, and onion. Pour in chicken broth. (If the meat is not fully covered, add a little more broth.)
Cover and cook on high for 5 to 6 hours. About 1 hour before serving, remove cover and use a fork to shred the chicken into small pieces.
Separate the biscuits and then layer on top of the chicken mixture. Replace cover and cook for 1 hour more, until the biscuits are done. Spoon chicken and biscuit mixture onto plates to serve.
3. Mississippi Pot Roast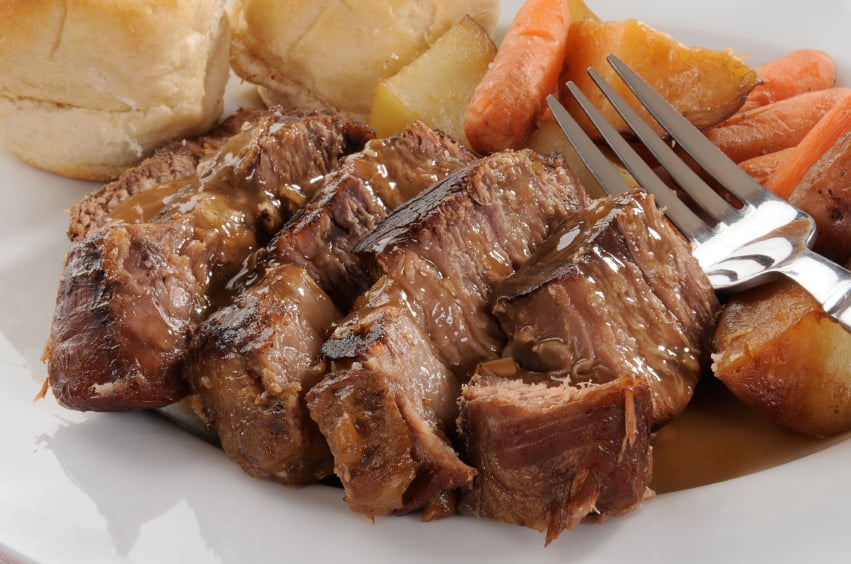 On the surface, Mississippi roast sounds a bit odd: a chuck roast slow-cooked in a mixture of butter, pepperoncini, dry ranch seasoning, and dry au jus gravy. But the unlikely dish has been a hit with food bloggers since it started making its way around the internet a few years ago. This version, from Cozycakes Cottage, adds extra pepperoncini for a bit more kick as well as some fresh vegetables.
Serves: 4
Ingredients:
1 (3-pound) chuck roast
1 packet dry ranch salad dressing mix
1 packet dry au jus gravy mix
1 stick unsalted butter
6 to 8 pepperoncini, stems removed
1 to 2 tablespoons pepperoncini juice
1½ cups mushrooms, halved or quartered (optional)
3 to 4 carrots, peeled and sliced, or a generous amount of baby carrots (optional)
Directions: Put roast in slow cooker. Sprinkle with the contents of the ranch and gravy packets. Top with stick of butter and pepperoncini, then pour juice over.
Cover and cook on low for 8 hours. After 4 hours, turn the roast over. When the roast has between 2 and 3 more hours to cook, add the mushrooms, carrots, or other vegetables of your choosing. Once meat is fully cooked and vegetables are tender, slice the meat or shred with two forks and serve over mashed potatoes.
4. Slow Cooker Bacon Mac & Cheese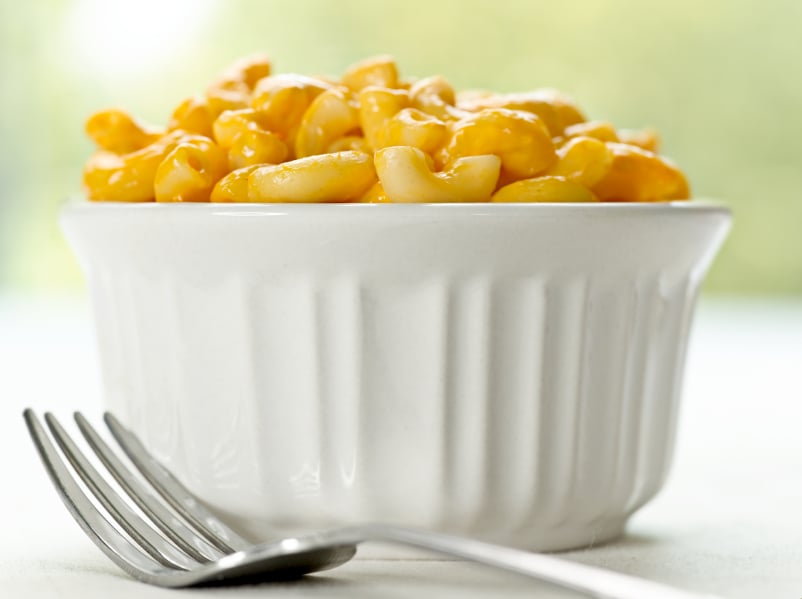 Even lazy chefs can enjoy homemade mac and cheese. This one-pot dish takes just minutes to assemble, especially if you opt for pre-shredded cheese and packaged bacon bits. The result of your minimal cooking efforts? A creamy and indulgent take on a childhood classic. The recipe is from The Kitchen Is My Playground.
Ingredients:
3 cups uncooked cavatappi or fusilli pasta
2 cups shredded mozzarella cheese
2 cups shredded smoked cheddar cheese
1 (3-ounce) package real bacon bits or 10 cooked, crumbled slices of bacon
2 eggs, lightly beaten
1 (12-ounce) can evaporated milk
1½ cups whole milk
1 teaspoon salt
½ teaspoon pepper
½ teaspoon Worcestershire sauce
Directions: Coat the inside of a slow cooker with nonstick cooking spray. Add pasta, mozzarella and cheddar cheese, bacon, eggs, evaporated milk, whole milk, salt, pepper, and Worcestershire sauce to the crock. Cover and cook on high for 1½ hours. Stir twice during cooking. Reduce heat to low and cook for 30 more minutes, until pasta is tender and all the liquid is absorbed. Serve.
5. Slow Cooker Tamale Pie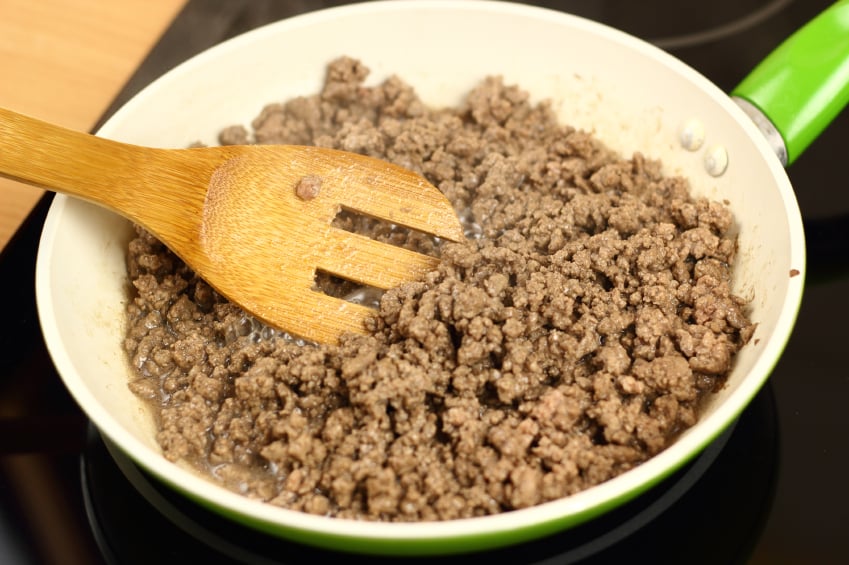 Tamale pie might bear only the slightest resemblance to its namesake, but that doesn't mean it's not satisfying in its own way. Essentially a simple chili topped with cornbread, this no-fuss version from Mr. Food comes together in minutes and makes for a filling meal.
Serves: 6
Ingredients:
2 pounds ground beef
2 (28-ounce) cans diced tomatoes, drained
2 cups frozen whole kernel corn
1 (2.25-ounce) can sliced black olives, drained
1 medium onion, diced
1 (1.25-ounce) package taco seasoning mix
1 (16-ounce) package cornbread mix
1 cup shredded cheddar cheese
Directions: Cook the beef in a skillet and drain the fat. Add the meat to a 6-quart slow cooker along with the tomatoes, corn, olives, onion, and taco seasoning. Mix well.
Prepare the cornbread according to package directions. Spoon over beef and tomato mixture. Sprinkle with cheese, then cover and cook on low for 6 hours or on high for 3 hours.
6. Butter Chicken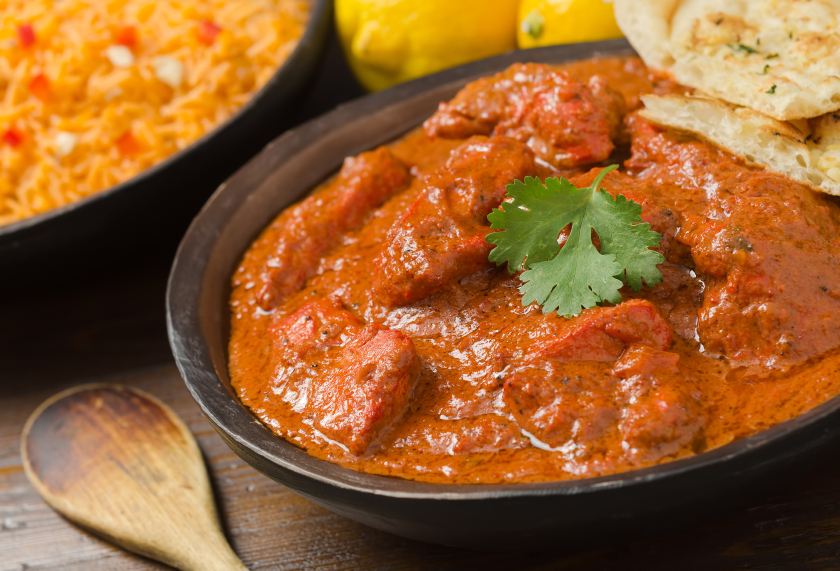 You can take your favorite Indian takeout joint off your speed dial. Making butter chicken at home is virtually effortless with this slow cooker recipe from Damn Delicious. Aside from briefly sautéing the garlic and onions in some spices, the whole thing cooks in the crockpot. You can adjust the seasoning to your taste — the instructions below are for a mild dish, but you can spice things up if you like.
Serves: 6
Ingredients:
1 tablespoon olive oil
4 cloves garlic, crushed
1 onion, diced
1 (14-ounce) can light coconut milk
1 (6-ounce) can tomato paste
2 tablespoons whole wheat flour
2 teaspoons garam masala
1 teaspoon curry powder
½ teaspoon chili powder, or more, to taste
½ teaspoon ginger powder
Kosher salt and freshly ground black pepper, to taste
3 pounds boneless, skinless chicken breasts, cut into 2-inch pieces
2 tablespoons chopped fresh cilantro leaves
Directions: Add the olive oil to a large saucepan and heat over medium. Add the garlic and onion to the pan and cook until the onions are translucent, about 2 to 3 minutes, stirring frequently. Add the coconut milk, tomato paste, flour, garam masala, curry powder, chili powder, and ginger powder and stir. Cook until mixture thickens, about 1 to 2 minutes.
Add the chicken to your slow cooker. Pour in the sauce mixture and toss to combine. Cover and cook on low for 5 hours. Serve immediately with rice or naan and garnished with cilantro.
7. Slow Cooker Meatloaf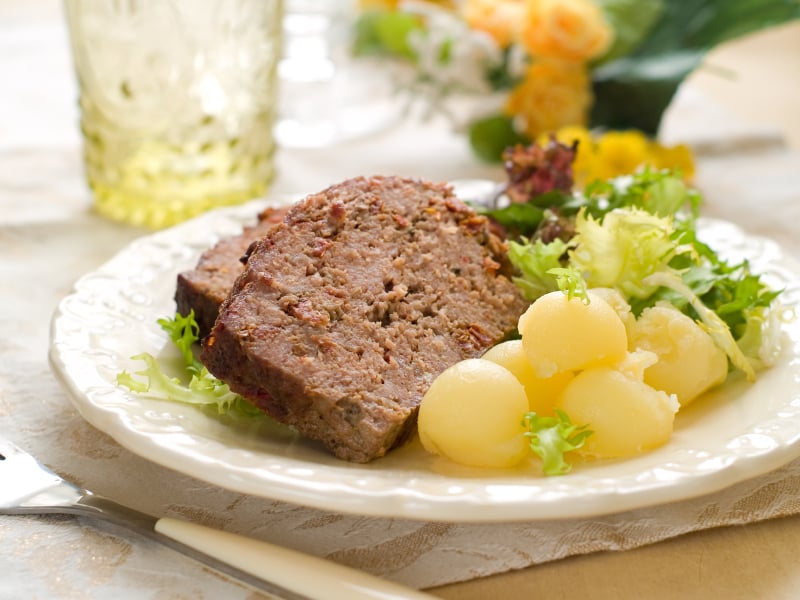 Forget mom's old meatloaf recipe. Betty Crocker's one-step version is so easy you might never make a meatloaf the old-fashioned way again. Simple combine all the meatloaf ingredients, transfer to a slow cooker, and go about your day. After 3 to 4 hours you'll have the perfect meatloaf dinner for your family.
Serves: 6
Ingredients:
1½ pounds lean (at least 80%) ground beef
1 cup milk
1 teaspoon chopped fresh sage leaves or ¼ teaspoon dried sage leaves
½ teaspoon salt
½ teaspoon ground mustard
¼ teaspoon pepper
1 clove garlic, finely chopped, or 1/8 teaspoon garlic powder
1 egg
3 slices bread, torn into small pieces
1 small onion, chopped (¼ cup)
½ cup ketchup
Directions: Line 4½- to 5-quart slow cooker with foil. Spray foil with cooking spray.
In large bowl, mix all ingredients except ketchup. Shape mixture into loaf, and place in center of slow cooker. Spread ketchup over top.
Cover; cook on Low heat setting 3 to 4 hours or until meat thermometer inserted in center of loaf reads 160 degrees Fahrenheit. Remove meatloaf from slow cooker to serving platter. Cut into pieces to serve.
8. Seasoned Chicken, Potatoes, and Green Beans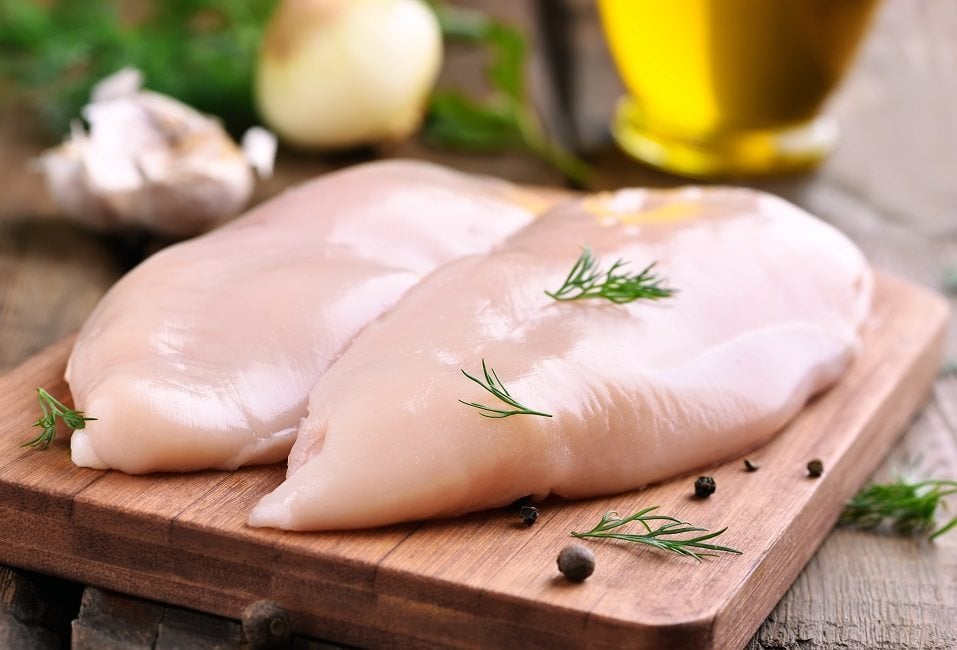 Don't believe that quick-and-easy slow cooker meals can also be healthy? This recipe for chicken, potatoes, and green beans from The Magical Slow Cooker is about to prove you wrong. With fresh ingredients and no-fuss prep, it's the perfect wholesome meal for when you don't have a lot of time to cook.
Serves: 4
Ingredients:
1½ to 2 pounds boneless skinless chicken breasts
½ pound fresh green beans, trimmed (about 2½ cups)
1¼ pounds diced red potatoes (about 4 cups)
⅓ cup fresh-squeezed lemon juice
¼ cup olive oil
1 teaspoon dried oregano
1 teaspoon salt
¼ teaspoon pepper
¼ teaspoon onion powder
2 garlic cloves, minced
Directions: Place the chicken in the center of the slow cooker. Place the green beans to one side of the chicken and the diced potatoes on the other.
Whisk the lemon juice, olive oil, oregano, salt, pepper, onion powder, and garlic together in a medium bowl. Pour over the chicken, beans, and potatoes.
Cover and cook on high for 4 hours. Serve.
9. Braised Short Ribs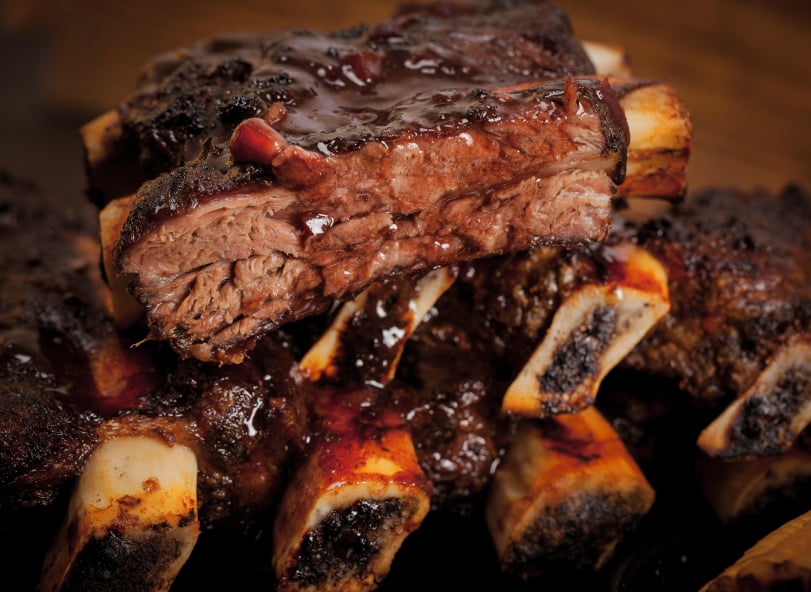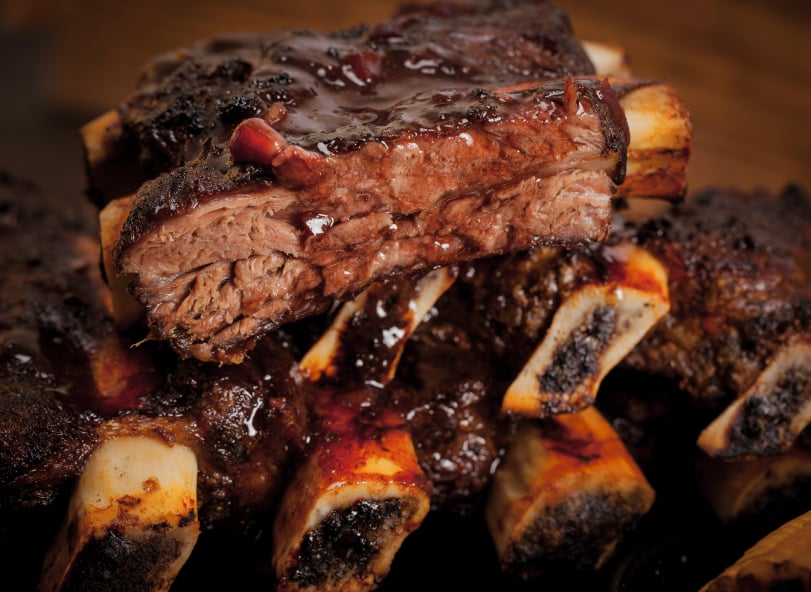 Not exactly a whiz in the kitchen? Don't worry. Your dinner guests won't be able to tell that this short ribs recipe from Epicurious is virtually idiot-proof. Simply combine short ribs in your crockpot along with some dry red wine, button mushrooms, and other ingredients, then set it and forget it. Eight hours later, you'll be fielding compliments from your friends and family on your excellent cooking skills. You don't have to let them know your slow cooker did most of the work.
Serves: 4
Ingredients:
4½ pounds 3-inch-long beef short ribs
Coarse kosher salt
2 cups dry red wine
1 (14.25-ounce) can diced tomatoes in juice
1 (6-ounce) package sliced button mushrooms
½ cup finely chopped onion
6 garlic cloves, peeled
6 fresh Italian parsley sprigs
2 bay leaves
Crusty bread
Directions: Sprinkle ribs with coarse salt and pepper. Place in even layer in slow cooker. Add next 7 ingredients, cover, and cook on low heat until meat is tender, about 8 hours.
Using slotted spoon, transfer ribs to serving bowl. Discard parsley and bay leaves. Spoon fat off top of sauce and pour sauce over ribs. Serve with bread.
10. Slow Cooker Pizza Casserole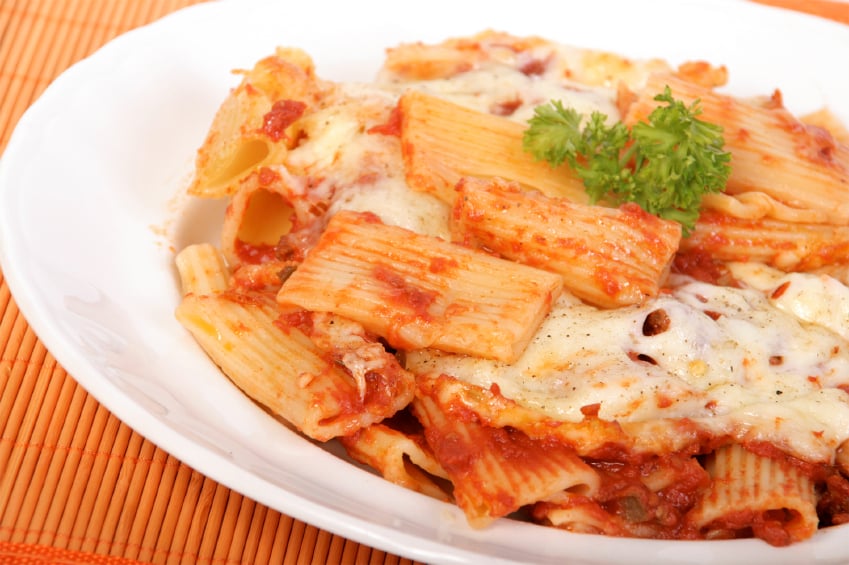 Kids (and kids at heart) will love this hearty slow cooker pizza casserole. It's made with rigatoni, ground beef, pepperoni, and plenty of mozzarella cheese. Even better, preparation is a breeze. Simply brown the meat in a skillet while the pasta cooks, then dump everything in a slow cooker and you're good to go. And because the recipe from Taste of Home produces a generous 14 servings, it's the perfect dish for potlucks and parties.
Serves: 14
Ingredients:
1 (16-ounce) package rigatoni or large tube pasta
1½ pounds ground beef
1 small onion, chopped
4 cups shredded part-skim mozzarella cheese
2 (15-ounce) cans pizza sauce
1 (10¾-ounce) can condensed cream of mushroom soup, undiluted
1 (8-ounce) package sliced pepperoni
Chopped fresh basil or arugula, optional
Directions: Cook pasta according to package directions. Meanwhile, in a skillet, cook beef and onion over medium heat until meat is no longer pink; drain.
Drain pasta; place in a 5-quart. slow cooker. Stir in the beef mixture, cheese, pizza sauce, soup and pepperoni. Cover and cook on low for 2 to 3 hours or until heated through. If desired, top with basil before serving.
Follow Megan on Twitter @MeganE_CS