These Are the Cutest Nurseries That Joanna Gaines Designed on 'Fixer Upper'
Joanna Gaines is expecting baby number five. So naturally, Fixer Upper fans are speculating about what the nursery for the newest member of the Gaines family will look like. Shiplap? White paint? Cotton and linen fabrics? A few antique accents? Those all sound like a great bet. But Joanna isn't new to designing rooms for children. In fact, she created some adorable rooms for her first four kids at the farmhouse. Plus, she designed numerous nurseries and kids' rooms for homeowners on Fixer Upper.
Read on to check out the most adorable nurseries, the cutest kids' rooms, and the most magical playrooms that Joanna has put together over the years.
1. Joanna incorporated family heirlooms into this adorable nursery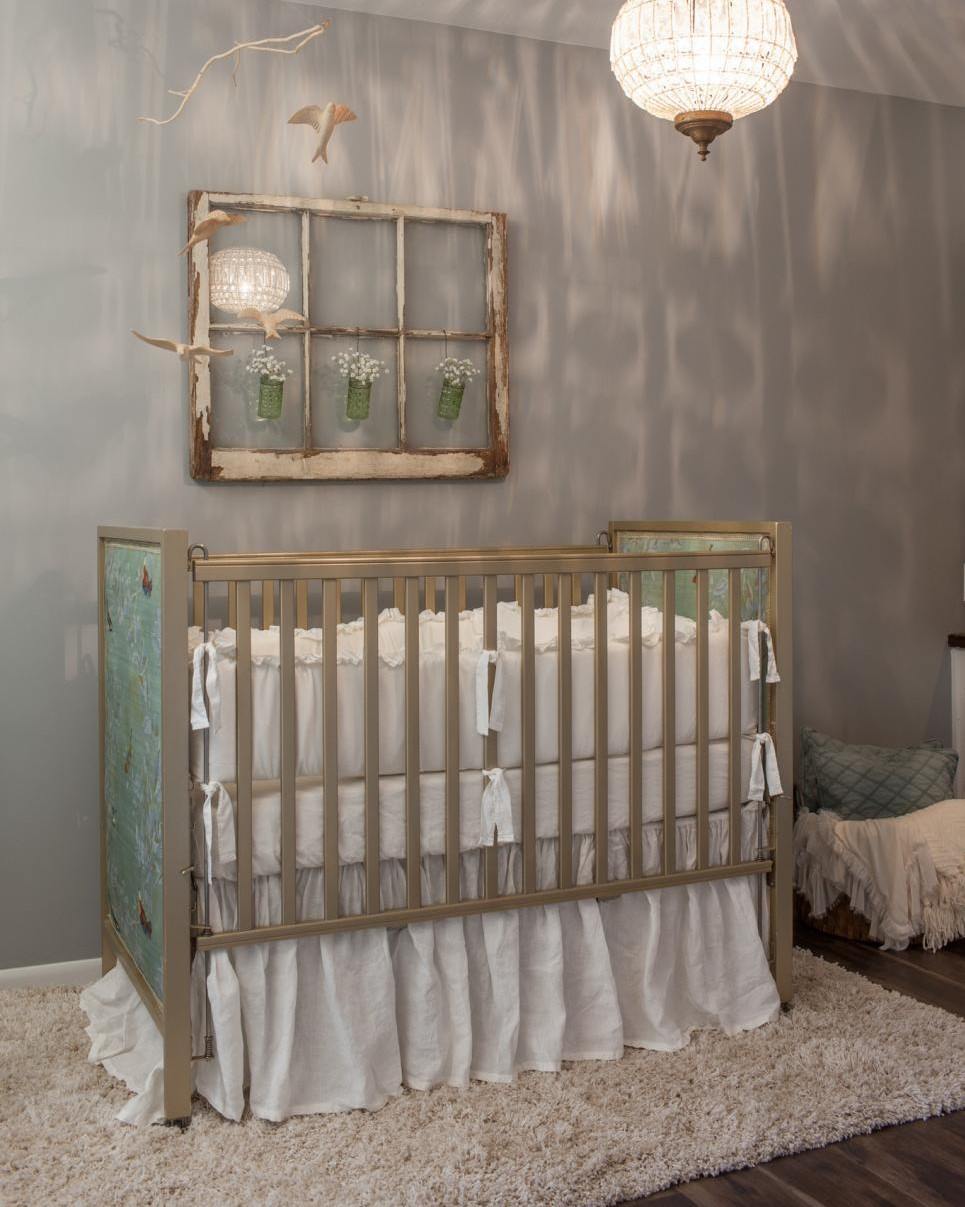 Designing the "Mid Century House," Joanna Gaines incorporated several family heirlooms into one of the sweetest nurseries of all. The Gaineses tackled the project for their friends, Jill and Josh Barrett, who were not only expecting their first baby, but were also buying their first home together as a couple.
Joanna incorporated several of Jill's family heirlooms into the room (a great move for nurseries of every style). She also painted the walls grey. And as HGTV reports, Joanna added an antique window wall hanging, a mobile with carving birds, and a crystal pendant light.
Next: Like most 'Fixer Upper' rooms, this nursery has a few Joanna Gaines signatures. 
2. This sweet nursery includes several Joanna Gaines signatures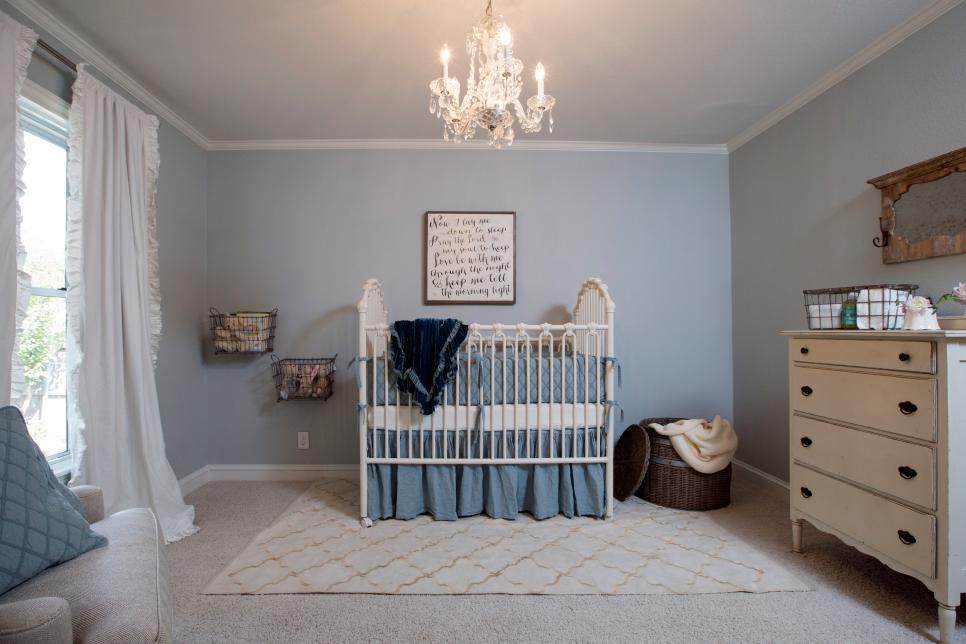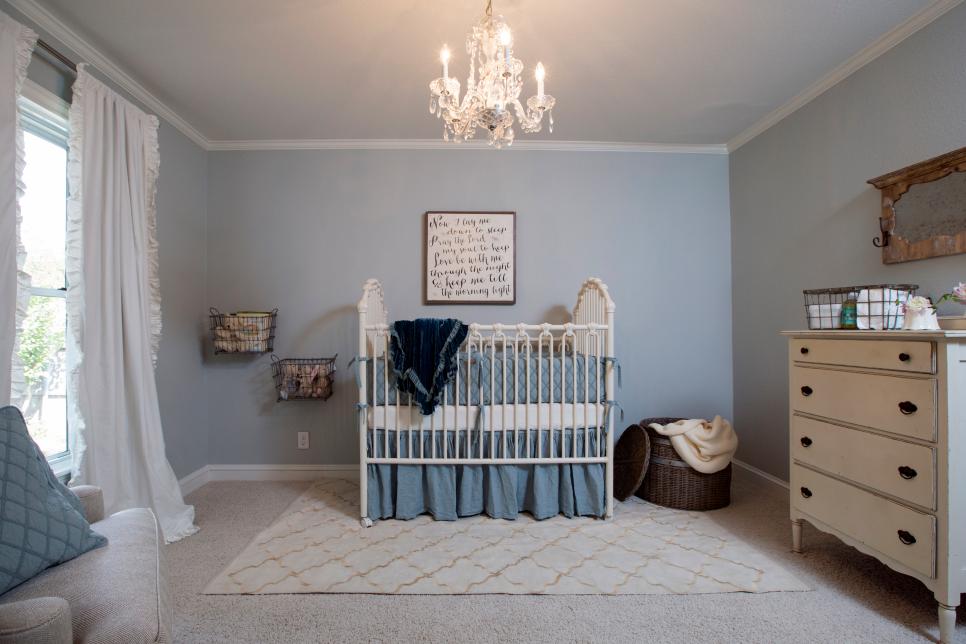 In the "Dutch Door House," Joanna Gaines designed one of our favorite nurseries ever using several hallmarks of her signature style. HGTV reports that Kelsey and Trip Purks purchased this 1940s home for their growing family. Preparing for the new baby in the couple's future, Joanna transformed a drab room into a bright and cheerful nursery.
Like many rooms in other Fixer Upper homes, the room features a few Joanna Gaines signatures. She loves adding art that features a quote or text on the wall, just like the piece hanging above the crib. And she also always works to add antique pieces to each room. In this case, she used the original chandelier from the home's living room to add a touch of history to the nursery.
Next: We love the adorable bed in this cute kids' room.
3. This adorable bedroom features a canopy bed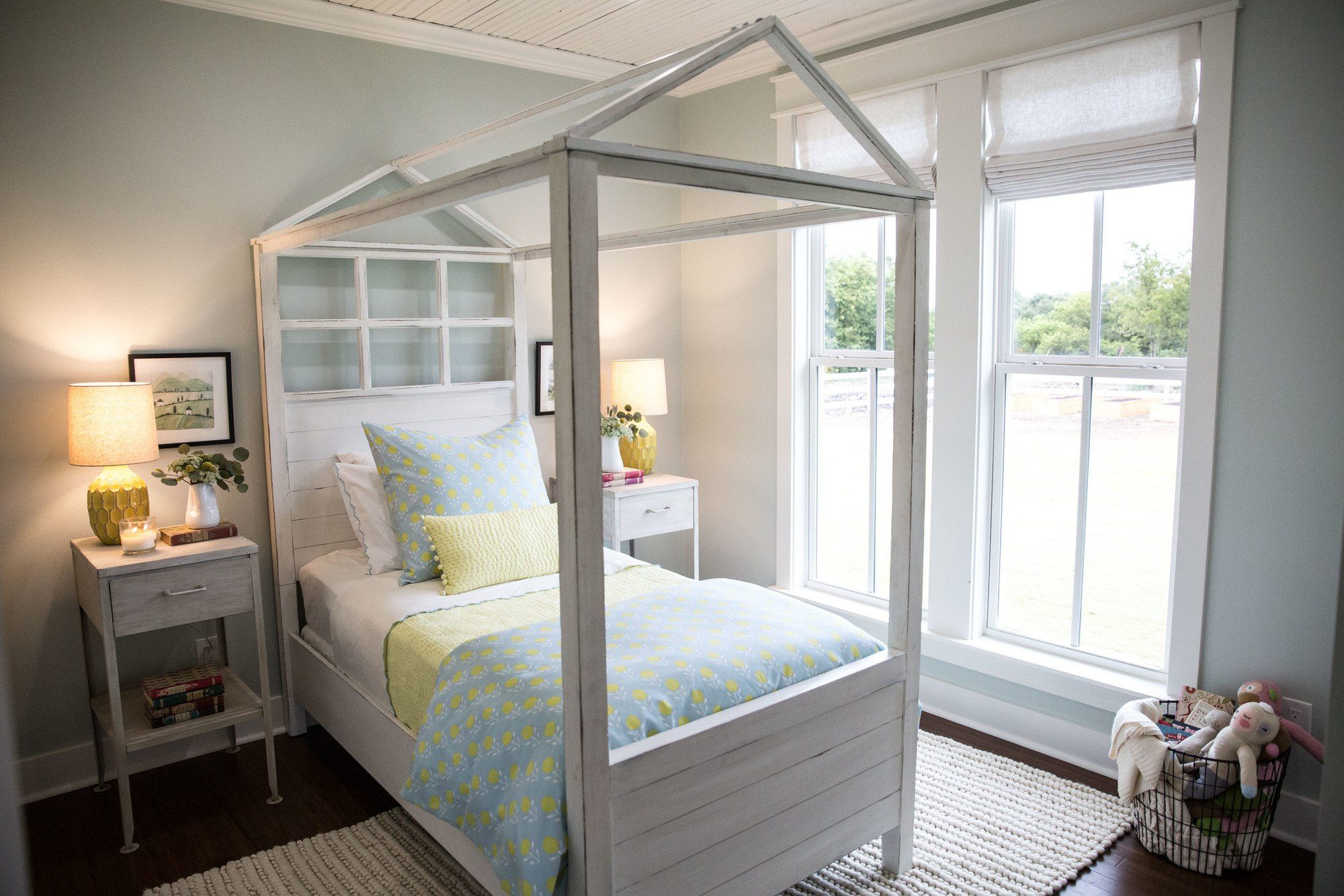 Joanna doesn't just design adorable nurseries. She also creates beautiful kids' rooms for her clients on Fixer Upper. Case in point? This amazing kids' room for the daughter of Michael and Jessie Matsumoto, a couple who's actually worked with Chip and Joanna on their hit HGTV show.
In the Matsumotos' "little shack on the prairie," Joanna designed an adorable bedroom for Michael and Jessie's daughter Finley. The canopy bed steals the show in this airy bedroom. But we also love the beadboard ceiling, which features materials salvaged from the original structure. Plus, the soft colors and the childlike accents are about as sweet as they can get.
Next: The same home features an amazing boys' bedroom, too.
4. Joanna put amazing bunk beds in this kids' room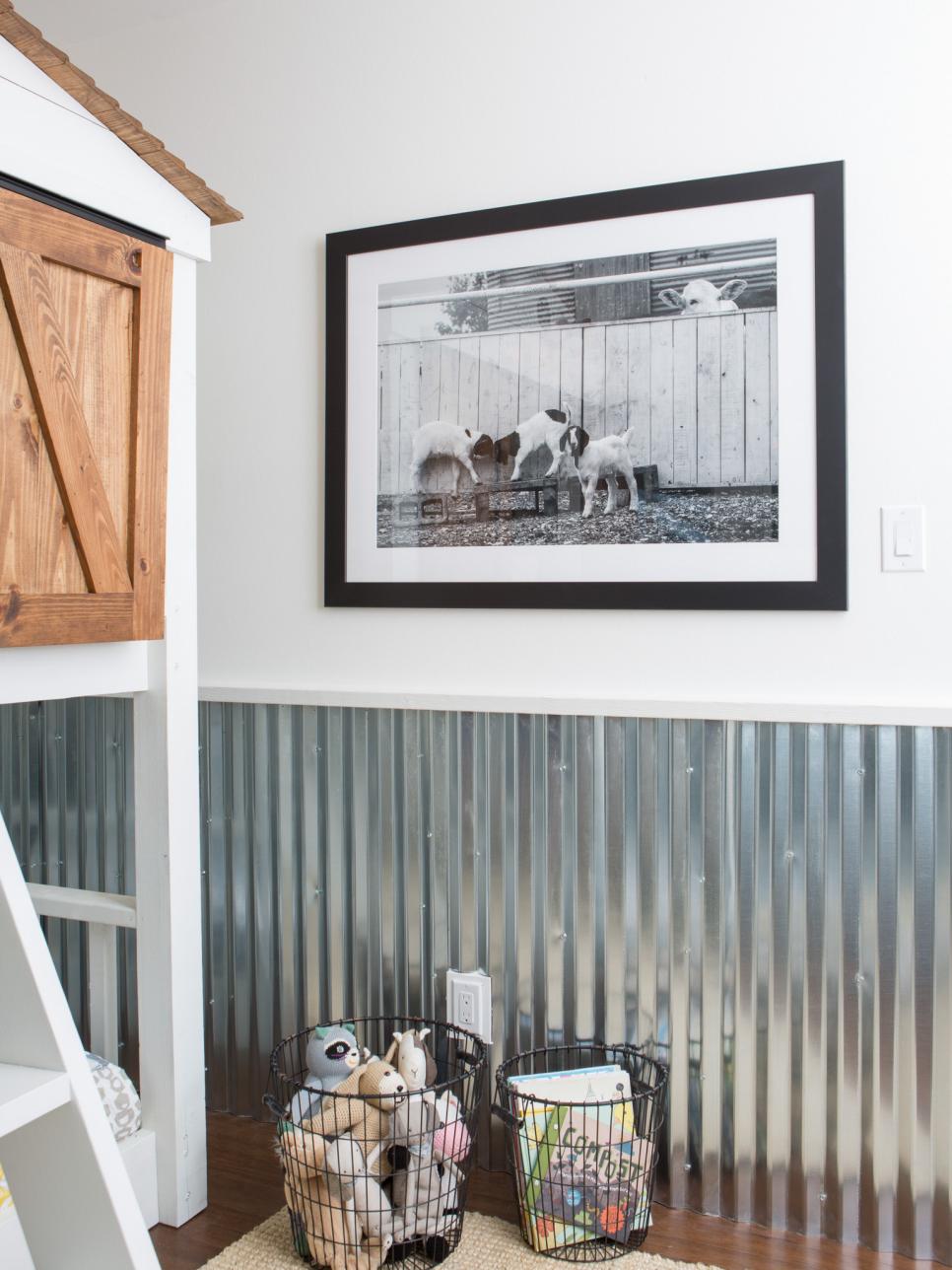 In the same home, Joanna had to design a bedroom for the Matsumotos' son Rowan. She opted to add these amazing bunk beds. They offer an amazing place to host friends — and put a new twist on Joanna's classic farmhouse style with those adorable barn doors on the upper level.
We also love the corrugated metal wainscoting, which dovetails perfectly with the couple's "industrial farmhouse" style. Plus, HGTV reports that the room also features a black-and-white photo of the goats at the Gaines family farm — the perfect farmhouse motif for this adorable bedroom.
Next: One of Joanna's best kids' rooms is this sweet space. 
5. The 'Fixer Upper' team designed one of the sweetest kids' rooms ever with a scalloped wall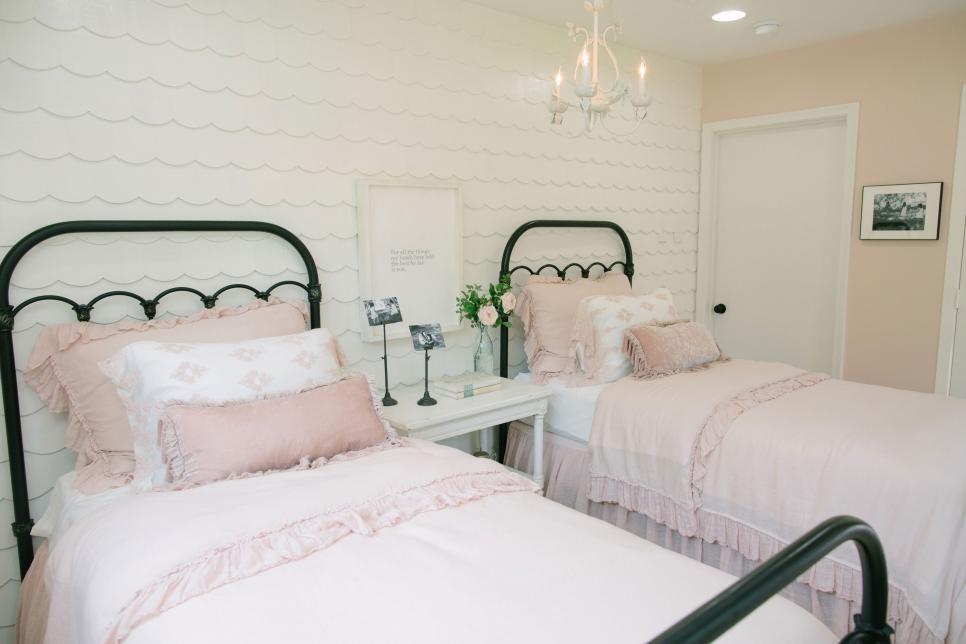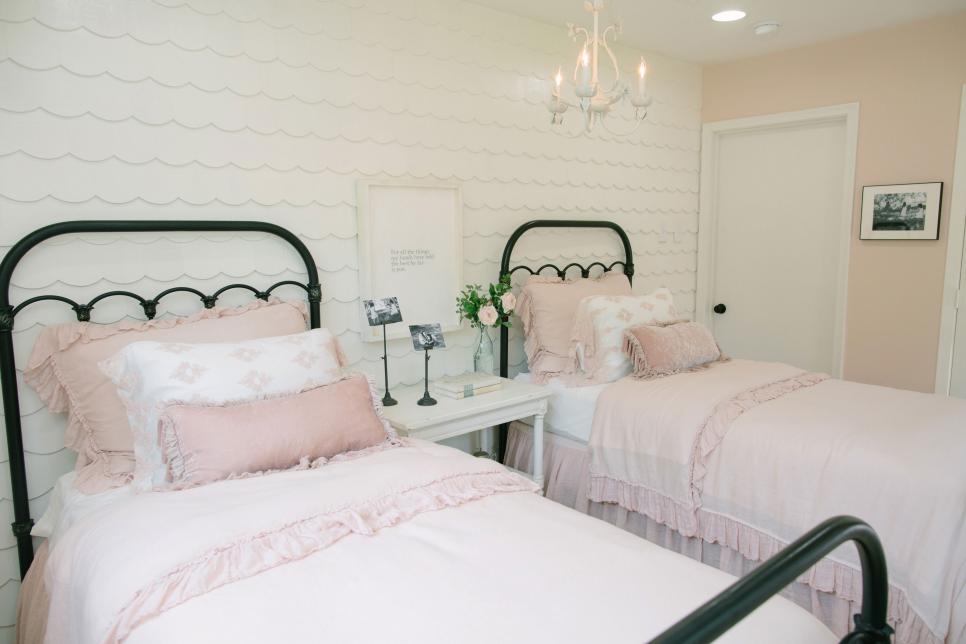 When renovating the "Mid Century Modestly Priced House," Joanna Gaines created one of her best kids' rooms yet for Keith and Annabeth Morgan. The couple had recently adopted two girls. They had their hands full, even without a renovation on their minds. But the Fixer Upper crew got the job done without a hitch — even though Joanna didn't design this room herself!
As HGTV reports, Chip and Joanna actually got their whole family involved in designing the kids' rooms in the Morgan house. Chip teamed up with the Gaines girls, Ella and Emmie, to design the room for the Morgans' two daughters. Together, they decided to create a "princess dollhouse room," complete with scalloped walls, a scalloped awning, and adorable matching beds.
Next: Joanna enlisted the Gaines boys to design this kids' room.
6. This amazing kids' room features the coolest work area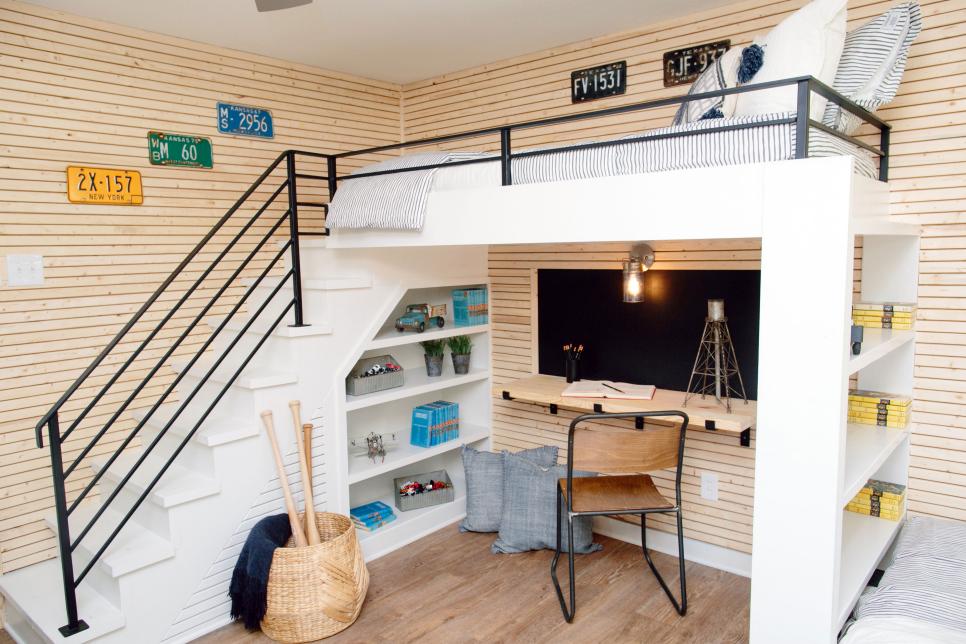 While Chip and the Gaines girls designed a bedroom for the Morgans' daughters, Joanna and the Gaines boys created a room for the Morgans' son. The result? Drake and Duke helped Joanna settle on a road trip theme for the picture-perfect room.
Together, the design team decided on perpendicular bunk beds, which left room for the coolest work area for studying, completing homework, or dreaming up new projects. Plus, HGTV reports that the room marked "the first Fixer Upper appearance of Joanna's new wall-treatment fascination — skinnylap."
Next: This bedroom looks just like the Gaines girls' room at the farmhouse. 
7. This bedroom looks just like the Gaines girls' room at the farmhouse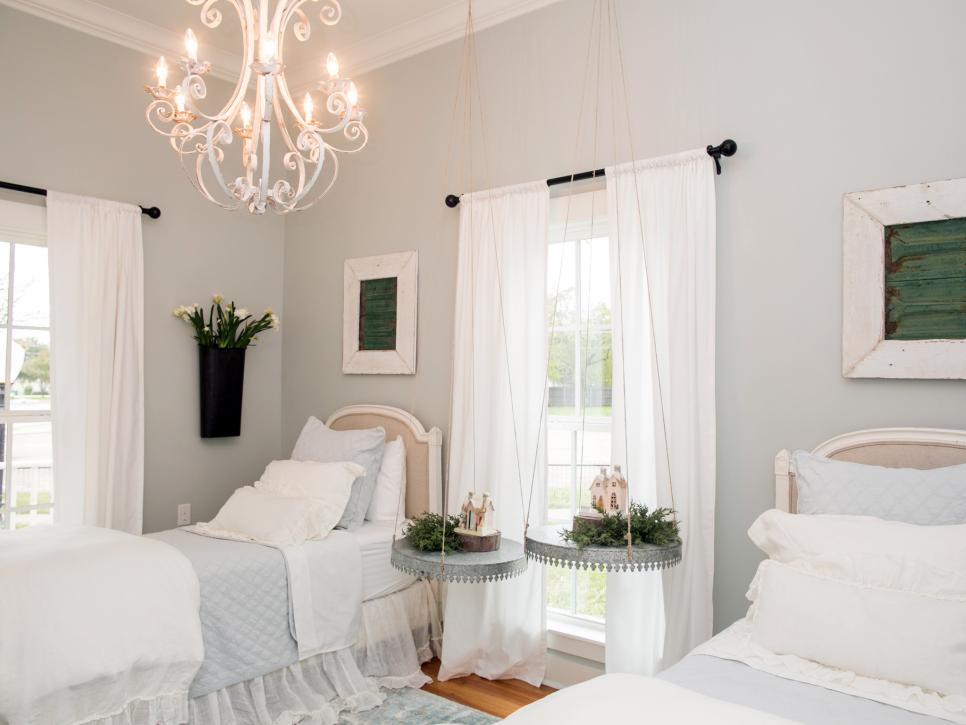 Joanna Gaines writes on her blog that when she renovated the downstairs twin bedroom at the Magnolia House (the Gaines's bed and breakfast), she designed it to look just like her daughters' room at the family farmhouse. "The downstairs twin bedroom was one of my favorite spaces in the home," Joanna explains.
"I really wanted this room to feel light and airy, and if you have seen pictures of my farmhouse, you will notice the room looks identical to my little girls' room at home." She adds, "We painted this space to match the downstairs master, and added hanging galvanized trays as side tables for a little something unexpected. I found the perfect antique chandelier to add a whimsical touch to the space, and finished it off with pretty florals and linens."
Next: Some of the best kids' rooms incorporate the children's favorite toys.
8. Not many kids' rooms get an entire Lego wall like this one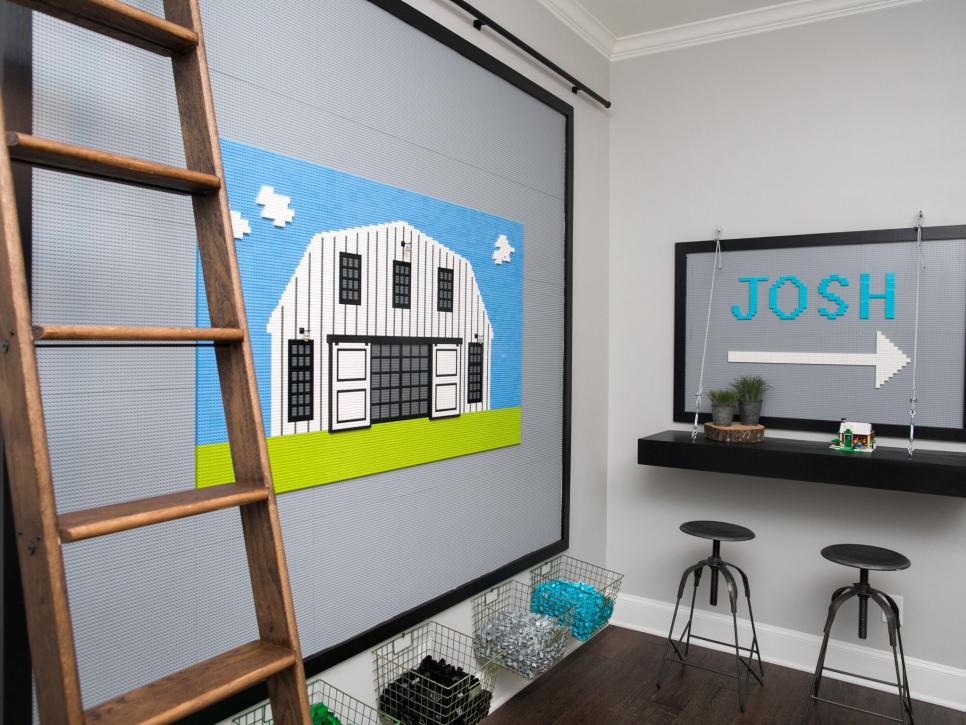 Designing the Barndominium for the Meek family, Joanna wanted to do something special for the couple's son, Josh, who loves Legos. The home, which originally served as a horse barn and had to be converted into a home for people, had plenty of character on its own. But Joanna stepped things up a notch by creating an entire Lego wall in Josh's room.
As Joanna writes on her blog, "Getting the opportunity to surprise him with a whole wall dedicated to his favorite hobby was so fun for me and Chip. The beauty of the Lego wall is that it creates an intentional space for their son to be imaginative, and it's so cool that I'd bet the Meeks get some use out of it too." The room also incorporated a floating desk, wooden awnings above the windows, plus simple floating shelves.
Next: Most kids' rooms aren't nearly as cool as this bunk room.
9. This bunk room puts other kids' rooms to shame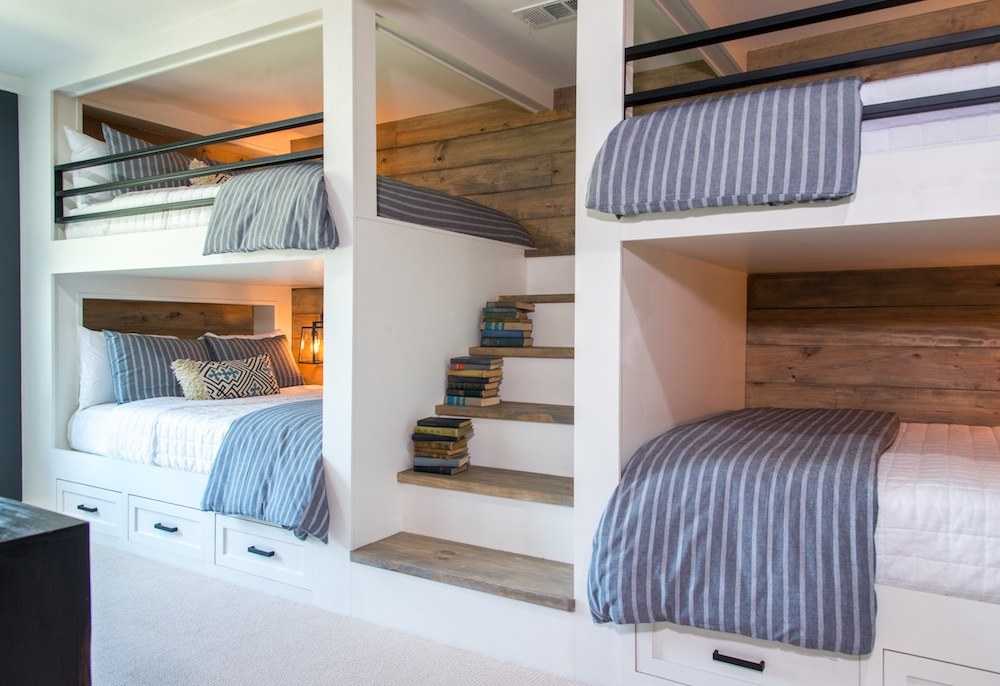 Though Chip and Joanna Gaines were designing the "Big Country House" for a couple who had grown kids, just about everybody would want to stay in the bunk room intended for John and Stephanie Eberles' adult children. The room features four queen-sized bunks, perfect for accommodating guests who are either young or still young at heart.
As HGTV reports, each bunk features an alcove design with stained shiplap paneling. They also have iron railings and integrated stairs, which are painted white with natural wood treads. True to Joanna's style, she also staged the room with stacks of antique books on the stairs — perfect for some late-night reading.
Next: This isn't the only bunk room that Joanna Gaines has designed. 
10. Joanna designed another bunk room as a space-saving alternative to separate kids' rooms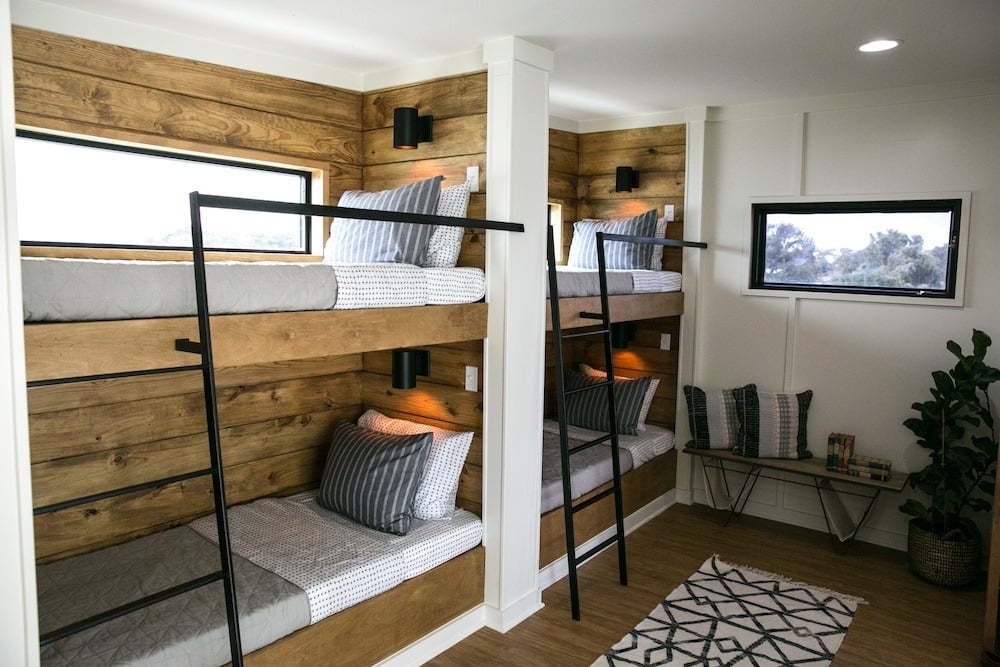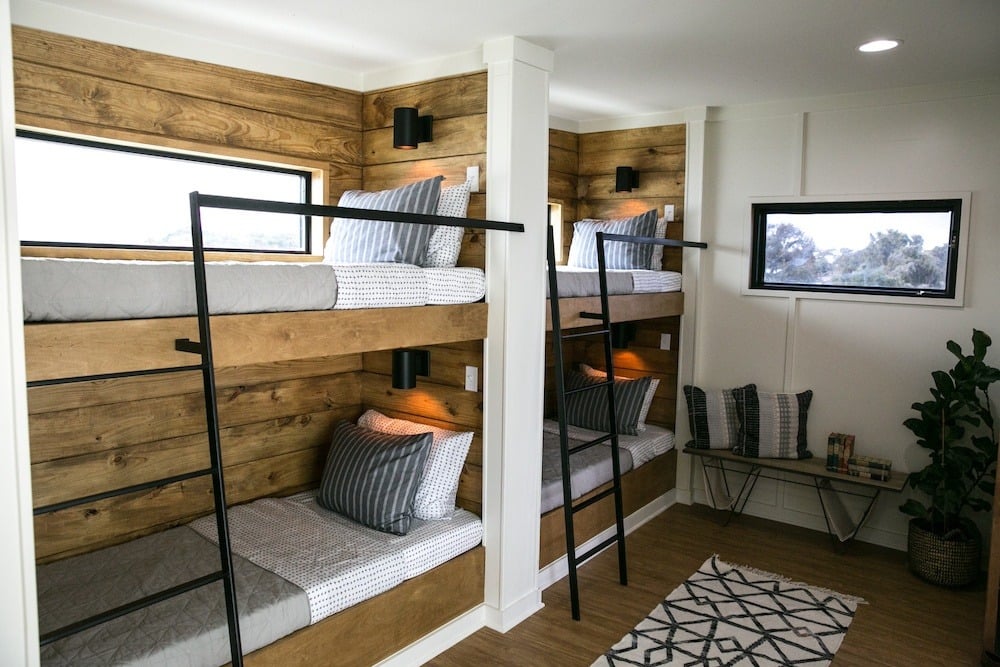 The Big Country House wasn't the only renovation where the Fixer Upper team settled on a bunk room as an ideal alternative to having multiple kids' rooms. When Chip and Joanna renovated a houseboat for Brett Swartz and his four kids, they settled on a bunk room as a space-saving alternative to separate kids' rooms.
HGTV explains that Chip and Joanna had to work with a tight budget and even tighter space to pull off the renovation. But we think that they succeeded beautifully. The network explains, "The updated bunk room offers plenty of sleeping space for the kids or guests. Joanna incorporated natural wood elements, iron railings and fixed metal ladders in black finish."
Next: Joanna doesn't just design nurseries and kids' rooms for the children on the show.
11. Joanna Gaines has also designed play areas and craft rooms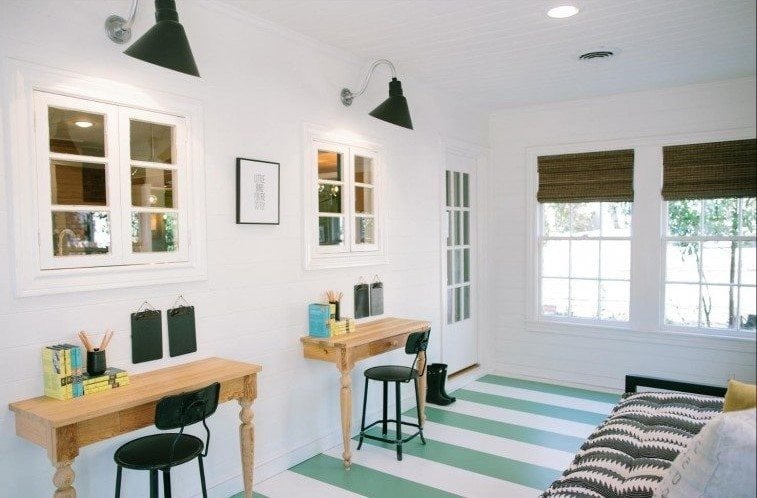 It's not just kids' rooms and nurseries that Joanna Gaines has designed for her youngest clients on Fixer Upper. She's also created plenty of playrooms and craft areas — like this sweet and sophisticated room in the "Baby Blue House." The Fixer Upper crew took on the project for Kaley Eggers, a single mom in the process of adopting her foster son.
As Joanna explains, she turns an enclosed porch into a "play area/office for her son to create and imagine." The space had a lot of natural light, and Joanna freshened it up by adding fun stripes. She also designed desks, which Clint Harp built, and even added windows over the desks to add visibility for Kaley.
Next: Joanna Gaines designed this playroom with some adorable details.
12. This beautiful playroom incorporates so many fun details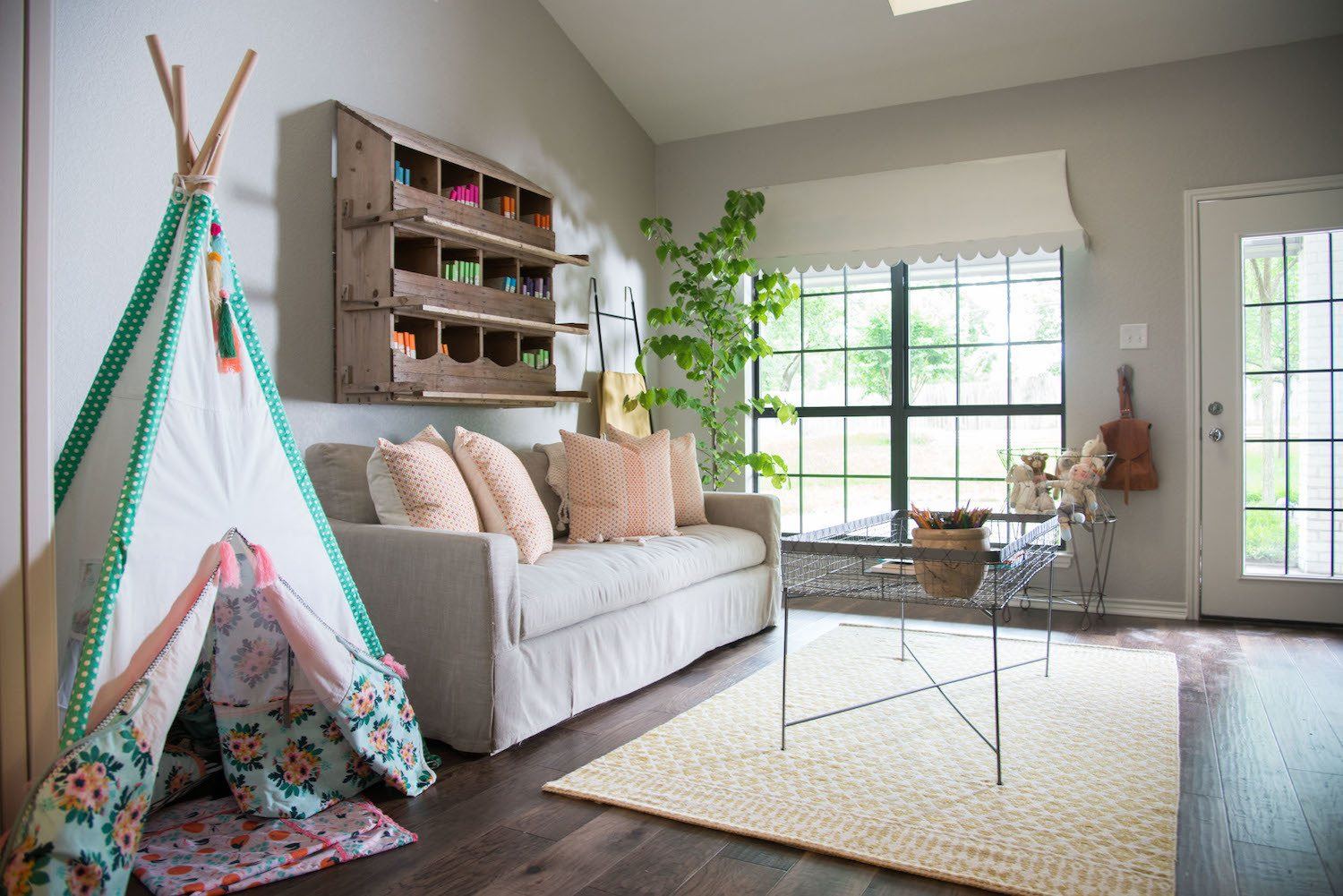 On an episode of Fixer Upper where Chip and Joanna renovated a home for the Bufton family, Joanna didn't neglect to create a fun space for Kristen and Brett's daughters. Kristen, one of Joanna's coworkers, is a designer herself. She wanted clean lines and simple spaces, and that's exactly what she got in her girls' playroom.
The playroom, separate from the living room on the first floor of the home, features an adorable teepee, a comfy couch, and plenty of space for books and toys. There's even an entertainment center just for the kids. As Joanna writes on her blog, "I loved that it was a comfortable space for their kids to spread out and play on the first floor of their home, so they're never too far from mom and dad."
Next: Joanna has designed some adorable craft rooms, too.
13. Joanna designed this craft room just for the kids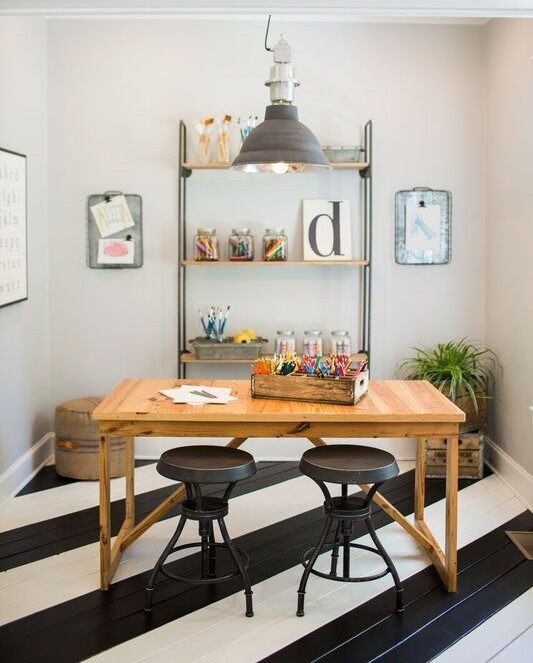 In the "nut house" that Chip and Joanna Gaines renovated for the Dansby family, the Fixer Upper team added a playroom and craft room just for the kids. Joanna writes on her blog, "It was important to the couple that the kids had a place to call their own, so we transformed it into a clutter-free work environment for them to play and create."
Chip installed plank flooring that the team painted with black and white deck paint. Then, Joanna outfitted the space with industrial-style open shelving, plus a large table and plenty of art supplies. HGTV reports that the table was even custom-made for the space.
Next: Clint Harp helped out with this cute playroom.
14. Clint built a table for this adorable playroom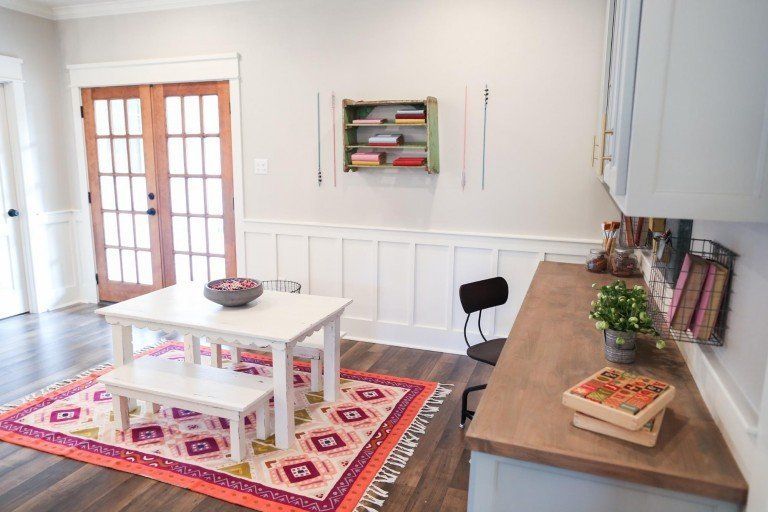 In what Joanna Gaines calls the "Chip 2.0 house," designed for Rachel and Luke Whyte, the Fixer Upper star enlisted Clint Harp's help to complete one of the cutest playrooms we've ever seen on the show. HGTV reports that with this renovation, the Fixer Upper crew turned a dated house into the perfect home for the new family.
The playroom serves double-duty as a home office and as a space for the couple's kids to play. That way Rachel, who's a stay-at-home mom, can work done while keeping an eye on the kids. Plus, Joanna writes on her blog that Clint Harp designed and built the kids' table for the space. "This table may be one of my top five favorite tables Clint has ever built for us," she writes. "Its tiny scalloped details were the sweetest little addition and completely finished off this space."
Next: This sweet playroom is one of our favorites that Joanna has ever designed.
15. This playroom gives the kids plenty of space to crawl around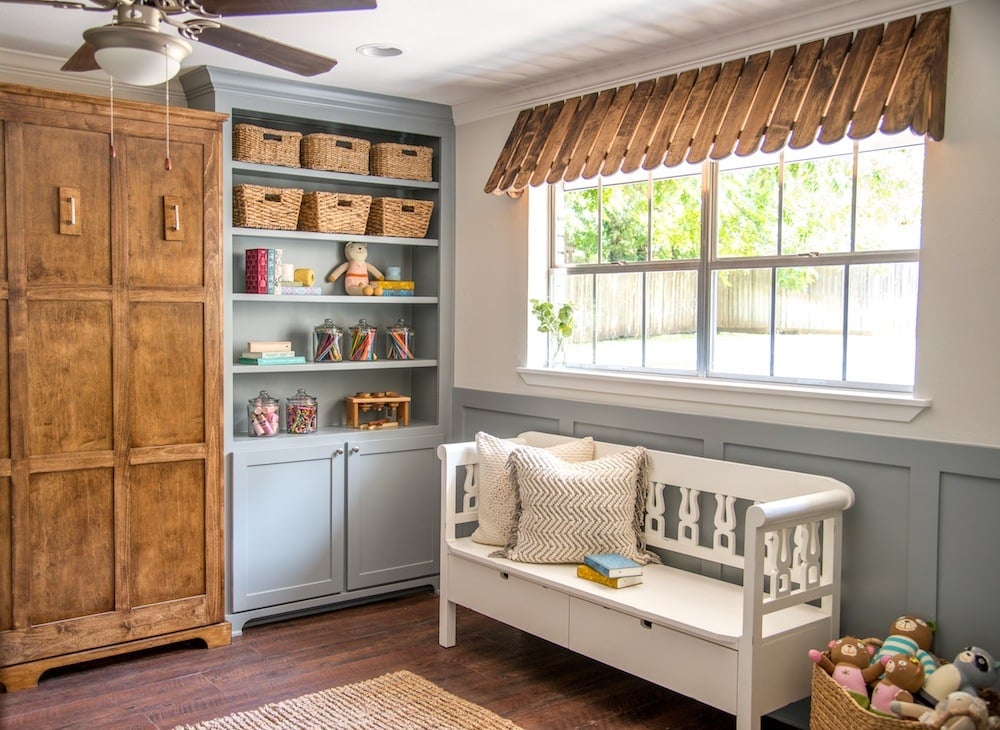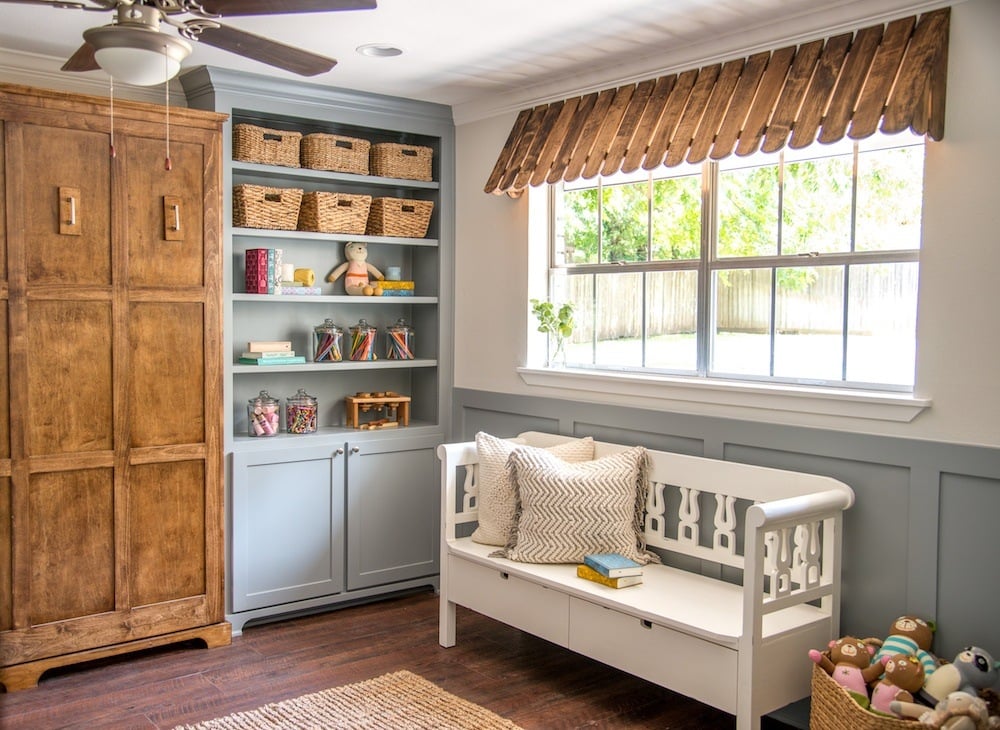 In the "Pocket Door House," Joanna designed a playroom that offers plenty of space to crawl around. HGTV reports that to complete the home for Will and Laura Phipps, Chip and Joanna had to work with a tight budget. But that didn't stop them from creating a great space for the couple's kids.
Joanna writes on her blog that the goal was for the playroom to double as a guest room. (Without sacrificing room for the kids to crawl around and play.) Joanna's ingenious solution? She installed a Murphy bed — the first ever to appear on Fixer Upper? When not in use, it folds up and out of the way. Joanna also added a wooden awning, just like the one she installed in her first son's nursery. She also left plenty of space for the kids to play.
Read more: You Can Get the 'Fixer Upper' Look With These Design Projects
Check out The Cheat Sheet on Facebook!