Date Night Dinner: A Chicken Dish Your Partner Will Love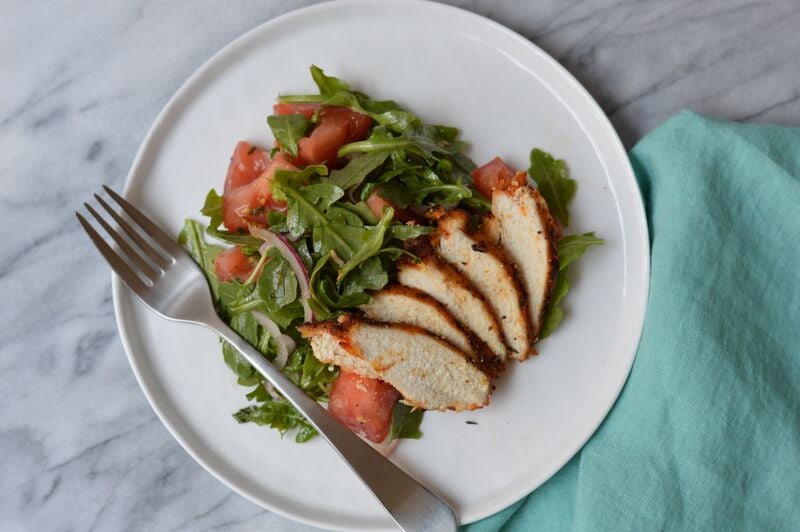 Making your partner dinner is a great way to show your appreciation for them or curry (new pun intended) their favor. Follow our Date Night dinner series week-to-week, as we highlight recipes that are as simple to execute as they are tasty.
This week's recipe comes from the Natural Gourmet Institute, a health-supportive culinary school in New York City that also offers public classes and a variety of other programs. The savory, enticing chicken dish is a match made in poultry heaven: Both men and women will love this deeply flavorful dish that still manages to be light and offer nutrition from herbs like basil and fresh veggies like crisp and mildly bitter arugula.
This recipe is ripe for variation, which makes it a welcome option for a variety of different palates. Crave heat? Spike the salad with some red chile pepper flakes, add some cayenne into the spice rub, and finish with a drizzle of hot sauce. Herb lover? In addition to basil, jazz up the recipe with cilantro or parsley. Veggie addict? The salad also works nicely with a handful or sliced peppers, some fresh, minced garlic, and a hit of almond slivers to top it all off.
Make some extra chicken (the amount of effort is pretty minimal) if you'd like, and save for lunch, when you can wedge it between two pieces of multi-grain bread and sneak in a slice of avocado for a quick and satisfying meal.
Spanish-Spiced Chicken Breasts with Tomato-Arugula Salad
(Yield: 4 servings)
Ingredients:
For the spice rub:
¼ teaspoon Spanish paprika
¼ teaspoon garlic powder
¼ teaspoon dried thyme
¼ teaspoon salt
¼ teaspoon black pepper
For the chicken and salad:
2 large skinless, boneless chicken breasts
2 teaspoons canola oil
1 medium red onion, thinly sliced
6 vine-ripe tomatoes, cut into large chunks
5 ounces baby arugula
1 ounce basil, finely chopped
3 tablespoons extra-virgin olive oil
2 tablespoons red wine vinegar
½ teaspoon sea salt
¼ teaspoon freshly ground pepper
Directions: Preheat oven to 400 degrees Fahrenheit. In a small bowl, combine all spice rub ingredients. Rub chicken liberally with spice rub. In a medium oven-safe skillet, heat canola oil over medium-high heat. Place chicken into skillet, and cook until browned, about 4 minutes. Flip, and cook the other side, about 4 more minutes. Transfer skillet to oven to finish cooking the chicken, about 10 minutes. Place onions in a bowl, and add enough cold water to cover; set aside. In a small bowl, whisk together olive oil, vinegar, sea salt, and pepper. In a large bowl, combine tomatoes, arugula, and basil. Drain onions, and add to other vegetables. Toss salad with vinaigrette. Thinly slice chicken on a diagonal, and serve atop salad.
More from Culture Cheat Sheet:
Want more great content like this? Sign up here to receive the best of Cheat Sheet delivered daily. No spam; just tailored content straight to your inbox.