Date Night Dinner: A Delicious Oyster Dish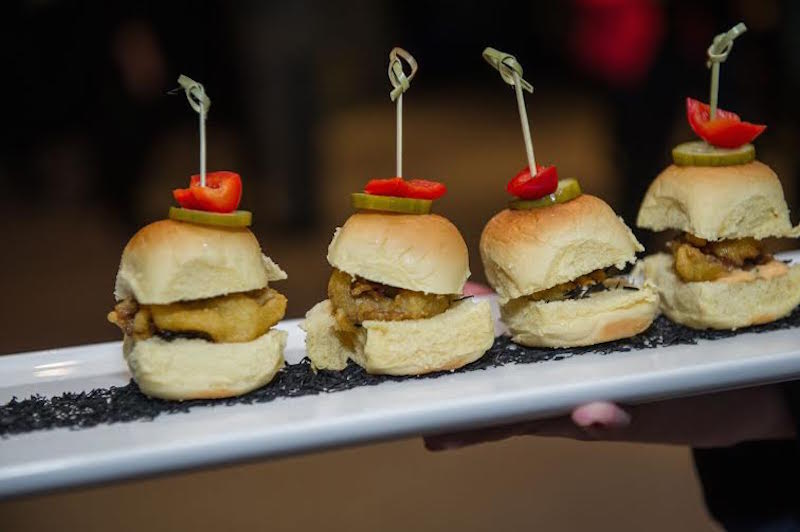 Eating healthy doesn't have to mean spending a ton of money. And it also doesn't have to mean spending a ton of time in the kitchen. In this week's installment of Date Night Dinner, a weekly column focusing on simple-to-prepare and flavorful dinners that will impress your partner (or any guest, for that matter), New York City's Natural Gourmet Institute shares a fantastic fish dish that you will make time and time again.
There's something about oysters (and yes, we know, Mary, too). Briny and succulent, eating them feels a bit hedonistic and luxurious — perhaps even a bit naughty (and with good reason, they're one of the most famed aphrodisiacs). According to Reader's Digest research, they have amino acids that trigger production of sex hormones. These sammies, which thanks to their compact size and health-supportive ingredients like nutrient-dense seaweed and antioxidant-packed yellow peppers are certainly a splurge (you don't want to go for fried food everyday), show how to fry something up without breaking the calorie bank. Serve with a big, colorful salad for edible nutrition in every shade of the rainbow, and if you'd like to cut carbs, try serving on only one side of a bun.
Oyster Po' Boys
This recipe by Chef Olivia Roszkowski was developed for the 2015 James Beard Leadership Awards and yields 8 sliders.
Ingredients:
For oysters
2 dozen oysters
½ cup cornmeal
½ cup all-purpose flour
¼ to ½ cup seltzer, or more to thin
1 cup coconut oil
¼ teaspoon sea salt
For sriracha aioli
1 whole egg
1 egg yolk
1 lemon, juiced
1 garlic clove, minced
1 teaspoon Dijon
Pinch sea salt
1 cup organic canola oil
2 tablespoons sriracha
For pickled vegetables
1 small cucumber, cut into ⅛-inch slices
¼ yellow pepper, small dice
1 cup rice vinegar
½ cup water
¼ teaspoon red chili flakes
1 teaspoon maple syrup
¼ teaspoon sea salt
8 small bamboo skewers
For seaweed
½ cup hiziki, soaked for 20 minutes
½ cup arame, soaked for 20 minutes
3 tablespoons organic canola oil
1 medium shallot, chopped finely
¼ teaspoon sea salt
½ cup champagne vinegar
To serve
8 soft (potato, brioche, pretzel) slider buns
½ ounce micro purple radish tops
8 small plates
Directions: For oysters: Shuck oysters, if necessary. Form a batter by gently folding in the cornmeal, flour, and seltzer. Preheat oil in a large deep sauté pan, making sure oil doesn't come more than halfway up. Coat oysters in batter, and fry for approximately 1 minute per side, or until golden. Remove from oil, and sprinkle with sea salt.
For sriracha aioli: Add egg, egg yolk, lemon juice, minced garlic, Dijon, and salt to food processor. Pulse until combined, turn on engine, and stream in oil until emulsified. Transfer to bowl, and season with sriracha.
For pickled vegetables: Add cucumber, pepper, vinegar, water, red chili flakes, maple syrup, and sea salt to a small saucepan. Bring to a boil, turn off heat, and allow to steep for at least 20 minutes, or overnight. Place 1 of each vegetable on each skewer.
For seaweed: Drain seaweed, and chop coarsely with knife. In a large deep pan, warm the oil over medium heat, and add the shallot and salt. Cook for 2 minutes, and deglaze with vinegar, allowing it to evaporate before adding the seaweed. Cook the seaweed for 5 minutes, or until softened (add small amount of water, in necessary). Top with purple radish tops. Secure with vegetable skewer. Serve on small plate.
To serve: Spread aioli on slider buns. Place 1 to 2 tablespoons of seaweed mixture and 3 oysters (might need less depending on bun size) on each slider bun.
More from Culture Cheat Sheet:
Want more great content like this? Sign up here to receive the best of Cheat Sheet delivered daily. No spam; just tailored content straight to your inbox.