Date Night Dinner: A Fettuccine and Mussels Meal for $5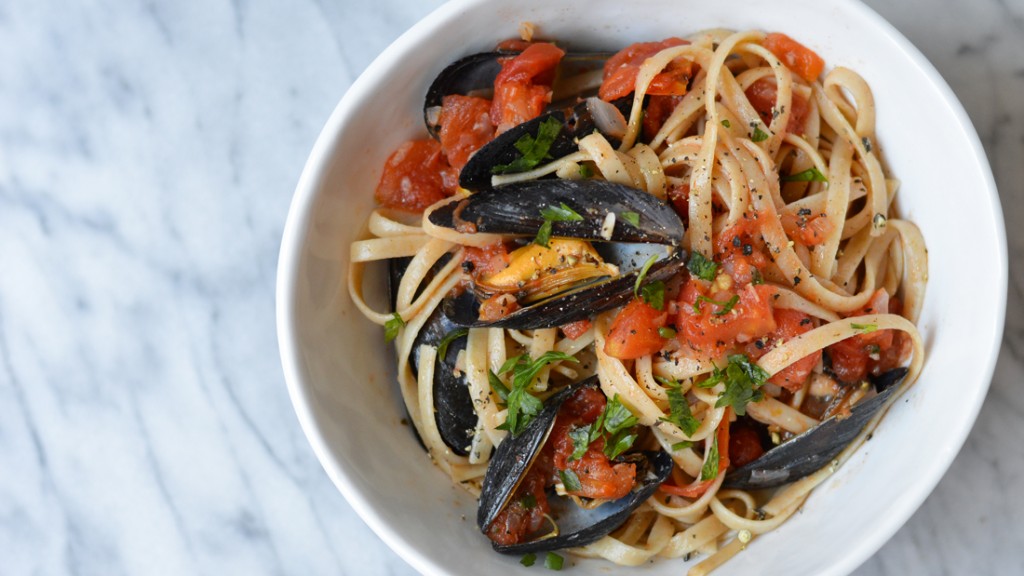 Eating healthy doesn't have to mean spending a ton of money. And it also doesn't have to mean spending a ton of time in the kitchen. In this week's installment of Date Night Dinner, a weekly column focusing on simple-to-prepare and flavorful dinners that will impress your partner (or any guest, for that matter), New York City's Natural Gourmet Institute, a health-supportive culinary school that also offers public classes, doles out a tasty and budget-friendly idea for a delightful date night dinner.
Pasta, like some other things in life (namely: Sunday football, the beach, beer, or all three combined), is just bound to be a big hit. And this can't-go-wrong pasta dish manages to be sophisticated and refined without requiring a massive laundry list of ingredients. Besides, it's tough to argue with a one-two punch of pasta and seafood (just check out our "7 Seafood Pasta Recipes Showing Off the Dynamic Duo's Versatility"), a true match made in oceanic heaven. The recipe calls for parsley, but you can also garnish with a few squeezes of fresh lemon juice and some thinly sliced shallots. Or kick up the pepper flakes for a spicier flavor profile (or leave extra on the table if your sweetheart isn't as much of a heat fan as you).
Got extra mussels? You'll love these these beer-steamed mussels that make a happy hour snack in 20 minutes. So tell your man or woman to grab a nice loaf of crusty french baguette on the way home or over to your place, and get cooking!
Fettuccine with Mussels and Tomato Sauce
Coming in at under $5 per serving, you don't have to break the bank to enjoy a delicious seafood dinner. And fortunately for mussel lovers, there are several types of mussels that are available in the U.S. year-round. Mussels are low in calories, high in protein, and a great source of potassium. This recipe yields 4 servings.
Ingredients:
8 ounces long whole-wheat pasta (like fettuccine, spaghetti, or angel hair), cooked according to package directions
2 teaspoons extra-virgin olive oil
⅓ cup diced onion
1 garlic clove, minced
½ teaspoon sea salt
Pinch of red pepper flakes
1 (14-ounce) can whole tomatoes, chopped
½ cup white wine
24 mussels (about 3 pounds), scrubbed and debearded
3 tablespoons chopped parsley
Directions: Heat oil in a large saucepan over medium-high heat. Add onion and garlic. Cook until softened, about 5 minutes. Add salt and red pepper; cook for 2 minutes. Add tomatoes and wine, and bring to a boil. Reduce heat to low and simmer for 10 minutes. Add mussels, and increase heat to medium. Cover and simmer for 7 minutes or until shells open. Discard any unopened shells. To serve, toss mussels and sauce with pasta. Sprinkle with parsley.
More from Culture Cheat Sheet:
Want more great content like this? Sign up here to receive the best of Cheat Sheet delivered daily. No spam; just tailored content straight to your inbox.