Date Night Dinner: Make This Meal Starring Leek Pie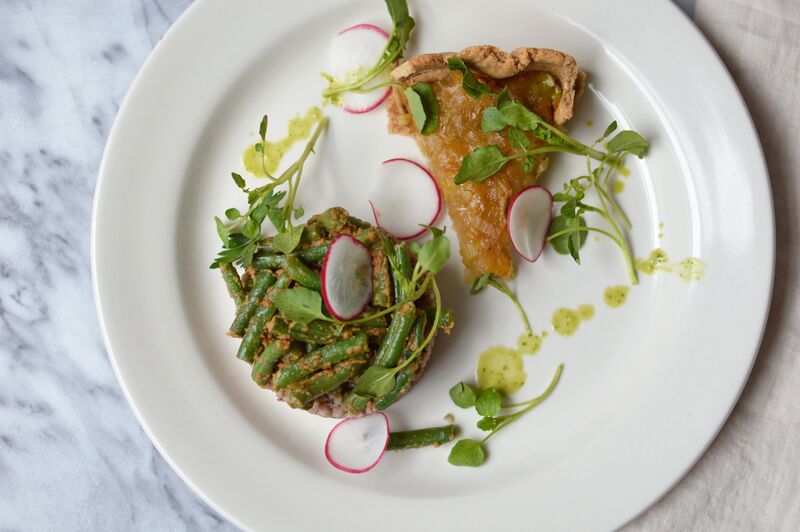 Don't worry: Leek pie only sounds fancy. New York City's Natural Gourmet Institute, a health-supportive culinary school that also offers public classes, dished out their secret-weapon fall dish to dazzle any kind of guest. With no further ado, get prepared for all tablemates bowing to your gastronaut's wand.
Leek Pie
In 1979, Annemarie Colbin, PhD., Founder of Natural Gourmet Institute, wrote the seminal recipe and menu planning cookbook, The Book of Whole Meals. Although it has been given a modern twist, the meal was inspired by one of the recipes in that cookbook.
Yield: makes one 9-inch pie
Ingredients:
For the crust:
2 cups whole wheat pastry flour
¼ cup sesame oil
¼ teaspoon sea salt
½ cup water
For the filling:
1 tablespoon sesame oil
6 leeks (about 2 pounds), trimmed, sliced into half-moons
1 ½ cups water
2 tablespoons kuzu
2-3 tablespoons shoyu, to taste
Directions: Place flour into a food processor and drizzle in oil as the machine is running. Dissolve salt in water and add to flour mixture. Continue mixing until dough holds together but is not wet or mushy.  Gather dough into a loose ball and place in a clean bowl or in plastic wrap and refrigerate for 30 minutes. Preheat oven to 375 degrees Fahrenheit. To make filling, heat sesame oil in a large sauté pan. Add leeks and cook for 5 minutes. Add ½ cup water and simmer, covered, for another 8 minutes.
Dissolve kuzu in remaining 1 cup of water. Add to leeks and simmer until mixture thickens. Season with shoyu. After dough has rested, between two sheets of parchment or on a lightly dusted work table, roll out dough to 14 inches round and about ½-inch thick. Transfer to pie plate, trim and flute edges, if you like. Prick dough with a fork and blind bake with pie weights for 15 minutes. Remove from oven, remove pie weights and let cool for 15 minutes. Pour leek filling into baked pie shell and bake until pie is set and surface is golden brown, about 15 minutes. Serve hot, at room temperature, or cold.
Kasha
Yield: 4 cups
Ingredients:
2 cups whole brown kasha (buckwheat groats)
3 ½ cups water
½ t sea salt
Directions: Bring water to a boil in a two-quart pot. Add salt and kasha; reduce heat to low and cook covered for 15 minutes or until kasha is fluffy. Set aside 2 cups of cooked kasha for the next day's croquettes. Serve remaining kasha alongside leek pie and tahini string beans.
Tahini String Beans
Yield: 4 servings
Ingredients:
1 pound string beans, trimmed, halved lengthwise
⅔ cup water
2 tablespoons shoyu
4 tablespoons tahini
Directions: Simmer string beans and water in a covered two-quart pot for 3 minutes. Add shoyu, cook 10 minutes more. Remove from heat and stir in tahini. Spoon over kasha and serve immediately
Watercress and Radish Salad
Yield: 4 servings
Ingredients:
1 tablespoon umeboshi plum paste
¾ cup water
¼ cup extra virgin olive oil
¼ cup roughly chopped parsley
1 bunch watercress, trimmed
6 medium radishes, thinly sliced
Directions: Combine plum paste, water, oil, and parsley in a blender and run at medium-high speed for 1 minute. Toss watercress and radishes with dressing. Serve immediately.
All recipes adapted from The Book of Whole Meals by Dr. Annemarie Colbin (1983). Ballantine Books, NY.
More from Culture Cheat Sheet:
Want more great content like this? Sign up here to receive the best of Cheat Sheet delivered daily. No spam; just tailored content straight to your inbox.