Date Night Dinner: Superfood-Stuffed Cheesy Peppers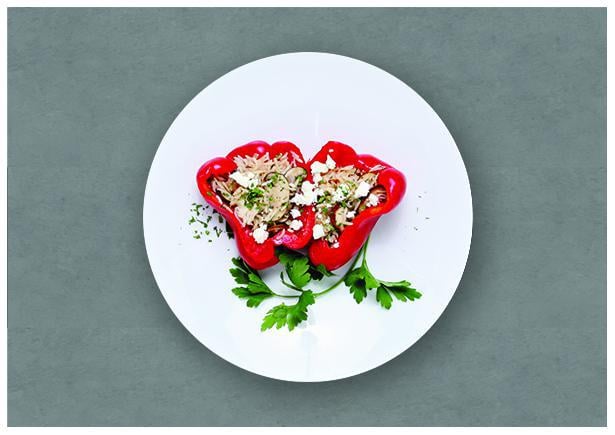 Making your partner dinner is a great way to show your appreciation for them or curry (no pun intended) their favor. Follow our Date Night dinner series week-to-week, as we highlight recipes that are as simple to execute as they are tasty.
Many of us are guilty of forcing quinoa to be a side dish at every meal. But this nutritious ancient grain deserves a chance to be the main course. In this recipe, it gets to be the lead actor it's always deserved to be and star in a vibrant and flavor-packed meal worthy of setting the table, and perhaps even dusting off those candles.
To make the dish vegan, skip the goat cheese (You can sprinkle on nutritional yeast flakes on top for a bit of a cheesy flavor, if you'd like). Also, if you have any extra leftover veggies on hand, feel free to saute them with the mushrooms, shallot, and garlic.
If you find yourself with leftover quinoa, try one of these 7 healthy and hearty quinoa breakfast recipes and be dazzled come morning-time. Straight from the HelloFresh kitchen, a leading meal delivery kit service that gives you pre-measured ingredients and healthy and delectable recipes sent straight to your door, it's time to get that pot of water boiling and let your sweetie know they've got the night off from cooking.
Quinoa Stuffed Peppers with Goat Cheese, Mushrooms, and Shallot
Sweet bell peppers are stuffed with golden brown mushrooms, shallot, and hearty quinoa, then tossed with savory soy and tangy vinegar. Goat cheese and parsley add a fresh, creamy finish to the dish. You'll love this healthy spin on classic comfort.
Tools: Small pot, baking sheet, large pan
Ingredients:
2 red bell peppers
¾ cup quinoa
1 tablespoon stock concentrate
2 cloves garlic
1 bunch parsley
1 shallot
4 ounces button mushrooms
2 tablespoons soy sauce
1 tablespoon white wine vinegar
2 ounces goat cheese
1 tablespoon olive oil
Directions: Preheat oven to 400 degrees. In a small pot, bring 1½ cups of water, the stock concentrate, and a large pinch of salt to a boil. Once boiling, add the quinoa, cover, and reduce to a simmer for about 15 minutes, until tender. Finely chop the shallot. Mince the garlic. Finely chop the parsley. Slice the mushrooms. Halve the bell peppers lengthwise and remove the core, seeds, and white veins.
Drizzle the peppers with olive oil and season with salt and pepper. Roast for 10­ to 12 minutes,until slightly softened. Heat 1 tablespoon oil in a large pan over medium­high heat. Add the mushrooms and cook, tossing, for 4 to ­5 minutes, until golden brown. Add the shallot and garlic and cook for 2 to ­3 minutes, until fragrant. Add 1 tablespoon vinegar, the soy sauce, quinoa, and half the parsley to the pan. Cook, tossing, for 1 more minute. Spoon the quinoa into the peppers and bake for 5­ to 7 minutes, until peppers are softened. Sprinkle the peppers with parsley and goat cheese and enjoy!
Follow Perri on Twitter @66PerriStreet.
More from Culture Cheat Sheet: