Date Night Dinner: The Best Romantic Pasta Dish Ever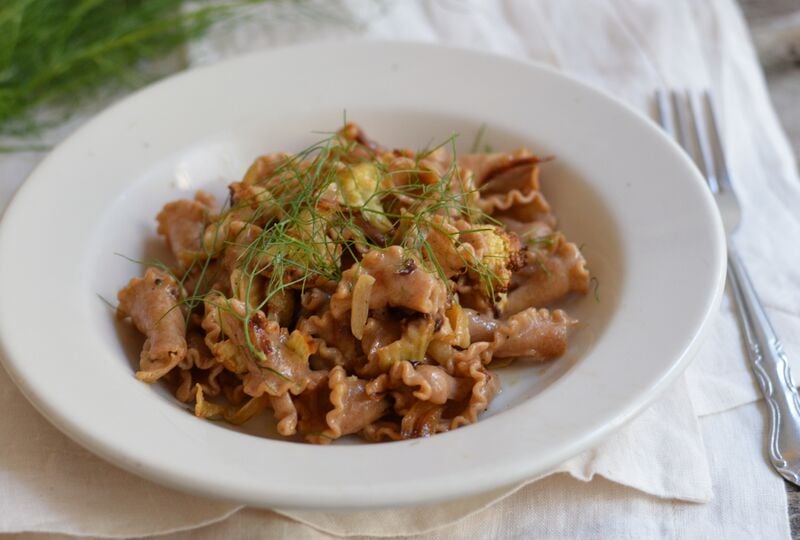 Making your partner dinner is a great way to show your appreciation for them or curry (new pun intended) their favor. Follow our Date Night dinner series week-to-week, as we highlight recipes that are as simple to execute as they are tasty.
This week's recipe comes from the Natural Gourmet Institute, a health-supportive culinary school in New York City that also offers public classes and a variety of other programs. The satisfying pasta dish spotlighted here will have your significant other raving for weeks. And with only a handful of ingredients and simple prep, this dish might sound fancy and impress your partner, but we promise it's a cinch to whip up. Cue to flavor explosion in your mouth…
P.S. Emmer pasta, you ask? Us, too. Fear not, it's just a type of flour that's actually higher in fiber than regular ole wheat (read: will keep you fuller for a longer time), and this type of pasta which comes in a variety of shapes and sizes also works wonderfully tossed into soups, mixed into cold salads, or even served on its own with a drizzle of olive oil, freshly cracked black pepper, and some torn basil leaves.
Emmer Pasta with Roasted Cauliflower, Fennel & Taleggio Cheese
(Yield: 4 servings)
1 small head cauliflower, cut into 1-inch florets
⅔ cup extra virgin olive oil, divided
1 fennel bulb, thinly sliced lengthwise (fronds set aside for garnish)
6 large cloves of garlic, sliced very thinly lengthwise
½ pound Emmer pasta
¼ Taleggio cheese, cut into small cubes and kept refrigerated until use
Salt and freshly ground black pepper
Directions
: Preheat oven to 425 degrees Fahrenheit to roast vegetables. Bring a large pot of water to boil with heaping teaspoon of sea salt for pasta. In a bowl, toss cauliflower with 1 tablespoon oil and ¼ teaspoon salt. Toss fennel with 1 tablespoon
olive oil and ¼ teaspoon of salt in another bowl. Spread cauliflower on one baking sheet and fennel on another (as they cook at different times). Transfer trays to the oven and roast vegetables until they start to brown (cauliflower 15 minutes, fennel 10 minutes), stirring occasionally.
Remove cauliflower and fennel from oven and set aside. In large sauté pan, heat remaining olive oil and add garlic, cooking just until garlic sizzles. Do not let it brown. Immediately add cauliflower and fennel to pan, and sauté 1 to 2 minutes. Boil emmer pasta until al dente, about 5-6 minutes. Drain and set aside. Reserve ½ cup of pasta water. Add pasta to vegetables. Turn heat back to medium, adding reserved water, stirring to incorporate. Add cubed Taleggio, a few grinds of black pepper, and scant ¼ teaspoon of salt. Adjust seasoning if necessary. Divide pasta among four plates and garnish with fennel fronds.
More from Culture Cheat Sheet:
Want more great content like this? Sign up here to receive the best of Cheat Sheet delivered daily. No spam; just tailored content straight to your inbox.