Date Night Dinner: The Simple Sweet Potato Dish You've Never Had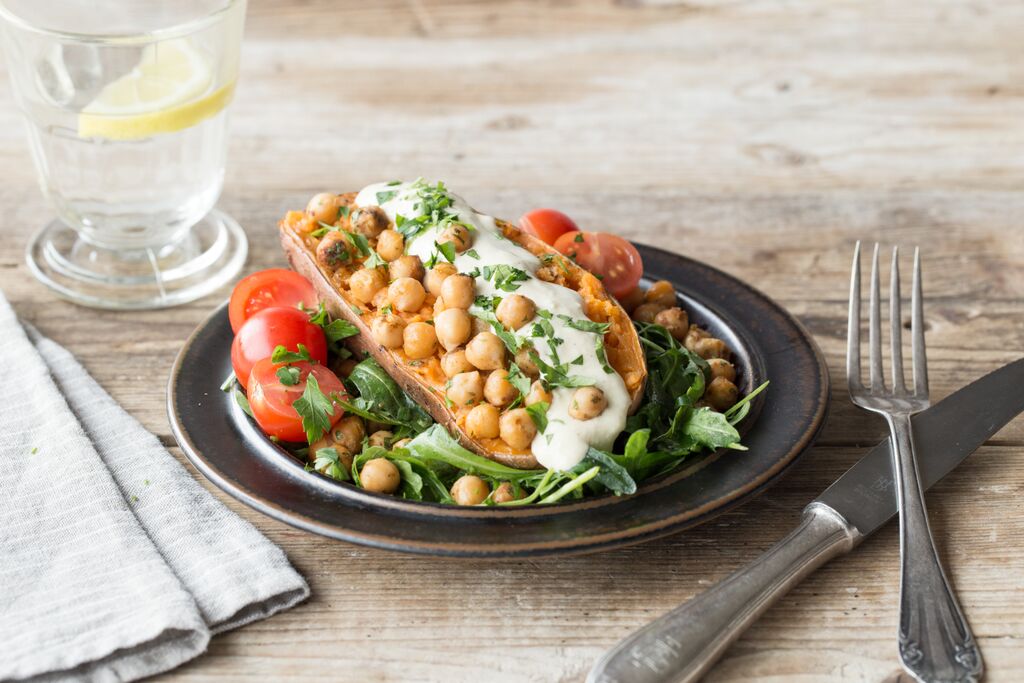 Making your partner dinner is a great way to show your appreciation for them or curry (new pun intended) their favor. Follow our Date Night dinner series week-to-week, as we highlight recipes that are as simple to execute as they are tasty.
This week's recipe comes from the HelloFresh, a leading meal delivery kit service that gives you pre-measured ingredients and healthy and delectable recipes sent straight to your door. Let's guess: You've had sweet potatoes just about every which way. Maybe you've even tried some of these 5 tasty and nutritious sweet potato recipes more than once. Heck, perhaps you even enjoy the powerhouse veggie for breakfast. (We're pretty darn excited for Sweet Potato Pancakes With Honey-Cinnamon Butter). But we can bet you haven't had anything quite like this….yet. Enter: Sweet Potato Boats. Ahoy, mates, off we go to Destination: Delectable.
If you find yourself on a chickpea kick (and after trying this, trust us, you will), go ahead and try one of these 6 recipes that will have you cheering hooray for hummus. Just don't blame us when your darling is begging for seconds. And thirds. And then putting you on dinner patrol next week all over again, so you can once again dazzle their palates with this one-of-a-kind dish that really lets chickpeas shine.
Roasted Sweet Potatoes with Crispy Spiced Chickpeas, Lemony Hummus, and Arugula Salad
Humble chickpeas are upgraded to a whole new level with a quick roast in the oven. Creamy, lemony hummus and roasted sweet potatoes provide the ideal vehicle for these crispy gems. They might be your new go-­to snack!
Tools: Baking sheet, strainer, small bowl, medium bowl
Ingredients:
2 sweet potatoes
1 can chickpeas
1 teaspoon cumin
1 teaspoon coriander
1 teaspoon paprika
½ cup hummus
1 lemon
4 ounces grape tomatoes
1 bunch parsley
1 tablespoon olive oil
Directions: Preheat oven to 400 degrees. Halve sweet potatoes lengthwise, then drizzle with olive oil and season with salt and pepper. Place face­down on a sheet tray and bake for 30­ to 35 minutes,until very tender. Meanwhile, drain and rinse the chickpeas. Halve the lemon and grape tomatoes. Mince or grate the garlic. Chop the parsley. In a medium bowl, toss the chickpeas with a drizzle of olive oil, the cumin, paprika, and coriander. Season with salt and pepper. Add to the sheet tray with the sweet potatoes and roast 20 minutes, until crispy.
Mix together the hummus, a squeeze of lemon, and the garlic (to taste). Season with salt and pepper and thin to a sauce­like consistency with water, if necessary. Smash the roasted sweet potatoes lightly with a fork. Plate a mound of arugula and tomatoes, then drizzle with olive oil and a squeeze of lemon. Season with salt and pepper. Top with the sweet potato, hummus sauce, roasted chickpeas, and parsley. Dig in!
Follow Perri on Twitter @66PerriStreet.
More from Culture Cheat Sheet: