Date Night: The Vegetarian Meal Even Meat Lovers Will Enjoy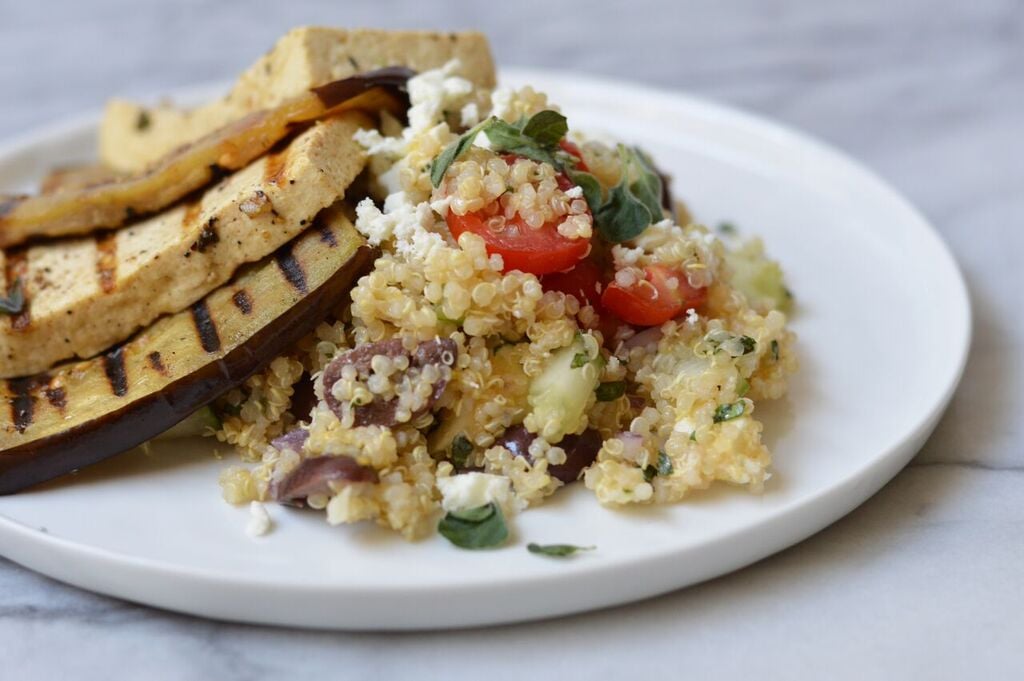 Eating healthy doesn't have to mean spending a ton of money. And it also doesn't have to mean spending a ton of time in the kitchen. In this week's installment of Date Night Dinner, a weekly column focusing on simple-to-prepare and flavorful dinners that will impress your partner (or any guest, for that matter), New York City's Natural Gourmet Institute, a health-supportive culinary school that also offers public classes, shares the recipe for a flavorful and fresh Mediterranean Quinoa Salad with Grilled Eggplant and Tofu that is sure to be a big hit around the table.
Meat fans might balk at the phrase "tofu's for dinner," but we promise just about every kind of eater won't be able to stop singing the praises of this knockout quinoa salad that's deeply satisfying and brimming with flavor from fresh herbs like oregano and basil. If you have any leftovers, try mixing with salad greens and drizzling with your favorite vinaigrette for a light lunch the next day. Don't have eggplant on hand? Grilled zuccchini or squash also works wonderfully here, as do portobello mushrooms. Or try grilled red or green peppers (just peel off the charred skin before serving).
Mediterranean Quinoa Salad with Grilled Eggplant and Tofu
(Yield: 4 servings)
For the Quinoa Salad:
1¾ cups water
½ teaspoon sea salt
1 cup quinoa
1 cup seeded and diced, English cucumber (about ½ English cucumber)
1 pint cherry tomatoes, halved
1 tablespoon chopped fresh basil
1 garlic clove, minced
1 tablespoon chopped fresh oregano
1 cup Kalamata olives, roughly chopped
⅓ cup crumbled feta cheese
½ small red onion, diced
1 tablespoon lemon juice
For the Grilled Tofu:
¼ cup lemon juice
1 tablespoon extra virgin olive oil
3 garlic cloves, minced
1 tablespoon chopped fresh oregano
Sea salt and freshly ground black pepper, to taste
14 ounces extra firm tofu, drained, patted dry, cut into ½-inch slices
For the Grilled Eggplant:
⅓ cup olive oil
1 garlic clove, minced
1 large eggplant, halved widthwise, cut into ½-inch slices
Sea salt, to taste
Directions
: To make quinoa salad: In a small pot, bring water and salt to a boil. Add quinoa, turn heat down to a simmer, and cook until all water is absorbed, about 15 minutes. Turn heat off, and let stand covered, for another 10 minutes. Allow quinoa to come to room temperature. Fluff with a fork. In a large bowl, toss quinoa with remaining salad ingredients. Taste and season with salt, if needed.
To make grilled tofu: Whisk together lemon juice, oil, garlic, oregano, salt, and pepper in a small bowl. In a shallow dish, coat tofu in marinade. Cover and refrigerate for at least 30 minutes or up to 8 hours. Heat a grill pan over medium-high heat. Cook tofu until browned, 3-4 minutes per side, basting occasionally with marinade. To make grilled eggplant: Combine olive oil and garlic, and brush eggplant on both sides. Season with salt. Grill over medium-high heat until softened and browned, 4-5 minutes per side
More from Culture Cheat Sheet:
Want more great content like this? Sign up here to receive the best of Cheat Sheet delivered daily. No spam; just tailored content straight to your inbox.