Delicious Cookie Recipes With Just 5 Ingredients
We all love cakes and pies, but as good as those treats are, it's hard to beat a really good cookie. They're also super easy since they can be perfected with minimal ingredients and a short baking time. And we say minimal ingredients, we mean it. We're highlighting cookie recipes that require 5 ingredients or fewer. Save yourself dollars in the grocery store and time in the kitchen by mastering these fuss-free cookie recipes.
1. Chocolate Chip Cookies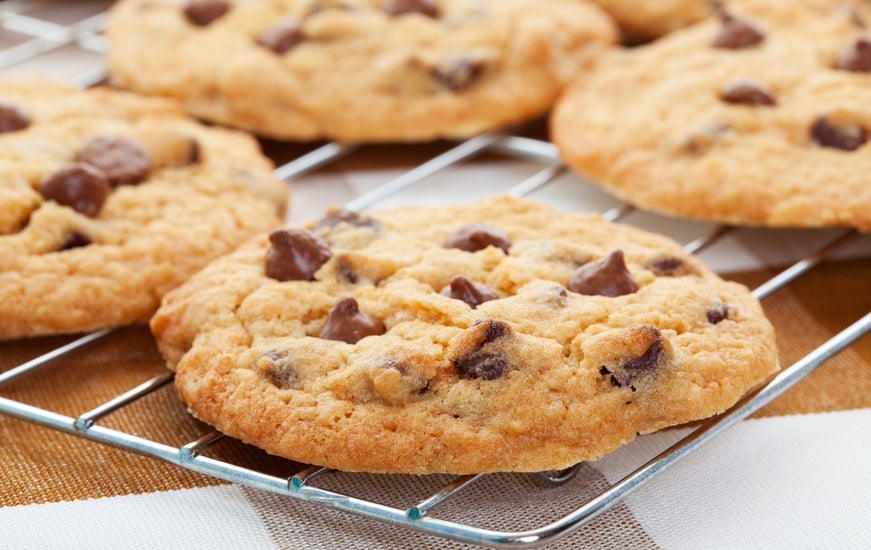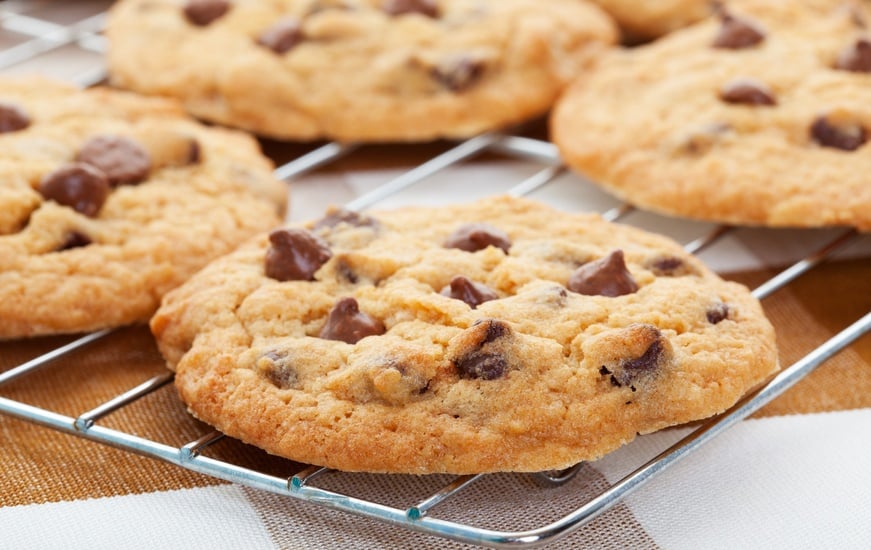 This first recipe from Martha Stewart proves even the classic chocolate chip cookie only needs 5 ingredients. What's her secret? Two words: almond butter. It replaces both the butter and the flour in these cookies, and adds great flavor. Combine the nut butter with chocolate chips, sugar, eggs, and salt, then you're ready to bake. Best of all, you'll get a whopping 30 cookies.
Ingredients:
1 cup almond butter
1 cup semisweet chocolate chips
½ cup packed light-brown sugar
2 large eggs
½ teaspoon coarse salt
Directions: Preheat oven to 350 degrees Fahrenheit. In a bowl, stir together almond butter, chocolate chips, sugar, eggs, and salt until a dough forms.
Place 1-tablespoon mounds of dough 1 inch apart on parchment-lined baking sheets. Bake cookies until puffed and tops are set, about 10 minutes.
Transfer to a wire rack and let cool. Cookies can be stored in an airtight container up to 3 days.
2. Mexican Wedding Cookies
Mexican wedding cookies are traditional Christmas treats, but they're also good during the other 11 months of the year. This is especially true when they require only 5 ingredients. This recipe from Food Network breaks it down for you. Everyone will love these buttery treats.
Ingredients:
1 cup unsalted butter, at room temperature
½ cup confectioners' sugar, plus more for coating baked cookies
1 teaspoon vanilla extract
1¾ cups all-purpose flour, plus more for dusting hands
1 cup pecans, chopped into very small pieces
Directions: Preheat the oven to 275 degrees Fahrenheit. Line cookie sheets with parchment paper.
Using an electric mixer, cream the butter and sugar at low speed until smooth. Beat in the vanilla. At low speed gradually add the flour. Mix in the pecans with a spatula. With floured hands, take out about 1 tablespoon of dough and shape into a crescent. Continue to dust hands with flour as you make more cookies. Place onto prepared cookie sheets. Bake for 40 minutes. When cool enough to handle but still warm, roll in additional confectioners' sugar. Cool on wire racks.

3. Peanut Butter Cookies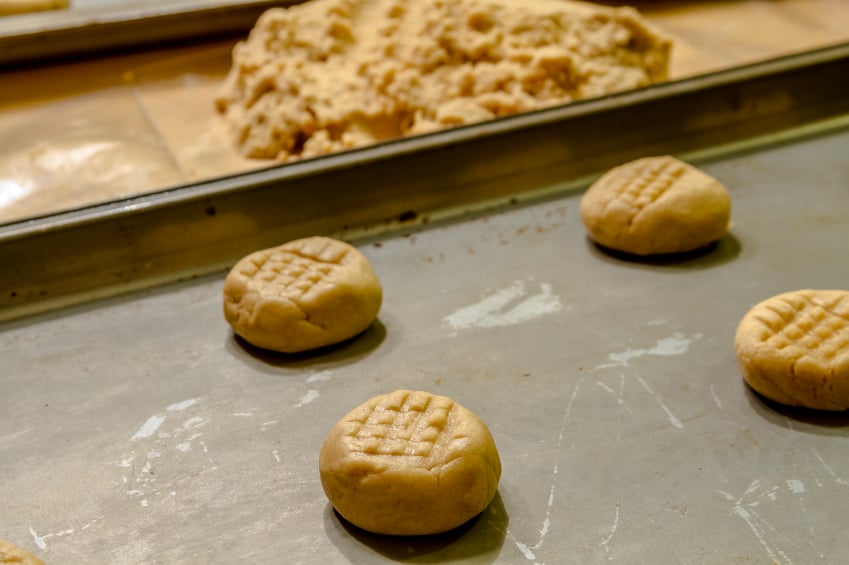 The next recipe for peanut butter cookies from Food.com is perfect for those who need their cookie fix but don't want many leftovers. The baking formula yields only 9 cookies and will take mere minutes of your time. These are best enjoyed with a tall glass of milk.
Ingredients:
1 cup peanut butter
1 cup sugar
1 large egg, slightly beaten
1 teaspoon baking soda
1 teaspoon vanilla
Directions: Cream together peanut butter and sugar. Beat in remaining ingredients. Shape into quarter-sized balls. Place on greased cookie sheet and flatten with fork. Bake 10 to 11 minutes at 350 degrees Fahrenheit.
Cool 2 minutes before removing to cooling racks.
4. Nutella Cookies with Sea Salt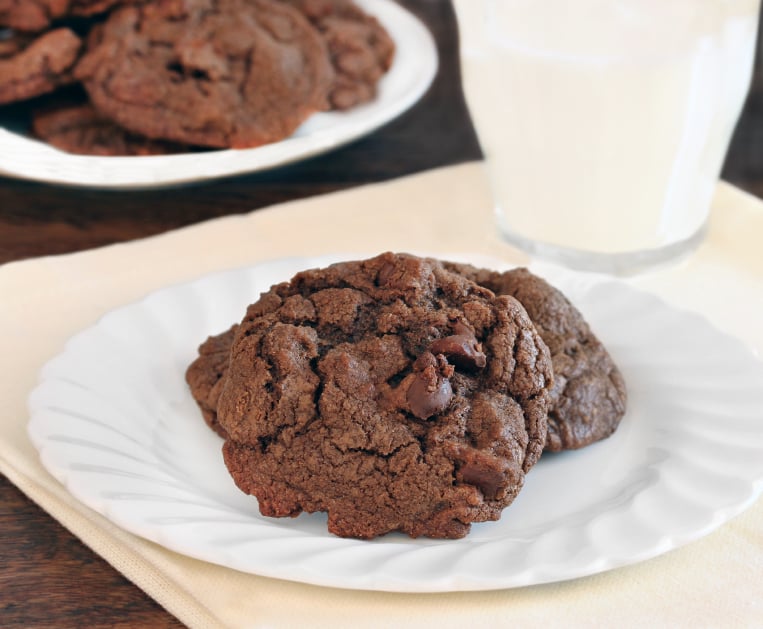 Taking a break from the classics, we come to these Nutella cookies from Ambitious Kitchen. Though these treats do a great job of showcasing the Nutella, sea salt plays an important role, too. It brings out the nutty flavor of the cookies and balances the sweetness. You can see for yourself after only 10 minutes of baking time.
Ingredients:
1 cup Nutella
2 tablespoons brown sugar
1 egg
½ cup plus 1 tablespoon all-purpose flour
Coarse sea salt
Directions: Preheat oven to 350 degrees Fahrenheit. Mix together Nutella, brown sugar, egg, and flour using an electric mixer. Once combined, chill dough in the freezer for 10 minutes.
After freezing, divide dough into 1-inch balls and transfer to ungreased baking sheets. Bake them for 8 to 10 minutes. Let cool until just set, then transfer cooled cookies to a wire rack. Sprinkle with sea salt before serving.
5. Peanut Butter Kiss Cookies
These peanut butter kiss cookies from Taste of Home are next on our list. Everyone knows and loves these cookies, and luckily for bakers, they're just as easy to make as they are to eat. All you need to do is cream together peanut butter and sugar before adding in the egg and vanilla. Roll your cookie dough into balls, bake for 10 to 12 minutes, then press chocolate kisses into the center of each warm cookie.
Ingredients:
1 cup peanut butter
1 cup sugar
1 egg
1 teaspoon vanilla extract
24 milk chocolate kisses
Directions: In a large bowl, cream peanut butter and sugar until light and fluffy. Add egg and vanilla; beat until blended. Roll into 1¼-inch balls. Place 2 inches apart on ungreased baking sheets. Bake at 350 degrees Fahrenheit for 10 to 12 minutes or until tops are slightly cracked.
Immediately press one chocolate kiss into the center of each cookie. Cool for 5 minutes before removing from pans to wire racks.
6. Sugar Cookies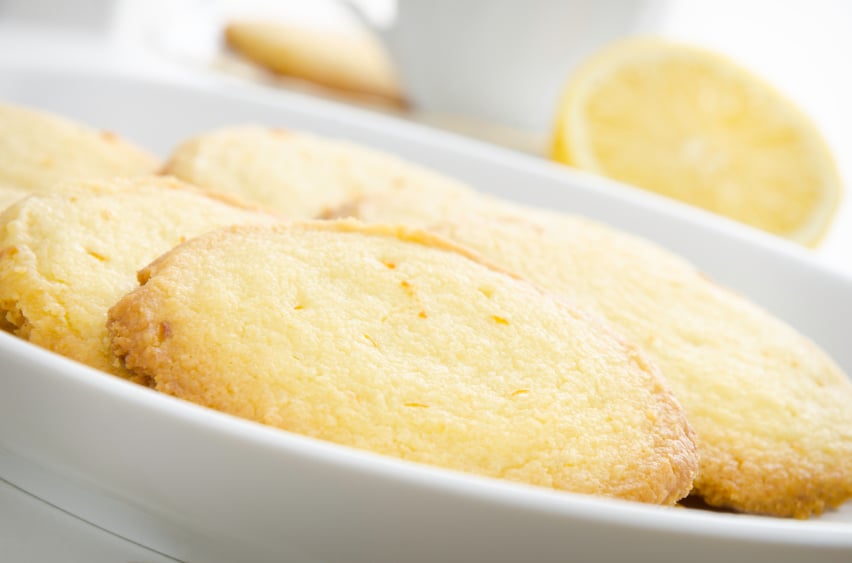 This recipe from Southern Living proves even sugar cookies only require a handful of ingredients. The simple sweets enlist the most basic of ingredients but still yield a product cookie you'll love. You can top these treats with a glaze and sprinkles, or you can keep them bare. These cookies bake for only 8 to 10 minutes, so be sure to keep an eye on them.
Ingredients:
½ cup butter, softened
3 cups powdered sugar, divided
1 large egg
1 ½ teaspoons vanilla extract
1 ½ cups all-purpose flour
Sprinkles or nonpareils (optional)
Directions: Beat butter and 1 cup powdered sugar at medium speed with an electric mixer until creamy. Add egg and vanilla; beat 30 seconds. Add flour, beating at low speed until combined. Place dough on lightly floured parchment paper, and roll to ¼-inch thickness. Transfer rolled dough and parchment paper to a baking sheet, and chill 15 minutes.
Preheat oven to 375 degrees Fahrenheit. Cut dough with lightly floured 2-inch cutters; place ½ inch apart on 2 parchment paper-lined baking sheets. Bake, in batches, for 8 to 10 minutes or until golden brown around edges. Cool completely on a wire rack.
Whisk together 2½ tablespoons water and remaining 2 cups powdered sugar. Dip top of each cookie in glaze, and transfer to a wire rack set inside a jelly-roll pan. Sprinkle with nonpareils, if using. Let stand 1 hour, or until set.