11 Delicious Egg Recipes That Only Require 1 Pan
Eggs are cheap, easy to cook, and full of protein. And luckily, eggs are versatile enough that you can go through a whole carton without making the same meal twice. You can even use them in one-pan meals. Whether you're an egg lover or just want an easy, healthy meal for breakfast, lunch, or dinner, one of these 11 one-pan egg recipes will appeal to you.
1. Southwestern Eggs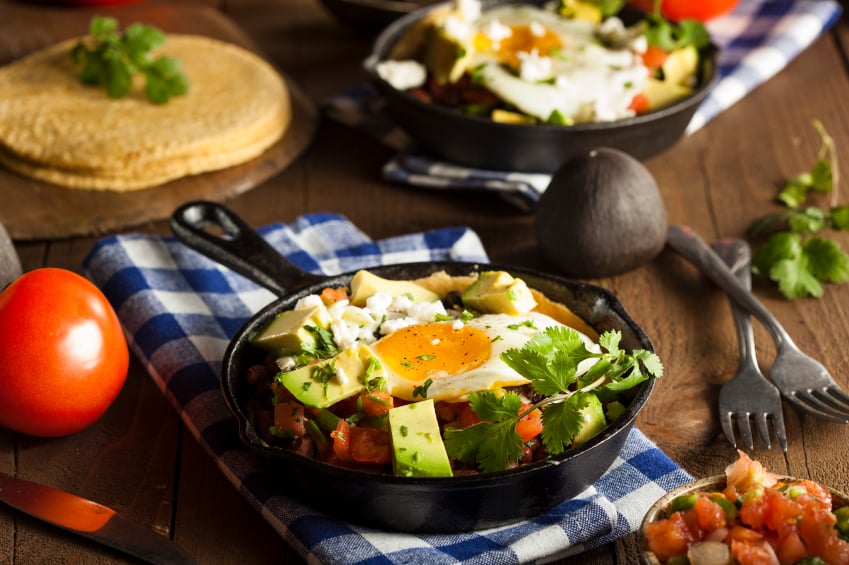 First up is an egg dish with a Southwestern kick from Real Simple. This one-pot egg recipe can be enjoyed for breakfast, lunch, or dinner. It only requires 15 minutes of prep time and a large skillet. Cook your eggs over salsa in a skillet until they reach your desired doneness. Then, finish them with avocado, sour cream, cilantro, and chips. You can even ditch your utensils, and use the chips instead.
Serves: 4
Ingredients:
2 (

16-ounce) jars salsa

8 

large eggs

¼

teaspoon kosher salt

⅛

teaspoon black pepper

1 

avocado, diced

½

cup sour cream

¼

cup cilantro leaves

8 

ounces tortilla chips
Directions: Pour the salsa into a large nonstick skillet over medium heat. Cover and heat until warmed through. One at a time, break the eggs into a small dish and slide gently into the salsa. Season with salt and pepper. Cover and cook to the desired doneness.
Divide the eggs and salsa among individual plates. Top with the avocado, sour cream, and cilantro, and serve with the chips.
2. Potato Hash with Spinach and Eggs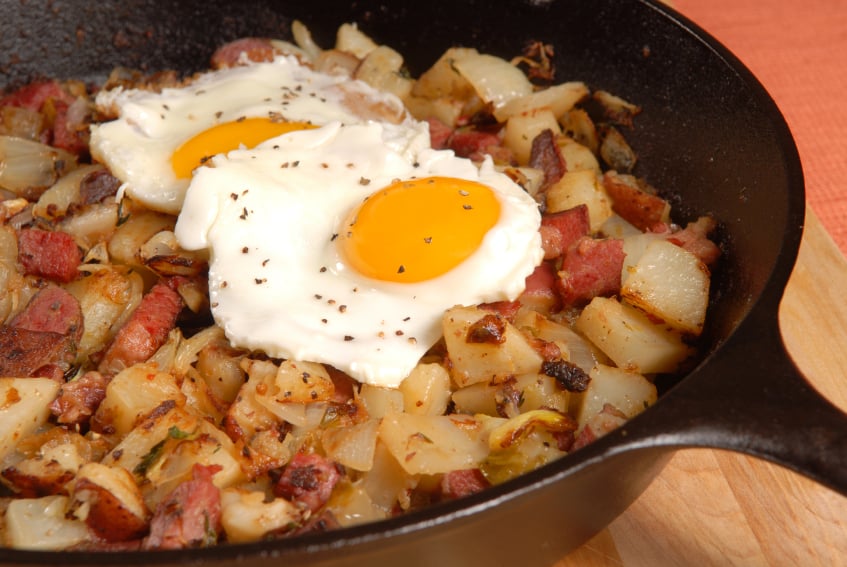 You don't have to visit your nearest diner to get your potato hash fix. You can make the meal at home with this simple recipe from Martha Stewart's Everyday Food. It'll make enough food for you and a few friends. And once again, it's a great breakfast, brunch, or dinner dish. You can customize the hash however you want, subbing different vegetables, potatoes, and toppings. Just don't skip the eggs.
Serves: 4
Ingredients:
¾ pound small white potatoes, cut into ½-inch pieces
Coarse salt
3 tablespoons unsalted butter
1 medium yellow onion, diced small
1 large red bell pepper, seeded and diced small
½ teaspoon red-pepper flakes
1 (10-ounce) package frozen chopped spinach, thawed and excess liquid squeezed out
8 large eggs
1 ounce grated Parmesan
1 tablespoon chopped fresh parsley
Directions: In a large cast-iron or other heavy skillet, bring potatoes to a boil in salted water over high. Cook until potatoes are tender when pierced with a knife, about 6 minutes. Drain.
In same skillet, melt 2 tablespoons butter over medium. Add onion and bell pepper and cook until softened, about 10 minutes. Add potatoes and red-pepper flakes; season with salt. Cook until potatoes are golden, 3 minutes. Add spinach and 1 tablespoon butter and cook, stirring, until butter is melted. Make four wells in potato mixture. Crack 2 eggs into each well and reduce heat to medium-low. Cover and cook until whites are set but yolks are still runny, about 6 minutes. Sprinkle with Parmesan and parsley, and serve immediately.
3. Spicy Simmered Eggs with Kale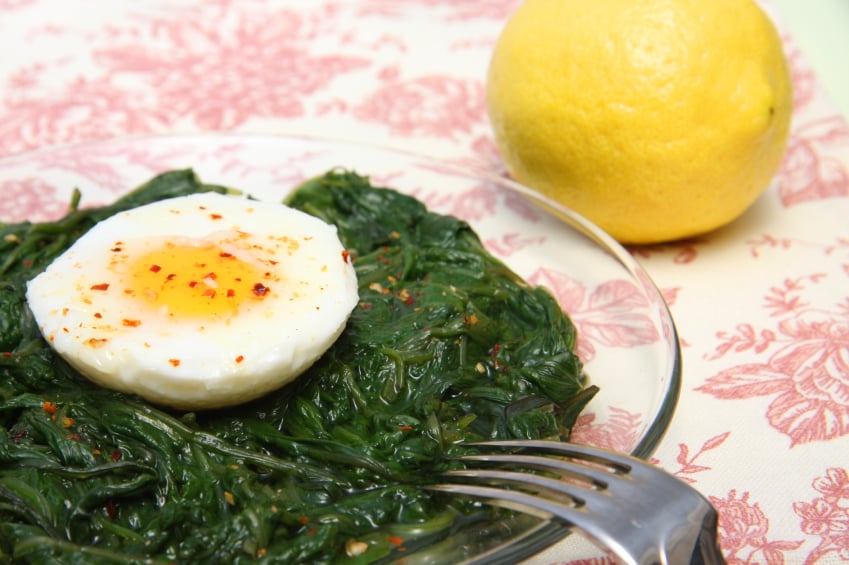 This food formula from Williams-Sonoma, originally published in One Pot of the Day, uses kale for a tasty, nutritious base. Eggs will cook right in the greens that are flavored with garlic, onions, and butter. Serve your spicy eggs and kale immediately, and expect some serious compliments.
Serves: 4
Ingredients:
2 tablespoons unsalted butter
4 green onions, white and light green portions, chopped
2 garlic cloves, minced
2 bunches kale, tough stems removed, leaves roughly chopped
1 cup chicken or vegetable broth
½ teaspoon salt, plus more, to taste
¼ teaspoon freshly ground black pepper, plus more, to taste
Zest and juice of 1 lemon
4 eggs
Red pepper flakes, to taste
Directions: In a large fry pan over medium-high heat, melt the butter. Add the green onions and garlic and cook, stirring, until fragrant, about 1 minute. Add half of the kale and sauté, stirring frequently until it begins to wilt, about 2 minutes. Stir in the remaining kale and repeat. Add the broth, the ½ teaspoon salt and the ¼ teaspoon black pepper. Stir in the lemon zest and juice. Simmer, stirring occasionally, until the kale softens, about 6 minutes.
Using the back of a spoon, create a pocket for each egg in the kale. Crack 1 egg into each pocket. Reduce the heat to medium-low and season the eggs with salt and black pepper. Cover the pan and let the eggs cook until almost opaque, 4 to 5 minutes. Turn off the heat and let the eggs rest, covered, until done to your taste. Sprinkle with red pepper flakes, and serve immediately.
4. Skillet Chipotle Chilaquiles with Eggs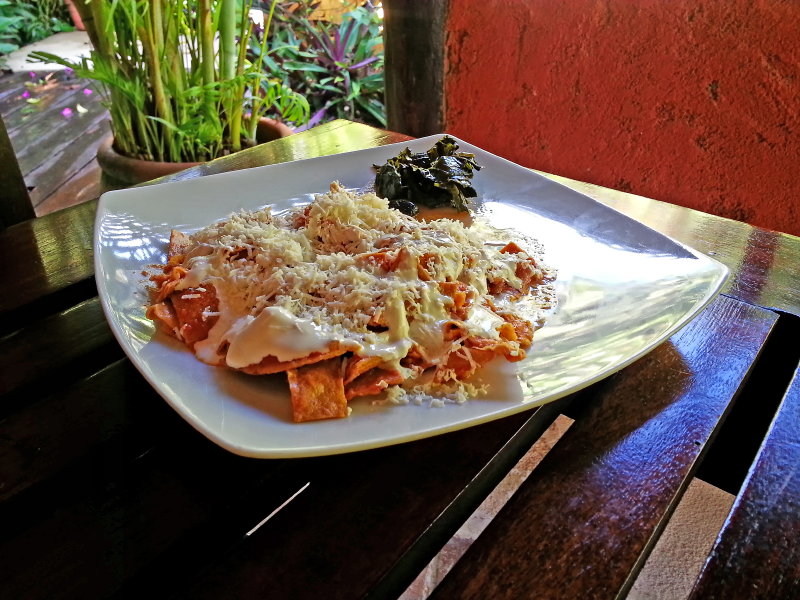 If you've ever tried chilaquiles, you'll be excited to learn you can easily make the delicious Mexican dish at home. Follow The Kitchn's recipe for chipotle chilaquiles, and you'll have breakfast nachos topped with eggs at the ready. The chilaquiles come with a kick, thanks to minced chipotle and an accompanying chipotle sauce. And they can be topped with any garnishes of your choice, including scallions, avocado, sour cream, and cilantro. The best part? This dish cooks fast.
Serves: 4
Ingredients:
1 tablespoon vegetable oil or olive oil
1 minced chipotle plus 1 tablespoon sauce from a can of chipotles in adobo
3 ounces thick corn tortilla chips
2 cups salsa
4 large eggs
½ cup shredded cheddar cheese, Monterey Jack cheese, or Mexican cheese blend
Optional toppings
Minced scallions
Diced avocado
Sour cream
Minced cilantro
Lime wedges
Directions: Preheat the oven to 375 degrees Fahrenheit. Heat the oil in a heavy-bottomed, oven-safe, 10-inch skillet over medium heat. Stir the chipotle and sauce into the oil. Add the tortilla chips in handfuls, gently crushing them into large pieces with your hands.
Stir the chips with the chipotle sauce to coat. Fry in the pan for a minute or two, then stir in the salsa. Use a spatula to make four wells in the chips and salsa. Crack the eggs one at a time into a ramekin or small cup, then pour the eggs into each of the wells. Transfer the skillet to the oven and bake for 12 to 15 minutes, just until the whites of the eggs are cooked through. Sprinkle the cheese over the chilaquiles and bake just until the cheese melts.
Slice into 4 wedges, and serve immediately with your favorite add-ons, like scallions, avocado, sour cream, cilantro, and limes.
5. Canadian Bacon and Potato Frittata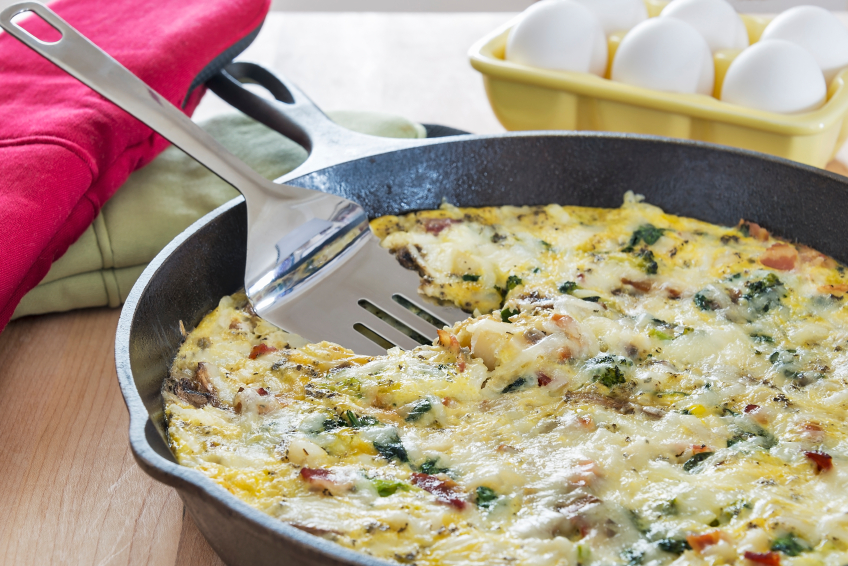 Homemade frittata might seem intimidating, but this recipe from Betty Crocker proves otherwise. It yields a one-pot Canadian bacon, egg, and potato dish that can be completed in 35 minutes. You'll make your frittata in a 10-inch skillet right on the stove. One bite of this homemade egg dish will persuade you to visit your favorite breakfast spot a lot less.
Serves: 4
Ingredients:
1½ cups fat-free, cholesterol-free egg product or 6 eggs
2 tablespoons chopped fresh chives or 1 tablespoon freeze-dried chopped chives
2 tablespoons fat-free milk
¼ teaspoon salt
⅛ teaspoon dried thyme leaves
⅛ teaspoon pepper
¼ cup chopped red or green bell pepper
2 cups refrigerated Southern-style hash-brown potatoes
½ cup coarsely chopped Canadian bacon or cooked ham
2 tablespoons shredded cheddar cheese
Directions: Beat egg product, chives, milk, salt, thyme, and pepper in medium bowl; set aside.
Spray 10-inch nonstick skillet with cooking spray. Add bell pepper; cook and stir over medium heat 1 minute. Add potatoes; cover and cook 8 to 10 minutes, stirring frequently until potatoes begin to brown. Stir in Canadian bacon; cook and stir 1 to 2 minutes or until thoroughly heated.
Add egg mixture to skillet; cover and cook over medium-low heat until set, 6 to 9 minutes, lifting edges occasionally to allow uncooked egg mixture to flow to bottom of skillet.
Sprinkle with cheese. Cover; cook until cheese is melted, about 1 minute longer. Cut into wedges.
6. Grits with Eggs and Bacon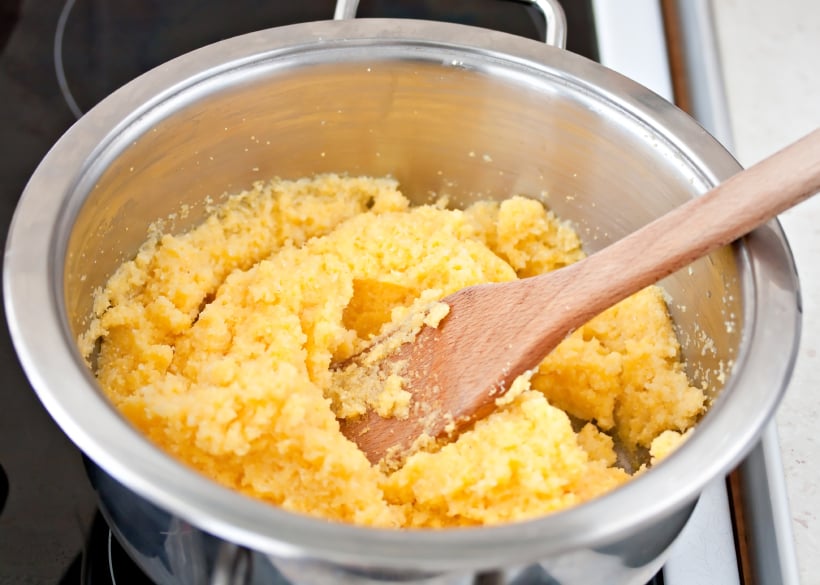 As long as you have bacon, grits, milk, eggs, and cheese, you can perfect this recipe from Food Network's Emeril Lagasse. To make this Southern breakfast, first cook your bacon. Then, prepare the grits in the same pan. Add the cheese, and cook the eggs right in the grits until the whites are set. And rest assured, you can enjoy this cheesy dish with minimal cleanup.
Ingredients:
12 strips bacon
1 cup coarse-ground white grits
2 cups water or more, if needed
2 cups milk
2 teaspoons salt
1 teaspoon ground white pepper
1 cup sharp white cheddar
6 large eggs
Directions: Set a large, 12-inch sauté pan over medium-low heat. Place the bacon in the pan, six strips at a time and cook until rendered and crisp, about 4 to 5 minutes per side. Repeat with the remaining bacon and set aside.
Pour off the fat from the pan, and return to the heat. Add the water, milk and grits to the pan. Bring to a boil and reduce the heat to a simmer. Cook the grits, covered, stirring often, until soft and most of the liquid has been absorbed, 45 minutes to 1½ hours, depending on the grits. Add more water, a bit at a time, if necessary.
Once the grits are cooked to the desired degree of tenderness, season with 1 teaspoon of the salt and ½ teaspoon of the pepper. Add the cheese and stir well to combine. Crack 5 eggs around the perimeter of the saute pan in a 5-point star pattern, and 1 egg in the center, and season with the remaining salt and pepper. Place 2 strips of bacon in any pattern over each egg and return the lid to the grits. Continue to cook, undisturbed, until the whites of the eggs are set and the yolks are still runny, about 12 minutes. Remove the lid and serve the grits by scooping the eggs and bacon with the grits onto plates or shallow bowls.
7. 10-Minute Pan Quiche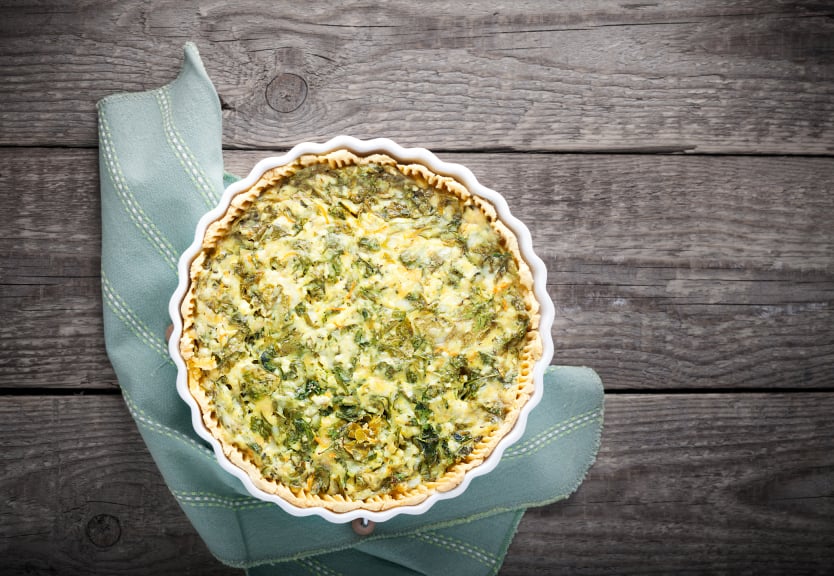 Yes, it's possible to get a tasty quiche dish on the breakfast (or dinner) table in just 10 minutes, provided you don't mind making a few shortcuts. Rather than calling for homemade pastry, this recipe from The Washington Post uses day-old bread or croutons for the bottom crust. Then, the filling is poured over the crust and cooked just until the egg sets. The result is a one-pan quiche lookalike without all the fuss.
Serves: 2
Ingredients:
½ medium tomato
1 ounce spinach leaves
2 ounces day-old French or other crusty bread (about ¼ of a regular-size baguette, or substitute garlic croutons)
½ to 1 teaspoon herbes de Provence
1 tablespoon olive oil
4 large eggs
¼ cup water
¼ teaspoon kosher salt
Directions: Coarsely chop the tomato (to yield ¼ to ½ cup). Finely chop the spinach to yield ¼ to ⅓ packed cup.
Tear the bread into chunks and place it in a food processor along with the herbes de Provence (to taste). Pulse to form small crumbs, about 1¼ cups.
Heat the oil in a small-to-medium nonstick skillet over medium heat; swirl to coat the bottom and halfway up the sides. Pour the crumb mixture into the skillet, using a flexible spatula to press it to form a crust. Toast for 45 seconds to 1 minute or until fragrant. Monitor the heat and adjust as needed. (Set the heat too high and the crust will burn; if it's too low, it won't brown on the bottom.)
Whisk together the eggs, water, and salt in a medium bowl. Pour evenly over the crumb crust in the skillet. Sprinkle the spinach and tomato evenly over the egg. Reduce the heat to medium-low. Cover and cook for about 10 minutes, until the egg is just set but still looks moist.
Uncover and remove from the heat. Gently loosen the edges of the crust, then slide the pan quiche onto a cutting board. Cut in half and divide between plates. Serve right away.
8. Egg Drop Soup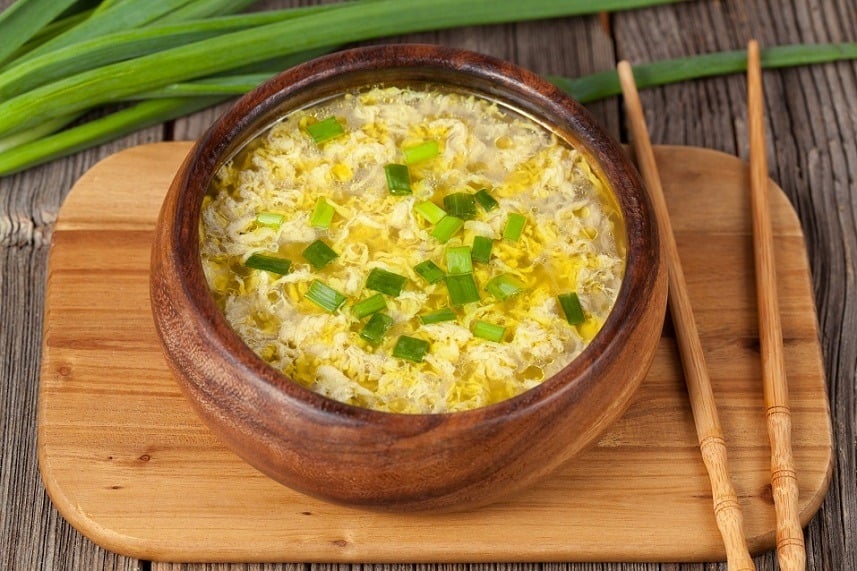 Craving comfort food but facing a nearly bare cupboard? One-pot egg drop soup could be the answer to your prayers. There are just four must-have ingredients in this simple and satisfying recipe from The Kitchn, though you can add extras, such as lemongrass, peppercorns, fresh ginger, tofu, or mushrooms, to give the soup a little more oomph.
Serves: 2 (4 as an appetizer)
Ingredients:
4 cups (32 ounces) chicken or vegetable stock or broth
1 tablespoon plus 1 teaspoon cornstarch
2 to 4 large eggs
Salt or soy sauce
Flavoring extras (use as desired)
½-inch piece fresh ginger, peeled and cut into rounds
1 stem lemongrass, bruised
½ teaspoon peppercorns
2 star anise
6 to 8 whole cloves
1 cinnamon stick
1 tablespoon soy sauce
2 tablespoons miso
Soup extras (use as desired)
½ block (7 to 8 ounces) extra-firm tofu, cut into bite-sized pieces
8 ounces mushrooms, thinly sliced
1 bunch baby bok choy, thinly sliced
4 spring onions, thinly sliced
Directions: Add the stock to a saucepan, and turn heat to medium high. If using any of the flavoring extras, place in the saucepan. (Place any small ingredients in a tea ball or spice bag first.) Reduce heat to medium-low, and simmer for 15 minutes. Remove the flavoring extras. Taste the broth, and add salt or soy sauce as desired.
Add any extra soup ingredients to the broth and simmer for 5 minutes.
Transfer ¼ cup of stock from the saucepan to a small bowl. Whisk in 1 tablespoon of cornstarch. Then, whisk the cornstarch and broth mixture back into the stock and let simmer for 1 or 2 minutes.
In a small bowl, whisk together the eggs with the remaining 1 teaspoon of cornstarch. Meanwhile, keep the soup at a bare simmer.
While gently and constantly whisking the broth, slowly pour the eggs into the saucepan through the tines of a fork. Let the soup stand for a few seconds, so the eggs finish cooking. Immediately ladle into bowls and serve topped with scallions.
9. Shakshuka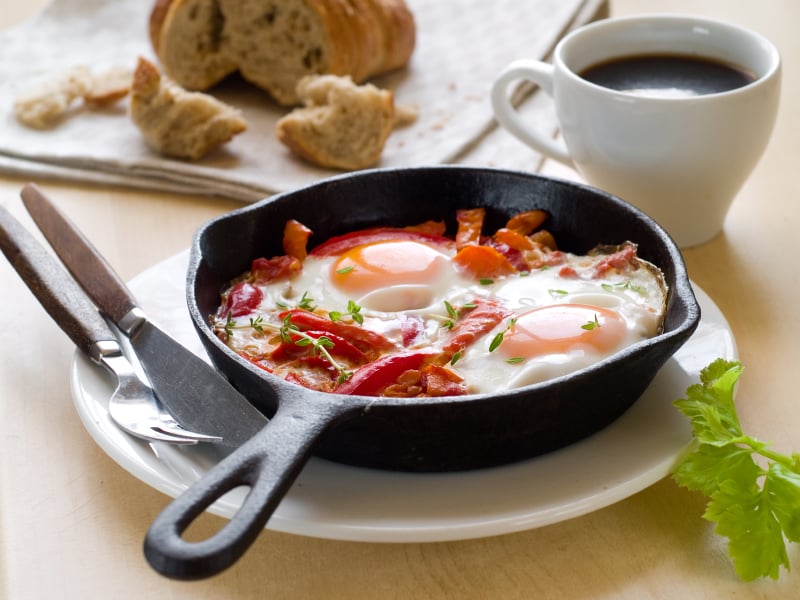 Shakshuka is a quick and easy North African dish of poached eggs in tomato sauce that's perfect for either breakfast or dinner. This version from Serious Eats also features bell pepper and hot chili pepper and is seasoned with cumin and paprika. The dish can go straight from the stove to the table in the skillet, and it will make for an attractive centerpiece at your next brunch.
Serves: 4 to 6
Ingredients:
3 tablespoons extra-virgin olive oil, plus more for drizzling
1 medium onion, thinly sliced
1 large red pepper (bell pepper for milder heat, or a hotter variety, such as red horned pepper, depending on your heat preference), stems, seeds, and ribs removed, thinly sliced
1 fresh small hot chili (such as jalapeño, serrano, or Fresno), stems, seeds, and ribs removed, thinly sliced
2 to 3 cloves garlic, thinly sliced
1½ tablespoons sweet Hungarian or smoked Spanish paprika
2 teaspoons whole or ground cumin seed
1 (28-ounce) can whole peeled tomatoes, crushed by squeezing between your fingers or with a pastry blender (see note above)
Kosher salt and freshly ground black pepper
Large handful minced cilantro, parsley, or a mix
6 eggs
Sliced oil-cured black olives, feta cheese, or artichoke hearts, for serving (all optional)
Crusty bread, for serving
Directions: Heat olive oil in a large, deep skillet or straight-sided sauté pan over high heat until shimmering. Add onion, red pepper, and chili and spread into an even layer. Cook, without moving, until vegetables on the bottom are deeply browned and beginning to char in spots, about 6 minutes. Stir and repeat. Continue to cook until vegetables are fully softened and spottily charred, about another 4 minutes. Add garlic and cook, stirring, until softened and fragrant, about 30 seconds. Add paprika and cumin and cook, stirring, until fragrant, about 30 seconds. Immediately add tomatoes and stir to combine. Reduce heat to a bare simmer and simmer for 10 minutes, then season to taste with salt and pepper and stir in half of cilantro or parsley.
Using a large spoon, make a well near the perimeter of the pan and break an egg directly into it. Spoon a little sauce over edges of egg white to partially submerge and contain it, leaving yolk exposed. Repeat with remaining 5 eggs, working around pan as you go. Season eggs with a little salt, cover, reduce heat to lowest setting, and cook until egg whites are barely set and yolks are still runny, 5 to 8 minutes.
Sprinkle with remaining cilantro or parsley, along with any of the optional toppings. Serve immediately with crusty bread.
10. Baked Eggs in Avocado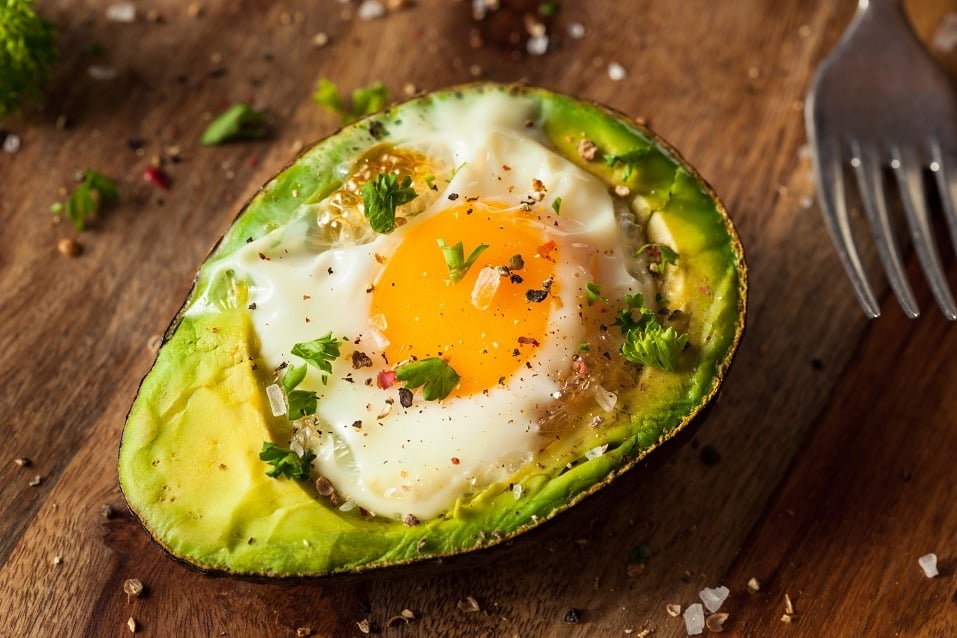 For a meal that's low in carbs and high in protein and healthy fats, whip up these eggs baked in avocado. The four-ingredient recipe from Pop Sugar is ridiculously easy to prepare. Just cut your avocados in half and scoop out the pit, crack an egg into them. Then, bake for 15 to 20 minutes.
Serves: 2 to 4
Ingredients:
2 ripe avocados
4 fresh eggs
⅛ teaspoon pepper
1 tablespoon chopped chives
Directions: Preheat oven to 425 degrees Fahrenheit.
Halve the avocados and remove the pit. Scoop out an additional 2 tablespoons of avocado flesh from each half. (Discard extra avocado or reserve to spread on toast.)
Transfer the avocados to a small baking dish. The avocados should fit snugly in the dish.
Break an egg into each avocado half, yolk first if possible. Transfer baking dish to oven and bake for 15 to 20 minutes, until the egg whites have set.
Remove pan from oven, and season avocados and eggs with pepper and chives. Serve.
11. Sweet Potato and Mozzarella Egg Skillet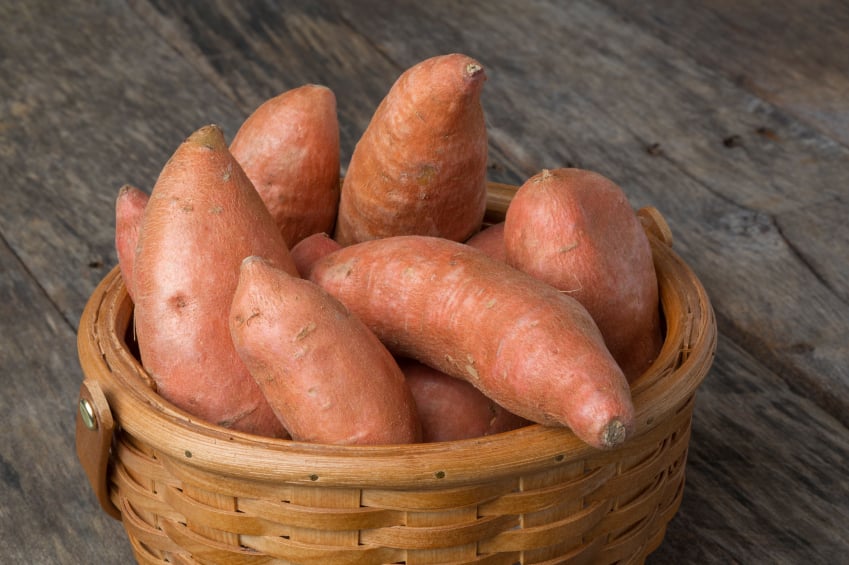 Another entry in the eggs for dinner category, this healthy vegetarian skillet meal really can be enjoyed at any time of the day. The recipe, from Averie Cooks, features a delicious mix of sweet potatoes, eggs, and mozzarella cheese, all cooked under the broiler just until the eggs set and cheese is melted.
Serves: 2 to 3
Ingredients:
1 medium or large sweet potato
4 large eggs
½ cup mozzarella cheese (or substitute fontina, goat, or other easy-melting cheese)
½ teaspoon smoked paprika, optional (or substitute other seasoning of your choice)
Pinch salt and pepper, to taste
Directions: Use a fork to pierce the sweet potato a few times. Cook in the microwave on high for about 8 minutes, or until the potato is soft.
As the potato cooks, set the broiler to high. Place oven rack on the highest or second-highest level.
Once the sweet potato is done cooking and has cooled slightly, slice it into rounds about ¼-inch thick. (You can remove the skin if you prefer.)
Coat a nonstick or enameled cast-iron skillet with cooking spray. Place the potato rounds in the pan in an even layer. Crack the eggs over the potatoes. Sprinkle with cheese, then top with the salt, pepper, and paprika.
Place the skillet under the broiler and cook for about 3 minutes, until the eggs are set and the cheese has melted. Remove pan from the oven and serve immediately.
Additional reporting by Megan Elliott.