Delicious Egg Recipes to Curb Hunger and Help You Lose Weight
You already know protein is great for curbing hunger and building muscle, but did you know your body responds even better when it gets it from eggs? According to Men's Health, your body needs less protein from the breakfast staple than it does from meat to get the same benefits. If you typically stick to just the whites, listen up. The yolk is packed with B vitamins, folate, riboflavin, iron, and zinc. They also happen to be the tastiest part of the whole package.
So how do they help you slim down? Livestrong said the protein fills you up and curbs your hunger. And since the nutrients help repair muscles, including eggs in your diet will help you perform your best at the gym. Start eating your way to a leaner body today with these five spectacular recipes.
1. Scrambled Egg, Black Bean, and Arugula Breakfast Tacos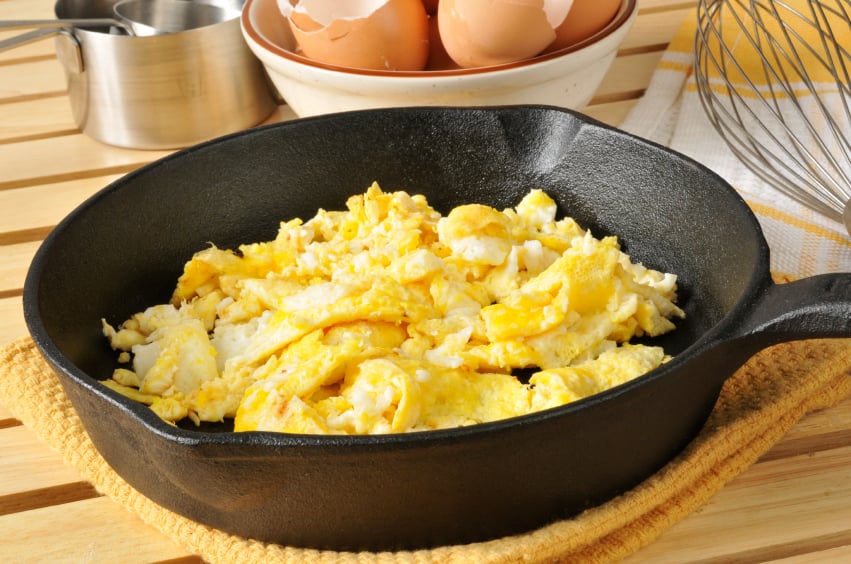 Tacos can get a bad rap thanks to late-night binges after way too much alcohol. While those greasy versions from the drive through can be a calorie bomb, tacos can make for a nutritious meal when prepared in your own kitchen. Food52's recipe gets a double dose of protein from eggs and black beans, which also provide satiating fiber. Arugula adds a spicy bite, and offers vitamin K to keep your bones healthy. Finishing the tacos with queso fresco and salsa verde takes the flavor through the roof. This breakfast almost guarantees a great day.
Ingredients:
4 eggs
1 tablespoon unsalted butter
Pinch salt
6 small corn tortillas
1 handful of arugula
1 cup black beans, drained, and rinsed
½ cup crumbled queso fresco
⅓ cup salsa verde
Directions: In a medium pan, melt butter over low to medium-low heat. Crack eggs in a small bowl, and whisk to combine. Add eggs to pan, and stir constantly until just set, 3 to 5 minutes. Season with salt, and remove from pan. Set aside.
Warm tortillas. Divide eggs, arugula, beans, salsa, and cheese evenly among tortillas. Serve.
2. Shakshuka with Feta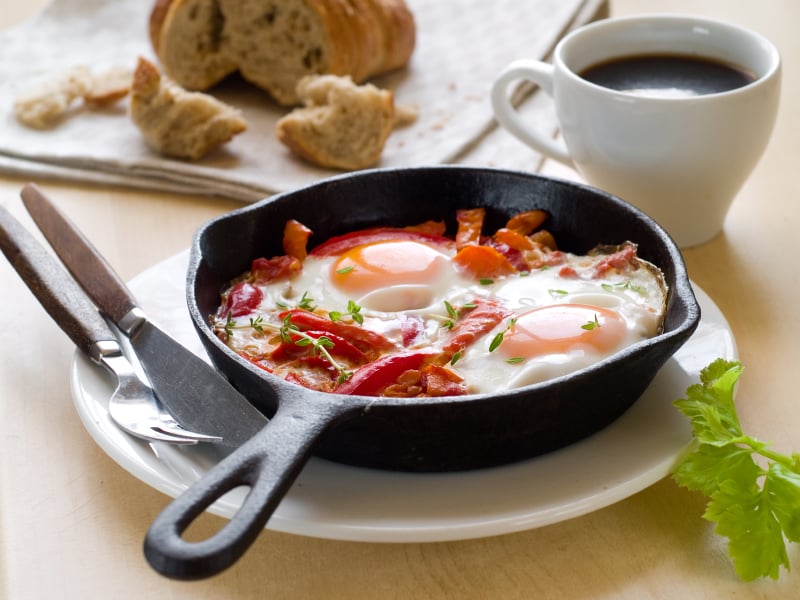 Making a perfectly cooked egg can be tricky. Go too long and you'll end up with overcooked yolks while the other end of the spectrum yields raw whites. Shakshuka is perfect for guys who struggle with the stove method, because the oven's heat is much gentler. Try The New York Times' version of this spiced North African dish to get your yolks right every time.
Made from mostly tomatoes and bell pepper, the stew offers tons of vitamins and minerals. Plus, some studies suggest eating tomatoes could help protect your heart. As nutritious as this recipe is, it certainly doesn't taste like health food.
Ingredients:
3 tablespoons extra-virgin olive oil
1 large onion, halved, and thinly sliced
1 large red bell pepper, seeded, and thinly sliced
3 garlic cloves, thinly sliced
1 teaspoon ground cumin
1 teaspoon sweet paprika
⅛ teaspoon cayenne
1 (28-ounce) can whole plum tomatoes with juices, coarsely chopped
¾ teaspoon salt, plus more
¼ teaspoon black pepper, plus more
5 ounces feta cheese, crumbled
6 large eggs
Chopped cilantro
Hot sauce
Directions: Preheat oven to 375 degrees Fahrenheit. Heat oil in a large skillet over medium-low heat. Add onion and bell pepper. Cook gently until very soft, about 20 minutes. Add garlic and cook until tender, 1 to 2 minutes. Stir in cumin, paprika, and cayenne, and cook 1 minute. Add tomatoes and season with ¾ teaspoon salt and ¼ teaspoon pepper. Simmer until tomatoes have thickened, about 10 minutes. Stir in feta.
Gently crack eggs into skillet, spacing apart. Season tops of eggs with salt and pepper. Transfer to oven. Bake until eggs are just set, 7 to 10 minutes. Serve with cilantro and hot sauce.
3. Avocado Egg Salad Sandwich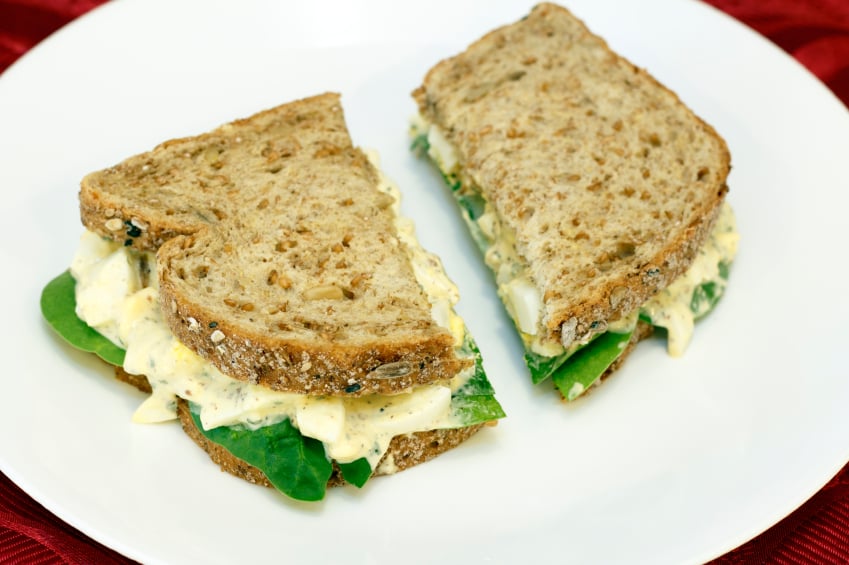 Upgrade a basic egg salad with PDXfoodlove's recipe, which adds a dose of creamy avocado. This sandwich already tastes phenomenal, but you can boost the flavor even more with some simple additions. Try adding fresh basil or dill to the salad. A bit of diced celery is also a nice mix-in for those who like a little bit of crunch.
Ingredients:
2 slices whole-wheat bread
2 hard-boiled eggs, roughly chopped
½ avocado
¼ teaspoon dry mustard
Kosher salt
1 tablespoon mayonnaise
Lettuce
Sliced tomato
Directions: Add avocado to a small bowl. Mash gently with a spoon. Stir in eggs, mustard, and mayonnaise. Season with salt, to taste. Chill until ready to serve.
Spread egg salad onto one slice of bread. Top with lettuce, tomato, and second slice of bread. Serve.
4. Soba Noodles with Dashi, Poached Eggs, and Scallions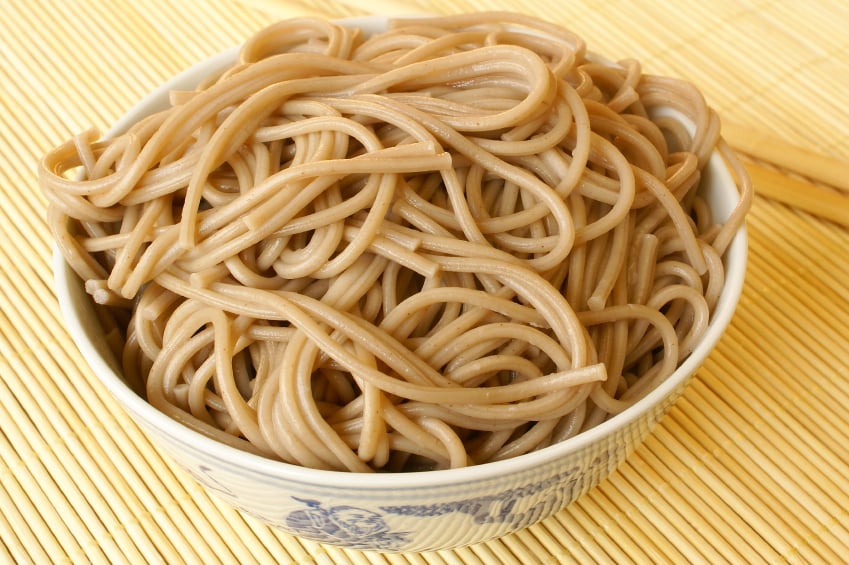 Noodle soups are rarely a figure-friendly meal thanks to tons of fatty meats and ridiculous portions. Make a much healthier soup that's every bit as satisfying with chef Douglas Keane's soba and poached egg version, which he shared with Food & Wine. Unlike most other starchy strands, soba noodles bring a fair amount of nutrition to the table. Livestrong revealed they're filled with fiber, protein, vitamins, and minerals.
This recipe also has ease in mind. Start by steeping dashi powder and kombu in hot water, then strain. From there, everything cooks right in the flavorful broth.
Ingredients:
1 (1-ounce) piece of kombu
4 cups water
2 tablespoons dashi powder
4 ounces dried soba noodles
1 tablespoon toasted sesame oil
2 heads of baby bok choy, halved lengthwise
2 large eggs
2 tablespoons thinly sliced scallions
2 teaspoons soy sauce
1 teaspoon fresh lime juice
¼ teaspoon crushed red pepper flakes
Directions: In a medium saucepan, cover kombu with water. Simmer gently until kombu rises to surface, about 5 minutes. Remove from heat, and add dashi powder. Let steep 20 minutes. Strain through a fine meth strainer, and return to same saucepan.
Bring broth to a simmer over moderate heat. Add soba noodles and sesame oil, and cook 3 minutes. Add bok choy, and submerge with a spoon. Crack eggs, one at a time, into a small bowl, and tip into the broth. Poach until whites set and yolks remain runny, about 4 minutes. Remove from heat.
Use a slotted spoon to transfer eggs to bowls. Add scallions, soy sauce, lime juice, and pepper flakes to broth. Transfer soba noodles and bok choy to bowls, and top with broth. Serve.
5. Farro with Crispy Egg, Asparagus, Spinach, and Dill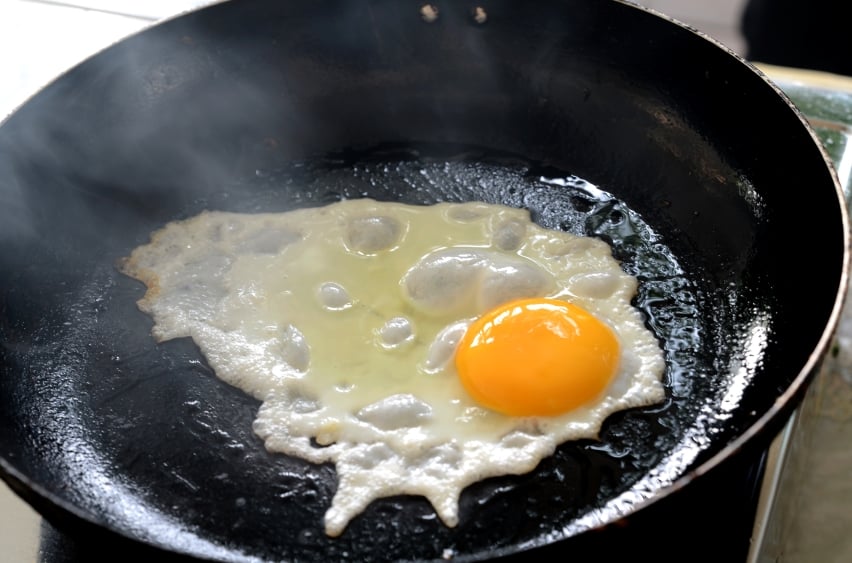 Grain bowls tend to be a little bit boring. Give new life to the lunchtime staple with Borrowed Salt's farro and egg version. With whole grains, eggs, and veggies, this dish has everything you need for a healthy meal. A lemon and mustard dressing adds tons of flavor while the crispy egg provides an unexpectedly satisfying texture.
Don't be intimidated by the egg, because it's easier than just about any other preparation. Heat a skillet with olive oil, and add your eggs to the pan. By the time the bottom is crisped and brown, you'll have fully cooked whites and a slightly runny yolk. This method is great for a lot more than grain bowls, too. Try adding a crispy egg to salads, stir-frys, and sandwiches.
Ingredients:
1 cup farro
3 cups water
½ small shallot, minced
2 tablespoons fresh lemon juice
½ teaspoon Dijon mustard
1 pound asparagus, trimmed, and cut into 2-inch lengths
2 eggs
2 large handfuls baby spinach, roughly chopped
1 teaspoon roughly chopped fresh dill
Salt and pepper
Olive oil
Directions: Bring water and a large pinch of salt to a boil in a medium saucepan. Add farro, and reduce to a simmer. Cook until tender, about 20 minutes.
Meanwhile, mix shallots, lemon juice, and mustard in a small bowl. Let sit a few minutes for shallot to soften. Add 1 tablespoon olive oil and salt, to taste.
About 3 minutes before farro is done, place a steamer insert over top. Add asparagus, and cover to cook. Otherwise, add asparagus directly to farro. Drain, and put back in same pot. Mix in spinach and dill. Mix in dressing. Set aside.
Heat a drizzle of olive oil in a small skillet over medium heat. Add both eggs. Cook until bottom is crisp and brown, whites are set, and yolks are still runny, about 3 minutes. Season with salt and pepper.
Serve farro in bowls, and top with eggs.
More from Culture Cheat Sheet: