Delicious Fall Cocktail Recipes You Have to Try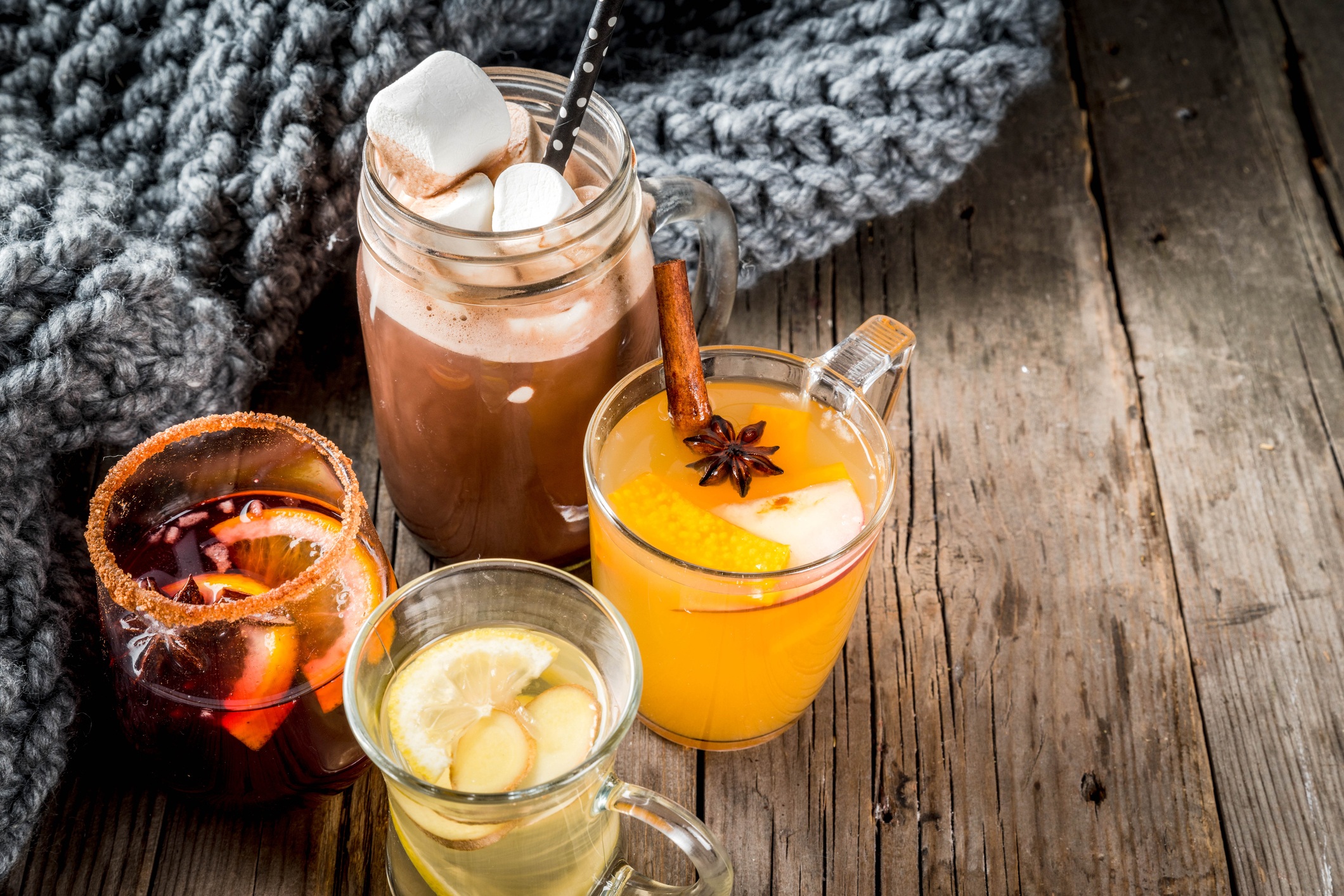 Goodbye to the piña coladas and margaritas of summer, and hello to your new favorite fall cocktails! Fall is the perfect time to experiment with flavors of the season — and what better way to do it than when mixed with alcohol?
From surprisingly simple concoctions to the most sophisticated of drinks, here are your new favorite cocktail recipes for fall.
Apple Cider Mimosas
If you love mimosas and you love apple cider in the fall, prepare to meet your new favorite cocktail of the season. These apple cider mimosas from Delish are not only a delicious treat, but are extremely easy to make.
Ingredients:  
1 bottle champagne

1 cup apple cider

2 tablespoons sugar

1 tablespoon ground cinnamon
Directions: Pour sugar and ground cinnamon onto a small plate, and mix them together thoroughly. Dip rims of champagne flutes into water, then into your sugar and cinnamon mixture. Fill your champagne flutes ¼ of the way with apple cider, then pour in champagne to top off your cocktail.
The Harvest
You'll want to have a fall-themed party at your home to serve this classy cocktail to all your friends. They'll be impressed, but what they won't know? It's extremely simple to make. Here's how to make The Harvest cocktail from Celeste in Chicago, Illinois:
Ingredients:
1 ½ ounces cognac

½ ounce cinnamon syrup

1 large spoonful apple butter or apple syrup
Directions: Combine all ingredients into a cocktail shaker, and shake. Pour into a sophisticated coup glass, and garnish with a cinnamon stick.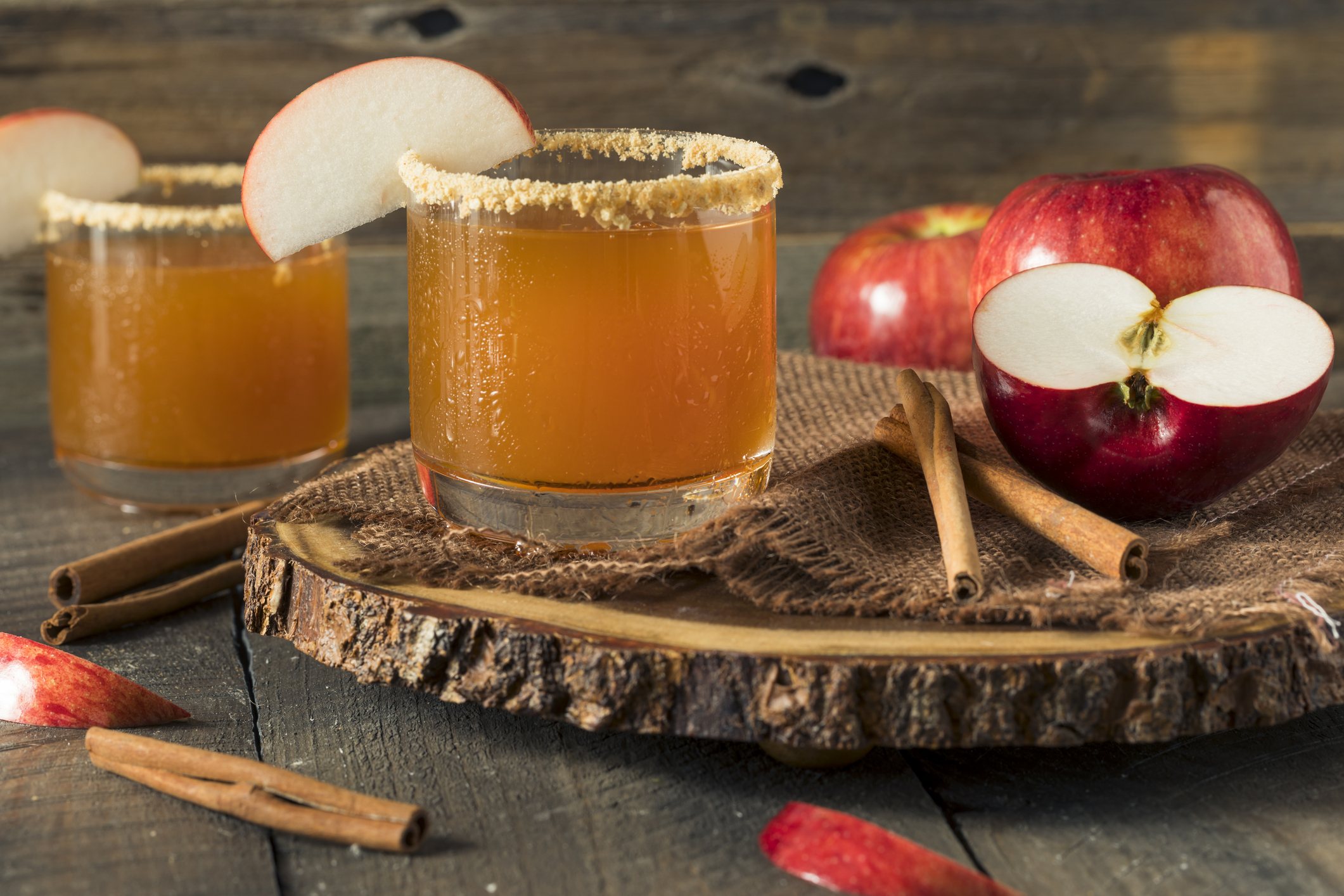 Caramel Apple Mule
There are probably hundreds of cocktails containing apple cider for the fall, but this Caramel Apple Mule is definitely one you'll want to try. With just a few ingredients, you can either whip this up just for yourself or for a whole group of friends easily.
Ingredients:
1 ½ ounces Absolut vodka

½ ounce caramel syrup

1 ounce apple cider

1 can ginger beer
Directions: Combine vodka, caramel syrup, and apple cider in a cocktail shaker, and shake with ice. Strain the combination into a wooden mug over ice. Top it off with ginger beer until mug is filled. Garnish with a slice of apple.
The One With The Shrub
If you're ready to test your bartending skills, this recipe from Lion's Tail in Boston, Massachusetts is too good not to try. Not only will it taste like the essence of fall, but it will look picture-perfect on your Instagram page.
Ingredients:
1 ½ ounces Ford's Gin

1 ounce carrot shrub

½ ounce Fernet Branca

½ ounce fresh lemon juice

¼ ounce ginger syrup
Directions: Pour all ingredients into a cocktail shaker. Shake it up, and double strain your drink into a rocks glass over one large ice cube. Garnish with rosemary sprig.
Kahlúa Pumpkin Spice Hot Chocolate
We're deeming this the ultimate fall drink. From the Kahlúa to the pumpkin spice to the hot chocolate, we can't decide which is our favorite part. Thanks to Home Cooking Memories, you can make this cocktail at home for a cozy night in under the covers.
Ingredients:
1⁄3 cup Kahlúa Pumpkin Spice Liqueur

4 cups whole milk (divided)

½ cup granulated sugar

½ cup unsweetened cocoa powder

1 cup pumpkin puree

1 teaspoon pumpkin pie spice

Pinch of salt

Optional toppings: Whipped cream, marshmallows, and shaved chocolate
Directions: In a medium saucepan, combine sugar, cocoa powder, salt, and 1 cup of milk. Whisk together ingredients, then whisk in remaining milk until fully mixed. Heat your mixture over medium heat while stirring constantly. Continue heating until sugar is dissolved and mixture is very hot, though avoid boiling. Add pumpkin puree and pumpkin pie spice, and whisk continuously over heat. Turn off the burner and remove the saucepan from the heat just before boiling point, and immediately whisk in pre-measured Kahlúa Pumpkin Spice Liqueur. Pour into mugs and garnish with additional toppings.