6 Delicious Holiday Dishes You'd Never Guess Were Healthy
Holiday dinners are often full of meat and potatoes, but sometimes guests prefer lighter fare (it leaves more room for chocolate and pie). And healthy holiday dinners can be a big hit, especially when no one realizes they're so nutritious. Instead of making your guests roll out of your house in food comas, serve them these healthier dinners. You'll have a houseful of energized, satisfied, and happy guests.
1. Mushroom-Stuffed Pork Tenderloin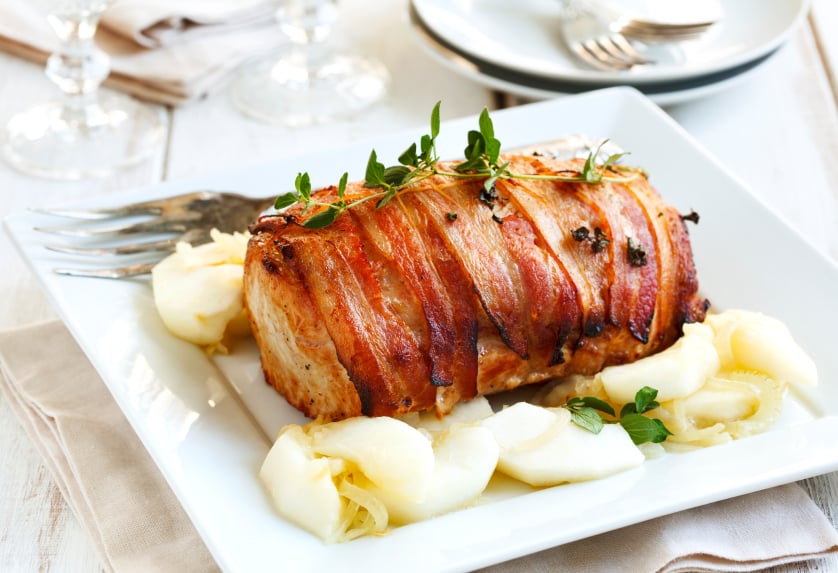 Celebrate the other white meat this holiday season with a mushroom-stuffed pork tenderloin from Food Network. No one will guess this main dish is healthy, but they won't be displeased when they find out. And if you have some picky eaters, simply tell them bacon is involved. Too cold to grill? Use an indoor grill pan or a cast-iron skillet.
Ingredients:
5 tablespoons extra-virgin olive oil, plus more for brushing
4 slices bacon, chopped
8 ounces cremini mushrooms, thinly sliced
Kosher salt and freshly ground pepper
1 clove garlic, finely chopped
1 tablespoon breadcrumbs
½ cup chopped fresh parsley
2 (1- to 1¼-pound) pork tenderloins, trimmed
½ teaspoon grated lemon zest
Directions: Heat 2 tablespoons olive oil in a large skillet over medium heat. Add the bacon and cook until crisp, about 8 minutes. Add the mushrooms, ½ teaspoon salt, and pepper to taste; cook until the mushrooms are soft, about 4 minutes. Add the garlic and cook 1 minute.
Remove from the heat and stir in the breadcrumbs and all but 2 tablespoons parsley. Let cool. Soak 10 to 12 toothpicks in water to prevent them from burning. Rinse the pork and pat dry.
Make a 1-inch-deep incision down the length of each tenderloin; do not cut all the way through. Open the meat like a book so the tenderloins lie flat.
Cover the pork with plastic wrap; pound with the flat side of a meat mallet until about ½ inch thick, starting from the middle and working outward. Spread the mushroom mixture over the two tenderloins. Starting with a long side, tightly roll up each tenderloin. Secure the seams with the toothpicks.
Preheat a grill to medium high; brush the grates with olive oil. Brush the pork rolls with olive oil and season with salt and pepper. Grill, turning, until a thermometer inserted into the center of the pork registers 140 degrees Fahrenheit, 25 to 30 minutes. Transfer to a cutting board to rest, about 10 minutes.
Mix the remaining 3 tablespoons olive oil and 2 tablespoons parsley, the lemon zest, and salt and pepper to taste in a bowl. Remove the toothpicks and slice the pork rolls. Top with parsley oil.
2. Chicken Breasts with Mushroom Cream Sauce
Next up is chicken. Chicken breasts served with a mushroom cream sauce, that is. This is proof you can indulge in a creamy sauce without undoing your diet. Eating Well's recipe yields a dish that clocks in at fewer than 300 calories per serving and it's ready in just 30 minutes.
Ingredients:
2 (5-ounce) boneless, skinless chicken breasts, trimmed and tenders removed
½ teaspoon freshly ground pepper
¼ teaspoon salt
1 tablespoon canola oil
1 medium shallot, minced
1 cup thinly sliced shiitake mushroom caps
2 tablespoons dry vermouth, or dry white wine
¼ cup reduced-sodium chicken broth
2 tablespoons heavy cream
2 tablespoons minced fresh chives, or scallion greens
Directions: Season chicken with pepper and salt on both sides.
Heat oil in a medium skillet over medium heat. Add the chicken and cook, turning once or twice and adjusting the heat to prevent burning, until brown and an instant-read thermometer inserted into the thickest part registers 165 degrees Fahrenheit, 12 to 16 minutes. Transfer to a plate and tent with foil to keep warm.
Add shallot to the pan and cook, stirring, until fragrant, about 30 seconds. Add mushrooms; cook, stirring occasionally, until tender, about 2 minutes. Pour in vermouth; simmer until almost evaporated, scraping up any browned bits, about 1 minute. Pour in broth and cook until reduced by half, 1 to 2 minutes. Stir in cream and chives; return to a simmer. Return the chicken to the pan, turn to coat with sauce and cook until heated through, about 1 minute.
3. Salmon with Sautéed Tomatoes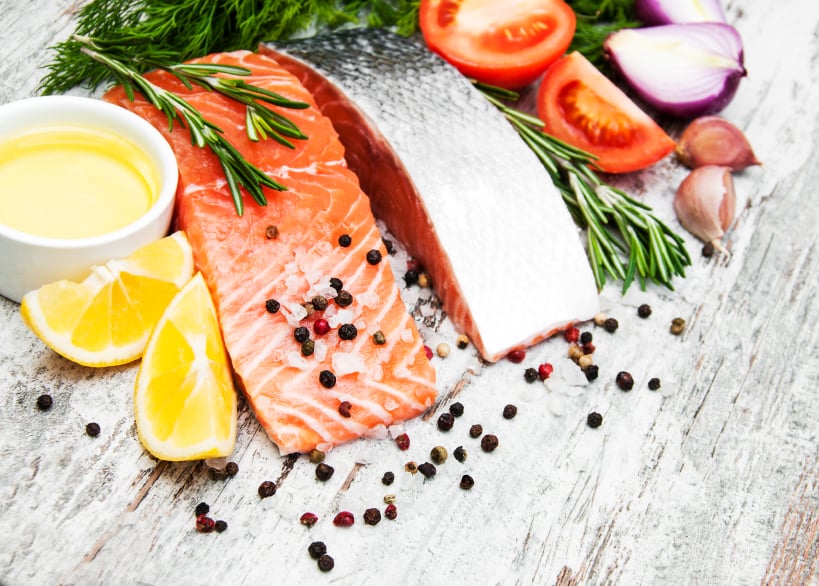 Serve your guests their omega-3's this holiday season with this salmon dish from Real Simple. It's a quick and healthy dinner that satisfies everyone. The recipe requires only six ingredients and can be ready in 20 minutes. Just add a salad, and your feast is complete.
Ingredients:
1 cup couscous

2 

pints grape tomatoes
kosher salt and black pepper

2 

tablespoons olive oil

¼ 

cup dill, chopped

4 (

6-ounce) skinless salmon fillets
Directions: Cook the couscous according to the package directions. Heat 1 tablespoon of the oil in a large nonstick skillet over medium-high heat. Cook the tomatoes with ¼ teaspoon kosher salt until soft, 4 to 6 minutes. Fold in dill; transfer to a plate.
Season the salmon with ½ teaspoon each salt and pepper. Cook in the remaining oil in the skillet until opaque throughout, 4 to 6 minutes per side. Serve with the tomatoes and couscous.
4. Pumpkin Pasta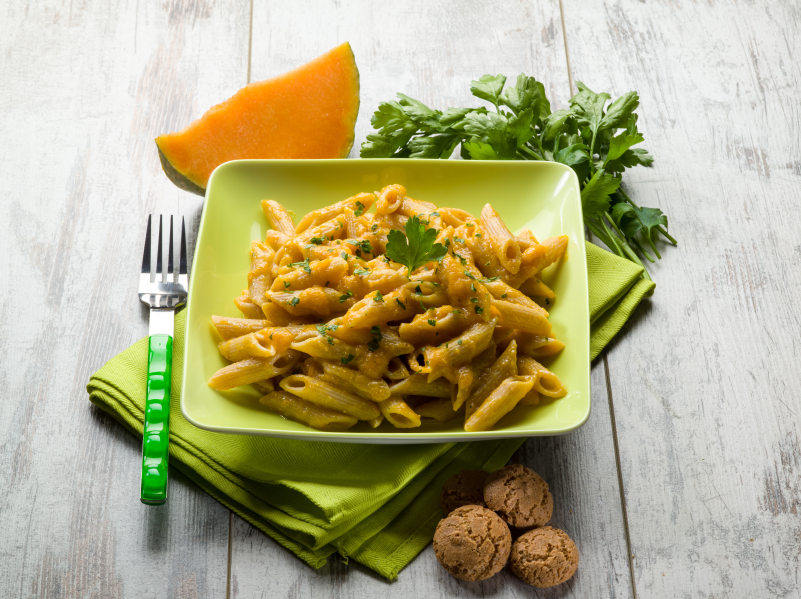 For a meat-free meal, we love this pumpkin pasta from Martha Stewart's Everyday Food. No one will complain about the lack of meat or cheese when they dig into this creamy comfort food, and they'll likely even go back for seconds. Serves 8.
Ingredients:
Coarse salt and ground pepper
1 pound gemelli pasta, cooked and drained
1 tablespoon olive oil
1 (8-ounce) bunch kale, thick stems removed and leaves chopped into 1-inch pieces
1 (29-ounce) can pumpkin puree, (not pumpkin-pie filling)
2 (14.5-ounce) cans reduced-sodium vegetable broth
2 tablespoons jarred sun-dried tomato pesto
½ cup unblanched almonds, sliced
Directions: Cook pasta, and drain; reserve. Preheat oven to 400 degrees Fahrenheit. In a large saucepan, heat oil over medium heat. Add kale; cook, stirring, until wilted, 3 to 5 minutes. Add pumpkin, broth, and pesto; stir to combine. Bring to a simmer. Season with 2 teaspoons salt and ½ teaspoon pepper.
Toss pasta with pumpkin-kale mixture. Transfer to a 9-by-13-inch baking dish or eight individual dishes. Top with almonds. Bake until top is golden, about 30 minutes.
5. Squash Stuffed with Quinoa and Wild Mushrooms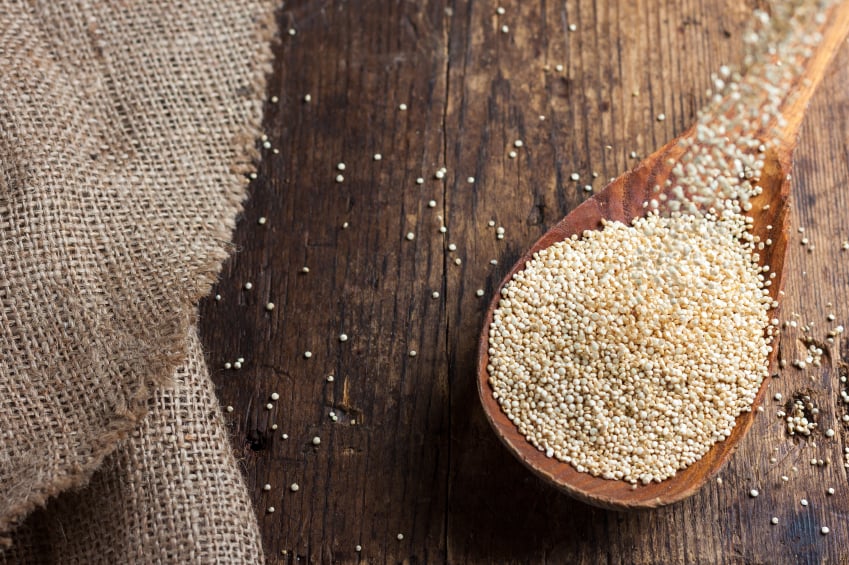 Filled with both flavor and nutrients, this squash stuffed with quinoa and wild mushrooms is the perfect dish to make for both meat-eaters and vegetarians. This recipe comes from Food & Wine and serves 6. Go the sophisticated vegetarian route this holiday — your wallet and waistline will thank you.
Ingredients:
1 (3½-pound) kabocha or buttercup squash, halved lengthwise, seeded, and cut into 6 wedges
Olive oil, for brushing
Kosher salt and freshly ground pepper
2 tablespoons unsalted butter
1 tablespoon light brown sugar
2 tablespoons pure maple syrup
3 thyme sprigs
Sauce
½ cup heavy cream
2 tablespoons maple syrup
1 garlic clove, crushed
2 thyme sprigs
Filling
3 tablespoons unsalted butter
1 shallot, minced, plus 2 shallots thinly sliced crosswise
1 bay leaf
4 thyme sprigs
2½ cups water
Salt and freshly ground pepper
1½ cups quinoa
Directions: Preheat the oven to 350 degrees Fahrenheit. Brush the squash with oil and season with salt and pepper; arrange on a baking sheet cut side down and roast for about 20 minutes, until lightly browned. Flip the wedges and roast for 20 minutes, until just tender.
In a saucepan, melt the butter with the sugar, maple syrup and thyme. Cook over moderately low heat until the sugar has dissolved, about 3 minutes. Turn the squash skin side down and brush all over with the maple glaze. Roast for 10 minutes longer, until the squash is lightly browned and glazed.
In a saucepan, whisk the cream with the maple syrup. Add the garlic and thyme and simmer over moderately high heat until reduced to 1/3 cup. Discard the garlic and thyme and keep warm.
In a medium saucepan, melt 2 tablespoons of the butter. Add the minced shallot and cook over moderate heat until softened, about 3 minutes. Add the bay leaf, thyme and water and bring to a boil. Season with salt and pepper, then add the quinoa. Cover and cook over moderately low heat until the quinoa is tender and the water has been absorbed, about 15 minutes.
In a large skillet, melt the remaining 1 tablespoon of butter in the oil. Add the sliced shallots and cook over moderately high heat, stirring, until lightly browned. Add the oyster and shiitake mushrooms and cook until browned on the bottom, 3 minutes. Continue cooking, stirring occasionally, until the mushrooms are browned and tender, 6 minutes more. Stir in the quinoa and parsley and season with salt and pepper.
Arrange the roasted squash on plates. Fill each wedge with the quinoa stuffing, drizzle the sauce on top and serve right away.
6. Pomegranate Chicken with Walnuts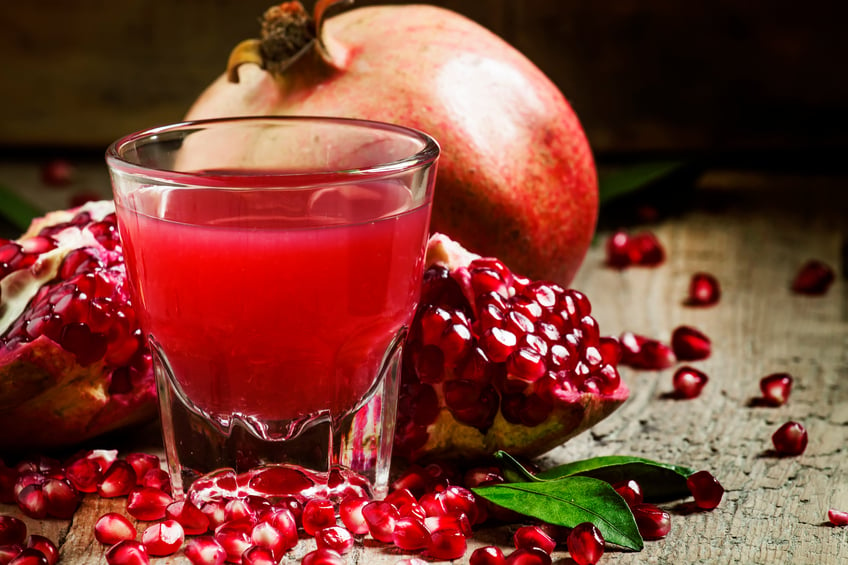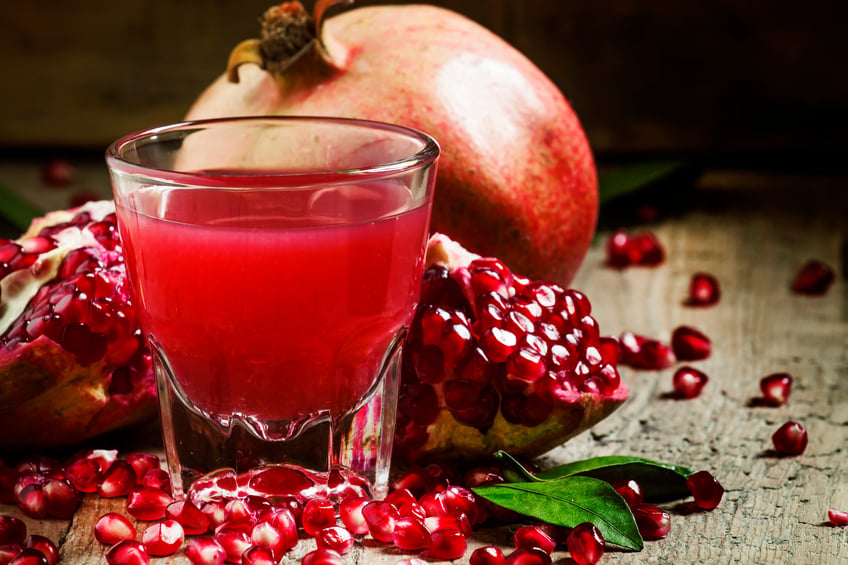 This recipe from Every Day with Rachael Ray serves up a healthy chicken dish spiked with pomegranate juice. It's a step up from your typical chicken dishes, but it's still super simple. It can easily complement the other festive dishes on your table and won't kill you in the calorie department. Serves 4.
Ingredients:
2 cups rice
5 skinless, boneless chicken thighs, cut into quarters
Salt and pepper
¼ cup vegetable oil
1 large onion, halved and sliced
1 clove garlic, smashed
¾ cup walnuts, coarsely chopped
1 teaspoon ground cinnamon
1 ½ cups cranberry-pomegranate juice
2 tablespoons chopped flat-leaf parsley
Directions: In a medium saucepan, bring the rice and 2 ¼ cups water to a simmer. Cover and cook over medium-low heat until the water has evaporated and the rice is tender, about 20 minutes.
Meanwhile, season the chicken with salt and pepper. In a large nonstick skillet, heat the oil over medium-high heat. Add the chicken and cook, turning once, until browned, about 7 minutes; transfer to a plate. Add the onion, garlic and walnuts to the skillet and cook, stirring often, until the onion is softened, about 5 minutes. Stir in the cinnamon, scraping up any browned bits. Return the chicken and any juices to the pan, add the cranberry-pomegranate juice and simmer until the chicken is cooked through, 3 to 4 minutes; transfer the chicken to a serving platter.
Cook the sauce, stirring occasionally, until thickened slightly, about 3 minutes; stir in the parsley and pour over the chicken. Serve on top of the rice.