16 Delicious Recipes That Will Make Your Skin Glow
Eating right is an important part of feeling your best. And a healthy diet also can help you look your best. Models, beauty editors, makeup artists, and celebrities all attribute their healthy skin at least partially to eating right. And nutritionists and beauty experts note that fueling your body with natural, healthy, nutrient-rich foods is an important part of a glowing complexion. So it seems like a great idea to add some healthy superfoods to your daily diet.
If you're serious about healthy skin you might want to take it into account when you're planning your meals for the week. Whether you're battling acne, struggling with dull skin, or just hoping your skin ages gracefully, eating right can help.
Of course, a single recipe can't guarantee you perfect skin. And your skincare regimen still plays an incredibly important part in helping you look your best. But you have to eat. So you might as well eat meals that can help you achieve your skincare goals. We've compiled some delicious recipes that can help you feel and look your best.
1. 8 Beauty Foods, 1 Salad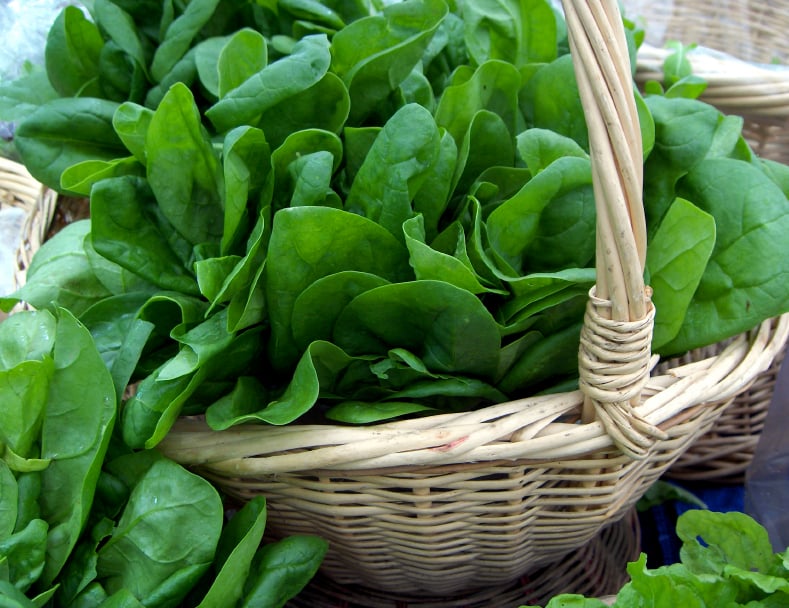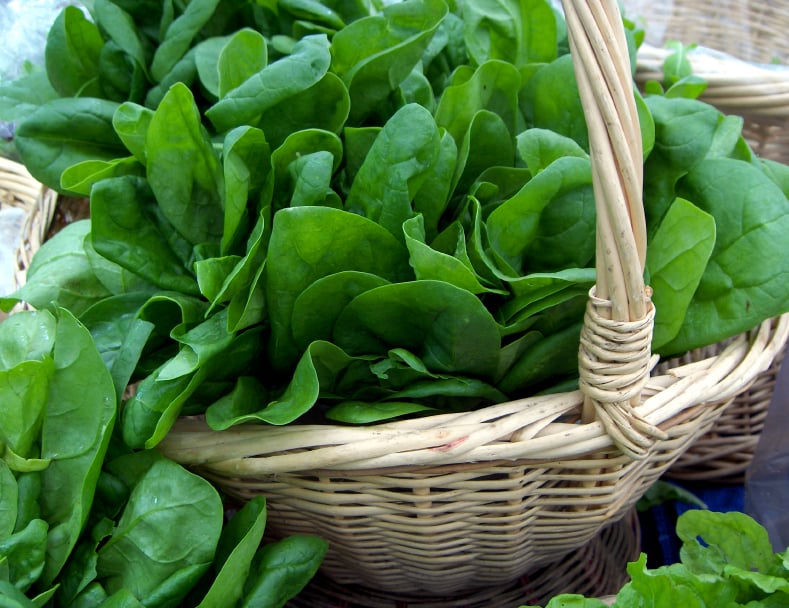 Dietitian nutritionist McKel Hill reports for Into the Gloss, "The concept of beauty food is basically consuming nutrient-dense, anti-inflammatory foods that keep our bodies healthy from the inside out, where all beauty fundamentally starts." Hill created a salad that combines eight different beauty foods into one delicious dish. She explains if you choose a diet in line with this recipe, you should get "glowing and smooth skin, strong hair and nails, and clear eyes." Hill recommends adjusting the amounts of each ingredient "depending on your hunger, health goals, and energy needs," and notes that "you may also add additional protein as needed."
Ingredients:
2 cups spinach
½ to 1 cup cooked quinoa
2 tablespoons raw pumpkin seeds
¼ cup hemp seeds
½ cup to 1 cup blueberries
Juice of two lemons
½ medium avocado
1 tablespoon raw apple cider vinegar
1 to 2 tablespoons nutritional yeast
Sea salt, to taste
Freshly ground black pepper, to taste
Pinch of red pepper flakes, optional
Directions: In a large mixing bowl, combine the well-rinsed spinach with the cooked quinoa, pumpkin seeds, hemp seeds, and blueberries.
Use the back of a fork to gently mash the avocado into the salad. Then, add the lemon juice, apple cider vinegar, and nutritional yeast. Sprinkle on the red pepper flakes, sea salt, and black pepper to taste.
2. Stop the Clock! Cereal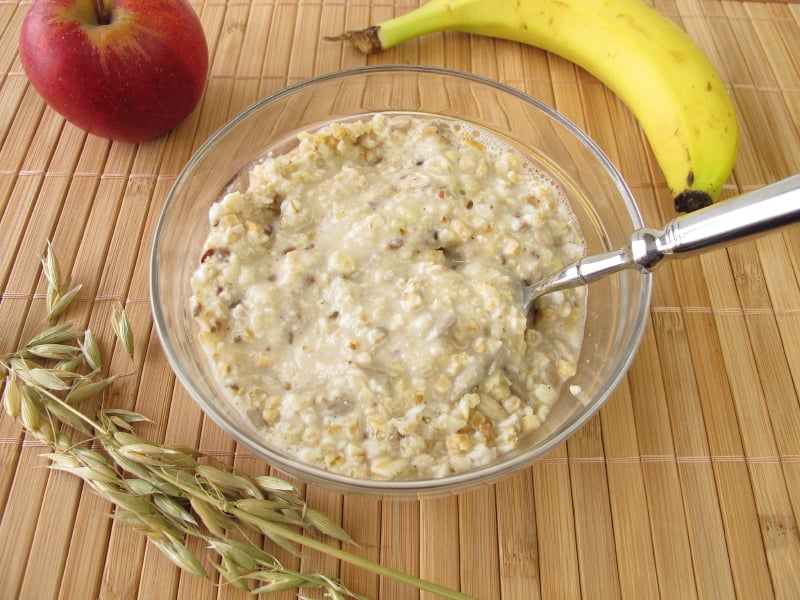 Another great source for recipes that will help you achieve better skin is Dr. Nicholas Perricone, a dermatologist who advocates for a diet that minimizes inflammation. The result is skin that looks healthier and ages better. Who doesn't want that? Perricone recently shared a roundup of some of the best anti-inflammatory recipes, including this delicious breakfast cereal.
Ingredients:
4 cups old-fashioned oats
1 cup oat bran
½ cup nonfat dry milk
½ cup low-fat soy flour
½ cup almond meal
½ cup ground flax seeds
¼ cup sesame seeds
Directions: Combine all of the ingredients, and store in the freezer in an airtight container.
When you're ready to make the cereal, bring ¾ cup water to a boil in a small saucepan. Stir in ½ cup cereal mix, and turn the heat to low. Simmer for 1 minute. Then cover and remove from the heat. Allow to stand for 3 minutes. Serve immediately, and with fresh berries if desired.
If you don't have the time to cook it on the stove, you can combine the cereal and water in a deep bowl and microwave for 3 minutes instead.
3. Tomato and Fresh Mozzarella Salad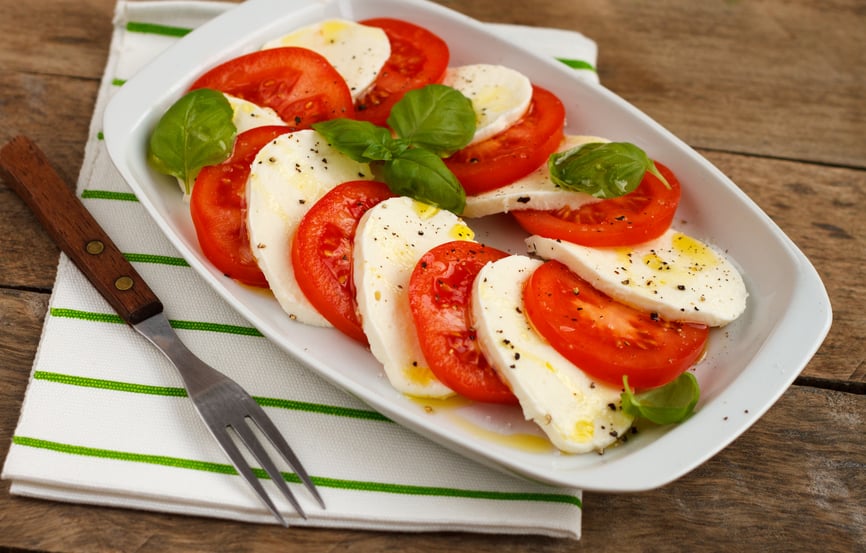 Another of Perricone's top inflammation-reducing recipes is this delicious tomato and fresh mozzarella salad. The recipe calls for heirloom tomatoes because they have tons of great flavor. But it also notes you can use cherry or grape tomatoes instead, depending on what looks best at the grocery store or in your garden.
Ingredients:
For the dressing
1 tablespoon balsamic vinegar
4 tablespoons extra virgin olive oil
2 tablespoons fresh basil, chopped
1 teaspoon oregano
1 clove garlic, minced, or pressed
Sea salt and freshly ground pepper to taste
For the salad
4 to 6 large heirloom, organic, or on-the-vine tomatoes
8 ounces fresh mozzarella
Directions: To make the dressing, mix all of the dressing ingredients together. Set aside.
Slice the tomatoes into half-inch slices. If using cherry or grape tomatoes, leave them whole. Slice the mozzarella into 8 slices.
Alternately layer the tomatoes with the mozzarella. Then, drizzle each salad with dressing, and season with salt and pepper. Garnish with fresh basil.
4. Curried Butternut Squash and Coconut Bisque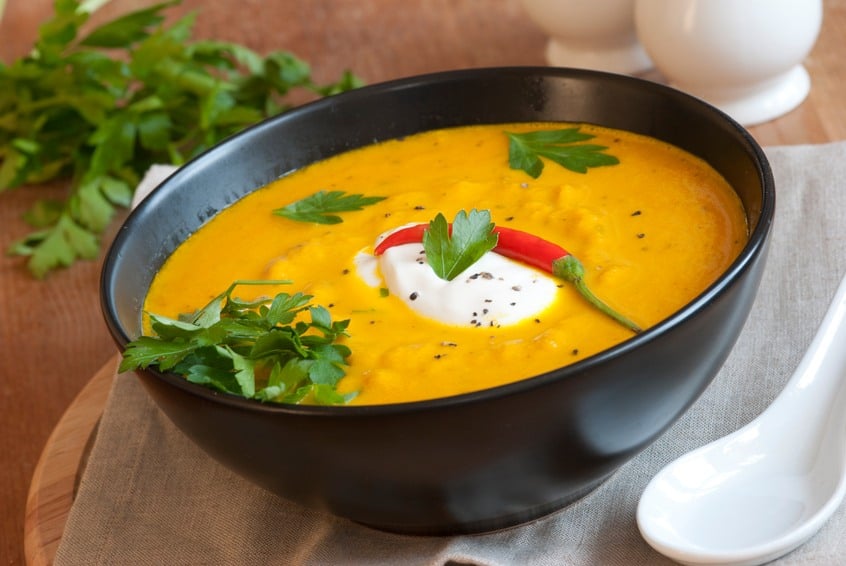 Are you in the mood for soup instead of salad? Then, you might want to try Perricone's recipe for a delicious butternut squash and coconut bisque. The recipe serves 6. That means it's great if you have family or roommates to feed or if you just want to prepare extra meals for a busy week.
Ingredients:
½ cup toasted coconut for garnish
2 tablespoons unsalted butter
1 medium organic yellow onion, diced
2 cloves garlic, minced
2 tablespoons curry powder
1 teaspoon cinnamon
½ teaspoon allspice
4 cups butternut squash, peeled and cubed
2 ½ cups organic vegetable or chicken broth
1 cup coconut milk
Zest of 1 lime
Sea salt and pepper
½ cup chopped cilantro, for garnish
Directions: Heat a skillet over medium-high heat, and toast the coconut lightly. Remove from pan, and set aside.
Melt the butter in a large saucepan over medium heat. Add the onions and garlic, and cook until tender, stirring occasionally, for about 10 minutes.
Stir in the curry powder and spices, and cook for another minute. Add the butternut squash and chicken broth. Bring to a boil, then reduce heat to medium-low. Cover and simmer for 25 minutes, or until the squash is tender, stirring occasionally.
Work in batches to puree the soup in a blender until smooth. Return the soup to the pot. Stir in coconut milk and lime zest. Add salt and pepper to taste. Garnish with coconut and cilantro.
5. Salmon Burgers on Baby Greens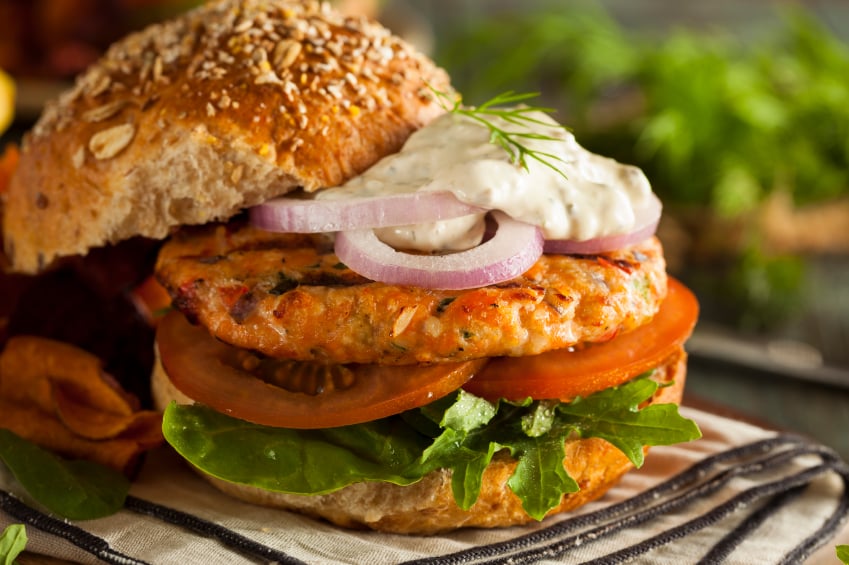 Salmon is a famously healthy food — especially compared to your typical beef hamburger. Perricone recommends this recipe for salmon burgers. Instead of eating these burgers on a bland, high-carb hamburger bun, you'll serve them on tender baby greens.
Ingredients:
1 14.75-ounce can of wild Alaskan salmon
3 scallions, minced
1 tablespoon finely grated, peeled, fresh ginger
1 large egg white
1 tablespoon soy sauce
1 tablespoon olive oil
2 cups baby greens
Directions: Drain the salmon, and stir together with the scallions and ginger in a large glass or ceramic bowl.
Beat together the egg white and soy sauce in a small bowl. Stir into the salmon mixture. Form the mix into 4 ½-inch-thick patties.
Heat the olive oil in a 12-inch skillet over medium heat. Add the patties and cook, carefully turning once halfway through, until golden brown and cooked through. It should take approximately 6 to 7 minutes.
Arrange ½ cup of greens on each plate. Place the burgers on the greens, and serve immediately.
6. Chickpea, Cumin, and Coriander Salad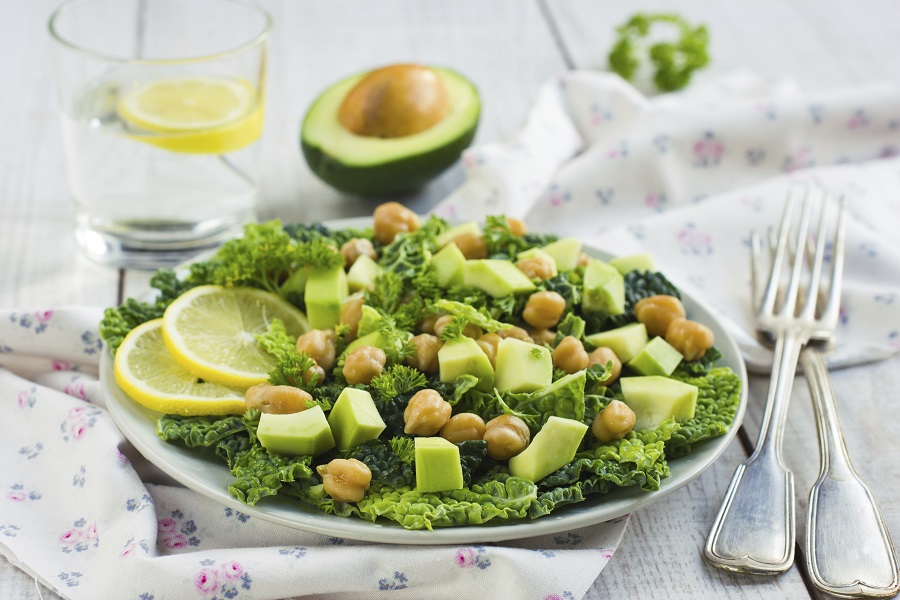 Another Perricone suggestion for anti-inflammatory recipes that can improve your skin? This chickpea, cumin, and coriander salad. Perricone recommends assembling this salad the day before you plan to eat it for the flavors to blend together.
Ingredients:
Dressing
3 tablespoons fresh lemon juice
2 tablespoons white wine vinegar
2 garlic cloves, minced and mashed with ¼ teaspoon salt
1 ½ teaspoons grated, peeled, fresh ginger root
1 teaspoon ground cumin, or to taste
¼ teaspoon dried hot red pepper flakes, or to taste
½ cup extra-virgin olive oil
Freshly ground black pepper
Salad
4 19-ounce cans chickpeas, rinsed and drained well
2 red or yellow bell peppers, finely chopped
1 small bunch of scallions, thinly sliced
½ cup finely chopped fresh coriander, or to taste
Lemon wedges
Large romaine lettuce leaves
Directions: To make the dressing, whisk together the lemon juice, vinegar, garlic paste, ginger root, cumin, cayenne, sea salt, and pepper. Add the oil in a steady stream while whisking. Continue whisking until the dressing is emulsified. Taste, and adjust the amount of lemon juice if desired.
To assemble the salad, stir together the chickpeas, bell peppers, scallions, coriander, and dressing in a large bowl. Chill the salad, covered, overnight. Serve on lettuce leaves, and garnish with lemon wedges.
7. Cilantro and Beet Salad with Avocado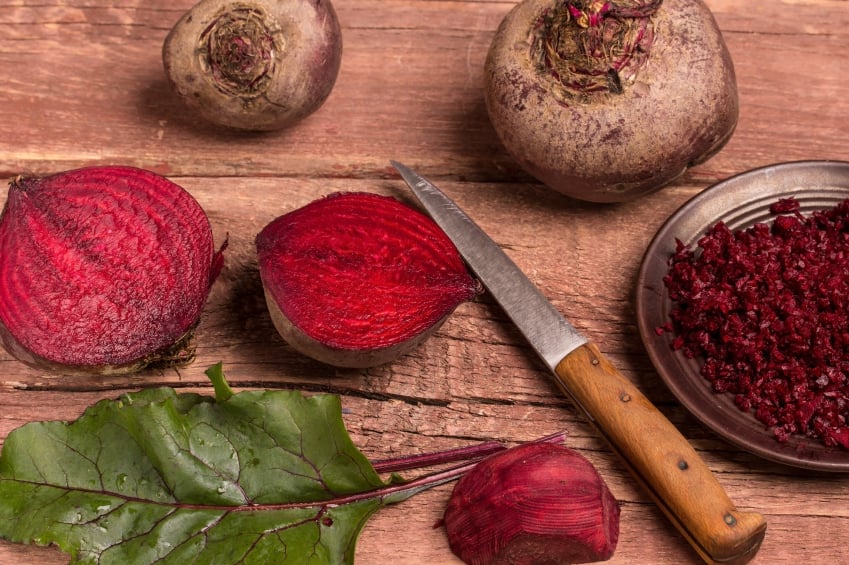 We all know the right salad can have some great health effects. But as Noah Lehava reports for Coveteur, a salad can give you glowing skin, too. Makeup-artist-turned-wellness-author Wendy Rowe shares the recipe for an avocado and beet salad that can help even out your complexion.
Ingredients:
3 medium cooked beets, thinly sliced or cut into chunks
½ medium-sized red onion, thinly sliced
¼ cup mâche
1 teaspoon sherry vinegar
2 large handfuls fresh cilantro, torn
1 large handful fresh mint, torn
1 fresh red chile, seeded and finely chopped
1 to 2 teaspoons sweet chili sauce
Sea salt and black pepper
Flesh of 1 small avocado, sliced, to serve
Directions: In a large bowl, combine the beets, onion, mâche, and vinegar. Add the cilantro, mint, chopped fresh chile, and sweet chili sauce. Season with salt and pepper, and serve with avocado.
8. Zucchini and Brown Rice Spaghetti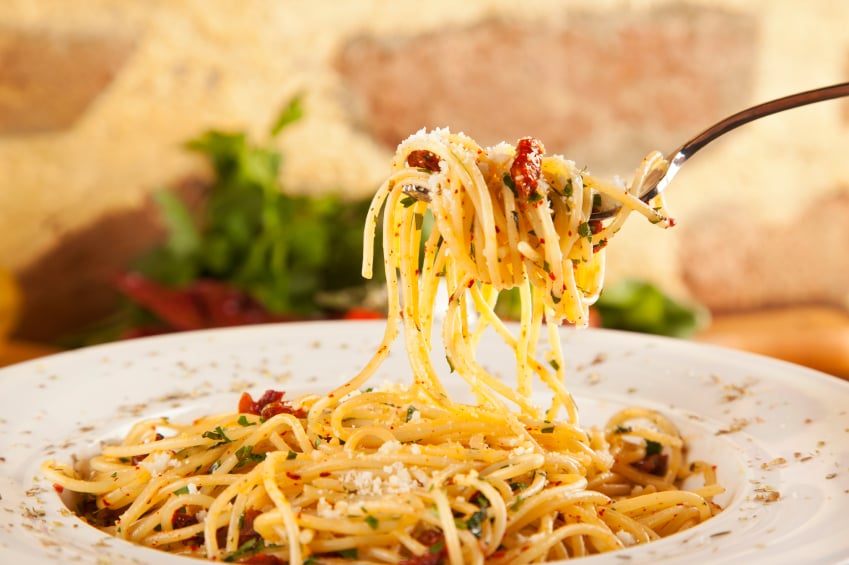 Another dish Rowe recommended to Coveteur is this delicious recipe for zucchini and brown rice spaghetti. It's the perfect opportunity to try a spiralizer. In case you aren't familiar with it, a spiralizer is a great tool for creating noodles out of healthy vegetables. Some people use zucchini to make noodles instead of relying on traditional wheat pasta. But this recipe uses both zucchini and brown rice spaghetti for a healthy, filling alternative.
Ingredients:
3 tablespoons olive oil
3 ounces dried brown rice spaghetti
2 shallots, finely chopped
3 garlic cloves, finely chopped
1 large zucchini, spiralized
Handful fresh flat-leaf parsley, finely chopped
Finely grated zest of 1 lemon
½ fresh red chile, seeded and finely chopped
Sea salt and black pepper
1 ounce Parmesan cheese, grated, to serve
Directions: Add 1 tablespoon olive oil and the brown rice spaghetti to a large pan of boiling water. Cook according to the package instructions, for about 12 minutes or until tender. Drain the spaghetti in a colander and let sit for 1 to 2 minutes.
Heat 2 tablespoons of olive oil in a large, deep-sided skillet or wok. Add the shallots and garlic. Cook over medium heat, for about 2 minutes or until soft.
Add the zucchini noodles. Season with salt and pepper. Cover the pan and steam for 5 minutes. Add the parsley, lemon zest, and chile. Remove from heat.
Add the drained spaghetti to the saucepan, and combine with the zucchini sauce. Divide between plates. Serve sprinkled with Parmesan.
9. Pomegranate Parfait with Cashew Cream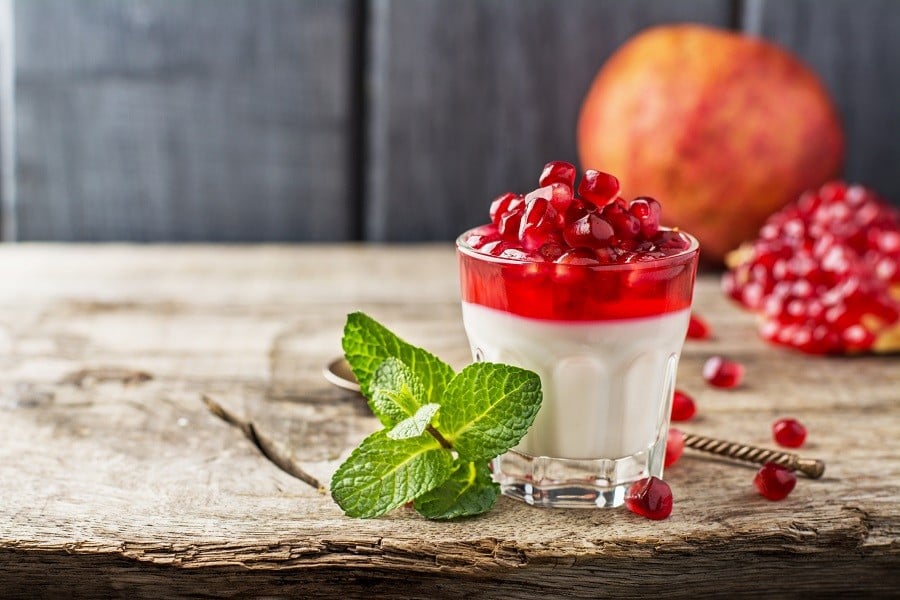 If you're looking for a snack recipe instead of a full meal, Coveteur has another great option. Pomegranates can reduce inflammation, promote skin elasticity, and help your skin cells lock in hydration. So this pomegranate parfait is the perfect healthy snack that will help, not hinder, your quest for better skin.
Ingredients:
1 cup pomegranate seeds
¼ cup pistachios, chopped
¼ cup pumpkin seeds
¼ cup roasted walnuts
Jar of cashew spread
1 cup raw cashews, soaked in water for at least 2 hours
½ cup water
1 tablespoon plus 1 teaspoon maple syrup
¼ teaspoon vanilla extract
Pinch of sea salt
Directions: Drain the cashews. Transfer to a blender or food processor. Add the water, maple syrup, vanilla extra, and sea salt. Blend until smooth.
In a small cup, create layers of pomegranate seeds, pumpkin seeds, pistachios, walnuts, and cashew spread.
10. Raw Chocolate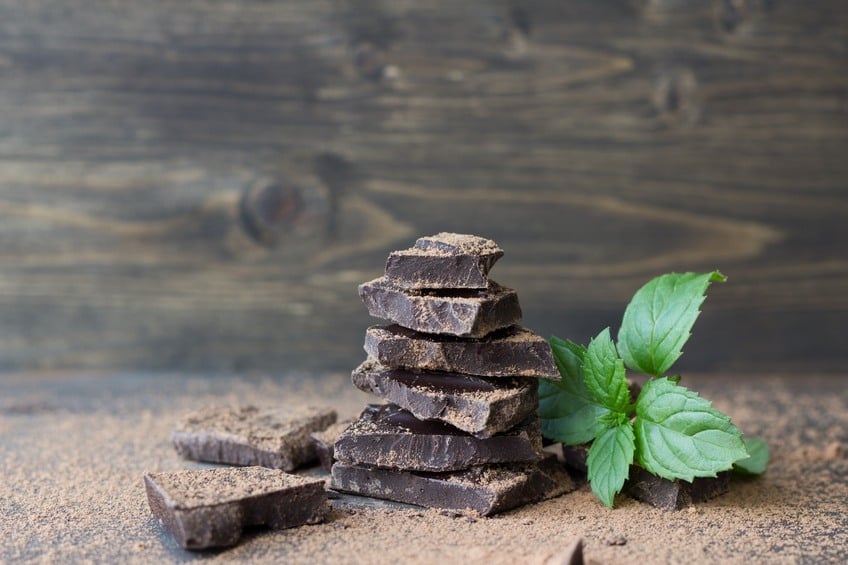 Your mom probably wouldn't let you eat chocolate for breakfast. But did you know dark chocolate can improve your complexion, increase your skin's hydration, and increase blood flow to the skin? With that knowledge, you might want to try the raw chocolate recipe Eva Alt shared on Into the Gloss. Alt explains you should "experiment freely, enjoy responsibly, and don't forget to refrigerate it when you're done."
Ingredients:
⅓ cup raw cacao powder
1 tablespoon maca powder
1 tablespoon lucuma powder
2 tablespoons Moon Juice Brain Dust
6 tablespoons coconut oil, melted
1 tablespoon maple syrup
1 tablespoon cacao nibs
Stevia, to taste
Sprinkle of sea salt
Directions: Mix all of the dry ingredients together. Add the melted coconut oil, maple syrup, and stevia. Mix well.
Cover a plate with plastic wrap, then pour the mixture onto the plate. Refrigerate for 30 minutes, then break into pieces.
11. Beat the Sweets Juice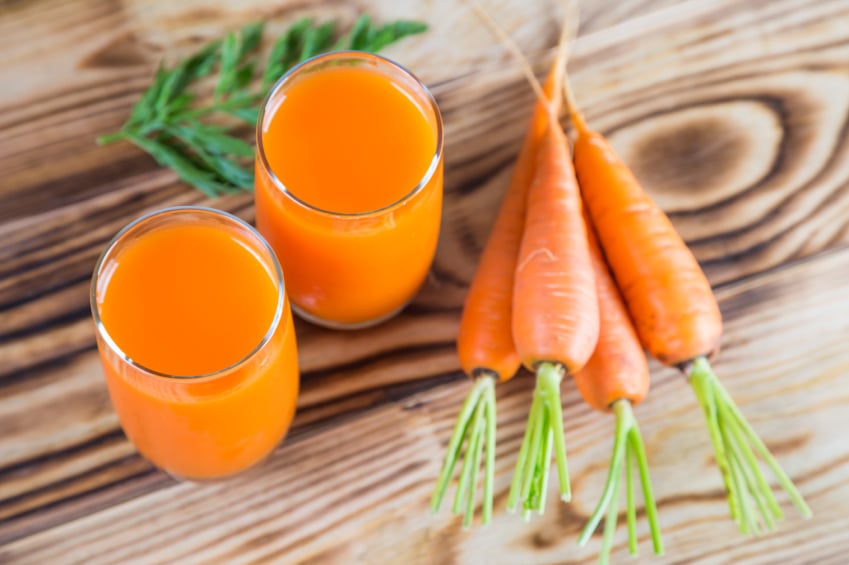 You didn't expect to read a list of recipes that can help you achieve perfect skin and not see a juice recipe or two, now did you? There's no better person to ask for skin tips that celebrity aesthetician Joanna Vargas, who shared some of her favorite juice recipes with Well + Good. This one features beta carotene-rich carrots and skin-clearing apples. It's a much healthier afternoon snack than the latte or the muffin you usually grab.
Ingredients:
4 carrots
½ apple
Ginger to taste
12. Brighten Up Juice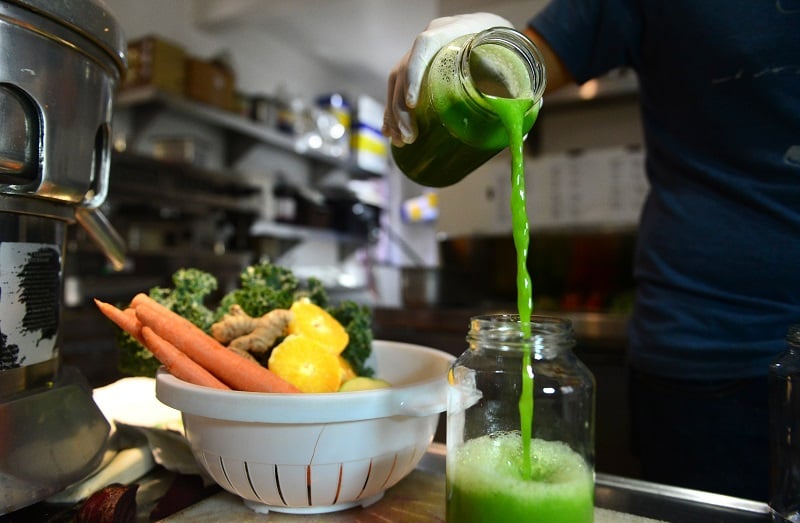 Another of Vargas' favorite juices, this recipe is great for every skin type. To see why, just check out its ingredients list. Parsley stimulates the lymphatic system and reduces water retention. Spinach has vitamin F, which is great for helping your skin to function. And apples are great for achieving brighter skin.
Ingredients:
4 carrots
Handful of spinach
Handful of parsley
½ apple

13. All Clear Juice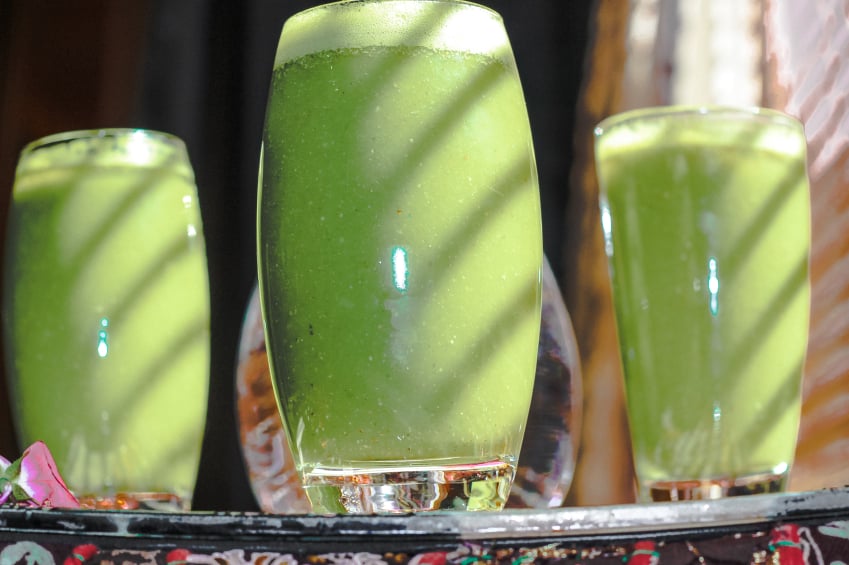 If your primary skin goal is reducing the kind of inflammation that contributes to acne, then this Vargas recipe is your juice. Pineapple contains the enzyme bromelain, which promotes good skin. And cucumbers and apples boost hydration and alkalinity — which is key for calming inflammation.
Ingredients:
Few slices or chunks of pineapple
½ cucumber
½ apple
14. Super 8 Juice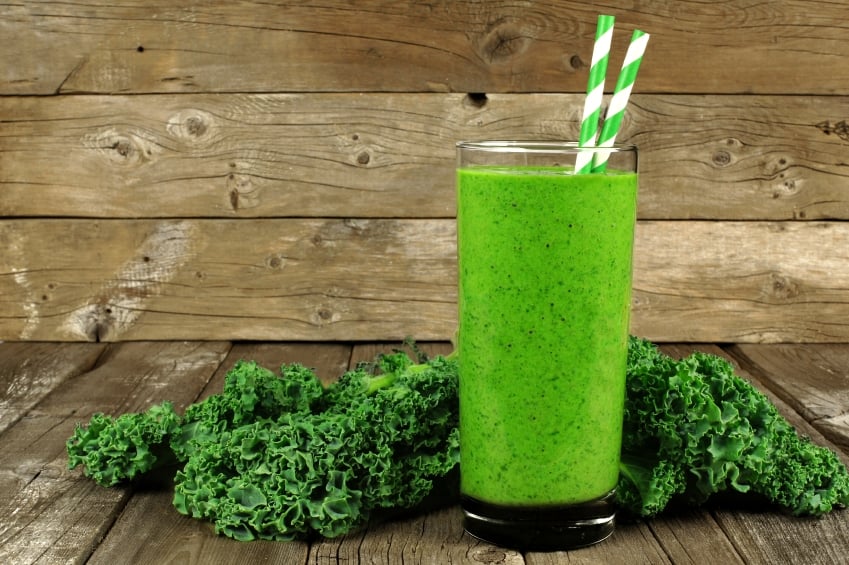 Vargas' next recommendation? Turning to this delicious green juice instead of a sodium-packed drink, such as V8. She explains, "You notice such a difference in people's skin and health when they drink fresh-pressed juice. Even my clients in finance who work obscenely long hours, have rich dinners at night, and have to be at work at 6 a.m. Their skin regains its vibrance."
Ingredients:
1 kale leaf
1 collard leaf
Handful of parsley
1 stalk of celery
1 carrot
½ red pepper
1 tomato
1 broccoli floret
15. Kale Bowl with Quinoa, Fermented Vegetables, Wakame, and Avocado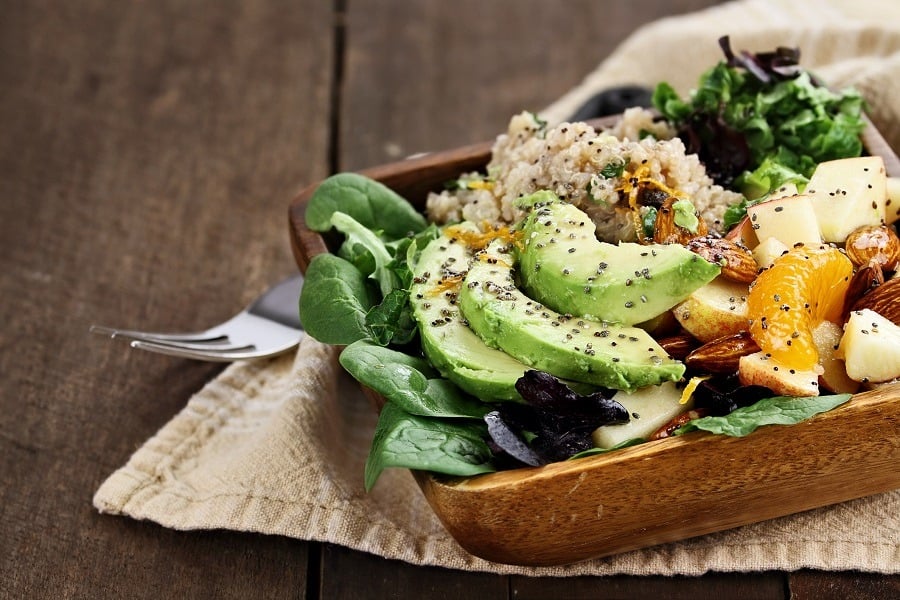 Fermented foods are famously effective at helping you to achieve perfect skin. Want to give them a try? Test out this kale bowl recipe from Carla Oates of The Beauty Chef. Oates explains that in addition to incorporating fermented vegetables, this nutritious dish "features wakame, a great source of minerals that can be lacking in conventionally grown produce and that we need for healthy, glowing skin."
Ingredients:
½ cup quinoa, rinsed
1 cup water
7 grams wakame
1 tablespoon coconut oil
1 onion, thinly sliced
1 clove garlic, finely chopped
2 bunches kale, stemmed and coarsely chopped
2 teaspoons white sesame seeds, plus extra to serve
2 teaspoons black sesame seeds, plus extra to serve
½ teaspoon chili flakes
1 ½ cups sweet and sour fermented vegetables 
1 avocado, halved, with the stone removed and flesh sliced lengthwise
½ cup raw cashews, roasted and coarsely chopped

Tahini sauce 
¼ cup freshly squeezed lemon juice
¼ cup tahini
1 tablespoon extra-virgin olive oil
2 cm knob of ginger, peeled and finely grated
3 teaspoons tamari
2 teaspoons raw honey
1 teaspoon sesame oil
Directions: Place the quinoa and water in a medium saucepan. Bring to a boil. Cover, and decrease the heat to low. Gently simmer for 15 minutes, or until most of the water has been absorbed and holes appear on the surface. Remove from heat, but keep covered to finish cooking for another 5 minutes, or until tails have sprouted and all of the water has been absorbed.
Soak the wakame in cold water for 5 minutes, or until rehydrated. Drain, and squeeze out excess water. Slice into strips.
Prepare the sauce by placing all of its ingredients in a jar, sealing, and shaking vigorously to combine.
Heat the coconut oil in a large frying pan or wok over low-medium heat. Cook the onion and garlic until softened. Add the kale. Cook, stirring occasionally, for 4 to 5 minutes or until wilted. Add the sesame seeds and chili flakes. Toss to combine.
To serve, arrange the kale, quinoa, wakame, fermented vegetables, and avocado in bowls. Drizzle with tahini sauce, and sprinkle with roasted cashews and extra sesame seeds.
16. Winter Skin Broth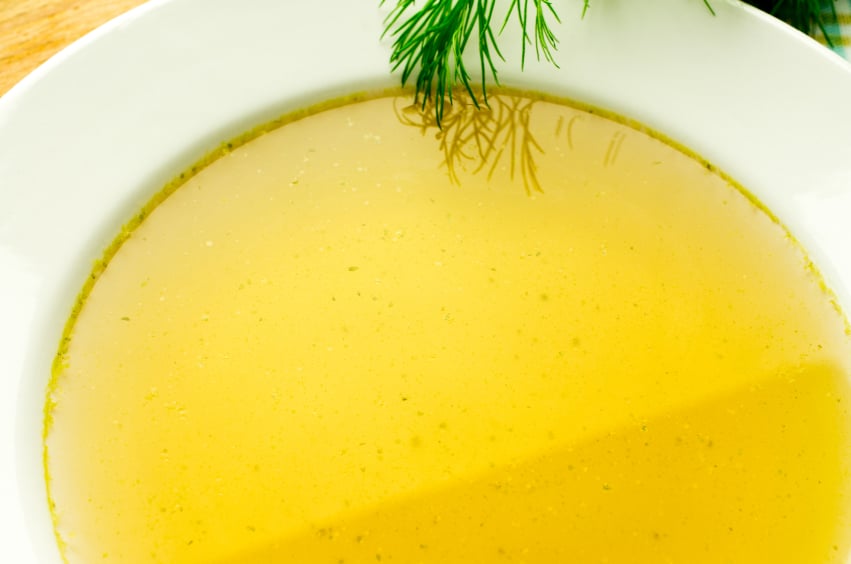 Another of our favorite recipes from Oates is this winter skin broth, which distills all of the best qualities of chicken soup into a broth that you can make into soup, drink with your meal, or add to other recipes. This broth has anti-inflammatory effects and is particularly recommended for "those concerned with wrinkles, eczema, acne, and psoriasis." The vegetables add nutrients, and the apple cider vinegar helps to draw important minerals from the bones of the chicken.
Ingredients:
2 chicken carcasses
2 to 3 chicken wings
Cold water to cover bones
1 tablespoon apple cider vinegar
1 carrot, finely chopped
2 stalks of celery, finely chopped
1 bay leaf
1 cup chopped cabbage
1 Spanish onion
1 knob fresh ginger, finely chopped
4 cloves of garlic, minced
1 cup fresh parsley
Ground black pepper and sea salt
Directions: Boil all of the ingredients. Simmer for 6 to 12 hours, adding more water when required. (You can use a slow cooker, if preferred.) After the broth has cooled, strain. You can keep it in the refrigerator for 4 to 5 days, or freeze it in batches.