7 Delicious Recipes Using Spaghetti Squash
Spaghetti squash is well-known for its ability to serve as a low-carb substitute for spaghetti, but many are still intimidated by the yellow oblong-shaped fruit. In its raw form, it is heavy and difficult to cut, but after one hour in the oven, spaghetti squash yields stringy tendrils that can star in stir-fry, spaghetti, and other vegetable dishes. You'll be shocked to find how satisfying and satiating the high-fiber spaghetti substitute can be, and its versatility is also something that shouldn't go un-noted. These seven recipes will get you started.
1. Asian Peanut Spaghetti Squash Stir-Fry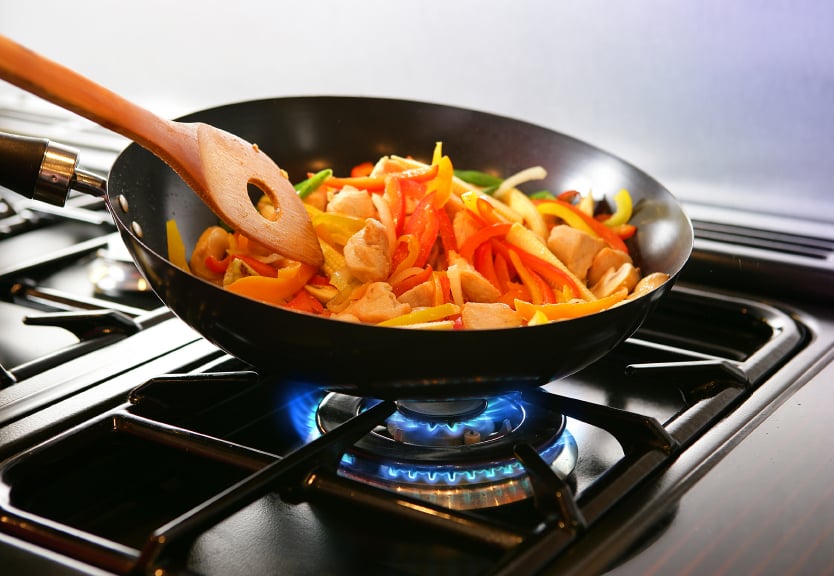 Instead of turning to your favorite takeout place when an Asian craving strikes, make a homemade Asian-flavored dish and save yourself money and calories. This Asian Spaghetti Squash Stir-Fry from Snappy Gourmet is low-maintenance and low-calorie, but it doesn't skimp on flavor. You won't even need to turn on your oven as this recipe has you baking your squash in the microwave. Serving 4 to 6 and taking just 45 minutes to make, there's no reason this stir-fry can't star as your dinner tonight.
Ingredients:
1 large spaghetti squash
1 tablespoon olive oil
3 garlic cloves minced
1 pound ground chicken
1 package mushrooms, sliced
1 large green pepper, seeds removed and thinly sliced
1 red onion, cut in half and thinly sliced
⅓ cup reduced sodium soy sauce
2 tablespoons peanut butter
1 tablespoon lime juice
Dash ground ginger
Dash red pepper flakes
½ cup fresh cilantro, chopped
¼ cup peanuts, finely chopped
For recipe directions, check out Snappy Gourmet. 
2. Southwestern Stuffed Spaghetti Squash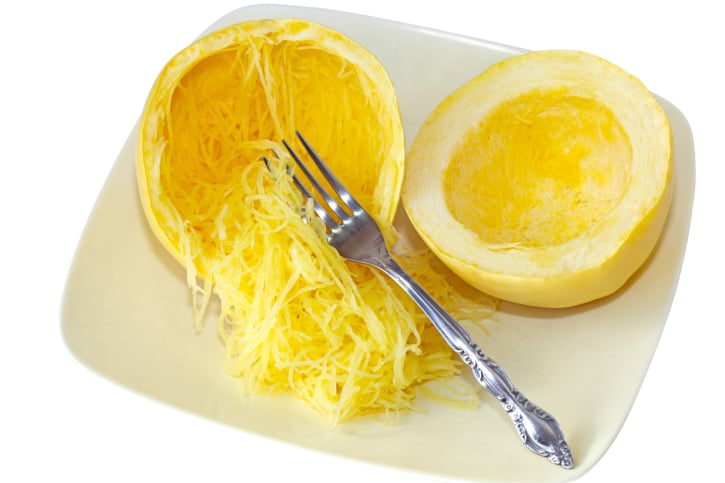 Next, we're stuffing the yellow oblong-shaped squash. This Southwestern Stuffed Spaghetti Squash from The Comfort of Cooking is just as fun to look at as it is to eat. For the recipe, beans, cheese, and veggie spaghetti are combined and packed into previously scraped out squash shells before going into the oven to broil for 2 minutes. Then it's almost time to eat. Garnish the good stuff with cilantro and serve warm. Whether you serve your Southwestern Stuffed Spaghetti Squash as a main or side dish it doesn't matter — the dinner is delightful any which way.
Ingredients:
1 medium spaghetti squash
1 tablespoon olive oil
½ red onion, chopped
2 garlic cloves, minced
1 jalapeno pepper, minced
1 red bell pepper, chopped
½ tablespoon ground cumin
½ tablespoon oregano
½ tablespoon chili powder
Kosher salt and freshly cracked black pepper
1 can black beans, drained and rinsed
1 cup frozen corn, thawed
½ cup freshly torn cilantro, plus more for garnish
Juice of 1 lime
1 cup grated cheddar cheese
See full directions at The Comfort of Cooking. 
3. Spaghetti Squash with Spicy Meat Sauce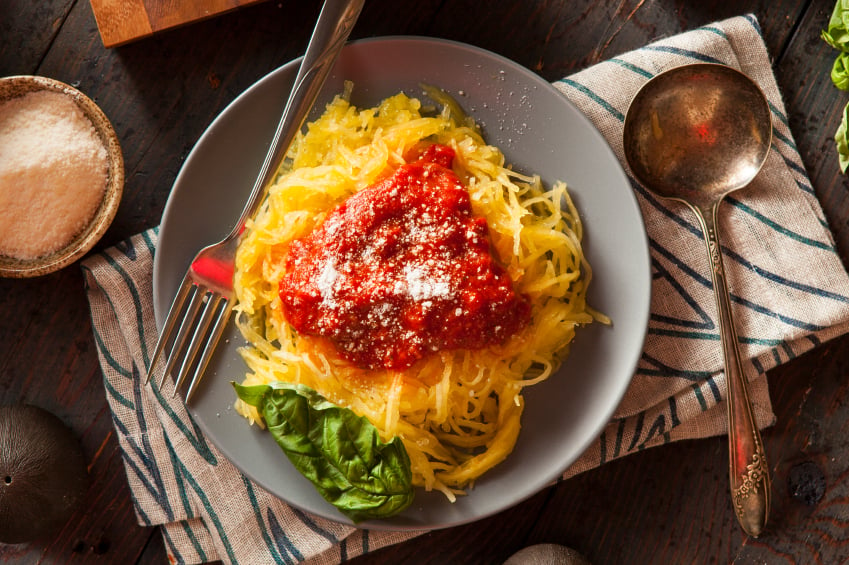 For a simple spaghetti dish with a kick, try this Spaghetti Squash with Spicy Meat Sauce from Spicy Southern Kitchen. It is gluten-free, low-carb, full of fiber, and healthy. Ground turkey breast makes up the spicy meat sauce and before that gets made, you're baking your spaghetti squash in the oven for 40 to 60 minutes. After you've scraped out your spaghetti squash, simply combine it with the meat sauce and serve with cheese.
Ingredients:
1 large spaghetti squash or two smaller
1½ tablespoons olive oil, divided
1 medium sweet onion, diced
1 carrot, peeled and finely diced
2 garlic cloves, minced
1 pound ground turkey breast
1 tablespoon tomato paste
1 28-ounce can crushed tomatoes
2 teaspoons Italian seasoning
½ teaspoon crushed red pepper
Salt and pepper
Freshly grated Parmesan cheese
See full directions at Spicy Southern Kitchen. 
4. Mexican Baked Spaghetti Squash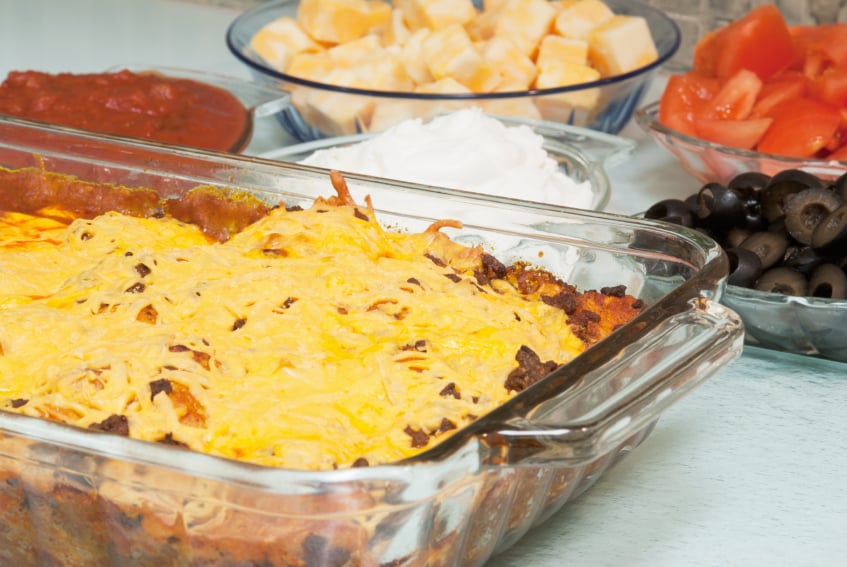 Healthy Mexican, anyone? This Mexican Baked Spaghetti Squash from Baked In looks and tastes like typical Mexican comfort food but it's good for you, too, thanks to high-fiber spaghetti squash, beans, veggies, and low-fat dairy choices. The casserole yields 6 to 8 servings and takes about an hour to make, but the recipe is straightforward and simple. Once again, we're first baking the squash before combining the flesh with the good stuff that includes onions, peppers, corn, black beans, yogurt, and cheese. That all gets transferred to a baking dish where it cooks together until the cheese is bubbly and brown, and then it's Bon Appétit!
Ingredients:
1 spaghetti squash
2 tablespoons olive oil
1 medium onion, sliced thin
1 red bell pepper, diced
1 jalapeno pepper, seeded and minced
2 cloves garlic, minced
1 tablespoon chili powder
1 teaspoon dried oregano
½ teaspoon cumin
Salt and pepper to taste
1 can black beans, drained and rinsed
1 cup frozen corn kernels, thawed
1 can tomatoes with green chilis, drained
½ cup nonfat greek yogurt
1 cup reduced-fat shredded cheddar cheese, divided
Follow the recipe at Baked In. 
5. Spaghetti Squash Fritters with Sriracha Mayonnaise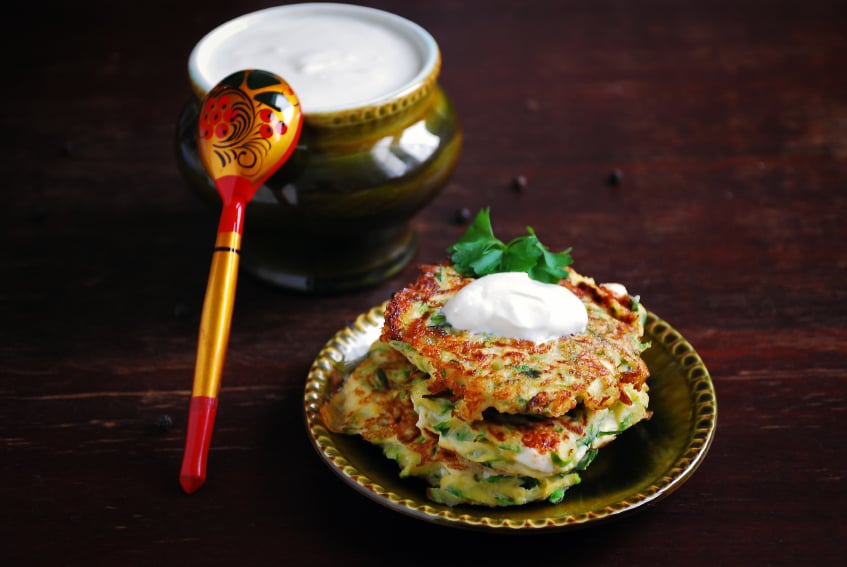 This next recipe from Cooking Light especially proves the versatility of spaghetti squash. Say hello to spaghetti squash in fritter form. The fibrous fruit tastes great packed into in patties, too. Spinach, panko, parmesan cheese, and garlic pair with spaghetti squash to form the fritters that will get cooked in a skillet, and they'll then get dressed with a sriracha mayonnaise you can also make homemade. Cooking Light's recipe makes 10 patties total, so you can have lunch and dinner for days.
Ingredients:
1 spaghetti squash
1 package baby spinach
½ cup panko
2 tablespoons grated fresh Parmesan cheese
1 tablespoon minced garlic
½ teaspoon freshly ground black pepper
¼ teaspoon baking powder
2 large egg whites
1 tablespoon olive oil, divided
5 teaspoons canola mayonnaise
2 teaspoons 2% reduced-fat milk
1 teaspoon Sriracha
1 teaspoon cider vinegar
Get full directions from Cooking Light. 
6. Spaghetti Squash Salad with Pine Nuts and Taragon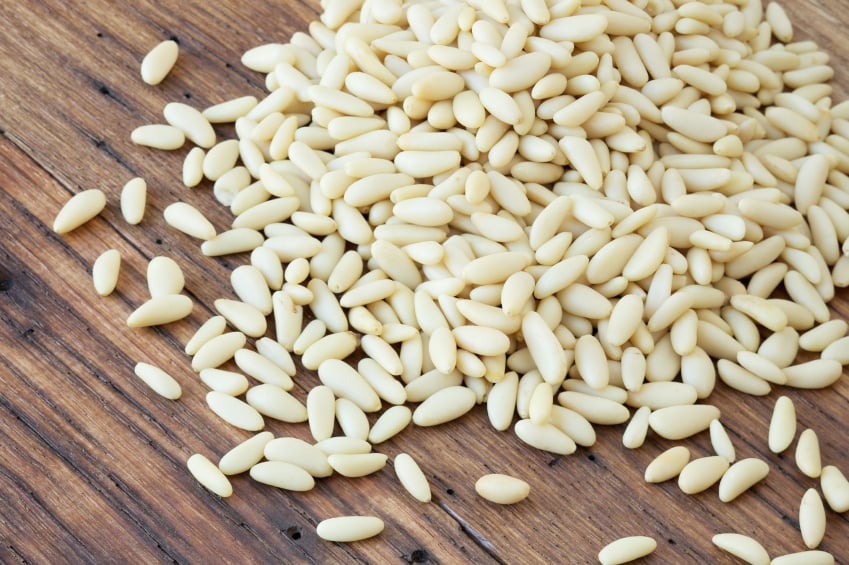 For an even healthier spin on salad, try this Spaghetti Squash Salad with Pine Nuts and Taragon from Food & Wine. Spaghetti squash serves as the base of this low-carb salad and the fibrous tendrils are topped with queso fresco, pine nuts, taragon, and a homemade vinaigrette. This green-free salad can serve as the perfect side dish or main meal, and it is something you can feel especially good about eating.
Ingredients:
½ cup pine nuts
3 large spaghetti squash, halved lengthwise and seeds scraped
⅔ cup extra-virgin olive oil, plus more for drizzling
Salt and freshly ground black pepper
1 cup water
½ cup dry white wine
3 tablespoons white wine vinegar
Finely grated zest of 1 lemon, plus 1 tablespoon freshly squeezed lemon juice
1 teaspoon chopped thyme
Pinch of crushed red pepper
2 tablespoons chopped tarragon
4 ounces queso fresco orricotta salata, crumbled
Food & Wine has the full directions. 
7. Spaghetti Squash with Bacon, Garlic, and Parmesan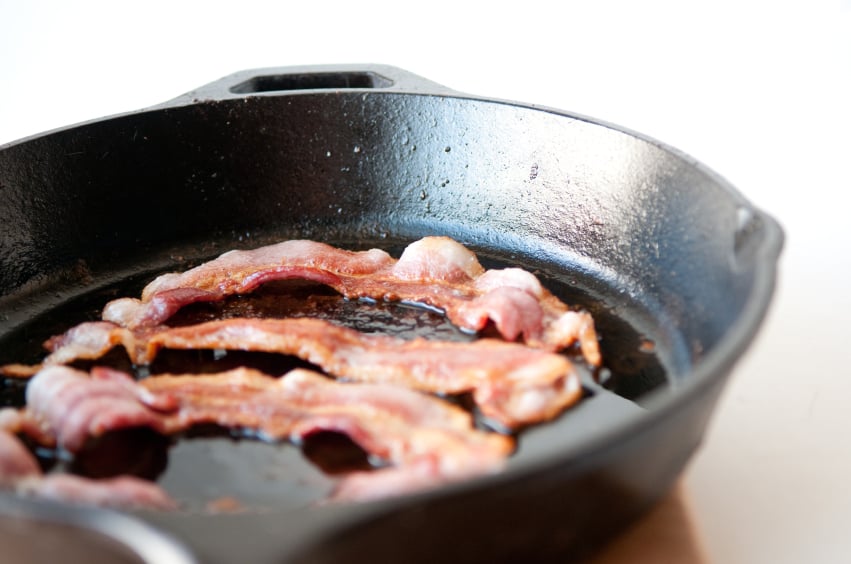 This last recipe from Buns In My Oven highlights that when you have healthy spaghetti squash serving as the base of your meals, you leave room for indulging. Enter: Spaghetti Squash with Bacon, Garlic, and Parmesan. Go low-carb with spaghetti squash and high-protein with bacon. Or something like that. Regardless, this recipe only requires 5 ingredients, and it couldn't be easier. Once you have your squash baked, all you need to do is fry up your bacon, top your low-carb spaghetti with the good stuff, and then add Parmesan and garlic to the mix.
Ingredients:
1 spaghetti squash, around 4 pounds
4 slices bacon, diced
3 cloves garlic, chopped
Parmesan cheese, shaved or grated, as much as you like
Salt and pepper, to taste
Get the directions from Buns In My Oven. 
More from Culture Cheat Sheet: