6 Delicious Recipes You Can Light on Fire
Adding excitement to your recipes usually means buying pricey ingredients. Fortunately, you can also shake things up by setting a little bit of booze ablaze. The word flambé translates to "flamed," so it's a pretty apt name. Though it might sound intimidating, this trick is a remarkably easy way to gain some oohs and aahs.
Before we get too ahead of ourselves, a brief safety lesson is in order. According to the National Fire Protection Association, cooking contributes to 43% of all home fires, so you really want to make sure you're minimizing risk as much as possible. Always make sure you remove a pan from the heat before adding any sort of alcohol. Once you're ready to go, light the liquid using a stick lighter or a long kitchen match. Lean away from the pan as you set it ablaze, and make sure everyone else is out of harm's way. It's also smart to have a fire extinguisher on hand, just in case.
Now for the recipes. These six dishes show you how to add a little bit of flashy fun to any part of the meal, even dessert. You'll be a flambé pro before you know it.
1. Shrimp Flambéed With Pastis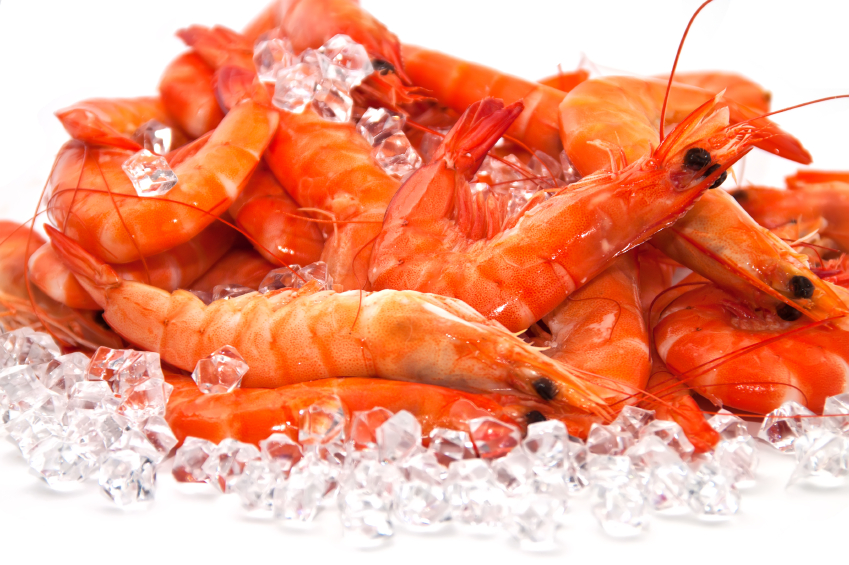 Cocktail shrimp is a little bit outdated for a party. The next time you want to impress your friends at a get-together, this flaming shrimp recipe from chef Alain Allegretti as featured on The Martha Stewart Show will do the trick. Start searing the shrimp in a hot skillet, then let them finish cooking through in the oven. Once the shrimp come out, add the pastis, and light the pan. Then, use the same skillet to make a quick butter sauce. It's easy, delicious, and completely impressive.
If you're having difficulty finding pastis, a French liqueur that tastes like licorice, try substituting ouzo, sambuca, or pernod. Any time you're buying a spirit specifically for cooking, ask if there are any smaller bottles available so you don't end up with a massive amount you'll never finish.
Ingredients:
1 tablespoon plus 1½ teaspoons canola oil
8 head-on colossal shrimp, peeled and deveined
⅔ cup pastis
1 tablespoon plus 1½ teaspoons unsalted butter
½ cup low-sodium chicken stock
⅔ teaspoon fleur de sel, or other flaky salt
½ teaspoon freshly ground black pepper
Directions: Preheat oven to 375 degrees Fahrenheit. Heat oil in a large, ovenproof skillet over high heat. Add shrimp and cook, turning once, until seared on both sides. Transfer to oven and continue to cook until shrimp are opaque, about 3 minutes.
Add pastis to skillet and carefully return to high heat. Ignite the pan and cook until flame dies. Remove shrimp from skillet and set aside.
Drain fat from skillet and add butter and chicken stock. Cook over medium-high heat, whisking to emulsify, until reduced by half, about 1 minute. Return shrimp to skillet and cook until heated through. Place two shrimp on each of four serving plates and drizzle with butter sauce. Season with fleur de sel and pepper. Serve.
2. Spinach Salad Flambé
Spinach salad with bacon will never go out of style. Give the classic a dose of fun by making Food.com's recipe, which flames the dressing with a little bit of brandy. You can use other greens for this recipe as well, but make sure you pick something pretty sturdy. Soft greens will turn to mush under the hot dressing.
Ingredients:
12 ounces baby spinach
¼ cup sliced celery
2 tablespoons sliced green onions
4 bacon slices, cut into ½-inch pieces
2 tablespoons packed brown sugar
2 tablespoons cider vinegar
¼ teaspoon salt
½ teaspoon dried tarragon leaves or 1 teaspoon chopped fresh tarragon
Pinch of pepper
2 tablespoons brandy
Directions: Make a bed of baby spinach in a heatproof bowl or platter. Sprinkle celery and green onions over the top.
Meanwhile, cook bacon until crisp. Transfer to a paper towel-lined plate to drain. Pour off all but 1 to 2 tablespoons accumulated bacon fat. Stir in the sugar, vinegar, and herbs. Bring to a boil, add bacon and cook briefly. Pour over the greens. At the table, warm the brandy in the pan, ignite, and let flames die down. Pour over the salad, toss, and serve.
3. Pork Chops With Flaming Apricot Bourbon Sauce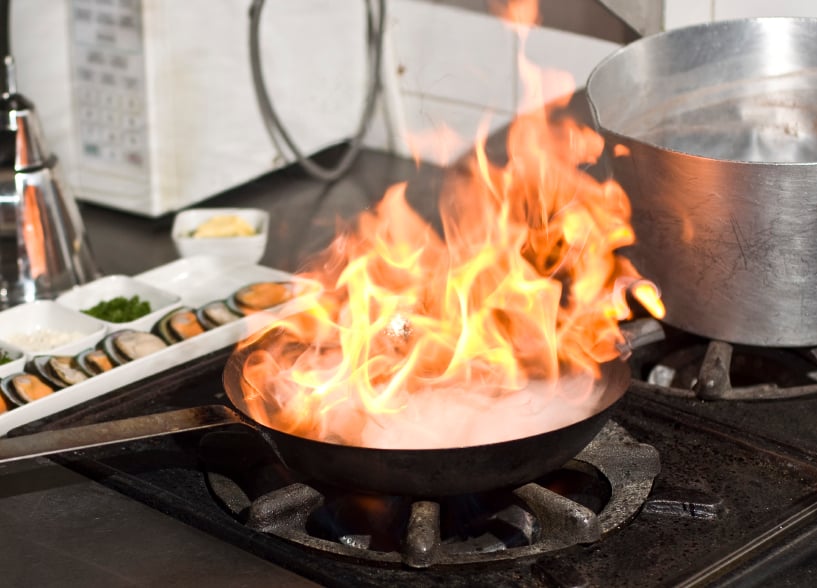 Pork and bourbon are a perfect pairing, and the sweetness of apricot makes the flavors even better. Try the combination with Food52's recipe for chops with a sweet and savory sauce. A simple rub made with brown sugar and fennel gives the meat tons of flavor and also achieves a nice crust on the outside. Once the pork chops are cooked, make a quick pan sauce with some scallions, apricot preserves, bourbon, and a bit of cream. You can also use peach preserves for an equally tasty twist.
Ingredients:
4 (1-inch-thick) bone-in pork loin chops
Sea salt
Coarsely ground black pepper
4 teaspoons olive oil
¼ teaspoon fennel seeds
½ teaspoon light brown sugar
2 tablespoons unsalted butter
2 tablespoons minced scallions
1 teaspoon minced garlic
1 Meyer lemon wedge or 2 regular lemon wedges
1 tablespoon plus 1 teaspoon apricot preserves, stirred to loosen
¼ cup bourbon, poured into a measuring cup
2 tablespoons heavy cream
Directions: Pat pork chops dry with a paper towel and drizzle olive oil over both sides, rubbing to coat. Season both sides with salt and pepper. Meanwhile, crush fennel seeds in a mortar and pestle, then stir in the brown sugar, mashing to combine. Sprinkle mixture over one side of each chop, pressing to adhere.
Place chops, sugared-side down, in a cold, large skillet. Set pan over medium heat and cook until browned, about 7 minutes. Flip over, cover, and cook until an instant-read thermometer inserted into the thickest part registers 140 to 145 degrees Fahrenheit, about 4 to 6 minutes longer. Transfer chops to a plate, and cover with foil to keep warm.
Pour pan juices into a bowl and reserve. Add butter to skillet. Once melted, add scallions and garlic and cook until fragrant, about 1 minute. Squeeze in lemon juice and stir. Add reserved pan juices and preserves, and stir to combine. Off the heat, add the bourbon. Return pan to heat and light the pan with a stick lighter or a long wooden skewer. Once flames die down, stir in cream, return chops to pan. Turn chops until coated in sauce, and serve at once.
4. Steak Diane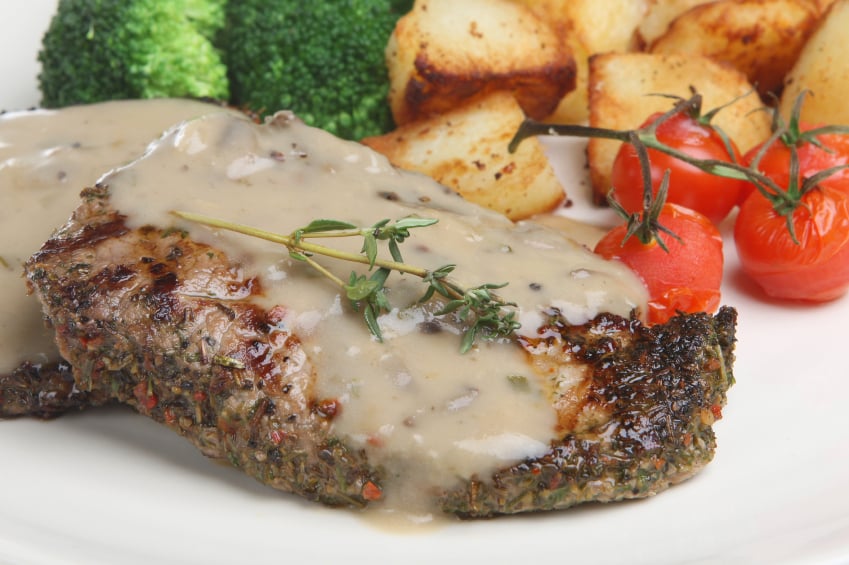 This dish certainly seems like a close cousin to steak au poivre, but its origins are a lot fuzzier. According to POLITICO New York, the recipe became popular in America after World War II when both meat and butter became widely available again. The dish was a favorite at restaurants where servers typically prepared it tableside to impress guests with the flaming pan.
While it's not nearly as popular today as it once was, Steak Diane tastes as amazing as ever. Try your hand at this one-time favorite with Saveur's recipe, which adds some mushrooms for even more savory flavor. If you don't have a go-to meal for date night, you may have just found one.
Ingredients:
2 tablespoons canola oil
4 (4-ounce) filet mignon steaks
1½ cups beef stock
2 tablespoons unsalted butter
2 garlic cloves, minced
1 shallot, minced
4 ounces oyster or hen-of-the-woods mushrooms, torn into small pieces
¼ cup cognac or brandy
¼ cup heavy cream
1 tablespoon Dijon mustard
1 tablespoon Worcestershire sauce
¼ teaspoon hot sauce
1 tablespoon minced parsley
1 tablespoon minced chives
Kosher salt and freshly ground black pepper
Directions: Heat oil in a 12-inch skillet over medium-high heat. Season steaks on both sides with salt and pepper and add to skillet. Cook, turning once, until browned on both sides and cooked to your desired doneness, about 4 to 5 minutes for medium rare. Transfer steaks to a plate and set aside.
Return skillet to high heat, add stock, and cook until reduced to ½ cup, about 10 minutes. Pour into a bowl and reserve. Return skillet to heat and add butter, garlic, and shallots. Cook, stirring, until soft, about 2 minutes. Add mushrooms. Cook, stirring, until mushrooms release liquid and begin to brown, about 2 minutes. Add cognac and light using a match to flambé. Once flames die down, stir in reserved stock, cream, Dijon, Worcestershire, and hot sauce. Return steak to skillet and cook, turning to coat, just until warmed and sauce is thickened, about 4 minutes. Transfer to plates and stir parsley and chives into sauce. Pour sauce over steaks, and serve.
5. Coq au Vin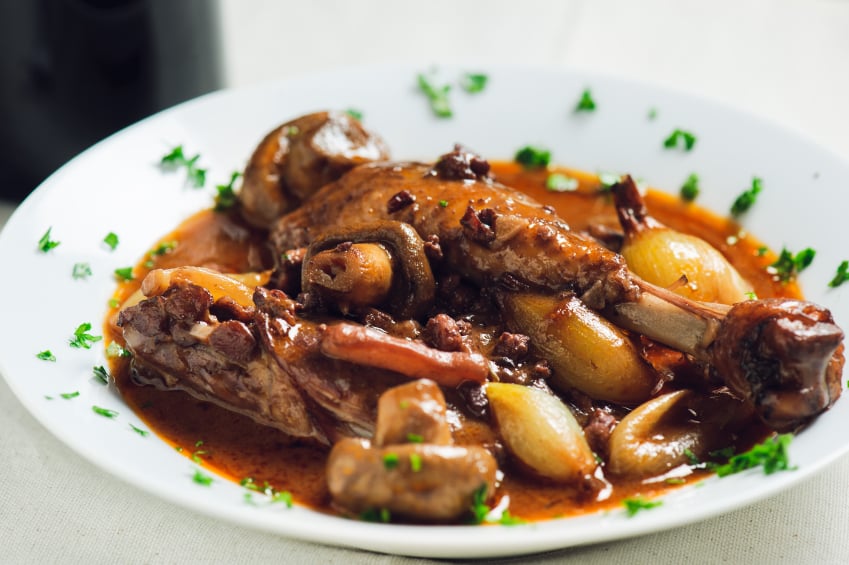 You'll never think of chicken as boring again when you make Tyler Florence's braise with red wine, cognac, bacon, and mushrooms, featured on Food Network. Though this recipe takes some time, the results are well worth the effort. Serve it with some buttered noodles or mashed potatoes to catch all of the fantastic sauce.
Ingredients:
4 slices bacon
2 chicken breasts
2 chicken thighs
2 chicken legs
½ cup flour
Salt and pepper
2 garlic cloves, chopped
2 cups pear onions, peeled
2 cups mushrooms
2 carrots, cut into 2-inch pieces
¼ cup cognac or brandy
1 bottle Burgundy wine
2 cups chicken broth
5 fresh thyme sprigs
2 teaspoons herbes de Provence
3 bay leaves
Chopped fresh parsley
Directions: In a large heavy skillet or Dutch oven, cook bacon over medium heat until crisp. Transfer to paper towels to drain. Meanwhile, coat chicken pieces in flour, salt, and pepper. Brown chicken on both sides.
Add garlic, onions, mushrooms, and carrots. Cook 2 minutes to soften. Add cognac to a small glass. Remove pan from heat and add cognac, then set pot back over the flame. Flambé by lighting with a long match. When flames die down, stir in the wine and broth. When blended, add herbs. Cover and simmer for 1 hour. Remove cover and continue to simmer for 15 minutes to allow sauce to reduce. If needed, add a bit of tomato paste or cornstarch to thicken. Serve chicken and vegetables topped with bacon and parsley.
6. Bananas Foster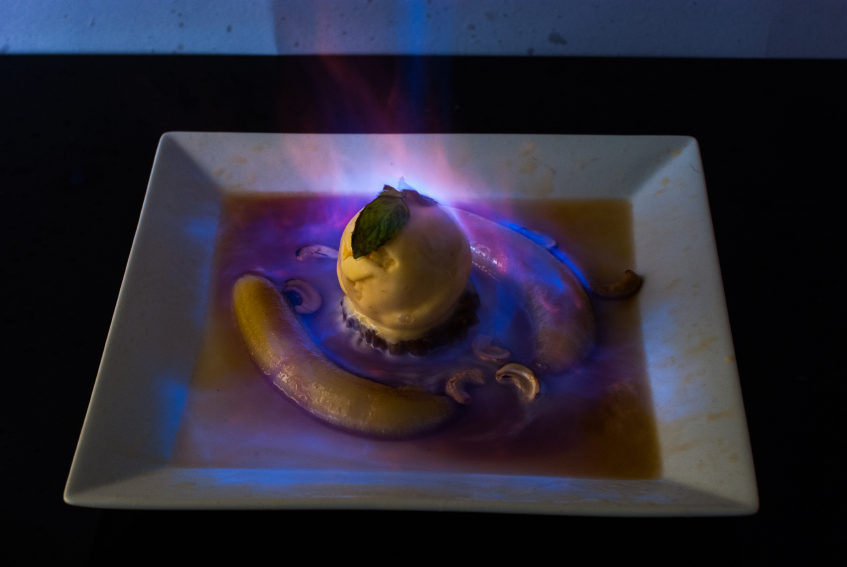 Give this banana and rum dessert even more appeal with The Pioneer Woman's twist, which adds some chopped nuts for a little bit of crunch. This is one instance where you'll be better off using slightly underripe bananas so they don't completely fall apart in the sauce. You can serve this recipe over just about any basic dessert, but ice cream is our favorite.
Ingredients:
8 tablespoons salted butter
1 cup packed dark brown sugar
½ cup heavy cream
½ cup dark rum
2 whole bananas, sliced into thick slices on the diagonal
½ cup chopped walnuts or pecans
Pinch of cinnamon
Directions: Heat butter in a heavy skillet over medium-high heat. Once melted, add brown sugar and stir to combine. Add cream and cook, stirring to combine. Add bananas and nuts. Mixture should be bubbling vigorously.
Remove skillet from heat, and pour in the rum, stirring to incorporate. Carefully ignite the skillet using a stick lighter or a long kitchen match. Continue to cook while you wait for the flames to die down. Remove from heat, stir in cinnamon, and serve immediately.