5 Delicious Ways to Cook Healthy Fall Vegetables
Summer may be gone, but that's no reason to say goodbye to fresh produce in your diet. Fall is the season of heartier vegetables like squash, sweet potatoes, and cabbage (and its many relatives, like cauliflower and Brussels sprouts). Many of these flavorful foods are packed with both vital nutrients and flavor, and they often taste excellent simply chopped up and roasted with a little olive oil and seasoning. But fall vegetables also shine in other dishes, from tacos to pancakes. Here are five great ways to eat more veggies this autumn.
1. Crispy Brussels Sprouts and Black Bean Tacos with Avocado Crema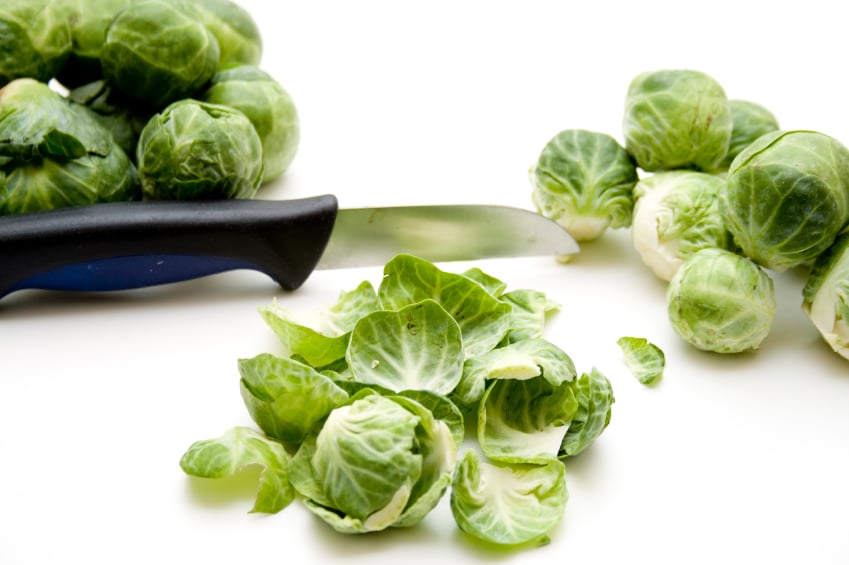 If you think you don't like Brussels sprouts, it may be because you have a gene that makes them taste bitter, or it could be because you've only had ones that are badly prepared — under-seasoned, overcooked, and generally blah. Cooked correctly, these tiny cabbages, which are in peak season in the fall and winter, are a wonderful accompaniment to many meals.
While you can always make a quick side by simply roasting Brussels sprouts, more adventurous cooks might want to try them as a topping for tacos, as in his recipe from See You in the Morning.
Ingredients:
1 pound Brussels sprouts
Olive oil
Kosher or sea salt
Pepper
About ¼ cup grated Parmesan
1 (15-ounce) can black beans, drained and rinsed
1 teaspoon cumin
Small corn or flour tortillas
2 to 3 tablespoons olive oil
1 green onion, sliced
Small handful cilantro
Hot sauce
For the crema
1 ripe avocado
Juice from 1 lime
¼ cup sour cream or Greek yogurt
Salt and pepper to taste
Directions: Preheat oven to 400 degrees Fahrenheit. Wash the Brussels sprouts, and remove the outer leaves, then cut in half. Toss the Brussels sprouts with olive oil, salt, pepper, and grated Parmesan cheese. Spread the mixture on a baking sheet, and cook for about 25 to 30 minutes, until crispy and a bit browned. Remove from oven, let cool, and then coarsely chop. Set aside.
Drain the beans, pour into a bowl, and add the cumin, salt, and pepper. Mix thoroughly, then slightly mash with a fork.
Cut the avocado in half, and scoop out the flesh into a bowl. Add the lime juice, sour cream, and salt and pepper, then mash well to combine.
Heat 2 to 3 tablespoons of olive oil over medium-high heat in a large skillet. Add one or two tortillas to the pan, and top each with two spoonfuls of the black beans. Cook tortillas for about 1 minute. Then, use a pair of tongs to fold each tortilla in half. Cook for about 30 more seconds, then flip and cook for another 30 seconds. Repeat until you've used up all the bean mixture.
Top each taco with the chopped Brussels sprouts and the avocado crema. Sprinkle with green onion, cilantro, and hot sauce, then serve.
2. Delicata Squash and Roasted Mushrooms with Thyme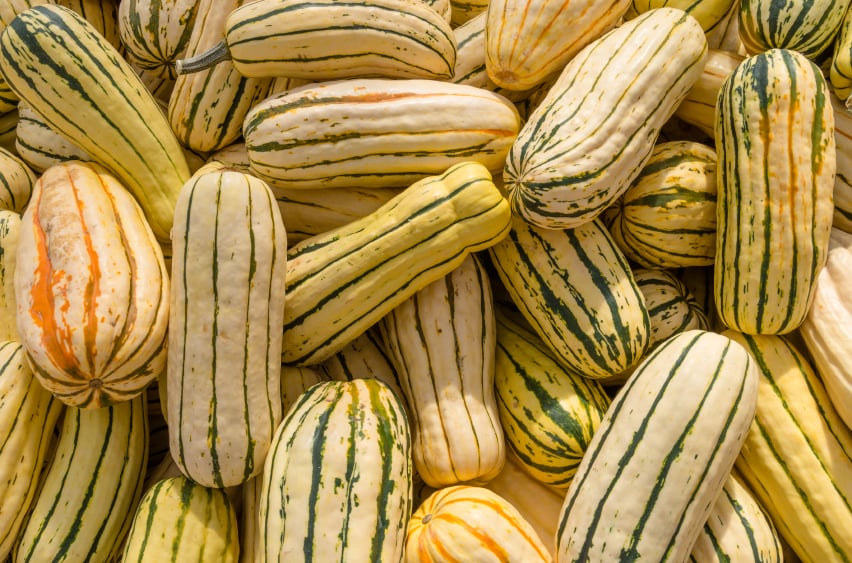 Delicata squash isn't quite as popular as other fall squashes like pumpkin, butternut, and acorn, and that's a shame. Like its more popular relatives it's a good source of vitamins A and C, but unlike butternut or acorn squash, which can be tough to cut and peel, delicatas are fairly simple to prepare since because you can eat the skin. This easy-to-make recipe for roasted delicata squash and mushrooms from Epicurious serves 6.
Ingredients:
6 tablespoons olive oil
1 tablespoon chopped fresh thyme
¾ teaspoon salt
½ teaspoon black pepper
2 pounds delicata squash (3 medium), halved lengthwise, seeded, and cut crosswise into 1/2-inch-wide slices
2 pounds mixed fresh mushrooms such as cremini, shiitake, and oyster, trimmed (discard stems if using shiitakes) and halved (quartered if large)
Directions: Preheat oven to 375 degrees Fahrenheit. Stir together oil, thyme, salt, and pepper. Toss squash with 2 tablespoons of the thyme oil mixture in a shallow baking pan (½- to 1-inch deep), and arrange in a single layer. Toss mushrooms with remaining ¼ cup thyme oil in another shallow baking pan (½- to 1-inch deep), and arrange in a single layer. Roast squash and mushrooms, stirring occasionally and switching position of pans halfway through roasting, until vegetables are tender and liquid mushrooms give off is evaporated, 25 to 30 minutes. Combine the contents of both pans in a bowl or dish, and serve.
3. Kohlrabi and Apple Slaw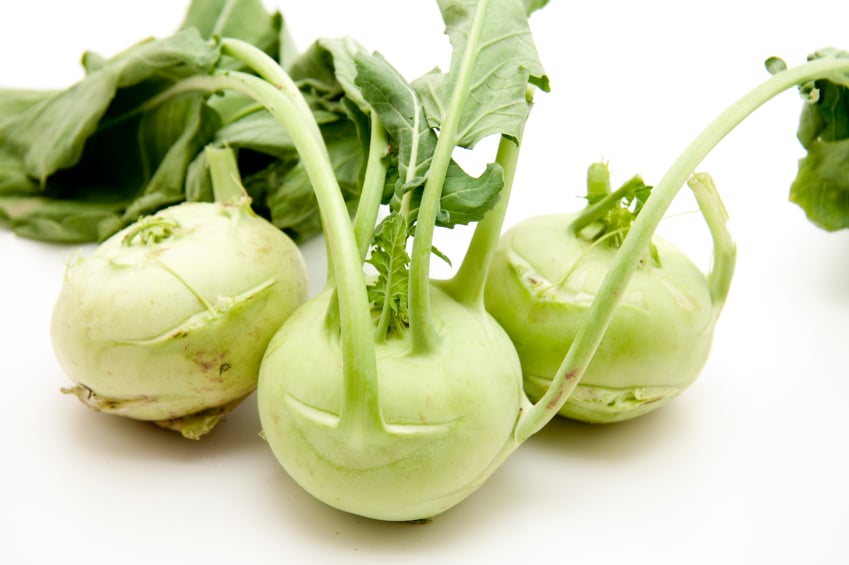 Kohlrabi is a cool-season vegetable that often gets overlooked in the produce aisle and at farmer's market, perhaps because people aren't quite sure what to do with these unfamiliar bulbs. Yet fans of broccoli and cabbage will want to take note of this vegetable, which is a good source of vitamin C and is packed with anti-inflammatory phytochemicals, The Guardian reports. While kohlrabi can be cooked in stews and roasted with other veggies, it's also good raw, as in this recipe for slaw from Strawberry Plum.
Ingredients:
3 small kohlrabi, peeled and julienned
1 large, crisp apple, julienned
¼ large red onion, very thinly sliced
3 tablespoons chopped chives
Shaved hard cheese like manchego or parmigiano
For the vinaigrette
1 tablespoon Dijon mustard
1 tablespoon honey
2 tablespoons apple cider vinegar
4 tablespoons extra virgin olive oil
Directions: Mix together the kohlrabi, apple, red onion, and chives in a bowl, then season lightly with salt and pepper.
Whisk together the mustard, honey, and vinegar in a small bowl. While continuing to whisk, slowly pour in the olive oil. Whisk until the dressing has emulsified, then season with salt and pepper to taste.
Toss the vinaigrette with the fruit and vegetables. Shave some cheese over the top, then serve.
4. Parsnip and Cauliflower Puree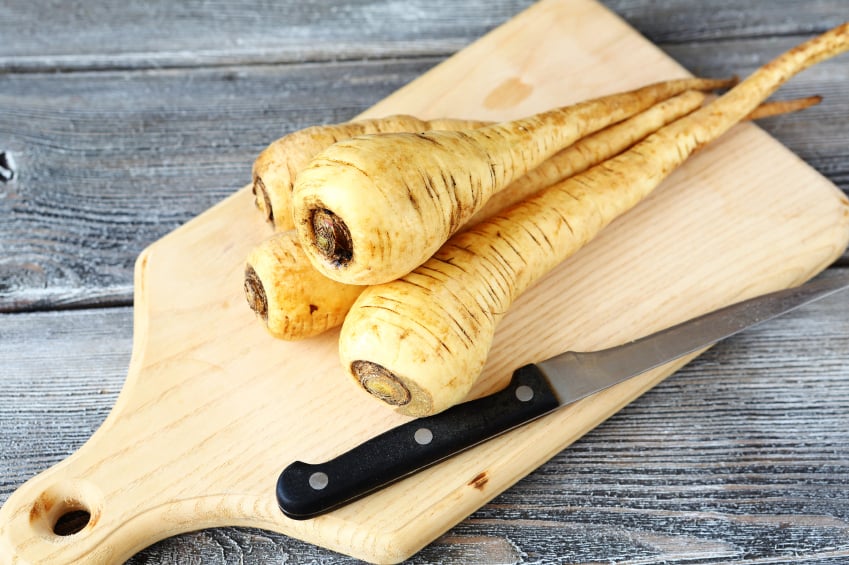 Parsnips look a bit like albino carrots and have a slightly sweet and nutty flavor. These versatile root vegetables are also a good source of potassium and fiber, says Health. You can roast them, add them to soups, or even mash them like potatoes, as in this recipe for parsnip and cauliflower puree from Chowhound. It's an excellent, healthier option for when you're craving mashed potatoes.
Ingredients:
2 tablespoons olive oil
2 pounds cauliflower (about 1 large head), trimmed, stems and florets cut into 1½-inch pieces
8 ounces parsnips (about 2 medium), peeled and cut into large dice
1 medium garlic clove, smashed
2 teaspoons kosher salt, plus more as needed
White pepper
1½ cups whole milk
Directions: Heat the olive oil in a large saucepan with a tight-fitting lid over medium-high heat until it shimmers. Add the cauliflower, parsnips, garlic, measured salt, and pepper, to taste. Stir to coat with the oil.
Pour in the milk, and bring the mixture to a boil. Reduce the heat to low, cover, and simmer until the vegetables are tender, about 20 minutes.
Transfer the contents of the pan (including the liquid) to the bowl of a food processor fitted with a blade attachment. Process until smooth. Taste, and season with additional salt and pepper as needed, then serve.
5. Sweet Potato Pancakes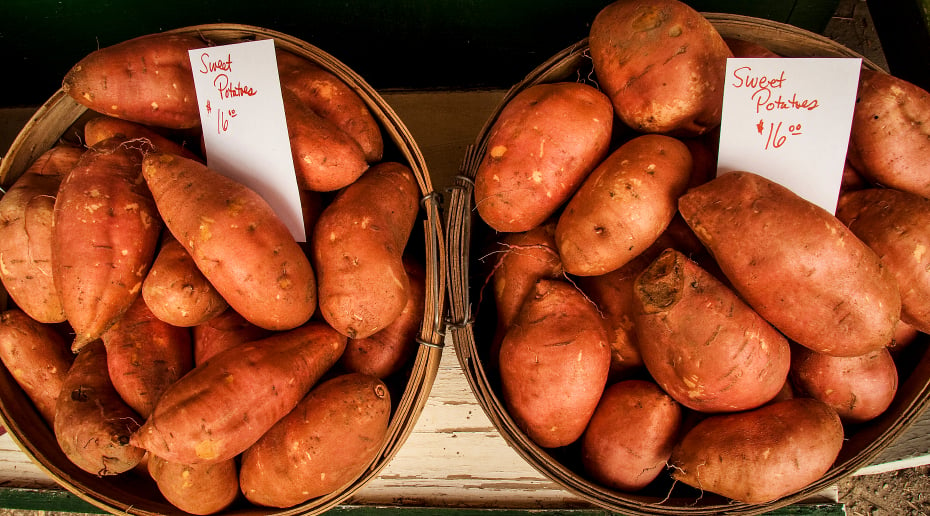 Sweet potatoes are the quintessential fall vegetable and a nutritious one to boot. "Sweet potatoes are high in vitamin A, vitamin B5, B6, thiamin, niacin, riboflavin, and, due to their orange color, are high in carotenoids," nutritionist Laura Flores told LiveScience. They taste good baked, fried, and in pies and casseroles, but you may not have tried them in pancakes yet. This paleo-friendly recipe from Smile Sandwich contains no wheat flour or extra sugar and is super-easy to make.
Ingredients:
½ cup sweet potato
2 eggs
1 tablespoon coconut flour
1½ teaspoons cinnamon
¼ teaspoon baking soda
¼ teaspoon vanilla
Coconut oil for cooking
Directions: Pierce a sweet potato five or six times, then microwave for 5 to 6 minutes, until potato is soft. Scoop out the flesh.
Combine ½ cup of microwaved sweet potato with the eggs, coconut flour, cinnamon, baking soda, and vanilla. Mix until a batter forms.
Warm the coconut oil in a skillet over medium heat. Pour about ¼ cup of batter into the pan, and let the pancake cook until small bubbles start to form. Flip, and let cook for about another minute on the other side. Repeat until all the batter is cooked, then serve with your favorite toppings.
Follow Megan on Twitter @MeganE_CS