Delta Wants to Make Your Domestic Flights More Comfortable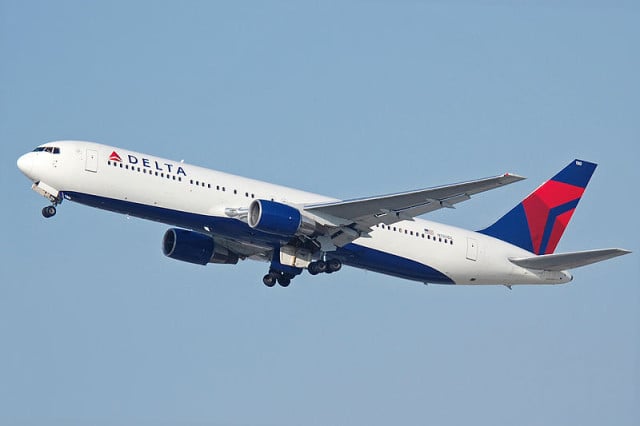 Delta Air Lines (NYSE:DAL) announced Wednesday that it will add new seats and larger overhead bins to 225 of the planes it flies domestically, a project the airline said will take three years and cost $770 million.
The project will also put electric power outlets in every seat. Other updates include adjustable headrests, better bathrooms, and improved galleys, Delta said. Delta's Boeing (NYSE:BA) 757-200s and 737-800s as well as planes in the Airbus 320 family will see their insides overhauled. Delta said the move is a part of a project to improve passenger comfort that began in 2010.
"We're continuing to make smart long-term investments in our products and services to meet the expectations of our customers," said Glen Hauenstein, Delta's chief revenue officer, in a statement. "In just six years, we will have made updated to interiors throughout Delta's fleet giving customers improved comfort and more options to work or relax and be entertained."
This seems to be a rare bit of good news for frequent fliers in a landscape in which the cost of flying continues to rise. Last month, U.S. airlines won a repeal of $380 million in fees they are forced to pay for aviation security each year.
This is a major win for airlines, as both they and their passengers have been subjected to exorbitant airport security fees since the Transportation Security Administration was created after September 11, 2001, but unfortunately, customers are the ones who will now take on the brunt of those costs.
Some Delta customers got late Christmas presents in the form of incredibly cheap flights from the airline, but the discounts weren't given intentionally. A glitch on Delta's website the day after Christmas caused the airline to offer flights across the country for next to nothing. Lucky customers snagged roundtrip tickets from Boston to Hawaii for $68 and Tallahassee to Los Angeles for $27. Delta said it would honor the tickets purchased during the glitch.
More from Wall St. Cheat Sheet:
Follow Jacqueline on Twitter @Jacqui_WSCS