Derby Day Cocktails: 7 Ways to Make a Mint Julep
Aside from the famously elaborate hats, there's probably no tradition more associated with the Kentucky Derby than the downing of mint juleps. More than 120,000 of the minty bourbon cocktails are served over Derby Day weekend at Churchill Downs alone, to say nothing of how many are tossed back at parties and bars elsewhere in Louisville and around the country. Satisfying the thirst of the racetrack crowds requires 10,000 bottles of ready-to-serve mint julep mix, 1,000 pounds of mint, and 60,000 pounds of ice.
Of course, you don't need to go to Kentucky to enjoy a mint julep, since it's so easy to make this refreshing drink at home. Whether you're a purist who prefers the classic version of this cocktail or a more adventurous spirit, here are seven mint julep recipes to try this Derby Day.
1. Knob Creek Mint Julep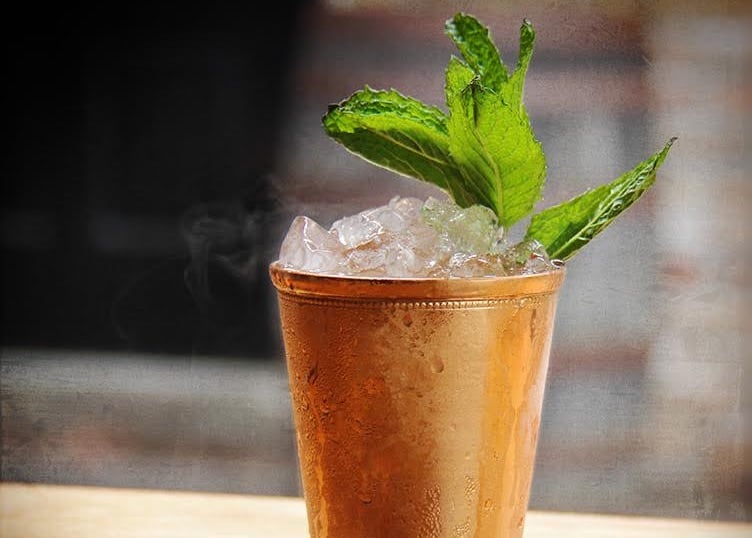 Traditionalists will gravitate toward this simple-yet-classic mint julep recipe from Knob Creek. The only ingredients are bourbon, a little mint, some simple syrup, and soda water (which adds a bit of fizz). Drink this if you want to celebrate Derby Day in true Kentucky style.
Ingredients:
1½ parts Knob Creek Single Barrel Reserve Bourbon
2 bunches mint
1 part simple syrup (recipe follows)
1 splash soda
For the simple syrup:
Equal parts of sugar and water
Directions: To make the simple syrup, combine equal parts of sugar and water in a saucepan. Bring to a boil, stirring constantly, until sugar is fully dissolved. Allow to cool before using in the cocktail.
To make the mint julep, mix sprigs of mint with simple syrup and a splash of soda. Fill julep cup with fine crushed ice and pour in bourbon. Lift out and decorate with two mint leaves. Add powdered sugar over mint to add an optional frosted appearance.
2. Jalapeno-Spiked Bourbon Mint Julep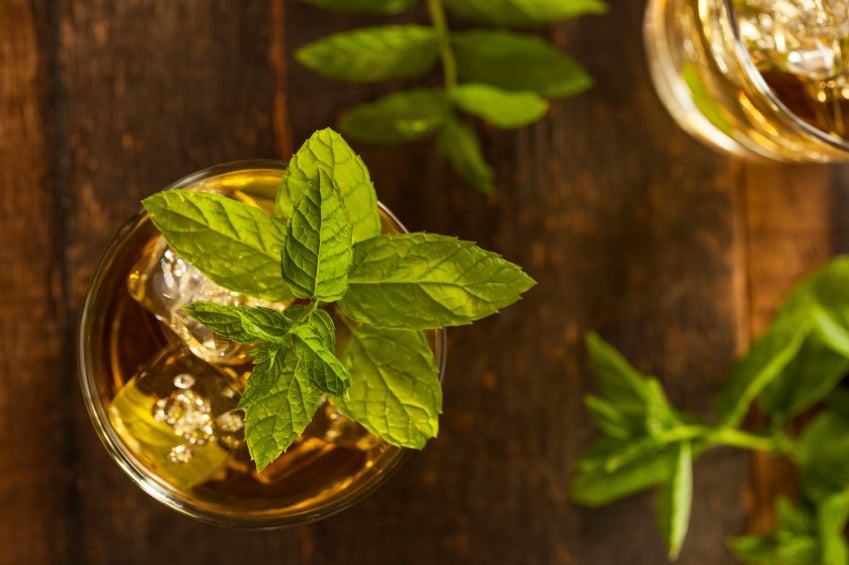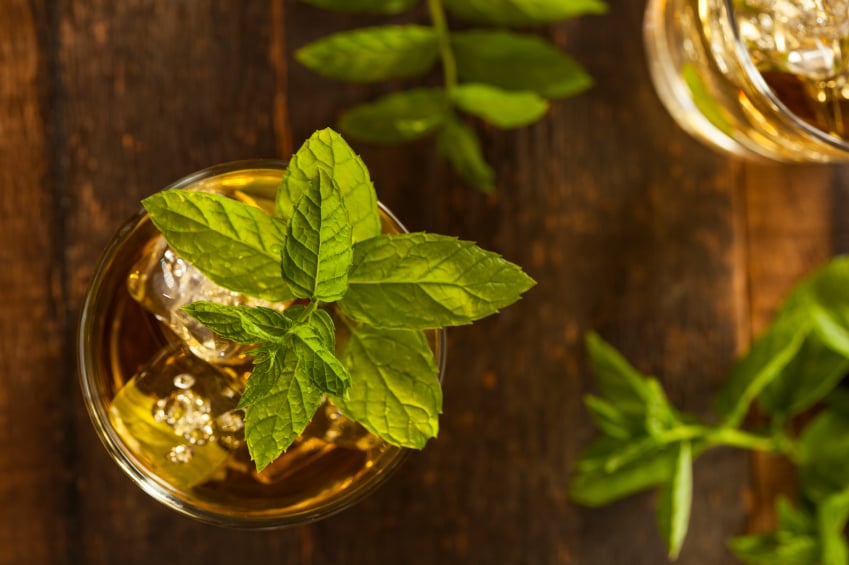 Louisville chef and Top Chef contestant Edward Lee has a problem with the traditional mint julep. "To be honest, most juleps I've had are overly sweet, cloying, and hard to finish," he told People. His solution was to add a little more punch to the cocktail in the form of a jalapeno-infused simple syrup. The result, he said, is "minty and verdant, with a kick of spice at the end that makes you want another sip."
Ingredients:
4 to 6 fresh mint leaves, plus a sprig for garnish
1 ounce jalapeño simple syrup (recipe follows)
Crushed ice
2½ ounces bourbon
Splash of club soda
A jalapeño slice for garnish
For the jalapeño simple syrup:
1 cup water
1 cup sugar
2 jalapeño peppers, chopped (seeds included)
Directions: To make the simple syrup, combine the water, sugar, and peppers in a small saucepan and bring to a boil, stirring to dissolve the sugar. Turn off the heat and let steep for 20 minutes. Strain the syrup and allow to cool. Keep in an airtight container in the refrigerator.
To make the cocktail, place the mint leaves in the bottom of a julep cup, add the simple syrup, and gently bruise the leaves with a wooden muddler or a wooden spoon.
Add enough crushed ice to fill the cup almost two-thirds of the way. Add the bourbon and stir gently, then fill the cup almost full with more crushed ice.
Top with a splash of club soda. Garnish with the mint sprig and slice of jalapeño and serve immediately.
3.  Basil Hayden's Derby Day Julep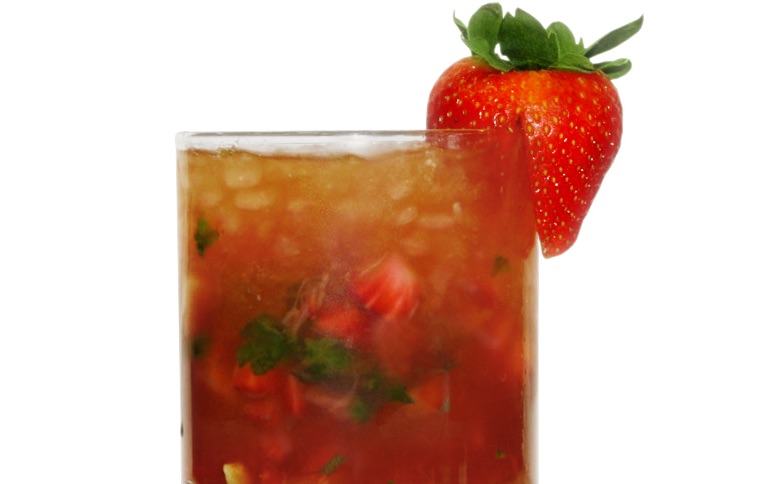 The unique spicy finish of Basil Hayden's bourbon is complemented by the sweet taste of strawberries and fresh mint and lemon in this cocktail created by bourbon expert Joy Perrine.
Ingredients:
4 parts Basil Hayden's Bourbon
4 chopped strawberries
10 spearmint leaves
4 lemon wedges
1 part water
2 tablespoons brown sugar
Directions: Muddle the brown sugar and water in a pint glass until sugar dissolves. Add chopped strawberries, lemon wedges, and mint leaves and muddle well. Add the bourbon and shake. Add ice and shake once again. Strain cocktail over crushed ice and garnish with a mint sprig and strawberry.
4. Sweet Tea Mint Julep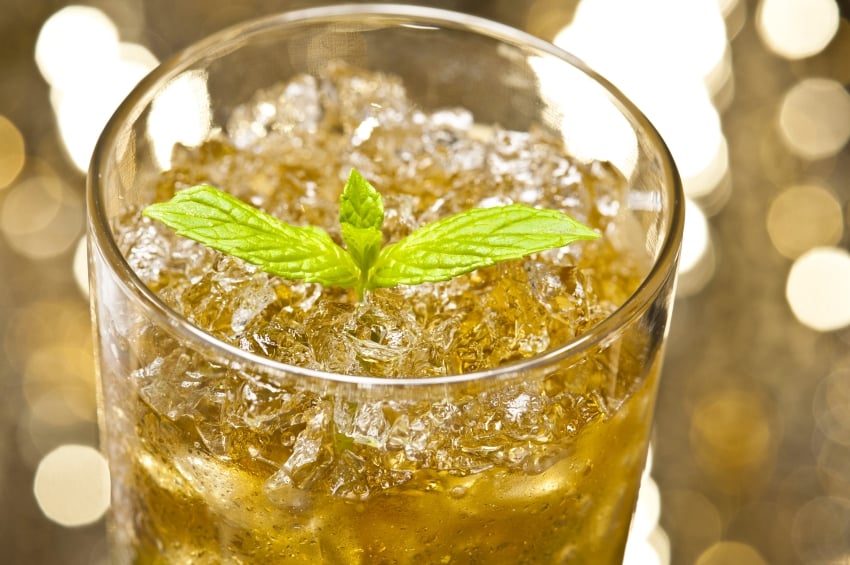 This creative cocktail combines two classic Southern beverages: the mint julep and sweet tea. The resulting drink is the perfect refreshing sip for those who find the traditional mint julep a bit too potent. This recipe from Spicy Southern Kitchen serves four.
Ingredients:
2 cups water
1 cup sugar
5 to 6 mint leaves
2 family-sized tea bags
3 cups water
¾ to 1 cup bourbon
Crushed ice
Lemon slices
Mint sprigs
Directions: Add the 2 cups water, sugar, and mint leaves to a medium saucepan and bring to a boil, stirring to dissolve the sugar completely. Remove pan from heat and add the teabags. Let steep for 5 minutes.
Remove the tea bags from the saucepan and pour in 3 cups of cold water. Cover and refrigerate until ready to serve.
Pour the sweet tea into a pitcher and add the bourbon. Fill glasses with crushed ice. Pour tea over ice and garnish with lemon slices and sprigs of mint. Serve immediately.
5. Mile High Julep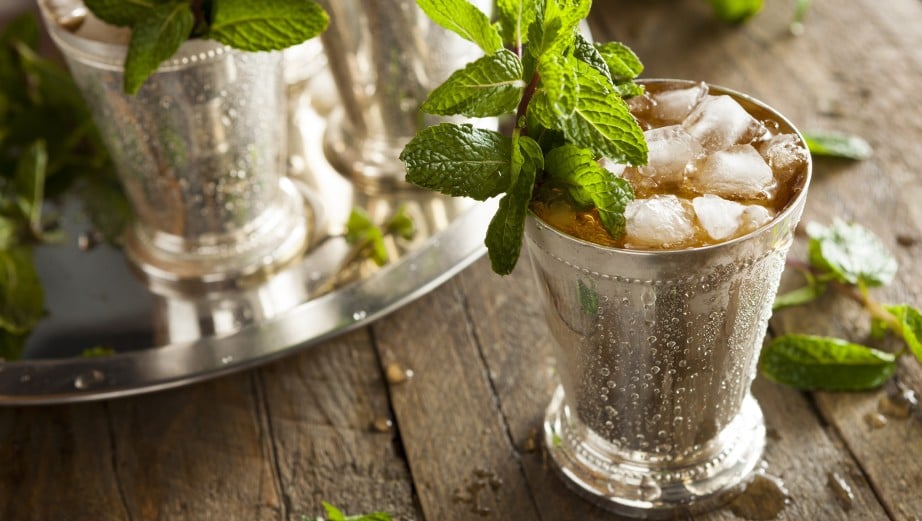 Ancho Reyes chile liqueur and ginger syrup give this variation on the mint julep some welcome kick. The former ingredient is "spicy, smoky and sweet," according to Food & Wine, and it's a favorite of cocktail connoisseurs who prefer their drinks on the hotter side. This recipe is from Shawn Chen of New York's Decoy, via Chilled Magazine.
Ingredients:
1¾ ounces American whiskey, such as Tincup
½ ounce Ancho Reyes chile liqueur
½ ounce ginger syrup
¼ ounce fresh lemon juice
6 to 8 mint leaves
Sugar, for garnish if desired
Directions: Combine all ingredients in a julep cup. (Clap or smack the mint in your hands to extract the flavor before adding it to the cup.) Add crushed ice to the cup and stir until everything is thoroughly mixed and the outside of the cup has turned frosty. Garnish with a large mint sprig and sprinkle some sugar over the mint and the ice. Serve immediately.
6. Raspberry Jam Mint Julep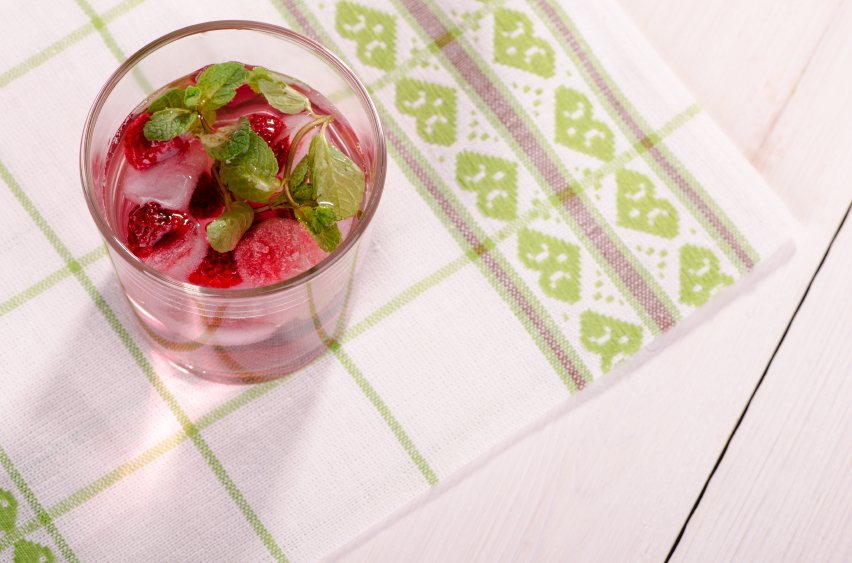 Adding a touch of raspberry jam plus some fresh berries adds some extra sweetness to the traditional julep. The picture-perfect drink will also look good on your coffee table as you cheer on your favorite horse during the big race. Recipe from Beautiful Booze.
Ingredients:
1½ ounces of bourbon
8 mint leaves, plus more for garnish
1 heaping teaspoon of raspberry jam
5 fresh raspberries, plus more for garnish
½ cup of ice and ½ cup of crushed ice
Directions: Combine the bourbon, mint, raspberry jam, fresh raspberries, and ½ cup regular ice to a glass. Muddle the mixture. Add the remaining ½ cup of crushed ice to a julep cup or other serving glass. Strain the contents of the first cup into the second, then serve.
7. Honey Peach Mint Julep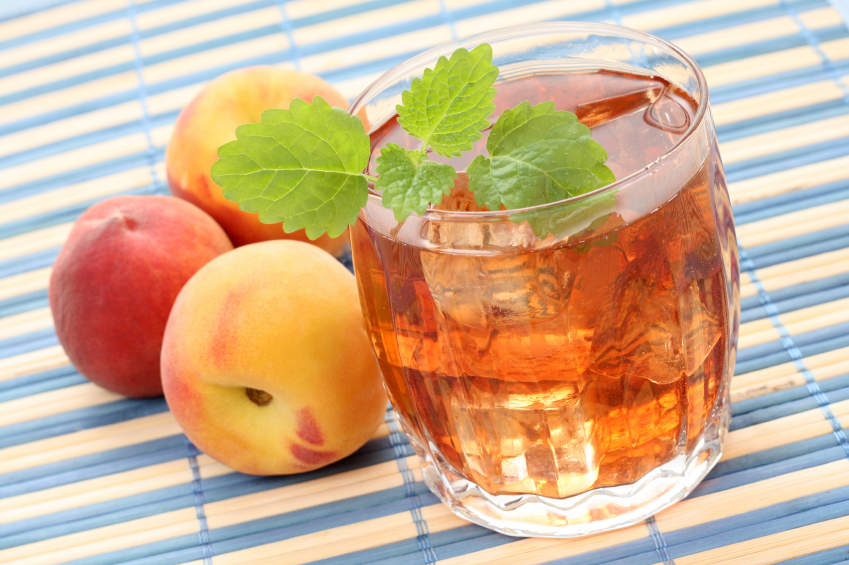 A hint of peach flavor helps to blunt the rough edge of the bourbon in this take on the mint julep from Creative Culinary. Use the leftover peach syrup to sweeten iced tea or other cocktails.
Ingredients:
2½ ounces bourbon
12 to 15 fresh mint leaves
Crushed ice
Fresh mint and peach slices for garnish
For the peach and mint simple syrup:
1 small peach, sliced (leave skins on if you wish)
½ cup sugar
½ cup water
5 sprigs of mint
2 tablespoons honey
Directions: To make the simple syrup, add the sliced peach, water, sugar, and mint to a small saucepan. Cook until the sugar has completely dissolved, and continue to simmer on low until the peaches have softened, about 2 to 3 minutes. Add the honey and stir to combine. Remove pan from heat and mash the peaches. Strain mixture through a sieve to remove the mint and fruit pulp. Set syrup aside to cool.
To make the cocktail, combine the mint and ¼ ounce of the peach syrup in a julep cup or other glass, Gently muddle the ingredients. Loosely fill the glass with crushed ice, then add the bourbon. Drizzle with a little more peach syrup. Stir, then garnish with a slice of peach and a mint sprig.
Follow Megan on Twitter @MeganE_CS
More from Culture Cheat Sheet: