Dessert Recipes Perfect for Peanut Butter Lovers
Peanut butter lovers are lucky. There are a number of desserts that appeal just to them. Peanut butter not only is delicious and nutritious, it's also versatile and can star in many recipes. Some peanut butter lovers like chocolate paired with their butter, while others want the good stuff on its own. We're highlighting the sweet treats that feature peanut butter both on its own and in a combination. These desserts are for those who can never get enough of the dreamy, creamy, healthy fat.
1. Peanut Butter Cookies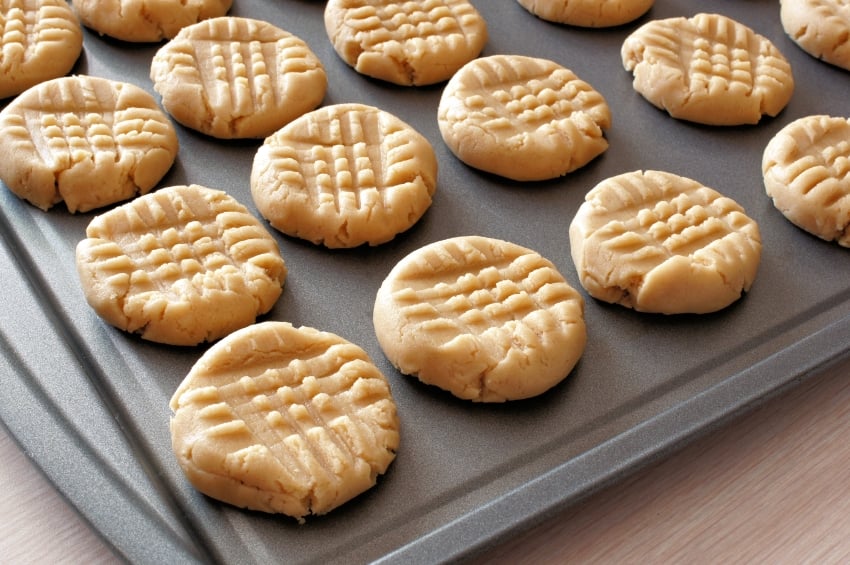 We'll start things off with a classic dessert: peanut butter cookies. This recipe from Betty Crocker makes 30 cookies. The key is chilling the dough for about 2 hours until firm. Then, you're ready to roll your dough into balls and bake for 10 minutes. These cookies are packed with peanut butter flavor, without anything else getting in the way. Pair the cookies with a glass of cold milk, and enjoy the sweet and salty treat.
Ingredients:
½ cup granulated sugar
½ cup packed brown sugar
½ cup peanut butter
¼ cup shortening
¼ cup butter or margarine, softened
1 egg
1¼ cups all-purpose flour
¾ teaspoon baking soda
½ teaspoon baking powder
¼ teaspoon salt
Directions: Mix sugars, peanut butter, shortening, butter, and egg in large bowl. Stir in remaining ingredients. Cover and refrigerate about 2 hours or until firm.
Heat oven to 375 degrees Fahrenheit.
Shape dough into 1¼-inch balls. Place about 3 inches apart on ungreased cookie sheet. Flatten in crisscross pattern with fork dipped into sugar.
Bake 9 to 10 minutes or until light golden brown. Cool 5 minutes; remove from cookie sheet. Cool on wire rack.
2. Peanut Butter Swirl Brownies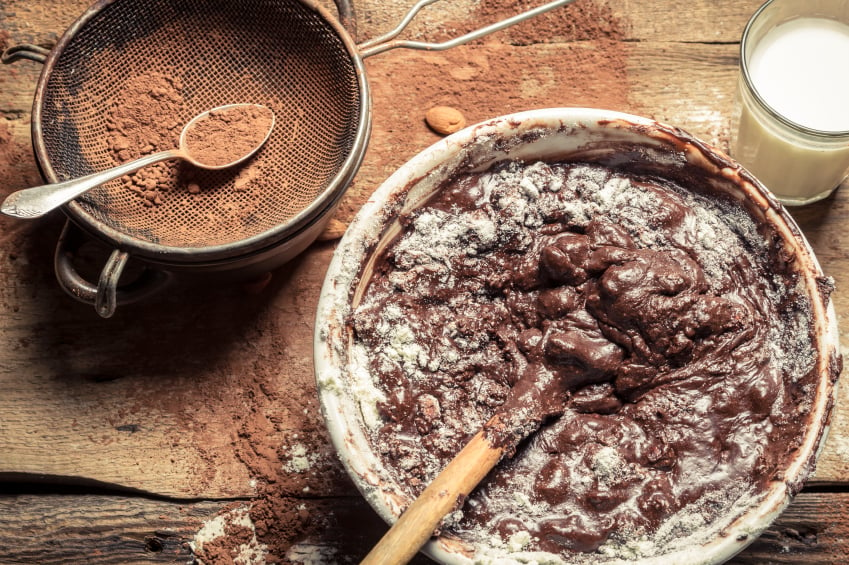 Next up are peanut butter swirl brownies from Martha Stewart. This dessert does enlist chocolate. But the star ingredient is still the peanut butter that gets swirled into the batter, giving the brownies a marbled look. Brownies are some of the easiest sweet treats you can make, and you can take them up a notch by preparing a filling made from peanut butter, butter, sugar, salt, and vanilla extract. Alternate pouring your batter and filling into an 8-inch square baking pan. Then, bake for 45 minutes. The end result will be a dessert appealing to both the eye and the stomach that was almost too easy.
Ingredients:
Batter:
8 tablespoons (1 stick) unsalted butter, cut into small pieces, plus more for pan
2 ounces good-quality unsweetened chocolate, coarsely chopped
4 ounces good-quality semisweet chocolate, coarsely chopped
⅔ cup all-purpose flour
½ teaspoon baking powder
¼ teaspoon salt
¾ cup granulated sugar
3 large eggs
2 teaspoons pure vanilla extract
Filling:
4 tablespoons unsalted butter, melted
½ cup confectioners' sugar
¾ cup smooth peanut butter
¼ teaspoon salt
½ teaspoon pure vanilla extract
Directions: Preheat oven to 325 degrees Fahrenheit. Line a buttered 8-inch square baking pan with foil or parchment paper, allowing 2 inches to hang over sides. Butter lining; set pan aside.
Make batter: Put butter and chocolates in a heatproof medium bowl set over a pan of simmering water; stir until melted. Let cool slightly.
Whisk together flour, baking powder, and salt in a separate bowl, and set aside.
Whisk granulated sugar into chocolate mixture. Add eggs, and whisk until mixture is smooth. Stir in vanilla. Add flour mixture; stir until well incorporated.
Make filling: Stir together butter, confectioners' sugar, peanut butter, salt, and vanilla in a bowl until smooth.
Pour a third of batter into prepared pan, and spread evenly with a rubber spatula. Place dollops of filling (about 1 tablespoon each) about 1 inch apart on top of batter. Drizzle remaining batter on top, and gently spread to fill pan. Place dollops of remaining filling on top.
With a butter knife, gently swirl filling into batter, running knife lengthwise and crosswise through layers. Bake until a cake tester inserted into brownies (avoid center and edges) comes out with a few crumbs but is not wet, about 45 minutes. Let cool slightly in pan, about 15 minutes. Lift out brownies; let cool completely on a wire rack before cutting into squares.
3. Peanut Butter Silk Pie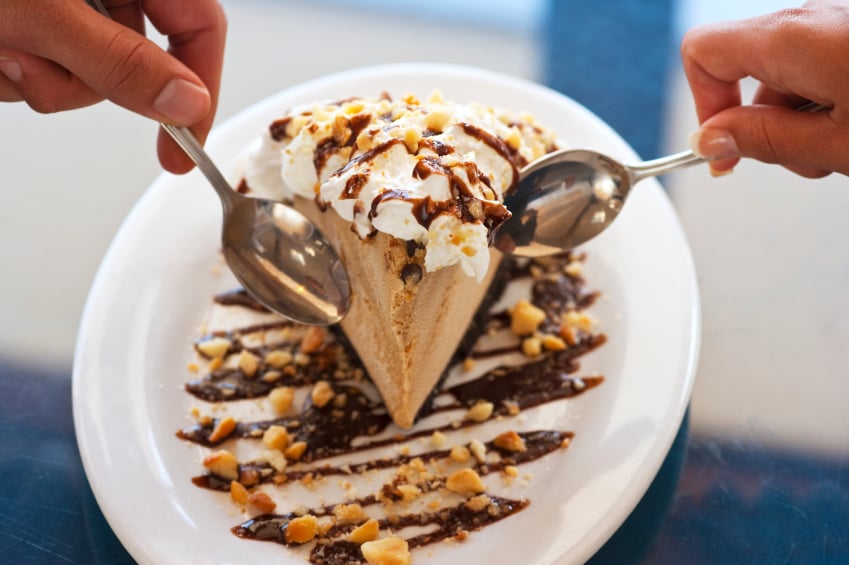 Peanut butter lovers will love this silk pie from Taste of Home. It requires a handful of ingredients and only 10 minutes of prep time. You don't even need to turn on the oven.  Simply beat peanut butter, cream cheese, and confectioners' sugar in a bowl. Then, fold in whipped topping, and pour the batter into a prepared graham cracker crust. Sprinkle nuts over your pie, and chill until serving. This pie will feed 8 lucky dessert guests, who will soon see that peanut butter, cream cheese, and sugar are all you need for dessert success.
Ingredients:
¾ cup peanut butter
4 ounces cream cheese, softened
1 cup confectioners' sugar
1 carton (8 ounces) frozen whipped topping, thawed
1 graham cracker crust (9 inches)
Salted chopped peanuts
Directions: In a large bowl, beat the peanut butter, cream cheese, and confectioners' sugar until smooth. Fold in whipped topping; pour into prepared crust. Sprinkle with nuts. Chill until serving.
4. Peanut Butter Bourbon Milkshake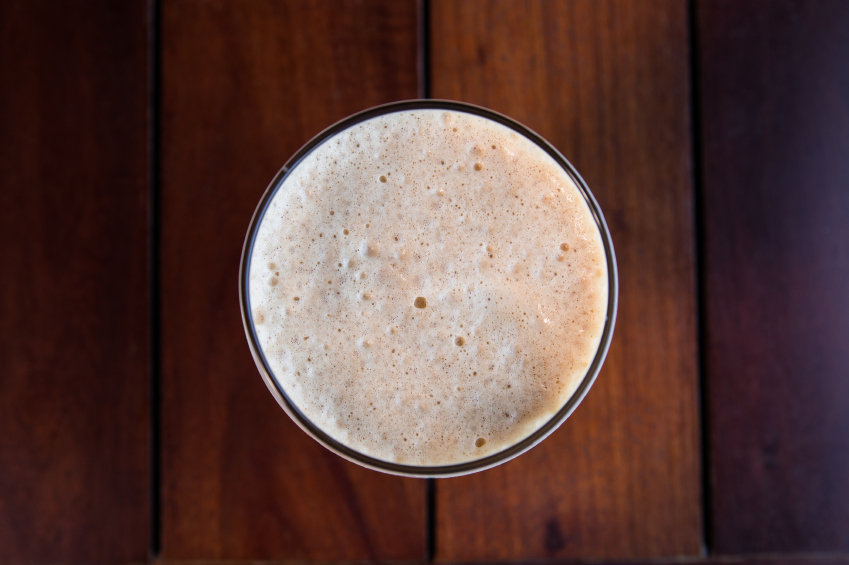 Here's another no-bake dessert that can be served to adults. Or drop the bourbon, and let your kids enjoy this milkshake, too. The recipe for a peanut butter bourbon milkshake comes from Saveur. It makes 1 shake, so multiply the recipe if you're feeding a crowd. You're taking your typical vanilla milkshake up a notch by adding crunchy butter and bourbon and sweetening with maple syrup. Blend your ingredients, and drink your frothy milkshake that has a kick of fun.
Ingredients:
2 ounces bourbon
½ ounce maple syrup
¼ cup crunchy peanut butter
1 cup vanilla ice cream
1 cup ice cubes
Directions: Combine all ingredients in a blender, and blend until fully incorporated and frothy.
5. Peanut Butter and Jelly Thumbprints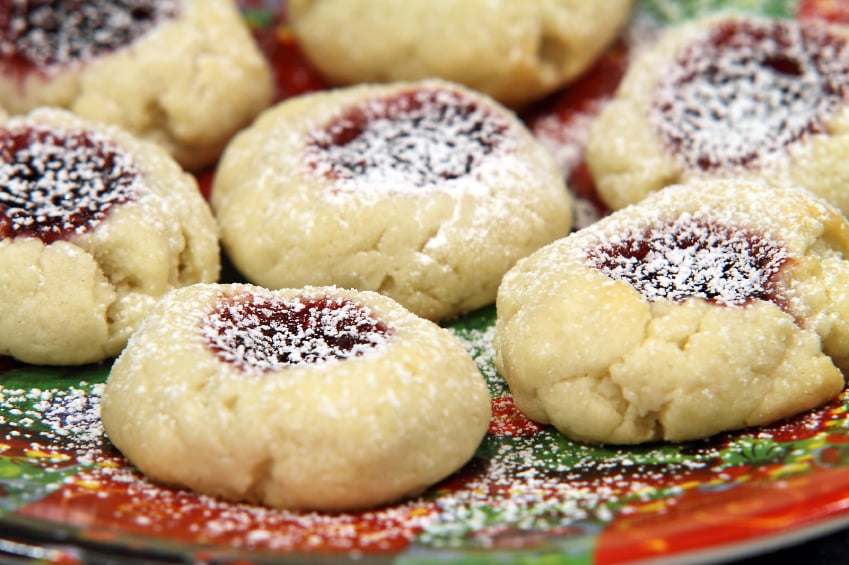 Everyone knows peanut butter and chocolate are a match made in dessert heaven. But don't forget peanut butter and jelly are a pair, too. The flavors don't only blend well together in sandwiches. You can also enlist the duo in desserts, and this recipe from Cooking Light proves it. You can use any type of jam or preserves for these thumbprints. The recipe yields 3 dozen. The preserves-filled cookies are almost too cute to eat, but after one bite you'll get over your hesitation.
Ingredients:
2 cups all-purpose flour (about 9 ounces)
¼ teaspoon salt
¾ cup packed brown sugar
⅔ cup granulated sugar
½ cup chunky peanut butter
¼ cup butter, softened
2 large eggs
1 teaspoon vanilla extract
Cooking spray
7 tablespoons seedless raspberry preserves
1 tablespoon fresh lemon juice
Directions: Lightly spoon flour into dry measuring cups; level with a knife. Combine flour and salt, stirring well with a whisk; set aside.
Place sugars, peanut butter, and butter in a large bowl; beat with a mixer at medium speed until well combined. Add eggs, 1 at a time, beating well after each addition. Beat in vanilla. Gradually add flour mixture to sugar mixture, beating on low speed just until combined.
Lightly coat hands with cooking spray. Shape dough into 36 balls (about 2½ teaspoons each). Place balls 2 inches apart on baking sheets lined with parchment paper. Press thumb into center of each dough ball, leaving an indentation. Cover and chill 1 hour.
Preheat oven to 350 degrees Fahrenheit.
Uncover dough. Bake for 14 minutes or until lightly browned. Remove cookies from pans, and cool on a wire rack.
Place preserves in a small microwave-safe bowl, and microwave on high for 20 seconds, stirring once. Add juice, stirring until smooth. Spoon about ½ teaspoon preserves mixture into the center of each cookie.
6. No-Bake Chocolate Pretzel Peanut Butter Squares
There are few things better than the peanut butter and chocolate combination, until you add pretzels to the mix. Pretzels give desserts an extra saltiness and crunch, and these no-bake squares from Food Network prove it. The chocolate pretzel peanut butter squares enlist only five ingredients and don't require the use of an oven. Their base is made from butter, pretzel crumbs, peanut butter, and confectioners' sugar, and they have a thick peanut butter chocolate topping. Refrigerate your dessert for an hour before cutting it into squares. Then, just try to stop yourself at one serving.
Ingredients:
1½ sticks (12 tablespoons) butter, melted
1½ cups confectioners' sugar
1½ cups milk chocolate chips
Directions: In a medium bowl, add the melted butter, pretzel crumbs, confectioners' sugar and 1 cup of the peanut butter, and stir together until well combined.
Press the mixture evenly into the bottom of an ungreased 9-by-13-by-2-inch baking dish. Combine the chocolate chips and the remaining ¼ cup peanut butter in a microwave-safe bowl. Microwave in 30-second intervals, stirring in between, until the chocolate and peanut butter are melted and smooth; 2 intervals should be enough. Mix to blend, then spread over the peanut butter-pretzel layer. Refrigerate for at least 1 hour before cutting into squares.
7. Brownie Cupcakes with Peanut Butter Frosting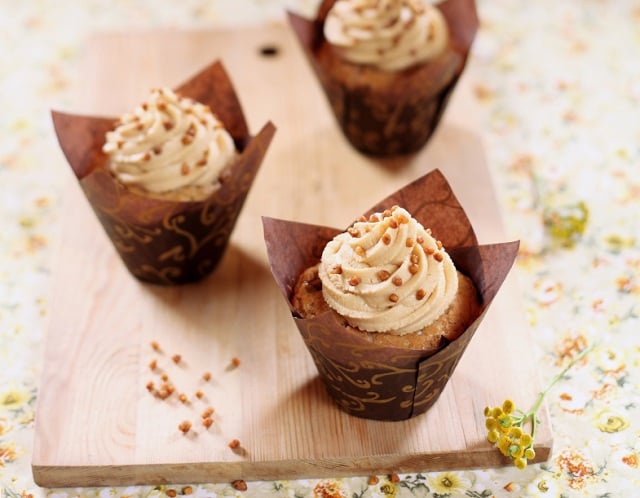 Peanut butter also can star in cupcakes, and Bon Appetit has a recipe that features it in the ever-important frosting. Bring these brownie cupcakes with peanut butter frosting to every gathering, and you'll become everyone's favorite baker. The base of the brownie cupcake coupled with the rich, salty frosting make it a dessert few people will forget about. And it's dangerously easy to make.
Ingredients:
Cupcakes:
6 tablespoons unsalted butter, cut into 4 pieces
1¼ cups semisweet chocolate chips (about 8 ounces)
3 ounces unsweetened chocolate, chopped
½ cup (packed) golden brown sugar
⅓ cup sugar
2 large eggs
1 teaspoon vanilla extract
½ cup all purpose flour
⅓ cup walnuts, toasted, chopped
¼ teaspoon salt
Frosting:
1 cup powdered sugar
¾ cup creamy peanut butter
¼ cup unsalted butter, room temperature
¼ teaspoon vanilla extract
4 teaspoons (about) whipping cream (optional)
Chocolate shavings or chocolate sprinkles
Directions: For the cupcakes: Preheat oven to 350 degrees Fahrenheit. Line 10 standard muffin cups with paper liners. Combine butter, ½ cup chocolate chips, and unsweetened chocolate in top of double boiler set over simmering water. Stir until mixture is melted and smooth. Remove from over water. Whisk both sugars into chocolate mixture, then whisk in eggs 1 at a time. Whisk in vanilla, then flour, walnuts, salt, and remaining ¾ cup chocolate chips. Divide batter among prepared muffin cups. Bake cupcakes until tester inserted into center comes out with moist crumbs attached, about 20 minutes. Transfer cupcakes to rack and cool completely.
For the frosting: Put powdered sugar and next 3 ingredients in medium bowl. Using electric mixer, beat until mixture is smooth, adding whipping cream by teaspoonfuls if frosting is too thick to spread.
Spread frosting in swirls over top of cupcakes. Sprinkle with chocolate shavings or chocolate sprinkles.
8. Peanut Butter Fudge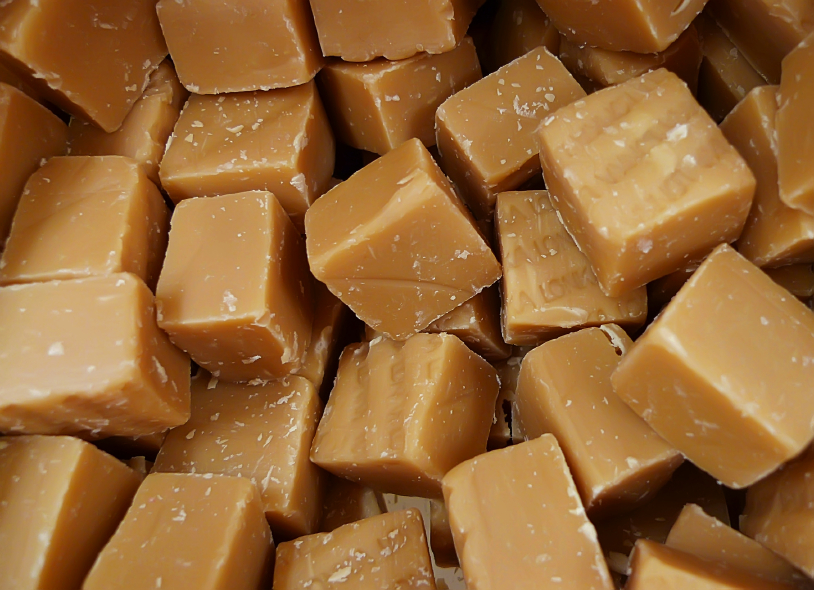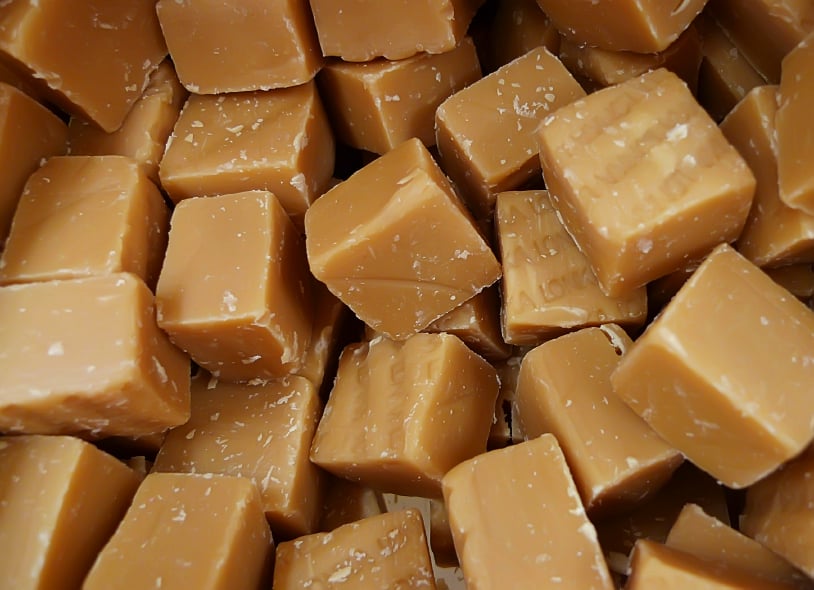 Speaking of easy to make, this peanut butter fudge from Taste of Home is very simple. The homemade fudge is the combination of butter, sugar, whole milk, peanut butter, and marshmallow creme. Refrigerate your fudge until firm, and then cut it into squares. You can keep the fudge in the freezer, and cut yourself a bite when your sweet tooth strikes. This recipe makes 64 servings. Instead of relying on the fudge shop to get your fix, pull out your peanut butter to make this fudge at home.
Ingredients:
2 teaspoons butter, softened

2 cups sugar

½ cup whole milk

1⅓ cups peanut butter

1 jar (7 ounces) marshmallow creme
Directions: Line an 8-inch square pan with foil; grease with butter.
In a heavy saucepan, combine sugar and milk; bring to a boil over medium heat, stirring constantly. Boil 3 minutes, stirring constantly. Remove from heat.
Stir in peanut butter and marshmallow creme until blended. Immediately spread into prepared pan; cool slightly.
Refrigerate until firm. Using foil, lift fudge out of pan. Remove foil; cut into squares. Store between layers of waxed paper in an airtight container.
9. Peanut Butter Truffles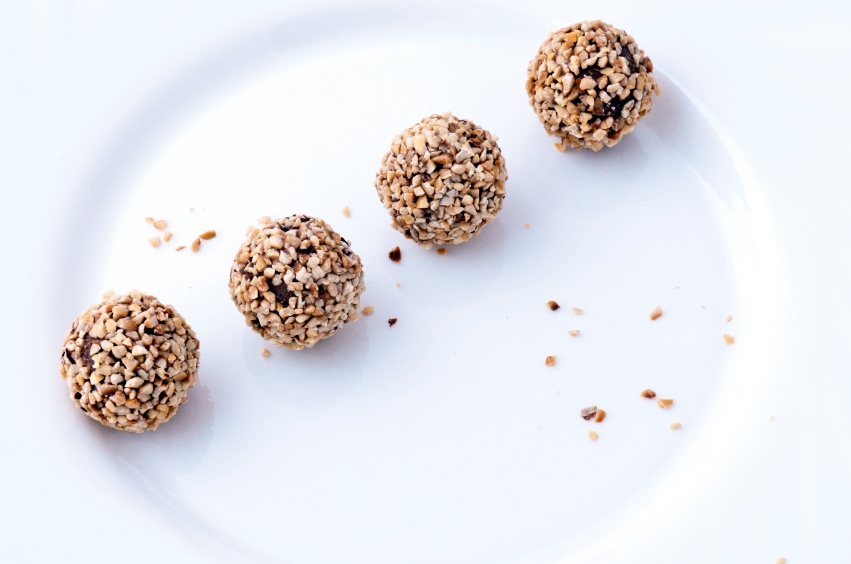 Here's another bite-sized dessert from Southern Living. You'll get 24 truffles from this dessert, which requires chocolate morsels, whipping cream, peanut butter, and peanuts. If you can microwave chocolate, whipping cream, and peanut butter together, you can make these truffles. Take the microwaved mixture, chill it for 2 hours, and shape it into 1-inch balls. Next, roll your balls in chopped peanuts, and chill for an hour before serving. Similar to the fudge, you can keep these truffles in your refrigerator, so you can take a bite whenever a craving strikes.
Ingredients:
1 (12-ounce) package semisweet chocolate morsels
½ cup whipping cream
3 tablespoons creamy peanut butter
¾ cup finely chopped, lightly salted roasted peanuts
Wax paper
Directions
: Microwave first 3 ingredients in a medium-sized, microwave-safe bowl at high, 1 to 1 ½ minutes or until melted and smooth, stirring at 30-second intervals. Let cool 10 minutes.
Beat chocolate mixture at medium speed with an electric mixer, 1 to 2 minutes or until whipped and smooth. Cover and chill 2 hours or until firm.
Shape chocolate mixture into 1-inch balls, using a small ice-cream scoop. Roll in chopped peanuts. Place on wax paper-lined baking sheets. Chill 1 hour before serving. Store truffles in an airtight container in refrigerator up to 5 days.
10. Peanut Butter Cheesecake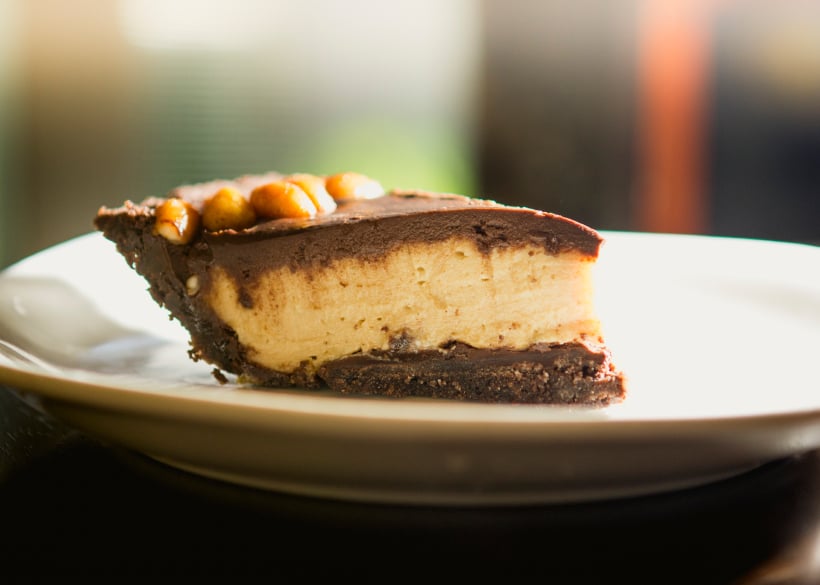 We're ending things on a decadent note with this peanut butter cheesecake from Taste of Home. Homemade cheesecake might seem like an intimidating endeavor, but the prep time caps at 20 minutes. Plus, any cheesecake with a pretzel crust and peanut butter filling is worth the grunt work. The cheesecake will bake for about an hour. It needs to be cooled before serving. Then, it's time to dig into the cheesecake that boasts a pretzel crust, chocolate-peanut butter filling, and a topping made from sour cream, more peanut butter, sugar, and peanuts.
Ingredients:
Crust:
1½ cups crushed pretzels

⅓ cup butter, melted
Filling:
5 packages (8 ounces each) cream cheese, softened

1½ cups sugar

¾ cup creamy peanut butter

2 teaspoons vanilla extract

3 eggs, lightly beaten

1 cup peanut butter chips

1 cup (6 ounces) semisweet chocolate chips
Topping:
1 cup (8 ounces) sour cream

3 tablespoons creamy peanut butter

½ cup sugar

½

 cup finely chopped unsalted peanuts
Directions: In a small bowl, combine pretzels and butter. Press onto the bottom and 1 inch up the sides of a greased 10-inch springform pan. Place pan on a baking sheet. Bake at 350 degrees Fahrenheit for 5 minutes. Cool on a wire rack.
In a large bowl, beat cream cheese and sugar until smooth. Add peanut butter and vanilla; mix well. Add eggs; beat on low just until combined. Stir in chips. Pour over the crust. Return pan to baking sheet.
Bake at 350 degrees Fahrenheit for 50 to 55 minutes or until center is almost set. Remove from the oven; let stand for 15 minutes.
For topping, in a small bowl, combine the sour cream, peanut butter and sugar; spread over filling. Sprinkle with nuts. Bake 5 minutes longer.
Cool on a wire rack for 10 minutes. Carefully run a knife around the edge of the pan to loosen; cool 1 hour longer. Refrigerate overnight. Remove sides of pan. Refrigerate leftovers.