Did Trump Fire Tillerson Because He Spoke Out Against Putin?
President Donald Trump unceremoniously fired Secretary of State Rex Tillerson on March 13. The two apparently worked within an uneasy truce of sorts, clashing repeatedly over the course of Trump's presidency. Because Tillerson and Trump butted heads so frequently, it becomes difficult to determine exactly which straw broke the camel's back. But we have some ideas.
The president canned his chief diplomat via Tweet
Tillerson found out he lost his job the same way the rest of the world did — on Trump's favorite website. The president tweeted, "Mike Pompeo, Director of the CIA, will become our new Secretary of State. He will do a fantastic job! Thank you to Rex Tillerson for his service! Gina Haspel will become the new Director of the CIA, and the first woman so chosen. Congratulations to all!"
Next: Even by Trump standards, it seemed sudden.
Tillerson was on a diplomatic mission at the time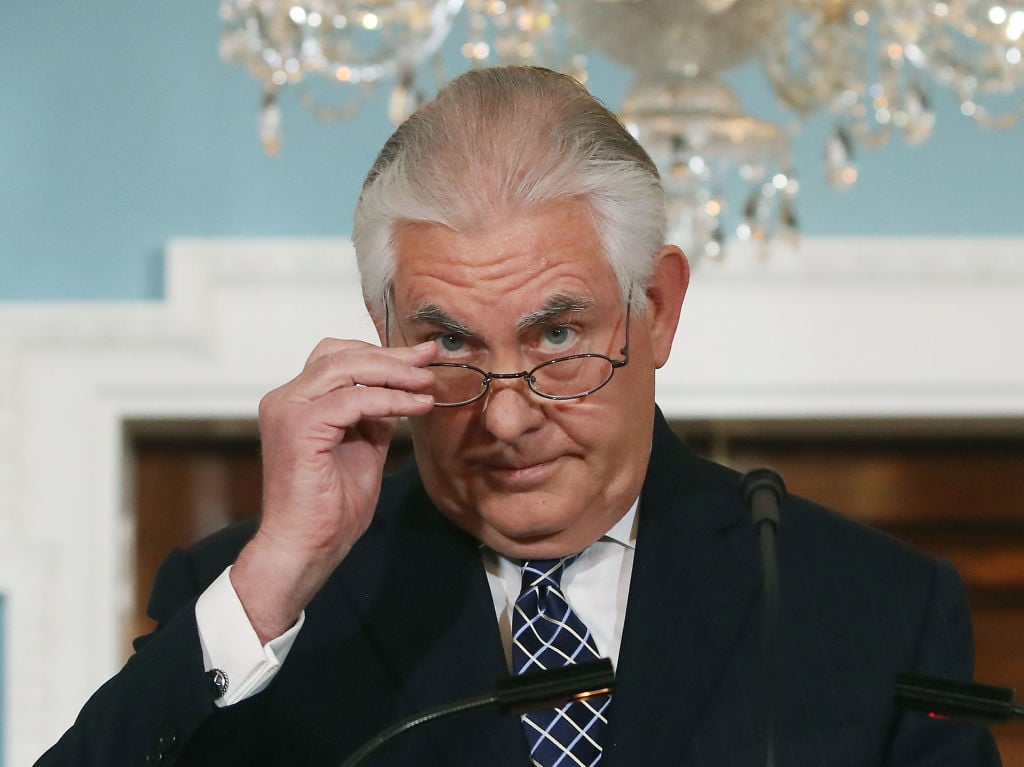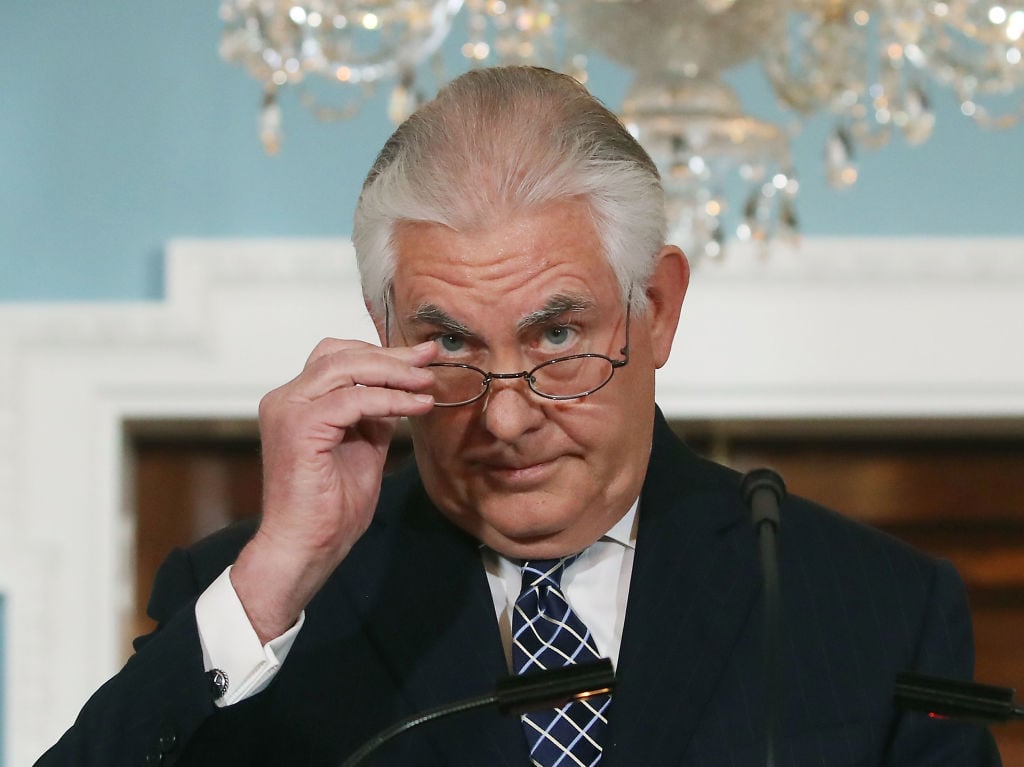 White House chief of staff John Kelly hinted that the dismissal could be coming down the pipe during a phone call with the Secretary of State just days before. Tillerson spoke with Kelly from abroad on a diplomatic mission. During that call, Kelly strongly suggested Tillerson cut his trip short and get back to the U.S., according to a White House official. Even Tillerson's aides said they did not see it coming.
Next: Maybe he should have, based on these factors.
The pair clashed most recently over Russia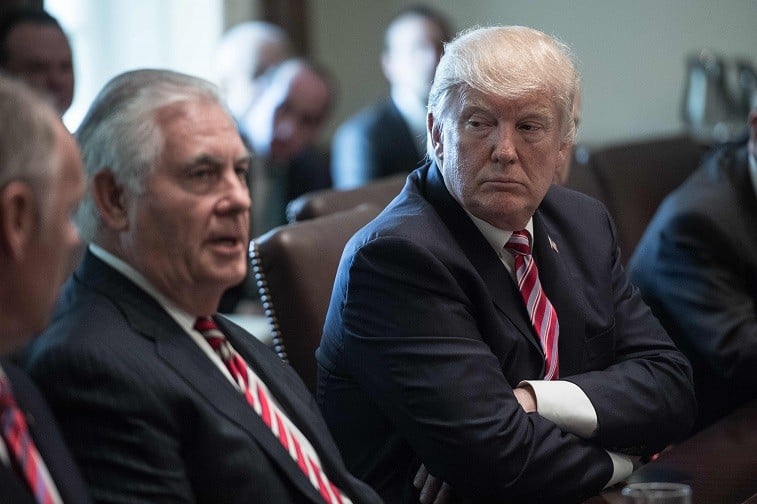 On March 12, Tillerson slammed Russia over an alleged nerve agent attack in Britain, directly contradicting Trump's stance on the issue. According to Politico, he called out the Kremlin as "an irresponsible force of instability in the world" and promised the U.S. would "stand in solidarity" with the United Kingdom.
British Prime Minister Theresa May said it appeared "highly likely" that the Kremlin executed the nerve agent attack, since Russia has developed the type of substance used. The Kremlin denied any involvement. White House press secretary Sarah Huckabee Sanders also offered the Trump administration's "fullest condemnation" for the attack, but did not go as far as either May or Tillerson in assigning blame to Russia.
Next: Trump and Tillerson also did not see eye-to-eye on this country.
They also disagreed on North Korea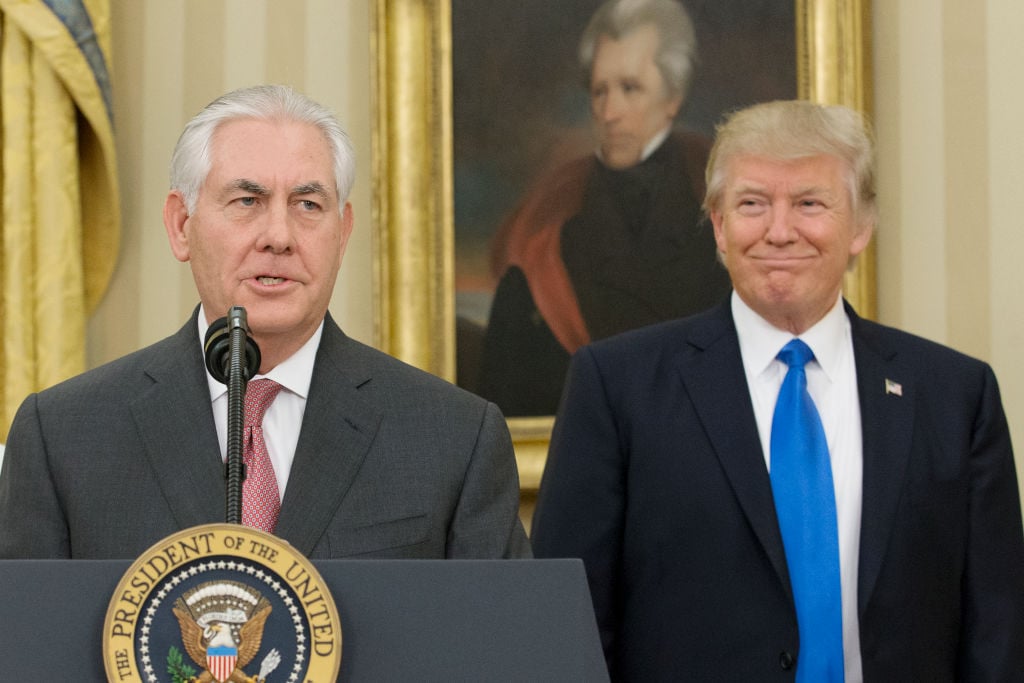 The White House recently decided to use intelligence rather than diplomatic channels in communicating with North Korea, according to The New York Times. Officials say new Secretary of State and former CIA Director Mike Pompeo already maintains close contact with the director of South Korea's National Intelligence Service, Suh Hoon.
Some White House officials say that Pompeo's involvement helps explain the timing of Tillerson's departure. It makes sense that Trump, who decided to accept dictator Kim Jong-Un's invite, would want a secretary of state who agrees with his approach. Tillerson has long butted heads with Trump on North Korea, often taking a more diplomatic approach than the president. Trump memorably undercut TIllerson during one of his diplomatic trips to Beijing, tweeting, he's "wasting his time trying to negotiate with Little Rocket Man."
Next: They also came to loggerheads about trade matters.
Trump's steep steel and aluminum tariffs went against Tillerson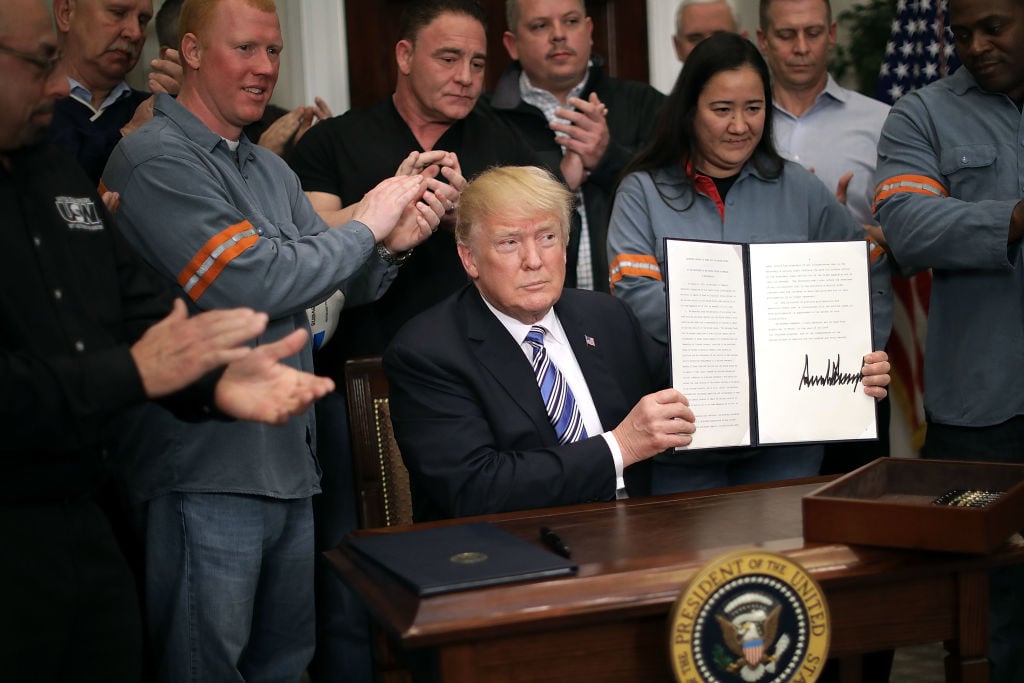 The president ignited a possible trade war by announcing a decision to impose tariffs of 25% on steel imports and 10% on aluminum, Politico reports. That went directly against recommendations from Tillerson, who took a more moderate stance. Several leaders, from the European Union to Brazil to China, either hinted or explicitly said they plan to retaliate against the tariffs.
Tillerson represented a moderate voice on both tariffs and NAFTA, the trade pact with Canada and Mexico that remains under renegotiation. NAFTA talks rest at a critical point. Trump says if progress isn't made, he will withdraw from NAFTA or extend the tariffs to Mexico and Canada.
Next: Another long standing disagreement came between Trump and Tillerson.
The president and Tillerson also disagreed on Israel and Palestine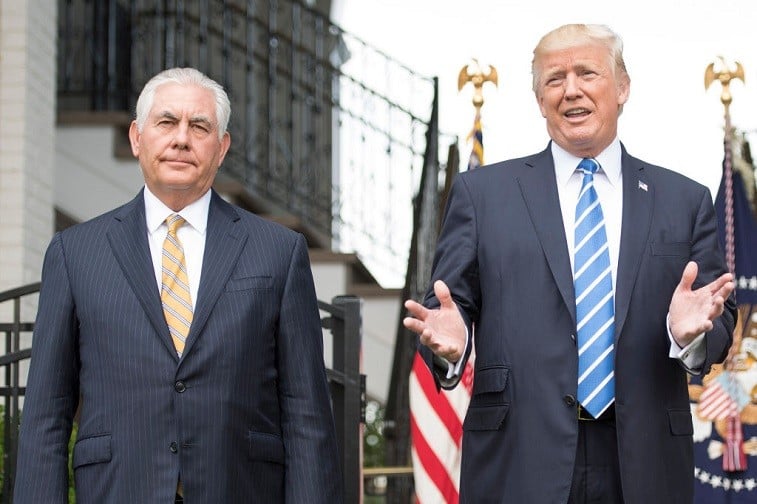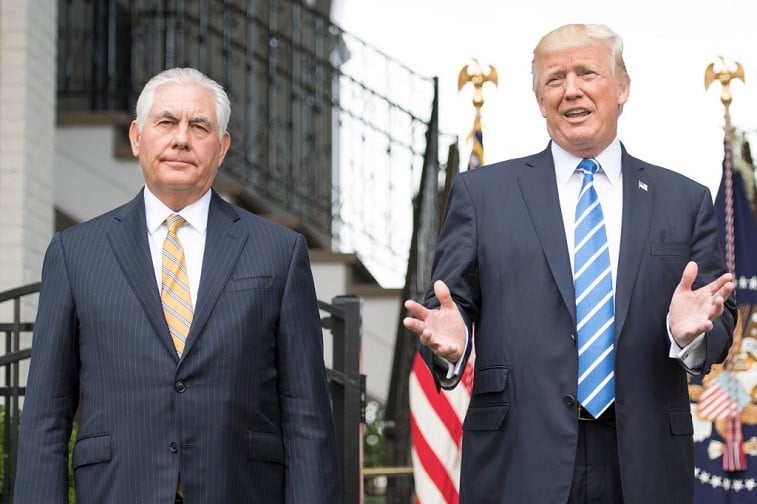 The secretary of state and Trump did not see eye-to-eye on Israel and Palestine, especially lately. Pompeo's views come much closer to the president's. Tillerson, for example, sought to preserve the Iran nuclear deal. On the other hand, Pompeo, Trump, and Benjamin Netanyahu want to either fix or abandon it altogether.
When Trump announced his decision to move the U.S. Embassy from Tel Aviv to Jerusalem, Tillerson and Defense Secretary James Mattis both opposed it. Trump announced that the U.S. officially recognizes Jerusalem as the "political capital" of Israel. He directed the state department to move the U.S. Embassy there, which Tillerson saw as inciting security concerns.
Next: This statement, however, may have cooked Tillerson's goose.
The secretary just could not keep his opinion to himself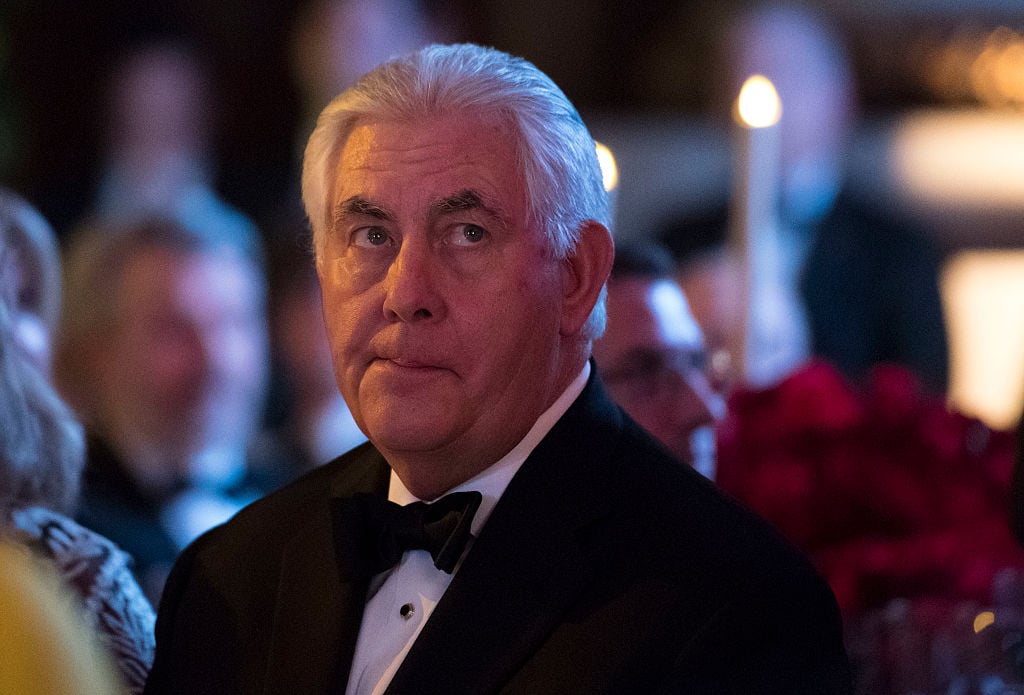 Over the summer, Tillerson called Trump a "moron" in a Pentagon meeting. While Trump allegedly knew about the insult, the two did not discuss it at the time. Trump did tweet about the comments, calling them "fake news." However, sources said he got more upset about the public report than the insult itself.
The secretary of state apparently got hotheaded with several of his coworkers. One White House official described private meetings in which Tillerson became "a little more hotheaded" than he does in public. Directing that temper toward Trump caused his downfall, regardless of the moment it happened.
Follow The Cheat Sheet on Facebook!