Dinner Recipes That Taste Even Better as Leftovers
Leftovers: love them or hate them? They're usually not the most exciting meals to look forward to, but when you pick the dinners that taste even better the next day, opening your fridge to a lunch of leftovers can be much more exciting. Pick the right recipes and you're good to go. We're highlighting seven of the best food formulas to follow if you know your dinner is going to last you for many meals. The ingredients in these dishes do well when they continue to marinate in their own flavors, and they'll still get you excited for every meal. Resist wasting food and instead make multiple lunches and/or dinners out of one recipe. We promise you'll save yourself time, money, energy, and calories.
1. Meatballs in Marinara Sauce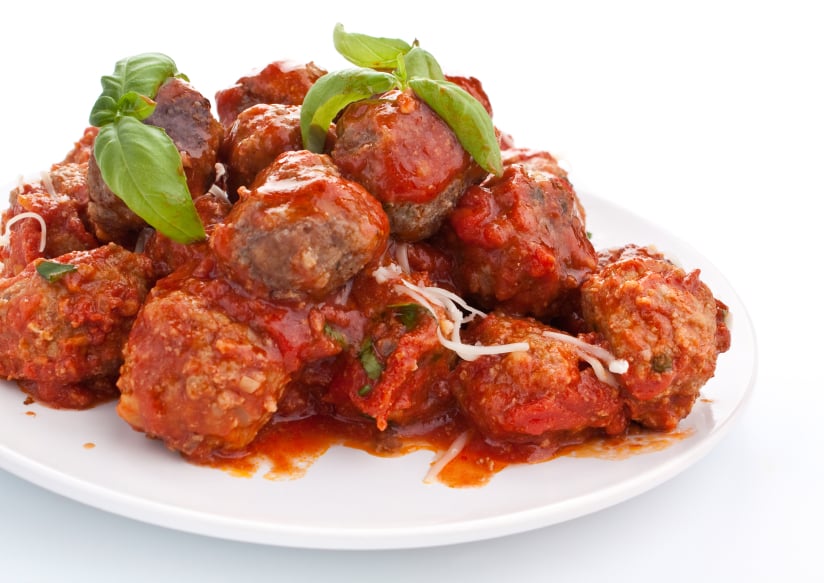 We're kicking things off with meatballs in marinara sauce from Food & Wine because it's hard for meat-eaters to get sick of meatballs, and they make great leftovers for lunch. This recipe yields 4 servings so enjoy one on Monday night, and then have meatballs for lunch on Tuesday, Wednesday, and Thursday. You can eat your leftover meatballs cold or warm, it's up to you whether you want to pair them with a different protein source or enjoy them with spaghetti.
Ingredients:
¼ cup dry bread crumbs
¼ cup milk
1½ pounds mixed ground beef, pork and veal
½ small onion, minced
2 garlic cloves, minced
1 tablespoon chopped parsley
1 teaspoon minced oregano
1 egg, lightly beaten
1 tablespoon salt
¼ teaspoon freshly ground pepper
2 tablespoons extra-virgin olive oil
3½ cups marinara sauce
Cooked spaghetti, for serving
Directions: In a small bowl, soak the bread crumbs in the milk. In a large bowl, mix the ground meat with the soaked bread crumbs, onion, garlic, parsley, oregano, egg, salt, and pepper.
Form the meat mixture into 4 large balls. In a deep nonstick skillet, heat 2 tablespoons of olive oil. Add the meat balls and cook over moderately high heat, turning occasionally, until browned all over, about 7 minutes. Add the marinara sauce to the skillet; cover and simmer over low heat for 30 minutes, until the meatballs are cooked through. Serve over cooked spaghetti.
2. Vegetable Lasagna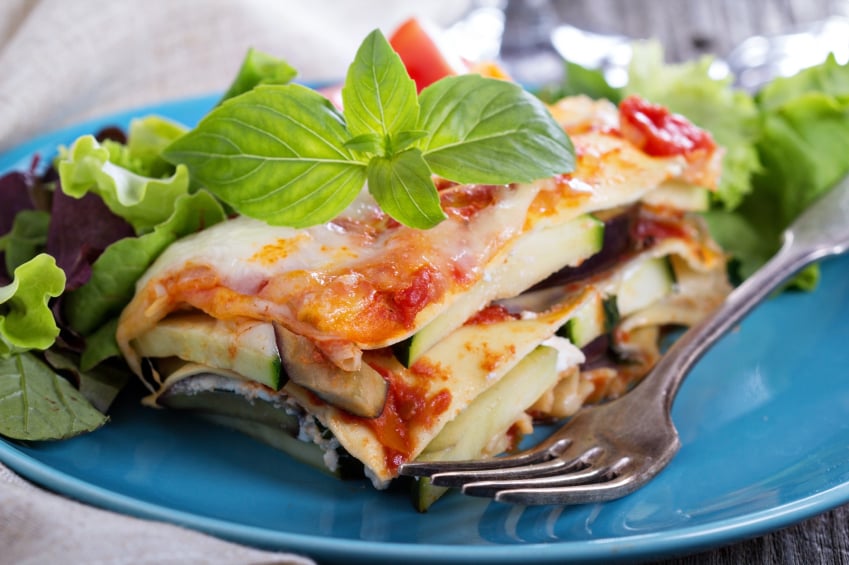 Next up is a vegetarian meal from The Pioneer Woman. Packing your layers of carbs with vegetables is a great way to sneak in your nutrients, and lasagna, too, stores beautifully. Even better, it feeds a crowd, so you can have this vegetable lasagna for days. The recipe makes 12 servings so you can enjoy vegetable-packed meals for a week, freeze the leftovers, and then reheat the good stuff when you're in the mood for cheesy carbs again.
Ingredients:
10 ounces lasagna noodles
2 tablespoons olive oil
1 whole medium onion
4 cloves garlic
1 whole red bell pepper, diced
24 ounces, weight white mushrooms, chopped
4 whole squash (yellow or zucchini), diced
1 can whole tomatoes
½ cup white wine
¼ cup fresh parsley, chopped (more to taste)
½ teaspoon kosher salt (more to taste)
Freshly ground black pepper
½ teaspoon red pepper flakes
30 ounces ricotta cheese
2 whole eggs
½ cup grated Parmesan
¼ teaspoon kosher salt
Freshly ground black pepper
1 pound thinly sliced mozzarella cheese
Extra Parmesan cheese, for sprinkling
Directions: Preheat oven to 350 degrees Fahrenheit. Cook noodles according to package directions. Drain and lay flat on a sheet of aluminum foil. Heat olive oil in a large skillet over medium heat. Add onions and garlic and cook for a minute. Add diced red peppers and saute for another minute or so. Add squash and mushrooms and cook for a few minutes. Pour in wine, add salt, pepper, and red pepper flakes, and stir. Pour in tomatoes. Use hands to squeeze/crush them. Stir to combine and let simmer for 20 minutes or so. Stir in chopped parsley.
In a separate bowl, combine ricotta, eggs, Parmesan cheese, salt, and pepper.
To assemble, spread a little of the vegetable/tomato sauce in a lasagna pan. Layer four cooked noodles in the pan, slightly overlapping them if necessary. Spread 1/3 of the ricotta mixture on the noodles. Top the ricotta mixture with mozzarella slices. Spoon a little less than 1/3 of the veggie/sauce mixture over the mozzarella. Repeat the layering two more times, ending with a large helping of vegetable sauce and a sprinkling of Parmesan.
Bake at 350 degrees, covered in foil, for 20 minutes, then remove foil and continue baking for 5 to 10 minutes. Remove from oven and allow to stand for 10 minutes before cutting into squares and serving.
3. Turkey Chili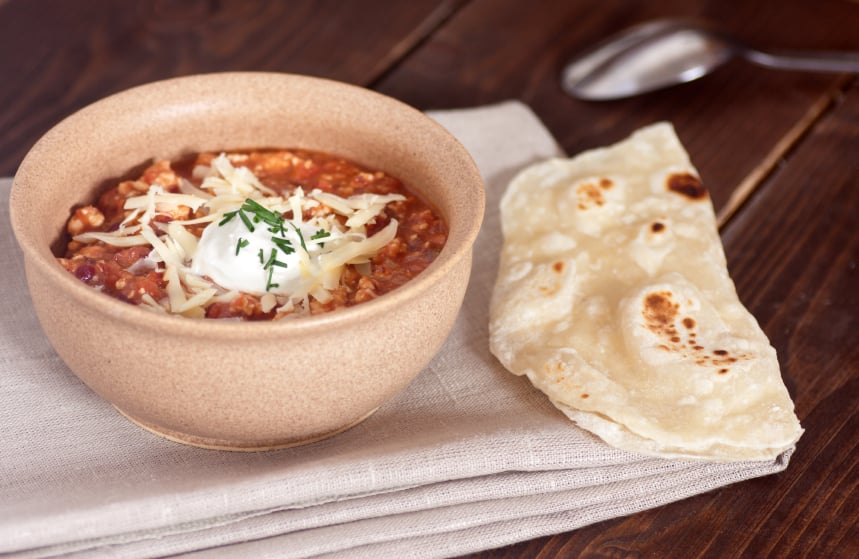 Chili is another meal that typically tastes better the day after cooking, and this turkey chili recipe from Taste of Home will give you all the leftovers you need. It makes six servings, with each one clocking in at under 300 calories. After prepping your chili for 25 minutes, you can sit back, relax, and let the slow cooker do the grunt work for you. Because not only is the slow cooker making your dinner for the night, it's also preparing your lunch for the next few days.
Ingredients:
1 pound lean ground turkey
1 medium green pepper, finely chopped
1 small red onion, finely chopped
2 garlic cloves, minced
1 can (28 ounces) diced tomatoes, undrained
1 can (16 ounces) kidney beans, rinsed and drained
1 can (15 ounces) black beans, rinsed and drained
1 can (14-½ ounces) reduced-sodium chicken broth
1-¾ cups frozen corn, thawed
1 can (6 ounces) tomato paste
1 tablespoon chili powder
½ teaspoon pepper
¼ teaspoon ground cumin
¼ teaspoon garlic powder
Optional toppings: reduced-fat sour cream and minced fresh cilantro
Directions: In a large nonstick skillet, cook the turkey, green pepper and onion over medium heat until meat is no longer pink. Add garlic; cook 1 minute longer. Drain.
Transfer to a 4-quart slow cooker. Stir in the tomatoes, kidney beans, black beans, broth, corn, tomato paste, chili powder, pepper, cumin and garlic powder. Cover and cook on low for 4 to 5 hours or until heated through. Serve with optional toppings if desired.
4. Beef Stew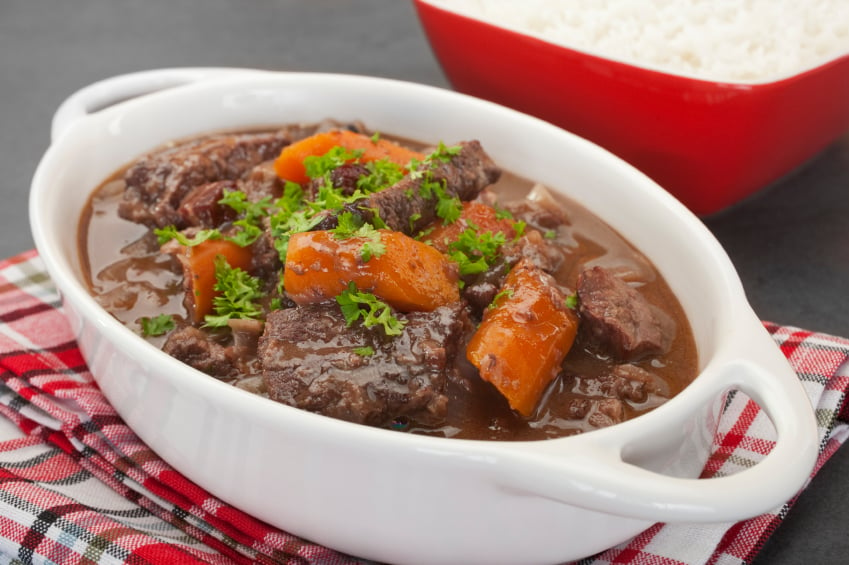 A hearty meal that will warm you on a cold night and keep you toasty in your over-air-conditioned office is this beef stew featured on Food Network. It's good, old-fashioned comfort food, and it's a dinner you'll anticipate all day, and then a lunch that also excites. Even if you're eating the meal twice in 24 hours, the rich flavor from the beef, potatoes, and homemade sauce will satiate you and keep your stomach satisfied.
Ingredients:
Vegetable oil, for searing
2½ pounds beef chuck, cut into 2-inch cubes
Kosher salt and freshly ground black pepper
2 tablespoons unsalted butter
2 medium onions, cut into 6ths
5 cloves garlic, crushed
1 tablespoon tomato paste
1/3 cup all-purpose flour, or to cover
10 cups cold water, or chicken or beef broth, homemade or low-sodium canned
6 sprigs parsley
6 sprigs fresh thyme
2 bay leaves
1¼ pounds medium red potatoes, quartered
4 medium carrots, cut into 2-inch pieces
2 celery stalks, cut into 2-inch pieces
7 canned whole, peeled tomatoes, lightly crushed
2 to 3 teaspoons red wine vinegar, or to taste
Directions: Heat a large Dutch oven with a tight-fitting lid over medium-high heat. Pour in enough oil to fill the pan about ¼-inch deep. Season the beef generously with salt and pepper, and add to the pan. Saute half the meat, uncovered, stirring only occasionally, until well-browned, about 8 minutes. Using a slotted spoon, transfer the beef to a plate. Repeat with the remaining beef. Discard the oil and wipe out the pan.
Preheat the oven to 325 degrees Fahrenheit. Return the pot to the stove and melt the butter over medium high heat. Add the onion and cook, stirring, until lightly browned, about 5 minutes. Add the garlic and cook, stirring, until fragrant, about 1 minute. Add the tomato paste and cook, stirring, until lightly browned, about 1 minute more. Add the reserved beef and scatter the flour over the vegetable and beef mixture and cook stirring until lightly toasted. Add the water or broth, and bring to a simmer. Tie the parsley, thyme, and bay leaves together with a piece of kitchen twine and add the bundle to the pot. Season with 2 teaspoons salt, or to taste. Cover and transfer to the oven. Cook the meat until just tender, about 1½ hours.
Remove pot from the oven. Skim the fat from the cooking liquid with a spoon or ladle. Add the potatoes, carrots, celery, and the tomatoes, and bring to a simmer on top of the stove. Cook, uncovered, stirring occasionally, until the liquid thickens and the vegetables are tender, about 1 hour. Remove and discard the herb bundle. Stir in the vinegar and season with salt and pepper, to taste. Divide among bowls and serve immediately.
5. Quick Chickpea Curry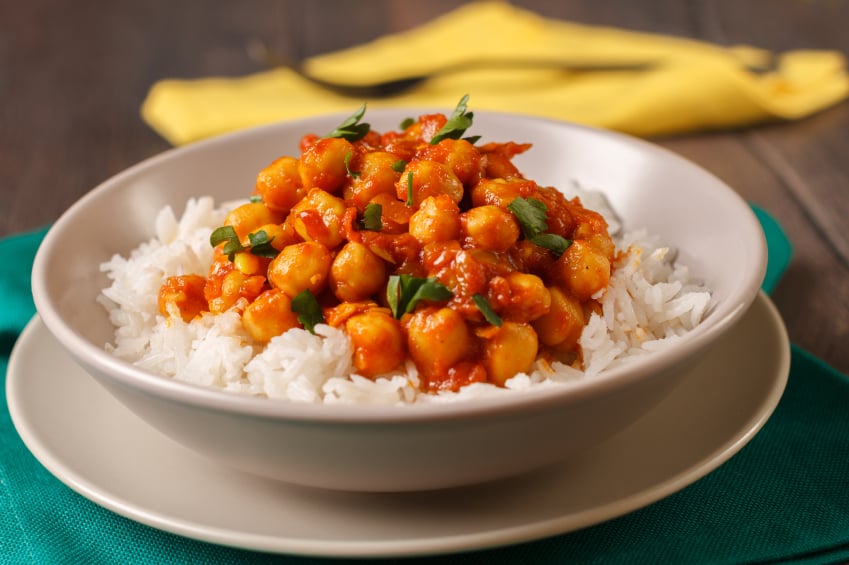 Chickpea curry is the perfect meal for meat-eaters and vegetarians alike who don't want to turn on their oven for the night. The meat-free dish from Martha Stewart still packs the protein thanks to the chickpeas on its ingredients list, and the curry is also full of fiber and low on sodium. Chickpea curry tastes great the night of and even better the afternoon after, on account of the chickpeas marinating further in your homemade sauces, and this recipe serves four so you can enjoy two dinners and two lunches of it.
Ingredients:
1 tablespoon olive oil
1 large yellow onion, diced small
3 garlic cloves, minced
1 tablespoon curry powder
1 cinnamon stick (3 inches)
Pinch of ground cloves
2 cans (15 ounces each) no-salt-added chickpeas, rinsed and drained
3 tablespoons ketchup
Coarse salt and ground pepper
Chopped cilantro and lemon wedges (optional), for serving
Directions: In a large straight-sided skillet, heat oil over medium-high heat. Add onion and cook, stirring occasionally, until dark brown around edges, about 6 minutes. Add garlic, curry, cinnamon, and cloves and cook, stirring, until fragrant, 30 seconds. Add chickpeas, ketchup, 1 teaspoon salt, ¼ teaspoon pepper, and 2 cups water. Bring to a boil; reduce to a simmer, cover, and cook 20 minutes. Uncover, and increase heat to medium-high; cook until sauce is slightly reduced, 5 minutes. Serve topped with cilantro, with lemon wedges alongside if desired.
6. Sausage and Broccoli Rabe Frittata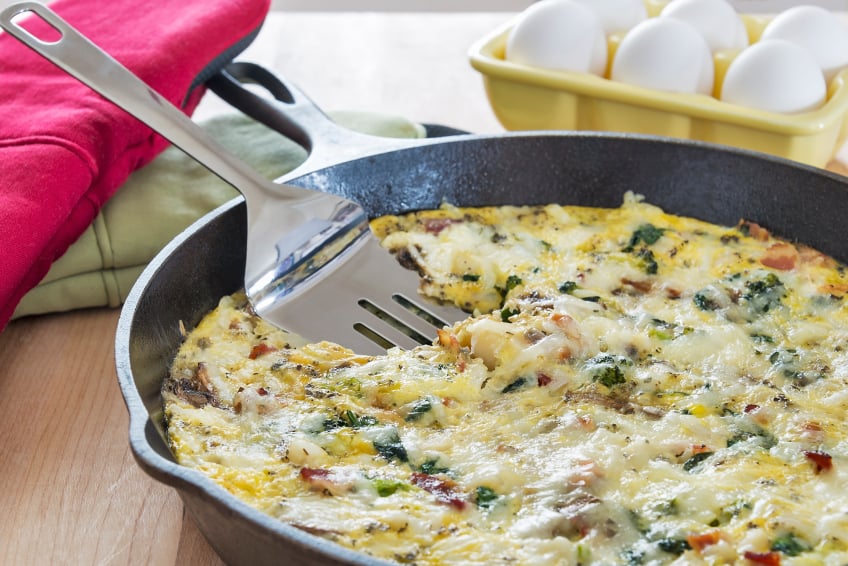 You might consider eggs to be breakfast food, but you can enjoy a frittata for breakfast, lunch, or dinner. Frittatas also make great leftovers, as you can store them in the refrigerator and then eat them cold or heat them the next day. This sausage and broccoli rabe frittata from Bon Appétit is particularly delicious, as you get your smoky flavor from the sausage links, your creamy cheesiness from whole milk and cheddar, and your pops of green from the broccoli rabe. This egg pie will serve eight and will last you for days. Eat it for lunch with a side salad or with a few pieces of bread.
Ingredients:
12

large eggs

½

cup

whole milk

¾

cup

grated cheddar, divided

Kosher salt and coarsely ground black pepper

2

tablespoons

vegetable oil

½

medium onion, chopped

½

pounds

fresh Spanish chorizo or hot Italian sausage links, casings removed

1

bunch

broccoli rabe, coarsely chopped
Directions: Preheat broiler. Whisk eggs and milk in a medium bowl. Mix in ½ cup cheddar; season with salt and pepper and set aside.
Heat oil in a large skillet, preferably cast-iron, over medium heat. Add onion and chorizo and cook, stirring occasionally, until onion is softened and chorizo is brown, 6 to 8 minutes. Add broccoli rabe; season with salt and pepper and cook, stirring occasionally, until tender, 8 to 10 minutes longer.
Reduce heat to low and pour reserved egg mixture over vegetables. Cook, shaking pan occasionally, until edges are just set, 10 to 12 minutes. Top frittata with remaining ¼ cup cheddar; broil until top is golden brown and center is set, about 4 minutes longer.
Cut frittata into wedges and serve warm or room temperature.
7. Enchilada Casserole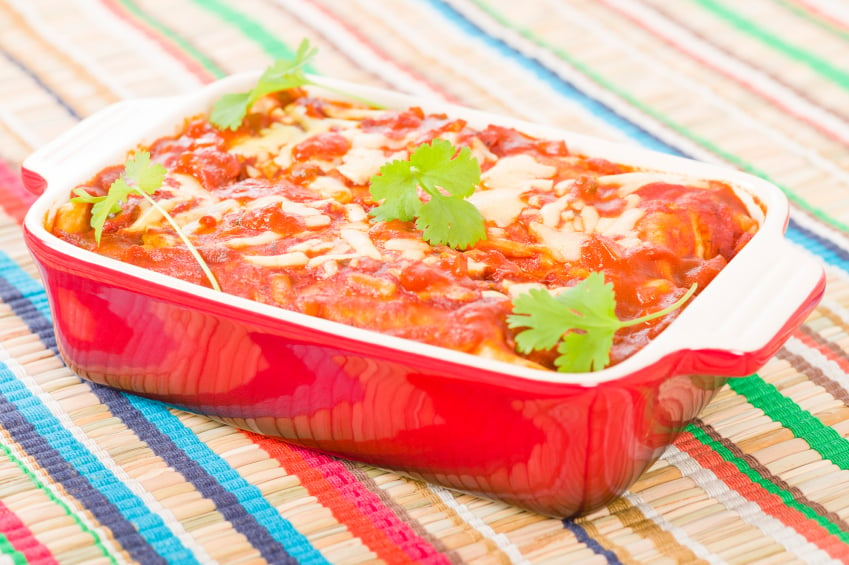 Last but not least, an enchilada casserole recipe from Add A Pinch. This dish is so good, you'll not only anticipate it for lunch and dinner, you'll even want it for your morning meal. And we don't blame you. The casserole has layers of enchilada sauce, tortillas, beef, sour cream, and two kinds of cheeses, and it'll bake in the oven for 20 minutes. The recipe technically serves 8 but you'll only have leftovers if you can resist always going back for seconds.
Ingredients:
Olive oil
6 medium tortillas
2 to 3 pounds ground beef
1 medium onion, diced
2 cloves garlic, minced
2 cups enchilada sauce
1 to 2 cups sour cream
1 cup grated cheddar cheese
1 cup grated Monterrey Jack cheese
Directions: Preheat the oven to 350 degrees, then drizzle olive oil into a 12-inch skillet over medium heat. Once oil has warmed, add tortillas one at a time to the skillet. Cook until crispy on each side, placing onto a pan lined with paper towels.
To the same skillet, add diced onions and garlic, cooking just until tender. Set aside in a bowl. Add beef to the skillet and cook until completely browned, then remove from heat and drain any excess drippings. Add onion and garlic mixture back to the beef and stir to combine.
Ladle about a half cup of enchilada sauce into the bottom of a greased 9×13 casserole dish. Spread enchilada sauce to coat the bottom, then place 3 tortillas on top of the sauce, overlapping them slightly at the edges to make all 3 tortillas fit in the pan lengthwise. Spoon on additional sauce, about a ½ cup. Layer on beef mixture, making sure to spread evenly over tortillas and sauce.
Top with large dollops of sour cream, spreading it slightly. Sprinkle on a little of both cheeses, then repeat layering with tortillas, sauce, beef mixture, sour cream, and end with cheeses. Bake in the oven until the cheeses have melted, about 20 minutes. Serve warm.
More from Culture Cheat Sheet: