Domestic Violence Increases During the World Cup, and England Is Doing Something About It
The World Cup has a dark side, according to CNN. And that dark side involves a rise in reports of domestic violence incidents after the matches. Yes, you read that correctly — domestic violence. How in the world does domestic violence enter into a sporting event? Keep reading.
The stats
Many studies have been conducted regarding the spike in domestic violence incidents following World Cup matches. A study of the 2010 World Cup revealed domestic violence reports rose only when the English team won or lost – but not if the teams tied. not when the match ended in a draw. A 2013 study on the 2002, 2006, and 2010 World Cups concluded that domestic abuse reports went up 26 percent when the English team won and 38% when it lost. And a 2015 study involving English soccer teams showed that domestic violence incidents rose only when people had high expectations for matches.
The reason
So, why is there a spike in domestic violence incidents surrounding World Cup events? Alcohol and tension definitely factor in. "The World Cup, as with other major sporting events, is often associated with an increase in incidents of domestic abuse because of factors such as increased alcohol consumption and an increase in tension," said Anne-Marie Salwey, Cleveland Police specialist crime superintendent. Those two things, combined with fans' disappointment, adrenaline, and investment in the outcome, can translate into domestic abuse.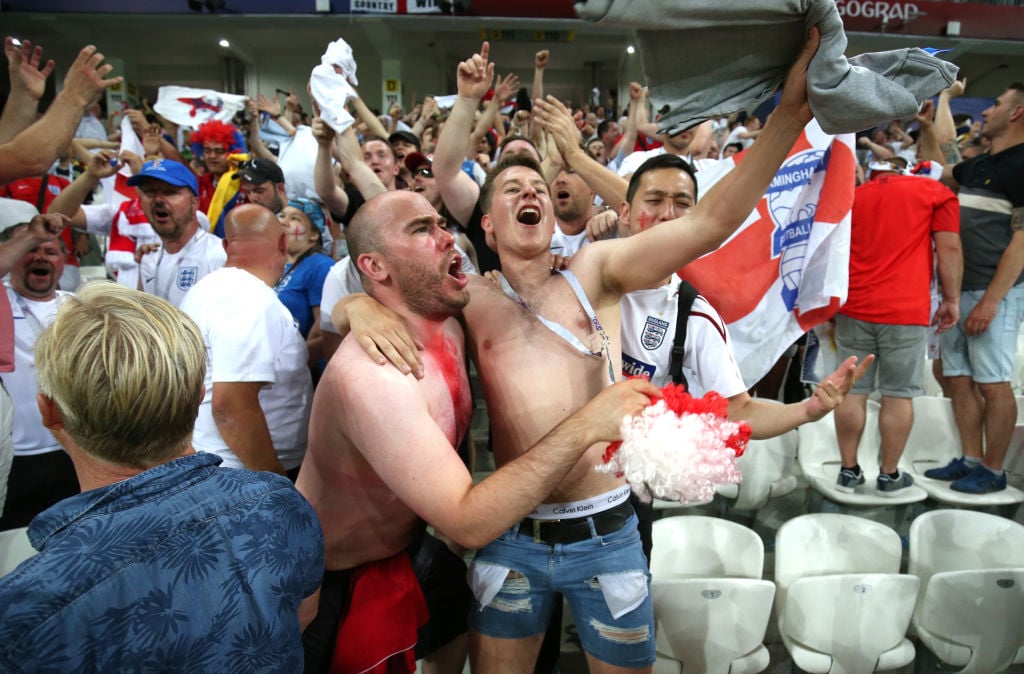 England is not alone
Domestic abuse in relation to World Cup games is not just a British problem. Other World Cup countries, such as Colombia and Mexico, are also seeing high rates of domestic violence following events. World Cup-host country Russia passed a law in 2017 that reduced the punishment for domestic abuse, incidents surged, according to CNN.
The solution
Although there's no hard and fast solution to this issue, England is doing something to curb this trend.
Before 2018's tournament, police and domestic violence organizations published warnings and resources for victims and perpetrators. Campaigns such as "Give Domestic Abuse the Red Card" and "Operation Ribbon"  also encourage others to spread awareness and report suspicious behavior. In addition, local police departments provided a dedicated response car for domestic abuse and domestic abuse resource services are increasing staffing during the World Cup games.
The Humberside Police used Twitter to get its message across. "There's never an excuse for domestic abuse! If you're suffering at the hands of an abusive or violent partner, or know someone who is, then call us on 101 or in an emergency 999. Discover what advice and support is available locally here http://ow.ly/HEge30kspfW  #NoExcuse," tweeted the department.
But "Football United Against Domestic Violence," is a campaign run by national charity network Women's Aid, a national charity network. Women's Aid chief executive Katie Ghose, chief executive at Women's Aid, claims the sport itself isn't the problem.
"Categorically, football does not cause domestic abuse, the behaviour and actions of abusers who exert power and control over their victims cause domestic abuse," said Ghose. "However, domestic abuse does not happen in a cultural vacuum. The sexist attitudes, chants and behaviour at football matches encourage an environment in which women are belittled and demeaned."
Read more: 7 Biggest Scandals inWorld Cup History
Check out The Cheat Sheet on Facebook!