Bob Woodward's 'Fear' Reveals Donald Trump's Most Awkward Habits in the White House
Donald Trump has some strange habits and routines. Like Fire and Fury before it, Bob Woodward's Fear: Trump in the White House makes some troubling revelations about the president and his administration. As Vox notes, "the book describes disturbing behavior by the president of the United States and claims that many of his aides actively work to counter what they see as his most destructive instructions."
The book contains some never-before-reported details courtesy of the sources who talked to Woodward: Rob Porter, Gary Cohn, Steve Bannon, Reince Priebus, Lindsey Graham, and John Dowd. Fear reveals some shocking scenes that took place in the first 13 months of Trump's presidency. And it also uncovers that Trump has a habit of doing some awkward things during his workdays at the White House.
We've combed through the book to find the most interesting details about what Trump is really like as a boss. Most Americans probably won't like what they see.
1. Donald Trump gives people detailed driving directions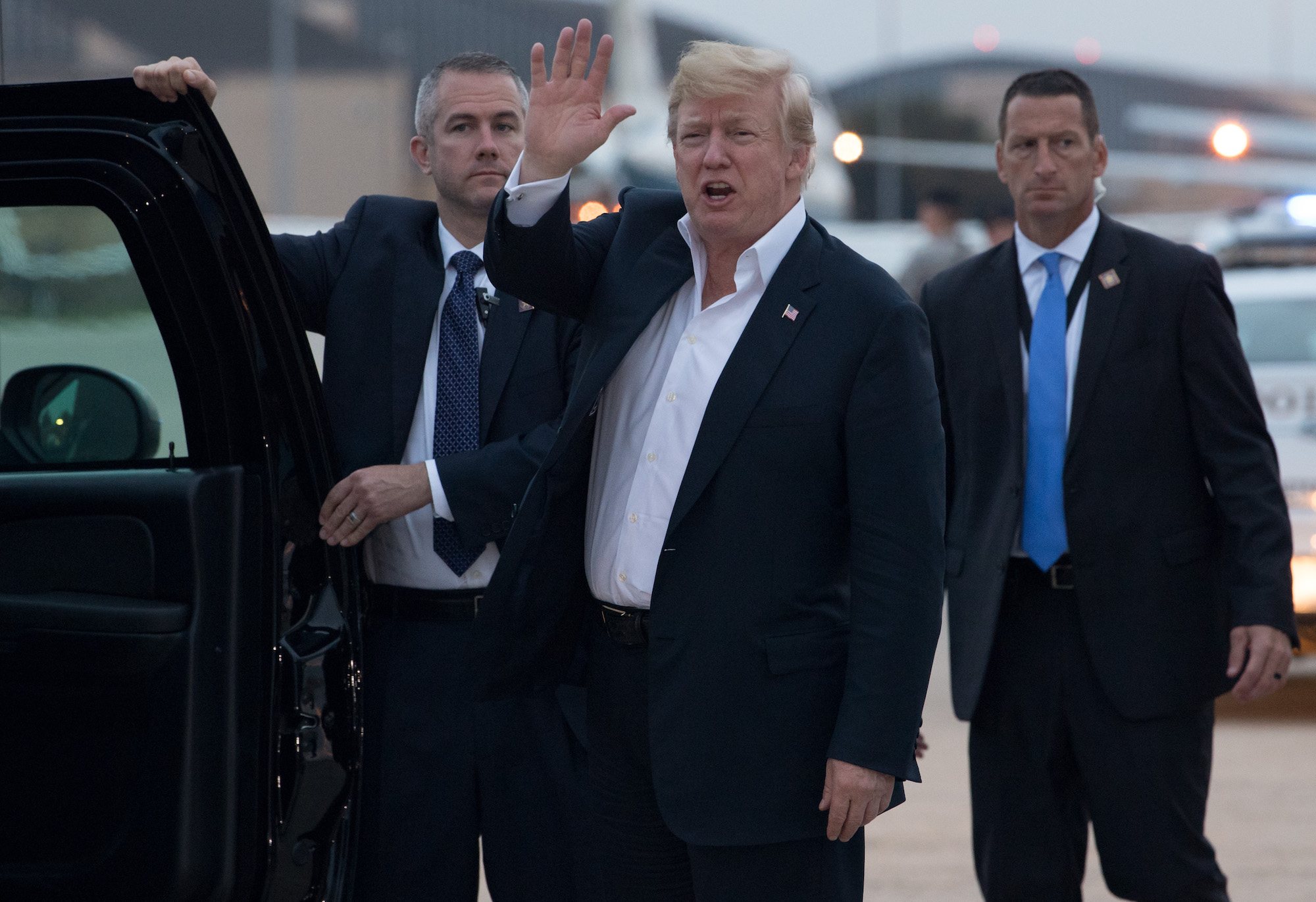 As president, Donald Trump doesn't drive, and he probably won't anytime soon. But that apparently doesn't stop him from giving detailed directions to colleagues who visit him at his various resorts and golf courses. Bob Woodward reports that when Steve Bannon met Trump at his Bedminster golf club, "Trump provided full driving instructions with more detail than Bannon had ever heard him give on anything." Maybe he doesn't know about Google Maps?
Next: He doesn't like to be seen wearing these. 
2. He seems self-conscious about wearing reading glasses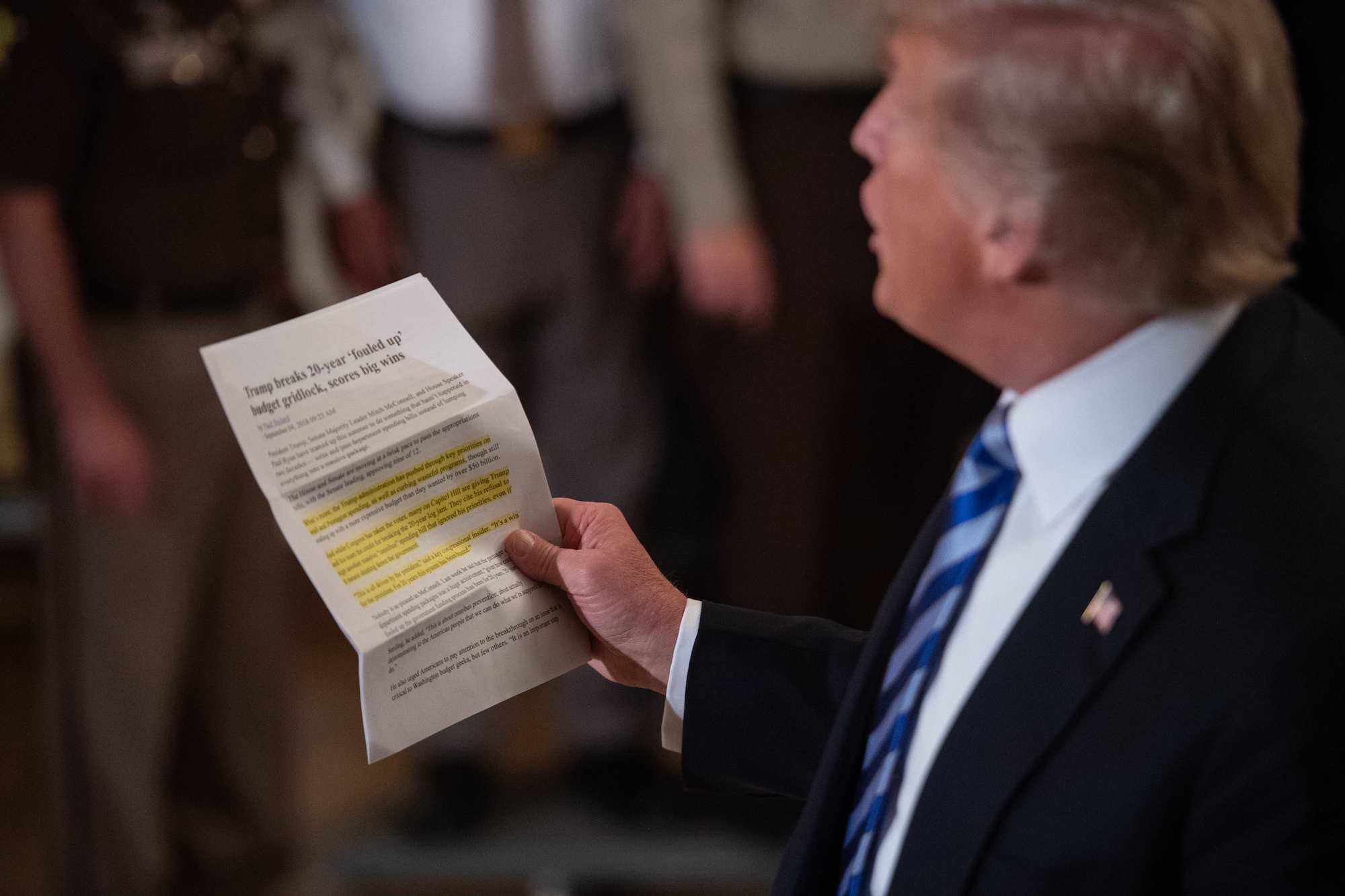 Bob Woodward's Fear recounts an occasion on which Rudy Giuliani got on a plane with Trump, "He took a seat next to Trump, who was at his table in his reading glasses." That detail might surprise a lot of Americans, who rarely see photos of Trump wearing reading glasses. Vision commonly declines with age, but Trump has seemingly avoided being photographed in his glasses. (He's certainly not the only leader who's felt self-conscious about his eyewear.)
Next: He has a few superstitions. 
3. The president is superstitious about 'jinxing' himself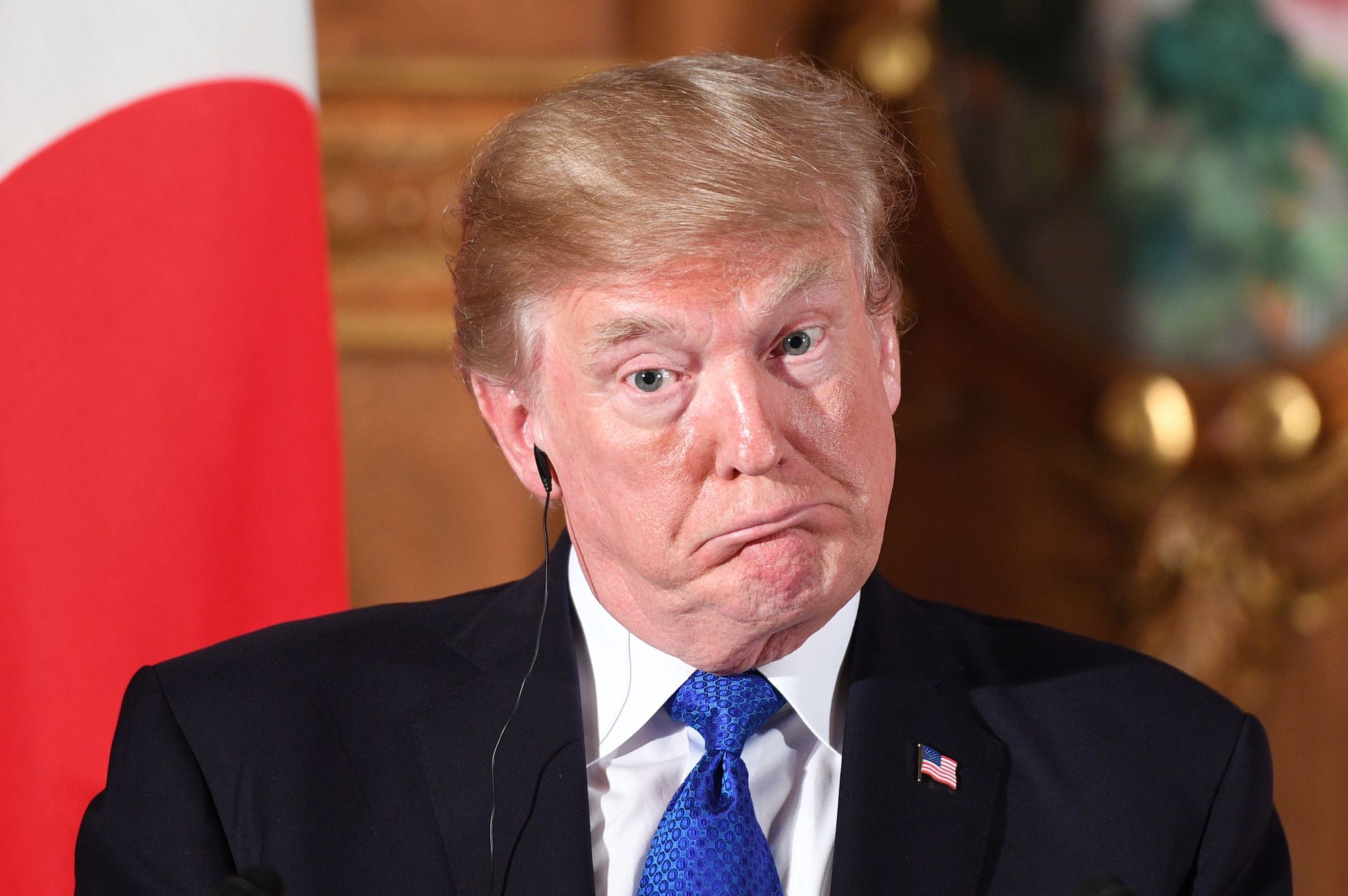 Bob Woodward isn't the first to reveal that Donald Trump has a superstitious streak. Former Trump campaign manager Corey Lewandowski and his former deputy, David Bossie, wrote that Trump didn't prepare for a White House transition or draft any Election Night speech "because the hyper-superstitious businessman was too afraid of 'bad juju,'" People reports. Woodward also noted that Trump didn't want to assemble or fund a transition team before the election. Steven Bannon thought that "A transition might make sense. 'It's jinxing me,' Trump said. 'I can't have one.'"
Next: Trump prefers to do this. 
4. Trump tries to keep meetings very short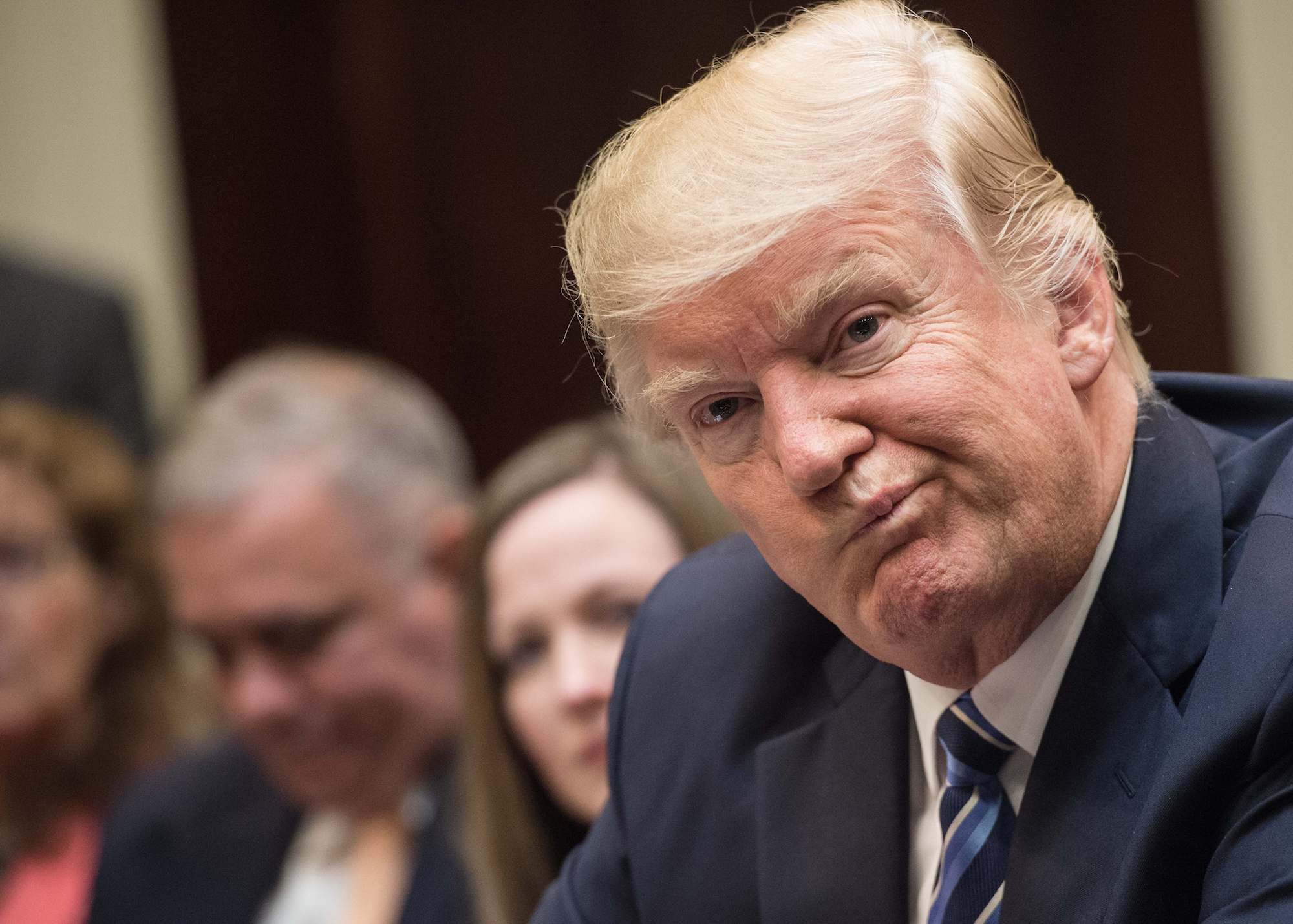 Many people say that meetings kill productivity. But if you have a job like the president of the United States, meetings are a crucial part of the job. Early in Fear, Woodward described Jared Kushner inviting Gary Cohn to talk to Trump. He reports that Cohn "had an ego and sureness to match Trump's." And, crucially, "He was advised that Trump routinely kept meetings to 10 minutes." Some people swear by 10-minute meetings. But Trump may just be impatient.
Next: He makes this decision without a lot of thought. 
5. He doesn't think much before hiring someone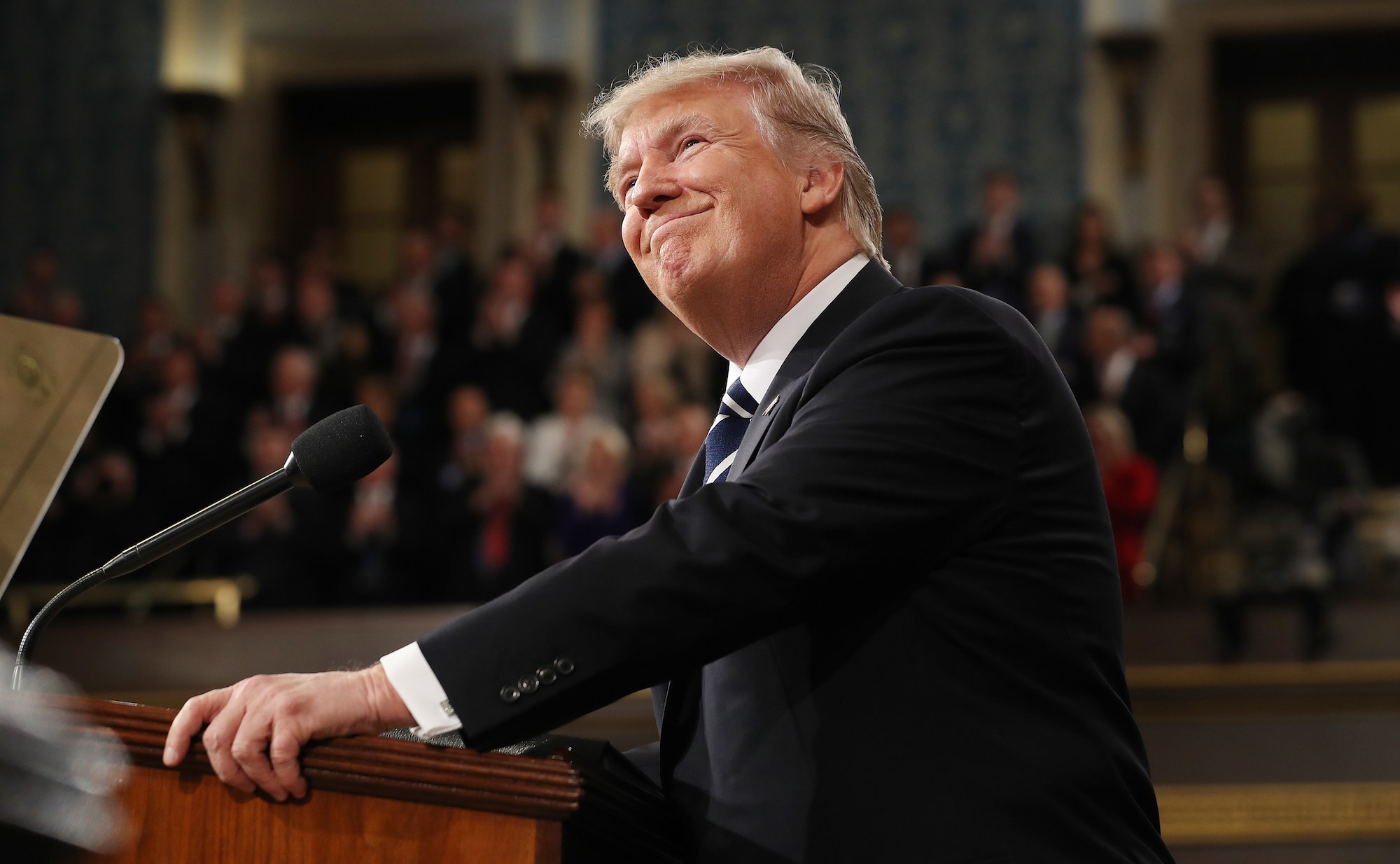 At one point in Fear: Trump in the White House, Bob Woodward reports that Reince Priebus worried about the president's habit of making "on-the-spot hires." But Priebus later learned that even though Trump can hire someone without a second thought, he can talk about firing them at length before it actually happens. "Priebus saw that if Trump was planning to or said he was going to fire someone, it did not mean it would happen. One of his favorite sayings became, 'Nothing is dead until it's buried around here.'"
Next: He seems to consider this when hiring someone. 
6. He hires people at least partially based on their looks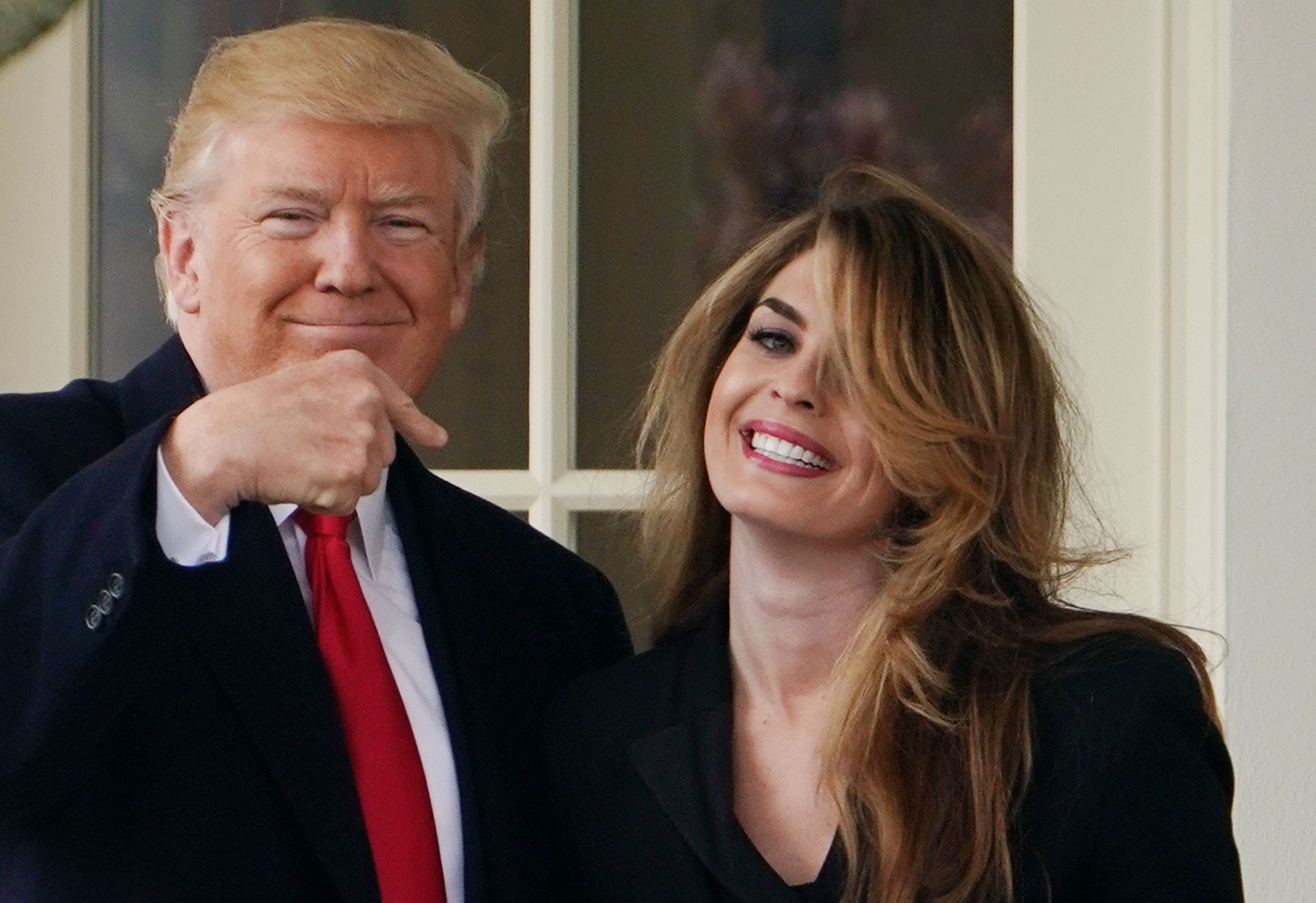 Woodward wrote that Hope Hicks, "had two qualities important to Trump — loyalty and good looks. She had modeled as a teenager, and now, with perfectly made-up eyes and long brown hair swept back on one side, she had the polished and glamorous look Trump liked." Elsewhere, Woodward described Trump considering candidates to replace Michael Flynn. "Everything was through the eyes of, 'Does he look the part?' Everything was movies." Trump even declined to hire John Bolton for the position because the president "did not like his big, bushy mustache." And when he hired H.R. McMaster, he called for the media. "He wanted a picture with his latest general who looked out of Central Casting."
Next: He sometimes makes this surprising move when welcoming someone. 
7. Donald Trump gives hugs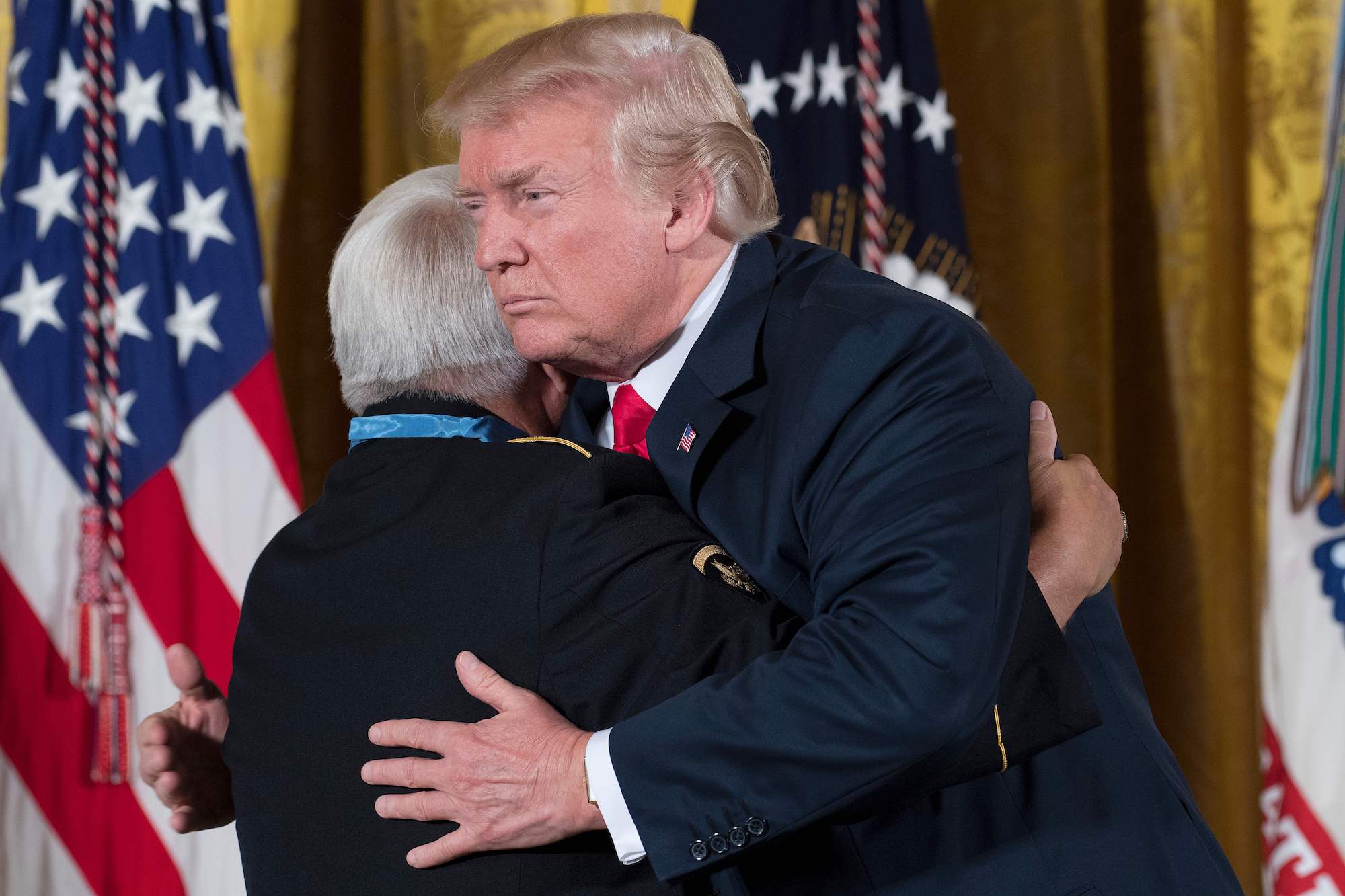 Perhaps surprisingly, the president apparently doesn't have an issue giving hugs. (Especially not when an American flag is involved.) Woodward reports that Senator Lindsey Graham was the recipient of one of Trump's hugs when he joined the president for lunch at the White House. "When he walked into the Oval Office, Trump was sitting behind the Resolute Desk. He jumped up, moved swiftly toward Graham, and gave him a big hug. 'We've got to be friends,' Trump said. 'You're going to be my friend.'"
Next: Trump sometimes asks people for this information. 
8. He asks people for their phone numbers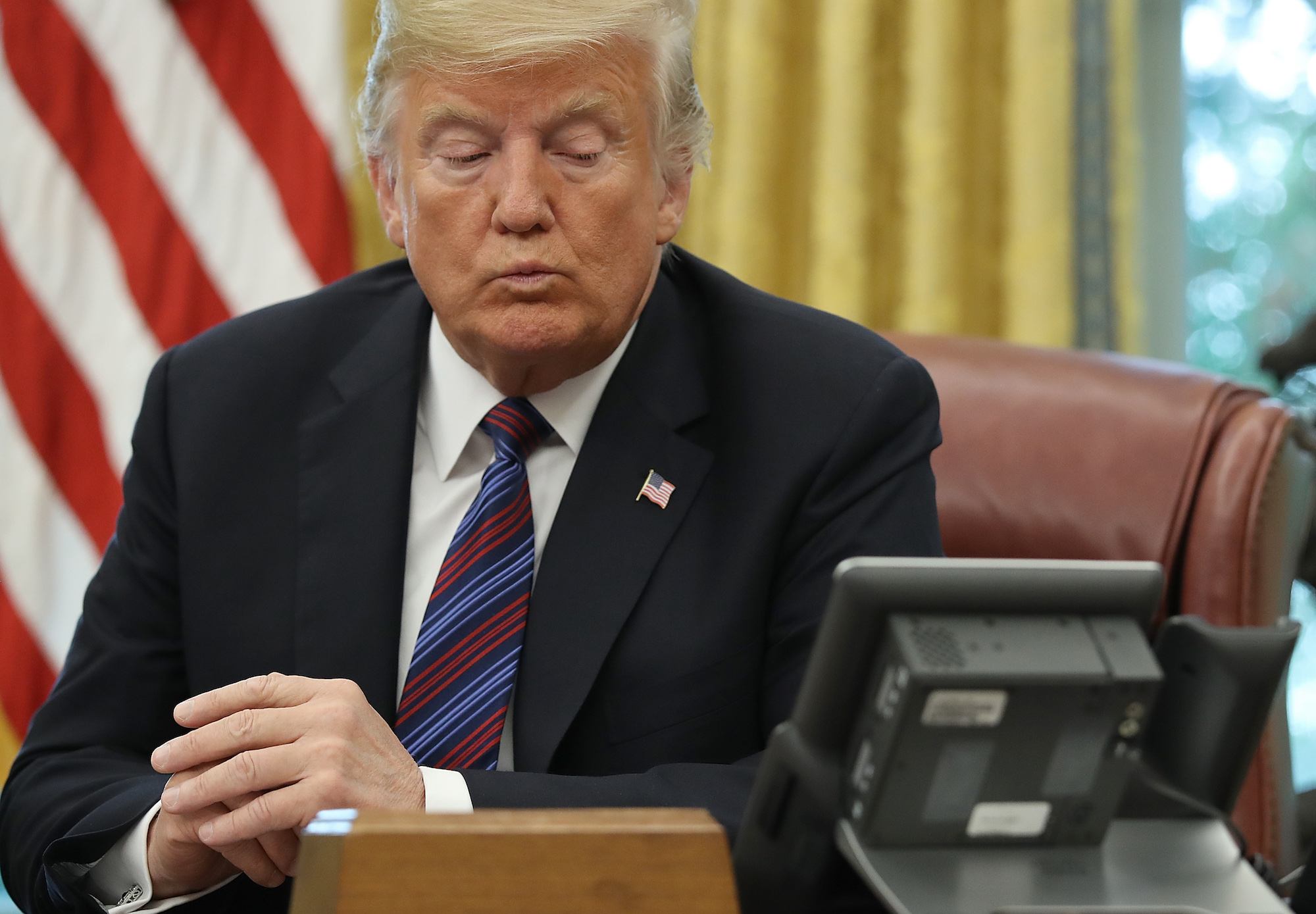 Donald Trump has staffs at the White House and at the Trump Organization who take care of his paperwork and maintain his address book. But at least on occasion, Trump decides that he isn't above asking somebody for their phone number and writing it down himself. Woodward reports of the president's meeting with Lindsey Graham, "'What's your new number?' Trump asked. He wrote it down, laughed and asked how their rift had occurred."
Next: He often gets distracted by this. 
9. The president gets distracted by TV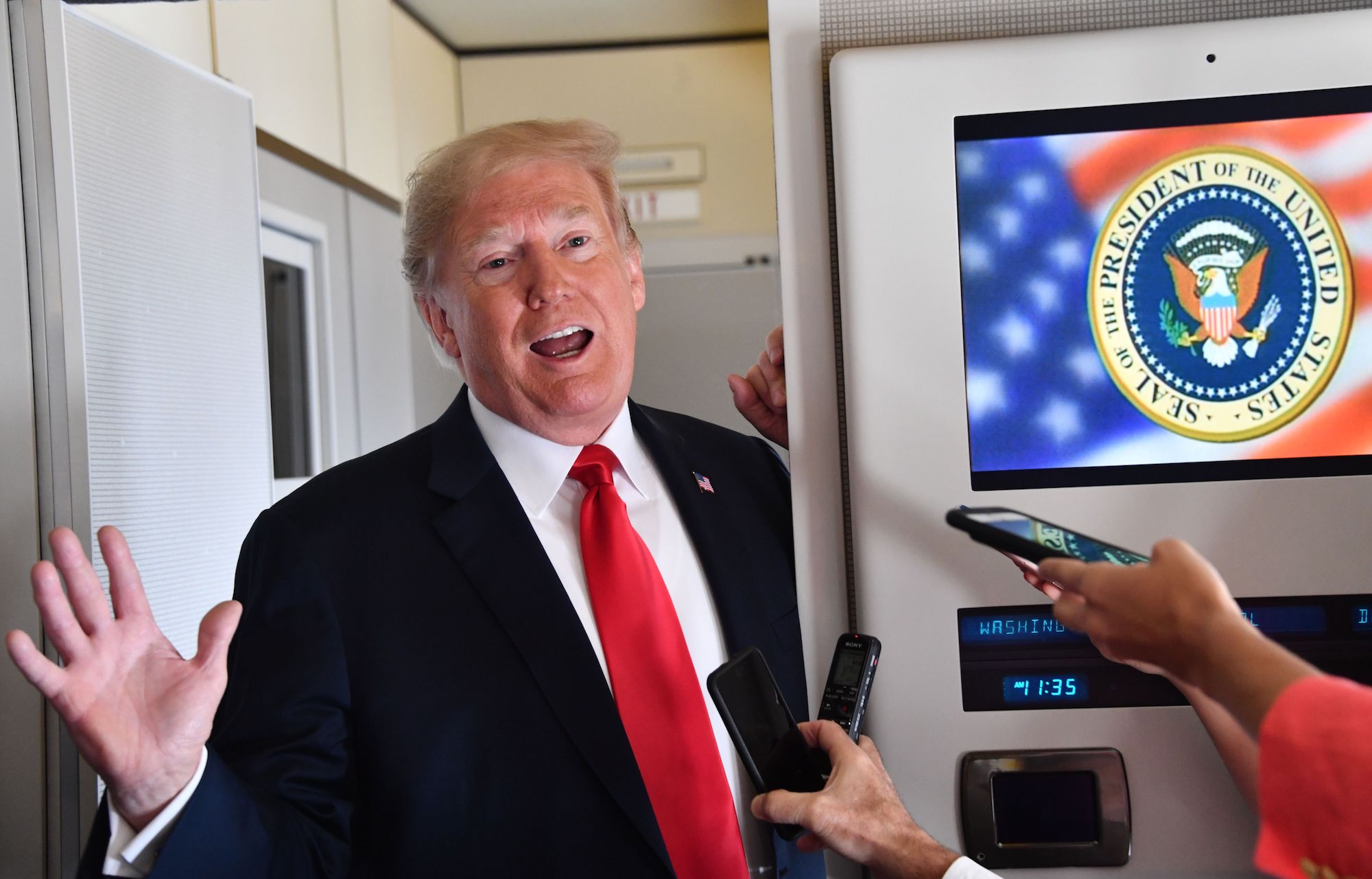 Imagine trying to have a conversation with your boss when he's distracted by whatever's going on on television. That's life in the Trump White House. "Television was Trump's default activity," Woodward writes. He reports that usually, Trump works at the Resolute Desk or in his private dining room. But on one bad day in the White House, "he mostly stayed on his feet as he stormed between the two rooms. The president turned to his lifeline — cable news. He watched a two-hour block of Fox News, and then most of the two-hour-long blocks of MSNBC and CNN that he had TiVo'd."
Next: He still uses this technology instead of a smart TV.
10. He still uses a TiVo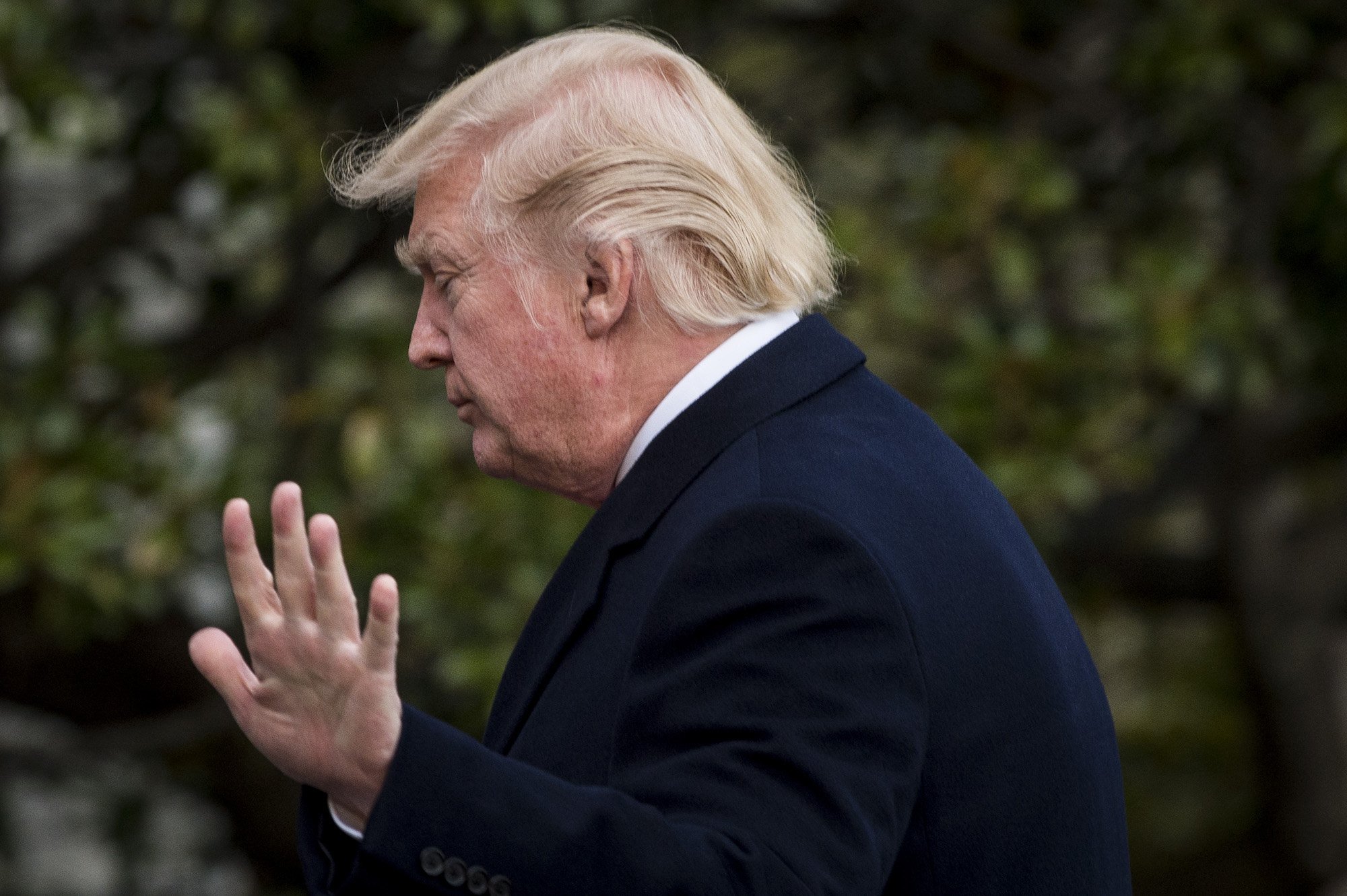 Most Americans have moved on to smart TVs and streaming services from TiVos. But Trump goes old-school. "Trump would come back to the White House from the weekend at one of his golf resorts just in time to catch political talk on his enemy networks, MSNBC and CNN," Woodward writes. "The president and the first lady had separate bedrooms in the residence. Trump had a giant TV going much of the time, alone in his bedroom with the clicker, the TiVo and his Twitter account." Reince Priebus called the president's bedroom "the devil's workshop," and Sunday nights "the witching hour." He even tried changing Trump's Sunday night schedule to moderate his TV (and TiVo) habits.
Next: He never learned this computer skill. 
11. Trump doesn't touch type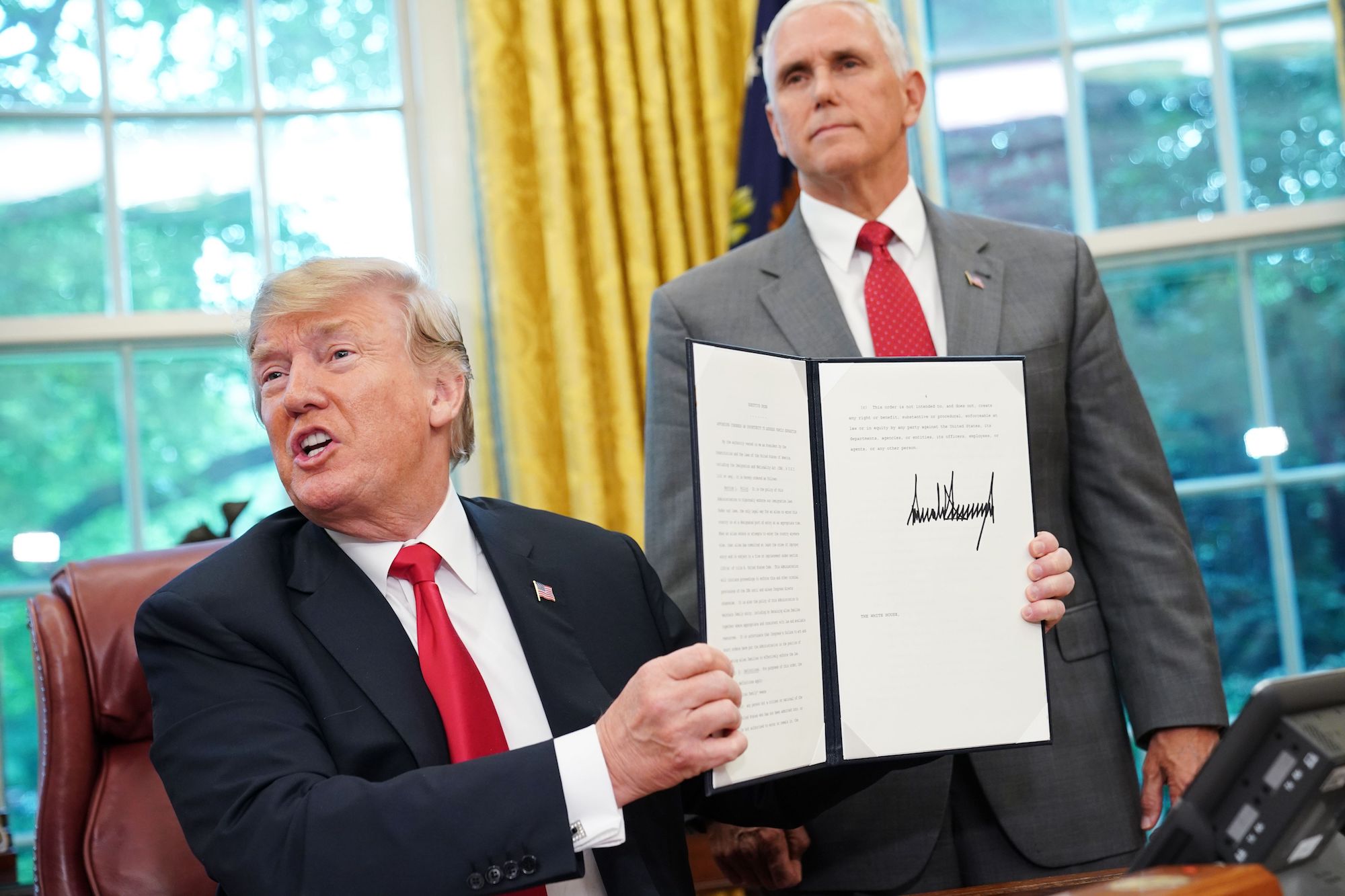 Woodward's book makes another surprising revelation about the president and his technology use. Though Donald Trump knows his way around a smartphone, it doesn't sound like he knows how to use a computer. On an occasion when he worked with Rob Porter on a speech, "Trump, who doesn't touch type or use a keyboard, sat behind his desk. Porter, next to him, scrolled through the draft and they cut and pasted."
Next: He starts doing this when he wants someone to take notes. 
12. He's gotten used to dictating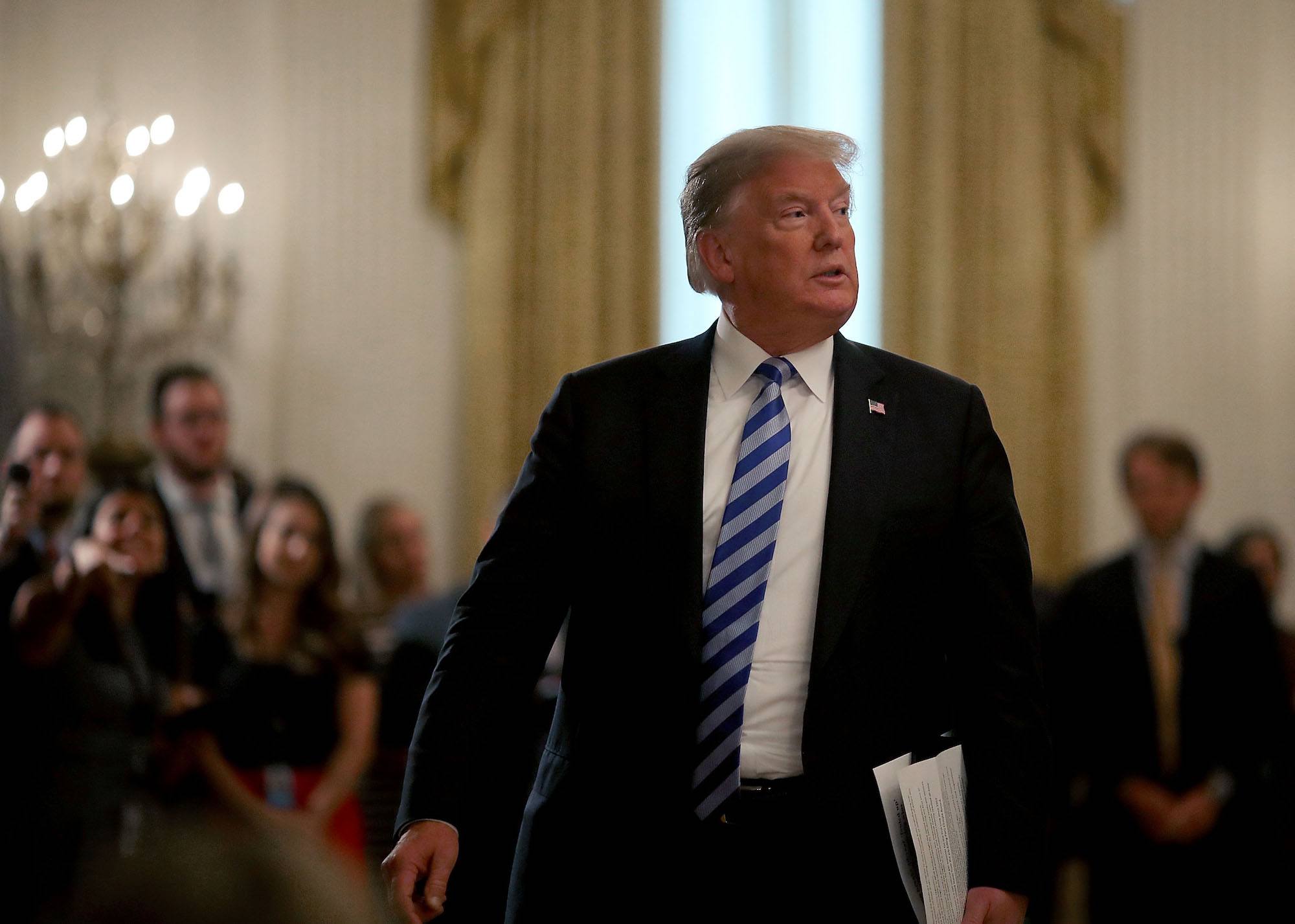 Similarly, Donald Trump has reportedly gotten used to dictating correspondence and other documents to his staffers. Woodward reports that "The president would have an idea and say, 'I want to sign something.'" And "At times he would just start drafting orders himself or dictating." As the book explains, "Trump liked signing. It meant he was doing things, and he had an up-and-down penmanship that looked authoritative in black Magic Marker."
Next: He makes this rude move. 
13. Trump walks away from people he doesn't want to talk to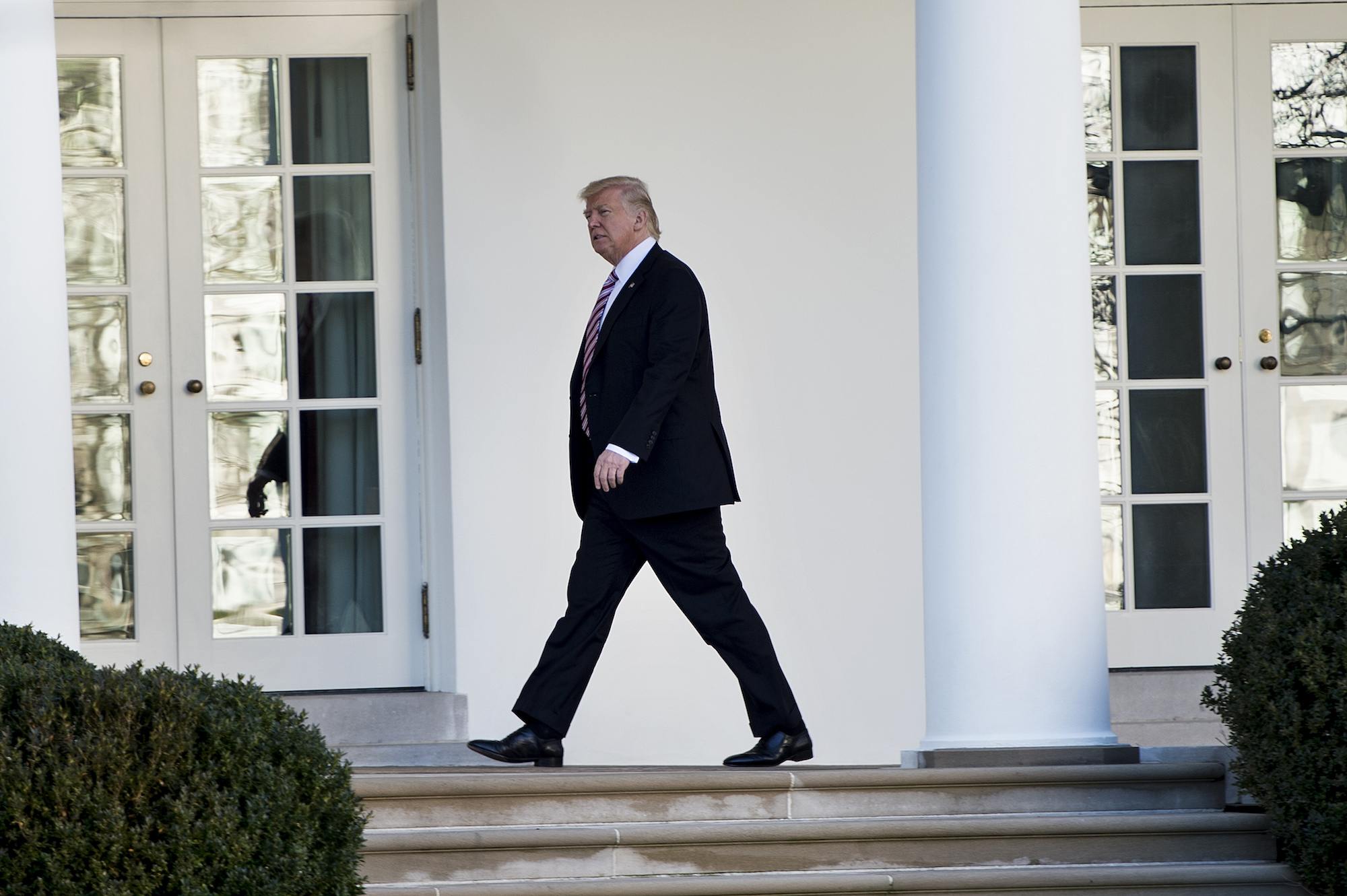 Many people would consider it rude to walk away from a colleague — even a subordinate — without saying anything to end a conversation. But that's apparently something that Donald Trump does at the White House. When Jared Kushner tried to introduce Rob Porter to Trump, Trump didn't want to engage. Instead, "The president walked away without saying anything to find a TV screen." And on another occasion, reported much later in the book, Trump was perhaps even more rude to Porter. He said, "I don't want to talk to you." He even added, "Get away from me."
Next: He has also done this to people. 
14. The president gives people the silent treatment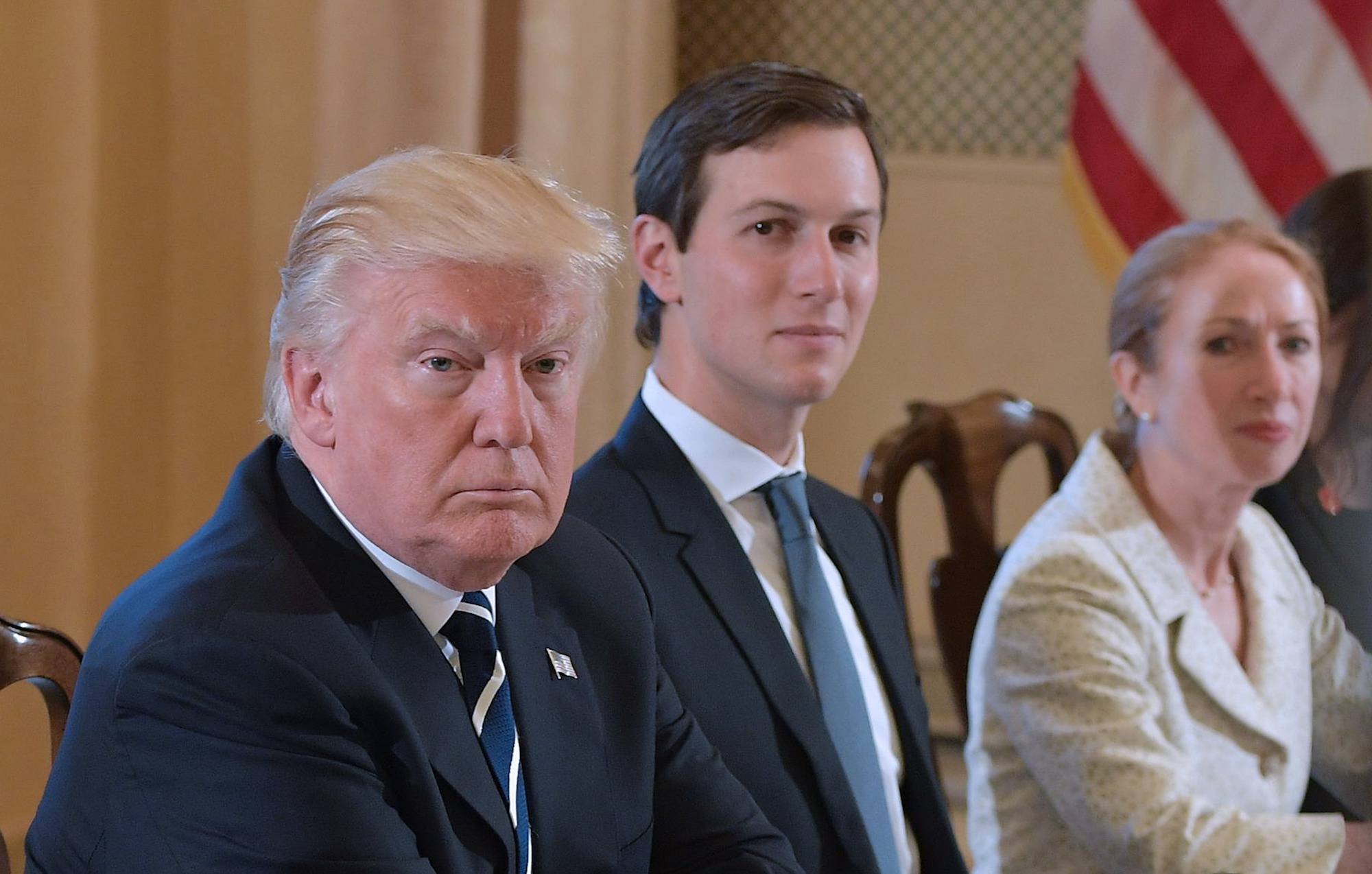 Most psychologists and therapists will tell you that giving someone the silent treatment isn't a particularly healthy way to communicate with them. But that doesn't stop Donald Trump from resorting to the silent treatment when he disapproves of the actions of an advisor or aide. Woodward reports that Gary "Cohn could tell that Trump was angry because the president would not talk to him for a couple of weeks. At regular meetings, Trump would ignore him."
Next: He has this embarrassing habit. 
15. Trump repeats lines that he heard somebody else say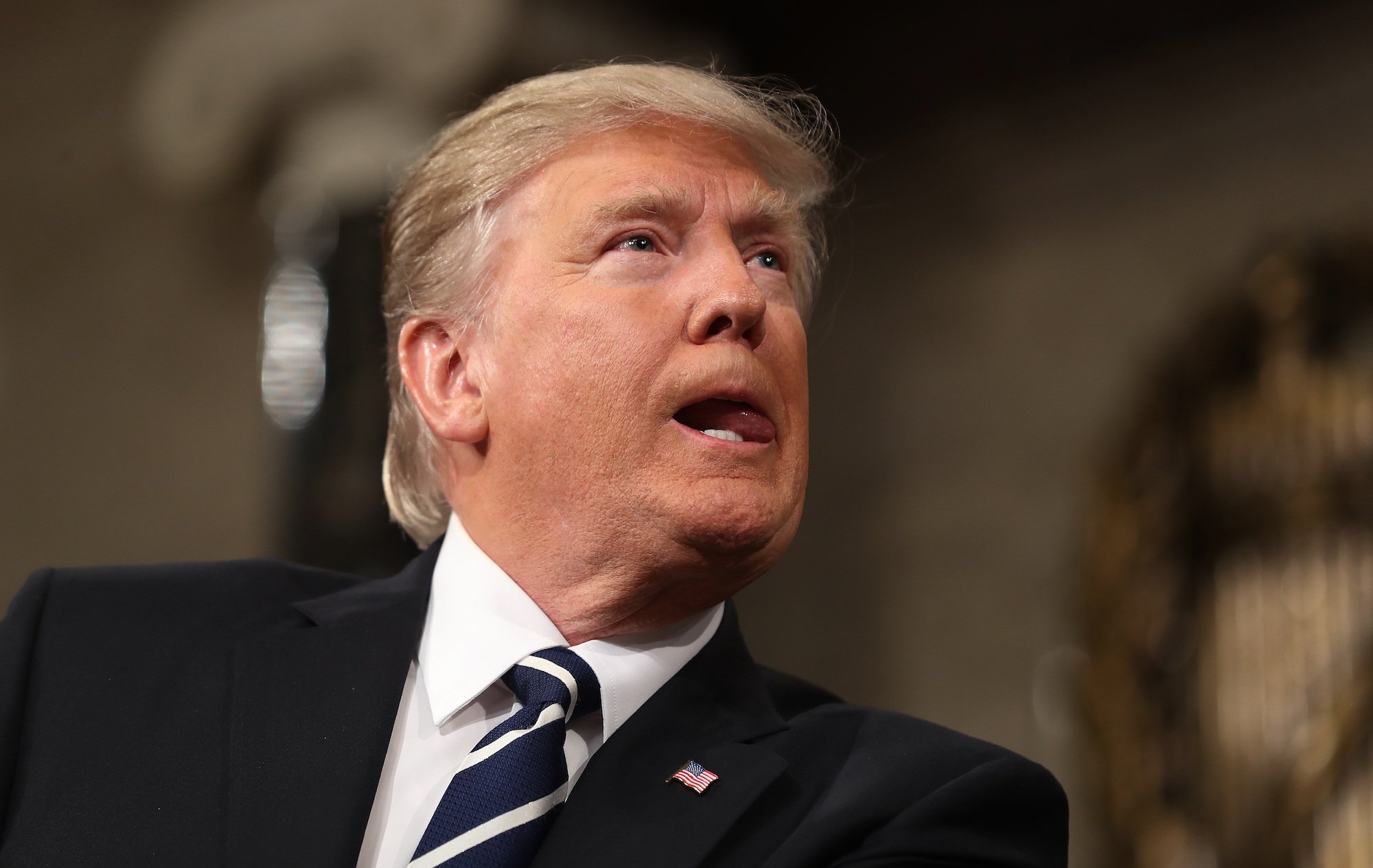 Woodward reveals another awkward habit that doesn't exactly put Donald Trump in a flattering light. He reports that on several occasions, Trump has adopted language — and even entire lines — that he heard somebody else say. After  talking about Afghanistan, "At the White House, Trump began repeating a line he had heard at a meeting: 'The way we're going to win is to run an insurgency against the insurgency of the Taliban.'"
Next: He does this even when he knows he's wrong. 
16. He sticks with opinions even when he knows they're outdated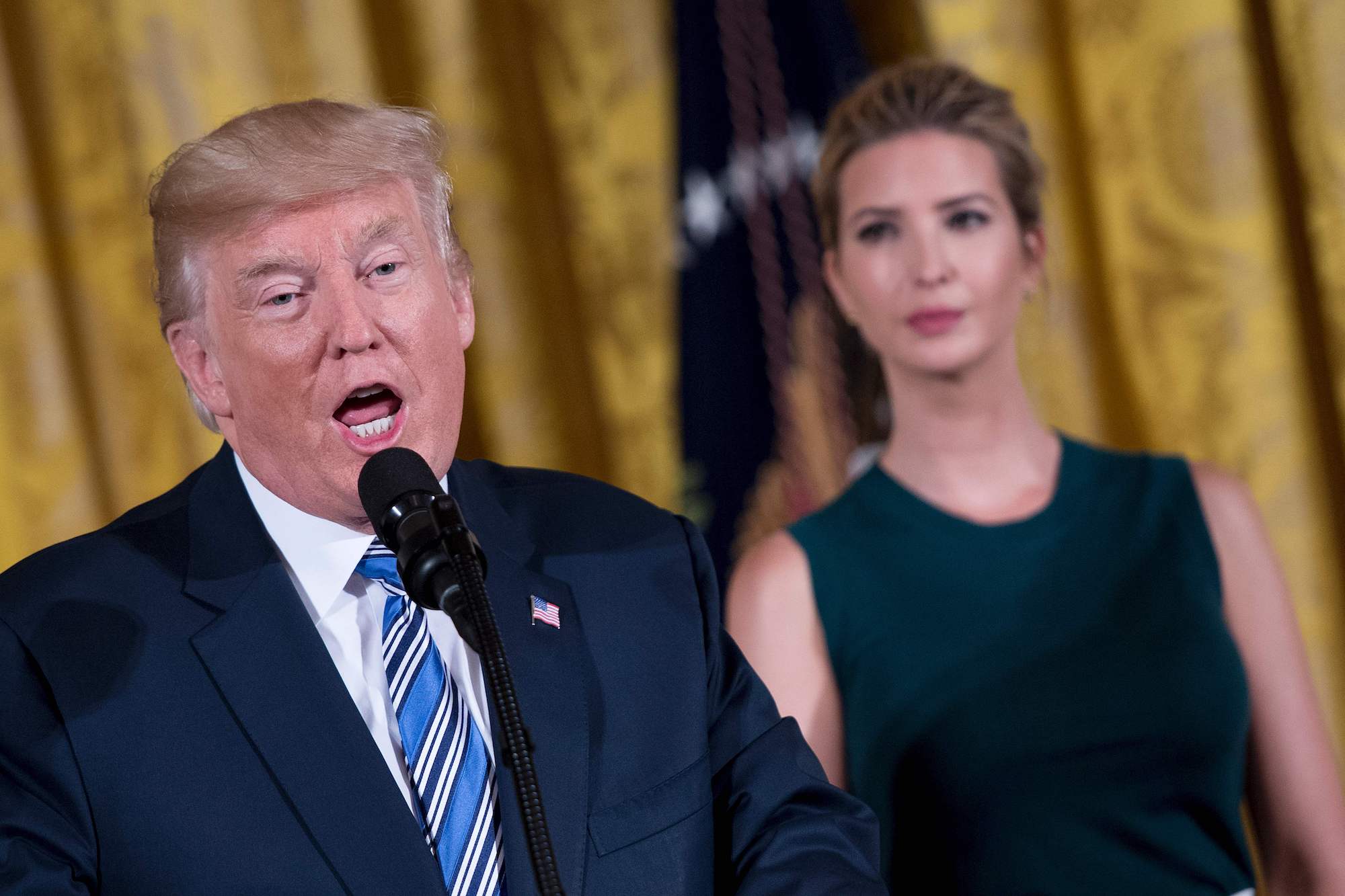 Most people, when they realize that they've made wrong assumptions or are relying on outdated information, quickly try to become better informed. But Donald Trump doesn't have that impulse. Woodward reports, "The president clung to an outdated view of America — locomotives, factories with huge smokestacks, workers busy on assembly lines." Gary Cohn reportedly told the president, "You have a Norman Rockwell view of America." And when Cohn asked why the president had those views, Trump replied, "I just do. " He added, "I've had these views for 30 years."
Next: He's not good with details, except when they involve this. 
17. Trump has a sense of morbid curiosity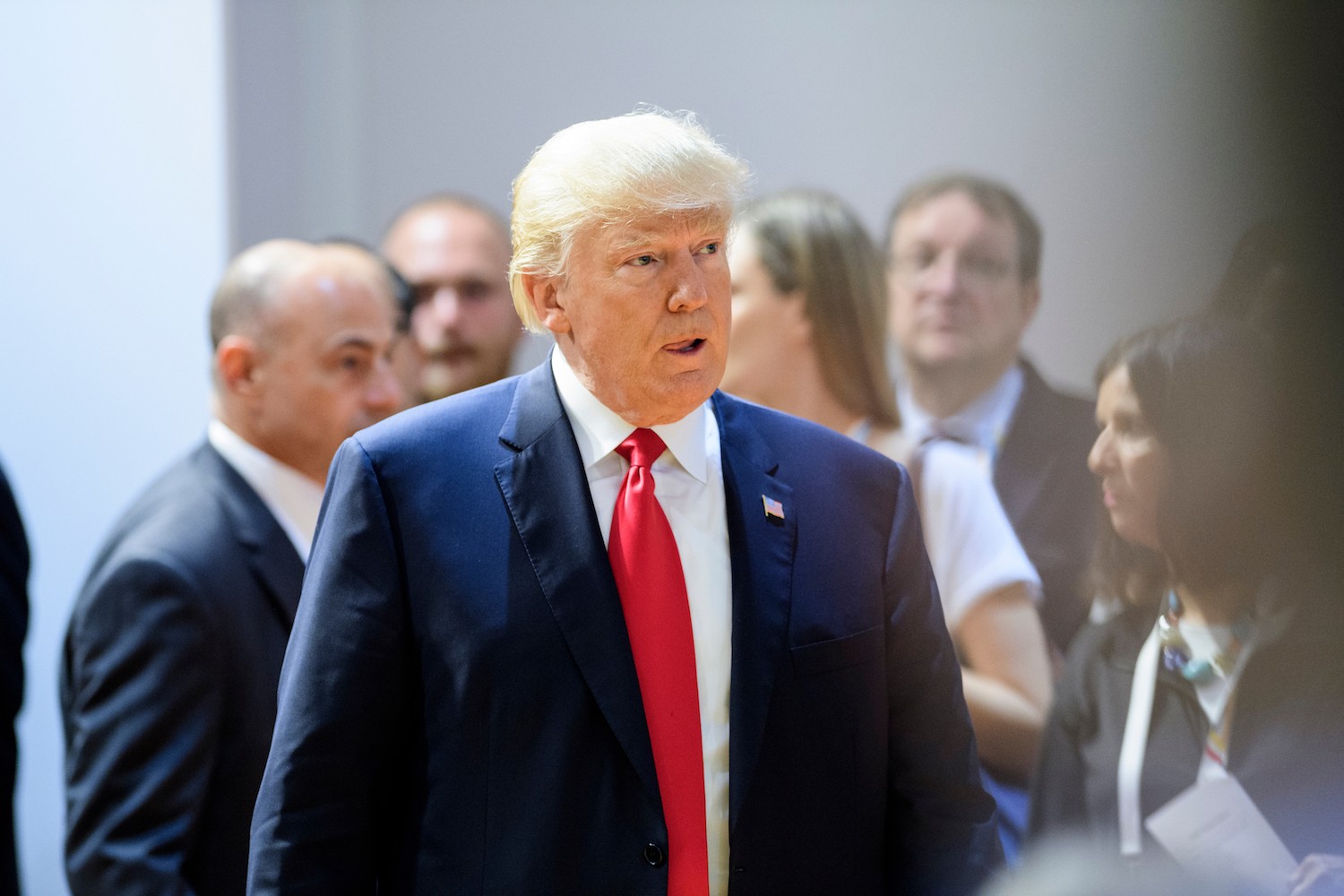 Donald Trump doesn't generally focus on details, Woodward reveals. But he does exhibit a strong morbid curiosity. After a sarin gas attack on Syrian rebels, Trump "had been briefed or read some papers on what nerve gas did to the human body. 'Do you realize what it's like?" he asked at one point. He had a visual image which he described." Trump's explanation went, "The lungs fill up. Breathing stifles, and there is foaming at the mouth. Drooling, blindness, paralysis. Uncontrollable vomiting, urination, and defecation. Excruciating pain all over, especially abdominal cramps. Seizures. The organs of the body become disconnected from the brain. After this, 10 minutes of torture, death."
Next: He doesn't have one of these. 
18. He doesn't seem to have a to-do list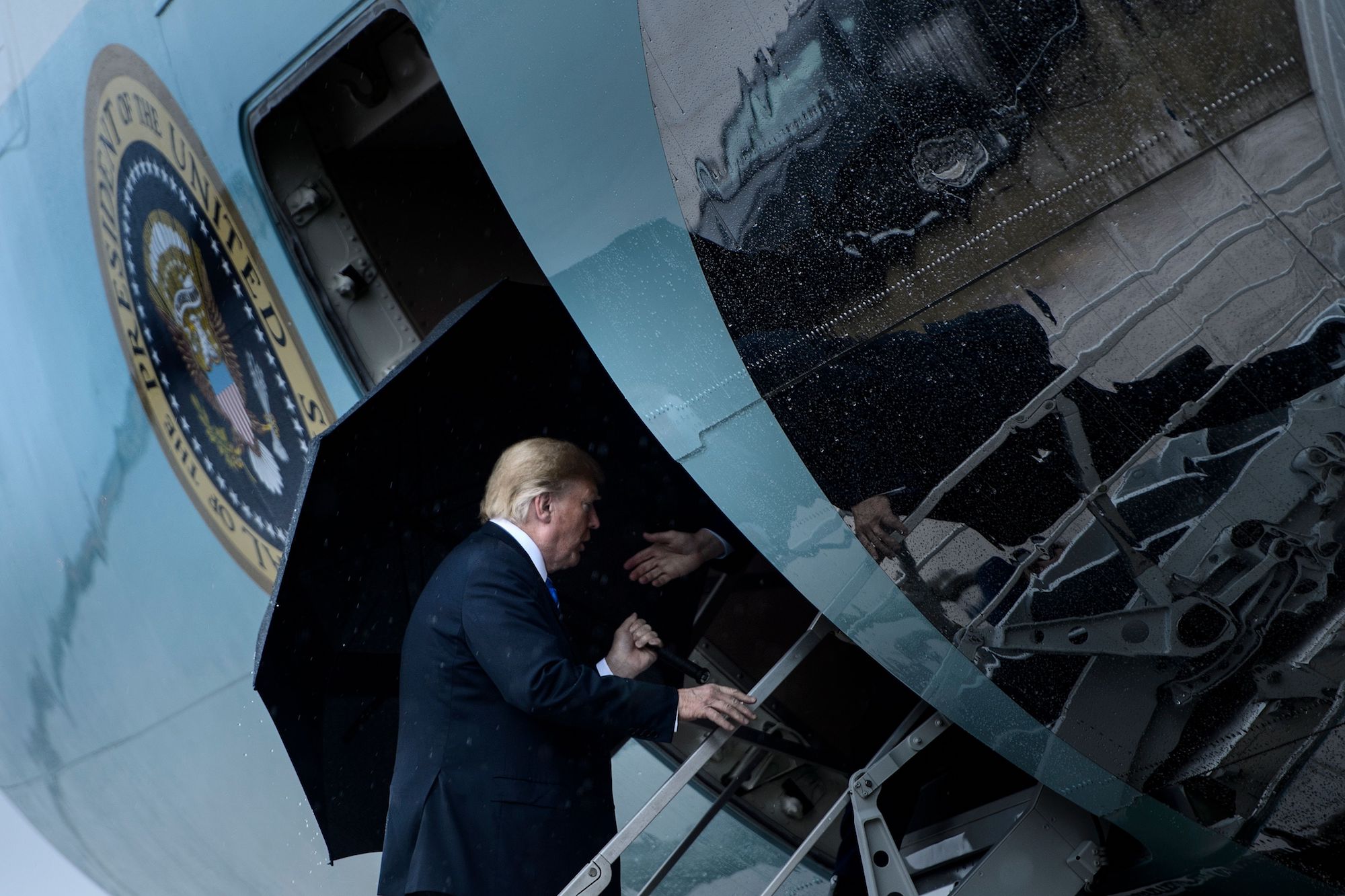 Throughout Fear, Donald Trump's aides repeatedly realize that the president forgets about things — papers, issues, goals — that aren't right in front of him. Gary Cohn reportedly realized that "If the paper was not sitting in front of him, he'd likely forget it. If it was out of sight, it was out of mind." Elsewhere, Woodward reported that Trump didn't seem to remember one of his own policy decisions "because he did not ask about it. He had no list — in his mind or anywhere else — of tasks to complete."
Next: He sometimes cancels meetings for a very unproductive reason. 
19. Donald Trump cancels meetings just to obsess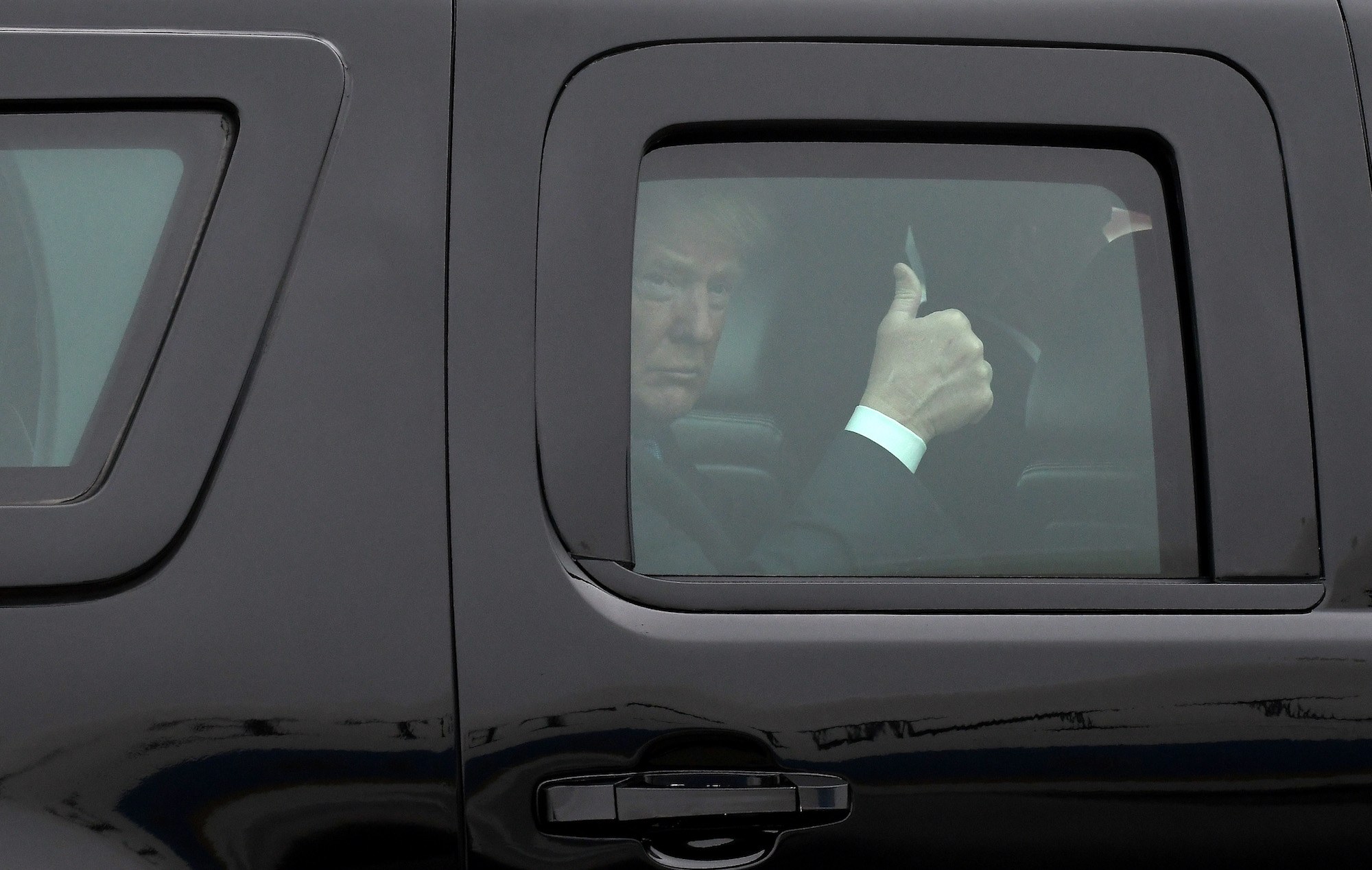 Most people try to keep all of their appointments, no matter what's going on in their personal or professional lives. That doesn't seem to be a priority for Trump, who canceled meetings when Robert Mueller was appointed as special counsel to investigate Russian election meddling and any connection to the Trump campaign. Woodward reports, "'Now I have this person,' Trump said bitterly, 'who has no accountability who can look into anything, however unrelated it is? They're going to spend years digging through my whole life and finances.' Trump could not focus on much of anything else. Meetings were canceled and parts of the day eventually scrapped."
Next: Trump sometimes scares his aides.
20. He scares aides with his angry outbursts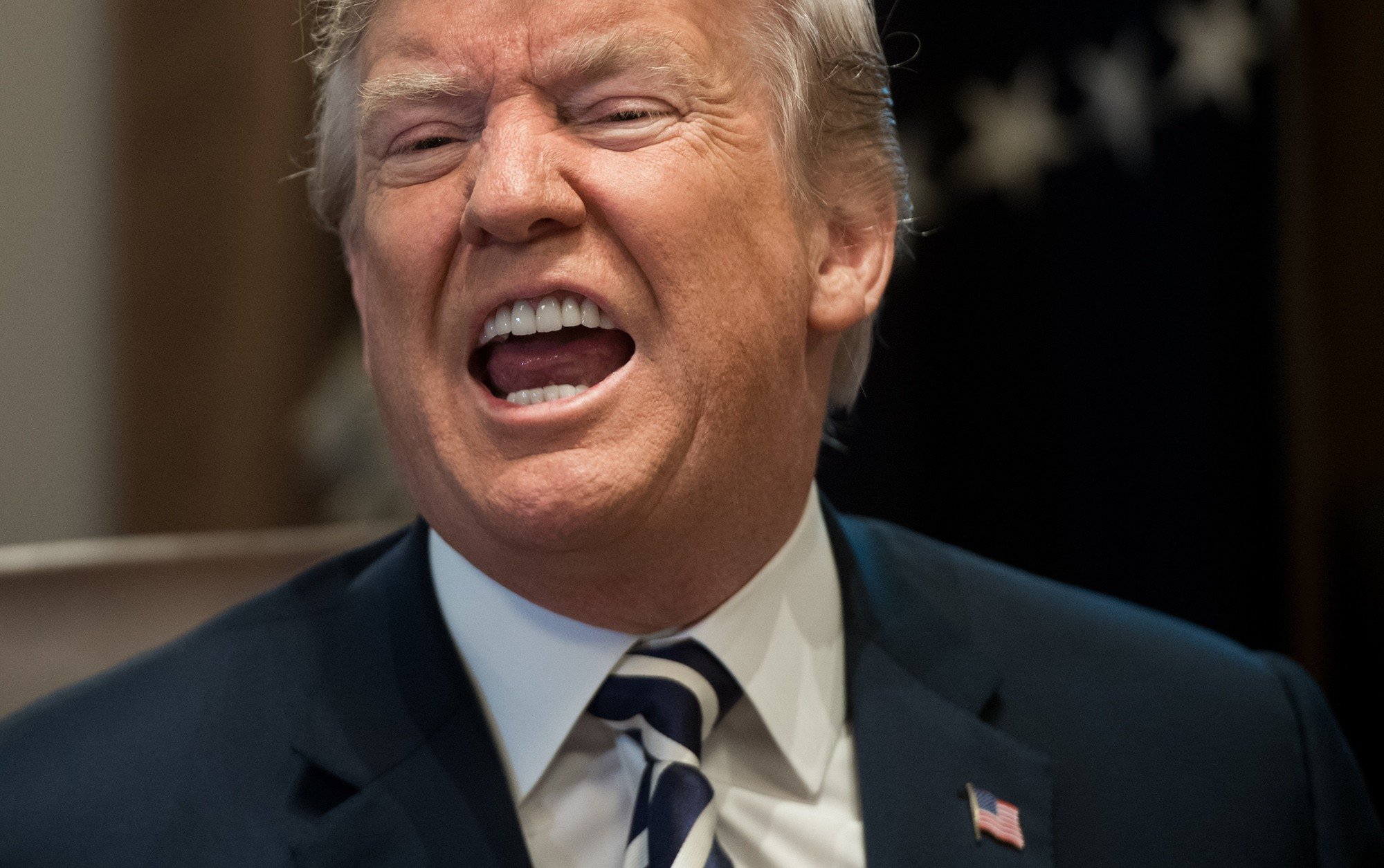 An uncontrollable temper can make things awkward in any workplace. That certainly applies to the White House, too. When Trump "hovered around the TV, glued to coverage" of Mueller's appointment as special counsel, his "mood deteriorated." Woodward writes, "The president erupted into uncontrollable anger, visibly agitated to a degree that no one in his inner circle had witnessed before. It was a harrowing experience. 'We barely got by,' Porter said to an associate."
Next: He has strange habits when it comes to his phone usage. 
21. The president calls people at weird times of the day (or night)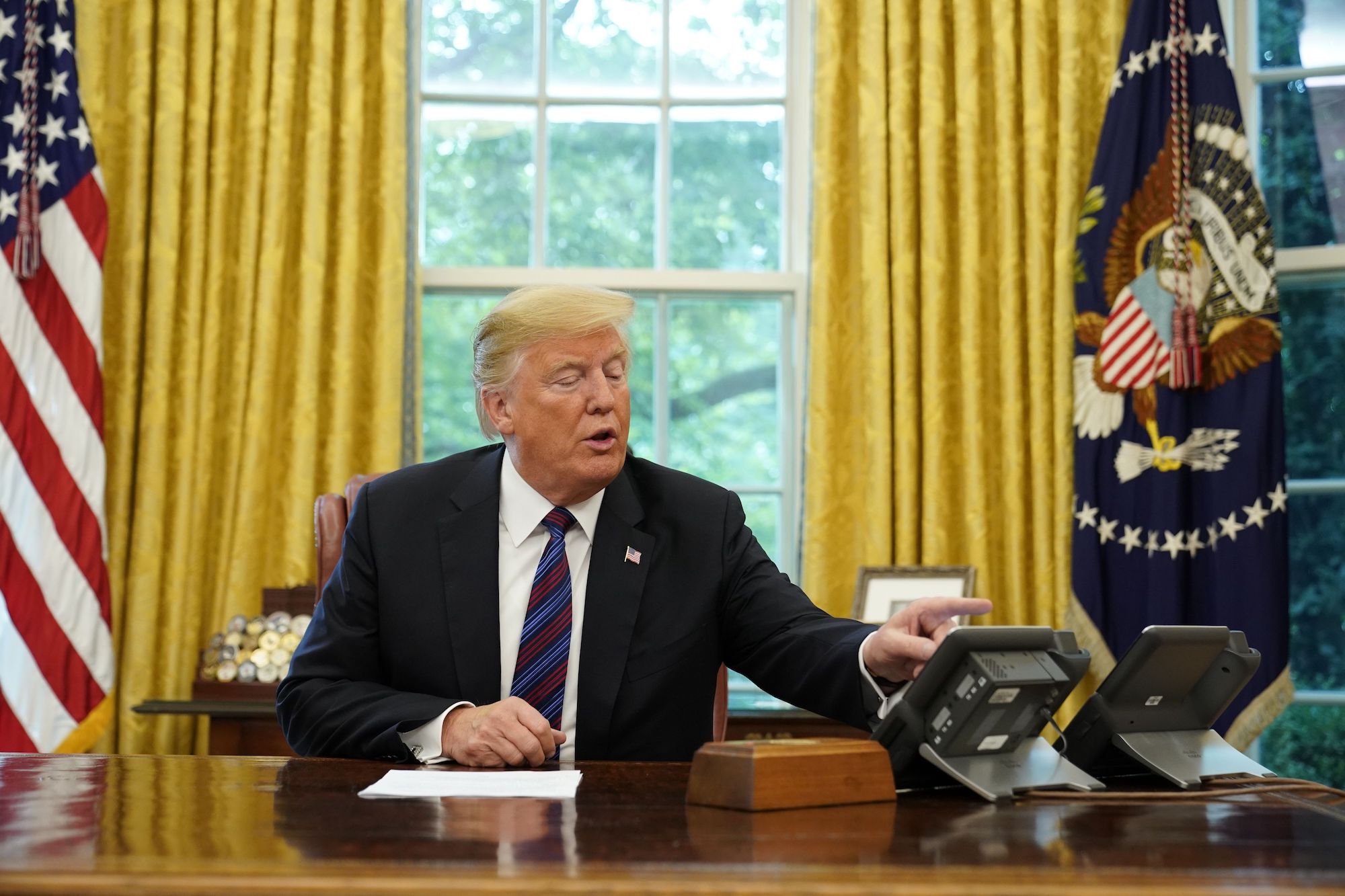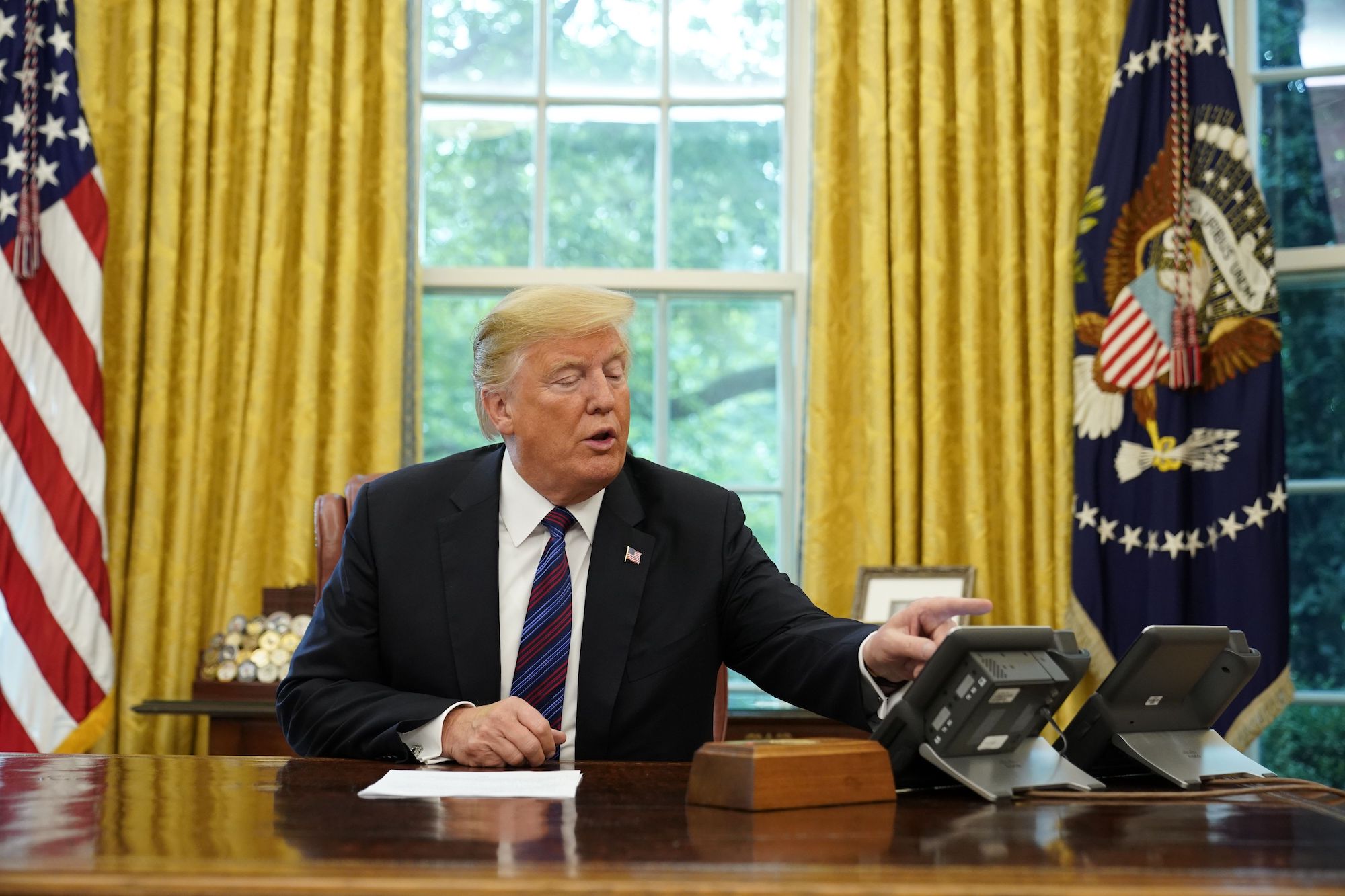 Donald Trump has a well-documented propensity for making late-night phone calls. When John Dowd was called on to defend Trump in the Russia investigation being launched by special counsel Robert Mueller, he got a close-up look at that habit of the president's. As Woodward reports, "Trump began calling him at all hours, all days. Despite Trump's outgoing, in-your-face style, Dowd could see the president was very lonely."
Next: He has extensive thoughts on this topic. 
22. Trump lectures his aides about his Twitter account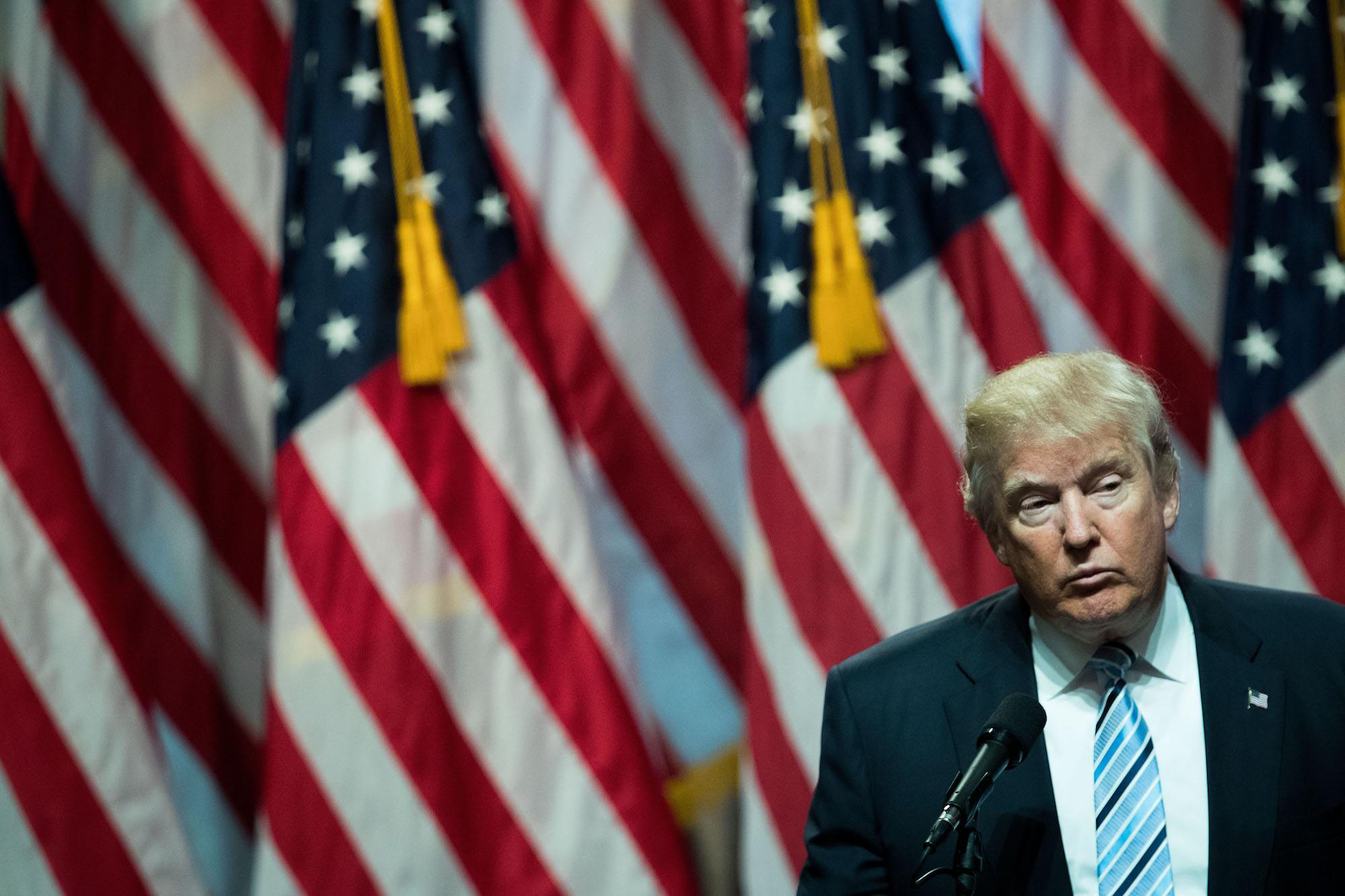 Everybody knows that Donald Trump loves tweeting. Including his aides — especially because the president tells them about it constantly, "This is my megaphone," Trump once said of Twitter. "This is the way that I speak directly to the people without any filter. Cut through the noise. Cut through the fake news. That's the only way I have to communicate." Trump refused to use the White House Facebook and Instagram, citing Twitter as "the reason I got elected" and "the reason that I'm successful."
Next: He once asked for Twitter printouts for this reason. 
23. He tries to analyze his tweets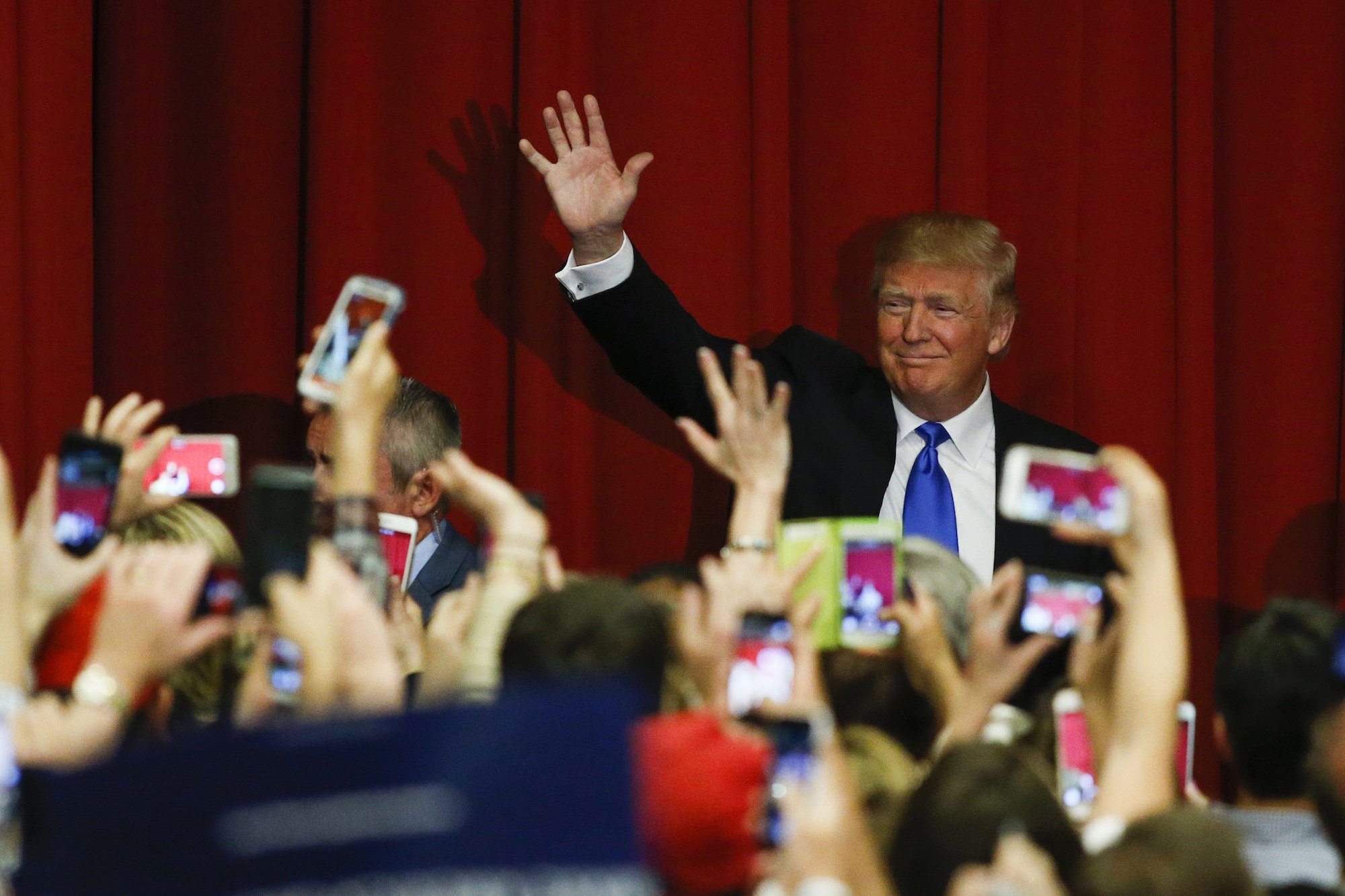 Trump's Twitter obsession sounds a little embarrassing (though clearly, something's working). Woodward reports that in Trump's view, "The tweets were not incidental to his presidency. They were central. He ordered printouts of his recent tweets that had received a high number of likes, 200,000 or more. He studied them to find the common themes in the most successful." Woodward adds that Trump "seemed to want to become more strategic, find out whether success was tied to the subject, the language or simply the surprise that the president was weighing in."
Next: He mocks people in this disrespectful way. 
24. The president does accents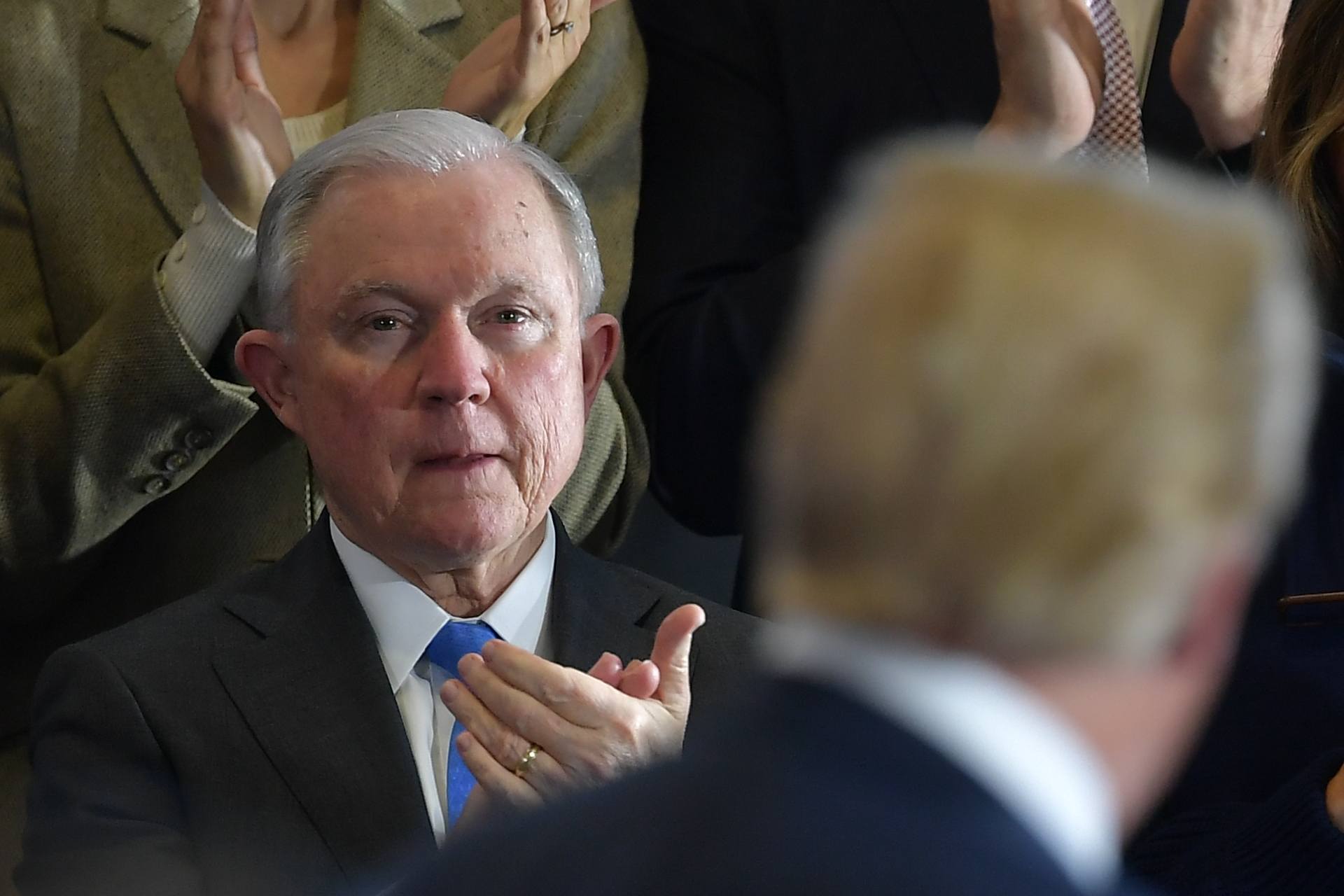 Donald Trump mimics people's accents, according to Woodward. We can imagine that creating some awkward moments. Woodward reports that when Trump was discussing Jeff Sessions, "The president made fun of his Southern accent." In fact, "Trump even did a little impression of a Southern accent, mimicking how Sessions got all mixed up in his confirmation hearings, denying that he had talked to the Russian ambassador."
Next: Woodward compares repetitive meetings to this movie. 
25. He creates a 'Groundhog Day' situation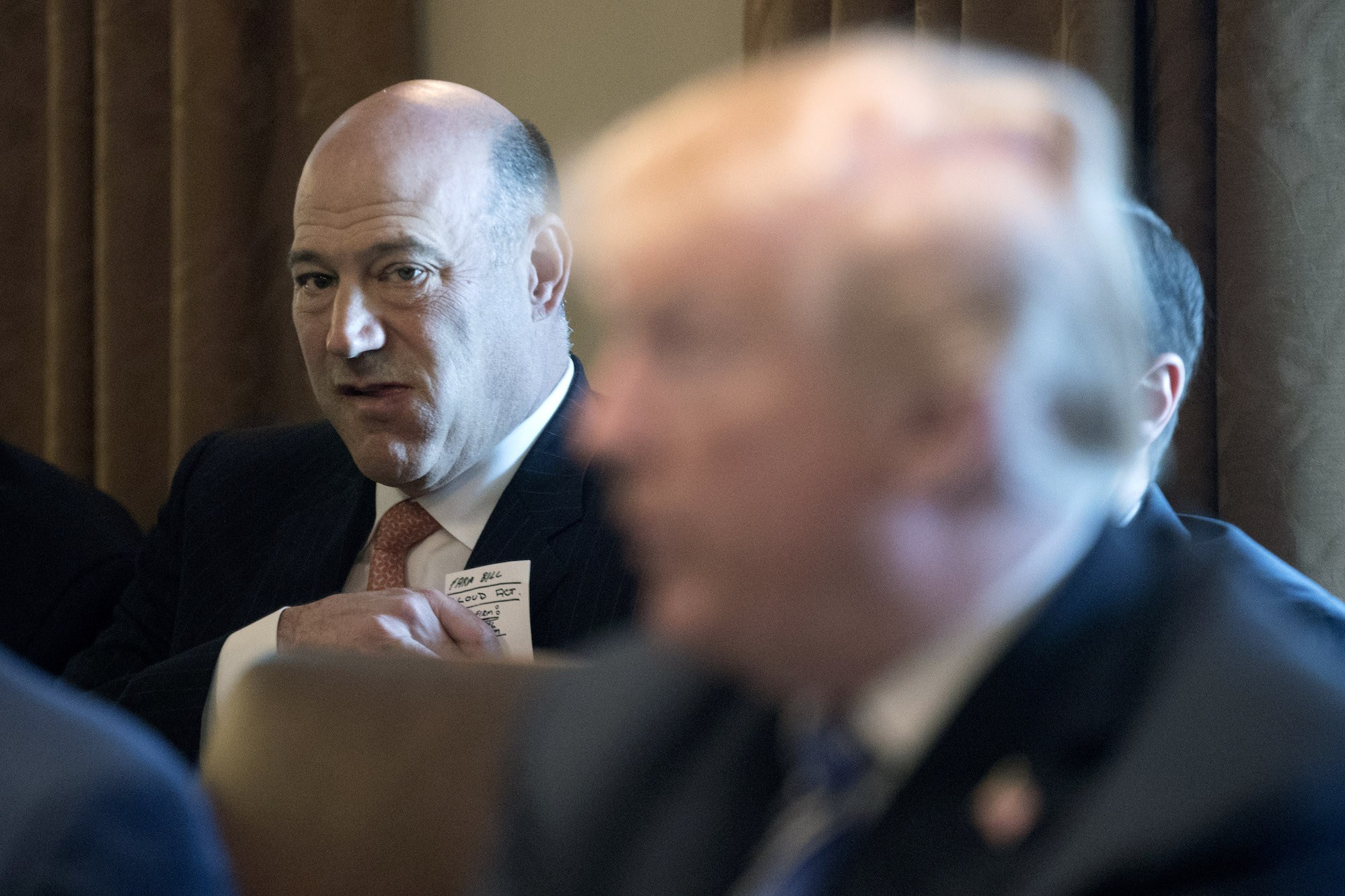 Woodward repeatedly characterizes the state of affairs in White House meetings as reminiscent of the 1993 movie, Groundhog Day. Gary Cohn and James Mattis ended up in "Groundhog Day-like meetings" with the president on trade, "and the acrimony only grew." Later, when Trump assembled a group to discuss steel tariffs, "They had the usual Groundhog Day round of arguments." As a senior White House official told Woodward, the president's aides felt concerned about "his inability to learn" from repeated meetings and briefings.
Next: Trump doesn't know this when he begins his workday. 
26. Donald Trump starts the day not knowing his schedule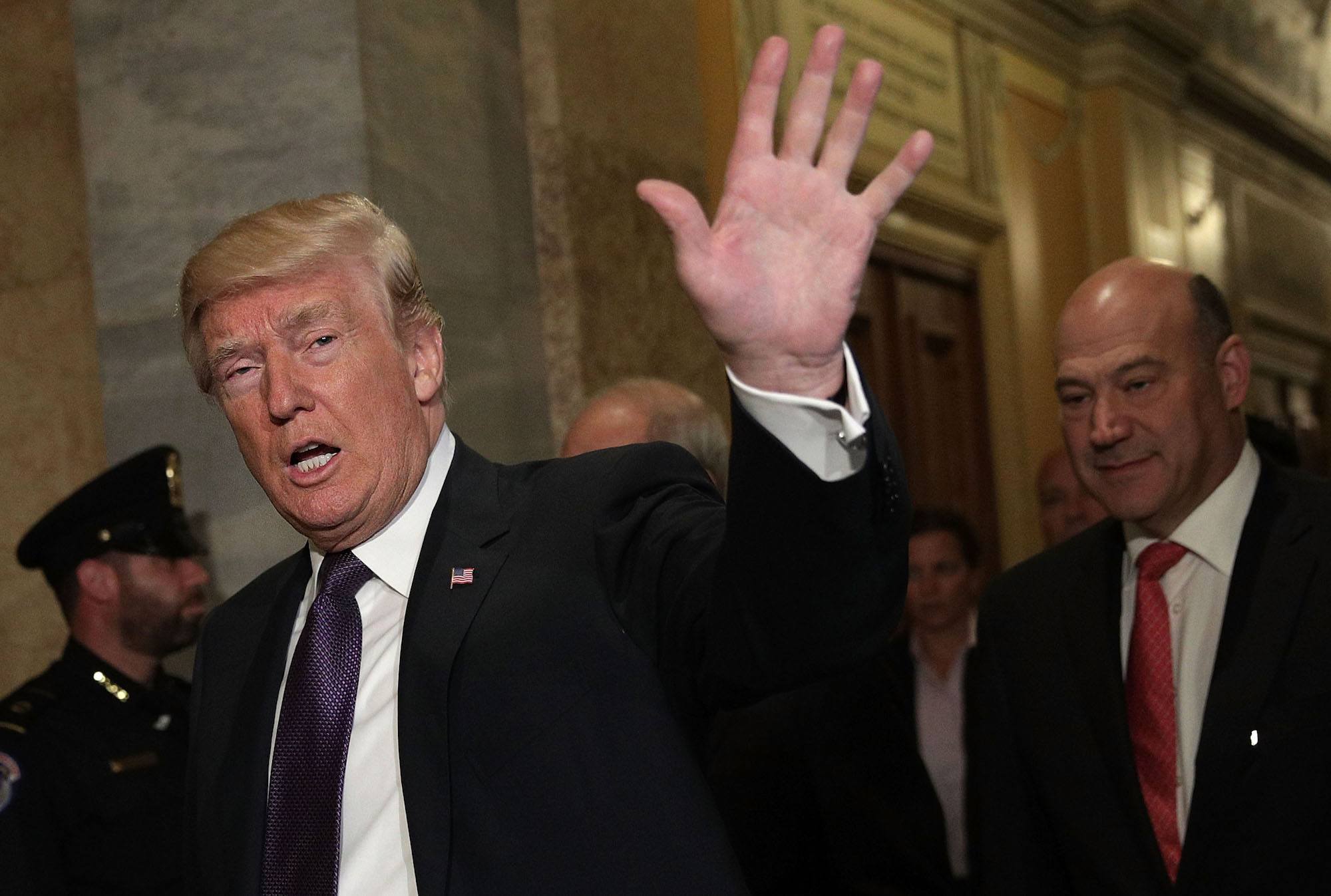 Woodward reports that Donald Trump seems to start his day without knowing his schedule, even though his staff gives him that information the night before. Before Trump would retire to the residence, Rob Porter would hand him "a briefing book with background papers, policy memos and his schedule for the next day. The next morning he would come down to the Oval Office at 10 a.m. or 11 a.m., or even 11:30. 'What's on my schedule for the day?' he would ask, having perhaps glanced at the book, or maybe not at all."
Next: Despite the timestamp on his tweets, he doesn't do this. 
27. Trump often doesn't start his day early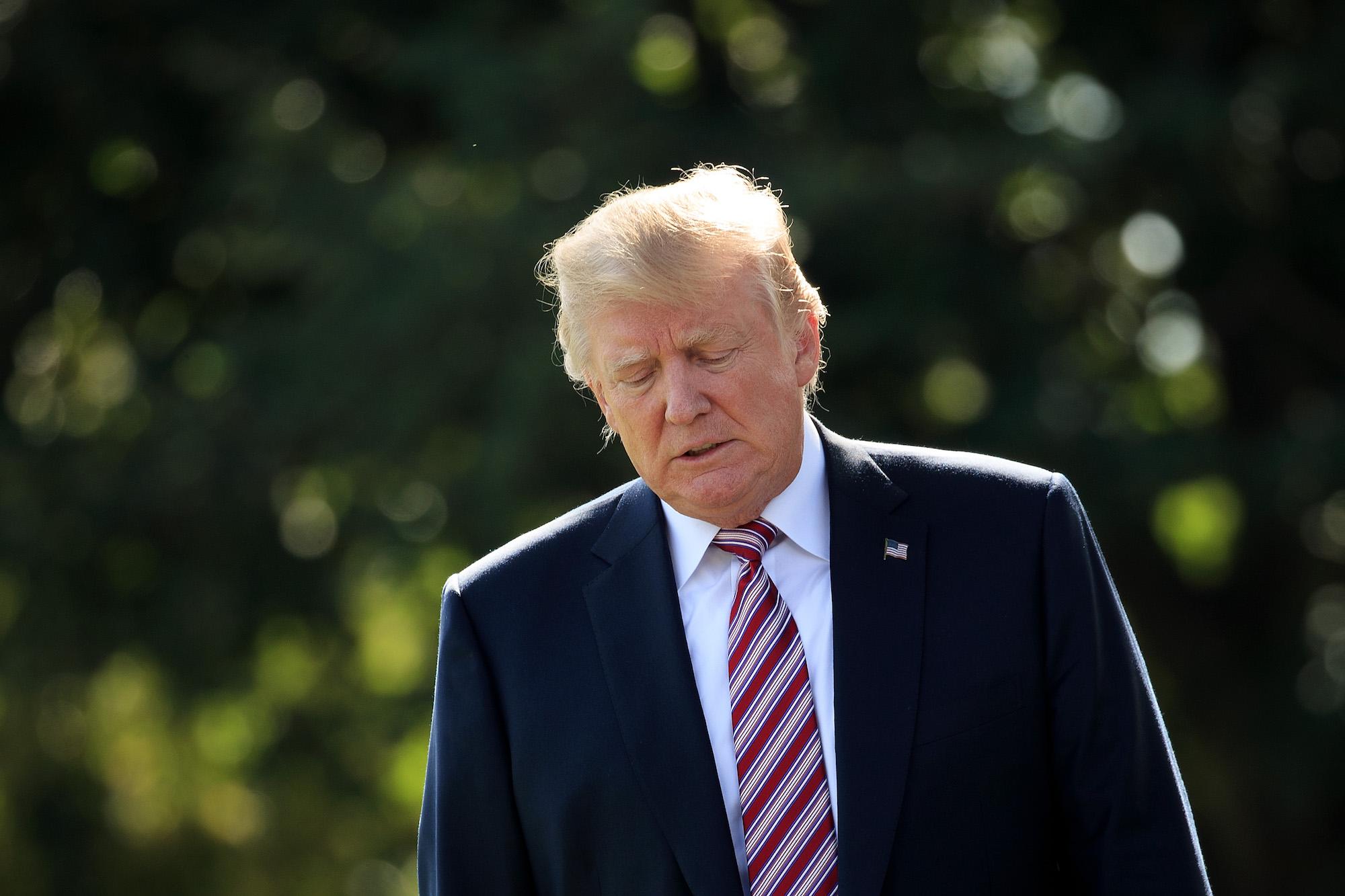 For someone who has an early-morning Twitter habit, Donald Trump doesn't seem to like reporting to the West Wing early. "Trump normally set his own schedule on when to start the day and often had flexibility when he returned to the residence," Woodward reports. During his first six months in the White House, "Trump didn't show up for work until 11:00 in the morning. Many times he watched six to eight hours of television in a day."
Next: He makes people uncomfortable by doing this. 
28. He puts people on the spot to ask for their opinions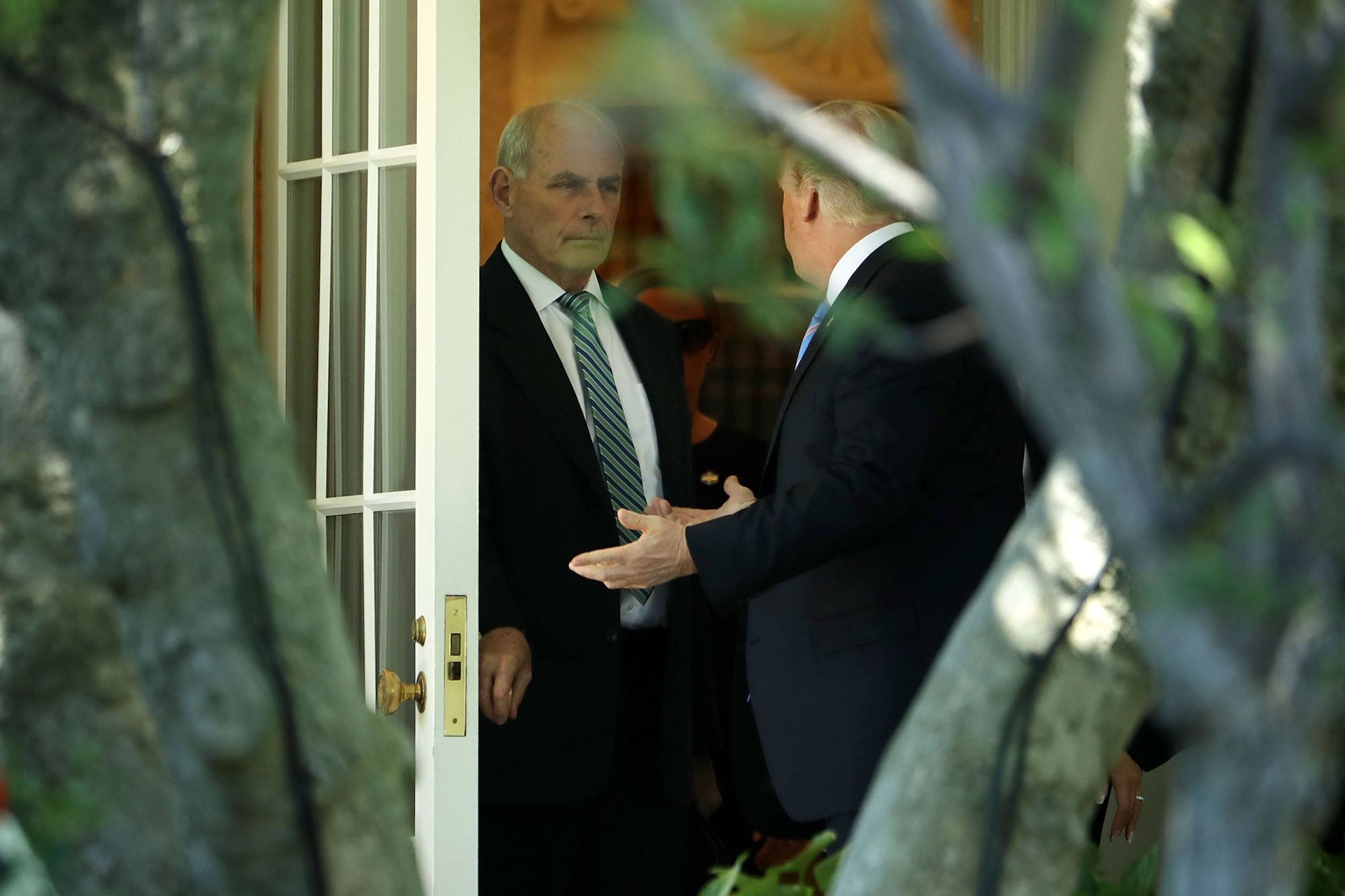 For someone who doesn't seem to like listening to other people talk, Donald Trump seems to spend a lot of time asking the people around him for their opinions. (And putting people on the spot when he asks.) Woodward reports, "Throughout the day Trump would seek opinions from anyone who might be around — from cabinet officials to security guards. It was his form of crowdsourcing."
Next: He leaves his office door open for this reason. 
29. The president yells to his assistant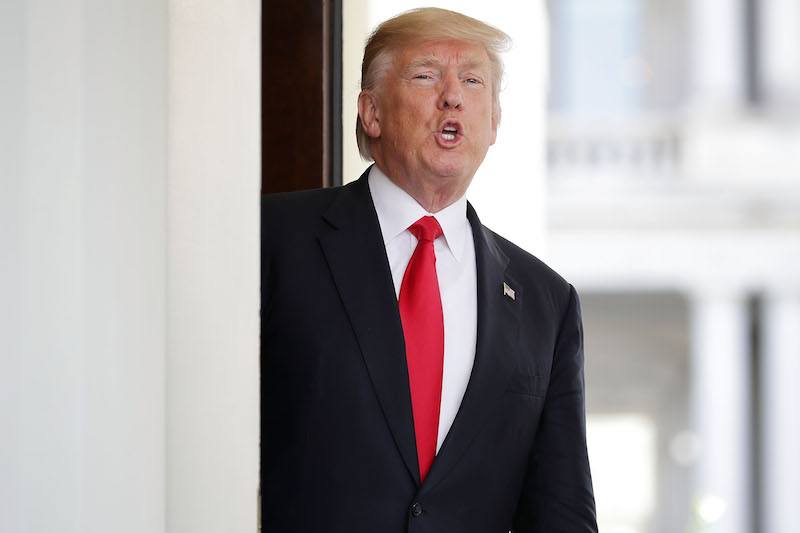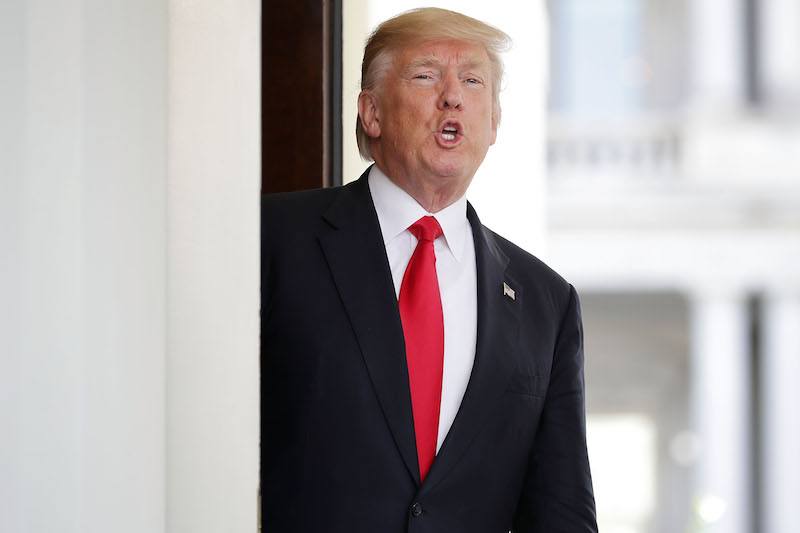 Donald Trump has an assistant, Madeleine Westerhout, who works in an outer office right outside the Oval Office. But apparently, he doesn't like the door between them to be closed. When John Kelly would try to close the door to keep people from wandering in and out, Trump would interfere. "'No, no, leave it open,' the president would say. "I need to be able to see Madeleine so that I can call out to her.'"
Next: He loves to see this in the White House. 
30. He loves disagreements and competition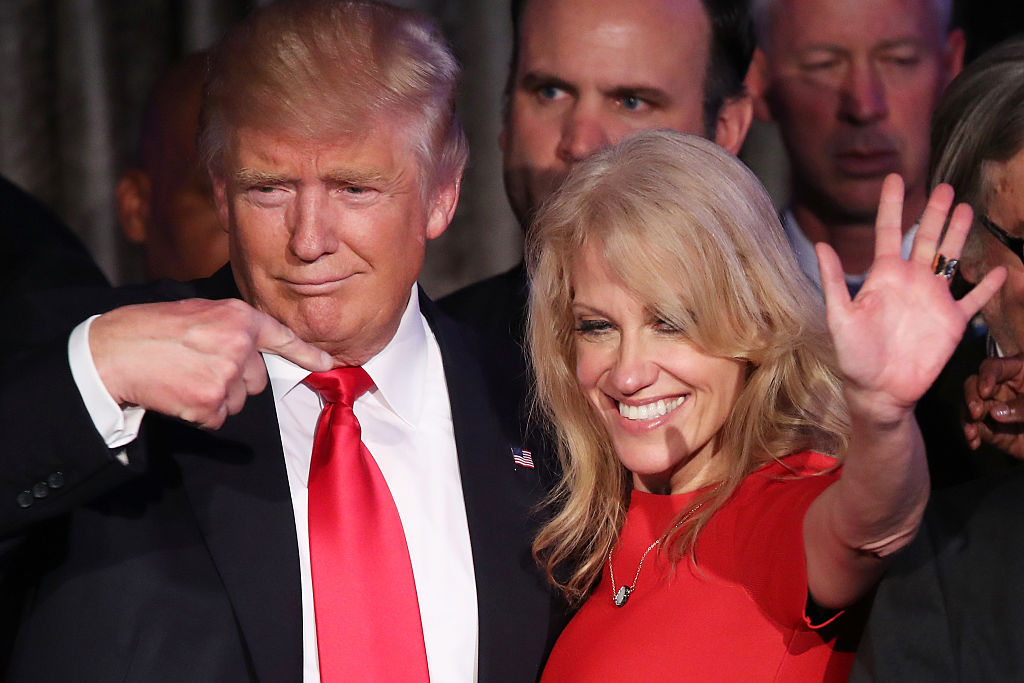 Donald Trump doesn't mind competition in the White House. He reportedly told staffers that he thought John Kelly and Chris Crane "were going to get into a fistfight." The president also "liked aggressive disagreements. They smoked out a wide variety of opinions. Harmony could lead to groupthink. He embraced the chaos and churn beneath him." And Woodward reports that "Trump was always asking everyone their opinions of everyone else, seeking a report card. It was corrosive and could become self-fulfilling — undermining and eating at the reputations and status of anyone and everyone." Gary Cohn later told Woodward that Trump loved to pit people against each other.
Read more: This Is the First Thing Donald Trump Changed in the Oval Office After Obama Moved Out
Check out The Cheat Sheet on Facebook!