I Spent a Week in Dubai: Here Are Some of the Most Over-the-Top Things You Need to See
Editor's note: Accommodations for a week-long trip were provided by Visit Dubai, a program under the Department of Tourism and Commerce Marketing for the city. 
When you think of a luxury vacation, what comes to mind? Maybe you're daydreaming of a private island retreat or an opulent chateau excursion. If you're looking for a unique trip with a little out-of-this-world flair, Dubai should make your list of must-see destinations. Located in the United Arab Emirates and one of the fastest-growing cities in the world, Dubai doesn't skimp on the details you're looking for in a world-class experience.
If you put Dubai on your travel bucket list, you'll have your pick of five-star resorts, unparalleled dining experiences, and more shopping and entertainment options than you could possibly fit into a week — or month. No matter your travel goals, you can bet Dubai has something to pique your interest. Here are just a few of the attractions you'll find in Dubai that are sure to amaze you.
1. The tallest building in the world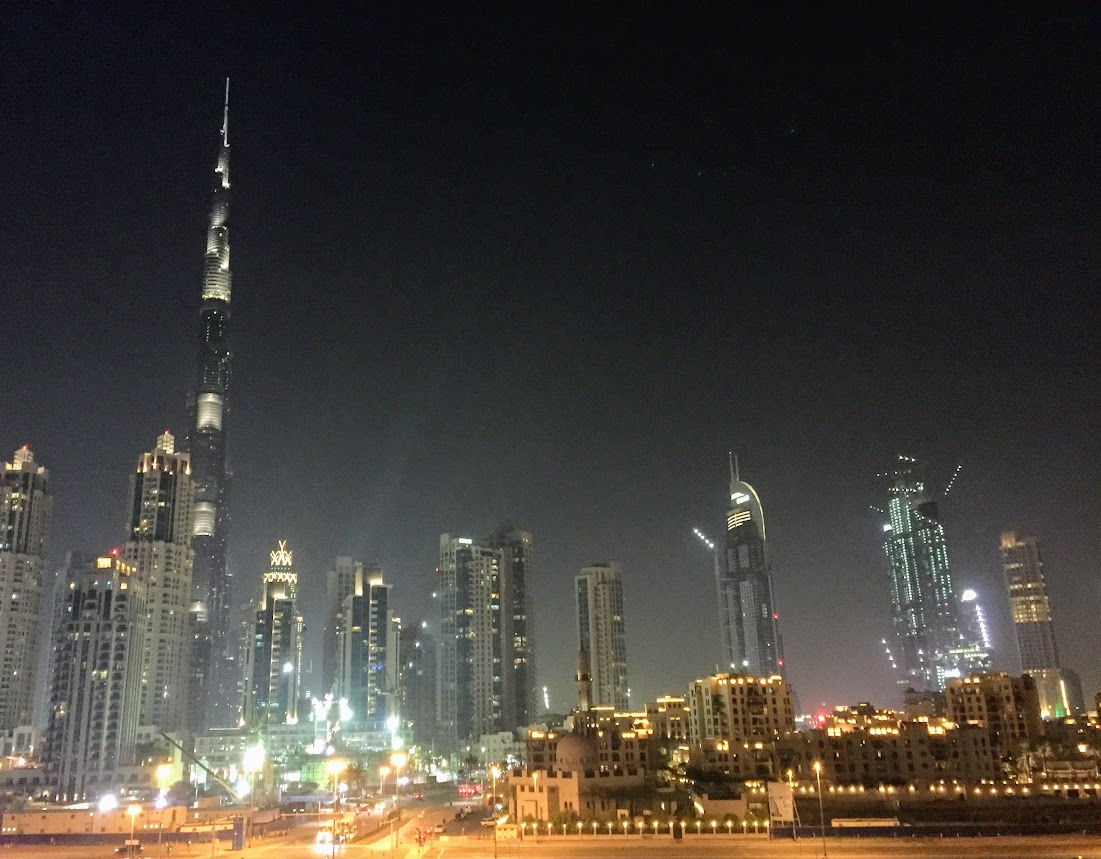 Dubai isn't into subtlety. When the city has a chance to do something bigger and better than anything else that exists in the world, it takes on that challenge. Case in point: the Burj Khalifa, the tallest building in the world, which stands as a beacon in the city's downtown center. "Burj" means "tower" in Arabic, and it certainly lives up to that distinction. The building reaches toward the heavens at 2,716.5 feet — more than half a mile into the sky. Visitors can go up 148 floors to the top observation deck, just shy of the tower's total 160 stories. For reference, it's more than 900 feet higher than the One World Trade Center in New York City, almost double the height of the Willis (Sears) Tower in Chicago, and 4.5 times higher than the Space Needle in Seattle.
From the top floor, you can look out over the strip of skyscrapers built along the main artery of the Sheikh Zayed highway, peering onto the tops of buildings that would otherwise be the pinnacle of the skyline. An elevator ride spanning more than 100 floors takes less than a minute — so smooth and fast you wouldn't know how high you're going, aside from a slight popping in your ears.
To outdo itself, Dubai's rulers announced in late 2016 that another tower "a notch" taller than the Burj Khalifa will be completed in Dubai by 2020. However, its newfound height could be overshadowed by a taller tower in Saudi Arabia, slated to be completed the same year. That tower could reach more than 3,000 feet high — likely a feat for Dubai to meet (or surpass) in future years.
2. Insane hotel amenities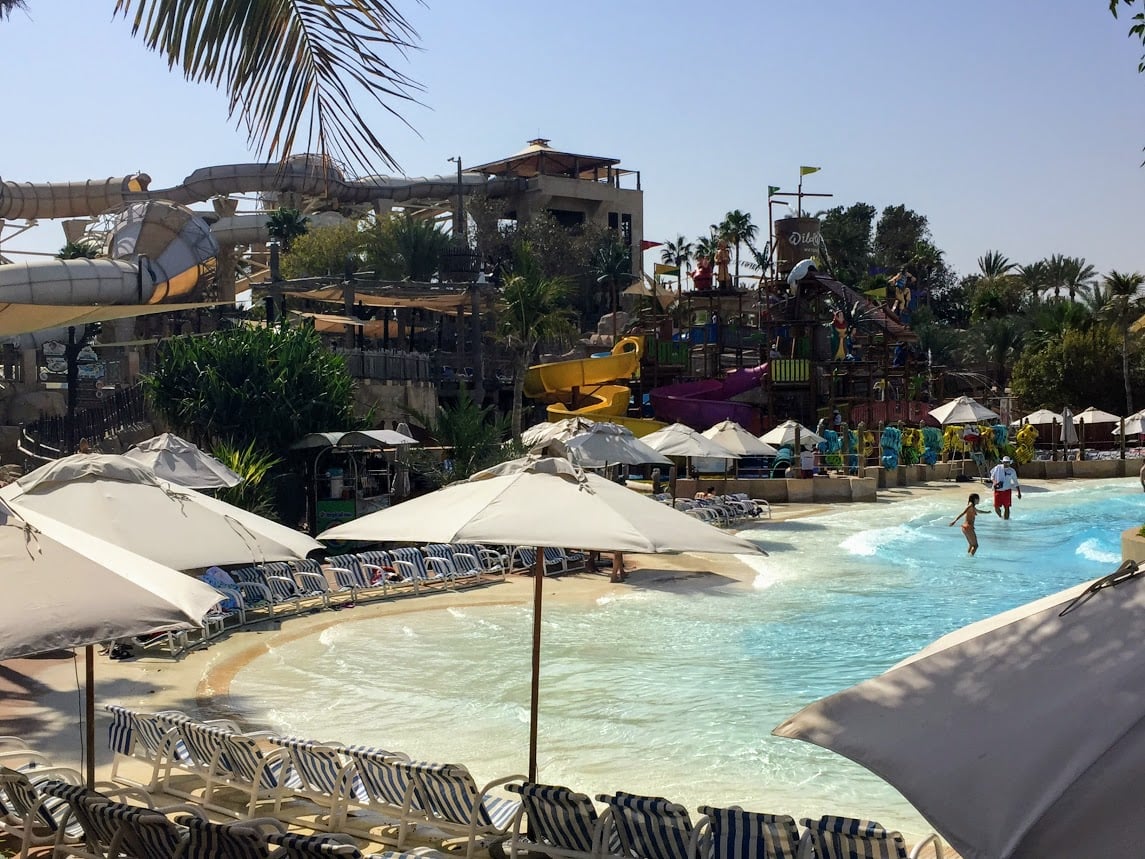 Dubai hotels are more than a place to lay your head at the end of a day of sightseeing. They're also the center of most of the social activity. Hotels are some of the few places in Dubai permitted to serve alcohol, so they double as hot spots for tourists and local expats alike. But even if you're not looking to find a cocktail laced with gold dust, like some of the drinks found at the iconic Burj al Arab hotel, there are plenty of activities for the entire family.
The Jumeirah Beach Hotel, for example, has a full water park that's complimentary during your stay. The hotel also includes a child care center where trained staff members will watch your children while you enjoy some peace and quiet on the beach. The hotel gym is a fitness mecca, complete with a CrossFit center, rock climbing wall, and fully equipped workout room.
If you outgrow the beach hotel, ride a free golf cart or stroll over to its partner location, the Madinat Jumeirah, which is built on and around canals that remind you of Venice — except these waterways are filled with sparkling blue water. Take an abra (boat) ride through the sprawling luxury space to the award-winning Talise Spa, where they'll massage away any pre-flight stress you have about returning to the real world after your vacation.
3. Skiing in the desert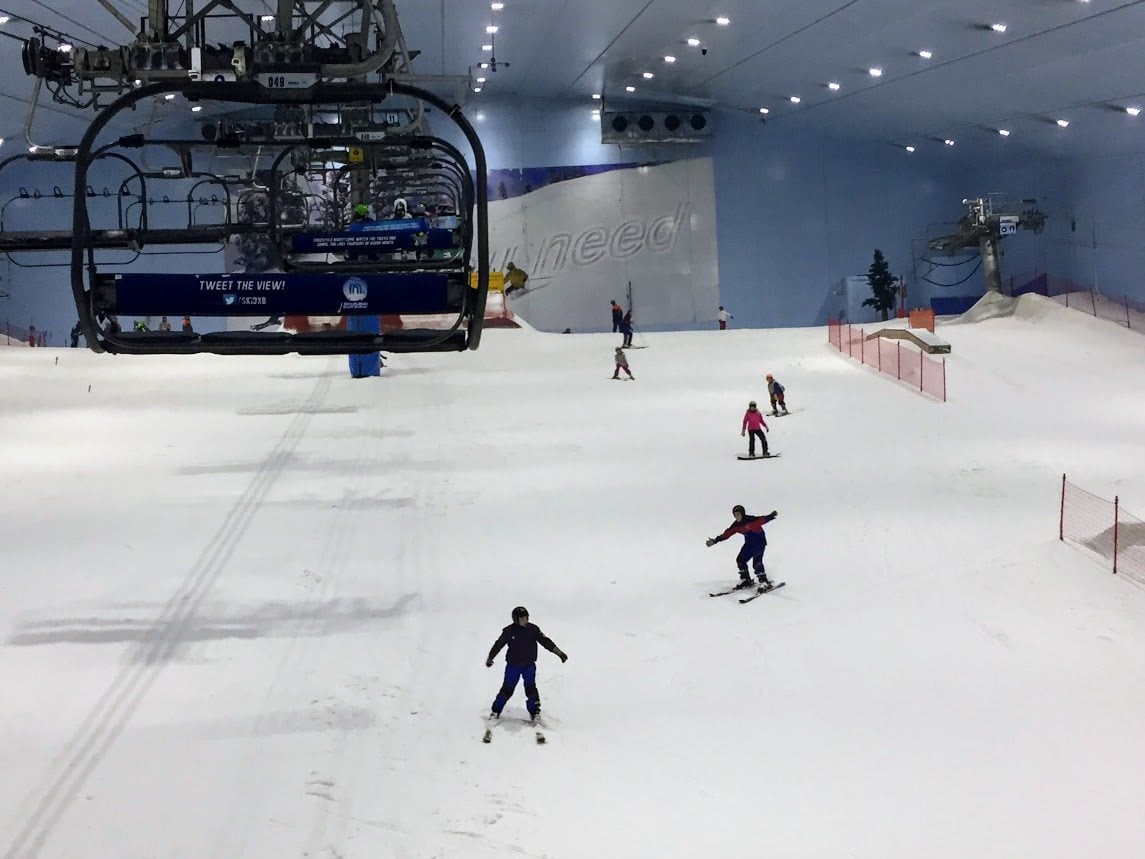 The other half of the social life in Dubai, especially during the heat and humidity of peak summer months, is spent inside several malls in the city. In the Mall of the Emirates you'll find a surprising sight: locals and visitors alike, dressed fully in snowsuits, trying their hand at skiing, snowboarding, or tubing in the world's largest indoor snow park.
You won't find double black diamond slopes here, but the snow park does offer an entertaining diversion from the heat outside. Ski Dubai offers classes for first-time skiers, allows all guests to ride the chairlift to see the entire park, and puts on daily March of the Penguins shows with its resident group of king and gentoo penguins. (If you pay attention to the presenters and answer questions correctly, you might even get to pet one.)
Curious about how the snow actually gets made — and remains snow in the desert? Water is chilled and blasted through snow-making machines in a similar way to how outdoor ski slopes supplement lacking natural snowfall with engineered snowflakes. And as this video explains, the entire building is designed specifically like a refrigerator on steroids to keep the cool air in and the desert climate out. But luckily, you don't have to think about any of that as you enjoy the park for a day.
4. Widespread food trends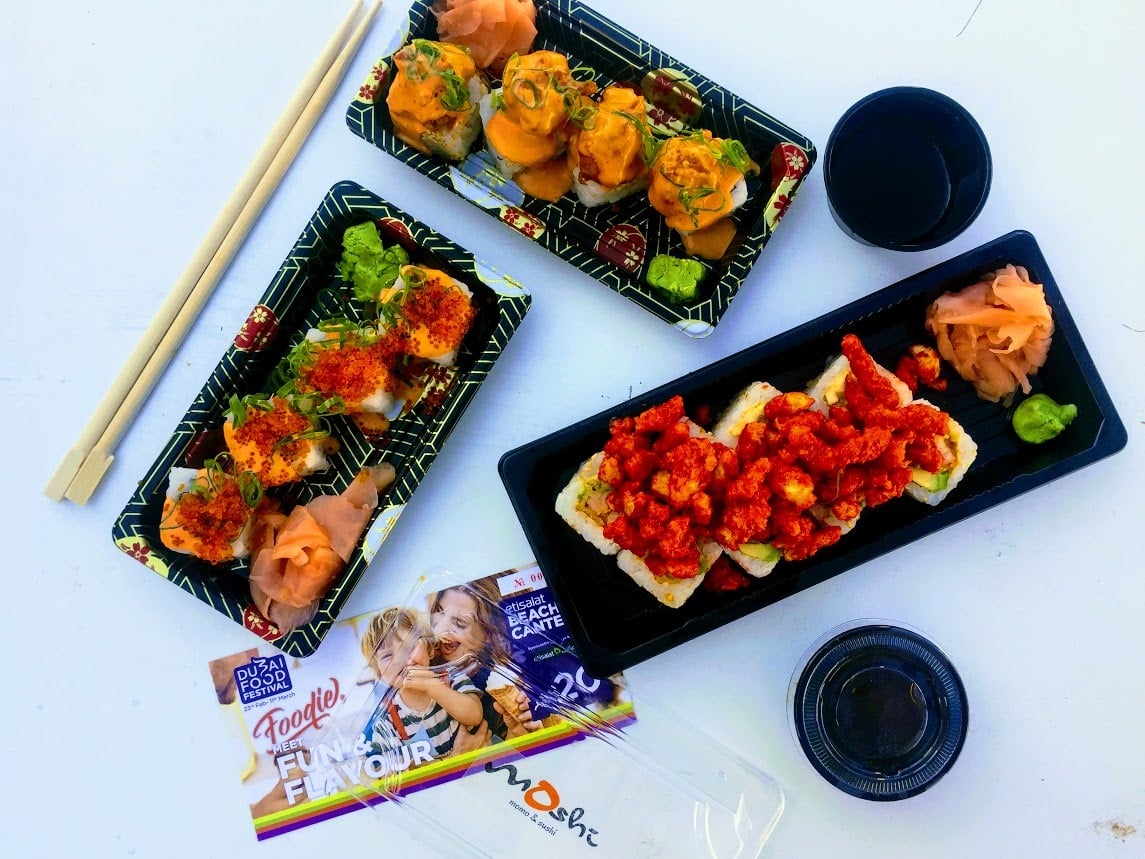 Dubai is inherently fashionable, in its architecture, array of clothing, and its cuisine. If there's a food trend to try, you can bet someone in Dubai is giving it a shot. While food trucks have been staples in cities, such as Austin, Los Angeles, and Portland, for a while, they're just beginning to take off in Dubai. In fact, two of the main events in the 2017 Dubai Food Festival featured dozens of food trucks, where you could find everything from sliders and tacos to bao sandwiches and sweet crepes.
The fare itself is custom made for your Instagram feed, too. Want Cheetos on everything? You'll find it on mac and cheese, dusted on fried chicken sandwiches, and piled on top of French fries and sushi rolls. Want a sushi burger, matcha cappucino, or a crab and shrimp slider with a squid ink bun? You'll find those, too. If you're more into red meat check out Nusr-Et, where #SaltBae himself (head chef Nusret Gökçe) might prepare your sliding-off-the-bone asado beef ribs.
5. Elaborate shopping experiences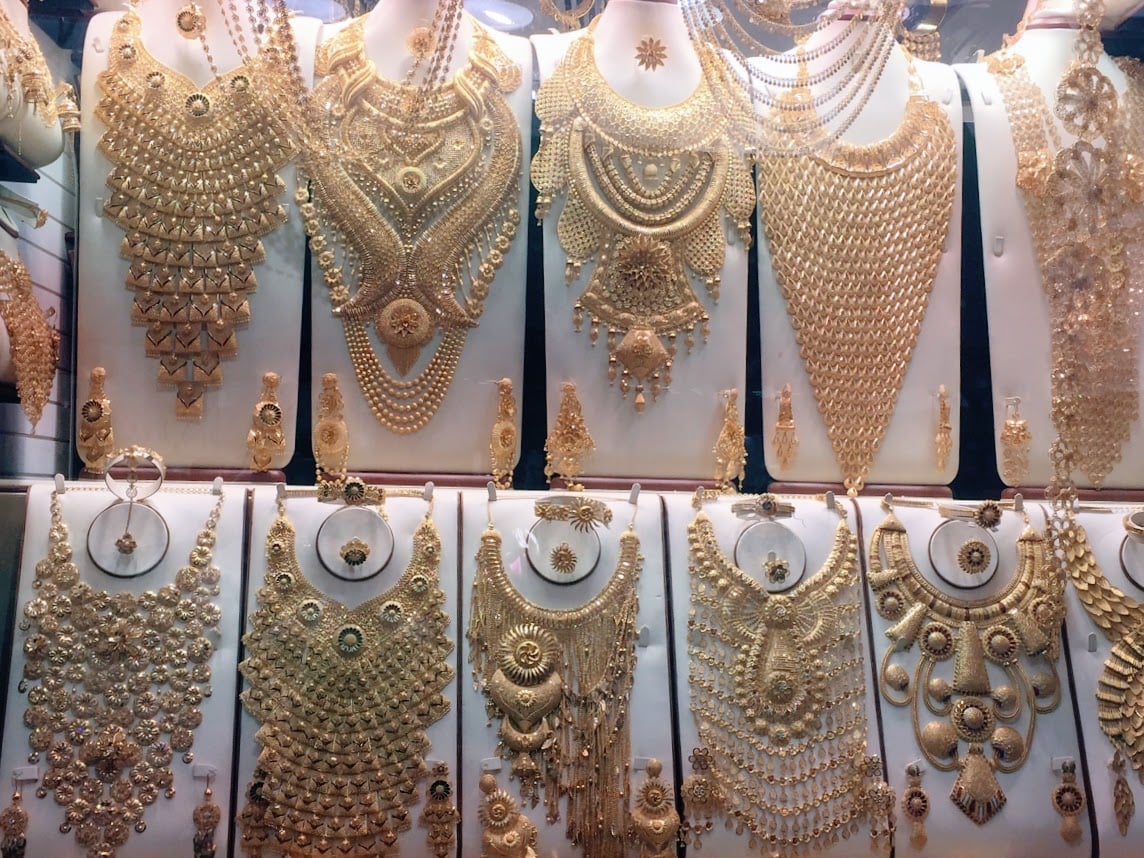 One does not simply go out to "pick up a few things" at the malls in Dubai. From the sheer size of most shopping centers alone, you're guaranteed to have every shopping trip be a full-fledged experience. Dubai Mall, the largest mall in the world based on square footage, hosts 1,200 retail shops, an aquarium with sharks and giant stingrays, and a dinosaur skeleton. It's like the Mall of America meets the Smithsonian, if the Mall of America added on another 2 million square feet.
If shopping malls aren't your style, try venturing into the traditional marketplaces called souks, particularly in Old Dubai. You'll find heaps of saffron, hibiscus, sea salt, and clothing dyes in the spice souks, traditional clothing and beaded slippers in the textile markets, and enough gold to outfit all the Trump Towers in the world in the gold souks.
You can also get great deals on magnets, T-shirts, and other souvenirs here instead of your hotel if you brush up on your bartering skills — and remember to exchange your U.S. dollars for dirhams ahead of time. (Expect to pay an unofficial "tourist tax" if vendors see you carrying U.S. currency.) No matter what, make sure you check out the waterfront nearby, where you'll be able to get a feeling for the bustle of the city's trading port heritage.
6. Traditional safari excursions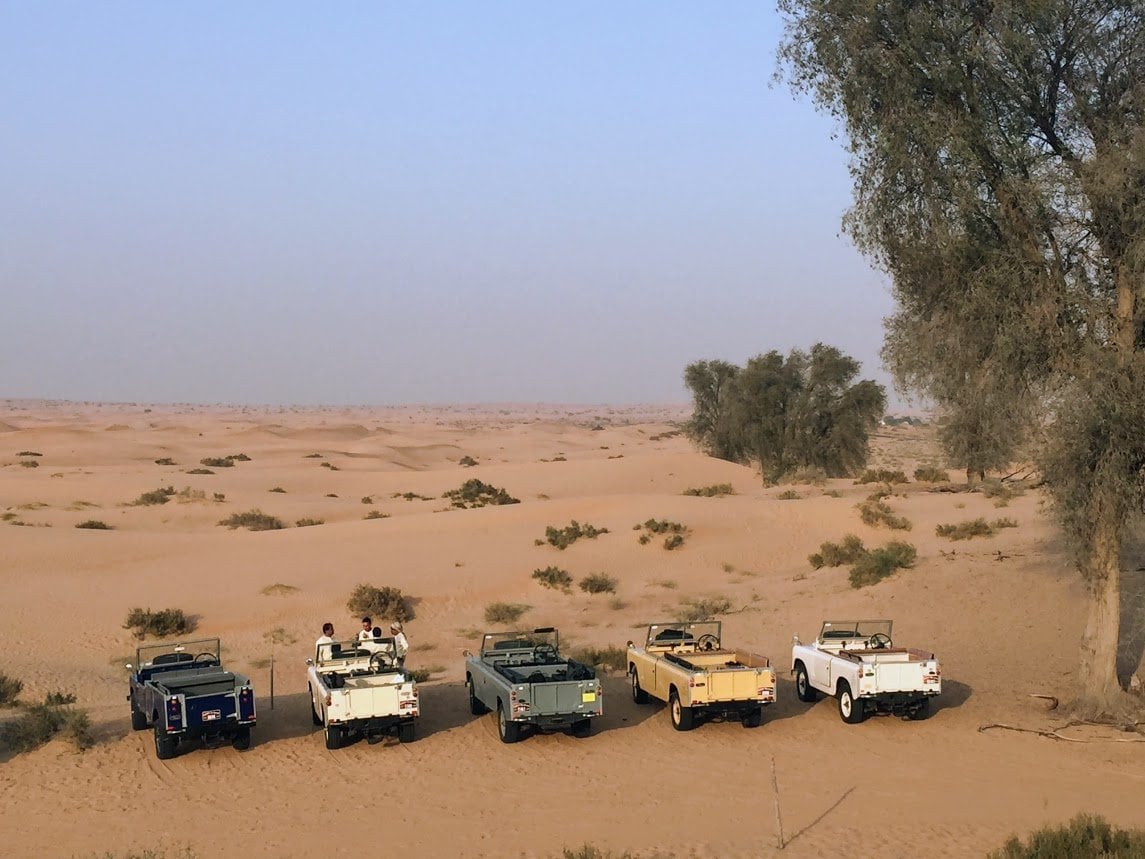 Dubai came from the desert, and it's not difficult to find your way back to those origins if you venture just outside the city limits. Within an hour of downtown Dubai, you'll find the starting point for Platinum Heritage safaris. After getting picked up at your hotel, you'll make a quick pit stop at the Dubai Camel Racing Club to see where they — you guessed it — race camels. (If you go, keep an eye out for the robotic jockeys that now side astride the camels' humps, instead of short-statured humans.) Once there, you'll wrap your hair in a scarf (a nod to the region's nomadic past), load into vintage 1950s Land Rovers, and head into the Arabian Desert.
In the Heritage Desert Safari, you'll head out with other group members, riding through the Dubai Desert Conservation Refuge to look for oryx — a type of antelope native to the UAE — and other wildlife. You'll also be treated to a falconry demonstration, camel rides, and henna tattoos. See the sun set over the sand dunes, witness traditional Arabic dances and customs, and enjoy an authentic Emirati meal in a camp set up to pay homage to the UAE's history. Try camel if you're up to it (it's seasoned much like lamb), or stick with the Arabic bread, lentil soup, chicken, and lamb prepared with traditional spices and cooking methods.
7. Obsession with cars and status symbols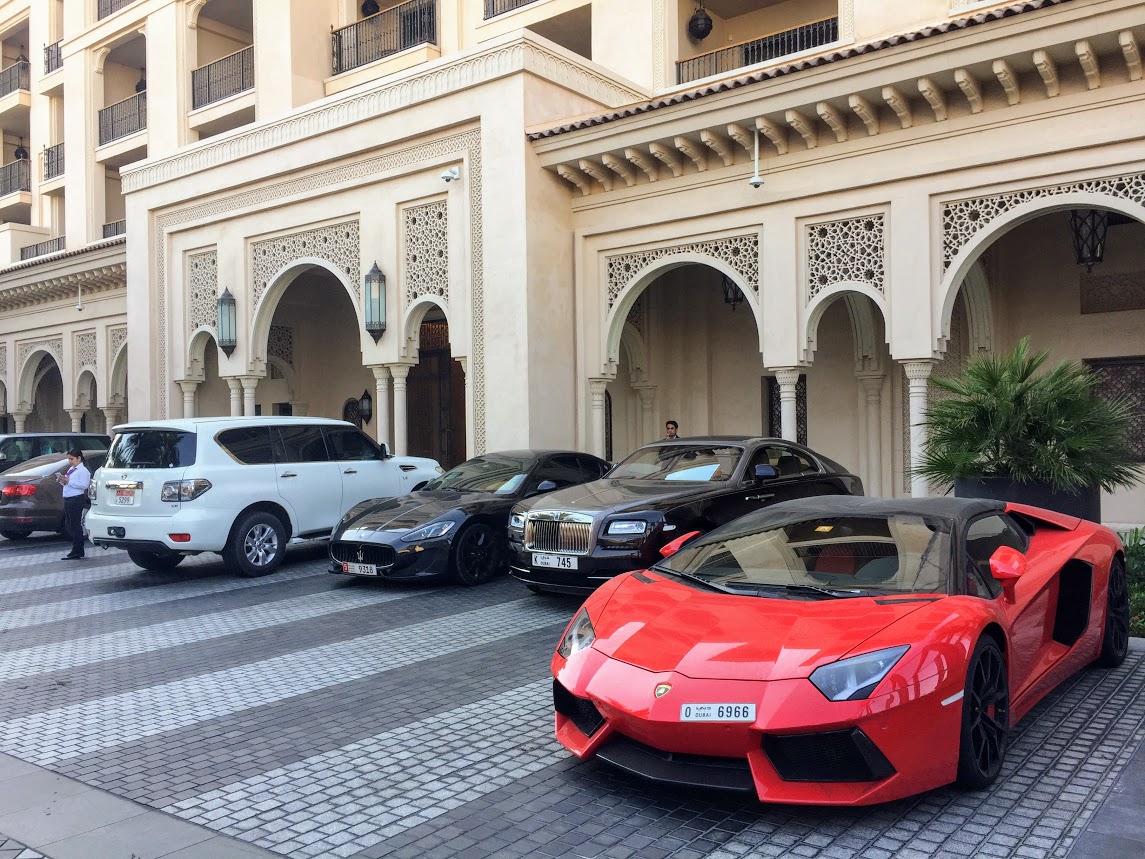 Appearances matter in Dubai, and one way to make a stunning first impression is to drive a car that's the envy of everyone else on the block. Vehicles remain a chief status symbol in the city, which is why it's commonplace to see a Ferrari, Rolls Royce, or late-model Range Rover just about everywhere you go. Bentley dealerships are as large as most Ford storefronts are in the U.S., and the warehouse district is still home to countless shops where mechanics can tinker around with vintage cars all day.
Once you have the luxury car, though, there are even more ways to differentiate yourself — if you're willing to pay up. Traditional license plates in the UAE have five digits on them. But if you're willing to pay tens or hundreds of thousands of dollars, you can get a license plate with 4, 3, or 2 numbers on them. Locals can only purchase these specialty plates at auctions, where bidding on a plate with 777 on it might cost you the U.S. equivalent of around $230,000. Typically the numbers 1 through 10 are reserved for the royal family (who do drive themselves) but one Emirati businessman notoriously paid $9 million to put the No. 5 license plate on his Rolls Royce in late 2016.
8. Constant, never-ending construction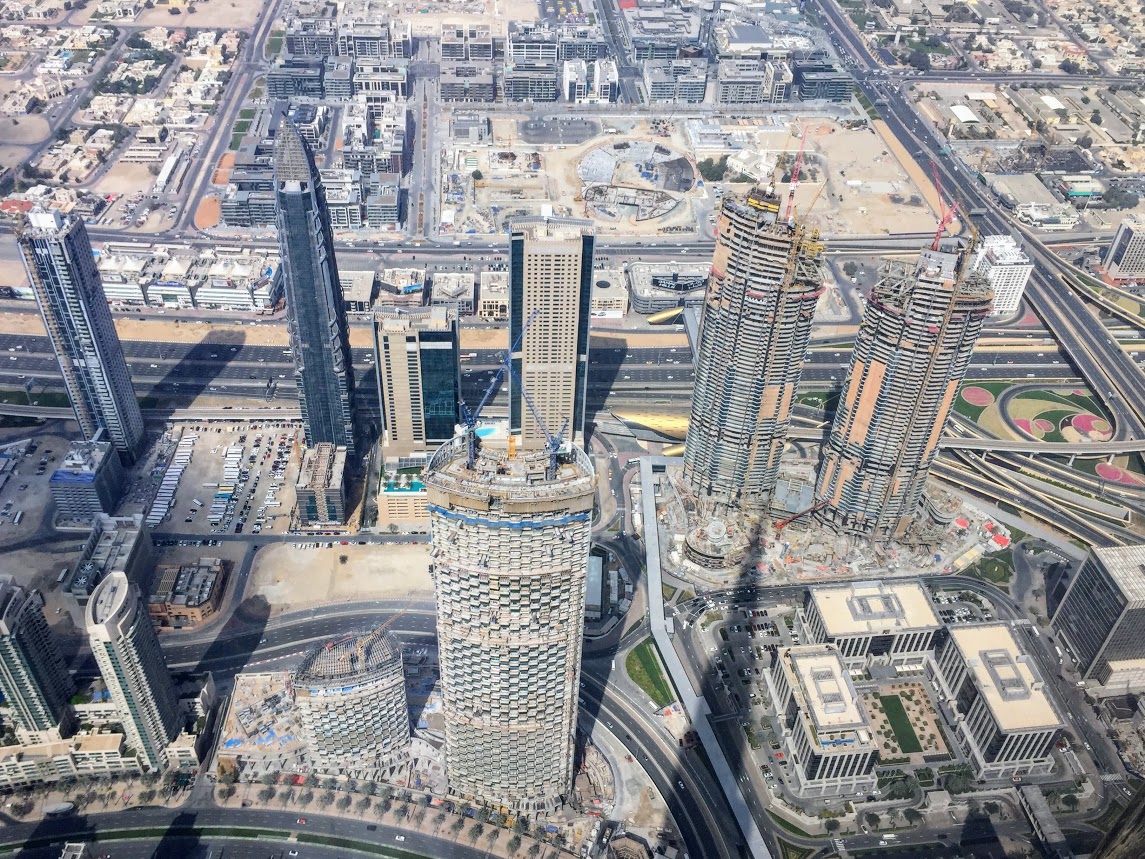 Most of the city of Dubai didn't exist even 30 years ago. It was a barren, untouched desert scene. Although the UAE capital of Abu Dhabi is flush with oil money, much of the revenue that keeps Dubai afloat is from tourism, retail, and attracting financial businesses to set up shop downtown. The government began a concerted effort in the late 1980s and 1990s to make Dubai a hot spot tourist destination, and it has been building up the city ever since.
Dubai will host the World Expo in 2020, with hopes of hosting 25 million visitors over the course of seven months. (Keep in mind, the city only houses around 2.7 million people right now.) The city is expanding rapidly in preparation for that. Construction projects include expanding an airport near the expo site, building the world's largest indoor amusement park, and capitalizing on entertainment favorites, such as the Global Village, an attraction much like Disney's Epcot.
As a result, it's impossible to travel through Dubai without seeing piles of cranes dot the skyline. At one point, Dubai was rumored to operate 25% of the world's cranes, though that statistic has been largely refuted as myth. It's likely a somewhat less impressive 1% of the world's cranes, estimated to operate around 1,000 of the machines at any given time. However, that's still almost five times as many cranes as Sydney, Australia, the city with the second-highest number of cranes in the world.
9. Unbelievable brunch options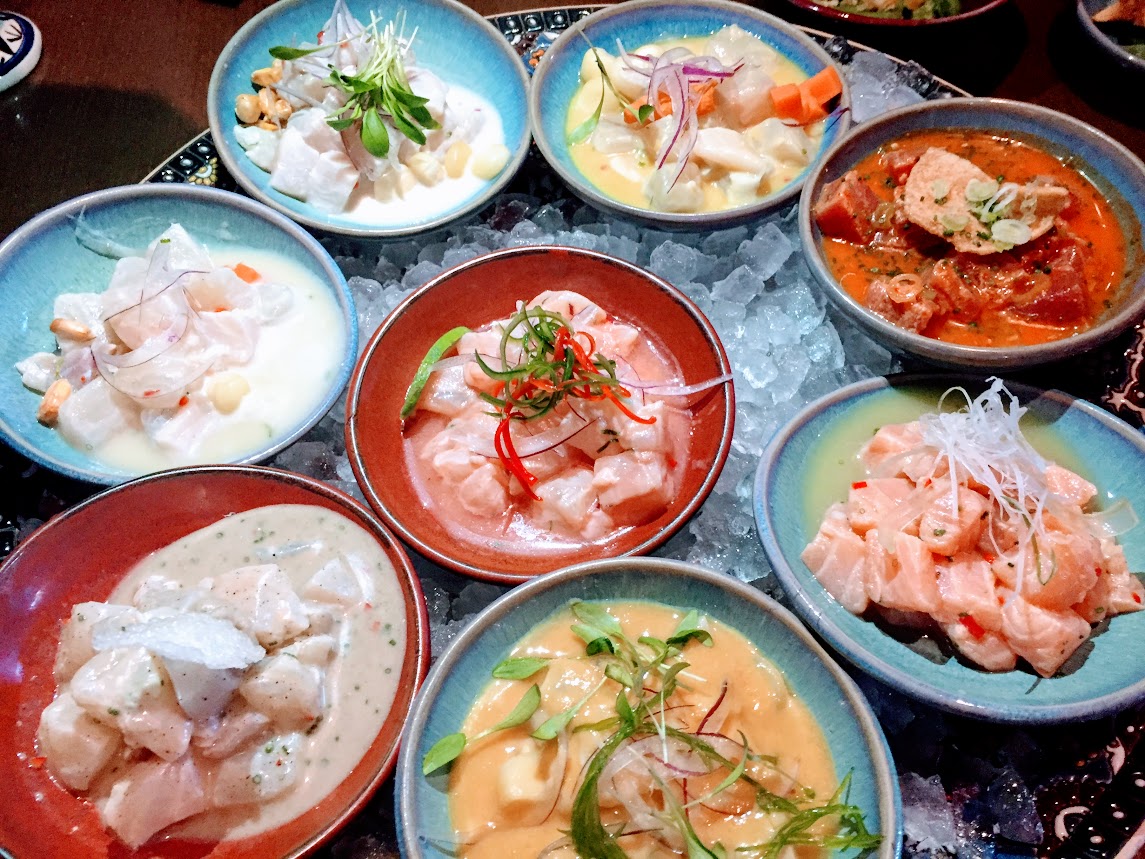 If you're going to pack a pair of heels and your best cocktail dress, or pull out that special luggage you use for your suits, save the effort for Friday brunch in Dubai. The Emirati weekend is Friday and Saturday, and Friday kicks off with a bang for a four-hour, multi-course affair. Brunch is a notoriously famous activity for the expats who call Dubai home, and it's easy to see why.
If you're looking for an unparalleled experience, check out Coya at the Four Seasons in Dubai. You'll need to budget a little extra for this extravaganza, but it's guaranteed to be a highlight of your trip. Guests can purchase access for house spirits to be included or splurge for a true Champagne brunch. If you choose that option, dedicated servers at your table will ensure your glass of bubbly is never empty. Despite the free-flowing champagne, the cuisine steals the show. Fresh ceviche, perfectly flaky sea bass on beds of risotto, and decadent desserts are just a few of the items you'll be served from the extensive menu.
If high-octane brunches aren't your style, consider another local favorite at the Arabian Tea House Cafe. You'll likely spot more Emiratis here than tourists, and as with most locations in Old Dubai, you'll want to dress a bit more conservatively here than you might in other parts of the city. However, the wardrobe change is well worth the authentic Middle Eastern cuisine you'll find on the menu, ranging from local Emirati dishes to Egyptian and Lebanese fare. A picturesque garden and patio setting is perfect for sipping hot or iced tea along with your meal.
10. Second-to-none flights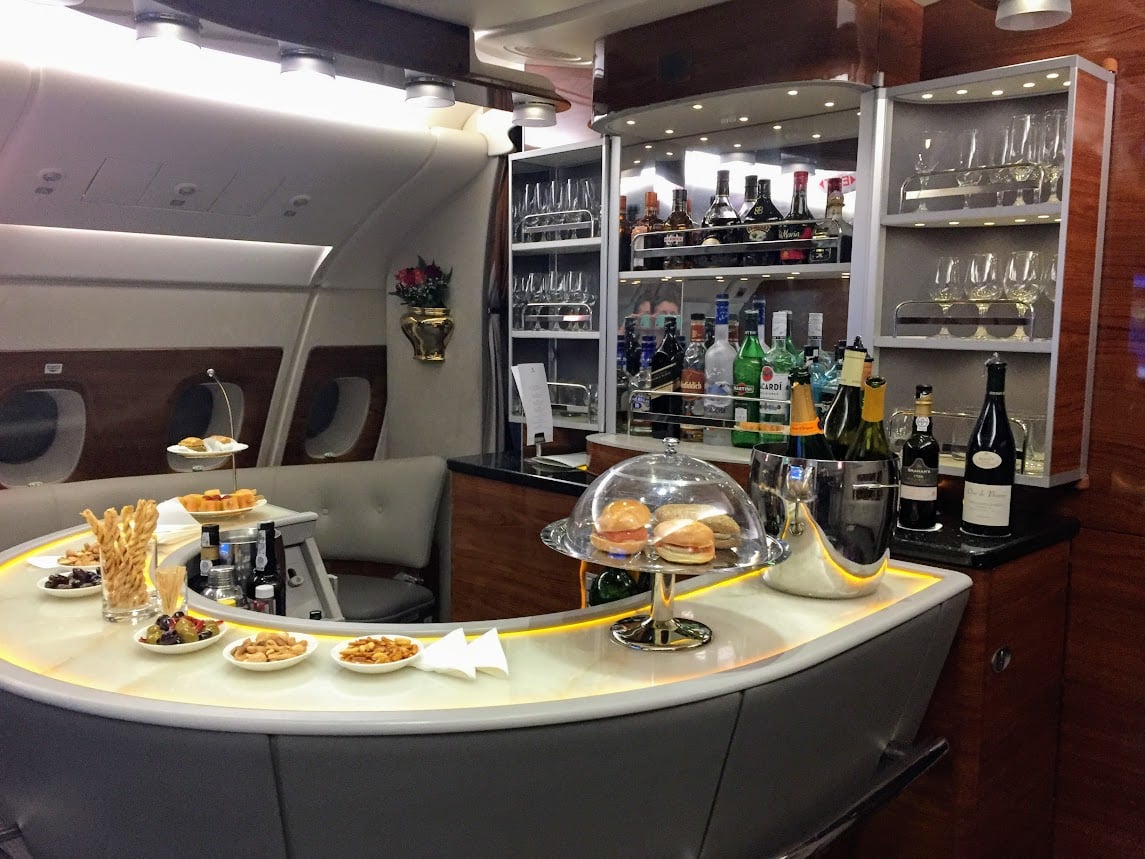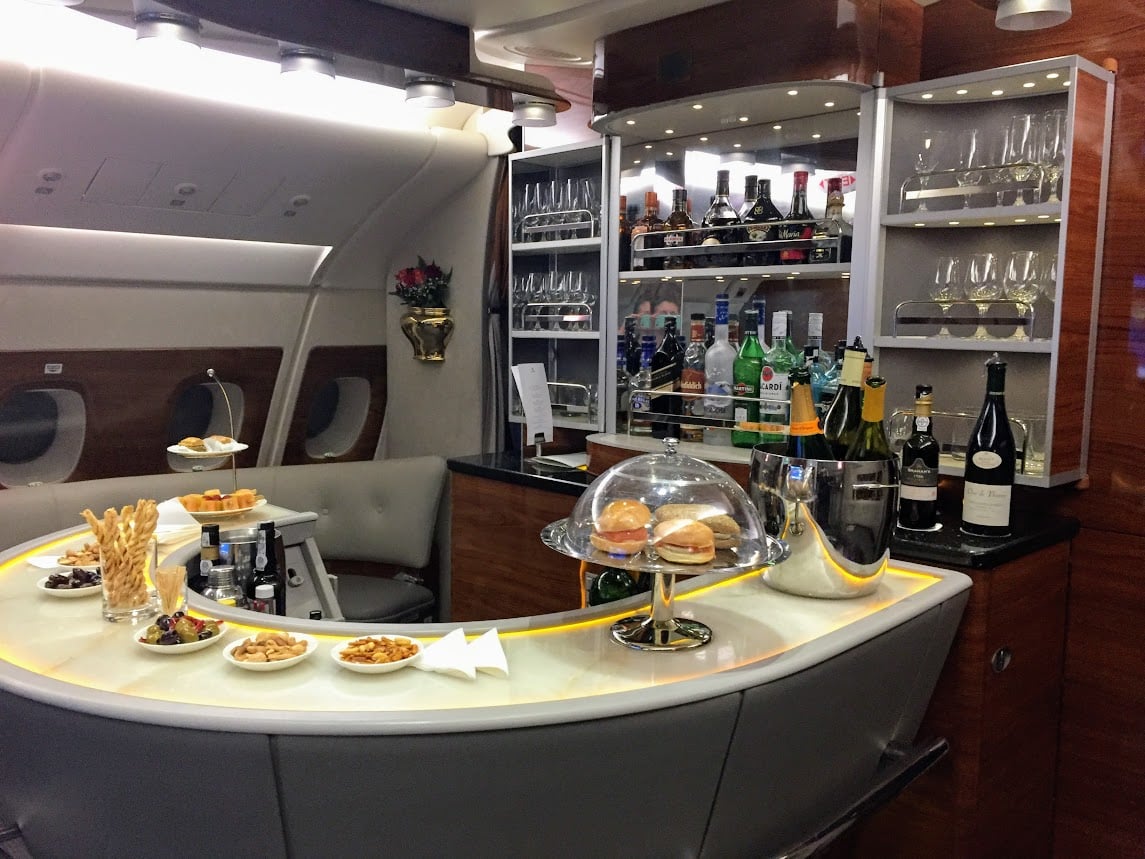 If you're going to live in style for a week in Dubai, why not arrive and depart in world class accommodations, too? Most direct flights from the U.S. to Dubai will be at least 12.5 hours, so you might as well choose an airliner that's going to make you comfortable. Emirates, the airline owned and operated by Dubai's government and business partners, is the best in the world for a reason.
If you can splurge on business or first class, it's an unbelievable flying experience. For starters, you'll have your own "nook" with more personal space than you thought possible in an aircraft. Add on the three-course meals and full-service bar and lounge in the back of the upper deck, and you've got a recipe for flying in comfort, no matter how many time zones you cross.
Hot towel service, lay-flat seats, free champagne and cocktails, Bulgari gift sets, and the largest in-flight entertainment screens you'll find are a few added perks. If you have to fly back to the real world, you might as well live in luxury a little while longer. Perhaps if you're lucky, you'll get to catch a glimpse of a falcon or two sharing your flight.