The Easiest Pasta Dishes You'll Ever Make
Pasta is just about the easiest dinner you can make, but some recipes are still more complicated than others. When you're low on time and energy and want a carb-filled dish that will taste delicious and not require a lot of effort, there are many recipes out there for you. We're showcasing seven of the easiest pasta dishes you can make on weeknights when your couch and Netflix are calling. You won't have to compromise on flavor and quality for your carbs to taste good, you just need the right food formulas. Regardless of whether you're meat-eating or vegetarian, prefer white sauce or red, you'll find a recipe on this list that appeals to you.
1. Quick Shells and Cheese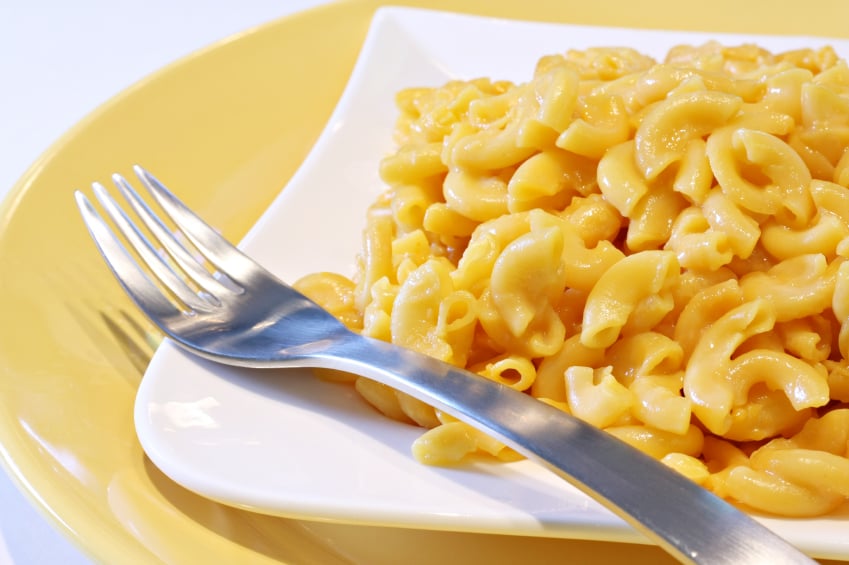 If you're craving simple carbs and cheese, this first recipe featured on Food Network is for you. It yields quick shells and cheese, and will take you all of 10 minutes. The glorified take on mac and cheese tastes just as good as your favorite nostalgic comfort food, and it feeds an army, so you can indulge in one serving and then also enjoy the good stuff for leftovers. Grab your pasta, milk, butter, and cheese, and get going.
Ingredients:
1 pound mini shells pasta
2 cups whole milk
1 tablespoon butter
2 cups grated Cheddar-Jack
8 ounces processed cheese, diced
1 teaspoon black pepper
½ teaspoon salt
¼ teaspoon seasoned salt
Directions: Cook the pasta according to the package directions.
Heat the milk and butter in a large saucepan over medium heat. Add the cheeses and stir until melted. Stir in the pepper, salt and seasoned salt. Drain the pasta, and stir it into the cheese sauce. Serve immediately.
2. Pasta with Peas and Ham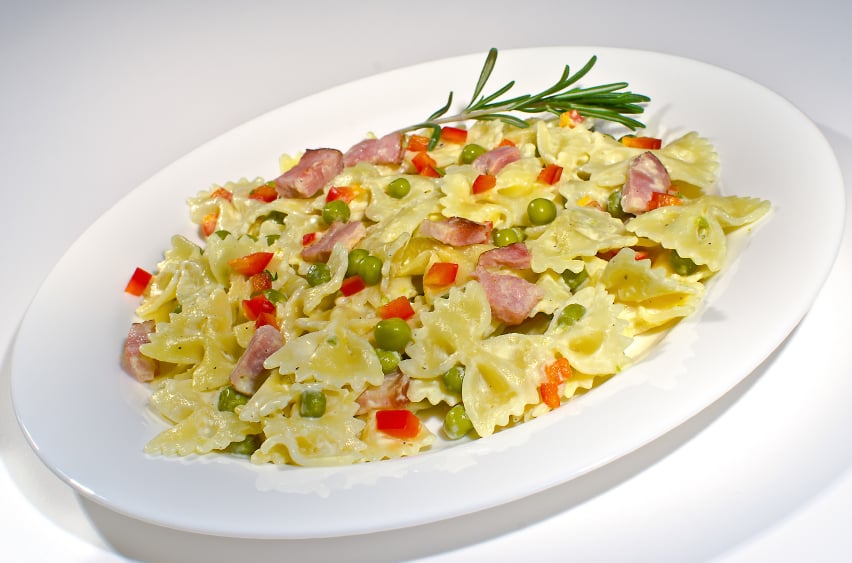 Adding peas and a protein source to your pasta can make it a well-balanced meal, and one that appeals to children and adults, alike. This pasta with peas and ham from Martha Stewart has pops of green and pink colors, and it serves 6. Requiring only seven ingredients, there's no reason you can't whip up this meal tonight. Feel good about what you're eating with the knowledge that you're getting your protein, fiber, and veggie fix with your pasta.
Ingredients:
1 pound bow-tie pasta
Coarse salt and ground pepper
3 tablespoons butter
1 onion, diced
10 ounces (2 cups) frozen peas
1 cup half-and-half
½ pound cooked ham
Directions: Cook pasta in a large pot of boiling salted water until al dente, according to package instructions. Drain pasta; return to pot.
Meanwhile, heat butter in a saucepan over medium heat. Add onion; cook, stirring, until soft, 3 to 4 minutes. Add peas and half-and-half; season with salt and pepper. Simmer until thickened, 3 to 4 minutes.
Cut ham into strips. Add to sauce; cook until heated through, 1 to 2 minutes. Toss sauce with pasta. Serve with grated Parmesan.
3. Penne with Spicy Tomato Sauce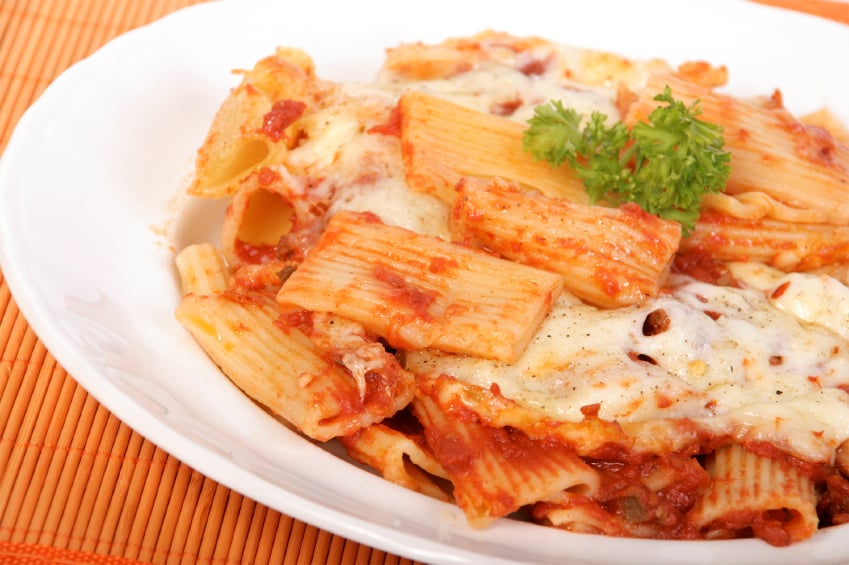 If you like your carbs with a kick, make this penne with spicy tomato sauce from Food & Wine. It enlists whole-wheat pasta to keep things fiber-rich and healthy, and the crushed red pepper on the recipe's ingredients list adds a spicy seasoning to the homemade red sauce that will dress your carbohydrates. If you have 20 minutes on your hands, you can make this dish, and then you can enjoy your easy meal while patting yourself on the back for resisting takeout.
Ingredients:
1 (28-ounce) can whole tomatoes in tomato puree, drained
¼ cup extra-virgin olive oil
3 garlic cloves, sliced
1 teaspoon crushed red pepper
Salt
¾ pound whole wheat pennette or penne
2 tablespoons chopped parsley
Directions: Bring a large pot of water to a boil. Meanwhile, in a food processor, puree the tomatoes until smooth. Heat the olive oil in a large, deep skillet. Add the sliced garlic and cook over moderately low heat until golden, about 2 minutes. Add the crushed red pepper and cook for 30 seconds. Add the pureed tomatoes and cook over moderately high heat, stirring occasionally, until thickened, about 6 minutes. Season the tomato sauce with salt.
Salt the boiling water. Add the penne to the pot and cook, stirring occasionally, until al dente. Drain the pasta and add it to the sauce in the skillet. Toss well and spoon into bowls or a serving dish. Sprinkle the penne with parsley and serve.
4. Pasta with Garlic-Butter-White Wine Sauce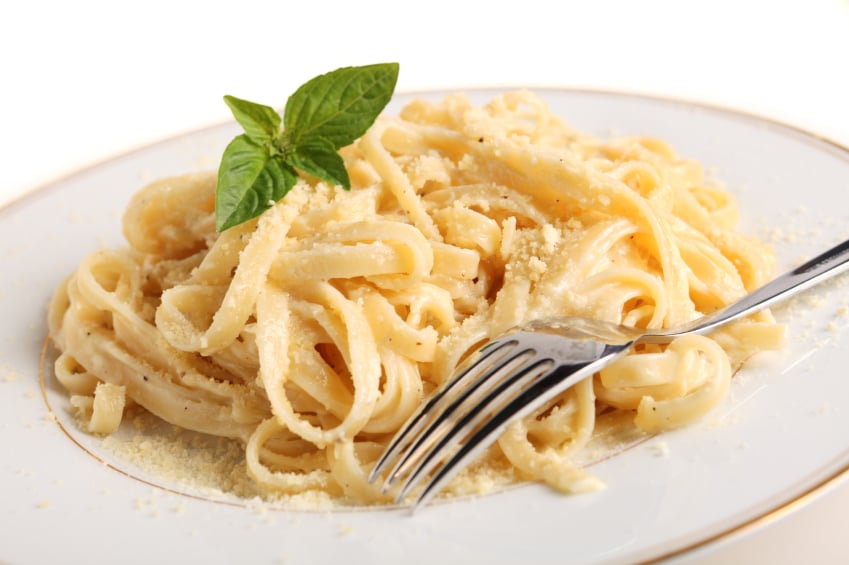 Or, if you prefer a white sauce over a red, there is also an easy pasta option for you. Enter: pasta with garlic-butter-white wine sauce from Epicurious. It's hard to resist a recipe that is this easy. All you need is pasta, olive oil, butter, wine, seasonings, and cheese. Once you have these items you're ready for a side dish or main meal that looks and tastes sophisticated but couldn't be simpler. Serve this pasta with white sauce alongside chicken, a salad, or garlic bread, and you have a weekday meal you can be proud of.
Ingredients:
1 pound pasta
4 garlic cloves, chopped
¼ cup olive oil
5 tablespoons unsalted butter
½ teaspoon crushed red pepper
1 teaspoon kosher salt
½ teaspoon freshly ground pepper
½ cup white wine
½ cup chopped flat parsley
½ cup grated Parmesan cheese
Directions: Heat olive oil over medium heat. Add garlic and crushed red pepper. Saute until golden, about 1-2 minutes. Add salt, pepper, white wine and butter. Stir 2 minutes, remove from heat. Toss pasta with sauce, parsley and cheese.
5. Pasta with Tomatoes and Mozzarella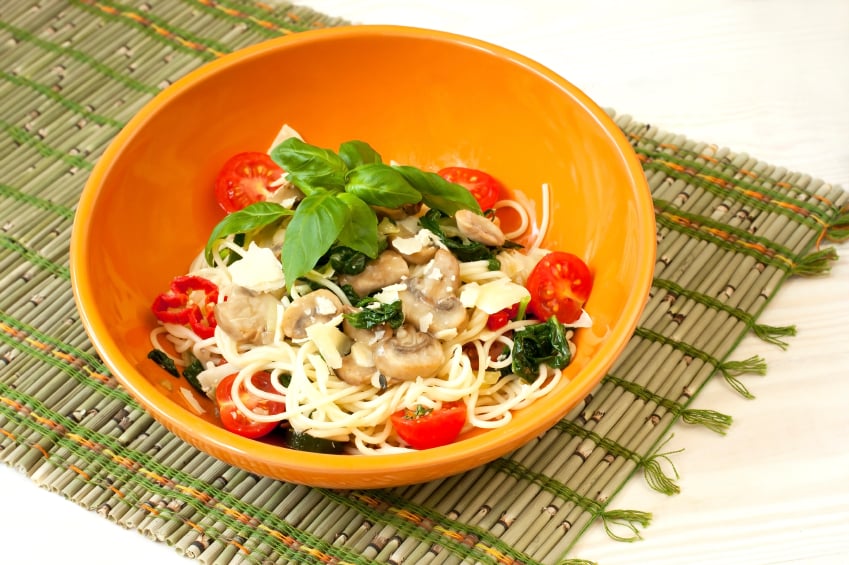 Bon Appétit has yet another recipe that will appeal to vegetarians and meat-eaters, alike. No one will miss the animal protein when they're indulging in a fresh plate of pasta with tomatoes and mozzarella. 'Tis the season for fresh tomatoes, and this dinner doesn't even require that you turn your already hot house into an oven. Cook your pasta on the stove and then combine it with the tomato mixture that is made from garlic, tomatoes, mozzarella, oil and basil.
Ingredients:
1 garlic clove, halved
2 pounds tomatoes, chopped
8 ounces fresh mozzarella, cut or torn into 1/2-inch pieces
½ cup coarsely chopped fresh basil
½ cup extra-virgin olive oil
Kosher salt, freshly ground pepper
1 pound medium shell-shaped or other short pasta
Directions: Rub the inside of a medium bowl with garlic; discard garlic. Combine tomatoes, mozzarella, basil and oil in bowl; season with salt and pepper and toss to combine. Let tomato mixture sit 15 minutes to let flavors meld.
Meanwhile, cook pasta in a large pot of boiling salted water, stirring occasionally, until al dente; drain. Add pasta to tomato mixture and toss to combine.
6. Lemon Pasta with Chicken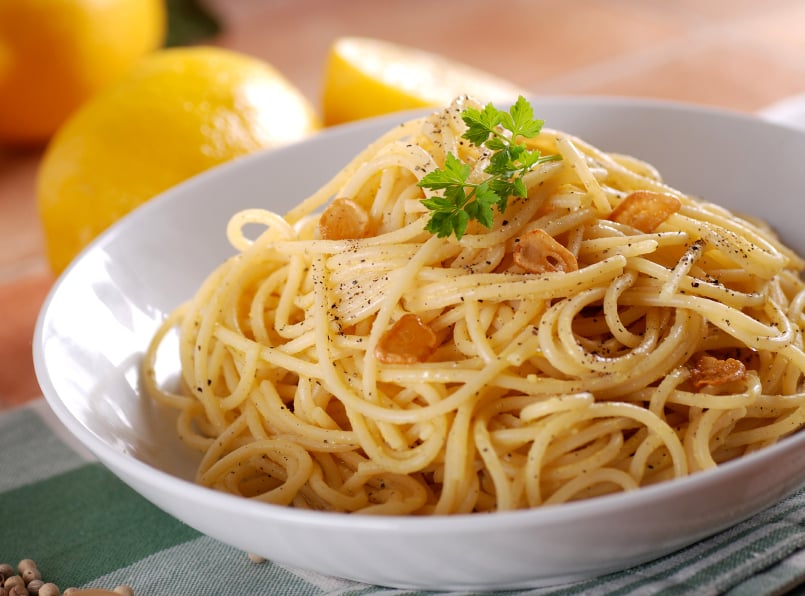 Even if you do want to add meat to your pasta, you can still have your dinner on the table in fewer than 30 minutes. This recipe for lemon pasta with chicken featured on Food Network will take you only 10 minutes of prep and 25 minutes of cooking time. It combines grilled chicken with penne that is dressed with a homemade sauce made from garlic, red pepper flakes, olive oil, parsley, and lemon juice. The refreshing dish of chicken and carbs will satisfy you and help you get your carb fix without resorting to delivery food. Pair your pasta with a glass of white wine and weeknights just got a lot more fun.
Ingredients:
1 pound dried penne
2 chicken cutlets, cut into fingers
Salt and freshly ground black pepper
3 cloves garlic, sliced
¼ teaspoon red pepper flakes
3 tablespoons olive oil
3 tablespoons roughly chopped fresh parsley, for garnish
2 lemons, juiced
½ cup grated Parmesan
Directions: Cook the pasta in a large pot of boiling salted water, until al dente. Drain well.
Season chicken with salt and pepper. Heat a large grill pan over medium high and add chicken. Grill until golden and completely cooked. Remove to a plate and slice. Add the garlic and red pepper flakes to a saute pan with 3 tablespoons of olive oil and saute until fragrant. Add the cooked pasta and turn heat off. Mix all together.
Remove pasta to a large bowl. Add chicken to the warm pasta and season with salt and pepper. Sprinkle in chopped parsley. Add the juice of 2 lemons and mix. Before serving top with Parmesan.
7. Spaghetti with Quick Meat Sauce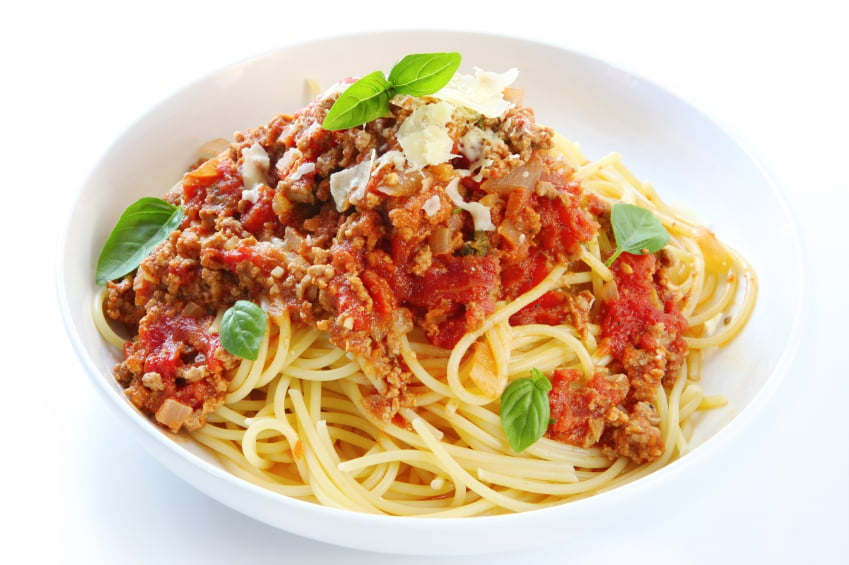 Last is a classic recipe featured on Real Simple. It yields spaghetti with a quick meat sauce for those times you're craving old-fashioned comfort food. You can have your spaghetti and eat it, too in only 30 minutes. Even better, the food formula calls for ingredients you'll likely already have in your pantry. Instead of relying on jarred tomato sauce, easily make your own by combining olive oil, onions, carrots, garlic, beef, and crushed tomatoes. You won't believe how much better a fresh homemade sauce tastes in relation to the jarred or canned variety, and best of all, with this recipe, you have leftovers for the next few days.
Ingredients:
12 ounces spaghetti
2 tablespoons olive oil
1 large onion, chopped
2 carrots, chopped
2 cloves garlic, finely chopped
¾ pound ground beef
¾ teaspoon kosher salt
½ teaspoon black pepper
1 (28-ounce) can crushed tomatoes
½ cup fresh flat-leaf parsley, chopped
¼ cup grated Parmesan (1 ounce)
Directions: Cook the pasta according to the package directions.
Meanwhile, heat the oil in a saucepan over medium heat. Add the onion, carrots, and garlic and cook, stirring occasionally, until soft, 8 to 10 minutes. Increase heat to medium-high. Add the beef, salt, and pepper and cook, breaking up the meat with a spoon, until no longer pink, 4 to 5 minutes. Add the tomatoes and simmer, stirring occasionally, until sauce slightly thickens, about 5 minutes. Stir in the parsley.
Serve the pasta with the sauce and sprinkle with the Parmesan.