Easy Breakfast Recipes Made With Frozen Fruits
We've been told time and time again to eat our fruits and vegetables, but what many of us never were warned about is how expensive it is to do so. Fresh produce can cost a pretty penny, and when you're on the last day of your pay cycle and the choice is between produce and a fuss-free breakfast (hello, bagel), it's hard to make the healthy choice. That's where frozen fruits come in.
Frozen fruits retain their important vitamins and nutrients and they're the perfect alternative to fresh produce when you're watching your grocery bill. Check out these seven breakfast recipes, which enlist frozen fruits on their ingredients lists and say hello to healthy eating on the cheap. These dishes are flavorful, nutritious, and delicious, and they won't cost you a lot of money, time, or energy.
1. Frozen Fruit Smoothie
The easiest way to employ frozen fruit is by blending it into a breakfast smoothie. Enjoying a fruit smoothie for breakfast is the key to keeping you satisfied all morning long as the fiber in the fruit will leave you satiated and nourished. This recipe featured on Food Network for a Frozen Fruit Smoothie enlists a frozen banana and frozen strawberries, but the fruit combinations are endless. Pick your favorite variety and mix it with some milk, yogurt, and juice.
Ingredients:
1 frozen banana, peeled and sliced
2 cups frozen strawberries, raspberries, or cherries
1 cup milk
½ cup plain or vanilla yogurt
½ cup freshly squeezed orange juice
2 to 3 tablespoons honey or to taste
Check out The Food Network for the full recipe. 
2. Baked Honey Berry Oatmeal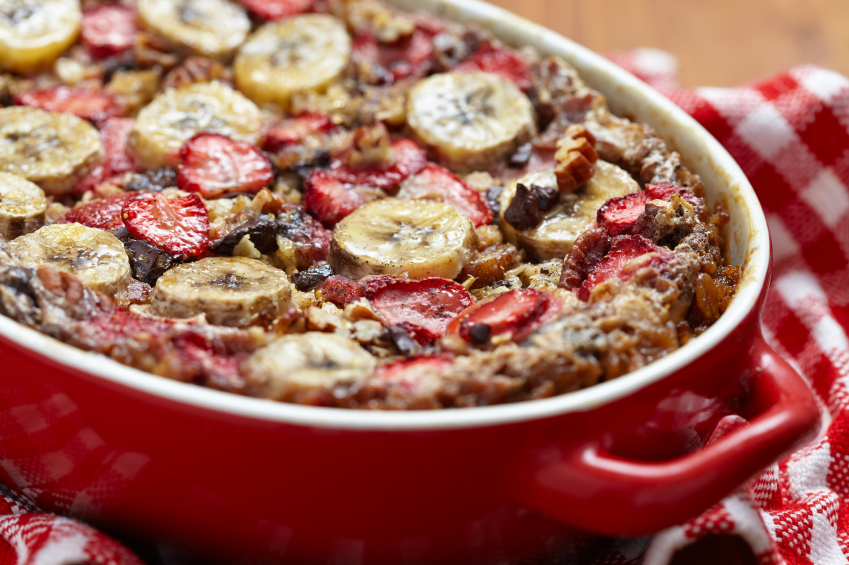 When fresh fruit is out of season, you can also put the frozen kind on your morning oats. It's a cheaper and easier way to get your nutrients without paying the big bucks for out-of-season produce. This recipe from Apple of My Eye also shows you how to employ frozen fruit when serving baked oatmeal. Baked Honey Berry Oatmeal can be served during any season and it feeds a crowd. You can save it all for yourself, eating it for breakfast all week, or you can share it with others and keep it your secret that the beautiful fruit studding this oatmeal came out of the freezer.
Ingredients:
Dry Mixture:
2 cups quick-cook oats
1 teaspoon baking powder
1 teaspoon cinnamon
¼ teaspoon salt
⅓ cup packed brown sugar
Wet Mixture:
2 cups nonfat milk
2 eggs
½ tablespoon vanilla extract
3 tablespoons honey
1½ tablespoons melted butter
2 cups frozen mixed berries
¼ cup pecans, separated
Check out Apple of my Eye for the full recipe. 
3. Make-Ahead Fruit and Yogurt Parfaits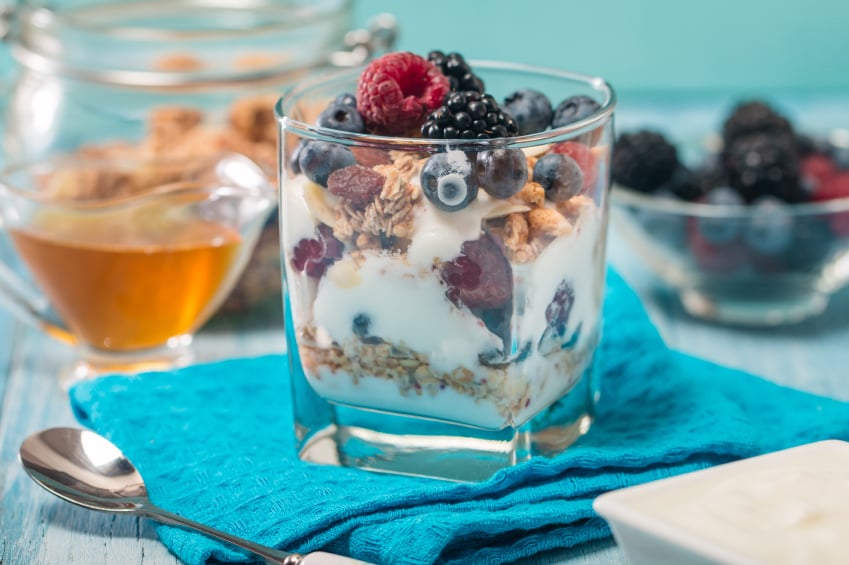 If you know you're going to be rushed in the morning, plan ahead and make your breakfast the night before. Failing to plan is planning to fail, and if you make a healthy breakfast ahead of time, you're far less likely to reach for the unhealthy breakfast option come morning-time. Instead, you should have one of these Fruit and Yogurt Parfaits from Iowa Girl Eats at the ready. The fresh breakfast is delicious and nutritious, and you can do all the prep work the night before so all you need to do in the morning is grab a spoon.
Ingredients:
6 oz Greek yogurt
1/3 cup old fashioned oats, uncooked
1 teaspoon chia seeds
2 tablespoons milk (almond, cow, soy, etc.)
1 cup frozen mixed fruit and berries
Check out Iowa Girl Eats for the full recipe. 
4. Coconut and Frozen Berry Chia Seed Pudding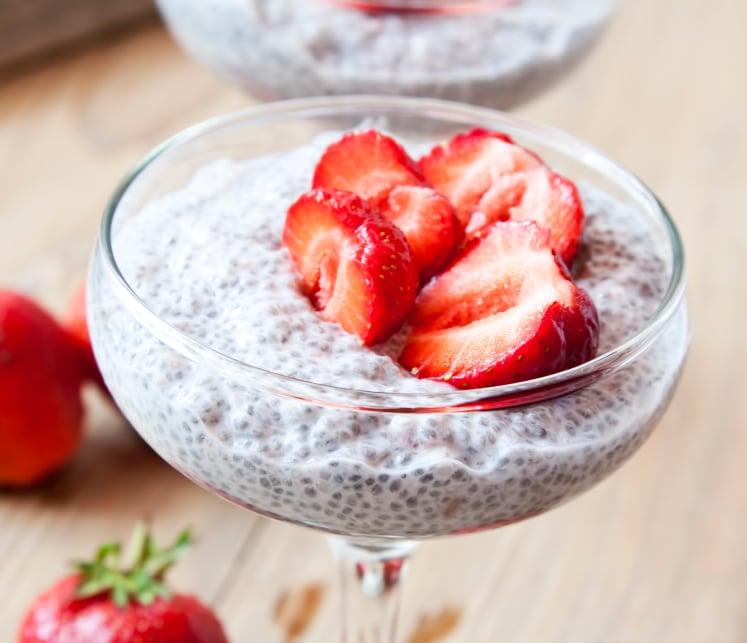 Have you ever heard of chia pudding? It is the pudding made from milk, chia seeds, and vanilla extract. Chia seeds are nutrient powerhouses and are a great source of omega-3 fatty acids. When soaked in milk, they absorb the liquid and yield a texture likened to pudding that is sweetened with vanilla extract, yogurt, and berries. This recipe from Rosanna Davison Nutrition shows you how to make your own chia seed pudding at home and how to spruce it up with frozen berries. The Coconut and Frozen Berry Chia Seed Pudding will keep you satiated all morning and you'll get in your nutrients and omega-3's before 10 a.m.
Ingredients:
3 heaping tablespoons whole chia seeds
1 teaspoon vanilla extract
150ml low-fat coconut milk
1 tablespoons coconut milk yogurt
Frozen berries, to serve
Grated vanilla pod, to serve
Unsweetened desiccated coconut, to serve
Check out Rosanna Davison Nutrition for the full recipe. 
5. Raspberry Scones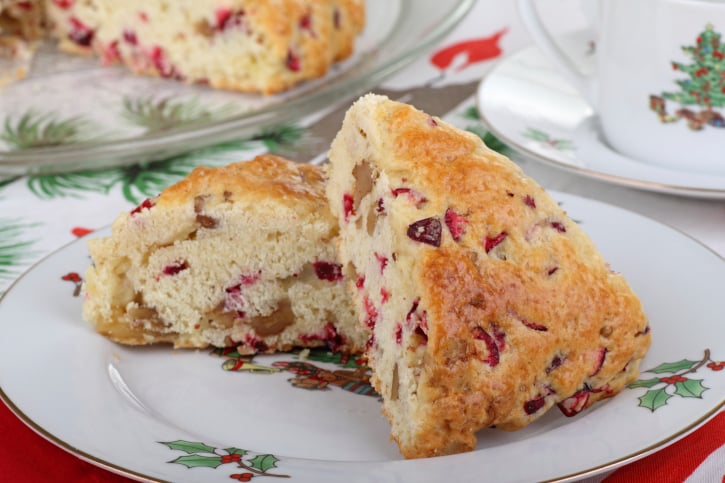 If you want to enjoy a fruity baked good for breakfast, you don't need to wait for fruit to come back into season to indulge. Enlist the frozen variety instead. This recipe for Raspberry Scones featured on Chowhound enlists frozen raspberries specifically and yields 8 fluffy and flaky pastries. They're made with the baking staples, lemon zest, and heavy cream, and they can be stored into the freezer for up to 1 month so you can enjoy leftovers for days.
Ingredients:
2 cups all-purpose flour, plus more as needed
¼ cup plus 1 tablespoon granulated sugar
2 ½ teaspoons baking powder
1 teaspoon grated lemon zest (from 1 medium lemon)
½ teaspoon fine salt
8 tablespoons unsalted butter, cut into ½-inch cubes and then chilled
¾ cup plus 1 tablespoon heavy cream
1 cup frozen raspberries, kept in the freezer until ready to use
6. Mixed Berry French Toast Bake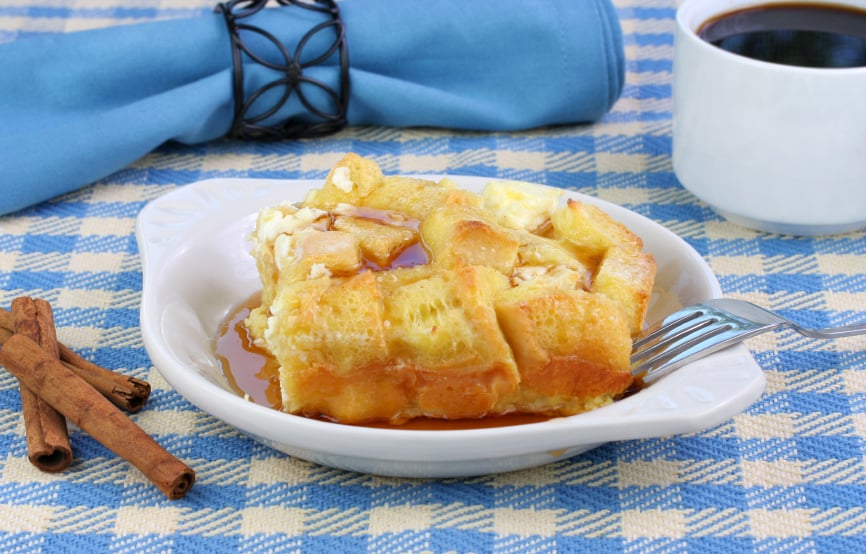 Here's another make-ahead breakfast you can prepare ahead of time and then enjoy in the morning. The Mixed Berry French Toast Bake from Taste of Home is prepared and refrigerated for 8 hours or overnight, and then baked for 30 minutes in the morning. It serves 8 and will last you all week. Or, you can prepare it on a slow weekend morning and feed a crowd. Get your fruit and French toast fix in one breakfast and enjoy spending all of 20 minutes on a seemingly sophisticated recipe.
Ingredients:
1 loaf French bread, cubed

6 egg whites

3 eggs

1-¾ cups fat-free milk

1 teaspoon sugar

1 teaspoon ground cinnamon

1 teaspoon vanilla extract

¼ teaspoon salt

1 package frozen unsweetened mixed berries

2 tablespoons cold butter

1/3 cup packed brown sugar
Check out Taste of Home for the full recipe. 
7. 5-Minute Vegan Breakfast Smoothie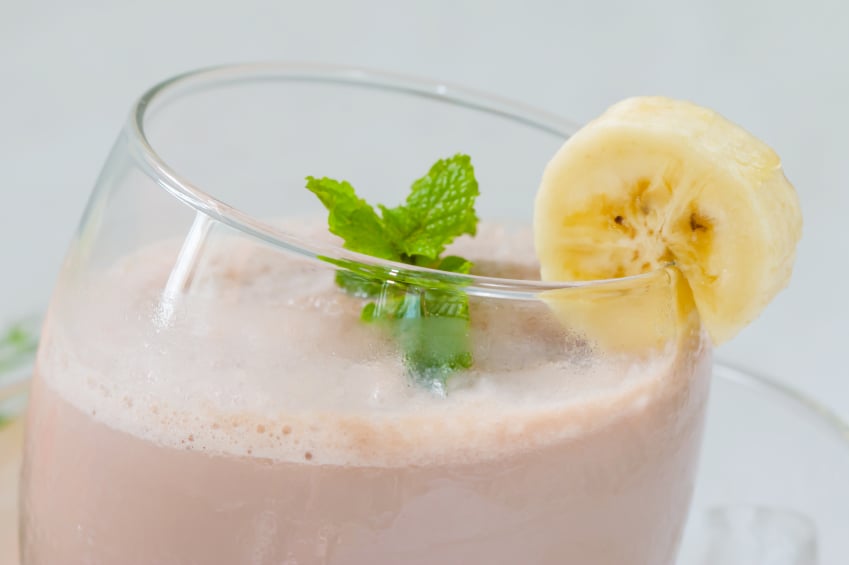 Up in the No. 7 spot on our list is one last smoothie. Enter: The Vegan Breakfast Smoothie from The Kitchn. It's dairy-free and made from almond milk, frozen fruit, coconut oil, chia seeds, and ginger. This healthy smoothie is sure to kick your morning off on the right foot and will keep you on track all day. The best breakfasts are fun to eat and good for you and this one earns high marks on both fronts.
Ingredients:
1 cup almond milk
1 ripe banana, sliced
1 cup frozen fruit medley
1 tablespoon coconut oil
1-2 tablespoons chia seeds
1 teaspoon powdered ginger
Check out The Kitchn for the full recipe. 
More from Culture Cheat Sheet: